Merry Christmas everybody! Yes I know it's a little early but the next Patch News won't be published until 1st Jan 2022. If you have any modelling Christmas presents on the way please let me know so I can share the joy. In November we were mostly quite lucky with the fairly mild weather and had several flying opportunities when the winds were light.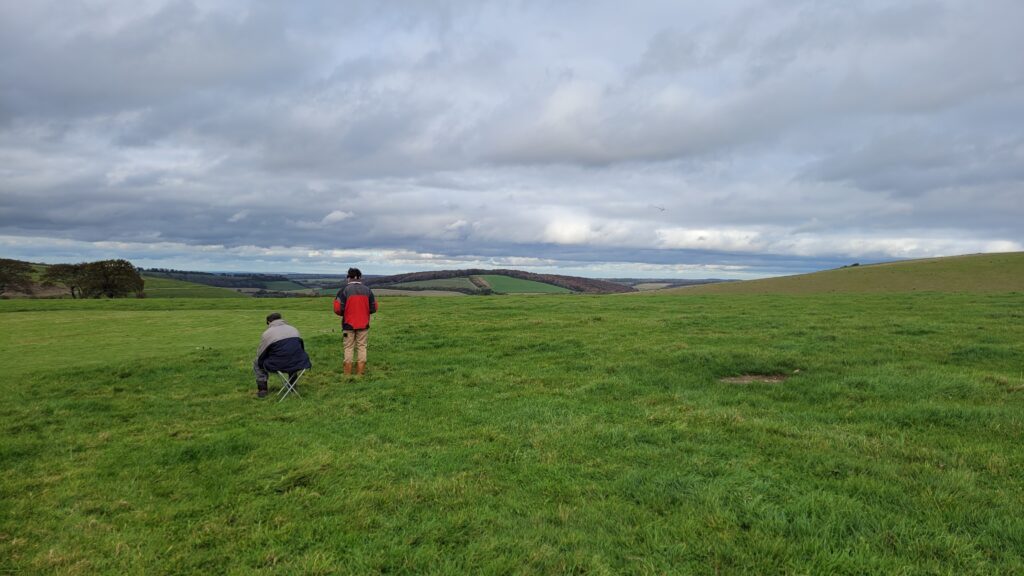 But several of us flew on the last Sunday in the month when it was bright and sunny but absolutely freezing in the brisk northerly wind, unsurprisingly we didn't last all morning.
The bullocks joined us in the middle of the month and sometimes needed gently herding away by two or three pilots while the others flew but overall they weren't too much of a nuisance.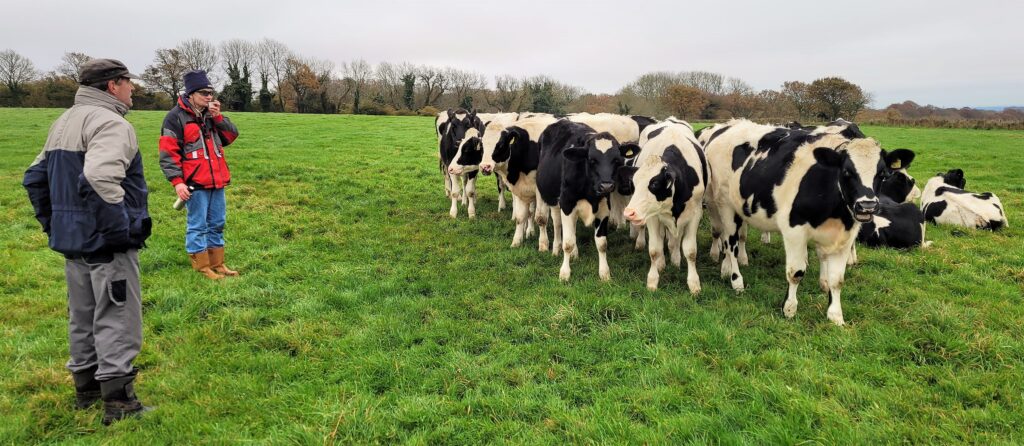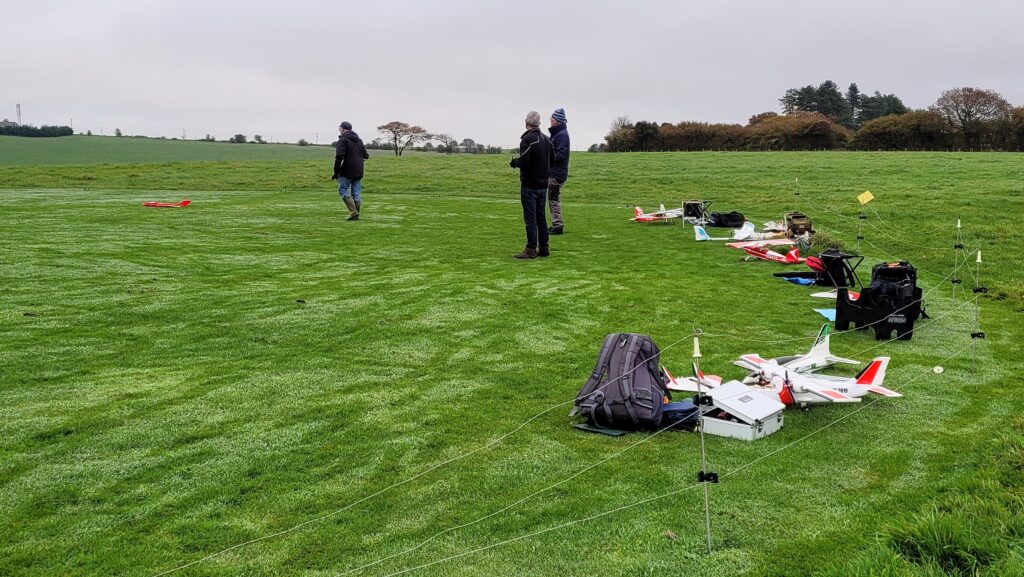 Happily they only stayed for a couple of weeks and the field is now bullock free. New member Gordon (Paul) Bennett passed his BMFA 'A' certificate on 3rd November and turned out to be one of the best candidates I've taken. Gordon hasn't been flying models for long but with a history of full-size aviation he has picked up RC flying very quickly.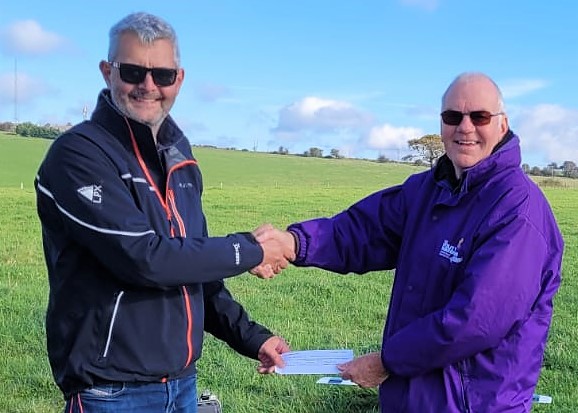 Straight after passing the test he had a go at the club Climb & Glide competition and had the cheek to beat my score with his first attempt. Gordon could be the only member so far to be awarded an 'A' cert and then have it withdrawn on the same morning!
The competition entries are growing in number now and lots of members have had a go at one or more of the disciplines. You can have as many tries as you like so why not give it a go, just chose a timer and/or counter, do your best, and let Dwayne Pipe know your score.
Not too many new models were flown in November but I know of several that are being built ready for next season. Page Boy was on his sick bed for a while but was somehow able to drag himself to his building board despite not being well enough to return to work.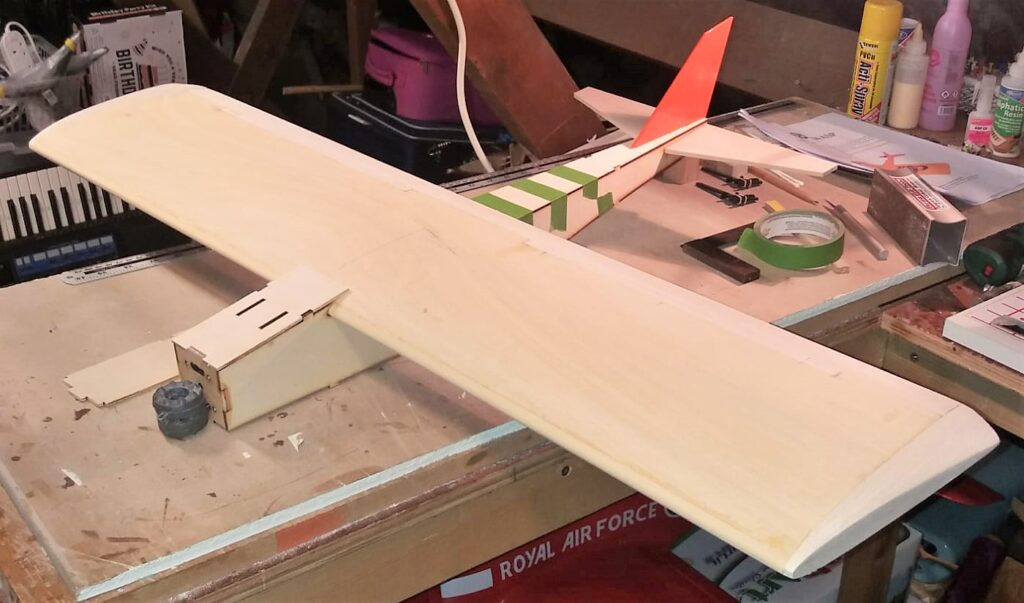 He's getting on well with this 39" span Wasp E2K electric pylon racer that he's building. It looks to be coming along nicely although I don't think the green go faster stripes are quite up to Page Boy's usual standard! It's the same model as 1066 has been flying for a few months so I imagine we'll see the pair of them screaming around the sky early next year.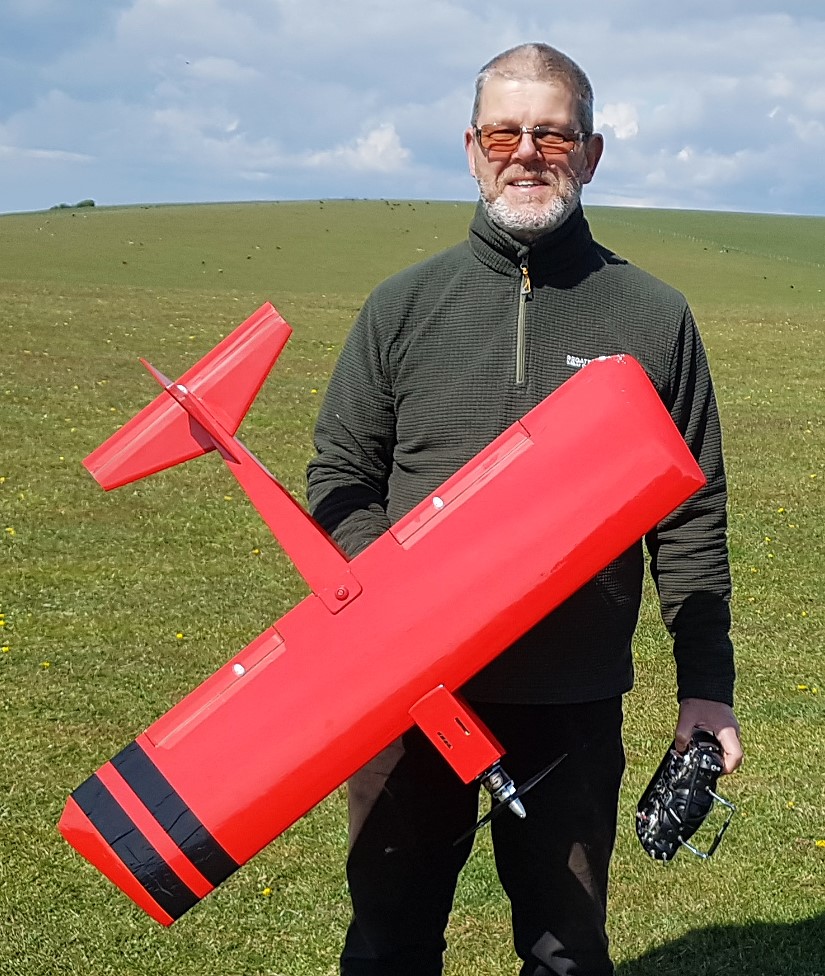 Dougal Entendre seemed to spend most of November struggling with his Skyartec Mini Skyfun, it flies well enough but for some reason the motor keeps cutting out at full throttle.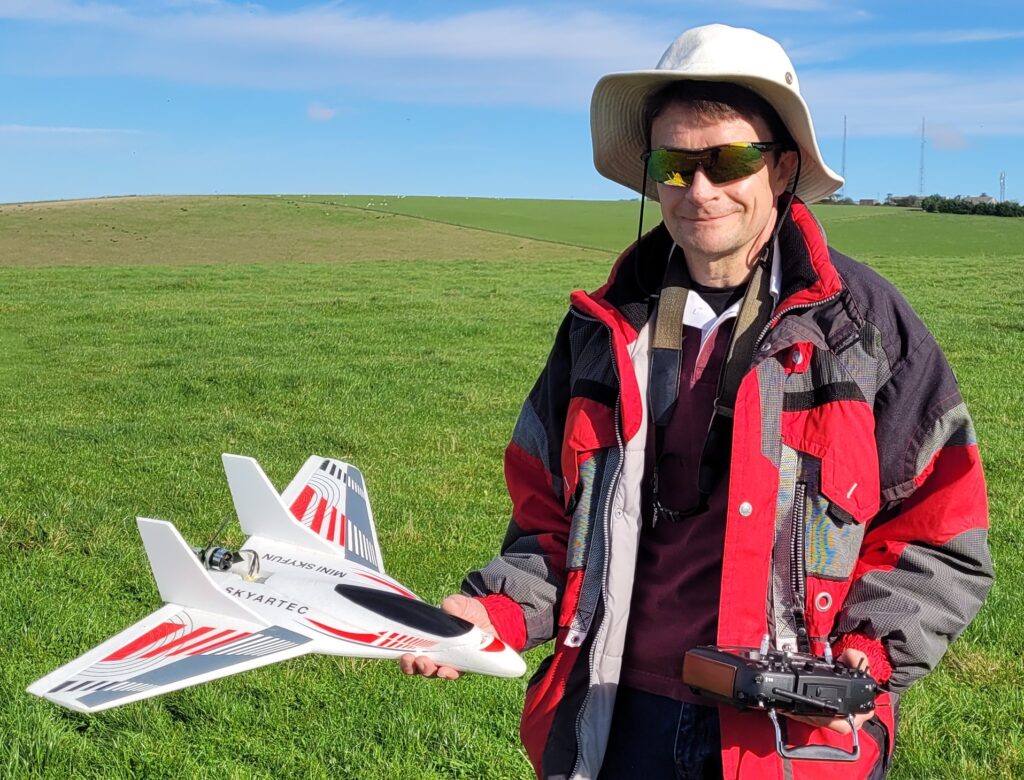 Here's Dougal's account of it: I bought the Mini Skyfun from a guy in Emsworth for £30, complete with Rx, servos, ESC, motor and a 2s battery, but no fins! I cut a new pair of fins from Depron, using my bigger Skyfun as a pattern. Binding my RadioMaster Tx to the Skyartec Rx was no problem, but whenever I throttled up, the motor ran for a few seconds then cut out. Long story short: I've tried 2 different 2s packs, 4 different ESCs, 5 different motors (even running without the propeller), replacing the JST lipo connector with XT60, and powering the ESC from a bench supply with a servo tester providing the throttle pulses. The problem persisted. My final solution involves shoe-horning a 3s battery in, with a lower KV motor and a 5-inch propeller instead of the previous 4-inch. It's better, but the motor still occasionally cuts out if I overcook the throttle.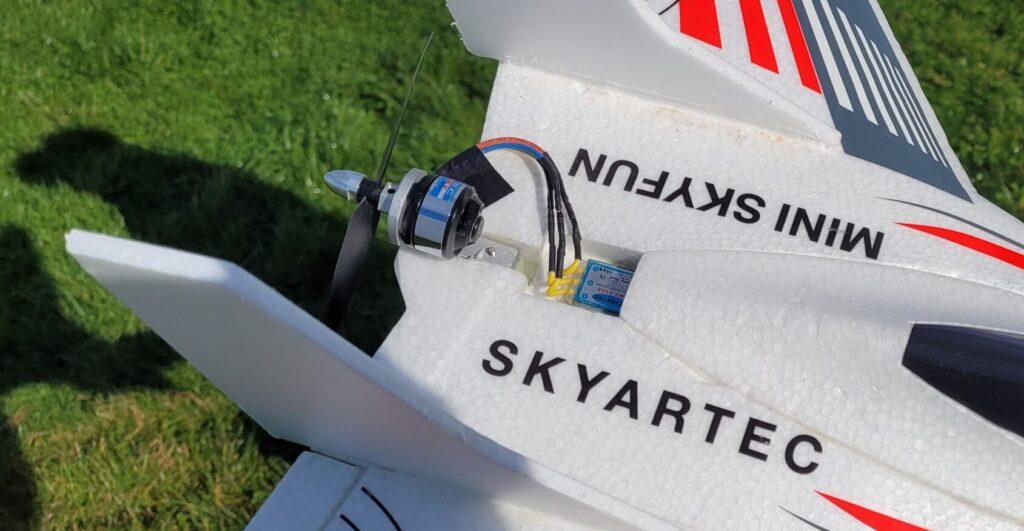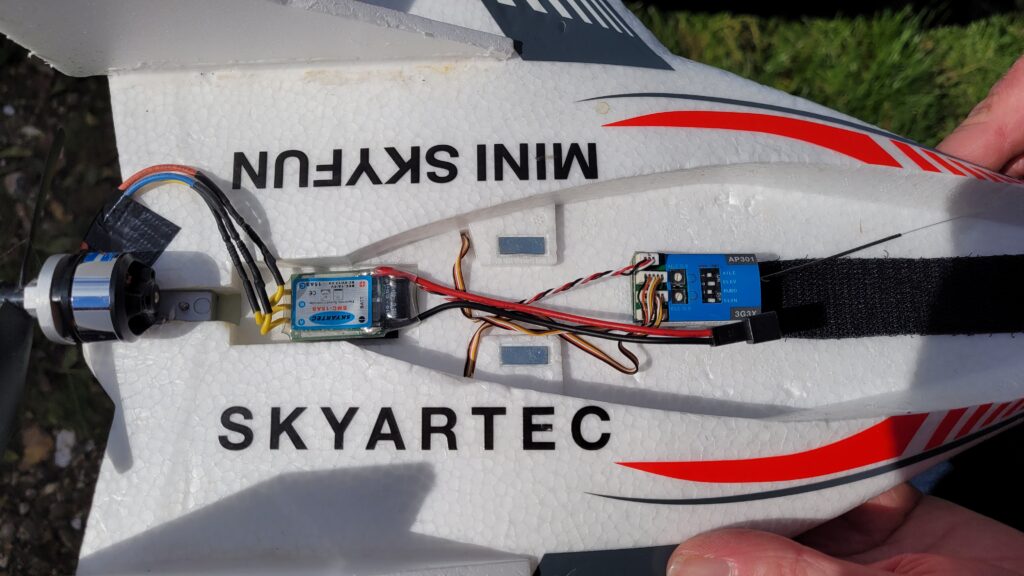 This is strange, as the powertrain is almost identical to the one in my Mini Blitz, which has no problems. I'm sure there's a rational explanation, such as the airframe being possessed by a malevolent spirit. I think I'm going to give up with it for the moment, as even when I've had it flying, I've found the elevator trim is inconsistent, and it tends to skew out of loops. One day I may replace the entire avionics, but that'll be a pain because the current rx uses the tiny JST connectors, so I'll even have to replace the servos. For now it's just going to adorn a shelf in the workshop. Yes, it's a malevolent spirit! Perhaps Dougal has discovered why it was up for sale, not all second-hand items are a bargain.
I'm hoping the second-hand purchase I made in November was a bargain. I hadn't flown FPV (First Person View) for a while and decided it was time to get back into it. Last year my Volantex Ranger had crashed twice while flying a reasonable distance away but range checks didn't show a problem. After the second crash I took the gear to Mike Ridley (Multiplex service agent) who found the aerial wire had broken inside the insulation. He fitted a new aerial and everything was fine for quite a while but one day the Ranger suffered radio failure and crashed twice in the same morning, both times within a couple of hundred metres of the patch. I couldn't find a reason and abandoned the model until this month when I completed the relatively minor repairs and fitted a different receiver.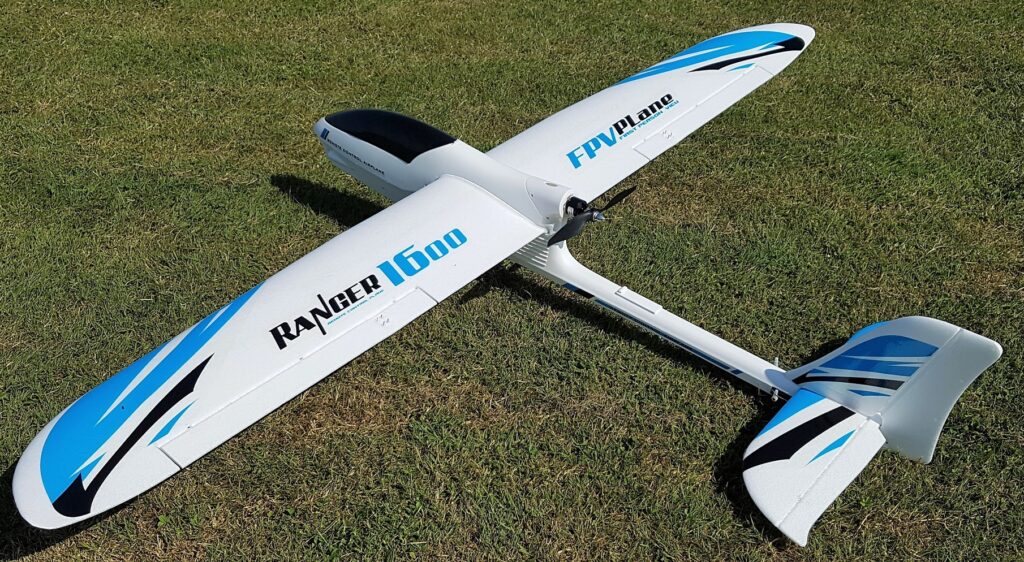 A test flight showed no problems so I then flew it FPV and everything was fine except that the digital recorder built into the video transmitter didn't work. It makes no difference to the flying but part of the fun of FPV flying is watching the flight back on a computer later.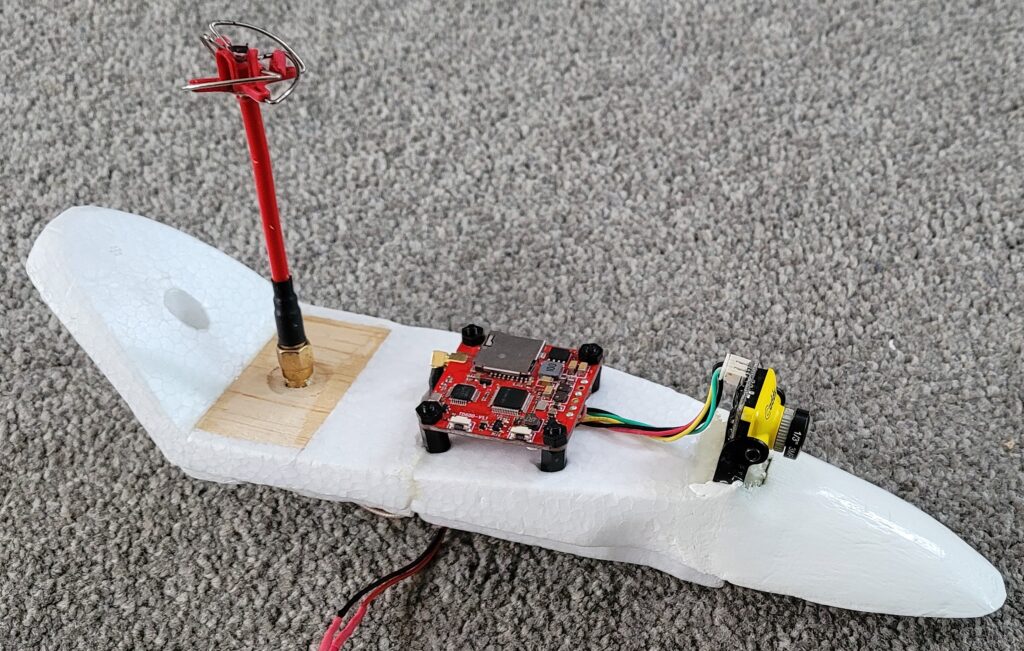 So I decided to buy an action camera as last Christmas one of Dougal's presents was an Apeman 4K action camera which he fitted alongside his FPV camera and he is getting some excellent results. Action cameras have a much higher quality picture than the little FPV cameras but they have a time lag so aren't suitable for providing the picture that's transmitted back to the goggles. I found the Apeman was about £42 in Black Friday sales but then spotted a similar spec second-hand Dragon Touch for sale at £25 and only about a mile from my house. The camera came with a huge bundle of mounts, straps, tripod etc. that I didn't need so I advertised them on Facebook Marketplace and quickly sold them for £15. So the camera with mount, two batteries, an underwater housing, 32GB micro SD card with adaptor, and a couple of Velcro straps cost me just £10, that has to be a bargain!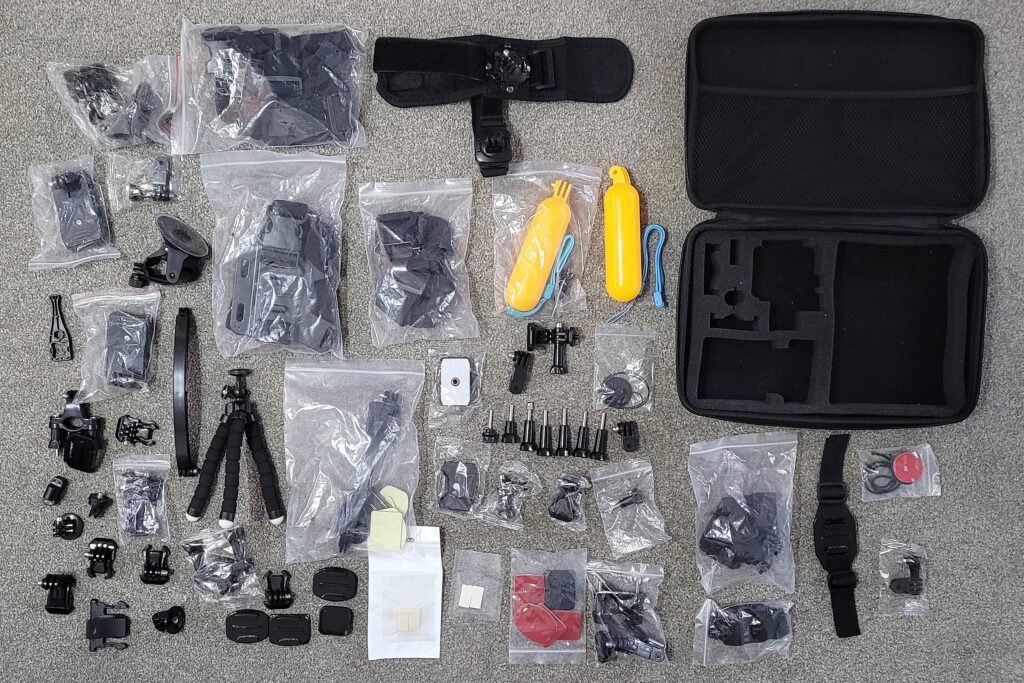 Action cameras are very bulky and heavy compared to FPV cameras so I needed to mount it as close to the centre of gravity as possible and I basically copied the method Dougal has used on his Sonic Modell Binary with the two cameras mounted alongside each other.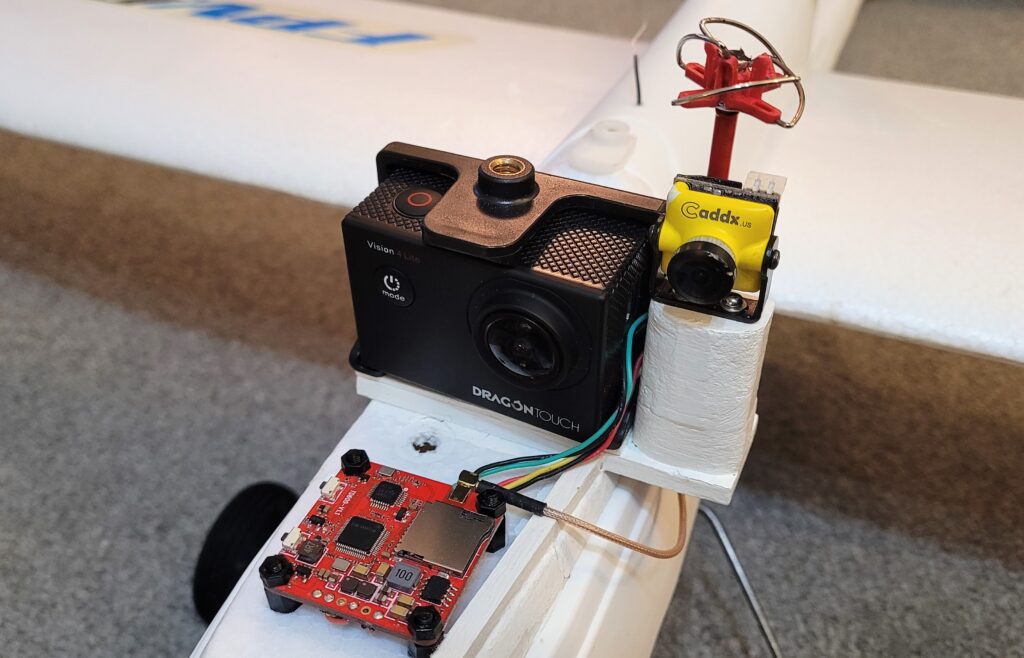 I've only had a few flights so far with this set-up but the results are looking good and it provides much better quality videos than with the recorder built into the video transmitter ever did. In this month's video the FPV footage with a date & time is from the new camera.
Chas rather liked the look of the tiny Mustangs and Corsairs that several of us have been flying recently and kept his eyes open for one at a sale price. One day he spotted the T-28 Trojan from the same range in a Banggood Flash Sale at just over £50 with three batteries and took the plunge. Like the others the model comes complete with a transmitter and is totally finished, all that is required is to charge the single cell lipos using the USB charging lead provided and fit 4 x AA batteries in the transmitter.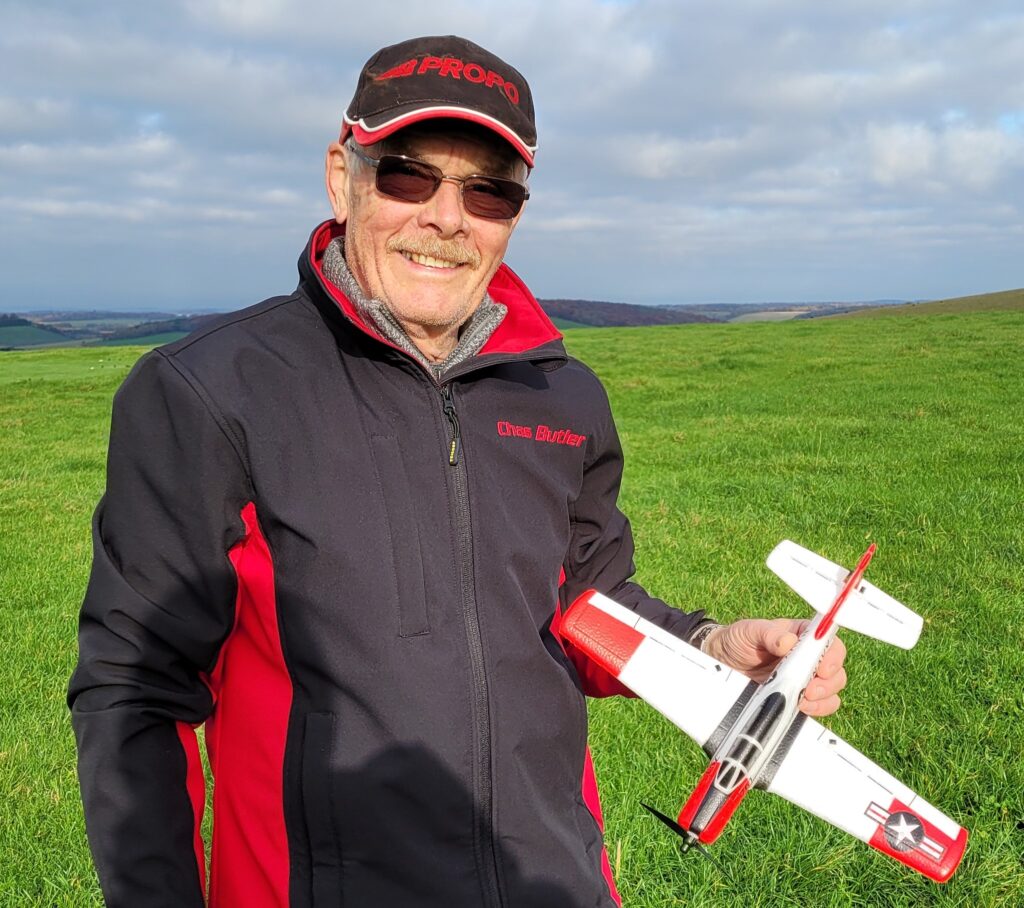 It has a built-in gyro which works very well and can be switched between three modes, beginner, intermediate, and expert. Expert mode switches the gyro off completely and whilst the model is flyable it is quite a handful, intermediate mode is much more pleasant.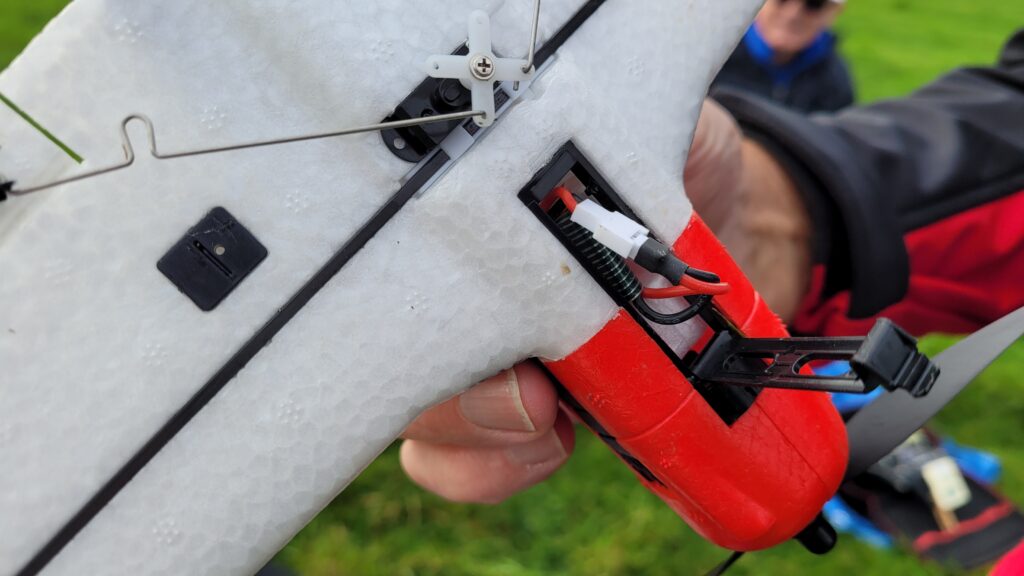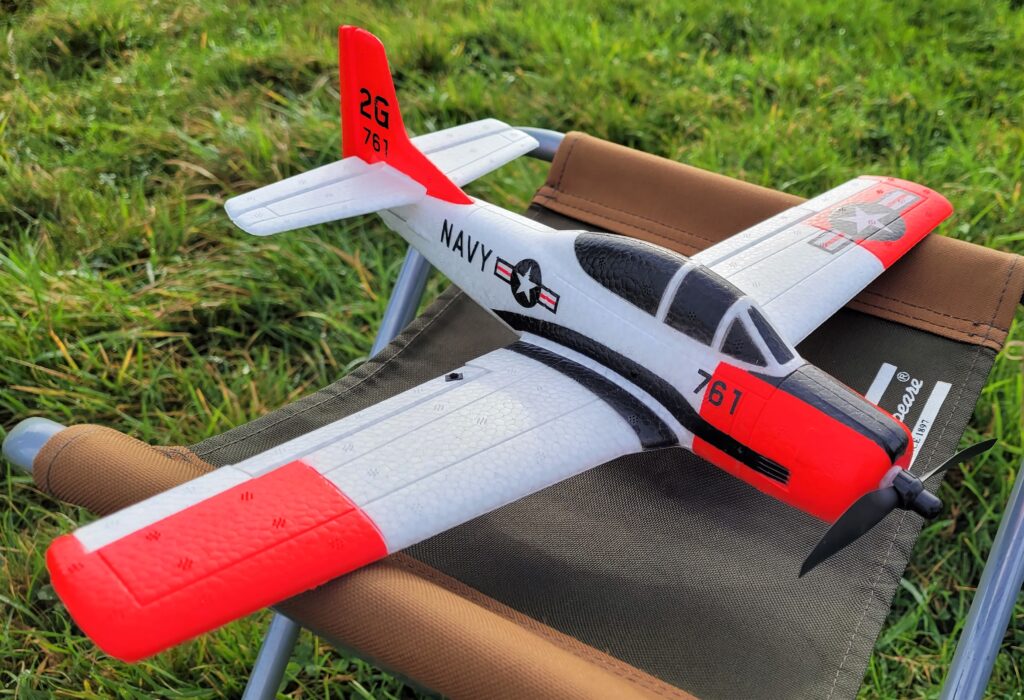 Chas chose a reasonably calm day for the first flight and soon got the feel of the Trojan, finding like the rest of us that keeping the tiny model close enough and in sight was the hardest part. On the first landing Chas hit the spot landing spot but the little Trojan bounced off a couple of feet! The same models are being sold under various manufacturers names, I've seen Eachine, Volantex, Sonik and WLTech so far. The ranges are expanding and now also include a P-40 Kittyhawk, a P-47 Thunderbolt, a BF109, and a Spitfire. I've just noticed that Wish.com have the Corsair for just £40.72, who's next to take the plunge? There's footage in this month's video of the Trojan and also Ian's Corsair and my Mustang.
On the subject of the tiny models, Basher Bob's been up to his old tricks again and cruelly smashed my little Mustang out of the sky one day. There I was flying along, minding my own business straight and level over the patch when Bob's Sea Vixen suddenly smashed right through me. Bob's version of the incident may be different but I write Patch News…!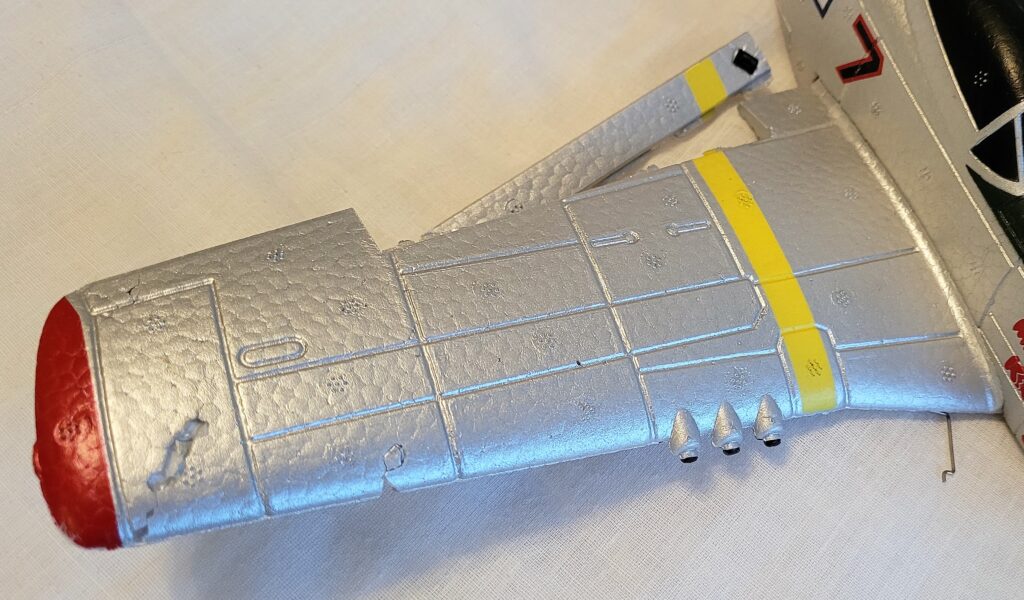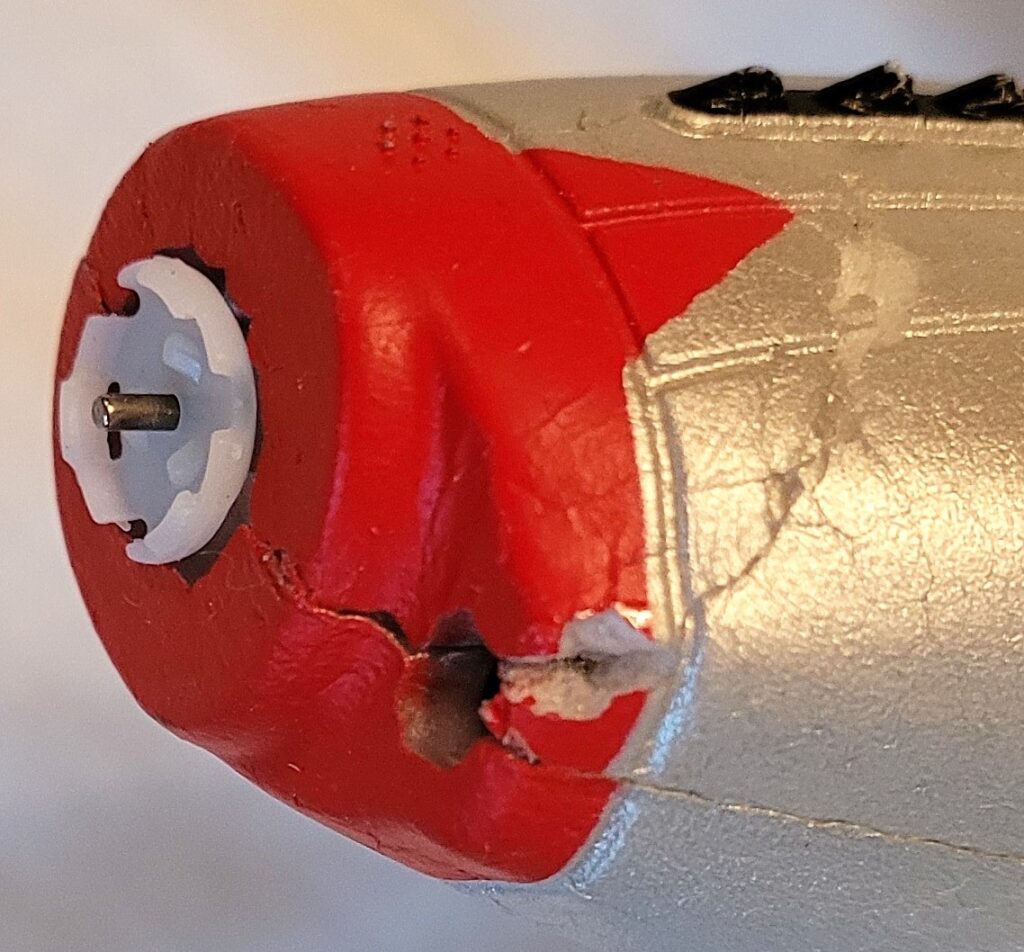 Luckily the damage was fairly minor and by using cyano applied with a pin I was able to glue the detached piece of the nose and a small piece of the wing trailing edge back in place. The biggest problem was the detached aileron which was originally hinged by the foam itself. I cut a couple of tiny pieces of Mylar hinge material, made small slots in the wing and aileron with a pointed scalpel blade, and glued them in with thin cyano.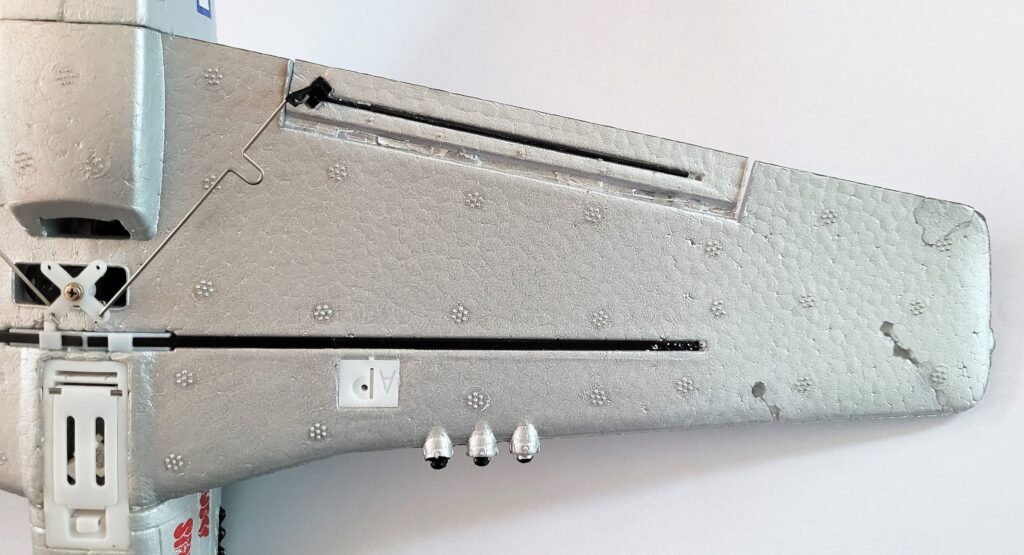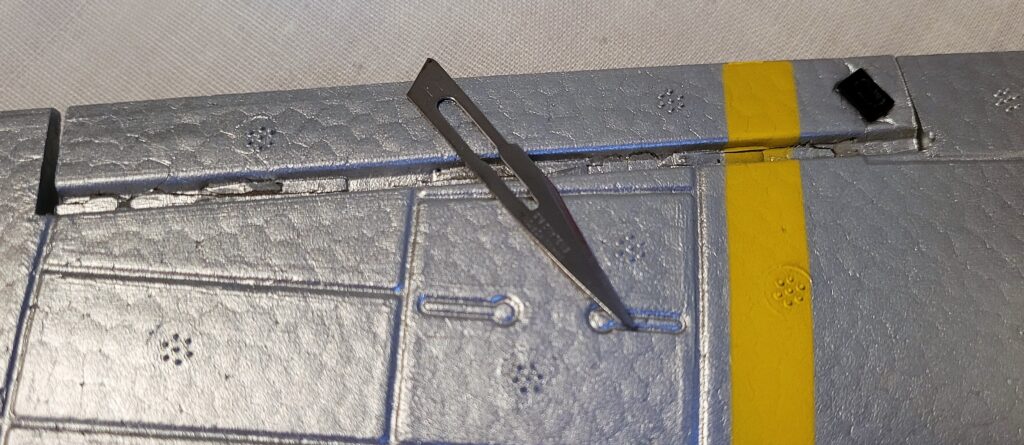 The repairs worked out well and aren't really noticeable and now the Mustang is flying again as well as ever. Ian and I flew his Corsair and my Mustang together one day while Dougal videoed. It's not easy to fly them close together or to film them but Dougal was able to get some pretty good footage which you can see in this month's video.
Having passed his 'A' test Gordon Bennett decided he needed some fun so he joined the foamboard fairies. He bought a Mig-29 from Banggood along with a 2212 2450Kv motor which he's fitted with a 6 x 4.5 propeller and runs from a 3 cell 2200mAh battery.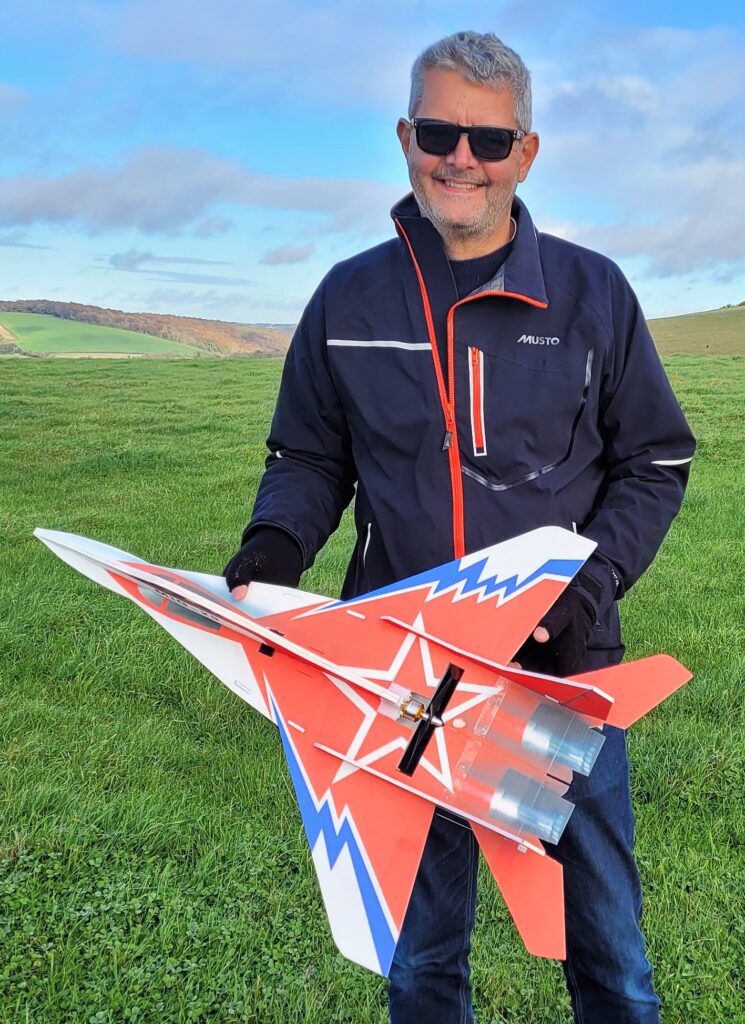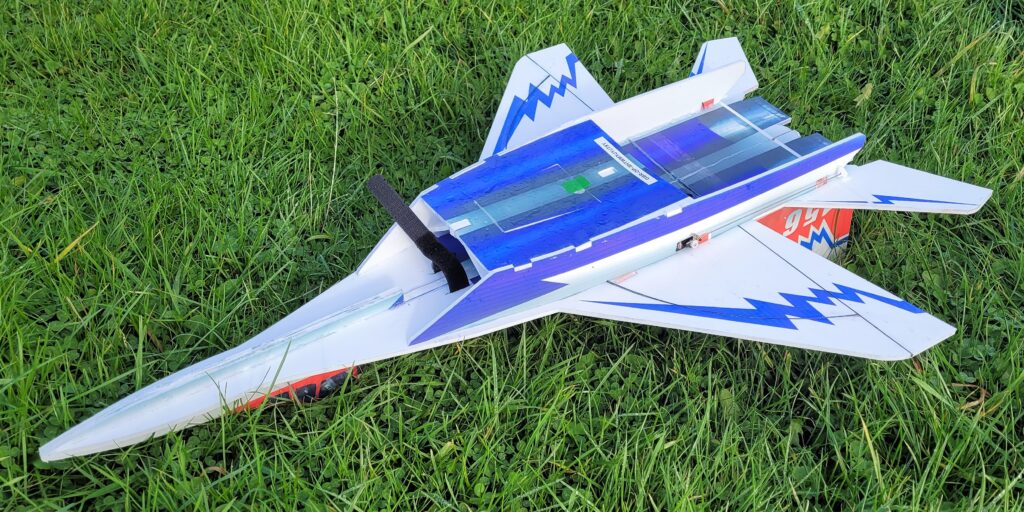 He made a nice job of putting it together and very quickly had it ready for flight. Gordon had never previously flown a foamboard model so I thought he was quite brave doing the test flight himself but all went well. The Mig appeared to be a bit too sensitive on elevator at first but Gordon got it all sorted out and was soon confidently flying low passes etc.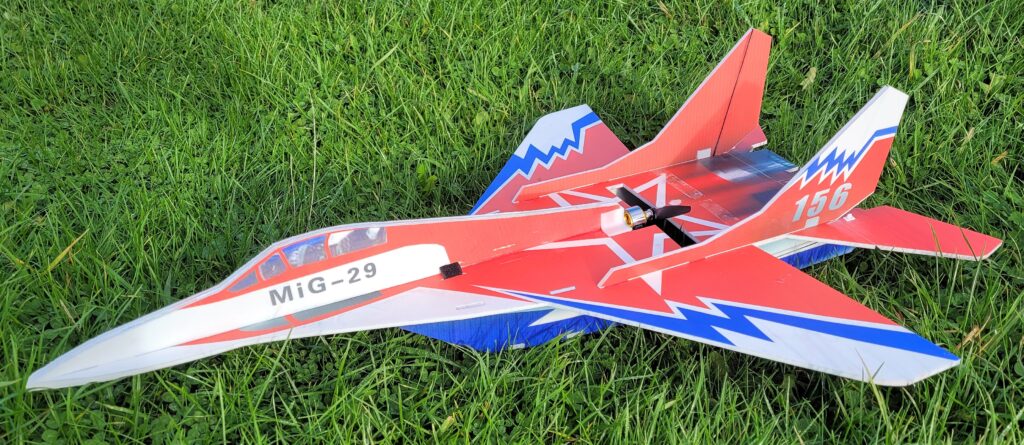 After a few minutes he called landing and dropped the model right at his feet. Well done Gordon, now you just need to learn how to take out Captain Slow's Mig-29!
Sadly I think my SU-27 will finally have to be retired after hundreds of flights. I bought it in a HobbyKing sale for just £7.64 back in October 2018 and have flown it regularly ever since. For more than three years it's been my 'go to' plane and despite many crashes (mostly due to my lunatic flying) it's always bounced back and flown as well as ever.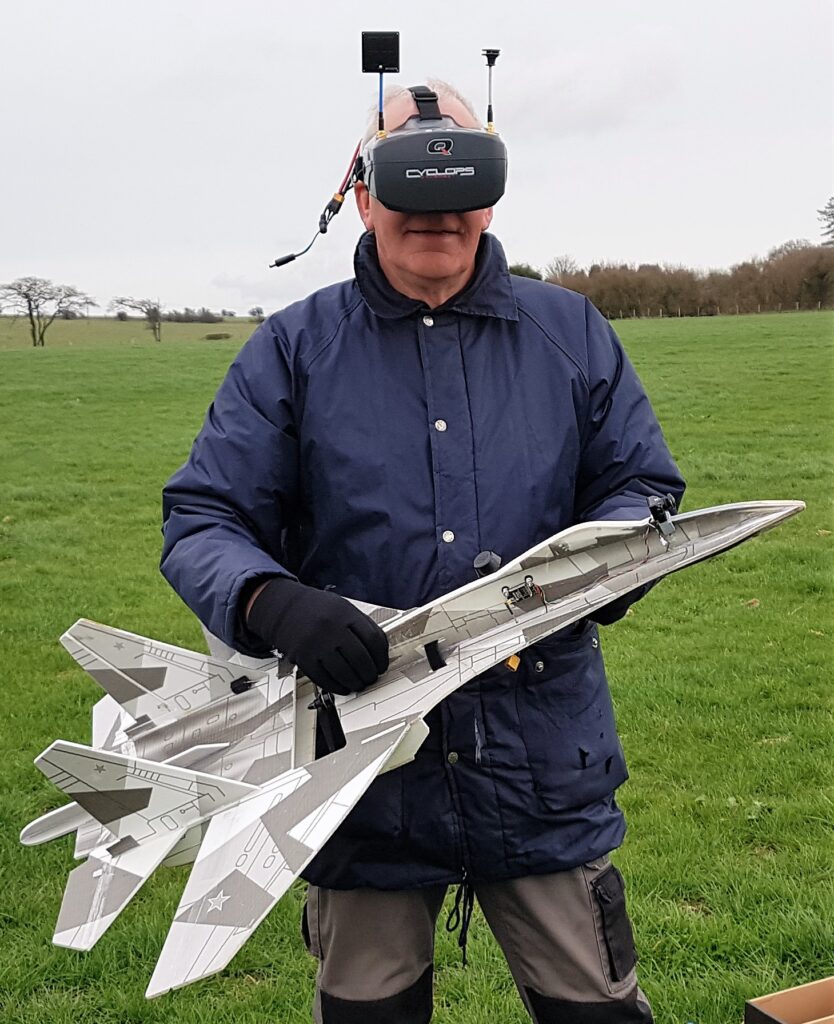 It even survived being the first plane I used for FPV. But in November it had several 'arrivals' when the battery came loose so I treated it to a new Velcro strap but on the very next flight it suddenly dived straight in. I'm not sure of the cause, possibly structural failure after so many bodged repairs, or maybe the receiver has had one too many crashes to cope with, but I'm leaning towards a total battery failure, more checks are required.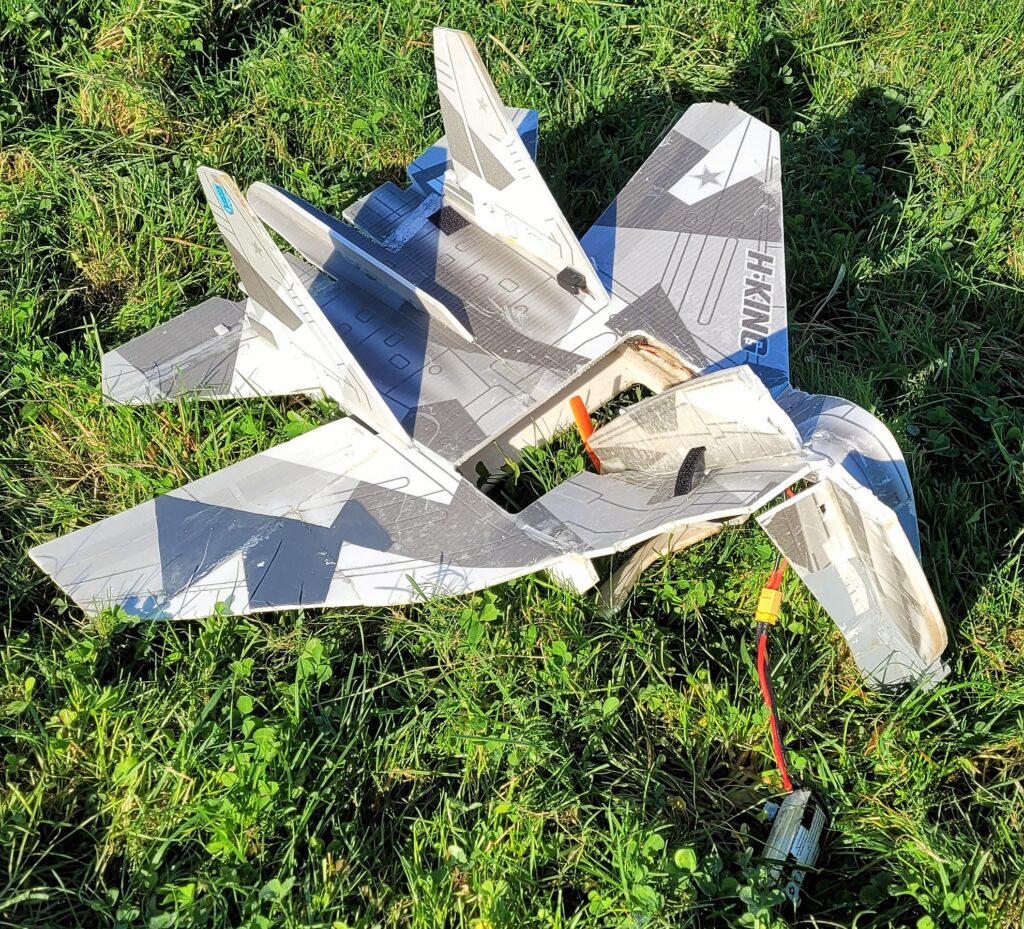 Fortunately I have a replacement SU-27 tucked away from the time when I bought six at once, five for club raffles and one for me. At the time HobbyKing must have been having a massive warehouse clear out as they were only £2.50 each! It's time to put it together.
I snapped this rather unflattering shot of Woody one morning. Perhaps I'm being a little cruel using this photo as he was actually retrieving my SU-27 from the lower field for me.

Here's a marginally better one when he's posing with his latest win from RC Aircraft Online, a Logic RC flight box. That's his second win in two months, well done Woody.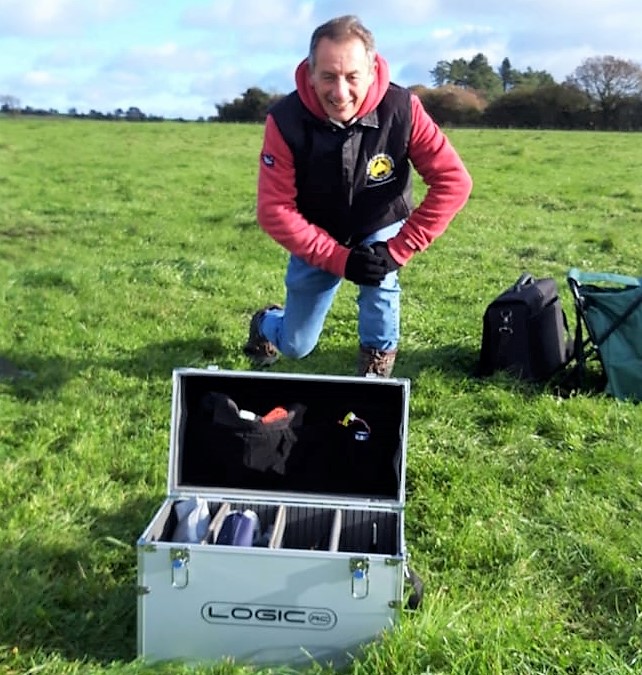 Not at the patch but fairly close by at Boscombe Down some electric records have been broken. Some of you may have seen the news about the development of the Rolls Royce Spirit of Innovation, an electric powered plane that has already smashed several records.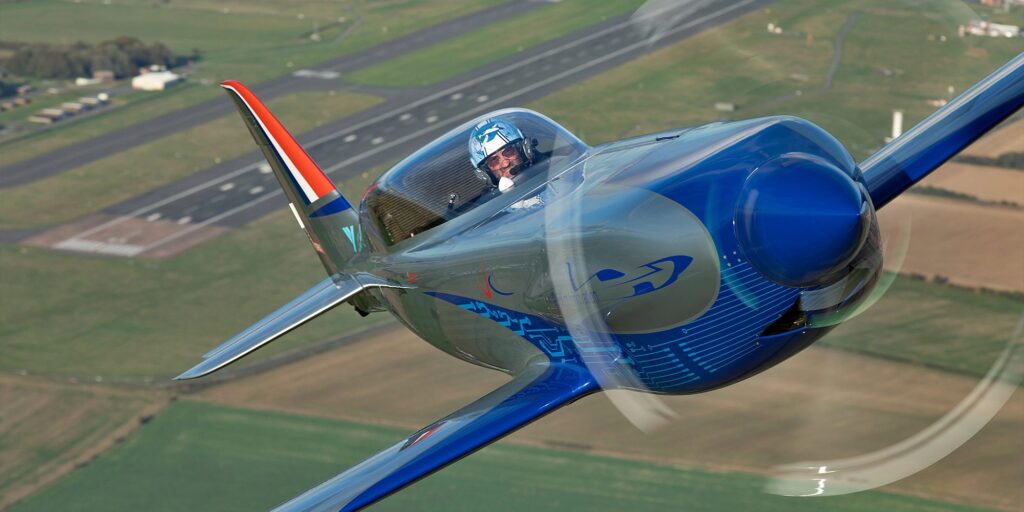 This is from the ExtremeTech website: Rolls-Royce has been working on an all-electric plane, called "Spirit of Innovation," and the automaker reports that the aircraft absolutely clobbered at least three world records in their latest test flights. For an aircraft that's only been in the air for a few hours total, that's pretty impressive — this report comes not quite two months after the aircraft took off for its maiden flight.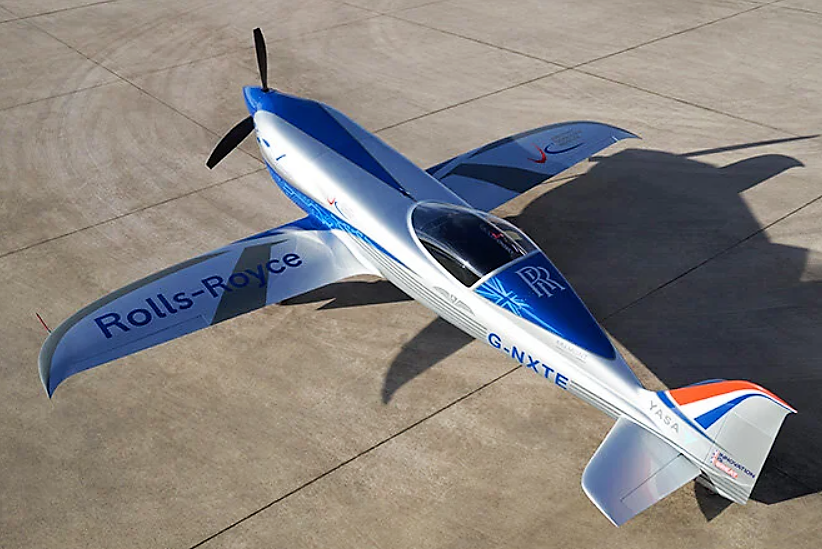 After the flights, the company announced: "We have submitted data to the Fédération Aéronautique Internationale (FAI) – the World Air Sports Federation who control and certify world aeronautical and astronautical records – that at 15:45 (GMT) on 16 November 2021, the aircraft reached a top speed of 555.9 km/h (345.4 mph) over 3 kilometres, smashing the existing record by 213.04 km/h (132mph)."
They go on to say that the day's later test flights also belong in the record books. While they didn't push the rest of the later flights quite as fast, at least one still hit 330mph. They also report breaking the fastest time to climb to 3km altitude by an entire minute, clocking in at a final 202 seconds, as well as breaking two other speed records over distances of three and fifteen km, respectively. The flights took place at the UK Ministry of Defence's Boscombe Downs aerodrome: an airfield not unlike Edwards AFB, used for testing new and experimental aircraft.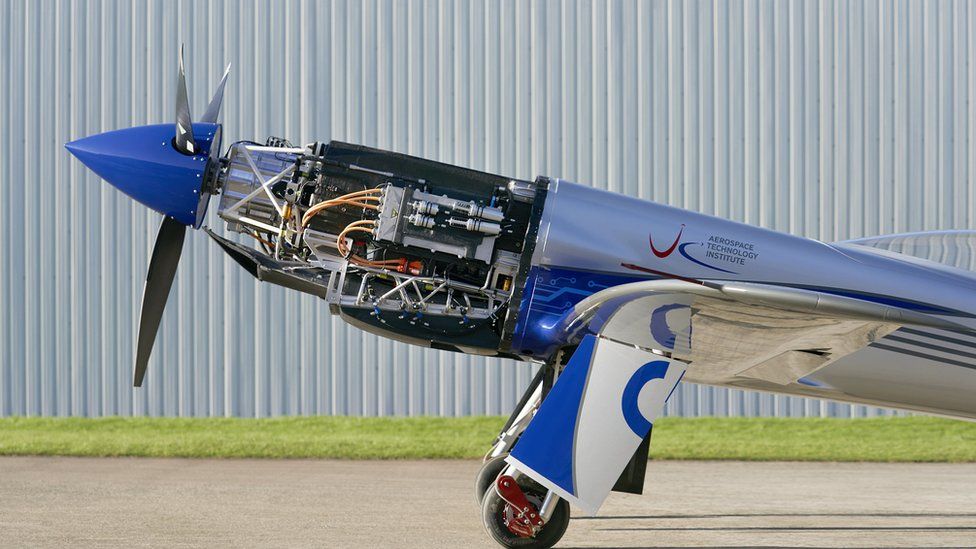 Spirit of Ingenuity uses liquid-cooled Li-ion batteries, and a 400kW power train developed with partners Electroflight and YASA, also of the UK. The single-seat aircraft has an ultralight carbon-fibre hull, and while it boasts the ability to put forth 500+ hp, it can land with two of its three batteries disabled.
Kryten was able to take some excellent flying shots of our models in November including several of my tiny Mustang, that can't have been an easy model to snap: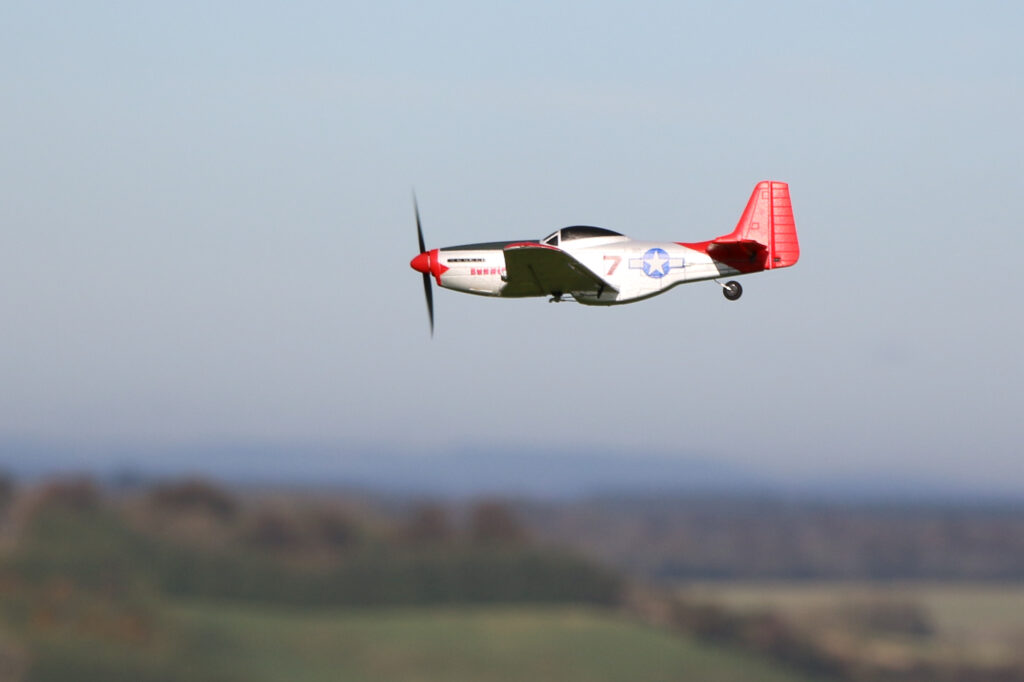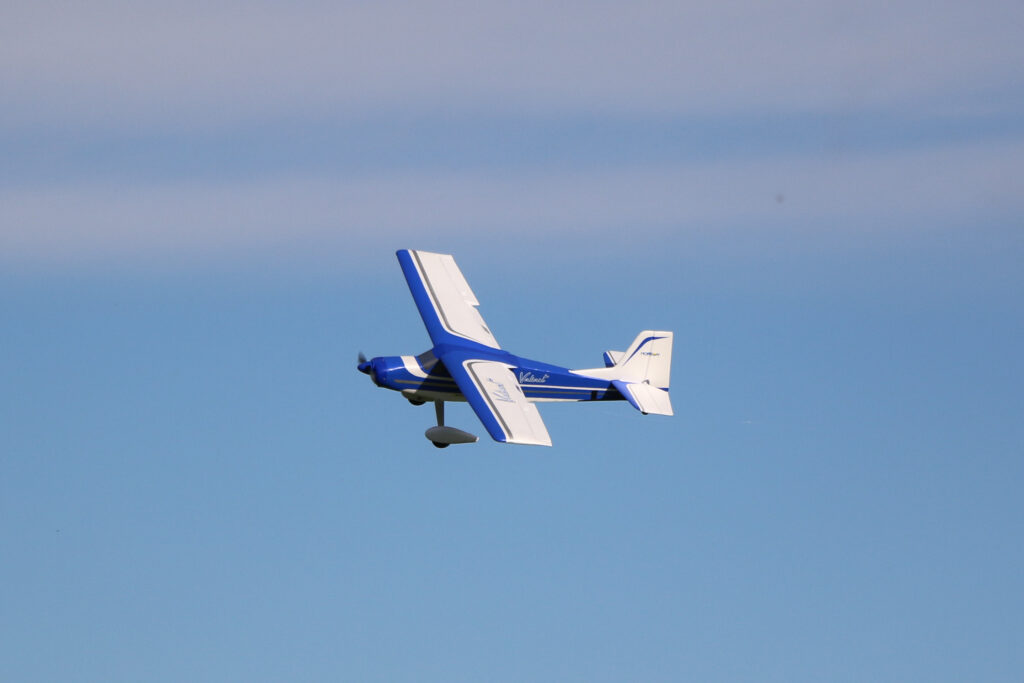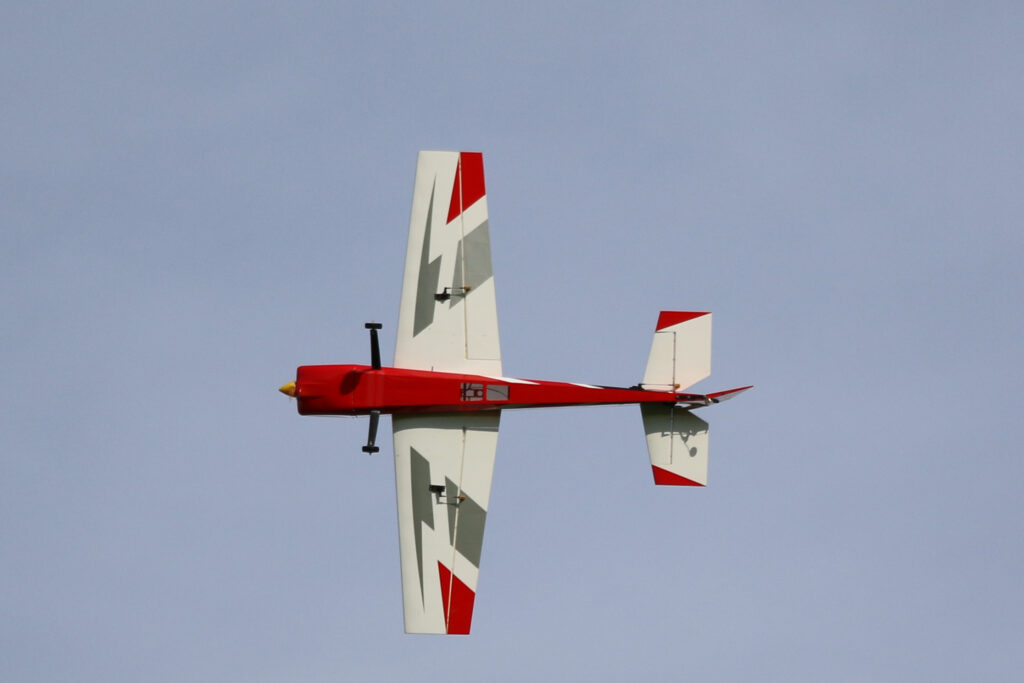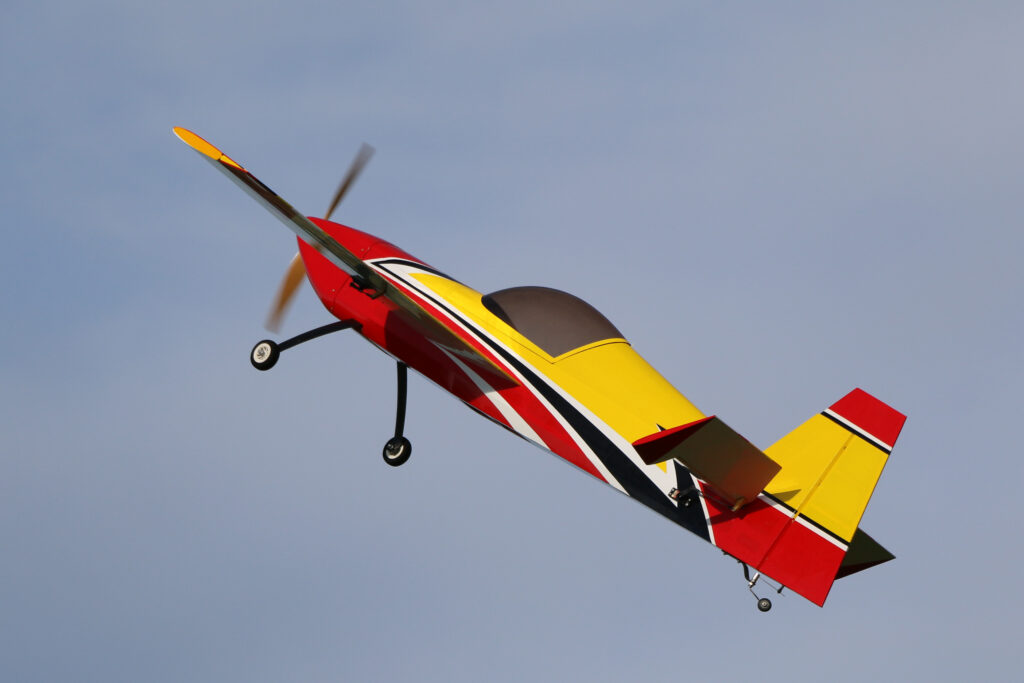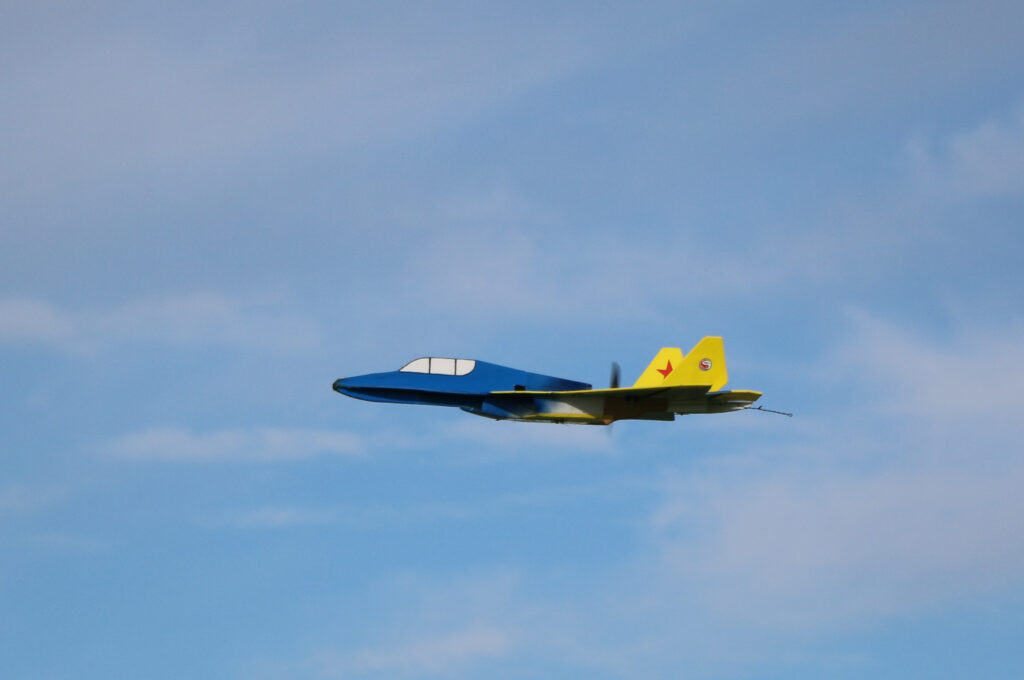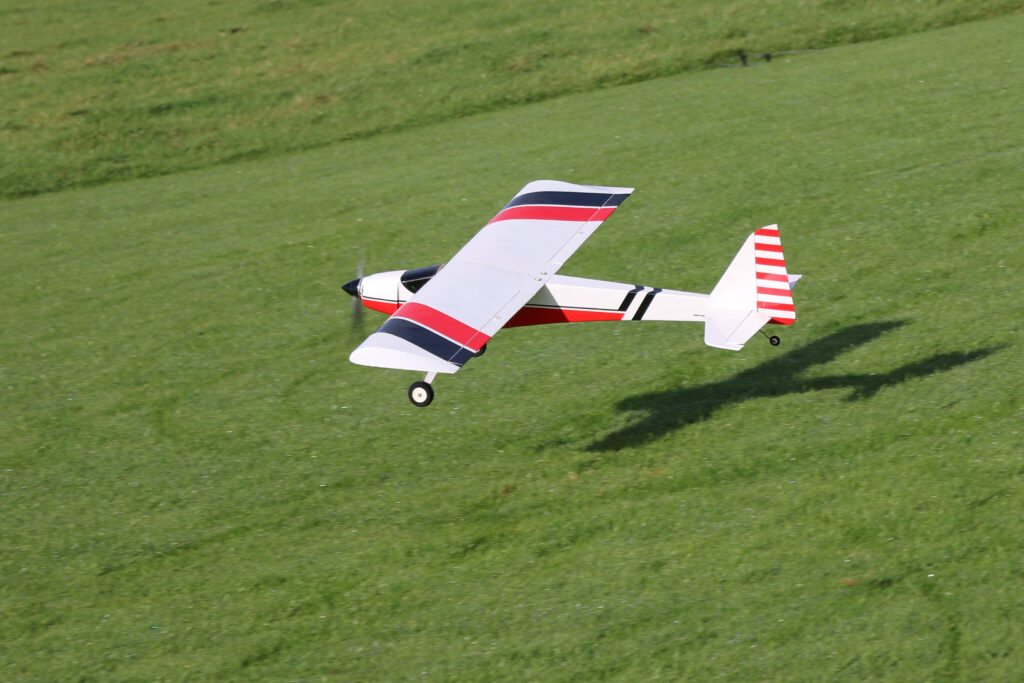 Video time now which this month includes both some ground and some aerial FPV footage by both myself and Dougal. Please watch the video full-screen, it's so much better with small models flying around. If the video won't play for you please click HERE
Did you hear about the lady who left her job as an air traffic controller to date a monk? She got out of the flying plans and into the friar…
Colin Cowplain