Happy New Year! In last year's December Patch News I said "We've finally reached the end of an awful 2020, surely 2021 can only be better can't it?" Hmm… I'm not sure I got that right but at least we were allowed to fly from the end of March onwards so fingers are firmly crossed for this year. Wishing you all good health and happy flying in 2022.
Several of us managed to fly regularly during December and Dougal Entendre and I both had lots of FPV flights. Typically, with the field being at a high altitude, there were several days when it was foggy first thing and sometimes the murk barely lifted at all. On one occasion a group of us had a few flights in reasonable conditions but as the morning progressed the fog blew up out of the valleys and enveloped us forcing us to stop flying.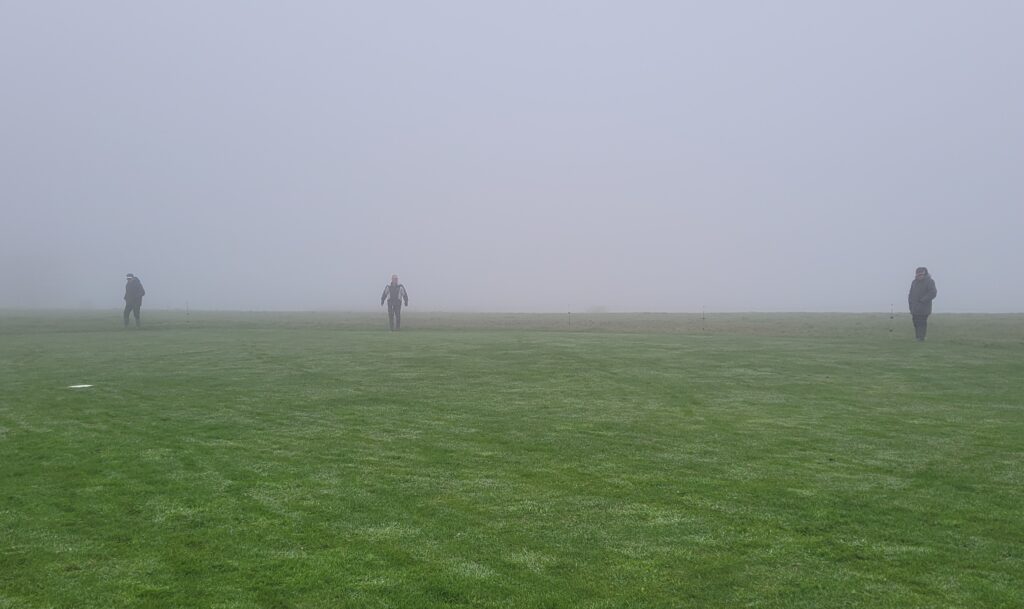 I flew FPV one morning once the mist had begun to lift and quickly discovered that damp air fogs up the camera lens. Captain Slow was spotting for me and when I said I needed to land because of the poor visibility he said it wasn't a problem as he could still see the model quite clearly. But the view on my goggles could best be described as suboptimal!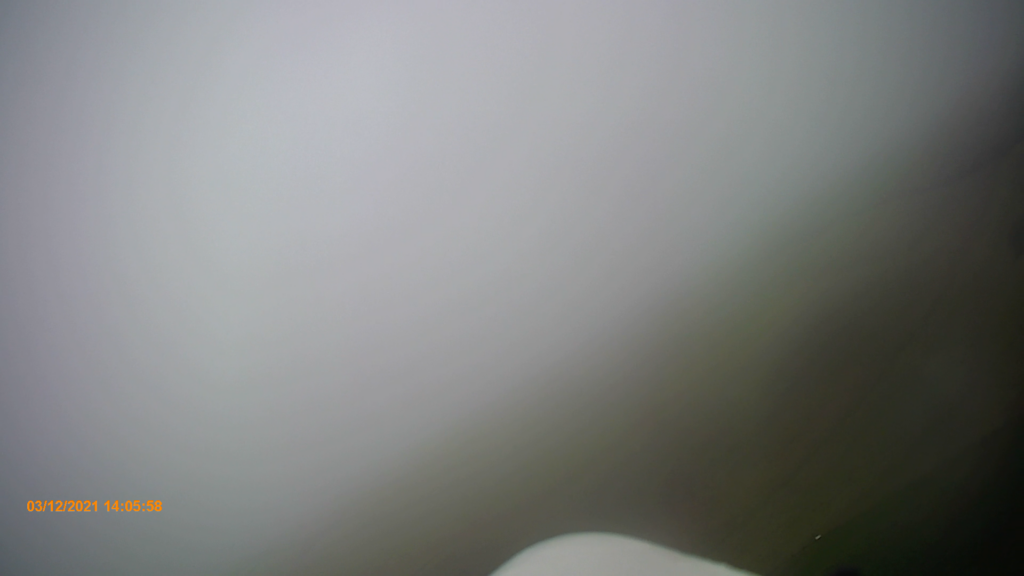 I was able to land safely and made the decision to not fly FPV again that morning!
So what did Santa bring you all for Christmas, any exciting new models/motors/radio gear/accessories? I didn't get any of those but was very pleased to receive three vintage model books, Aero Modeller Annual 1957-8, and Radio Control Manuals 2 & 3 (1967 & 9).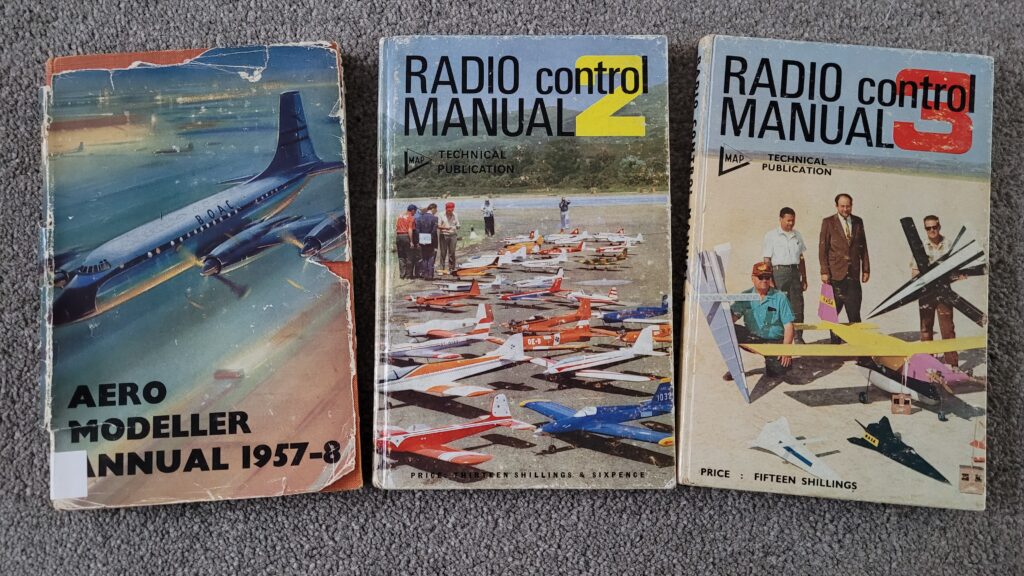 There is some fascinating stuff in all three books, I particularly enjoy reading the adverts.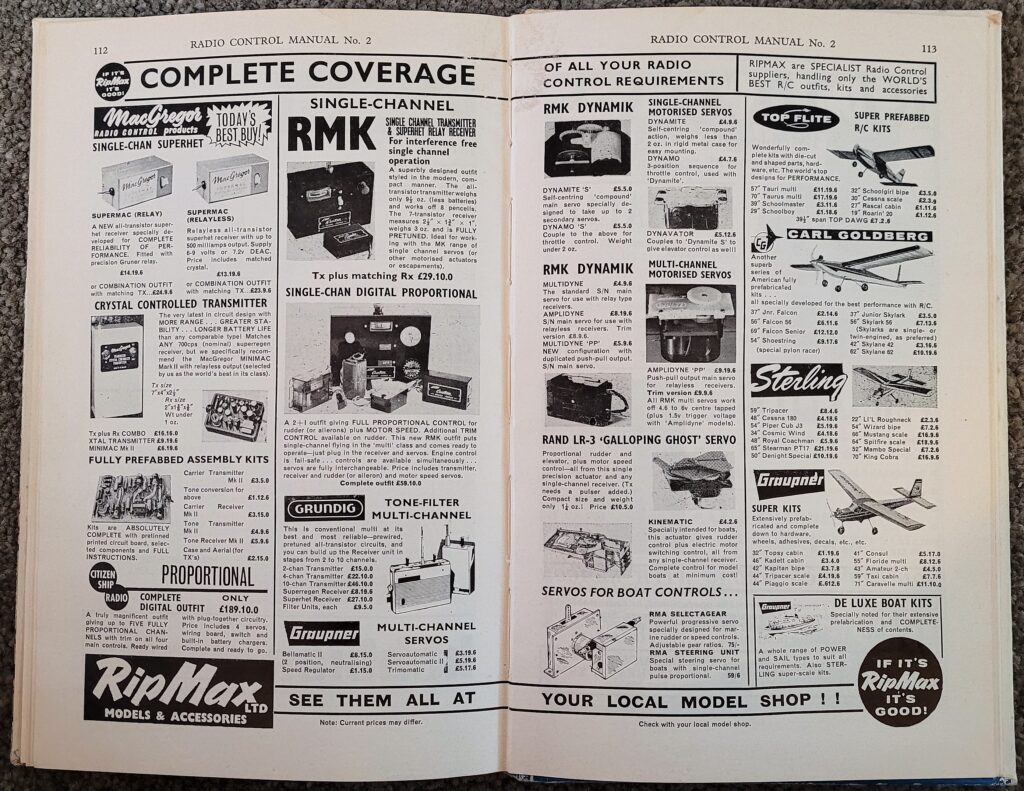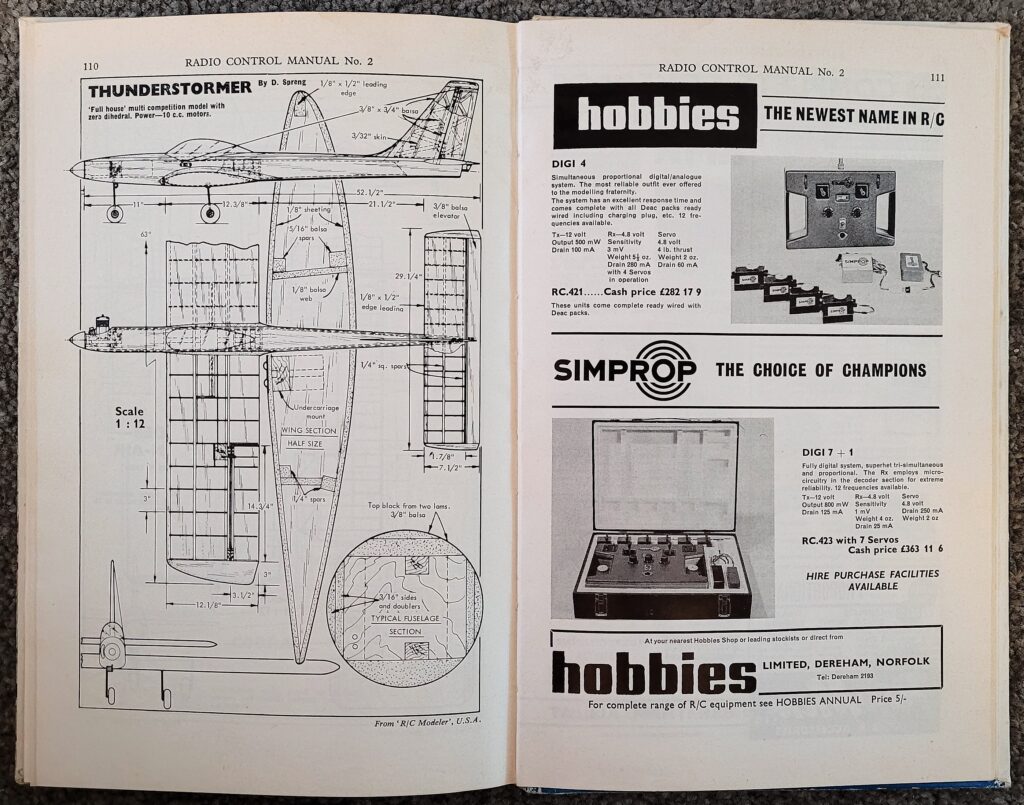 Would you have paid £363 for a 7 channel Simprop set in 1967? Maybe you'd have settled for the 4 channel set at just £282! Strangely, according to the ad the 4 channel receiver weighs 5 1/2oz but the 7 channel one only weighs 4oz. The servos were a mere 2oz each. Things have certainly changed in 55 years, the micro models that some of us have been flying recently (Mustang, Corsair, Trojan etc) weigh a tad over 2oz complete with battery!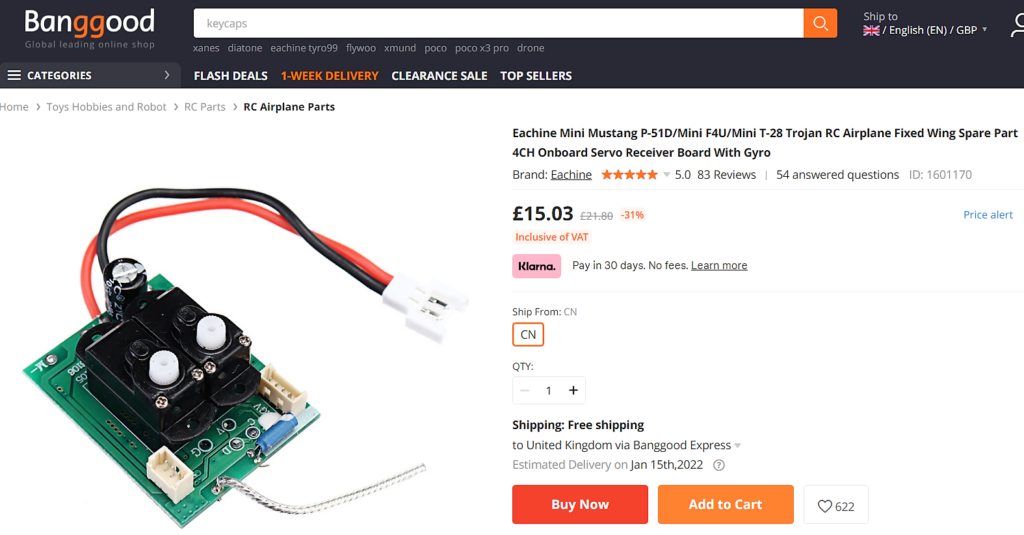 Their main electronics board which includes the 4 channel receiver, 2 servos, speed controller, and the 6 axis gyro can be purchased from Banggood for just £15.03.

I also received a pair of socks, but these aren't just any socks, these are Vulcan socks!
Unusually no new models were flown in December, or if they were I missed them, but there has been a fair bit of building going on and also a lot of I/C to electric conversions. On one of the murky mornings while we waited in vain for the skies to clear Ian Daniels showed us a couple of models that he's converting currently (pun intended!).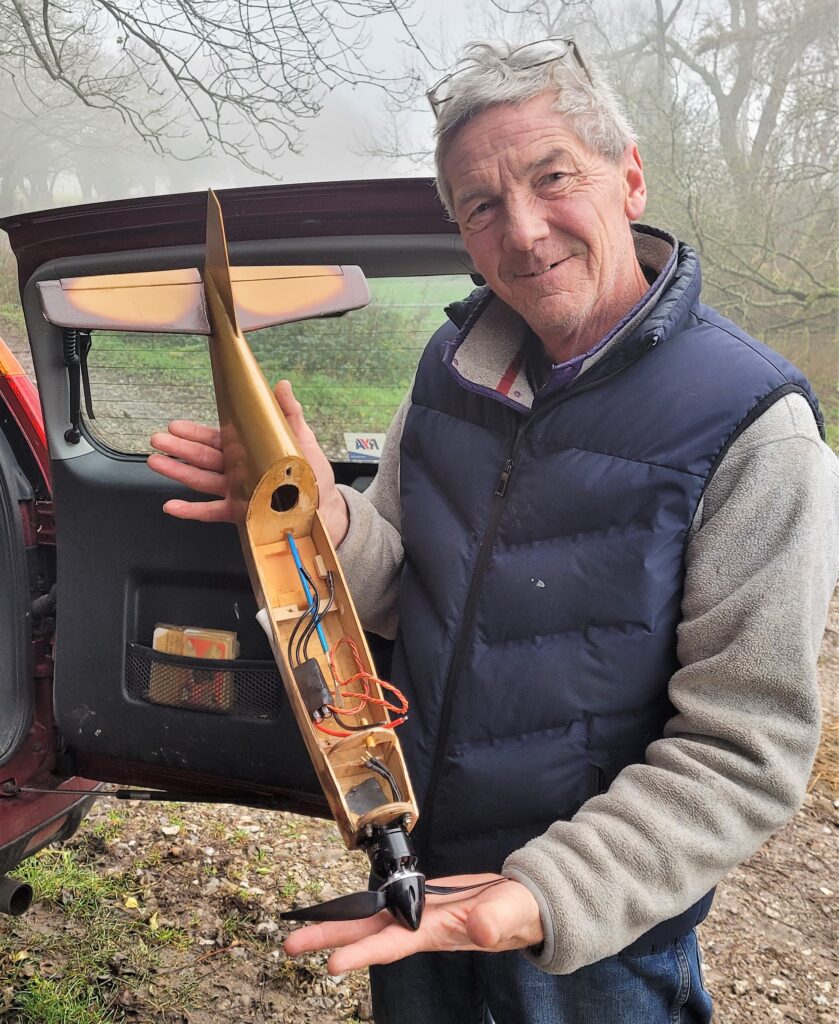 The first one is a Dara Club 20 racer which Ian has already fitted with a suitable motor and is now wondering quite how he's going to fit a 3 cell 2200mAh lipo inside as there's not much room under the wing. Ian also showed us his Mole, a 49" span low wing sports model he built from a 1987 Dave Richardson plan that was published in RC Model World.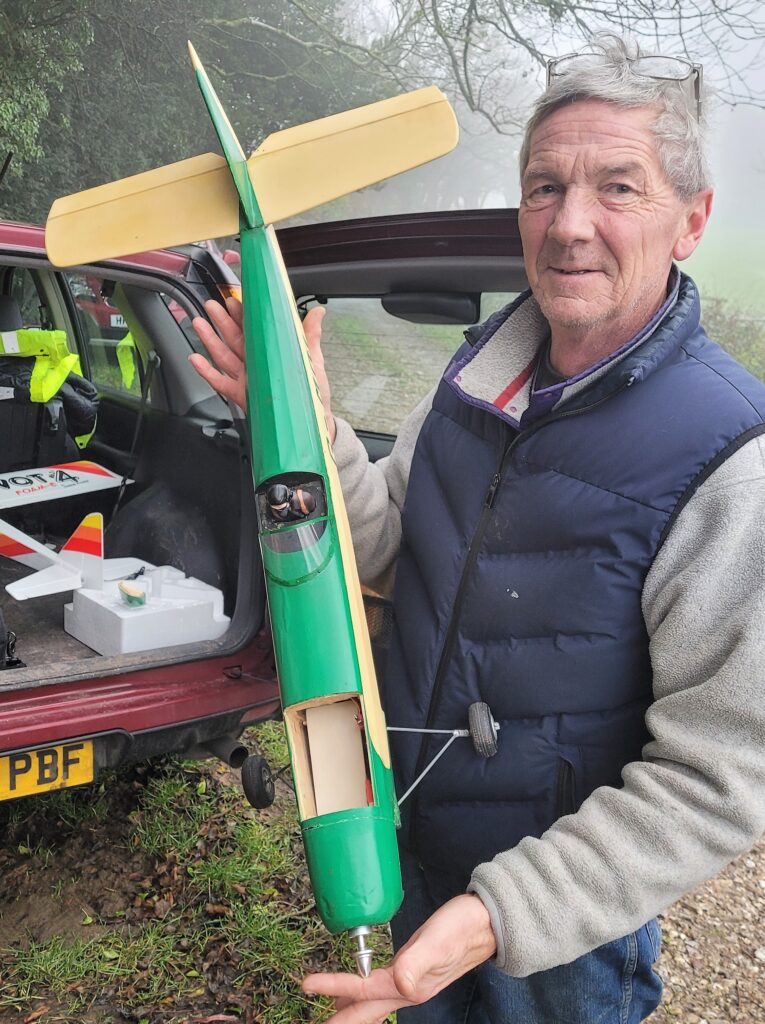 This is what Dave Richardson says about it: The Mole is a sturdy, scalish aeroplane designed around a 25-size engine, well within the building and flying capabilities of a low-time solo R/C pilot and fully aerobatic in the right hands. It features a foam or built-up wing with optional flaps, which add considerably to the fun of flying. Certainly not a first or second model, but third to umpteenth, yes indeed! The Mole looks to be ideal for conversion to electric power. Ian has already got most of his Mole sorted, it should be a much easier conversion than the Dara and fitting the battery is straightforward.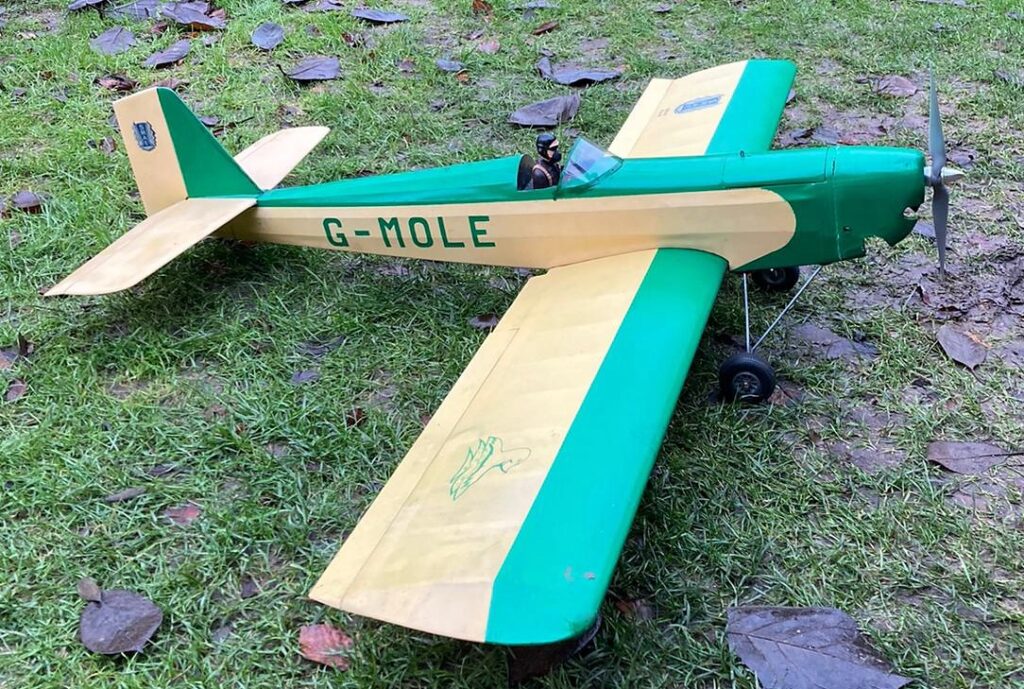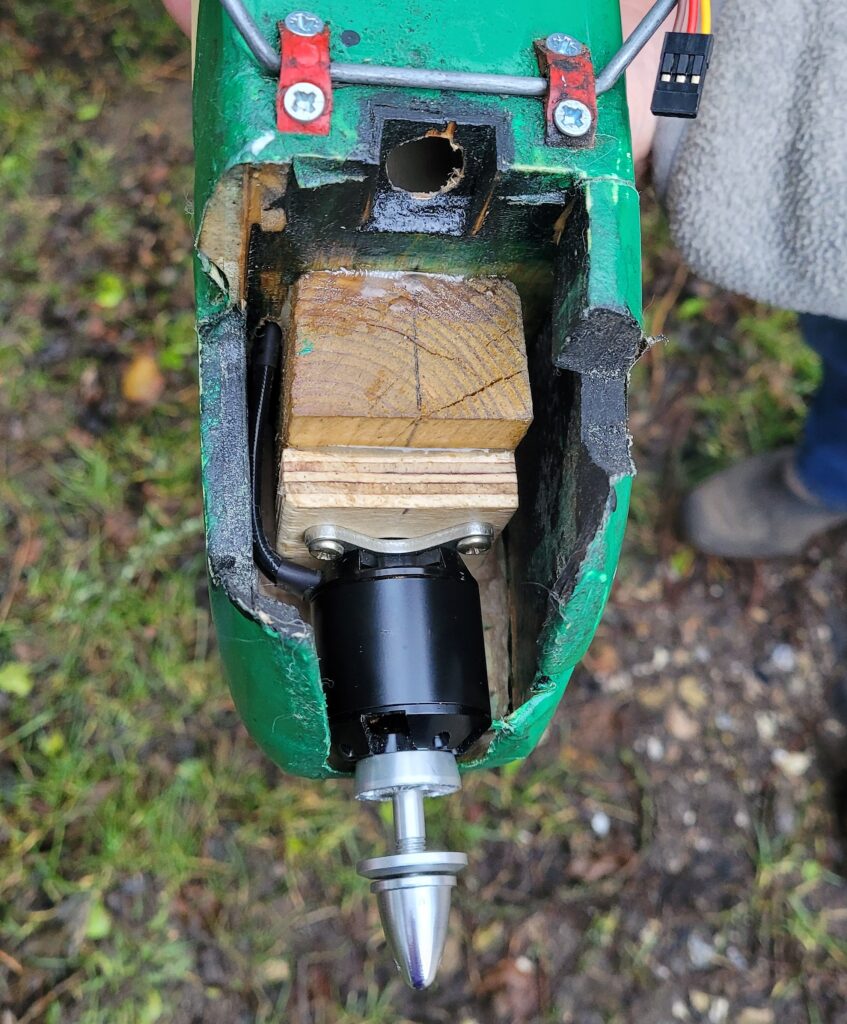 Note the Dougal Entendre motor mounting method, why use nice aluminium stand-offs when you have a lump of 4"x 2" knocking around, enhanced in Ian's case with some ½" ply! Bizarrely 1066 flew a Mole at a Sandown Symposium back in the late 80's. He didn't build it but was asked to fly it and show it off to the crowd, speak to 1066 for the full story.

If you fancy building one for yourself the plan can be downloaded from Outerzone.
Dwayne Pipe has been busy building and sent me this: The KF mini Splot is my latest attempt to home build an indoor flyer. The previous five models have all failed due either to instability or lack of power. Weight is everything with indoor aircraft.
The KF mini Splot is based on a scaled down Splot design with a 15 inch wingspan. My previous design had been a mini SU 27 foam board, this had been unflyable. I reverted to the old fashioned elevator and rudder design. To provide the required lift I have used a Kline Fogleman wing section with a large dihedral, the results are much better.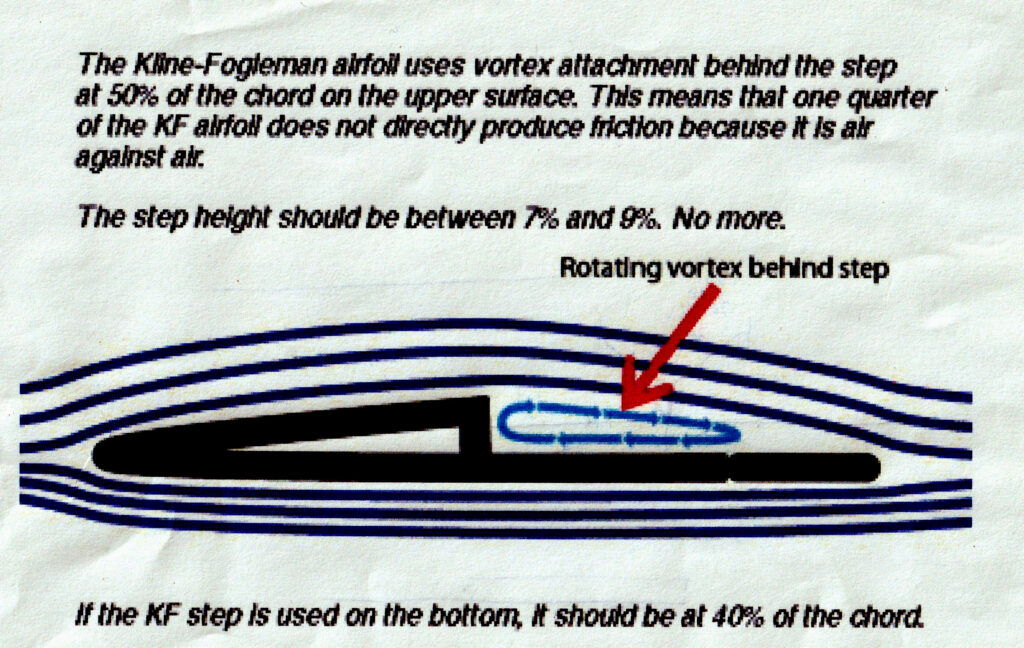 The wings, rudder and horizontal stabiliser are made of 3mm Depron. The body is light 6mm square balsa reinforced with a CF rod.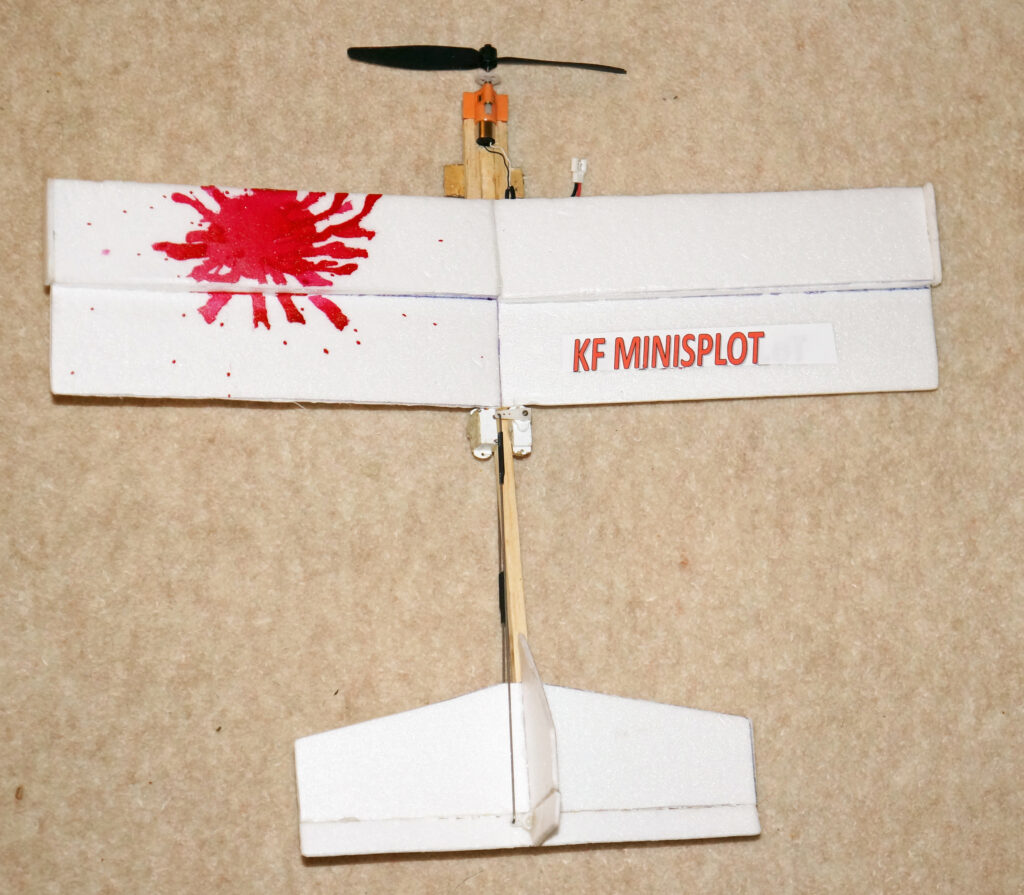 The electronics have been assembled from all over the place. The receiver compatible with my old Spektrum transmitter is a Banggood 2.4G Micro DSM2, this has a built in brushed ESC and comes with four servo micro sockets. Only Hobbyking make 2.2 gram servos to fit these. The coreless brushed motor is from Micro Aces and pulls a 5 inch prop.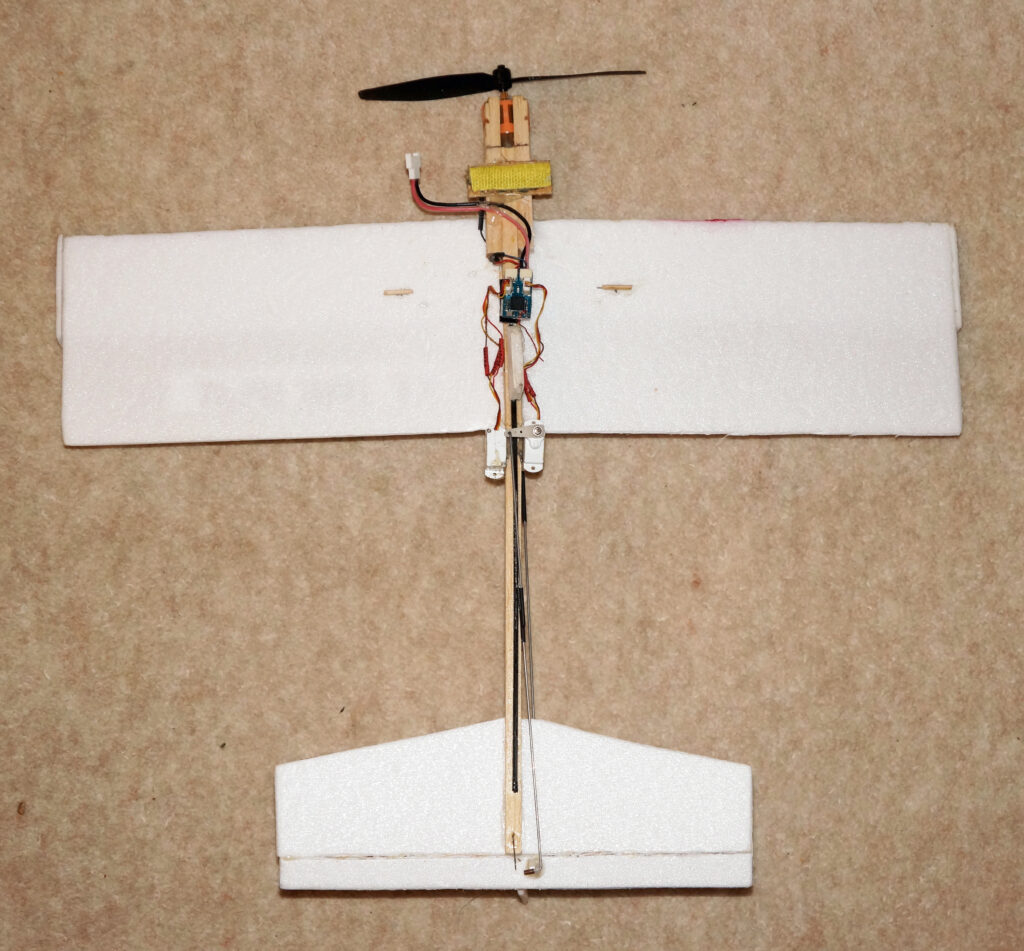 The battery is a 1S 600mah located to balance the plane on its C of G. The whole assembly with battery weighs about 40 grams. Tested on a calm day at the local rec. it has so far flown the best of the lot. That's excellent Dwayne, at 40 grams the complete model is less than three quarters of one of the 1967 Simprop servos mentioned above!
Chas Butler always keeps himself busy and in December he completed a conversion. Chas says: Here are the details of another model I've converted from i.c. to electric power.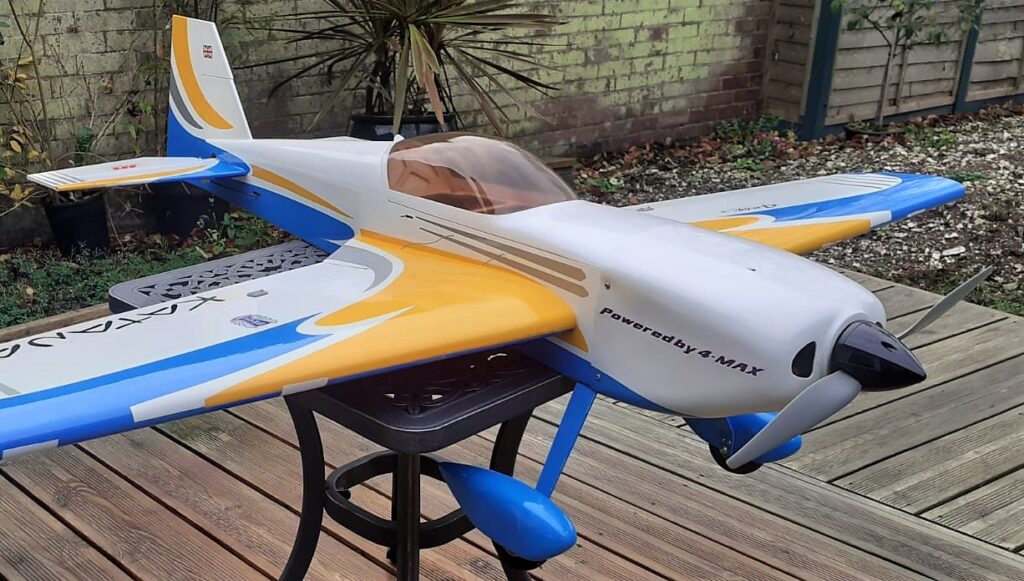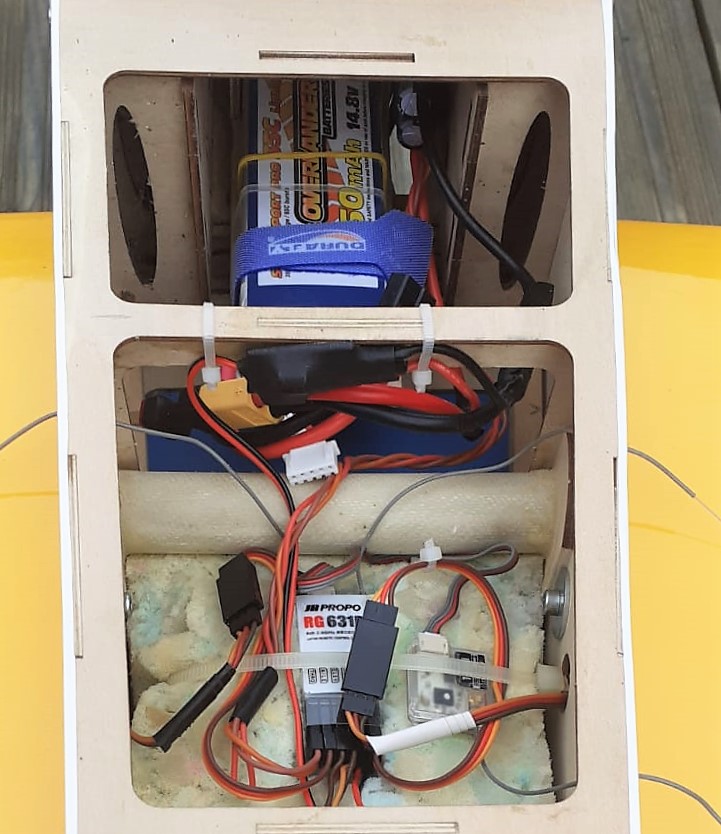 The model is a Katana (Chinese built I believe) which I won in a club raffle whilst I was waiting for my first hip replacement (2004). Initially it had an ASP 46 2 stroke fitted but now it has a 4-max 5055-595kV motor, driving a 13 x 8E ASP propeller, with a 60 amp ESC and a 5 amp UBEC. JR standard size servos are used and the receiver is also JR.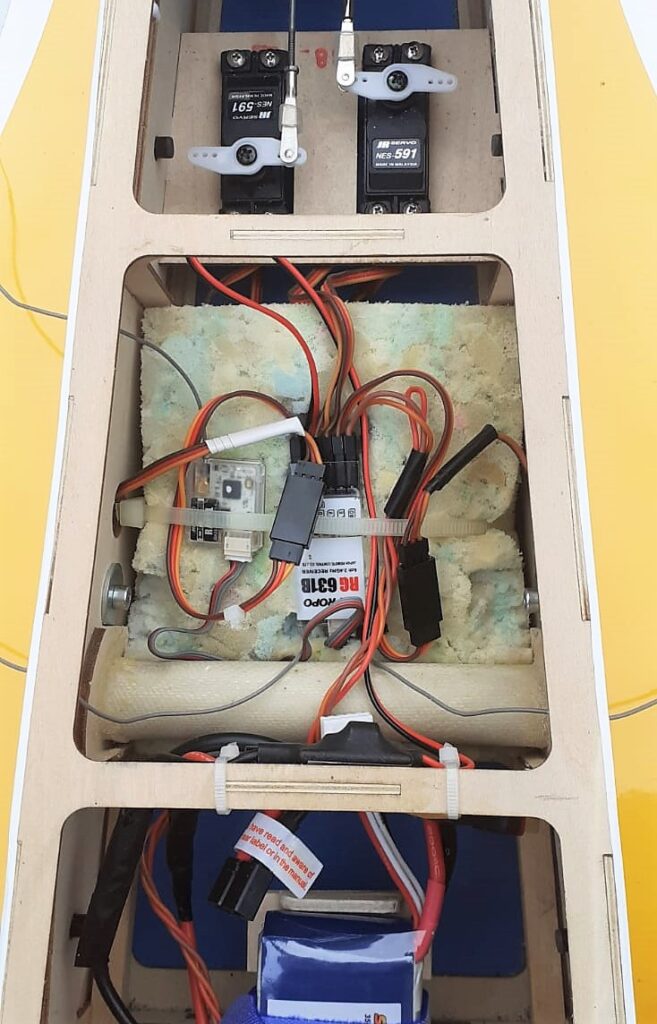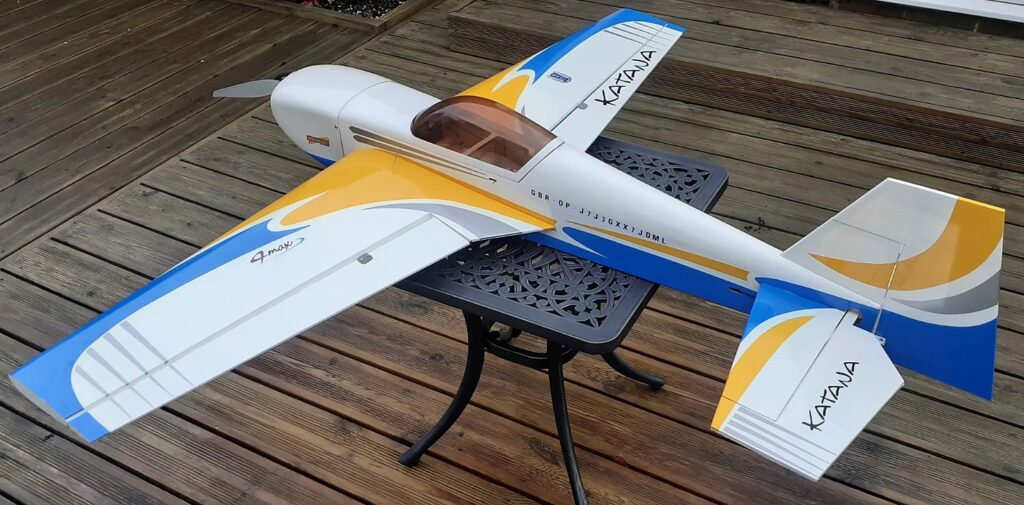 I'm trying 4S 3350mAh to begin with. The model has a wingspan of 55 1/2″, it is 51.2" long and weighs in, with battery, at 6lb 6oz giving a wing loading of approximately 26oz /sq. ft. Will have to see how it performs on this set up. It looks very nice Chas and I think it should go well with that set-up, I look forward to seeing it at the patch very soon.
Page Boy has been splashing out again. He told me he needed cheering up whilst recovering from his recent bout of Covid so he treated himself to a Freewing L-39 Albatros. This is from the Freewing website: Developed originally by Aero Vodochody in the 1960s in what is now the Czech Republic, the Aero L-39 Albatros excelled as a jet trainer platform with its powerful turbofan and overall reliability. The L-39 and its successive variants continues in service throughout the world in militaries as trainers and light attack platforms, and in civil aviation including aerial demo teams and racing.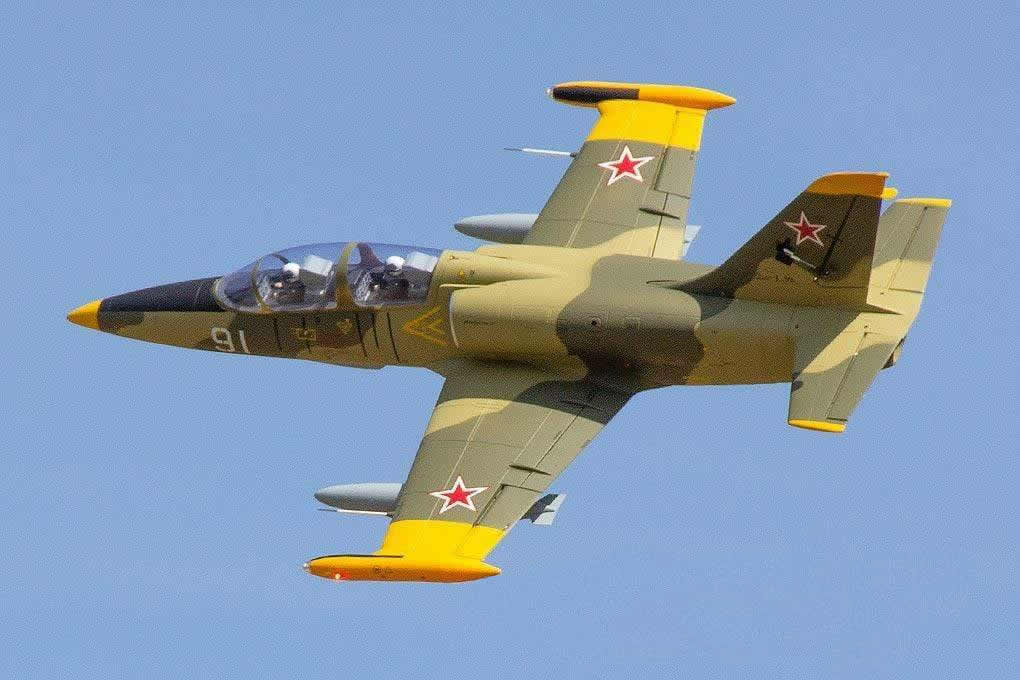 The Freewing L-39 Albatros is the largest and most capable production PNP L-39 in the world. Optimized for high manoeuvrability and precision flying, the L-39 truly is a "Sport jet wearing Scale jet clothing". The PNP version uses a powerful 3530-1850kv brushless motor and 100A ESC to power the 12 blade 80mm EDF.
The Freewing L-39 Albatros includes grass capable suspension landing gear, a full coverage nose door, scale wingtip lights, and easily removable tip tanks, ordnance, belly gun pod, and wings. Only one glue joint is required to complete the model's general assembly. A plastic lined cockpit also resists deformation under sunlight, and optional 3D Printed cockpit detail upgrade parts are also sold separately.
Oh dear, Page Boy has to do one glue joint, I hope he can cope with that! Judging by the photos he sent me he has already glued the joint which I imagine was fitting the fin to the fuselage and it looks ok to me, I can't see any blobs of epoxy or dribbles of cyano.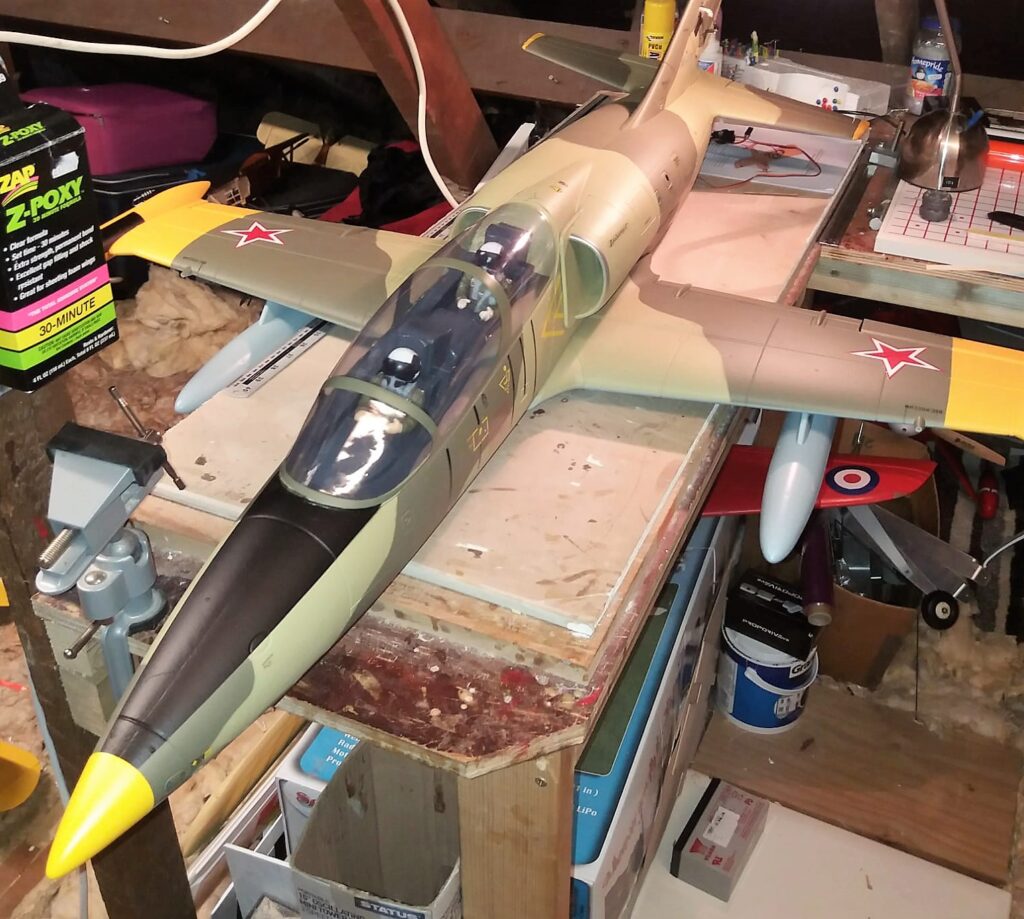 At 1054mm span and 1351mm long the Albatros is quite big compared to many EDFs and is considerably larger than Page Boy's Hawk. The weight is 2.2kg without the required 6 cell lipo in the 4000-6000mAh range. The model looks superb especially with the lights on although I have to confess that I'm slightly concerned about the gnome!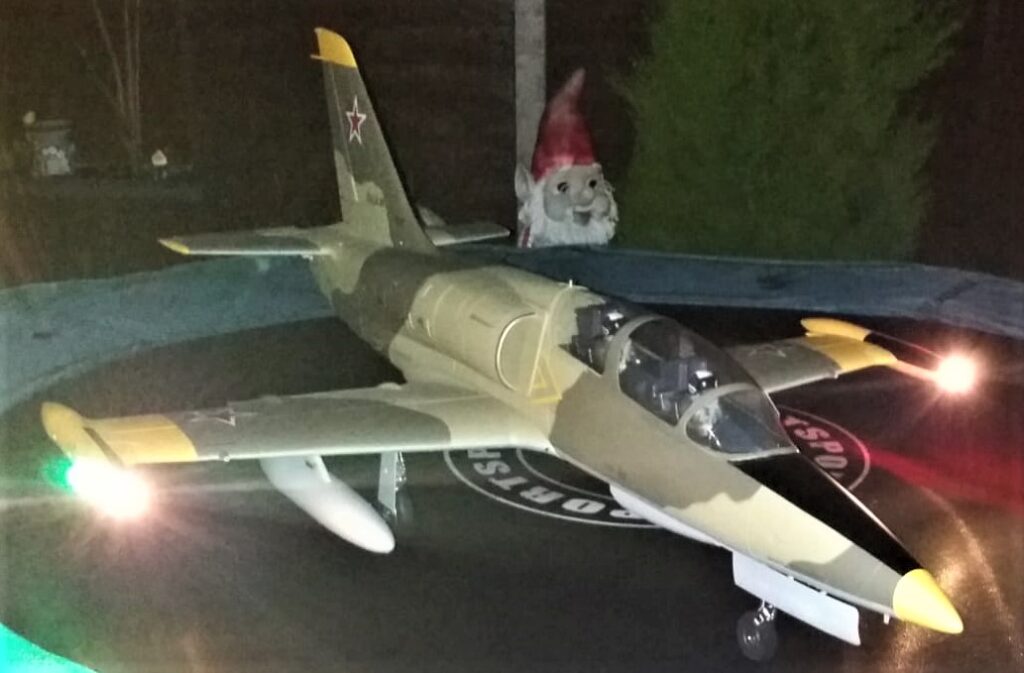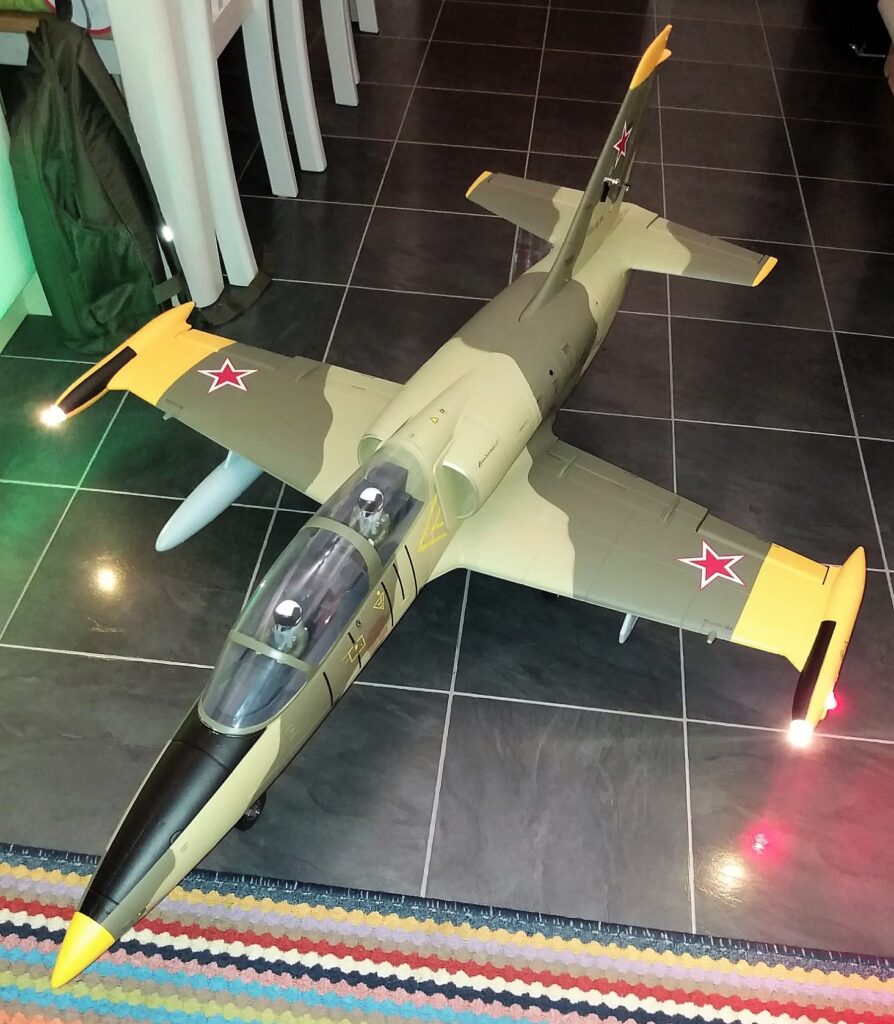 The other concern I have is the nose-leg door that looks is if it would last about five minutes on our patch which brings me to the sad news that Page Boy won't be renewing his PAM membership for 2022. He is moving to another club that has a much larger area of near bowling green quality grass that is much more suited to EDF models. It will be a great shame to lose him but is totally understandable with his wish to fly larger and more scale EDF models for which our patch really isn't suitable. Page Boy has been a PAM member for quite a few years and he's also taking much newer member Richard Osborn along with him. Between the two of them they lowered the average age of the members by about 20 years! You'll be missed guys, I hope you'll drop in to see us sometimes.
On the last Sunday before Christmas just four of us turned up, Captain Slow, Gordon Bennett, Woody and me. I snapped this atmospheric photo of Captain Slow arriving…late!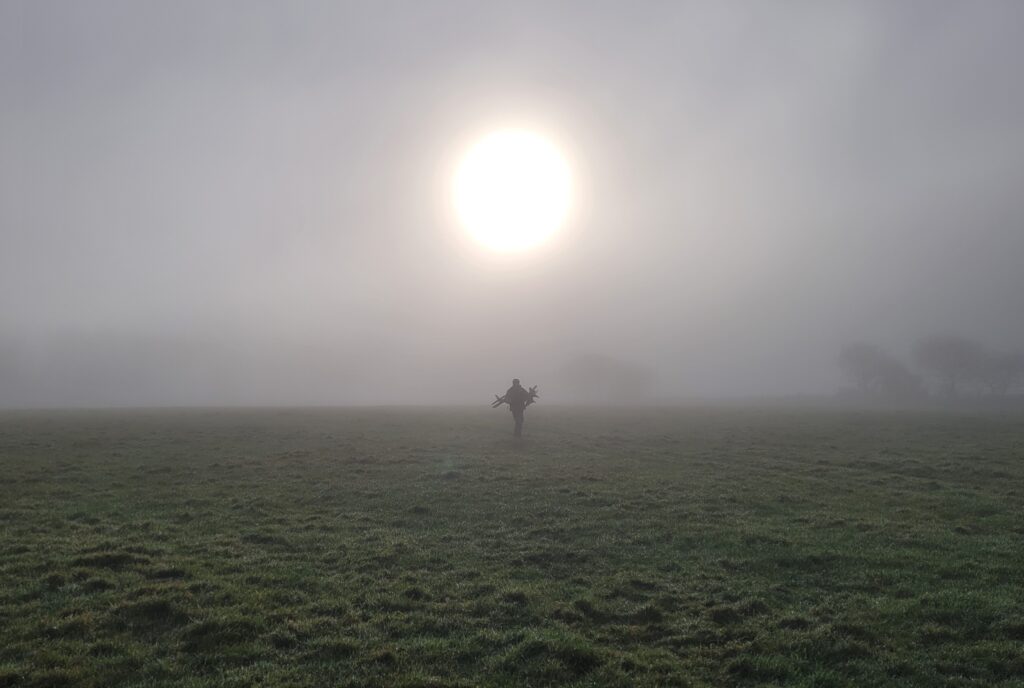 We thought the mist would quickly burn off and proceeded to fly but we had to keep the models very close especially as the mist was blowing through in banks. Gordon and I both flew our Migs and Captain Slow flew his Hummer and we managed ok but when Woody flew his Sukhoi he lost sight of the model as a particularly thick bank of fog blew in. We could all hear the Sukhoi was still flying but not see and it sounded as if it was drifting off over the lower field so Woody shut the throttle and let it come down. We all trudged off the find the wreckage and spread out over the field and soon found the Sukhoi, safe and sound and completely undamaged. You can see some of the morning's fun in this month's video.
I don't have any photos from Kryten this month I'm afraid so I'll show you some screenshots captured from some of the FPV videos Dougal and I shot in December.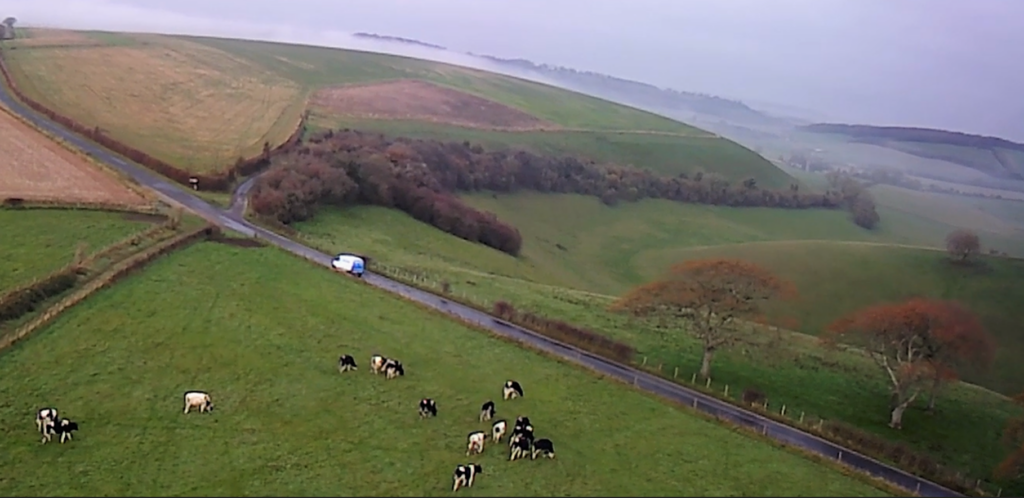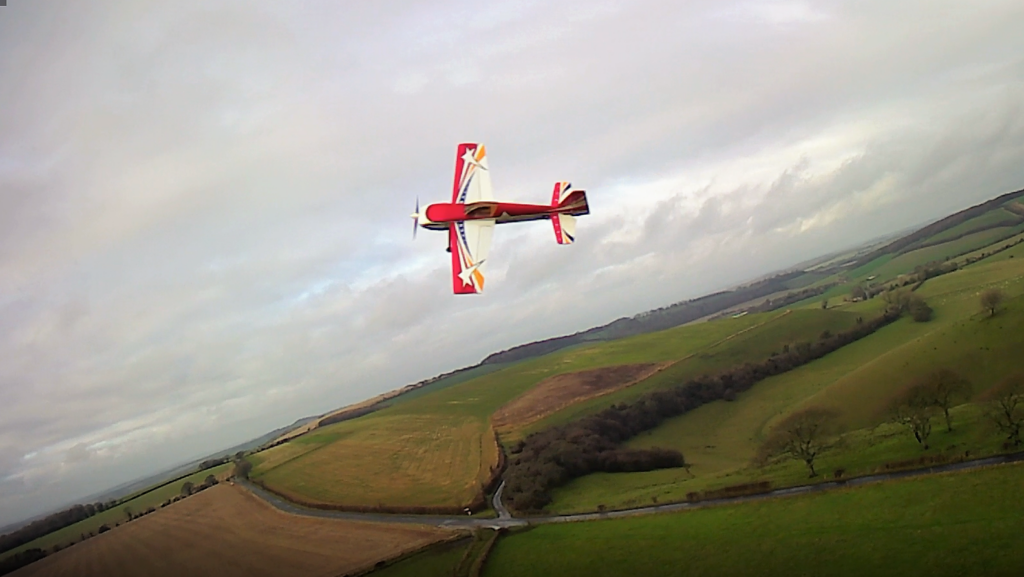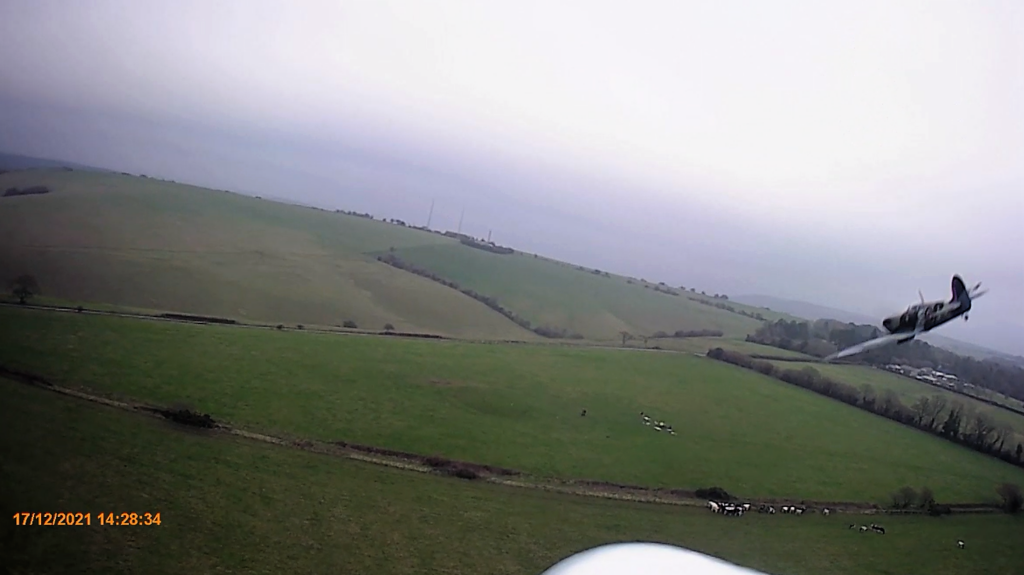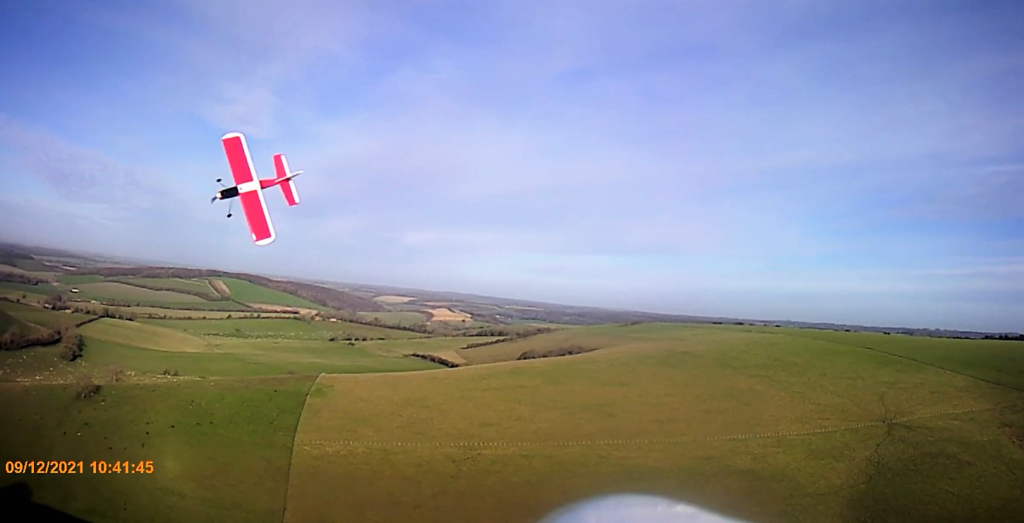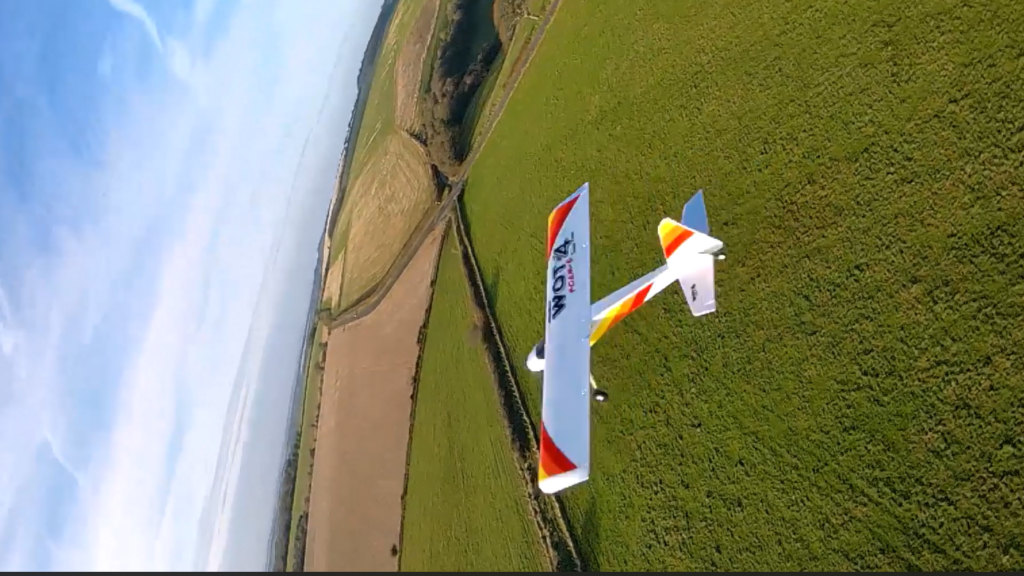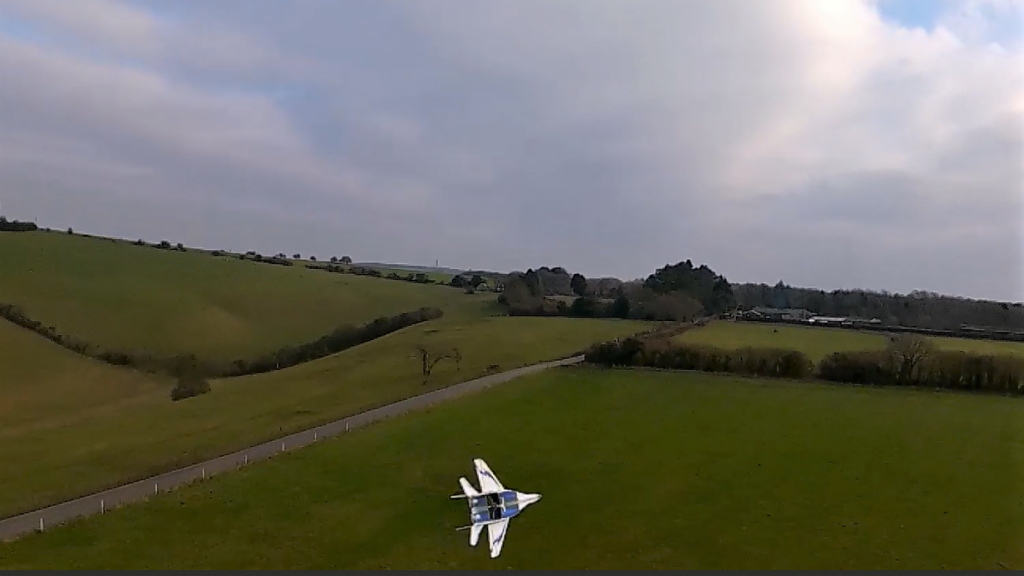 Video time now which this month includes footage taken by myself, Captain Slow, Dougal Entendre, and Gordon Bennett. Please watch the video full-screen, it's so much better with small models flying around. If the video won't play for you please click HERE.
The newlyweds were opening their presents on Christmas morning and the groom expressed his disappointment when he didn't receive any modelling gifts.
His bride said "We're married now, you don't need to play with toy planes anymore".
He replied "You're beginning to sound like my ex-wife".
"What?! I didn't know you been married before!" she exclaimed.
"I haven't…"
Colin Cowplain