Unsurprisingly the October weather was rather autumnal and served up pretty much everything from sunny days with almost no wind to other days with heavy rain and gales.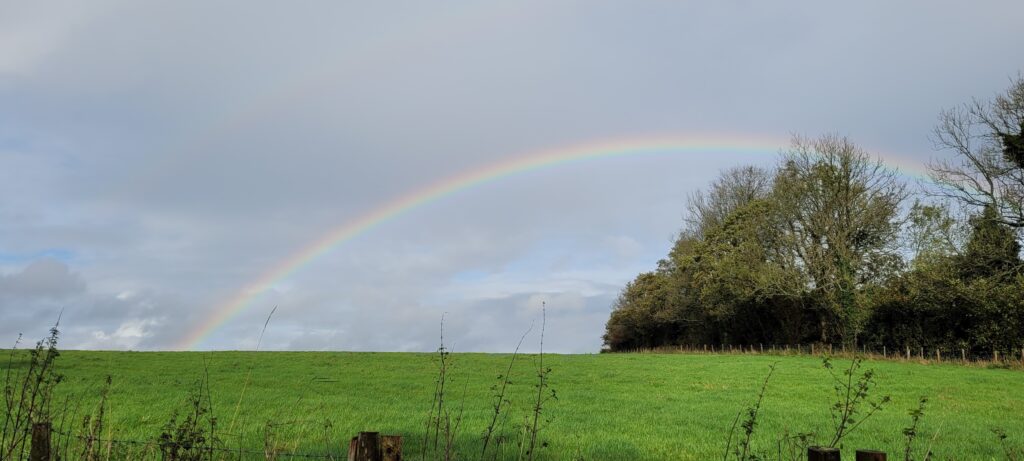 PAM members managed to fly regularly although some of the calm mornings were rather murky at first but it quickly cleared on most mornings and the sun broke through.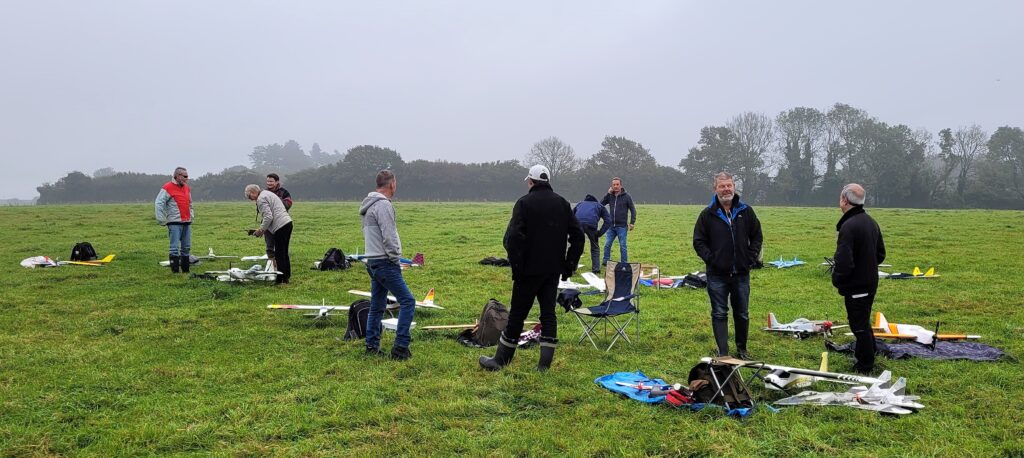 However on one morning we were totally defeated and gave up after about an hour of consoling ourselves with cups of coffee whilst solving all the world's problems.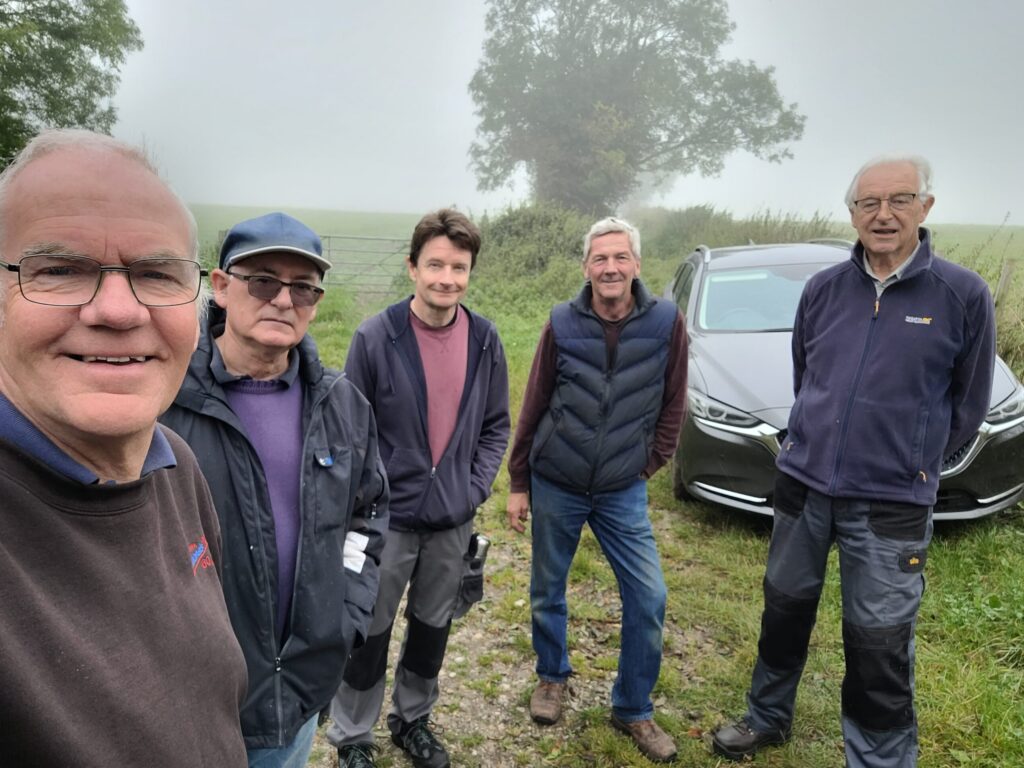 The bullocks disappeared right at the end of September and didn't return in October. The grass is growing more slowly now and it's normally mown by the Farts (Friday Afternoon Rural Trimming Society) but in October Dan (Page Boy) and Richard Osborn also cut it a few times. Maybe they should be known as the Drats (Dan & Richard Artisan Trimmers)?
The club Comp Sec Dwayne Pipe has asked me to remind you about the various fun-fly comps that run continually throughout the year. As the name implies they really are just for a bit of fun so next time you are at the field why not pick whichever discipline(s) you fancy and have a go. Full details are on the website, click on the Competition heading. There are two classes for each competition, A and B depending of which BMFA certificate you hold so if you have an A certificate you won't have to compete against B certificate fliers. Just ask someone to help you with the timing and/or counting and then let Dwayne know your score. I'll keep the scores up to date on the website Competition page.
Back in June this year Ian Daniels visited the field and must have liked what he saw because despite all our usual insults and mickey taking he decided to join the club. Ian began his modelling career as a child and progressed to radio control at the age of 16 but after college his interests turned to full-size flying and modelling took a back seat. Recently he did a bit of slope soaring but then decided to try power models and found us. He came along with a Wot4 Foam-E and with a little help was soon flying with few problems. Ian has flown regularly since June and practised hard working towards taking his BMFA 'A' cert test. I'm pleased to report that in October Dougal Entendre took and passed him.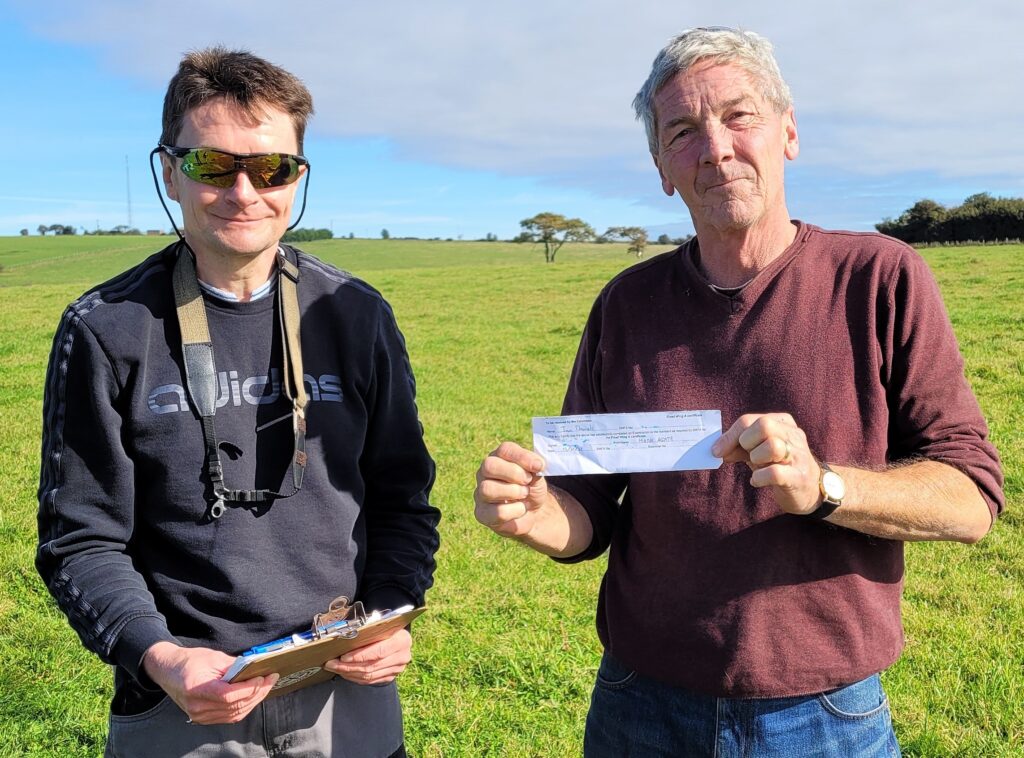 Within a few minutes of passing the test he strode confidently off for his first 'solo' flight.

Well done Ian, onwards and upwards now, maybe you'll want to take your 'B' certificate next year. With your aviation background I'm sure you'll be a great asset to the club.
Early in October another prospective new member, Paul Bennett, found us. Paul had worked for ITV for many years but also has some full-size aviation history and now, amongst other things, instructs on a Boeing 737 simulator. I feel a club trip coming on!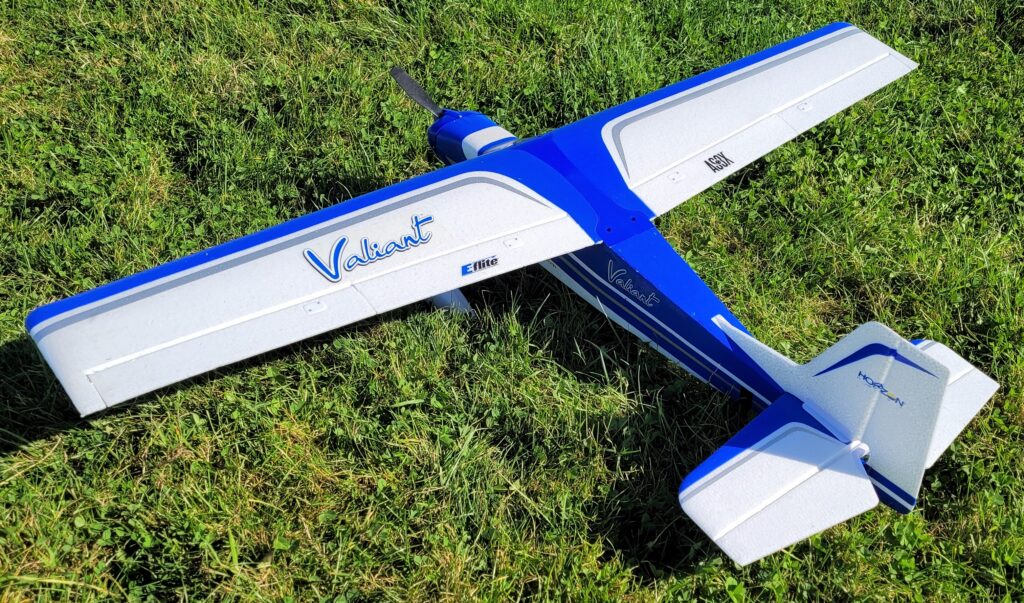 Paul currently has an E-flite Valiant trainer which he flies very competently so no doubt he'll be another 'A' test candidate very soon. Having already flown with us three times in October Paul has now been offered PAM membership which he has happily accepted.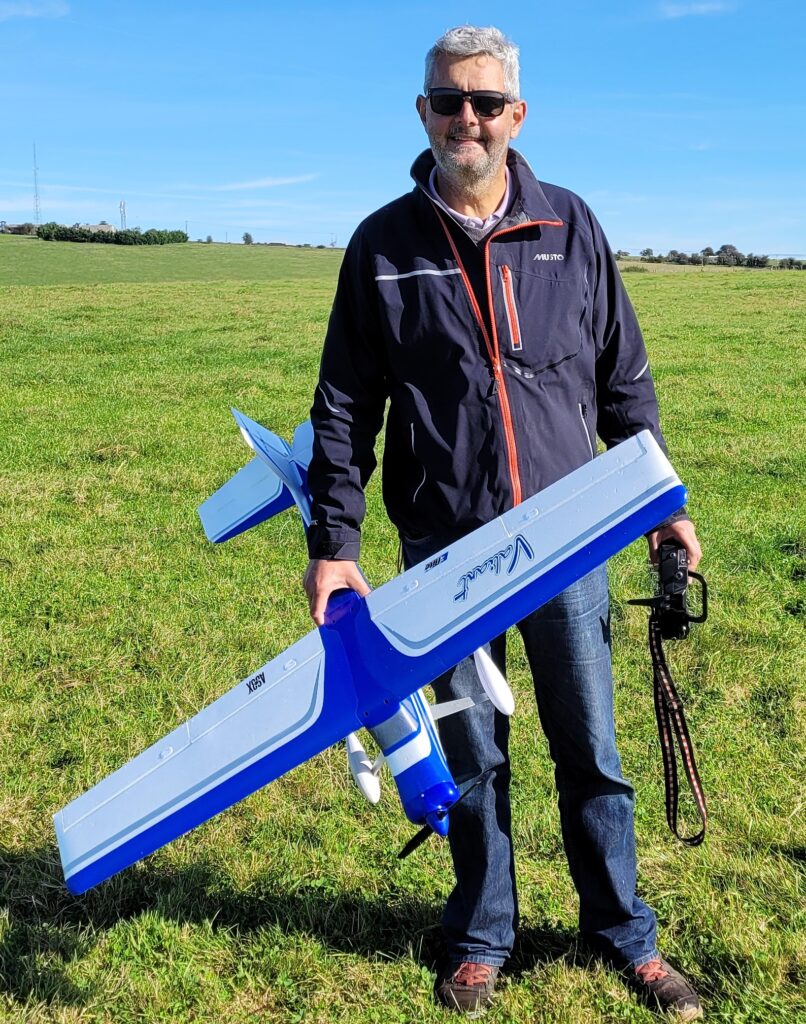 Dougal Entendre immediately said Paul should be known as Gordon Bennett so unless I hear any objections Paul is now Gordon. Welcome to the madhouse Gordon!
Those of you who are in the PAM WhatsApp group will know that I bought a very small Mustang P-51D from Banggood early in October. It's the same as the one Catapult King has, from the Eachine Warbird Series that also includes an F4U Corsair and a T-28 Trojan.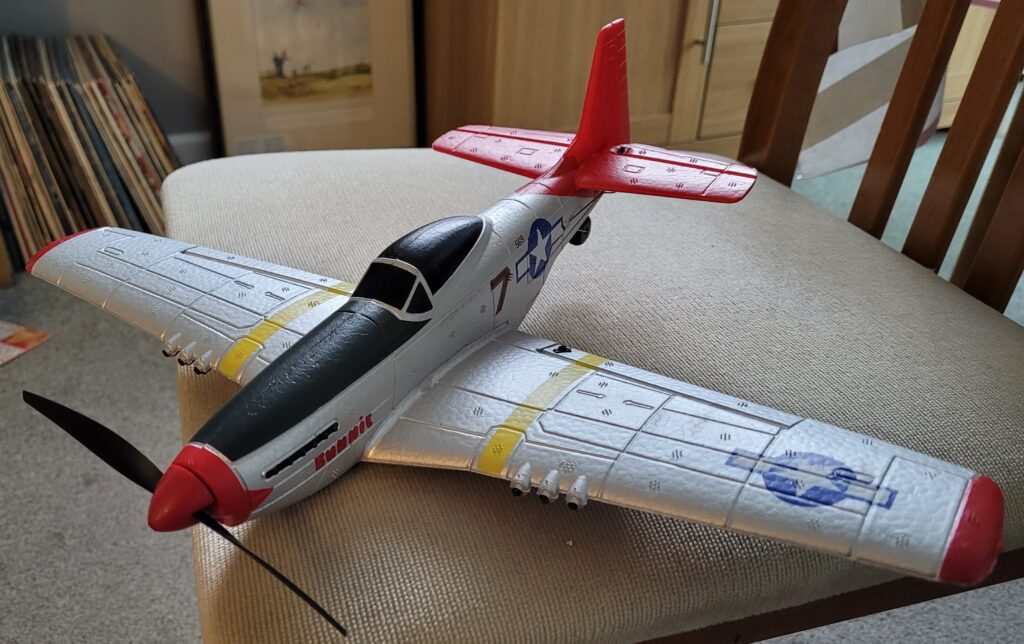 It really is tiny at 400mm (15.75") wingspan and weighs a mere 60g including the single cell 400mAh lipo. I ordered mine when they were in a Flash Sale in the UK warehouse and with 3 batteries it cost just under £55 including insured delivery. The box contains the completed model, a transmitter, a USB charging lead, a spare prop with spinner, a spare prop adaptor, the undercarriage with screws, and a screwdriver. I initially thought they'd forgotten to include the 3 lipos until I found them in the transmitter battery compartment. I did have to buy 4 AA batteries for the transmitter but everything else is included.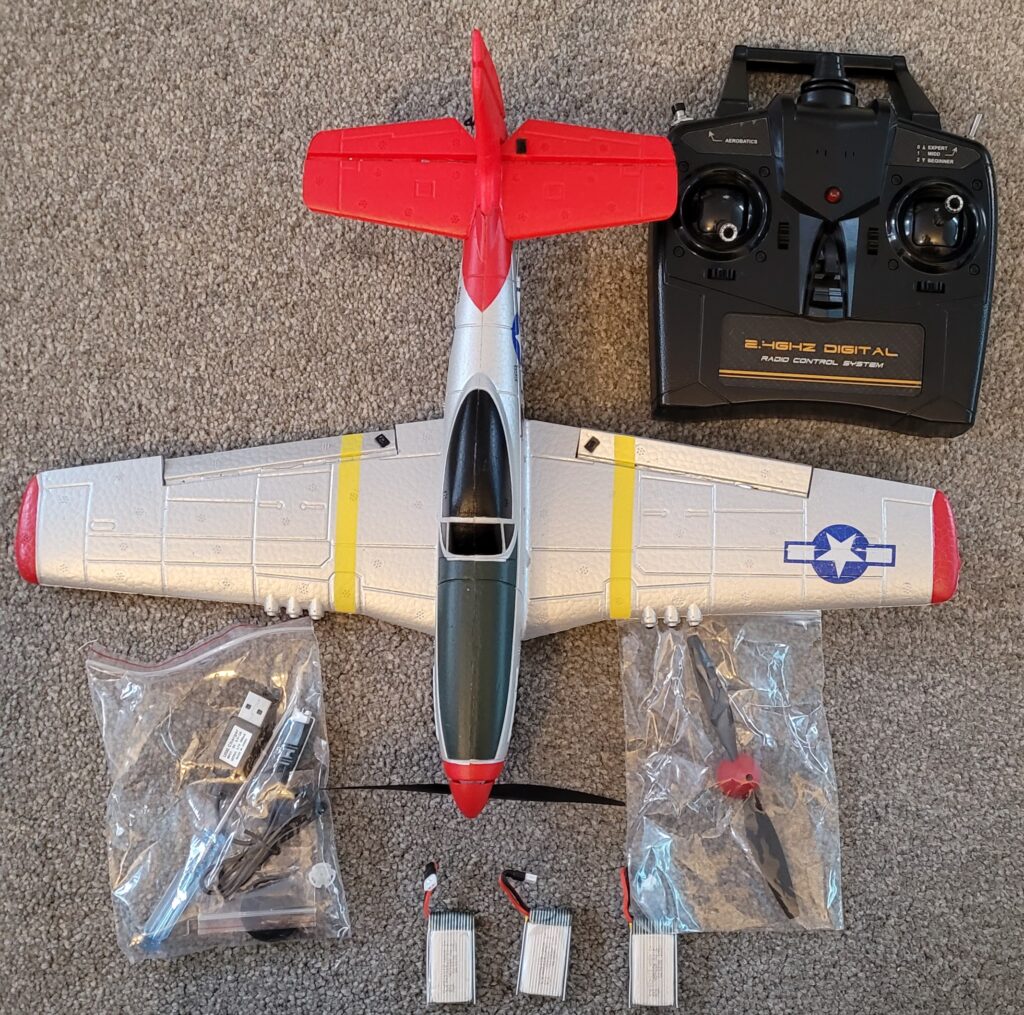 According to the manual each lipo will take up to 3.5 hours to charge from a USB socket but so far mine have been much faster. The model has aileron, elevator, rudder, and throttle controls and the transmitter has a 3 position switch for the gyro enabling the choice of Beginner, Intermediate, or Expert. In Beginner mode the model flies well and stops the pilot over-controlling, it won't let you get inverted by mistake. If you get in trouble simply release the sticks and the model instantly returns to straight and level flight. In Intermediate the model is still stabilised and will return to straight and level if left alone but you have much more movement and can loop and roll. Expert mode turns the gyro off completely and you're on your own! In Expert mode the model is very twitchy and takes some getting used to, Intermediate is much more pleasant. There is also a One-Key Aerobatic button on the transmitter, press it once, the transmitter beeps, and the model will then roll or loop once depending on which way you next move the stick. It returns to straight and level flight at the end of the manoeuvre so even if you tell it to roll while diving towards the ground with the wings at 45 degrees it won't crash! The button works no matter which mode you are in so you can safely fly around in Beginner mode and still do rolls and loops. Probably the trickiest thing is keeping such a small model in sight, it disappears quickly if left alone but can be flown in small circuits when you get used to it. It might be tiny but it attracts a lot of attention, everyone stopped to watch the first flight!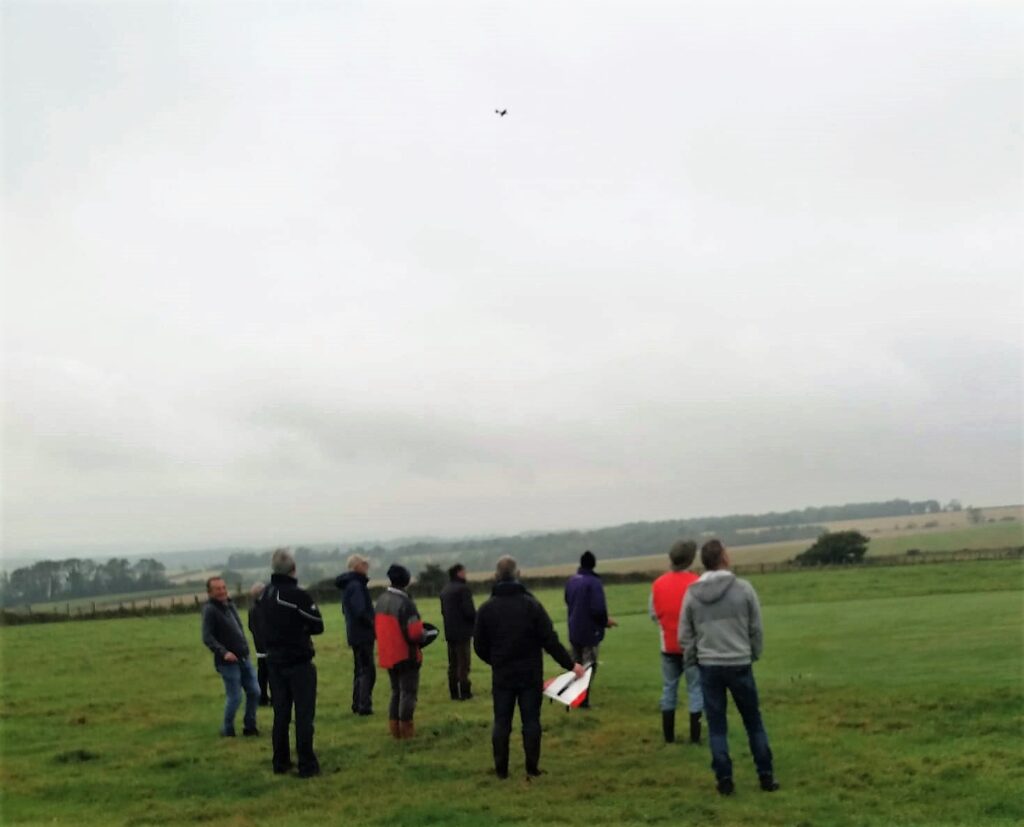 The manual says you can get 15 minute flights and on one flight I did indeed get 15 minutes but 6 or 7 minutes is usually enough with such a tiny model, it's not exactly relaxing! The manual also says it's suitable in winds of about 5-7mph but I've flown mine in at least 14 mph and it was fine but I wouldn't advise it in anything much more than that.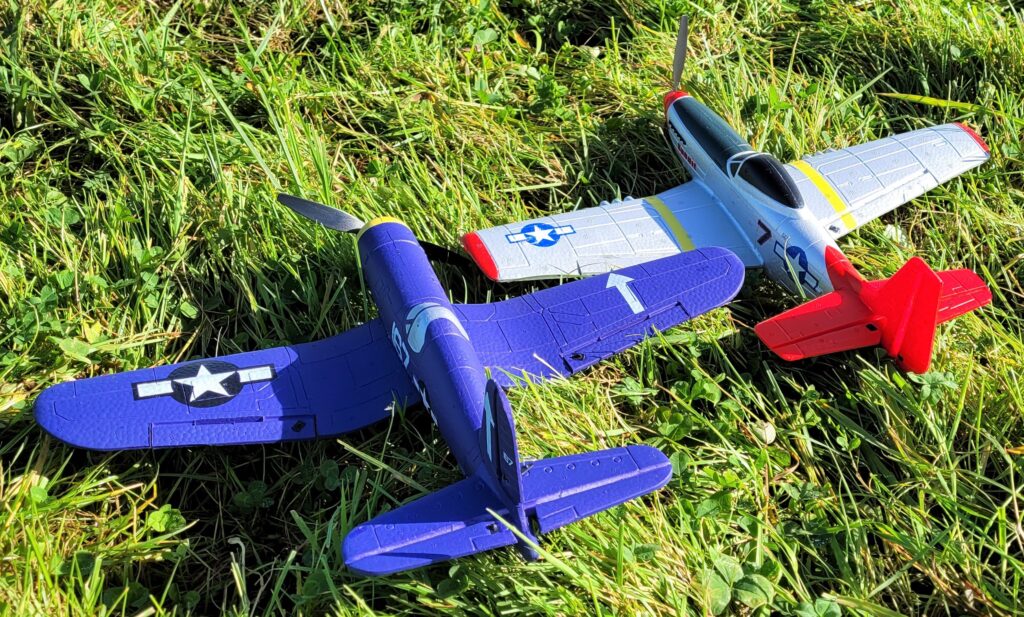 Ian Daniels has the F4U Corsair from the same series which flies just as well as the Mustang, and Ian can fly it with no problems. These tiny models are certainly in the 'toy' class but they are great fun to fly for not much money and I find them fascinating.
Woody turned up with a couple of new planes in October, a Sea Vixen and an E-flite A-10 Thunderbolt. The Sea Vixen is built to Dwayne Pipe's design and Woody borrowed Dwayne's templates to trace around onto the Hobbycraft foamboard. Woody has fitted a Turnigy 2826 2200kv motor, the same set-up as he is using in his SU-57.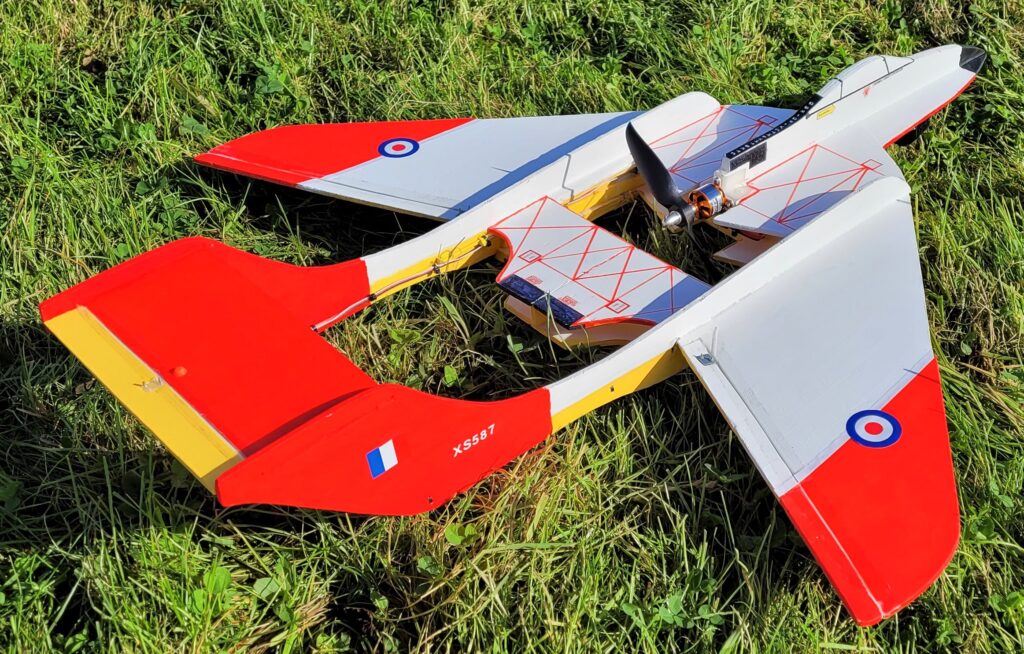 He's made a nice job of finishing it in the colours of a target towing aircraft XS587 that I believe currently resides at the Gatwick Aviation Museum in Charlwood. The only slight problem Woody has had so far is actually getting it to fly! The foamboard can be a little tricky to keep flat and as Woody discovered it's very easy to build in a twist during construction. Colin Cowplain donned his flying helmet for the first flight and managed to almost complete a circuit holding in full right aileron before the inevitable 'landing'.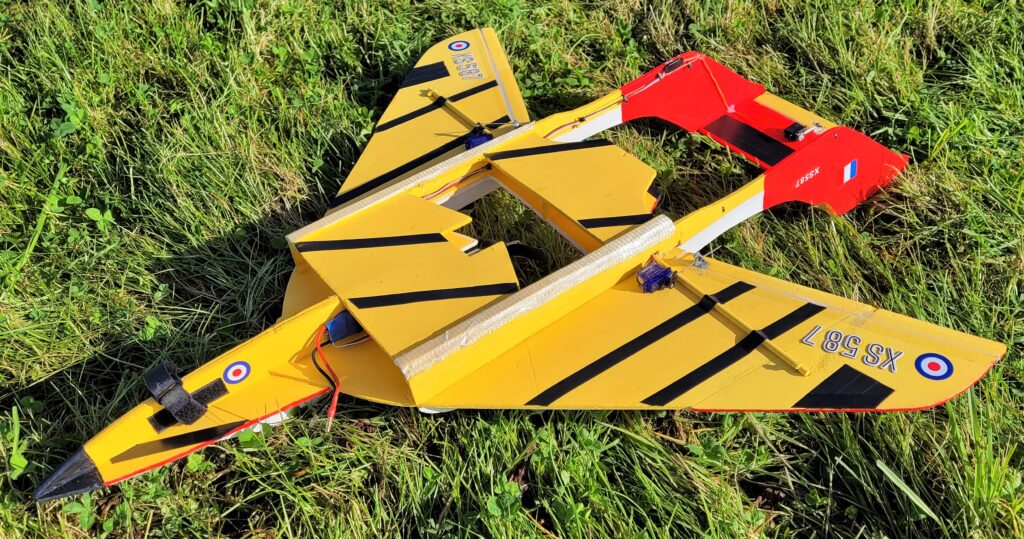 During the repairs Woody managed to straighten things out and it looked promising for the next attempt but even with full up elevator the Vixen failed to climb away from the launch so Woody needs to check the centre of gravity and the incidence. My guess is that whilst repairing the booms the incidence changed a bit. Third time lucky, watch this space.
The E-flite A-10 Thunderbolt was a prize Woody was lucky enough to win in a raffle on the RC Aircraft Online website and very nice it is too, small but beautifully formed as they say.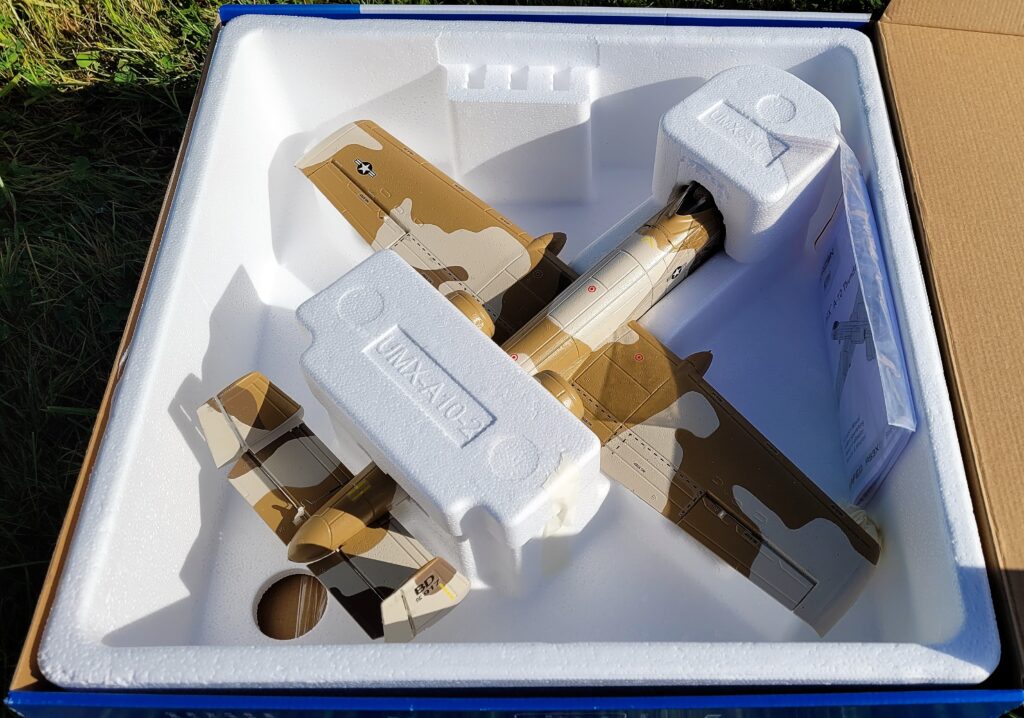 This is what E-flite say about it on their website: The E-flite® UMX™ A-10 Thunderbolt II Twin 30mm EDF ultra micro jet is the most practical and easiest to fly A-10 RC model yet! New upgrades make this replica of the iconic U.S. Air Force aircraft easier for a wider variety of experienced pilots to enjoy — including those with limited EDF experience. The BNF® Basic model's industry-leading Spektrum™ 2.4GHz technology binds to your 5+ channel DSMX®/DSM2® transmitter for full 4-channel control, plus the benefits of exclusive AS3X® and optional-use SAFE® Select technologies. It's 100% factory-assembled and ready to deliver an authentic A-10 jet flying experience almost immediately. The fully-molded airframe features a factory-applied "desert camo" trim scheme and is strengthened with a carbon fiber reinforced fuselage and nose. Factory-installed twin brushless power systems feature more powerful 2S and 3S-compatible outrunner motors with larger diameter 30mm fans, for improved vertical performance and speed compared to other models in its class — plus longer-than-average EDF flight times when using the recommended 450–850mAh LiPo batteries.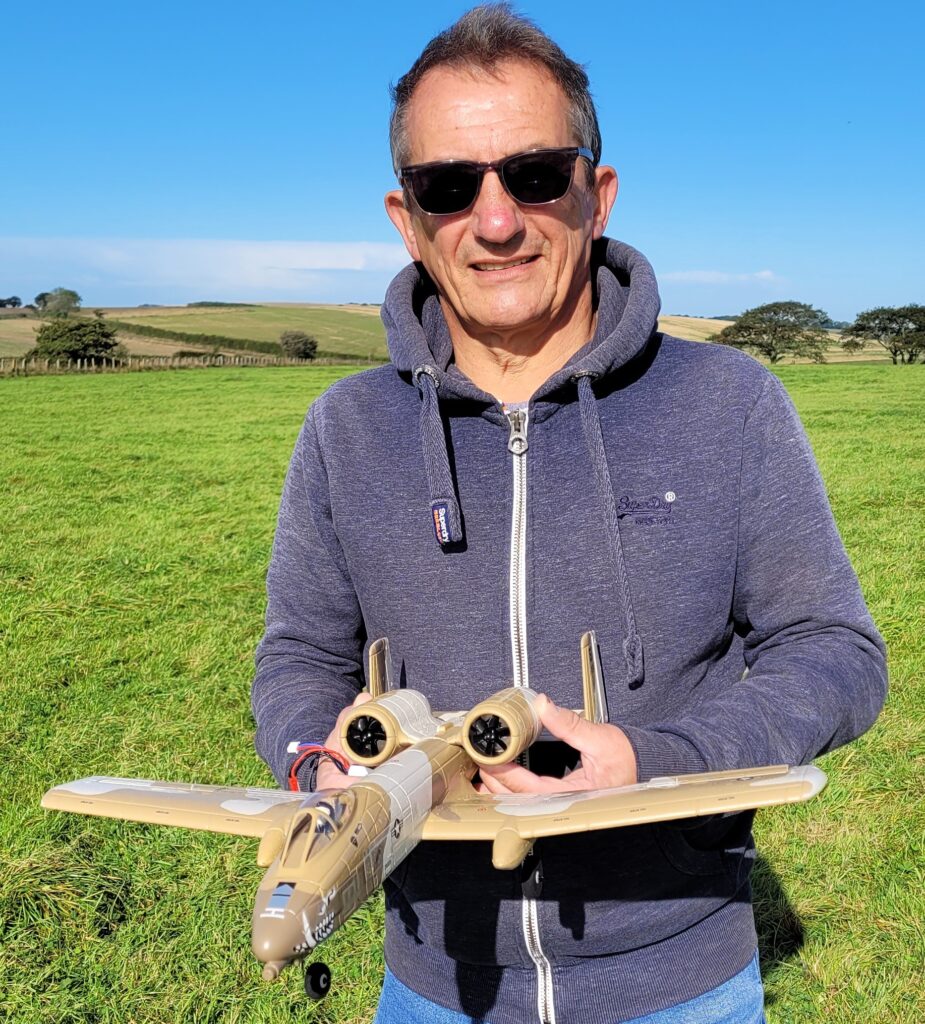 Colin did the trimming flight and found the little A-10 flew very well. Woody had fitted a 2 cell lipo and the motors seemed to be pulsing a bit at full throttle and we think that maybe the voltage of the 2 cell pack was dropping too much under load. The model seemed to be flying perfectly despite the pulsing and after a few minutes Colin landed the Thunderbolt safely. Woody is going to try a 3 cell pack next time, hopefully that will stop the pulsing.
Following on from his success with the SU-57 that he built from Hobbycraft foamboard Basher Bob has also built a Sea Vixen to Dwayne Pipe's design, using Dwayne's templates.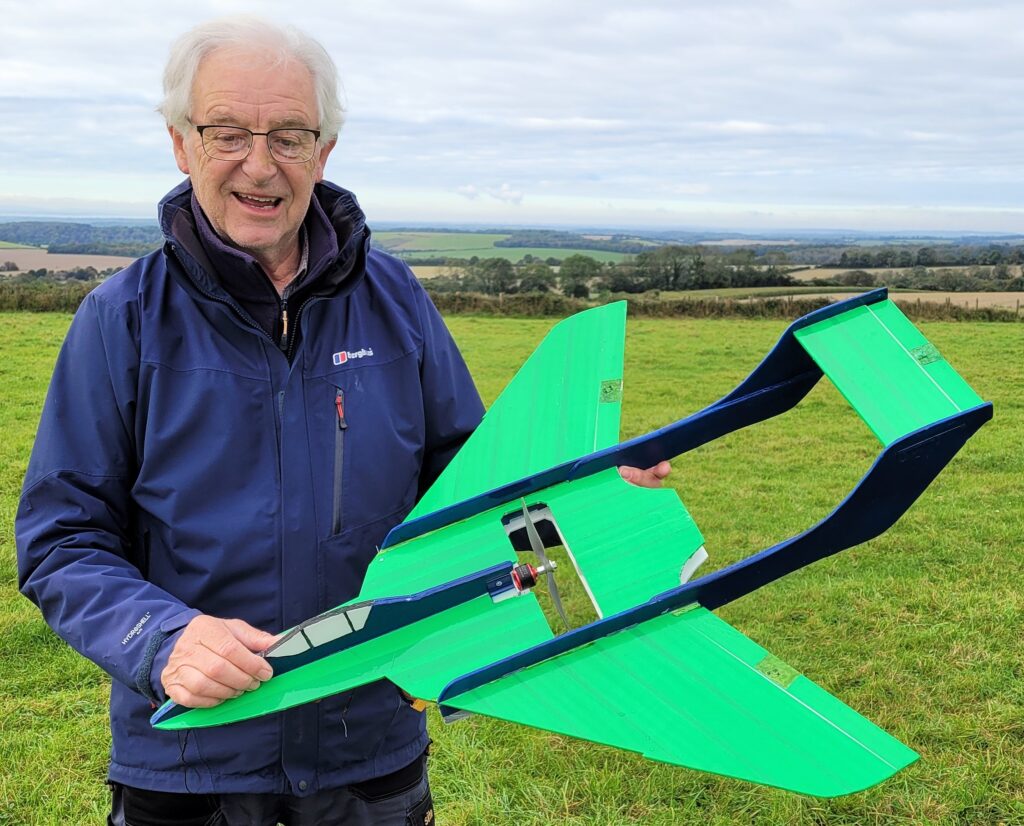 Basher has fitted a BR2212 1800kv motor from Banggood which spins a 7 x 5 propeller and provides ample power using a 3 cell battery. Basher built it pretty much to Dwayne's plans although he did add some additional foamboard doublers to the rear half of the booms and covered them with lightweight glass-cloth using Eze-Cote resin.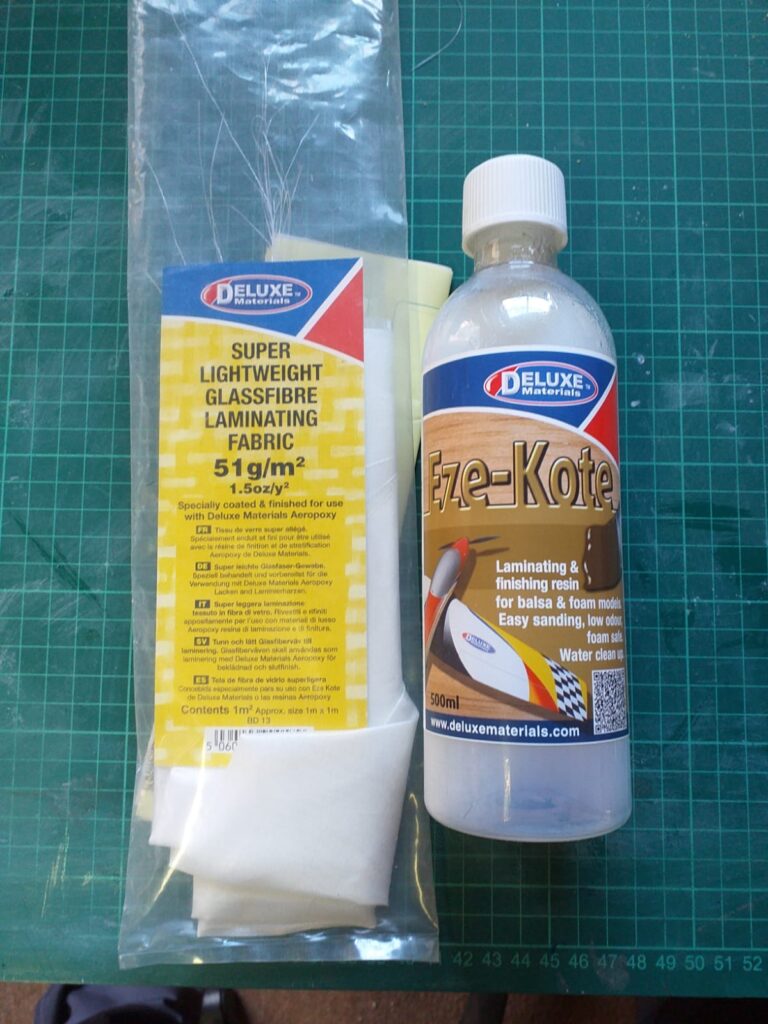 As you can see in this month's video it flies extremely well and looks good in the air despite it's rather unusual colour scheme. Rumour has it that Captain Slow also has a Dwayne Pipe Sea Vixen under construction, the first flight is expected to be sometime in 2024!
Having got used to the SU-27 he bought from HobbyKing 1066 has now succumbed to the foamboard fairy and built one to his own design. I told him I wanted a very detailed report about it, a full essay, not his usual one line of info, and for once he did what he was told!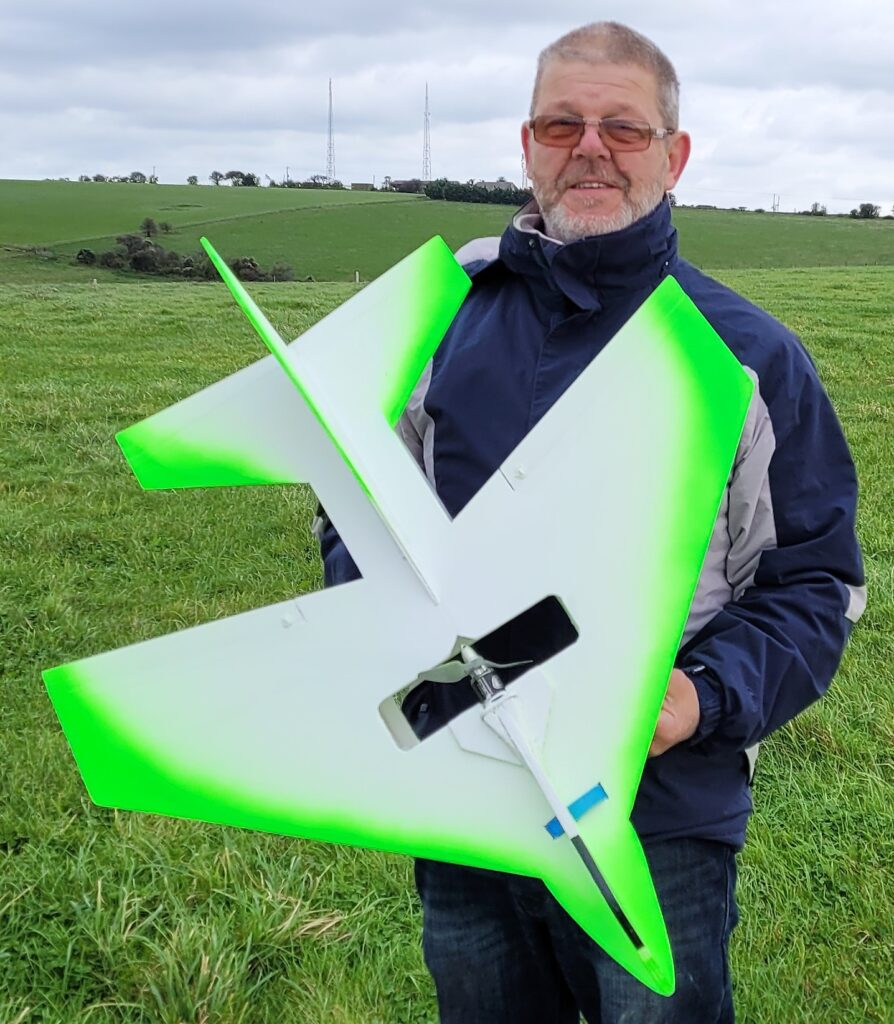 As most of you know I never stop banging on about the poor flying characteristics of the foam board jets, and I also find the sound very annoying, but if you can put that to the back of your mind there is no doubting they are great fun, and at the price we paid when they first appeared, lend themselves to the sort of flying I love, down low and on the edge. And don't forget the adrenalin rush you get at every launch, wondering if you will be in A&E getting stitched up! Mine has been broken many times, has twisted and bent due to the summer heat, but keeps coming back for more, so I hate to admit that if it was a total write off I would have replaced it. But the prices went to a point I was not willing to pay, so for some time I was considering building something along the same lines from art card, but I have many ideas that never see the light of day!!!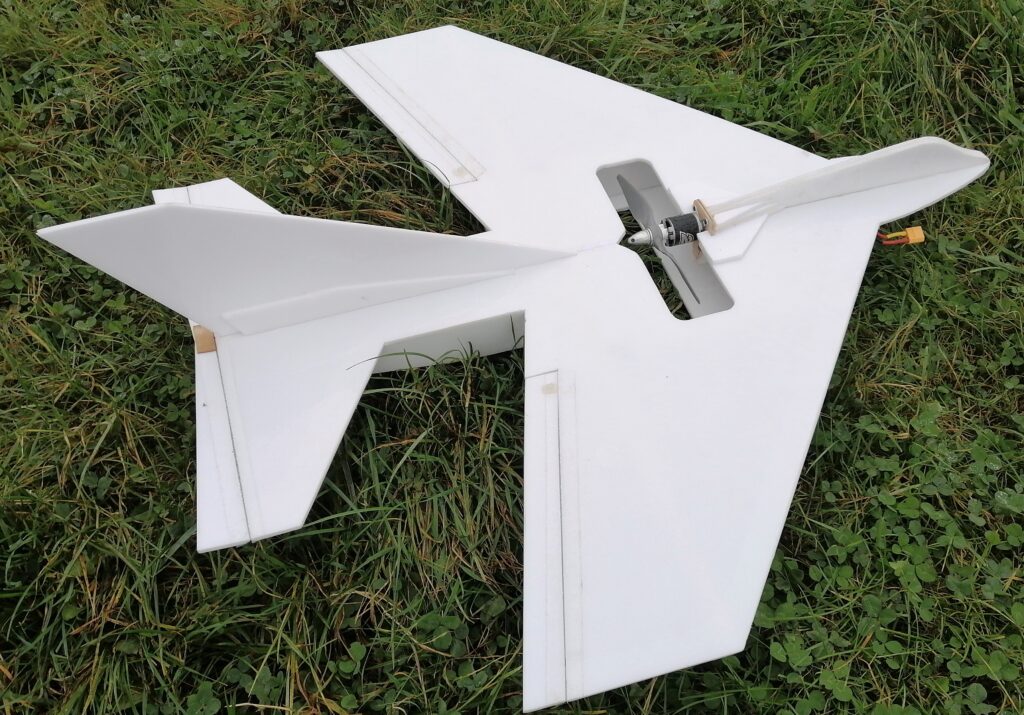 However, when Keith turned up with his own design Sea Vixen made from art card, with the card removed, I was inspired enough to have a go. In a past life when building my own design I would get the lining paper and pencils out, draw a proper plan and produce a model, but that was too much trouble for something with no aerodynamics, or flowing lines, so for this one my approach was lay my Mirus upside down on the card and draw round the outline. Having seen Woody and Bob's Sea Vixens it was obvious that the art card core material is not as rigid as the material used by Hobbyking, so there would be a need to build rigidity into the structure so the rest of the parts were cut with this in mind, while still trying to keep the Mirus lines. Once all the parts were cut I was now concerned that the wingspan was too big for the material, so I started cutting bits off until it looked right. Next step was to put all the parts in the bath, make a cup of tea and wait for the card to float off! Difficult to explain that one to the wife? Next step was to glue all the parts together with the glue gun, unlike the HobbyKing foam boards and Keith's Vixen I couldn't be bothered with all the dovetail type joints, relying on butt joints.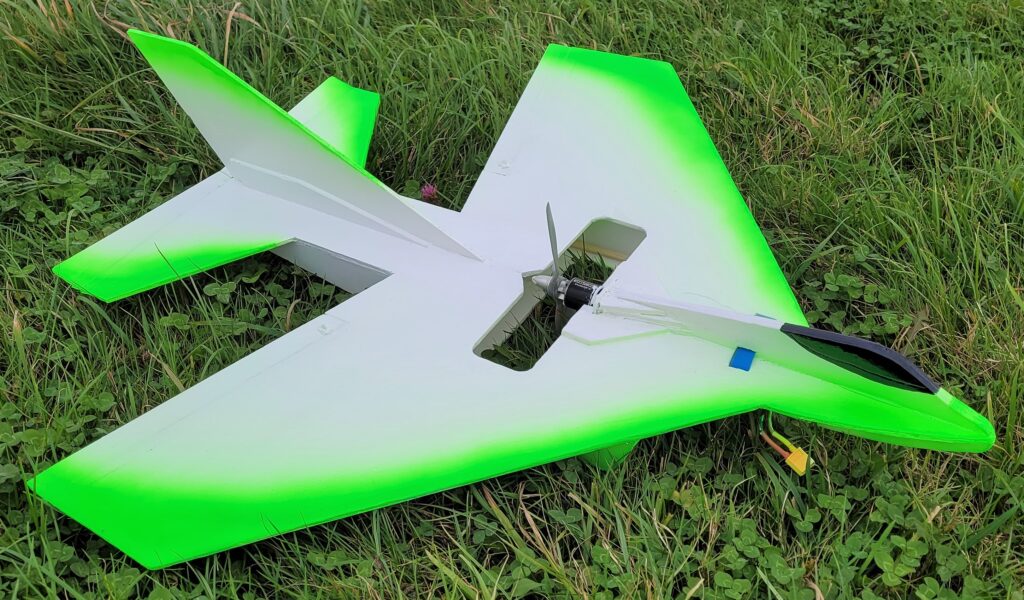 With everything glued together the airframe did look like a Mirus but with nothing above the wing, there was nothing to hold for the traditional way of launching, so a cockpit profile was added, problem solved with the added bonus of extra support for the motor mounting, which was very flimsy. My next design change from the normal foam board set up was to fit a 28 mm, 1400 KV motor and a standard 8 X 4 prop to try to get the noise down. The model was complete but I was not sure where the CG should be, so I took the decision to fly it before adding any decoration. The first flight was on a day when we were all wondering why we were standing in a wet field on such a damp day, and things did not go as I would have liked. My first mistake was rushing the radio installation the evening before and not double checking the controls, which resulted in missing the large amount of up elevator, add to this a rearward CG and the first launch was interesting, but did prove I had enough power available. Changes were made and the second flight was much better, but the drizzle got heavier so there was just one circuit.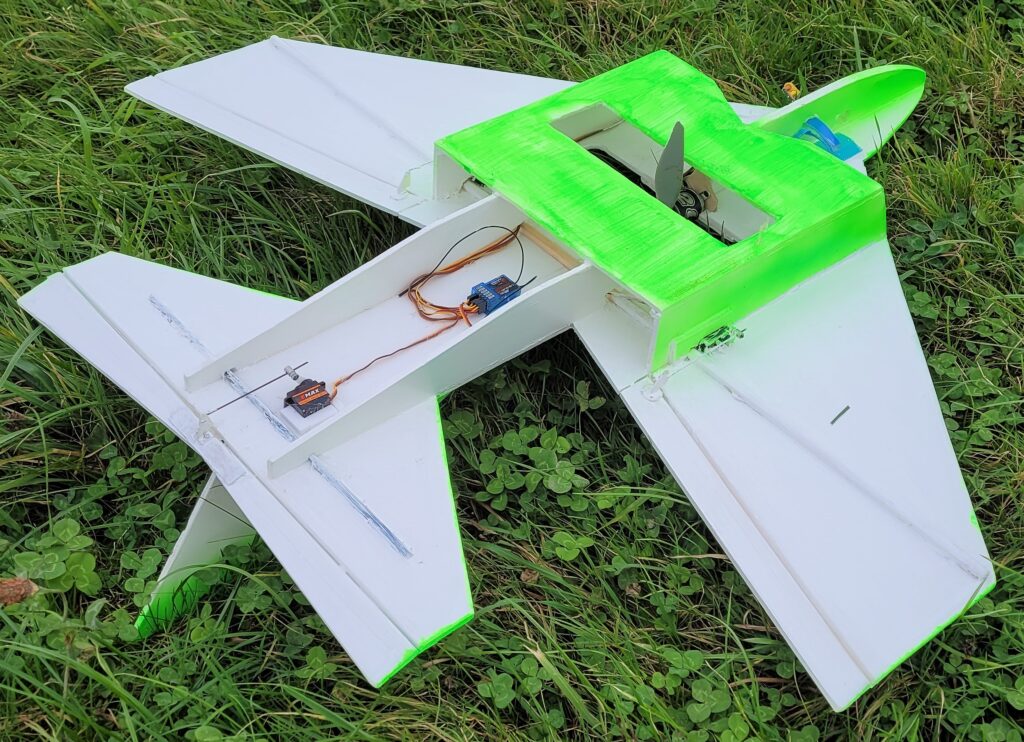 The day did brighten, but before I could have a third attempt Mark noticed that some of the glue joints had failed, so no third flight to date. One positive thing we did discover was due to the need to build rigidity into the structure, the model can be held behind the wing when launching, no adrenaline rush with this one!!! With the model back in the workshop I could see all of the joints on the bottom of the model had failed, and I can only assume this was due to the plane being sat on the wet grass, very odd. I have now re-glued all the joints, given the whole airframe a coat of B&Q water based white gloss, and some stunning artwork. I am sure Andy will expect me to give it a name, one of my favourite films is Conair, and John Malkovich's character Sirus the Virus so in keeping with that kind of alliteration I thought I would call it Cirus the Mirus. Wow, thanks for that 1066, I shall never complain about lack of information again…until next month! Since writing that 1066 has flown it again and it now goes very well as you'll see in the video.
Sadly Kryten didn't have a chance to take any of his excellent flying shots this month but here are some older ones of his that I haven't used previously: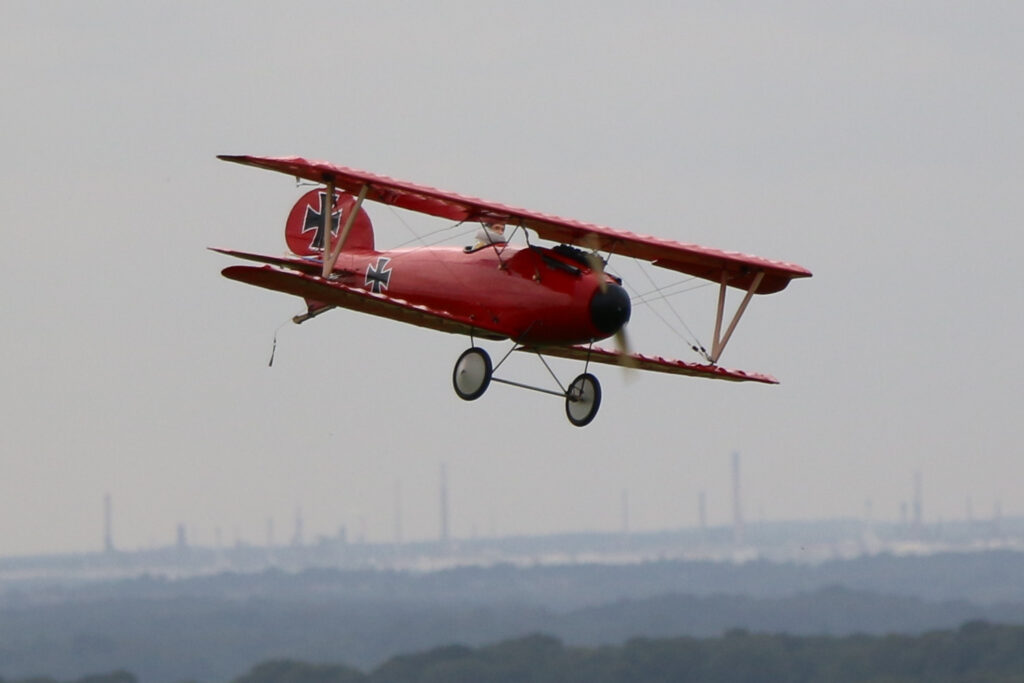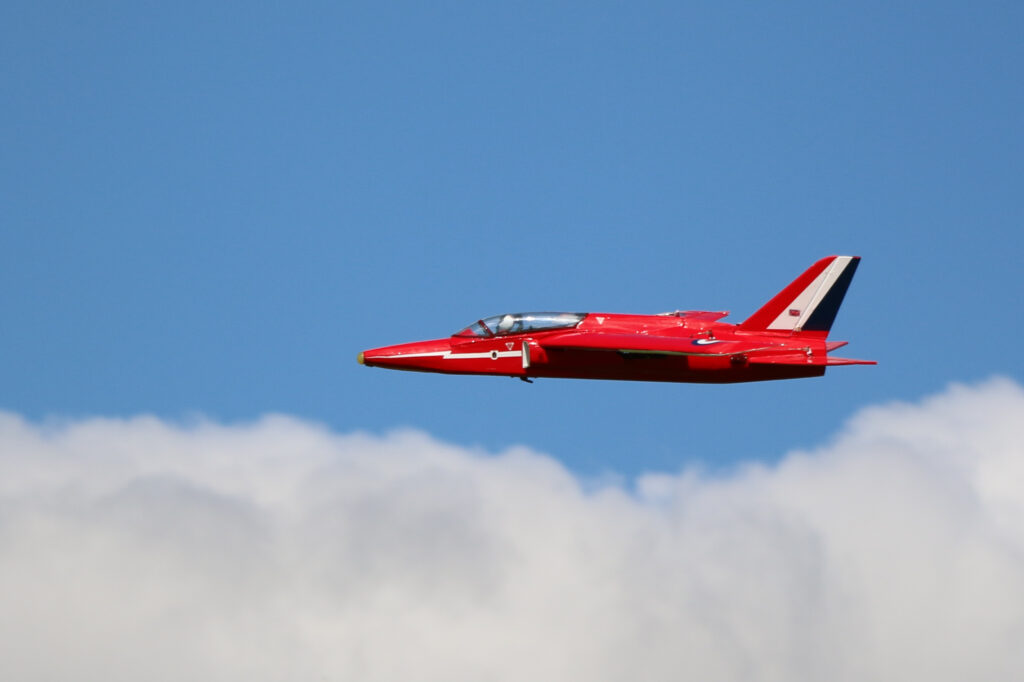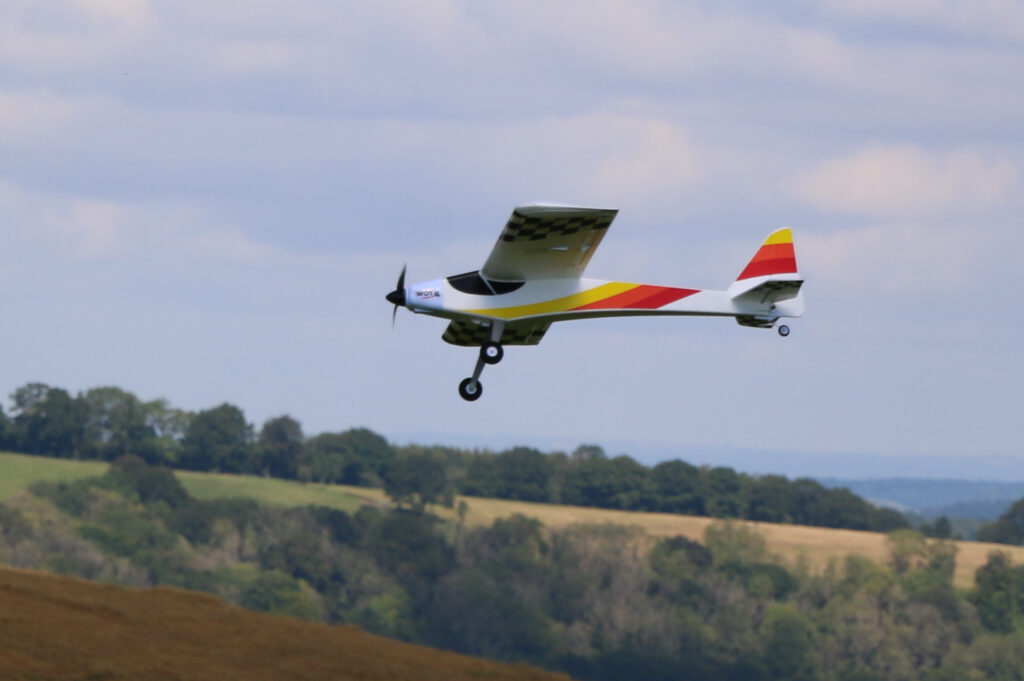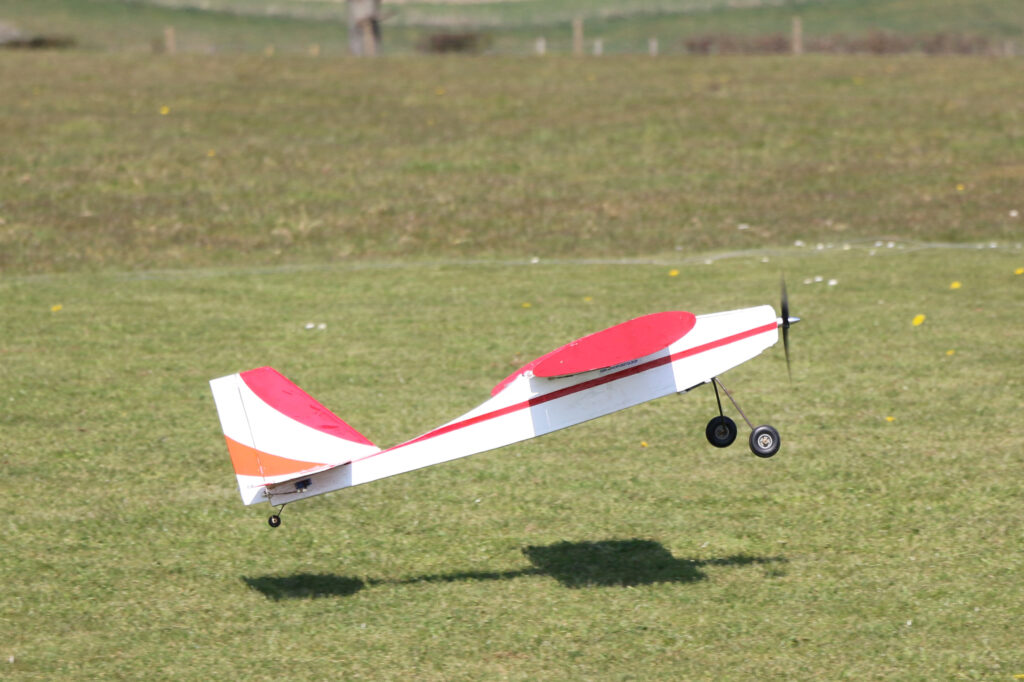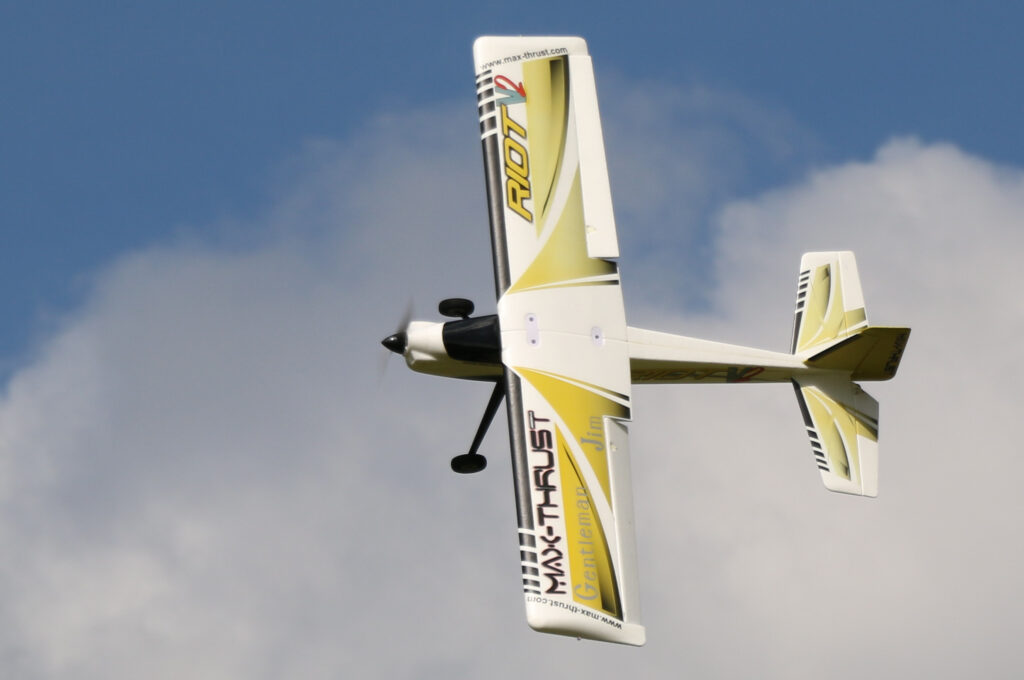 Video time now, this month with content recorded by myself and Dougal. Please watch the video full-screen it's so much better with small models flying around.
If the video won't play for you please click HERE
I asked the flight attendant if I could change my seat because the baby in the seat next to me was really annoying and constantly screaming it's head off..
It turns out you can't do that if the baby is yours…
Colin Cowplain