This edition of Patch news is likely to be rather shorter than usual as I was only around for about half of the month and I'm writing this on 19th May in an attempt to get it ready for publication on 1st June. Any new models or exciting happenings towards the end on May will have to wait for the next issue I'm afraid. The patch is in good condition and while Captain Slow mowed one day Dougal Entendre entertained us with his Riverdance moves.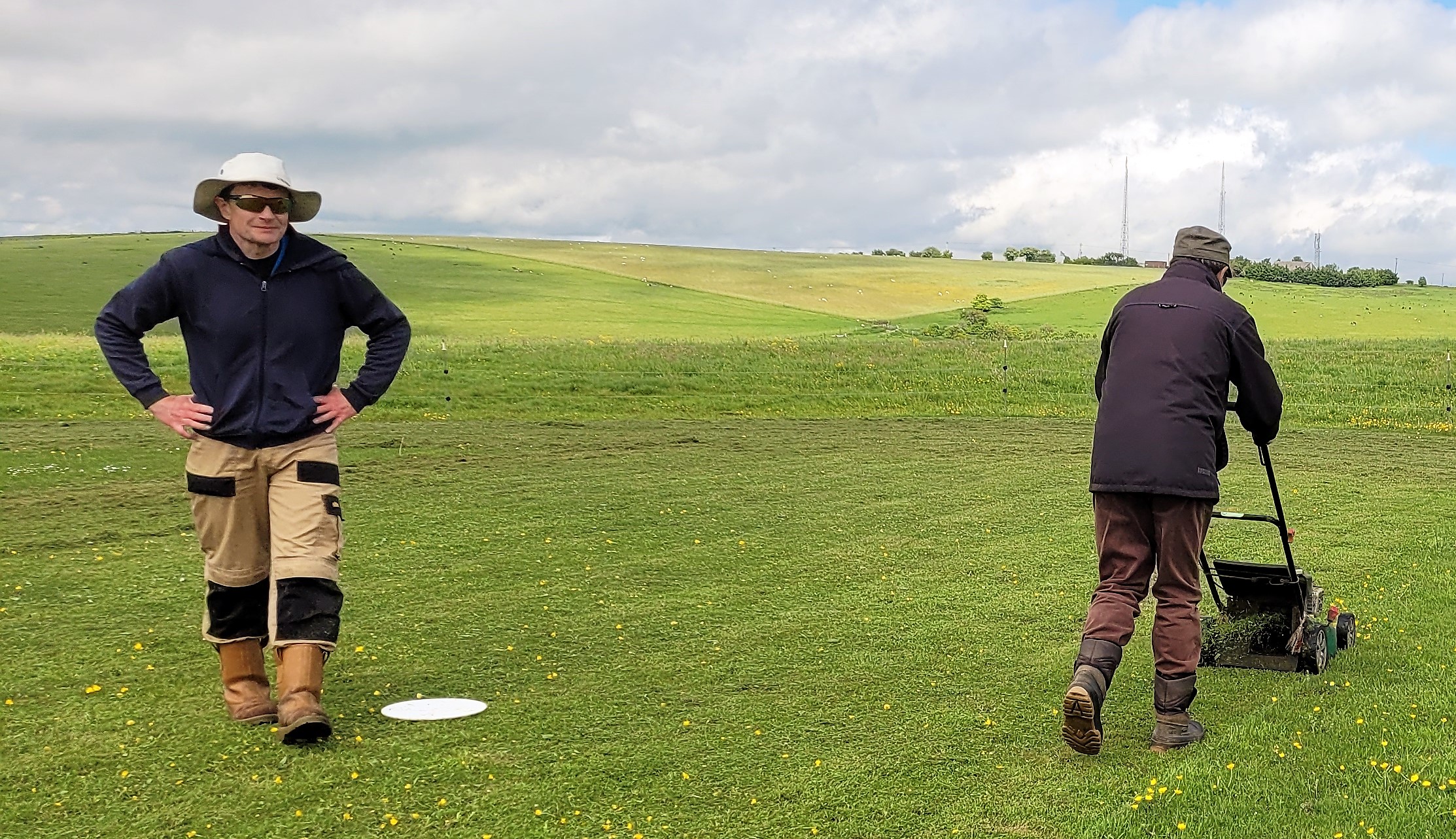 The South Downs Green Fair took place on 8th May and our field was taken over for car parking so there was no flying allowed. Some of the members, led by Captain Slow, adorned the fence with lots of high vis tape to prevent anyone driving across our patch.


It was probably the one time in the year that all those 4 wheel drive diesel guzzling off-roaders actually got off-road! Once the vehicles had all left Captain Slow and Woody returned to remove the tape and turn the fence back on. The field had been animal free for quite a while but after the Green Fair a herd of young and inquisitive bullocks arrived.
I expect they'll soon get used to us but at the time of writing they are being a bit of a pain!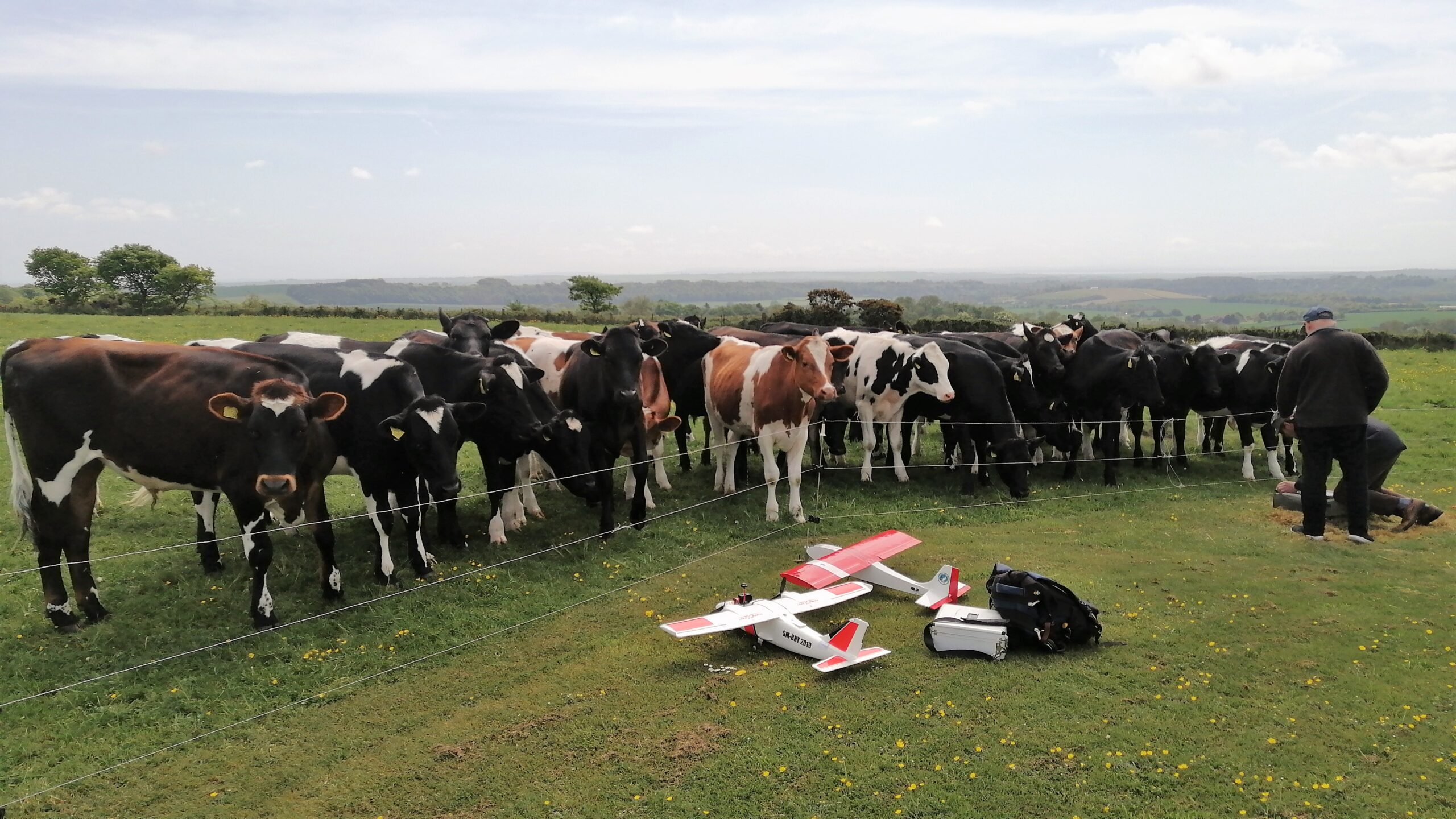 The May weather was pretty good in general so the members enjoyed lots of flying.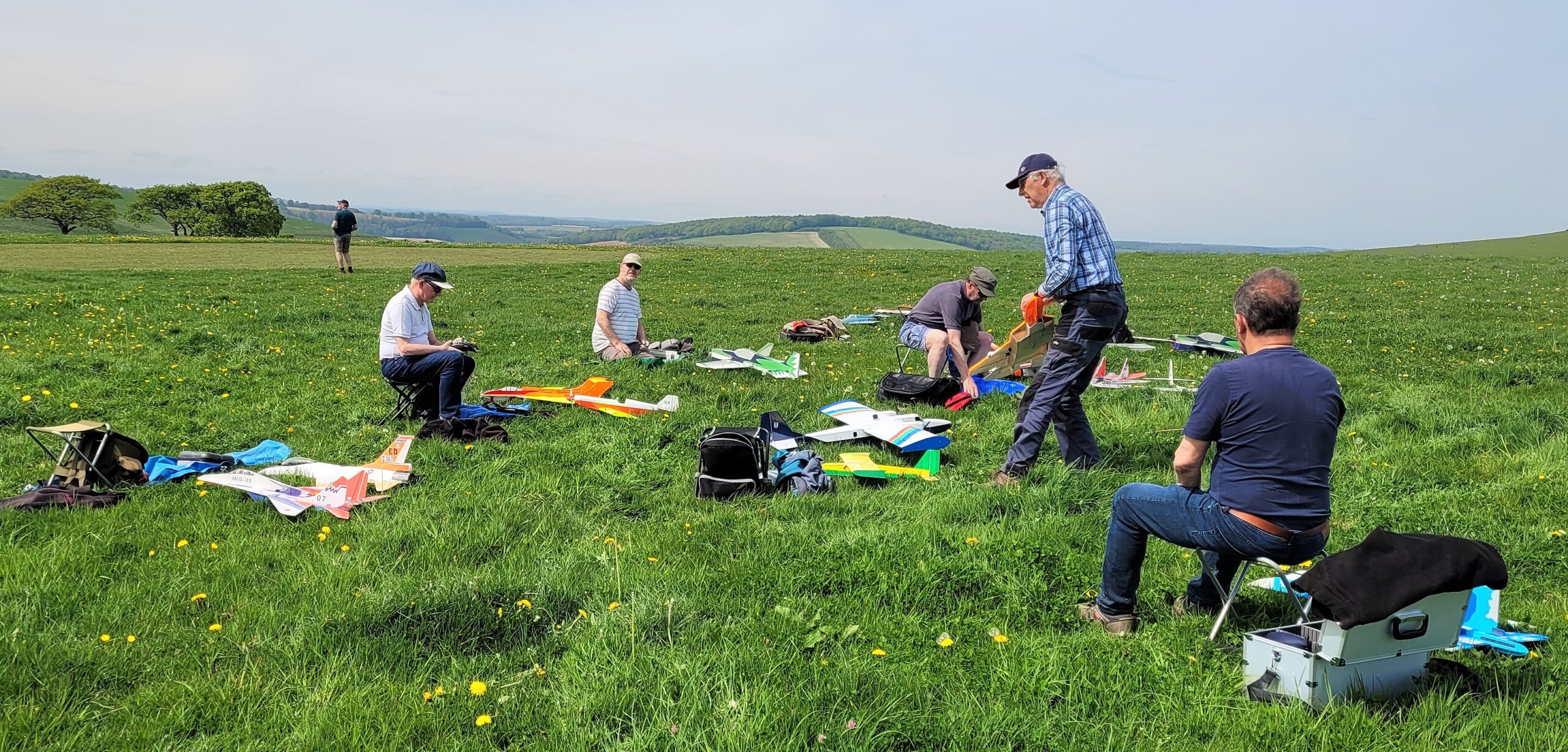 I was hoping to write about the Petersfield Aero Modellers participation in the BMFA Centenary Record Attempt but sadly it was washed out by heavy rain. More of that later.
Avid builder Dwayne Pipe has built and successfully flown a new model called Size Zero.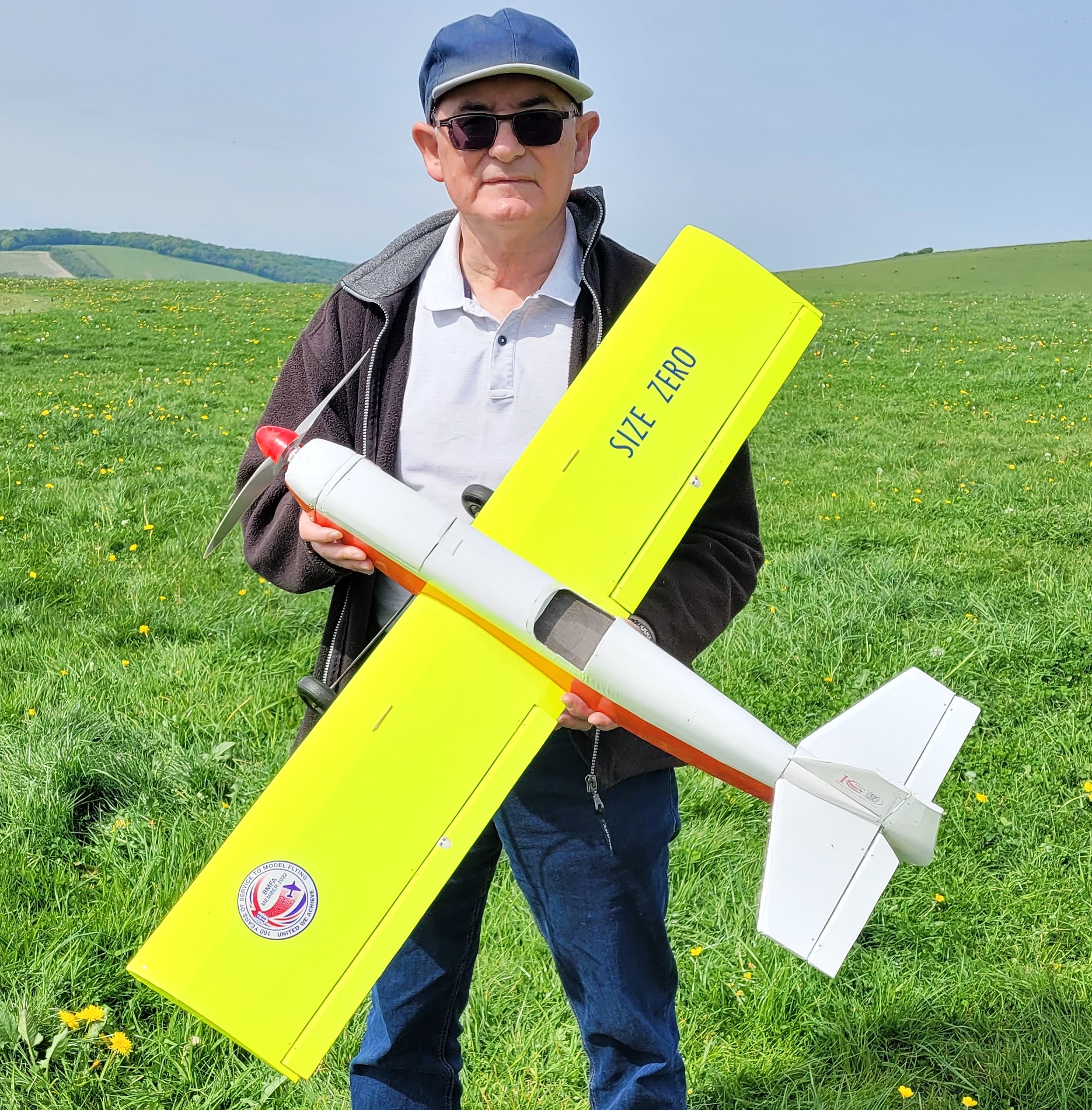 Slightly odd name I thought but a quick Google search explains that it's an American dress size about which there was lots of controversy concerning skinny models back in the early 2000's. Size Zero is a 'vanity size' which in 1970 it would have been called Size 6. In other words Size Zero is a small model. Amazing what you learn by reading Patch News isn't it!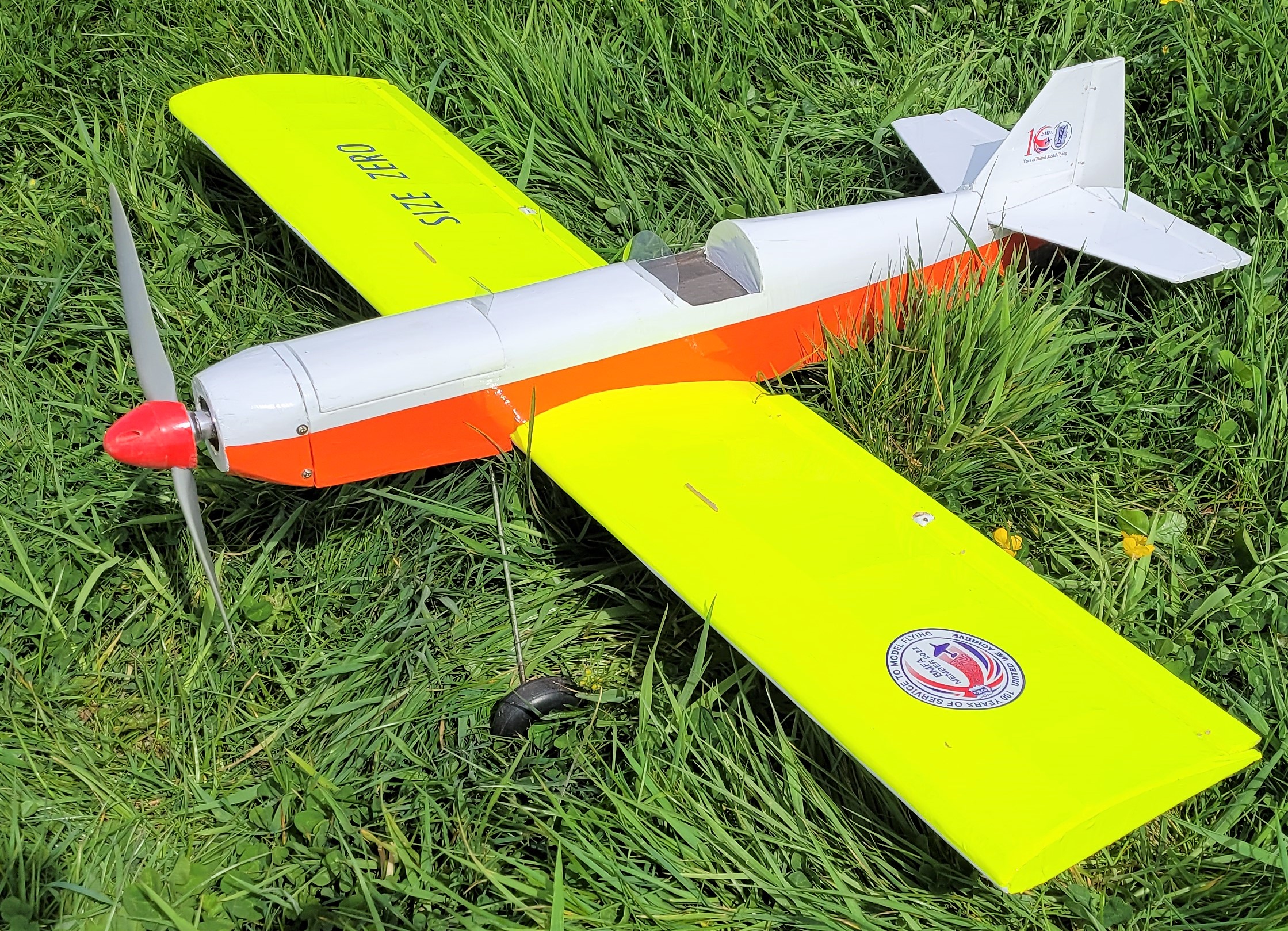 This is what Dwayne says about it: The Size Zero is based on a Peter Miller design in RCME back in about 2007. The original design was for IC and I have converted it for electric. I originally built it as my first homemade plane when I decided to restart aero modelling back in 2006. This first build was a disaster. The wings incidence was negative and with full up elevator, it refused to fly above head height. I never got the hang of the 25 engine and the plane lasted about 6 flights. Having built a few models since then I thought I would have another try. The Size Zero has a wingspan of 40 inches and an all up weight of just over 2 1/2 pounds. Pulls a 11×6 prop with a 3s battery and a 30A esc. To date it's flown twice and I am very pleased to have got it right in the end.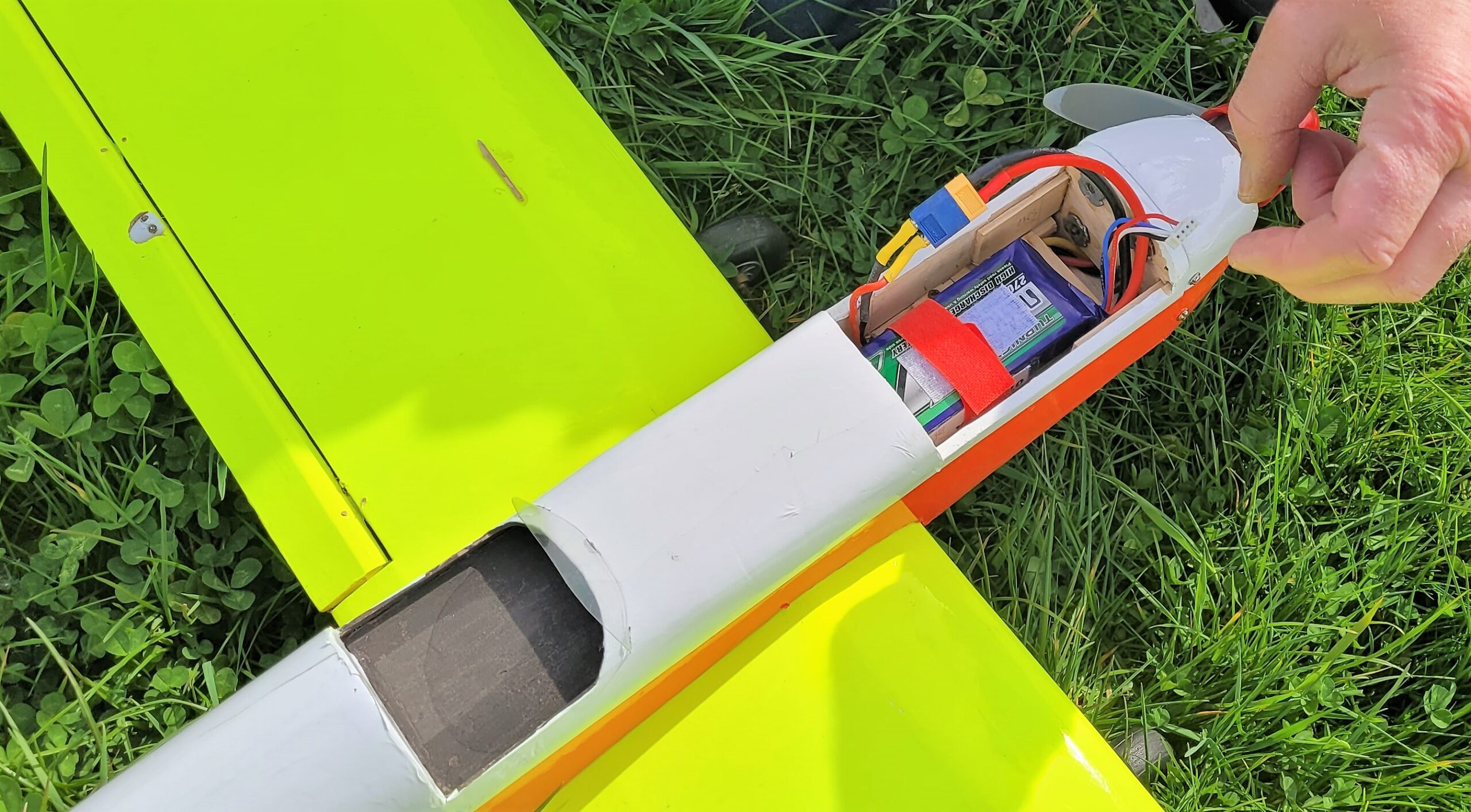 Thanks Dwayne. If you fancy building a Size Zero for yourself the plan is available from Sarik Hobbies for just £13.50, this screenshot is taken from there website:


We all stopped to watch the maiden flight with great interest after Dwayne had explained about the first one being a failure but it was a real anti-climax, this one just took off and flew beautifully! You can see some of the first flight in this month's video.
I featured Dougal Entendre's large Spad S.XIII in Patch News some time ago but it's a model he doesn't fly much and some haven't seen it so it's worth another look. Dougal flew it at the field at the start of the month to prepare it for flying at the BMFA South East Area Electric Fly-In at the Epsom Radio Flying Club site near Charlwood in Surrey on 8th May.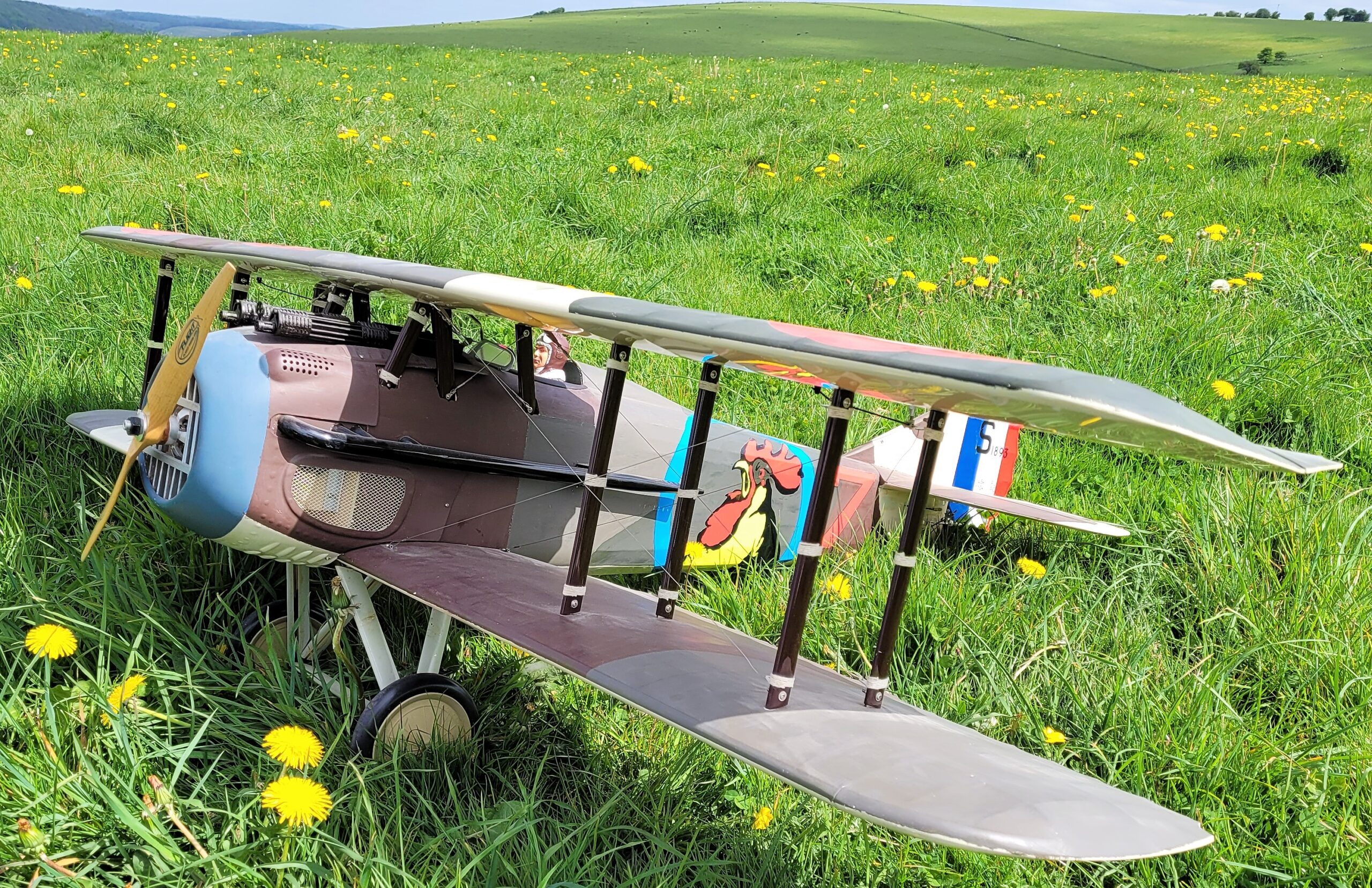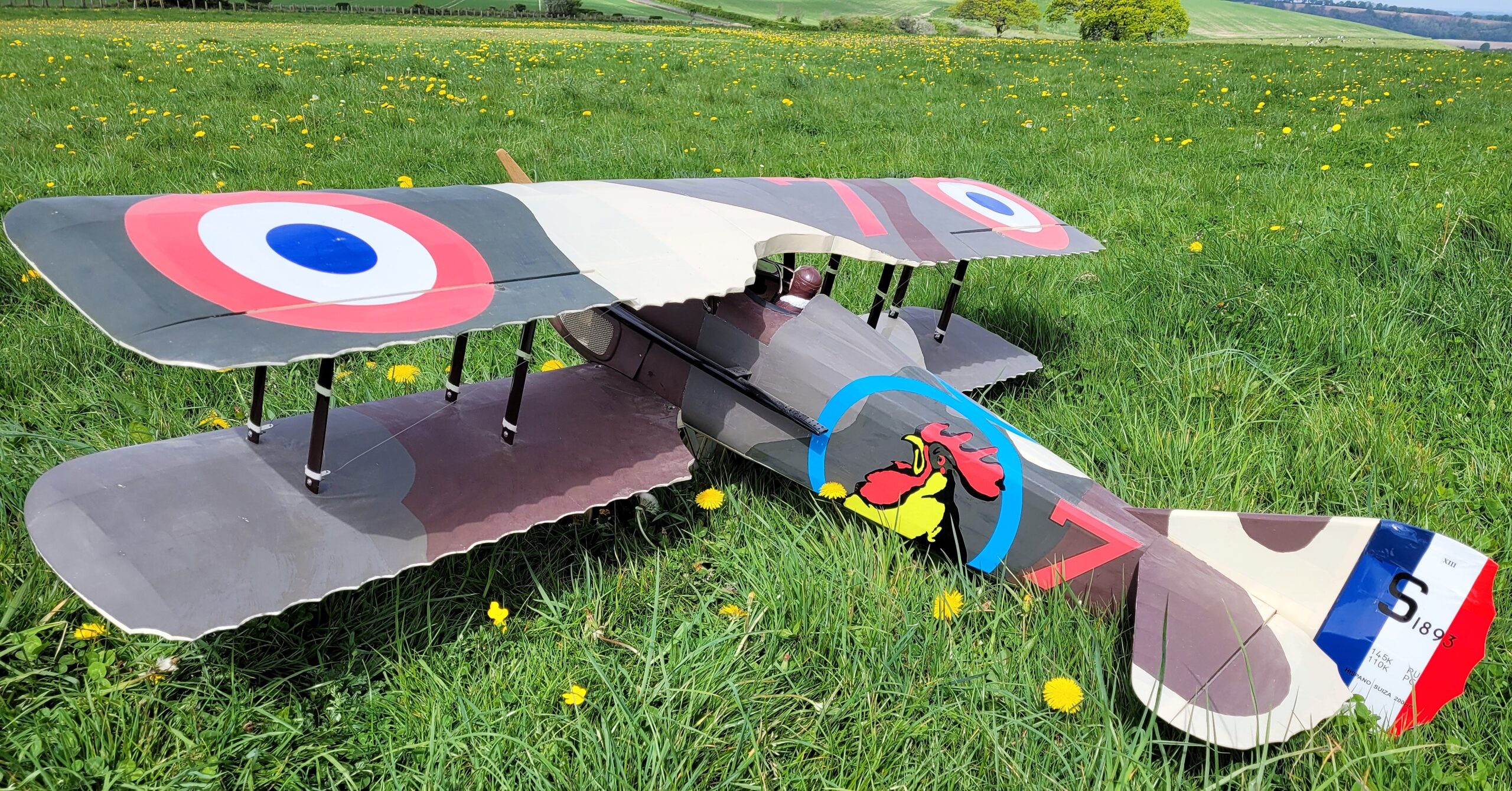 The Spad is an ARTF model produced by Maxford USA. At 1/5th scale it's 1727mm (68") span and weighs around 6kgs (13lbs) so to power it Dougal chose a Turnigy Aerodrive SK3 – 6364-245kv brushless outrunner which swings an 18 x 8 propeller at about 6000rpm. He uses two 5800mAh 4 cell Zippy Compact lipos in series (8 cells) linked to a Robotbirds Pro-80 amp Brushless ESC V4 Opto HV speed controller. He also fitted a separate high voltage BEC to ensure the radio gets the voltage it requires.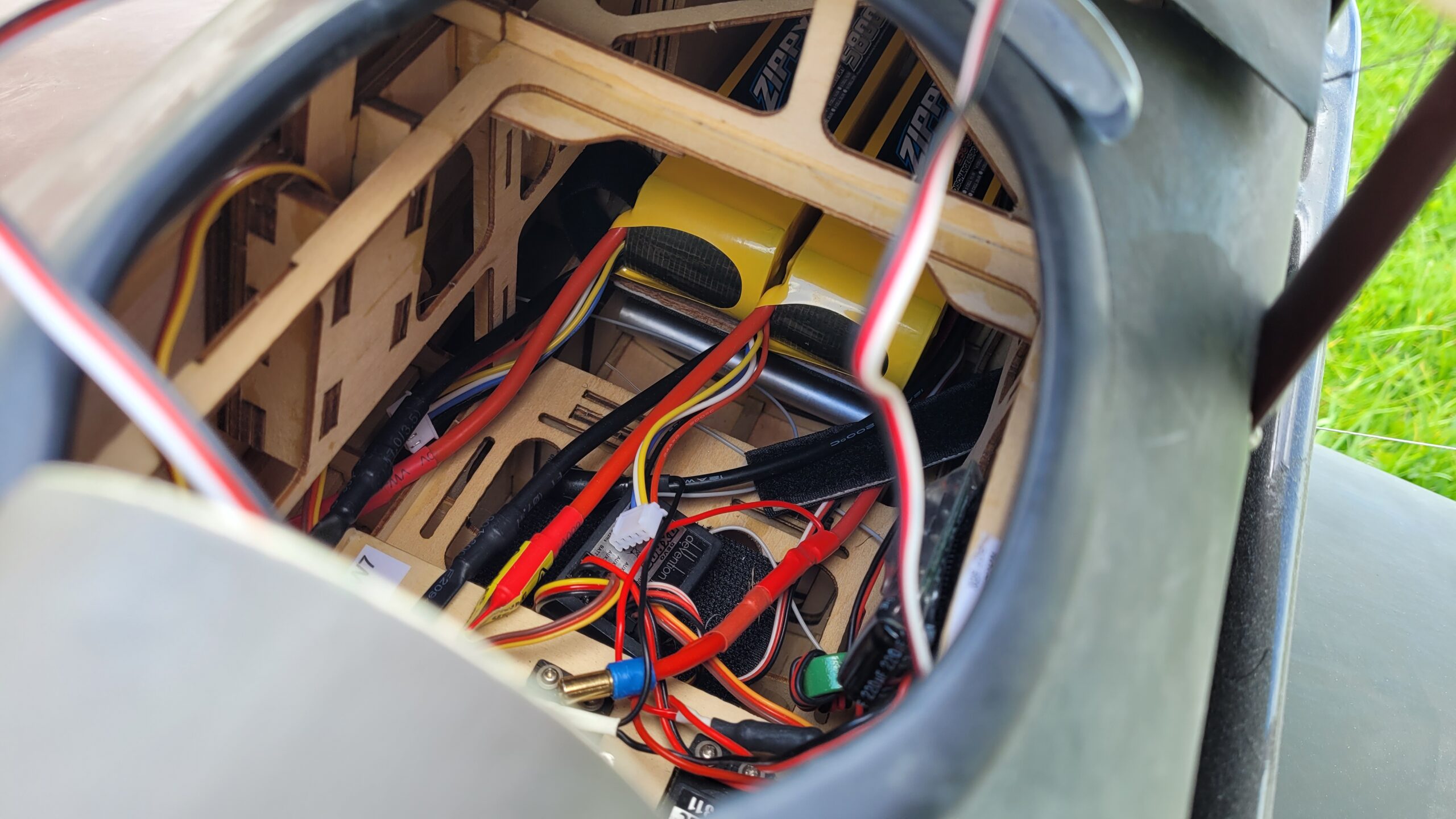 To really finish the model off Dougal purchased the optional extra Vickers machine guns.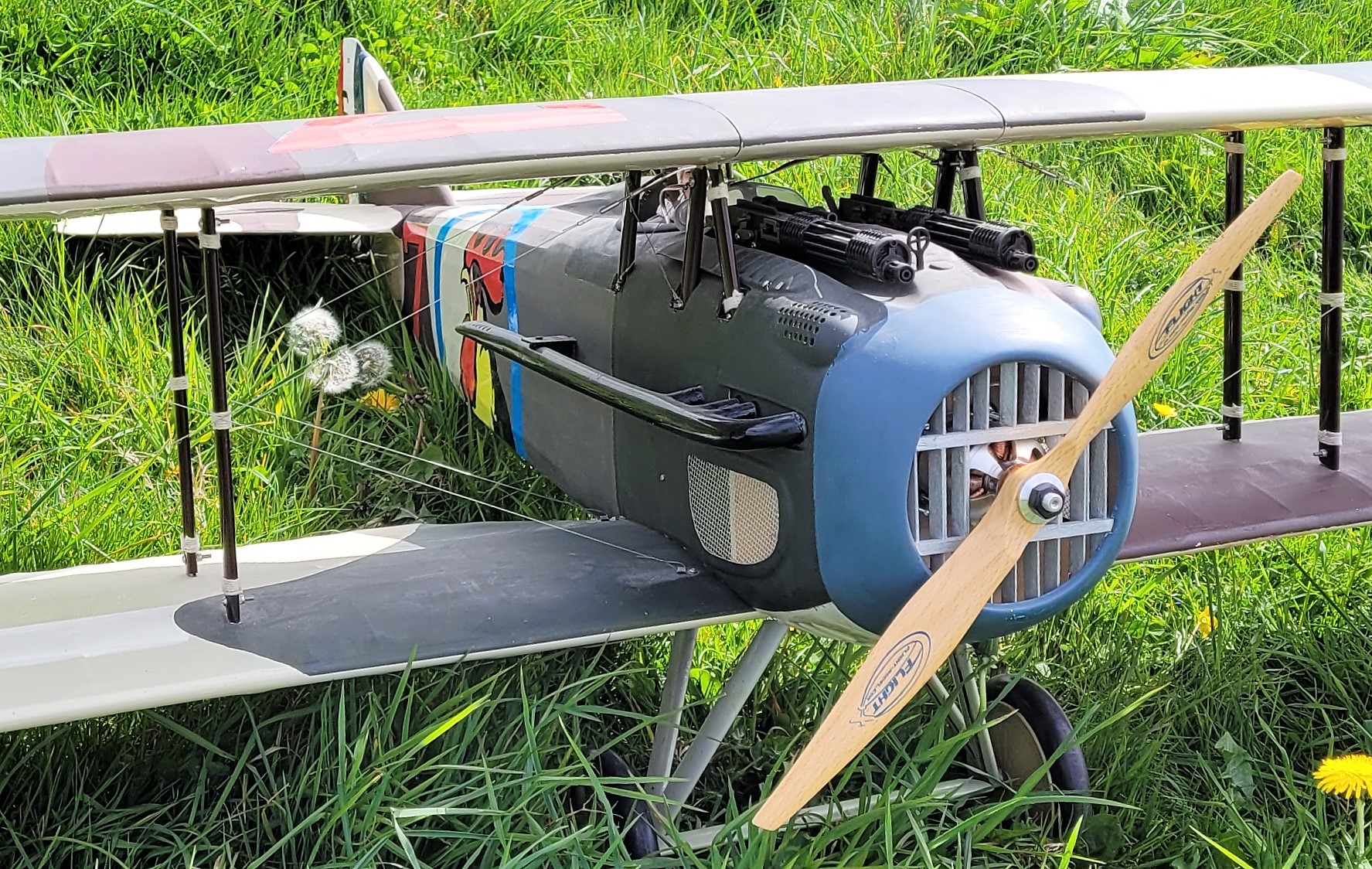 I filmed one flight from the ground and then followed the Spad with my FPV Ranger and got some quite nice aerial footage as well. Highlights from both are in this months' video.
Back now to the BMFA Centenary Record Attempt. For those that don't know, as part of the celebrations for the BMFA's 100th year the idea was to get all BMFA members to fly their models at 12pm on 15th May to break the world record for the number of model aircraft in the air at any one time. Captain Slow registered PAM as one of the clubs wishing to participate and despite a rather dodgy looking weather forecast a number of members turned up to take part. As the bullocks were in the field the electric fence pits area extension was erected but just as they were preparing to fly the heavens opened.
Everybody rushed to shelter in the barn hoping the downpour would stop before 12pm but sadly the very heavy rain just continued. Captain Slow had brought along his little Powerup RC Paper Plane and decided to try flying it under the shelter of the very leaky barn roof just so the club could record at least one flight to be part of the record. The flight was very short as despite the barn roof providing some shelter the Paper Plane got rather damp and soggy and Captain Slow has since has to make a new wing for it! But never mind, he managed to fulfil the flight requirement and has now submitted it to BMFA so Petersfield Aero Modellers should be recorded as taking part in the event.
The Record Attempt was rather different for me as, knowing I would be on holiday in Norfolk at the time, I had arranged to fly with the Kelling Model Flying Club. I had made contact with the club secretary Andrew Jenkins who was extremely helpful and supportive and Doreen and I arrived at their field at around 10.30 as agreed. The club flies on the airfield alongside the Muckleburgh Collection which is a military museum sited on a former military camp at Weybourne, on the North Norfolk coast. It was opened to the public in 1988 and is the largest privately owned military museum in the United Kingdom.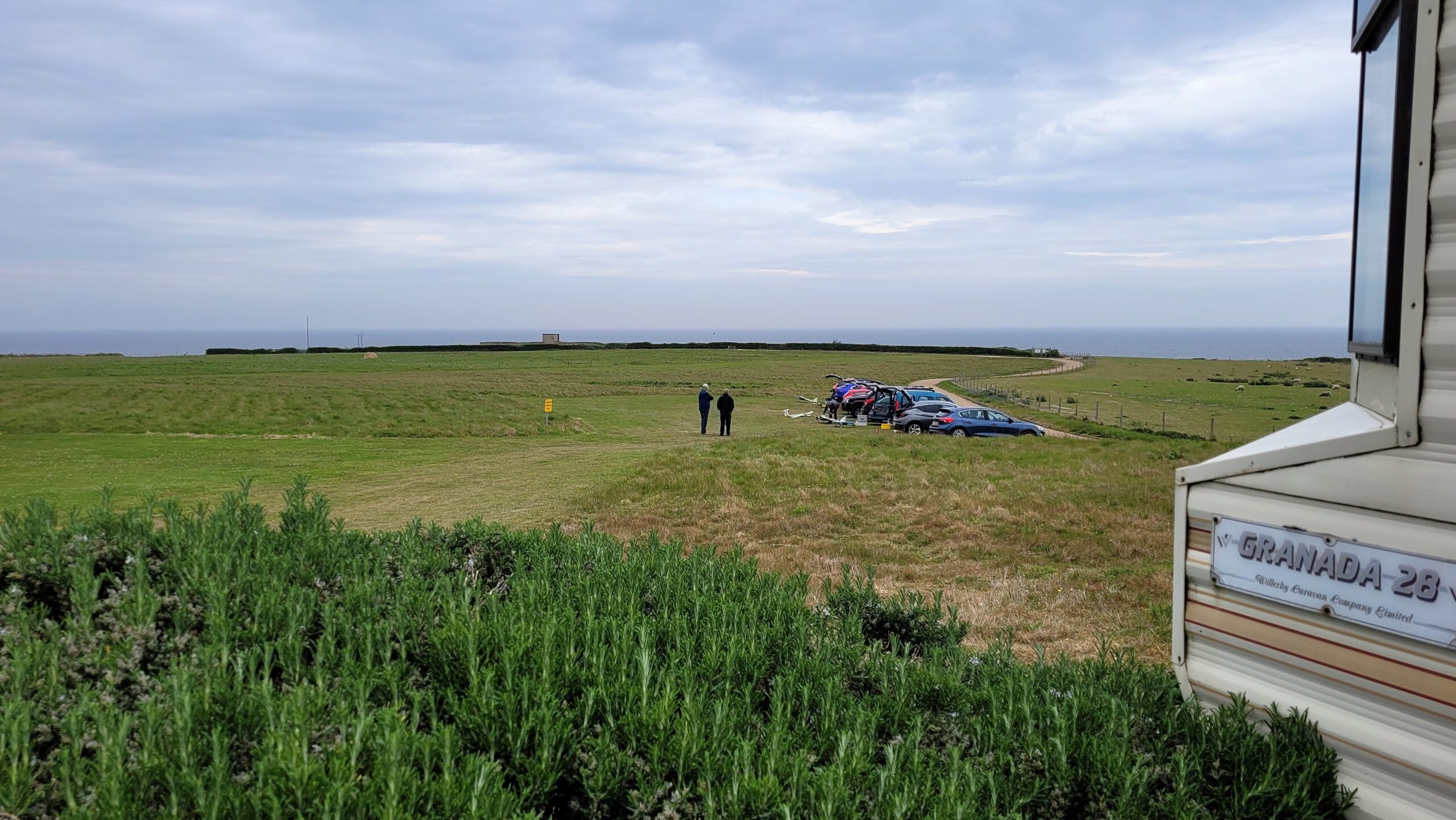 The airfield is on top of the cliffs overlooking the sea so, like our field, tends to be breezy and that day the wind was at ninety degrees to the grass runway which is still occasionally used by full-size planes. They have a large club caravan with a kitchen area and a fully plumbed in toilet, as well as room to socialise and store models and equipment, luxury!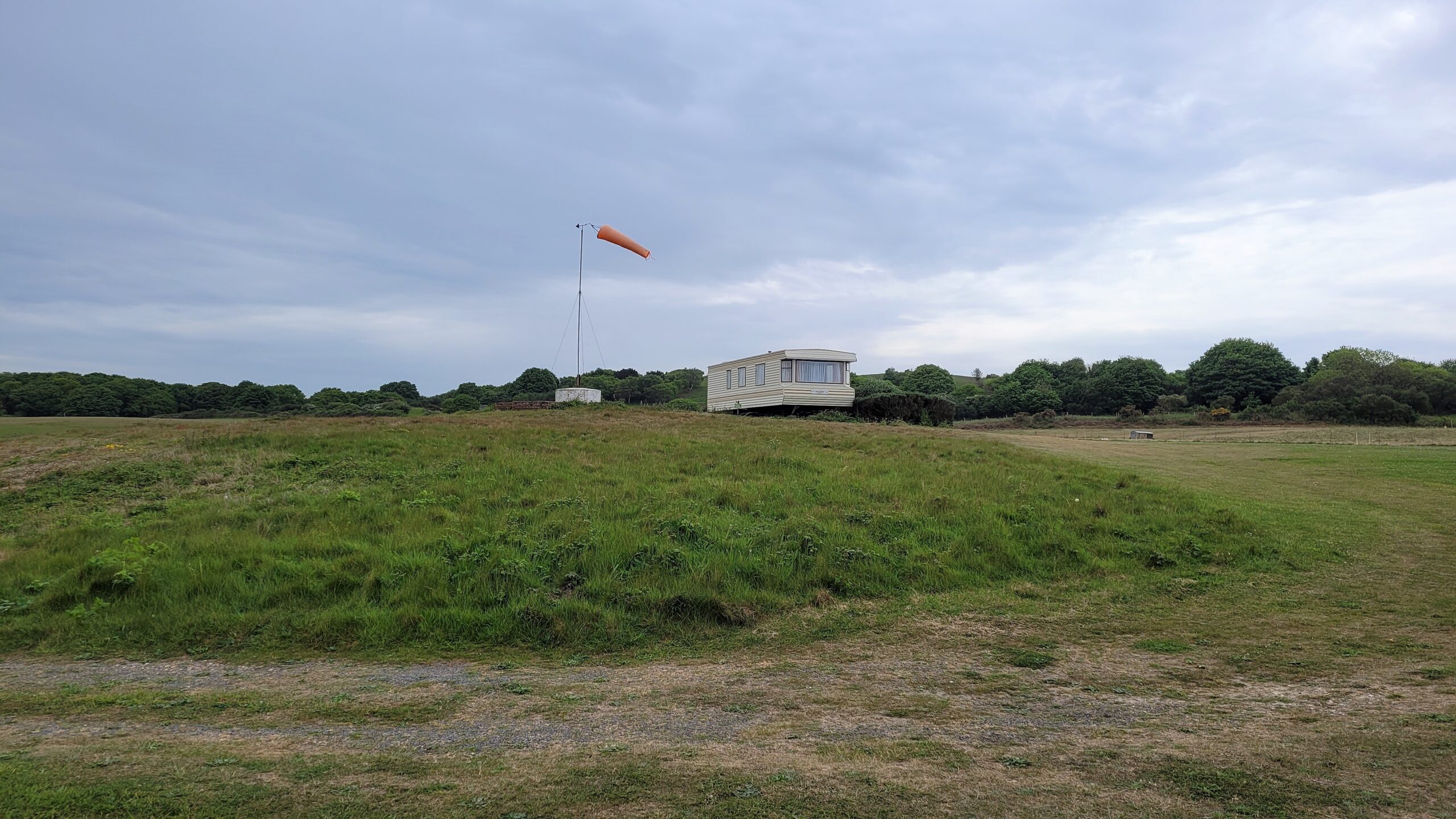 Doreen and I were introduced to everyone and then plied with tea and biscuits before the pilots' briefing. Andrew explained where the various disciplines would fly as the guys were using a variety of models for the record attempt, power models, electric gliders, and chuck gliders. I had taken my Eachine Mustang and Raptor and flew the Mustang for the event.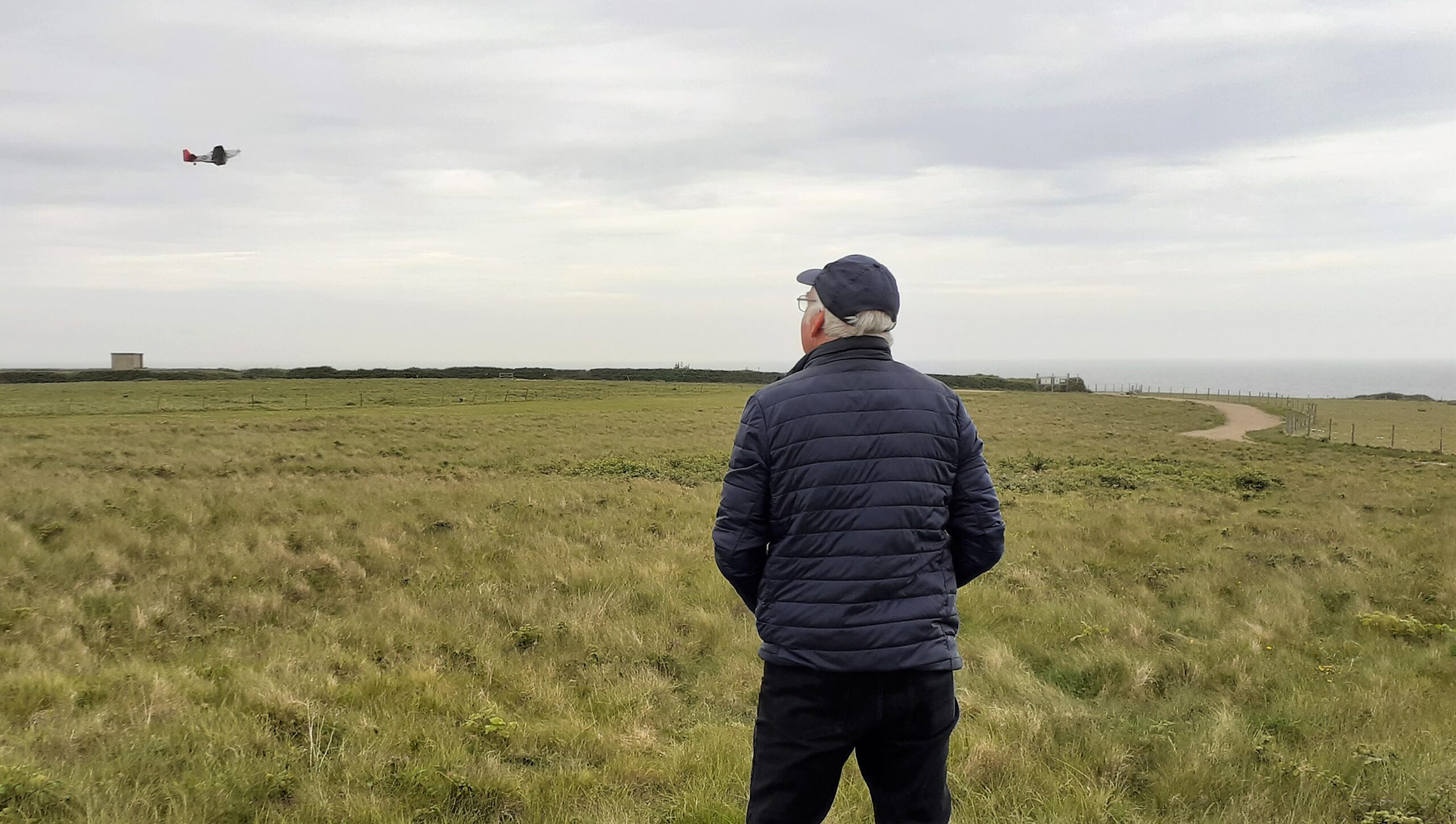 A few minutes before 12pm the power models and electric gliders took to the air and at 12.00 Steve the chairman sounded an air-horn, the signal to launch the chuck gliders.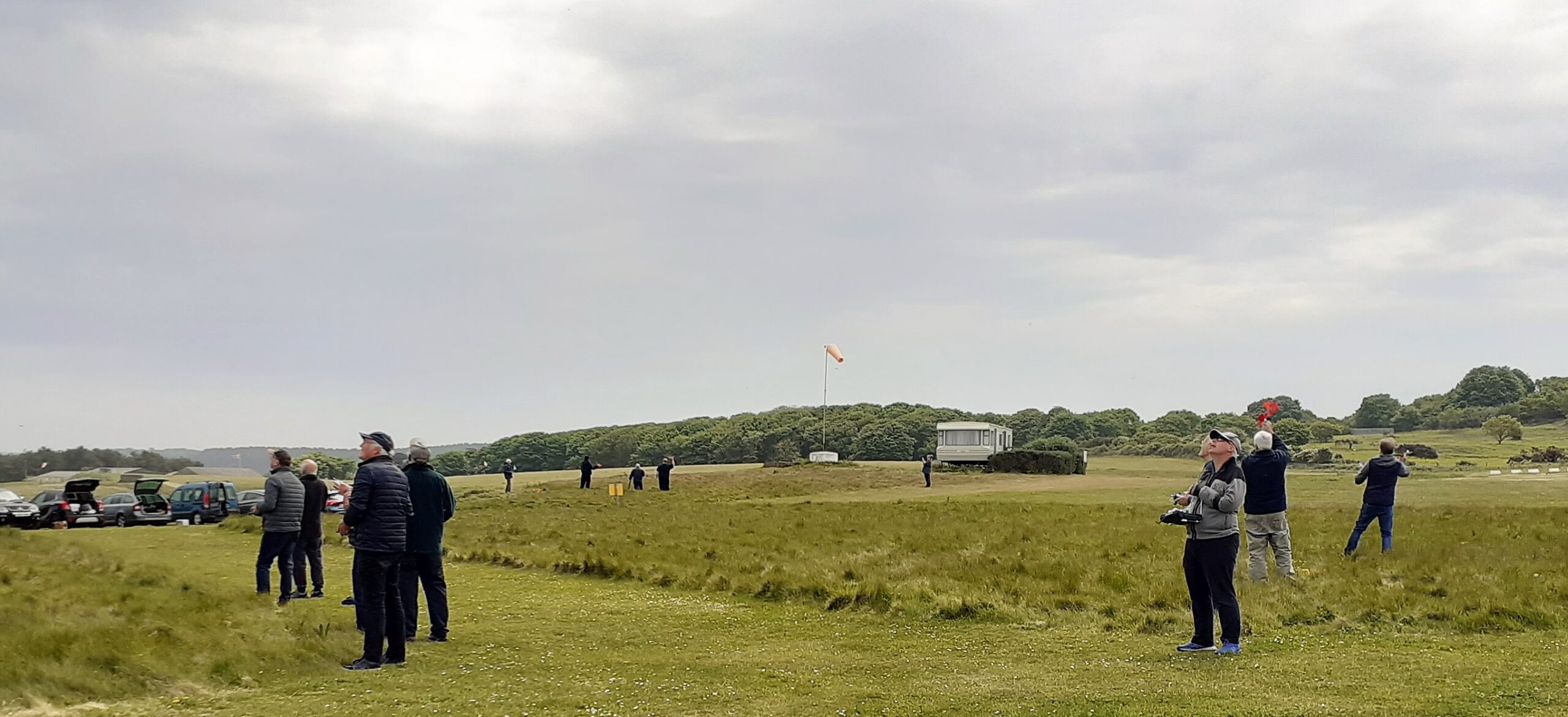 All went perfectly and I think there were thirteen models in the air at the correct time.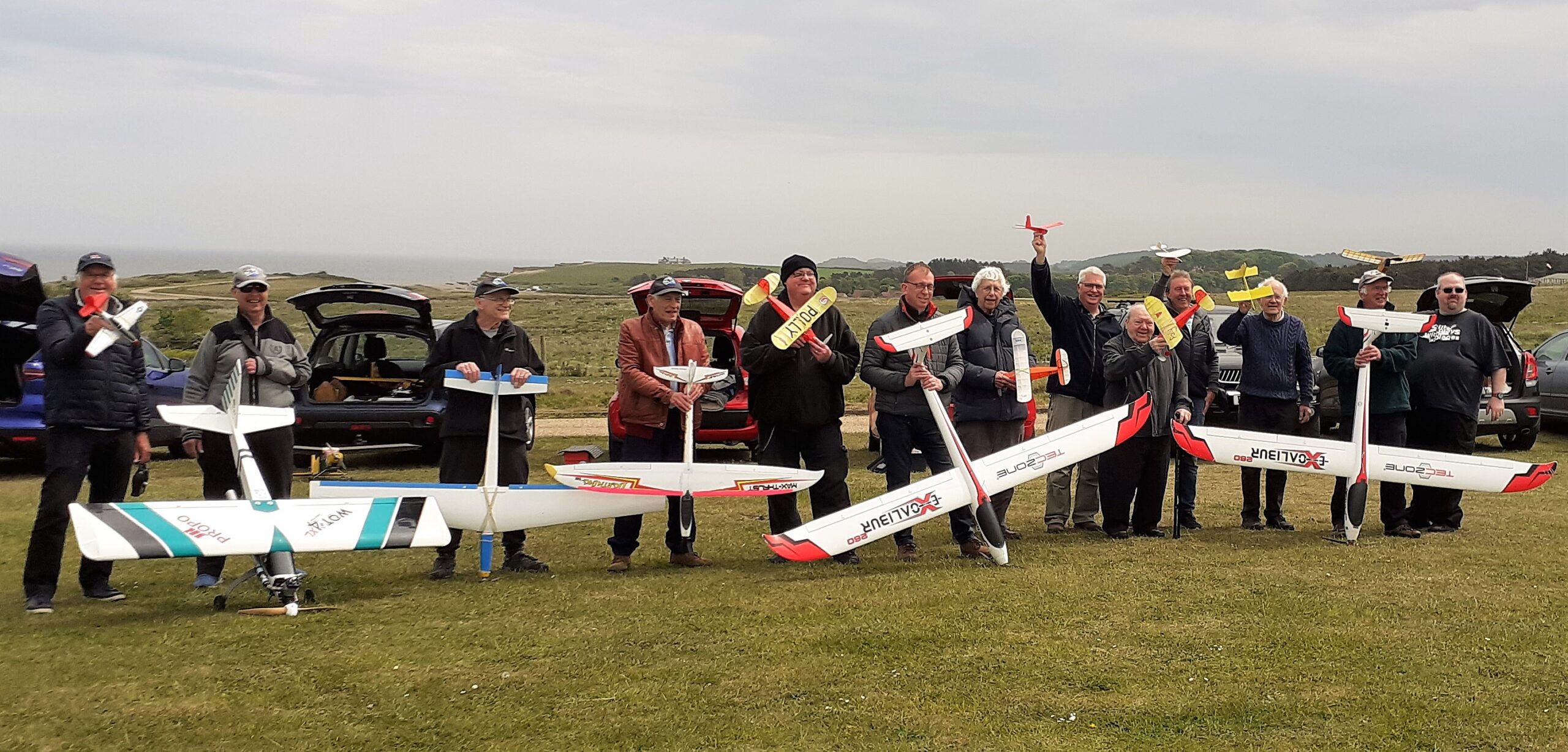 I had a total of three flights with the Mustang and two with the Raptor during our visit.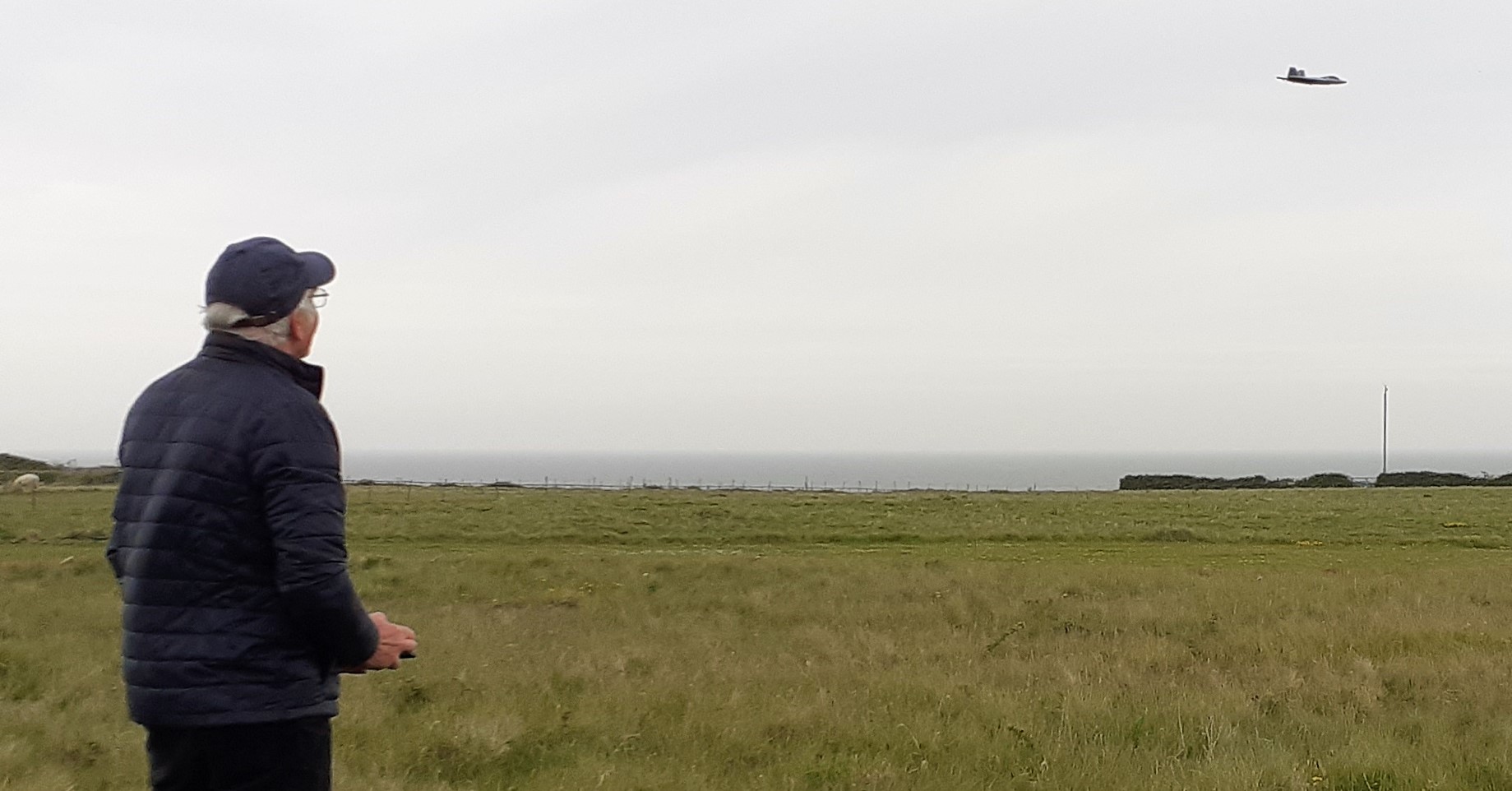 Doreen and I were made very welcome by Kelling MFC, all in all a really enjoyable visit.
Young Leo has been busy and built a Cloud Dancer, a 1300mm span balsa wood kit model.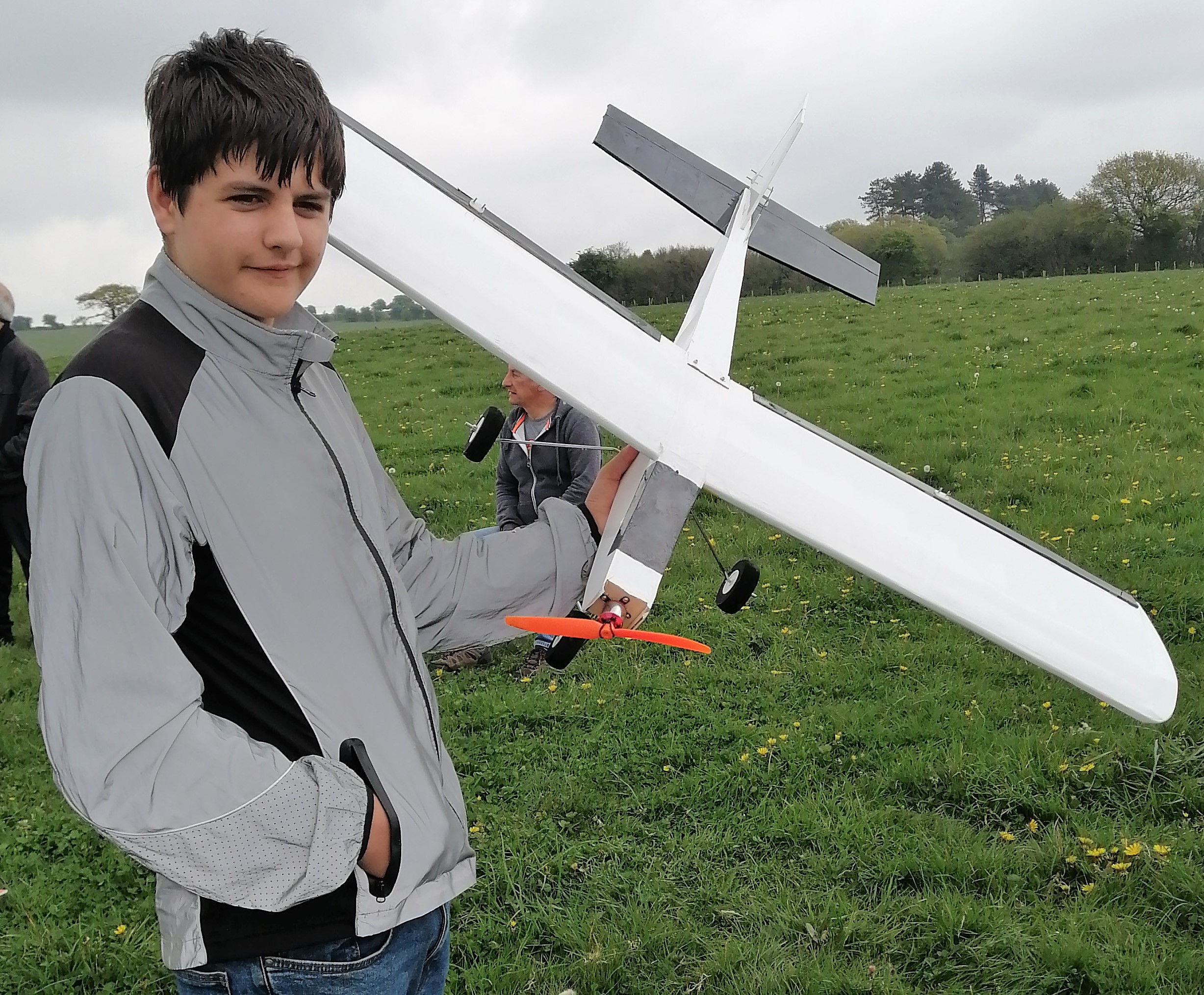 He bought it from Banggood and this is what the website says about it: The Cloud Dancer is an all built up, 4 channel electric powered trainer. It features sharp accurate cut parts that simply slot together with little fuss, the wing looks fantastic when covered with transparent covering to show off the construction. The power system consists of a 30 size outrunner and 2200 3s battery, using mini servos to keep her nice and light. The resulting model is a nice electric trainer model with tricycle undercarriage that performs well. Leo built the model very quickly, made a nice job of it, and it has flown successfully.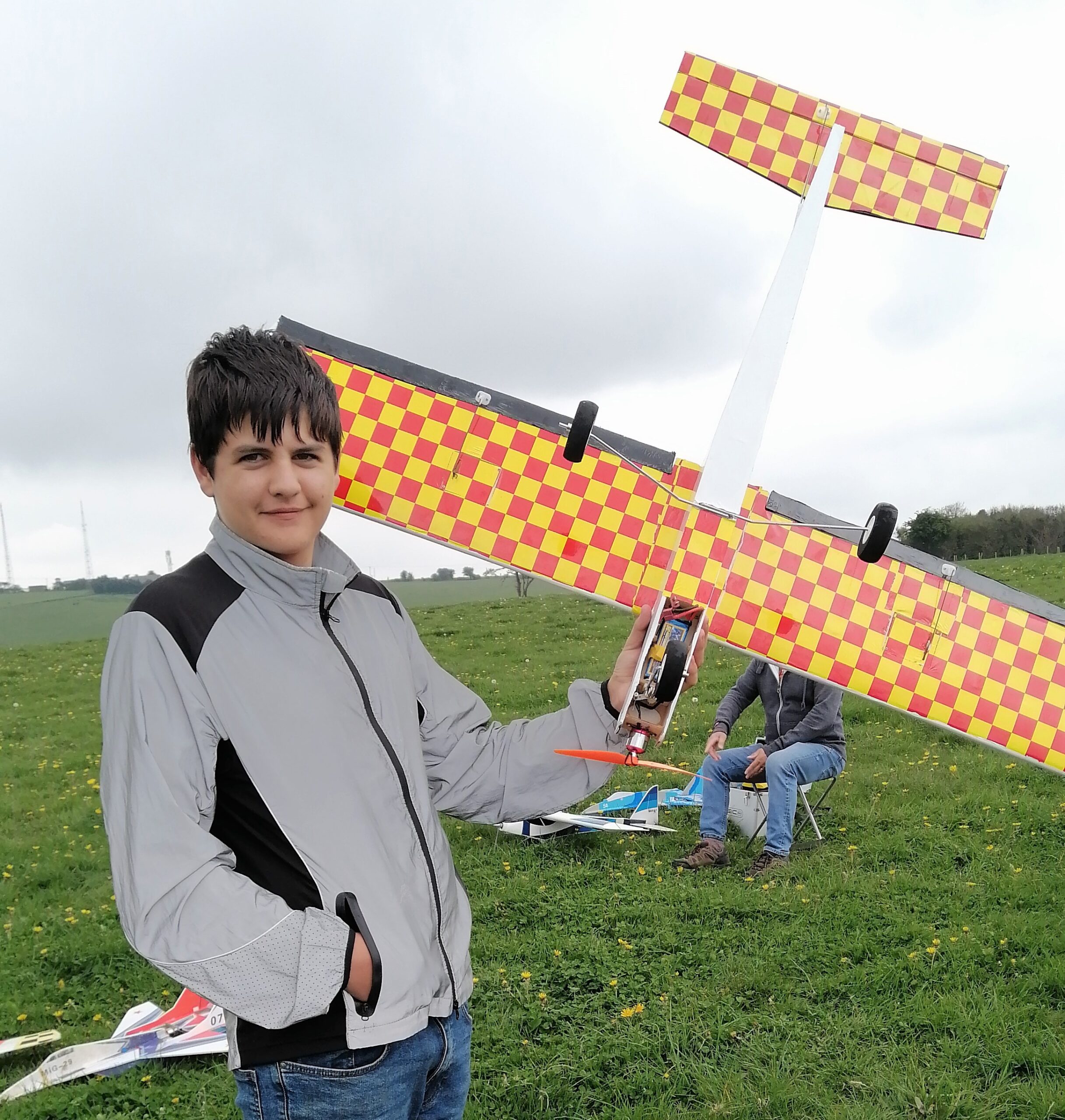 But not happy with building one plane he has also built a Mini Blitz and repaired Dougal's rather knocked about Multiplex Blizzard. He obviously has too much time on his hands!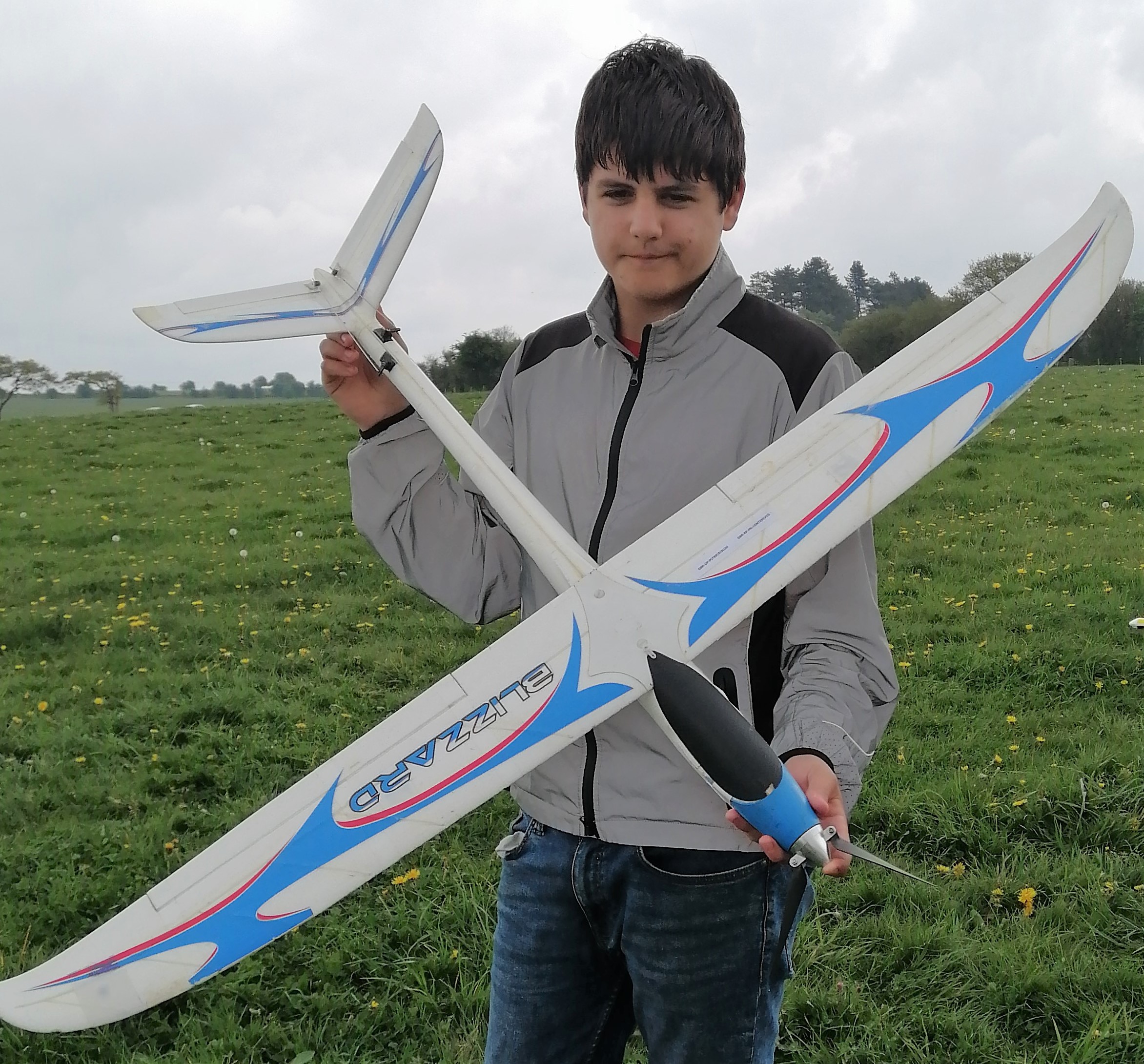 Leo's flying is pretty good and what he needs to do now is swot up on the rules and regulations so he's ready to take his BMFA 'A' certificate. Leo flew his E-flite Valiant and Parkzone Corsair one day when we had left the fence up because of the bullocks and he had no problems at all landing within it. Watch the video to see how well he did.
Bob the Builder has also been busy again and has rebuilt the twin he damaged a while ago.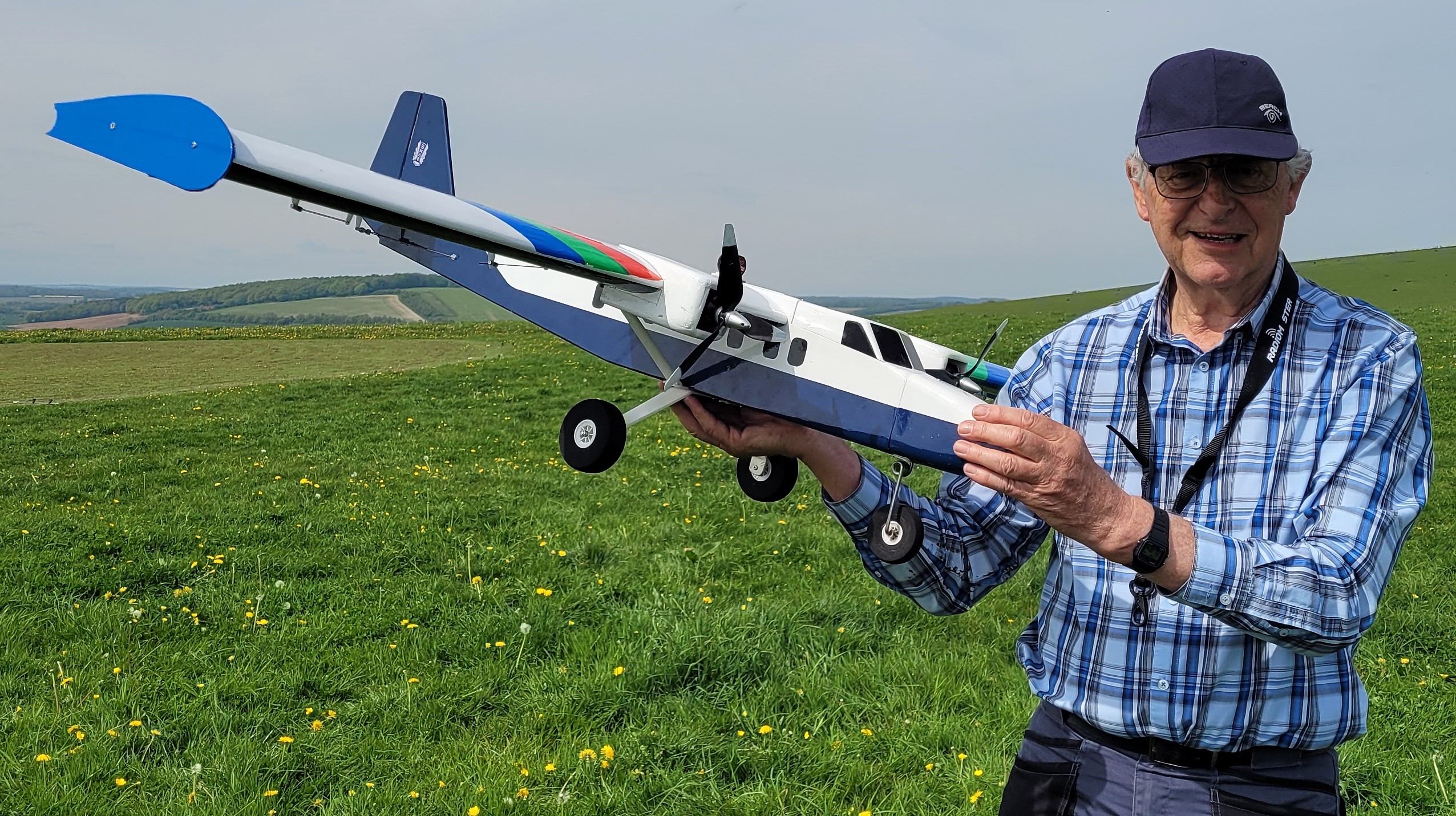 Not realising he was away on holiday I emailed Bob asking for info on the model and this was his reply: Well here I am enjoying the peace and quiet of the Isles of Scilly and now I need to wrack my brain for comments about my Twin. Not much to tell really. 1500mm wing span, 5.5lbs, 4000 4s battery, designed to be high lift with large flaps for STOL capabilities. Motors, props, ESCs, servos, and battery all taken from my old twin that I crashed a couple of years ago. I have stuck to my principles of having longer motor leads rather than long battery leads and the ESCs are in the fuselage rather than the wings, taking care to ensure there is a good cooling airflow through the fuselage.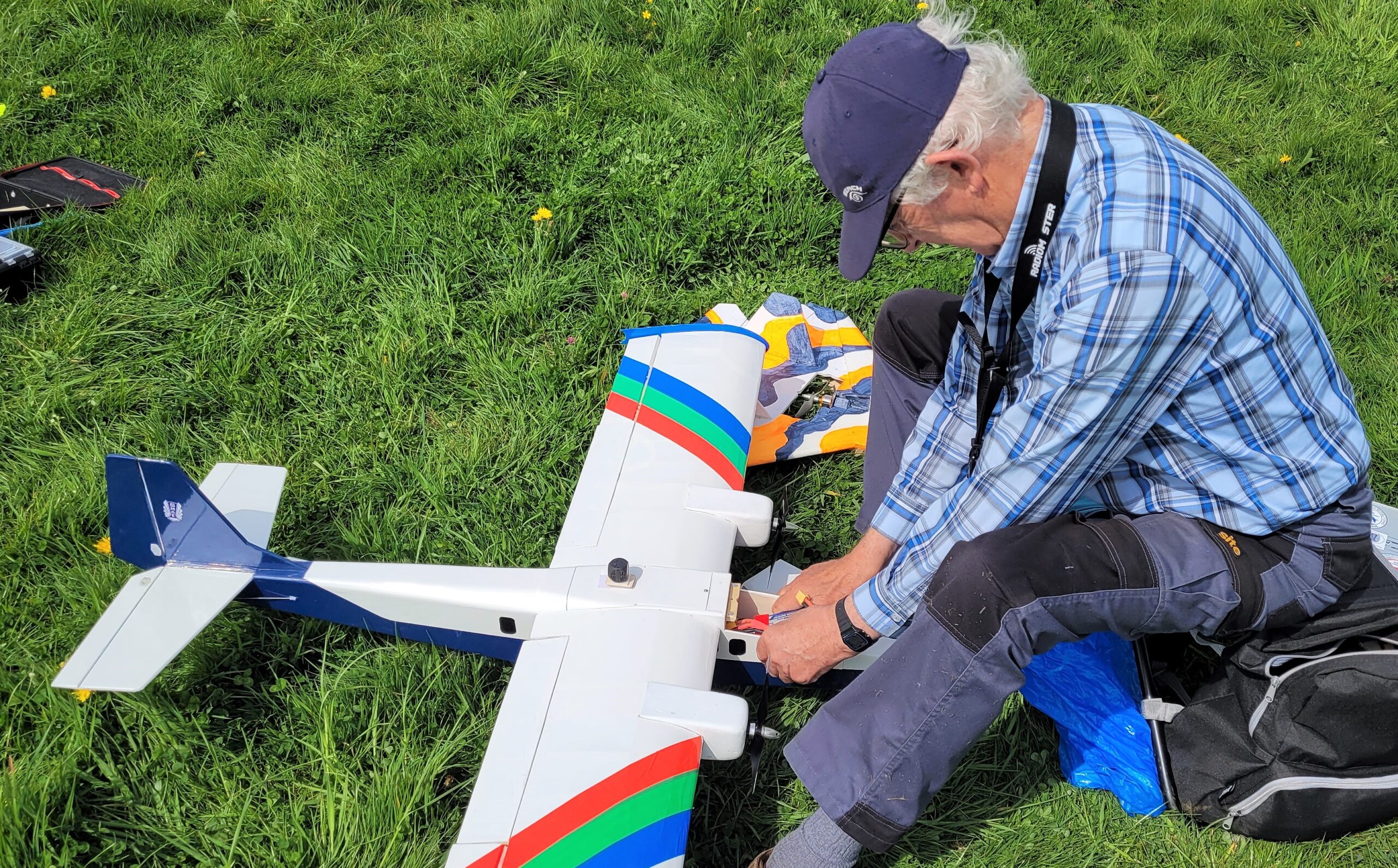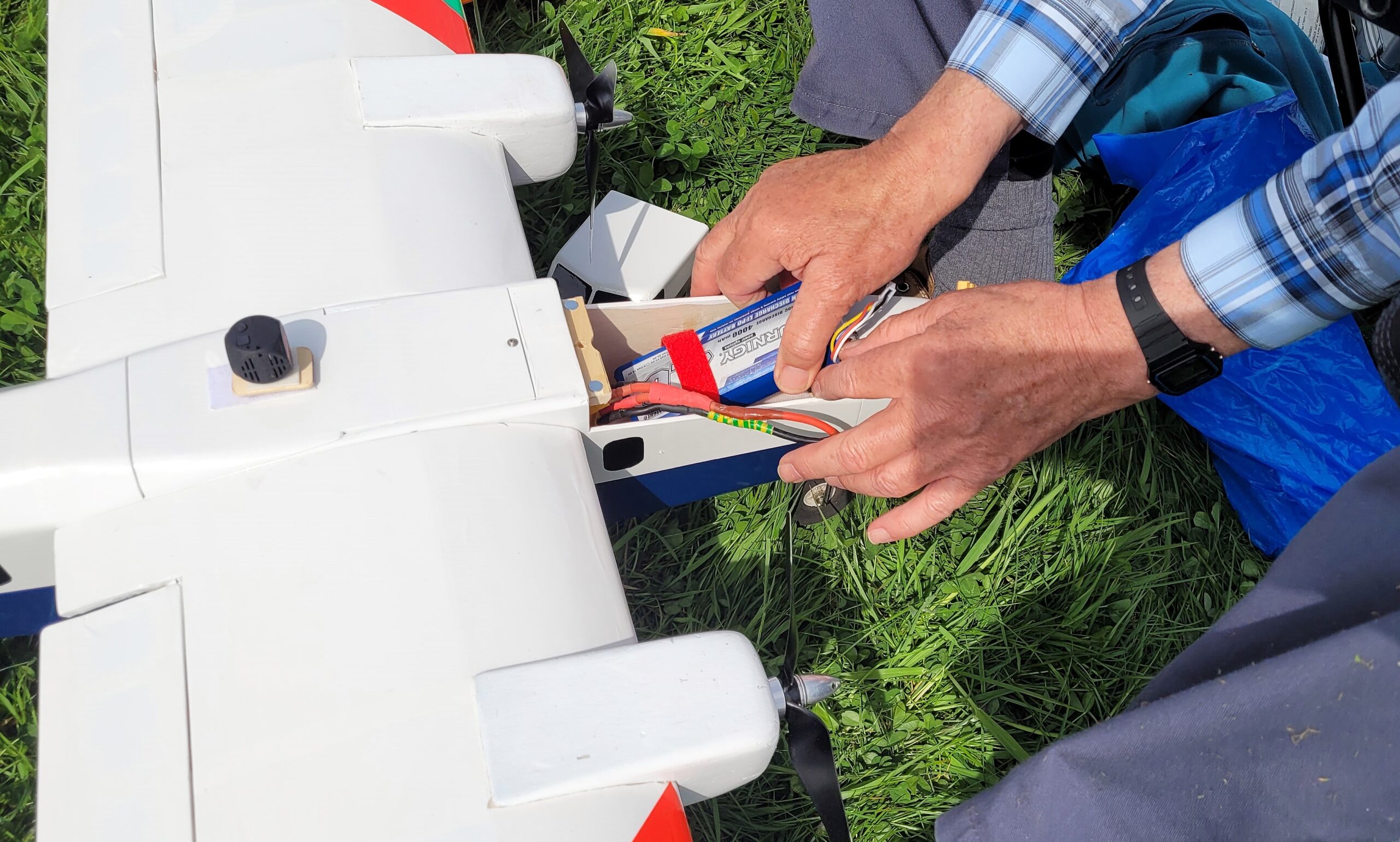 Should be good to carry my RunCam2 camera. A slow docile flyer, just right for my type of flying. I styled the fuselage on a Twin Otter but having just flown in the real thing I don't think I have got the proportions quite right. It really is a small plane with a maximum of 12 passengers and 2 crew, but a very capable workhorse. Let's hope I can avoid the fate of my last twin. Thanks for that Bob, sorry to interrupt your holiday. I can confirm that the twin flies extremely well, you can see it in the video.
Two new EDF jets appeared at the patch in May, both produced by Arrows Hobby.

First to show was Mini-Mike's BAE Hawk, a model that I had also spotted and was seriously contemplating purchasing for myself. Arrows say this: EDF jets rarely fly as well as the 3S-powered Hawk. Get a load of grab-n-go simplicity in this perfectly-formed semi-scale package. Sleek, powerful and perfectly formed the Arrows Hobby Hawk will be something of an eye-opener to anyone who still thinks EDF jets have some catching up to do. Experience the Hawk in action and you'll quickly realise that nothing could be further from the truth. Packing a sweet-sounding 50mm 11-blade fan that's spun up by a precision 2627 4500KV brushless motor, this 3S-fuelled semi-scale Red Arrows jet can't fail to delight with its flowing aerobatics, cloud punching performance and exceptional speed. But that's not the half of it, the Hawk is also a beautifully practical model that exhibits exceptional low speed handling, is small enough to transport in one piece, is retract (hassle) free and, moreover, gets away easily from an underarm launch. Given that it's enticingly budget-friendly and such a good performer, we just know that the Hawk will become a frequent flyer in your air fleet and, of course, that equates to superb value for money. I was away when Mike brought it along but Dougal filmed the first two flight attempts. I say attempts because although the Hawk went away well from the hand launch on both tries the motor cut out very soon after launch. Mini-Mike has since done a bench test of the batteries and found that on both packs two of the three cells showed a voltage drop of 0.4v more than the third cell under load which probably explained the problem. So having sorted out some better lipos Mini-Mike returned to the field later in the month and this time the Hawk superbly. Two flights no problems. See it in the video.
The second Arrows Hobby EDF jet was a Lockheed T-33 Shooting Star belonging to Chas.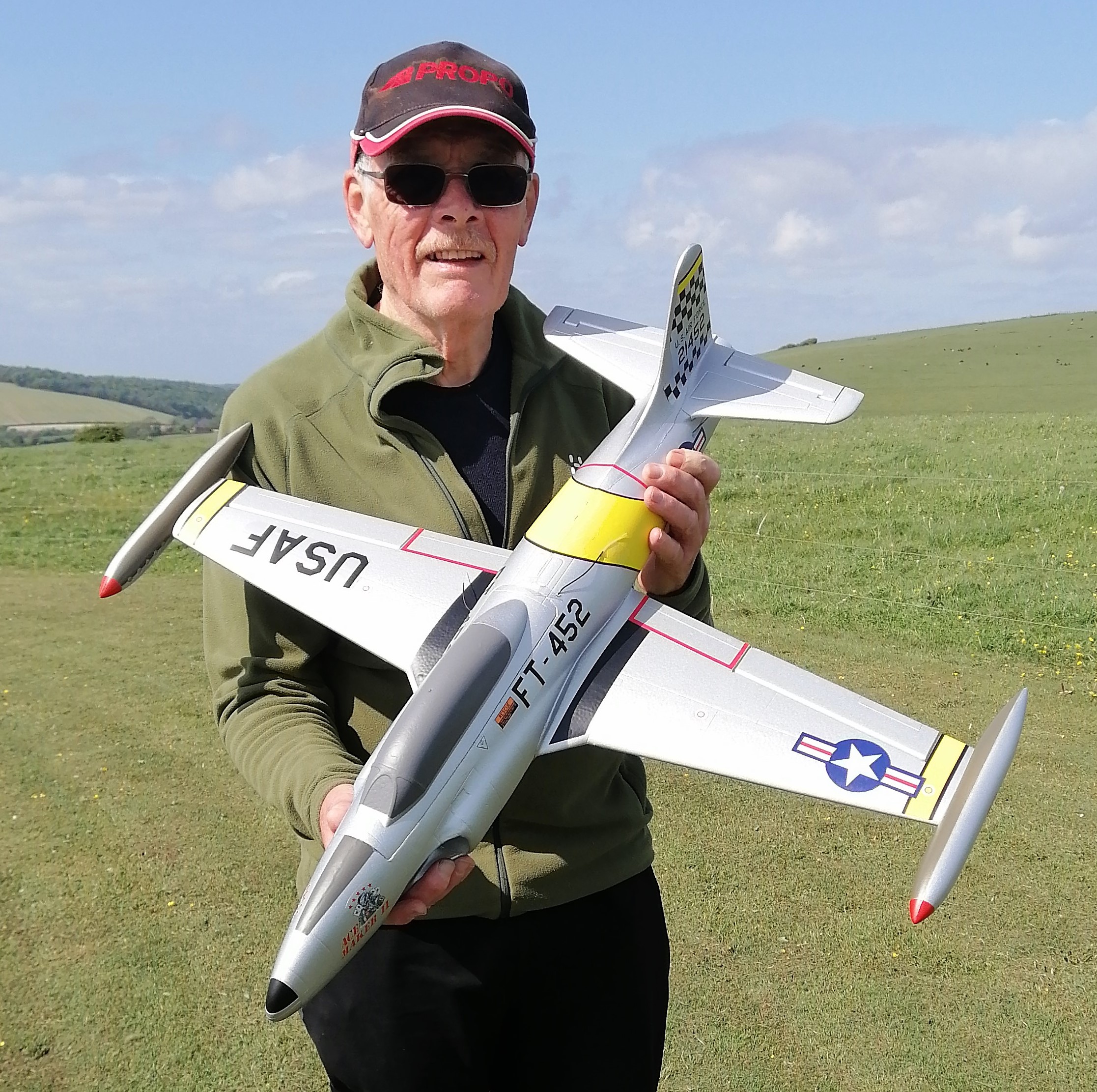 As with the Hawk I was away at the time but Dougal took a couple of photos and Chas has also sent some. Chas decided against flying the T-33 when he took it to the field as it was a very blustery day. This is from the Arrows website: Combining superb 3S performance, cost effectiveness and sheer practicality, the Arrows Hobby EDF Viper has been so well received that it seemed churlish not to answer the call for more of the same. Enter, then, the striking, universally-adored T-33. Sporting the Viper's proven powerset, size and outstanding flyability, if this one doesn't do it for you, nothing will. Perfectly capturing the post-war appeal of the iconic Shooting Star, Arrows Hobby's T-33 will be something of an eye-opener to anyone who still thinks EDF jets have some catching up to do.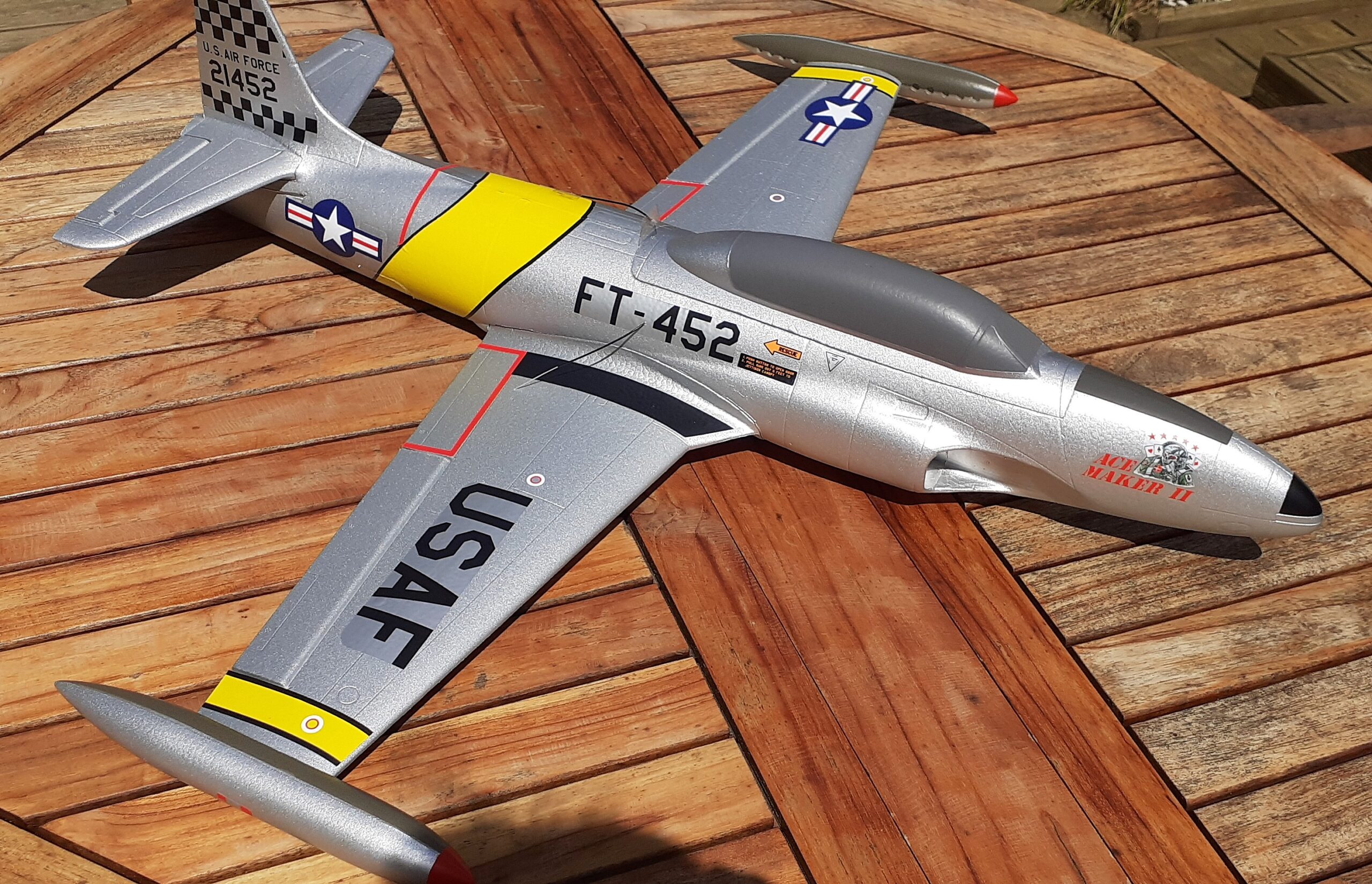 Experience the T-33 in action and you'll quickly realise that nothing could be further from the truth. Packing a sweet-sounding 50mm 11-blade fan that's spun by a precision 2627 4500KV brushless motor, this 3S-fuelled semi-scale version of Lockheed's jet trainer can't fail to delight with its flowing aerobatics, cloud punching performance and exceptional speed. But that's not the half of it, the T-33 is also a beautifully practical model that exhibits exceptional slow speed handling, is small enough to transport in one piece, is retract (hassle) free and, moreover, gets away beautifully from an underarm launch. Given that it's enticingly budget-friendly and such a good performer, the T-33 offers outstanding value for money and, for that alone, we just know you'll love it.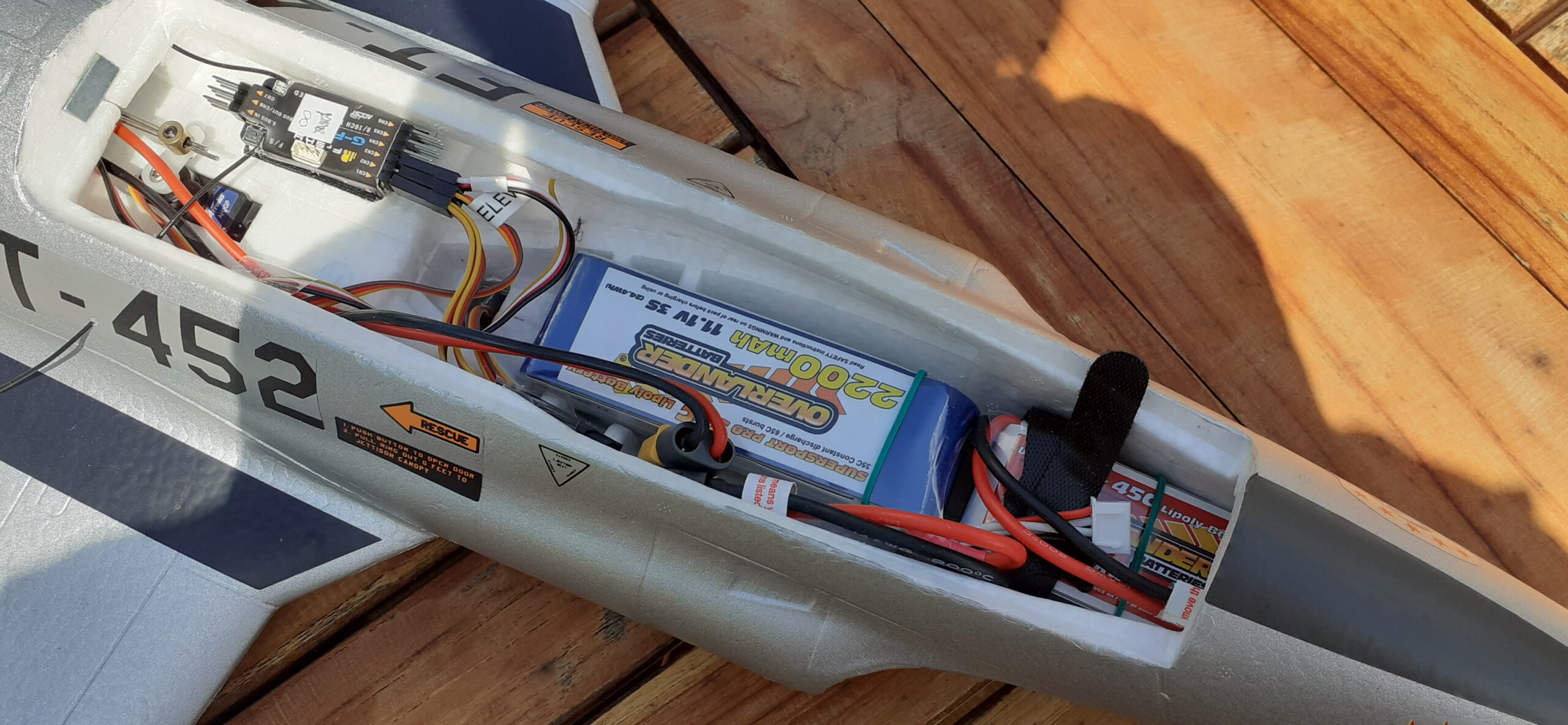 The T-33 can use 1300mAh to 2200mAh 3s lipos and Chas's photo above shows a 1350mAh 3s and a 2200mAh 3s in their respective positions that provide the same C of G.
As well as the T-33 Chas has also bought another Eachine models to go with his Trojan.


This one is a P-47 Razorback and with a wingspan of 500mm it's a bit bigger than the others in the range. It uses 500mAh single cell batteries instead of 400mAh that the smaller ones use and the included transmitter is slightly different to the others.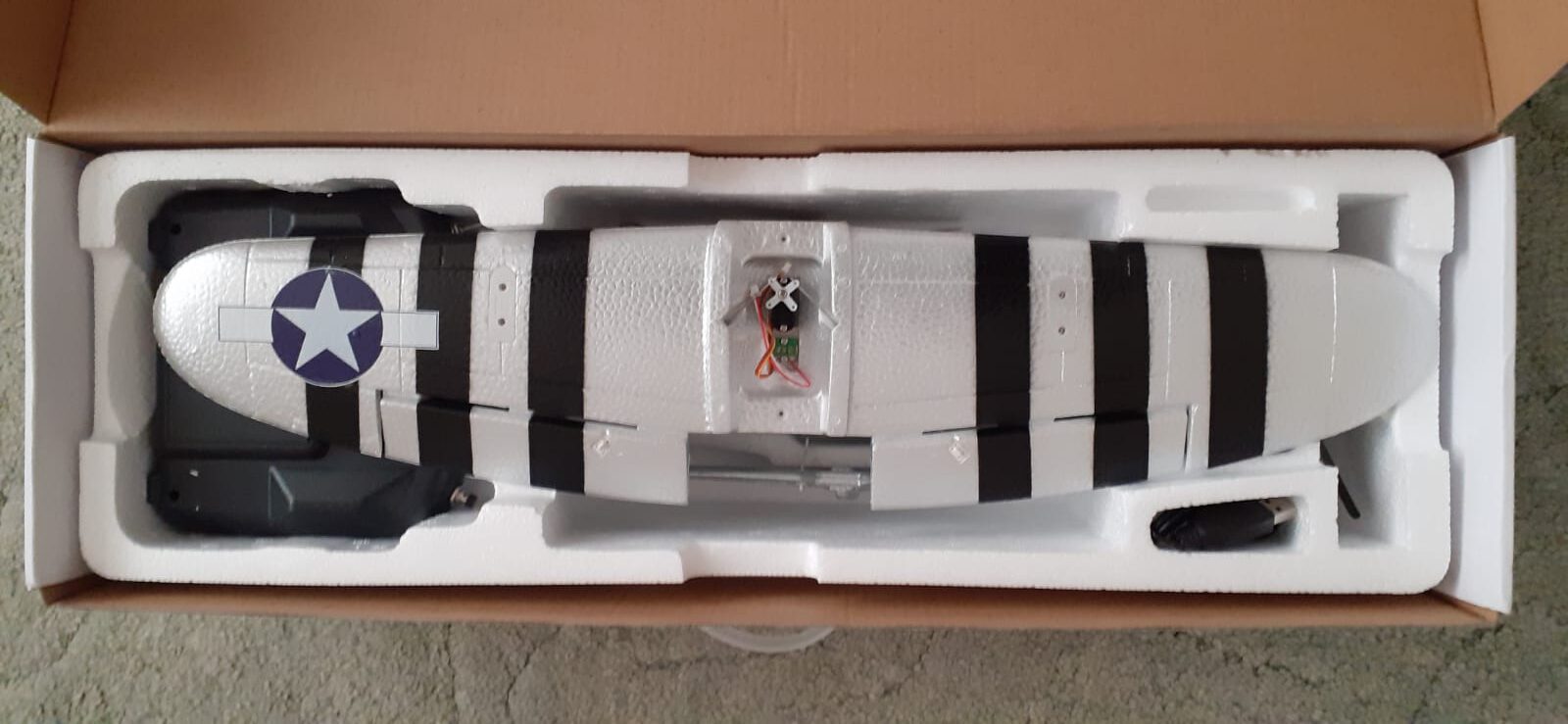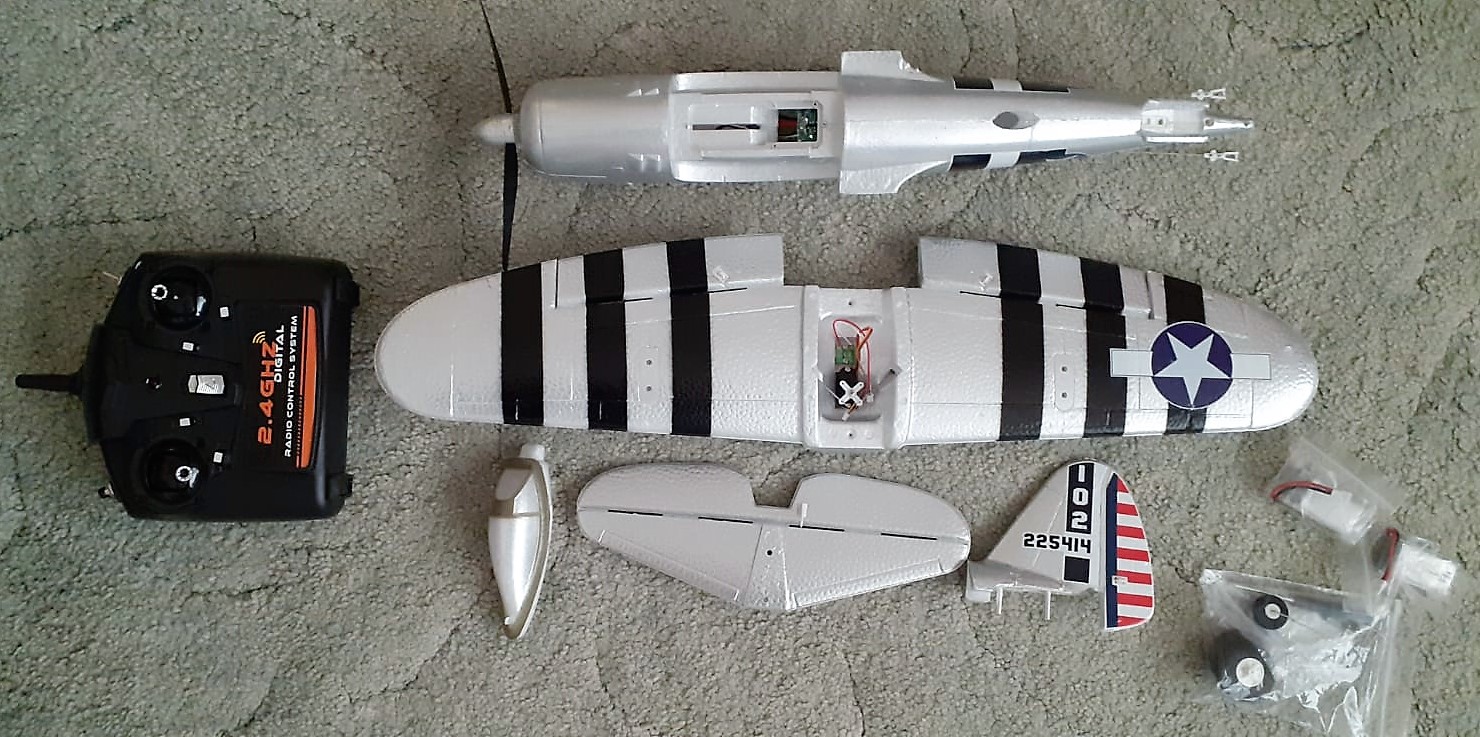 Chas has bound his Eachine Trojan to his multi-protocol RadioMaster transmitter so he doesn't use the one it comes with and no doubt he'll do the same with the P-47 although I understand the Razorback uses a different protocol. I'm looking forward to seeing it fly.
I don't have any airborne photos this month so here are some that I took at the Kelling MFC when I visited them for the BMFA Centenary Record Attempt: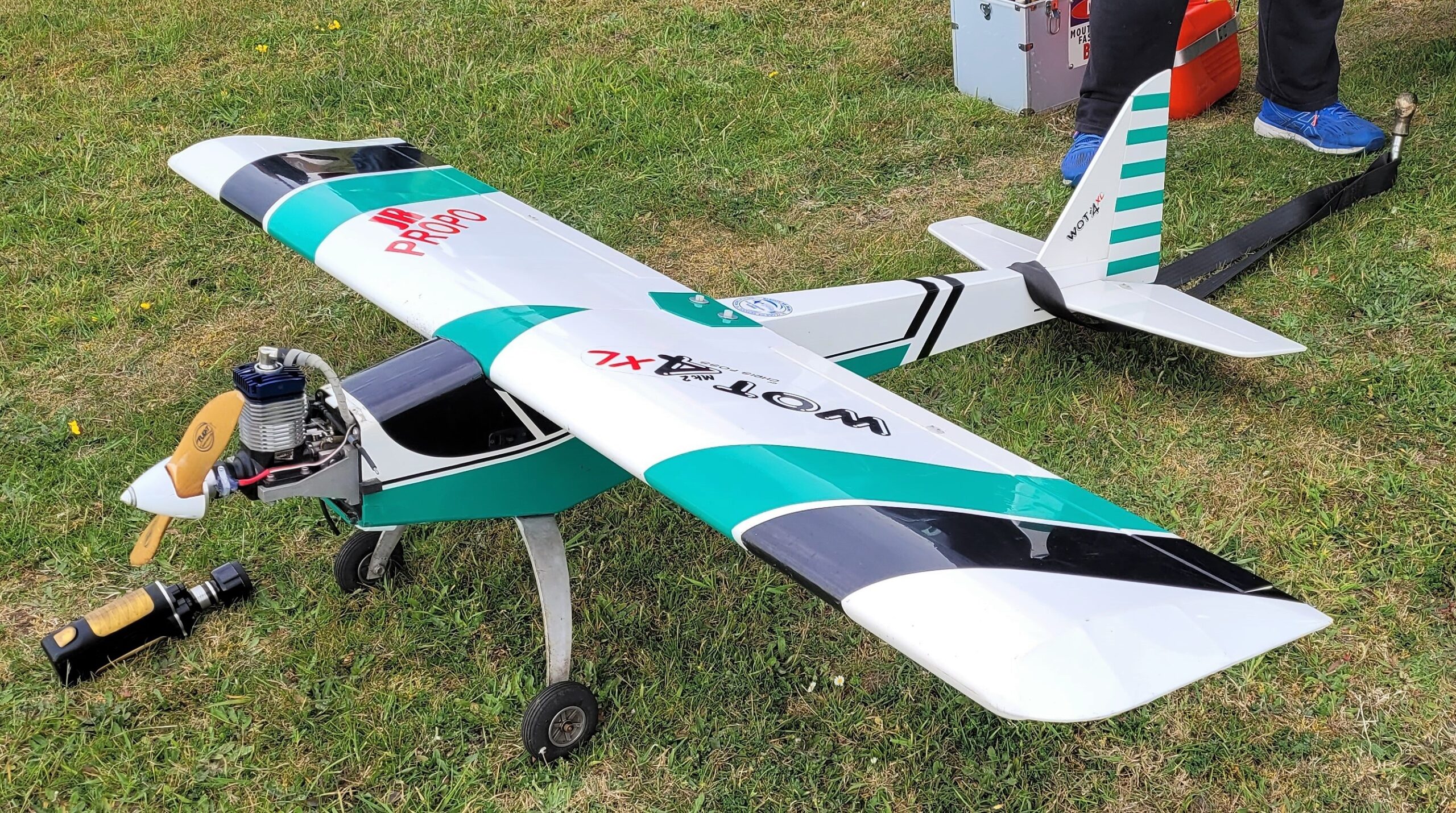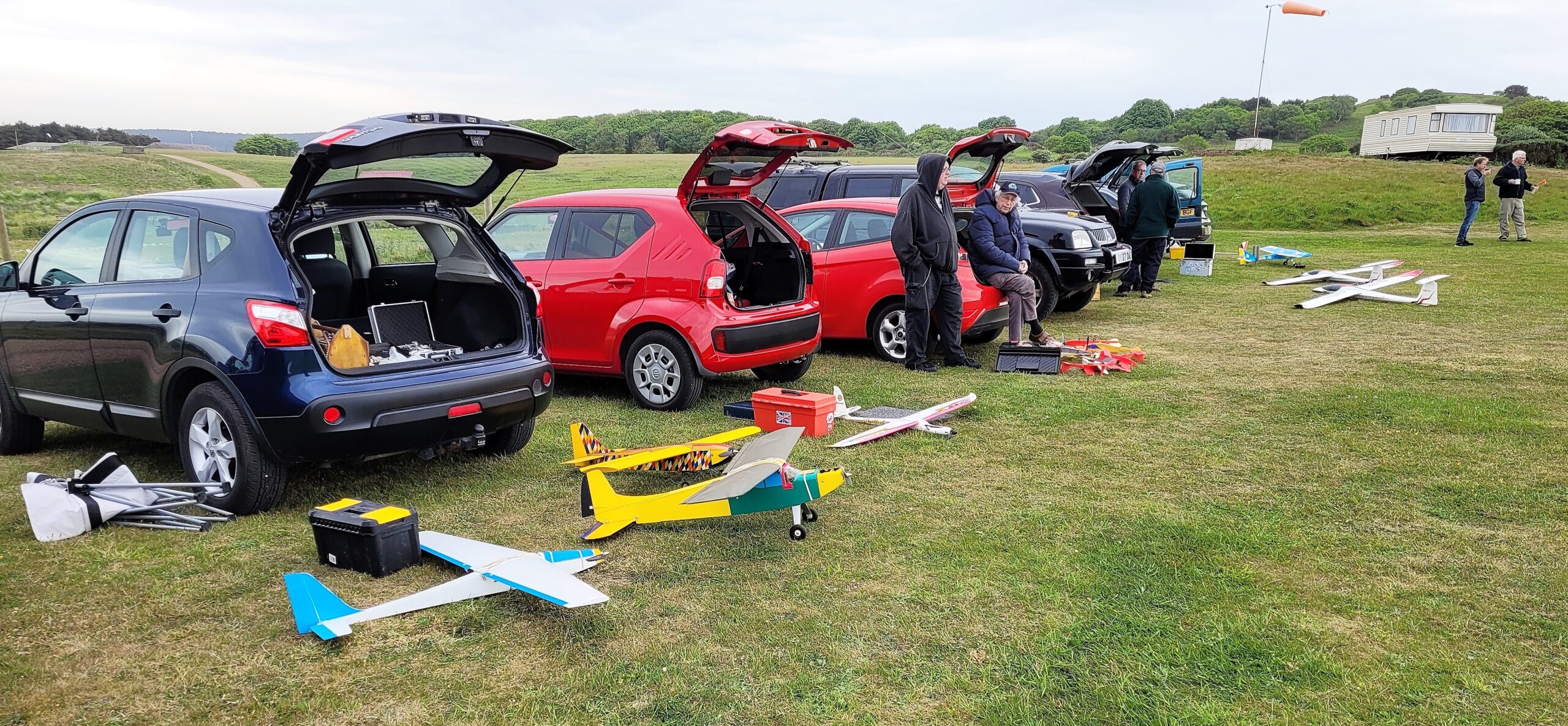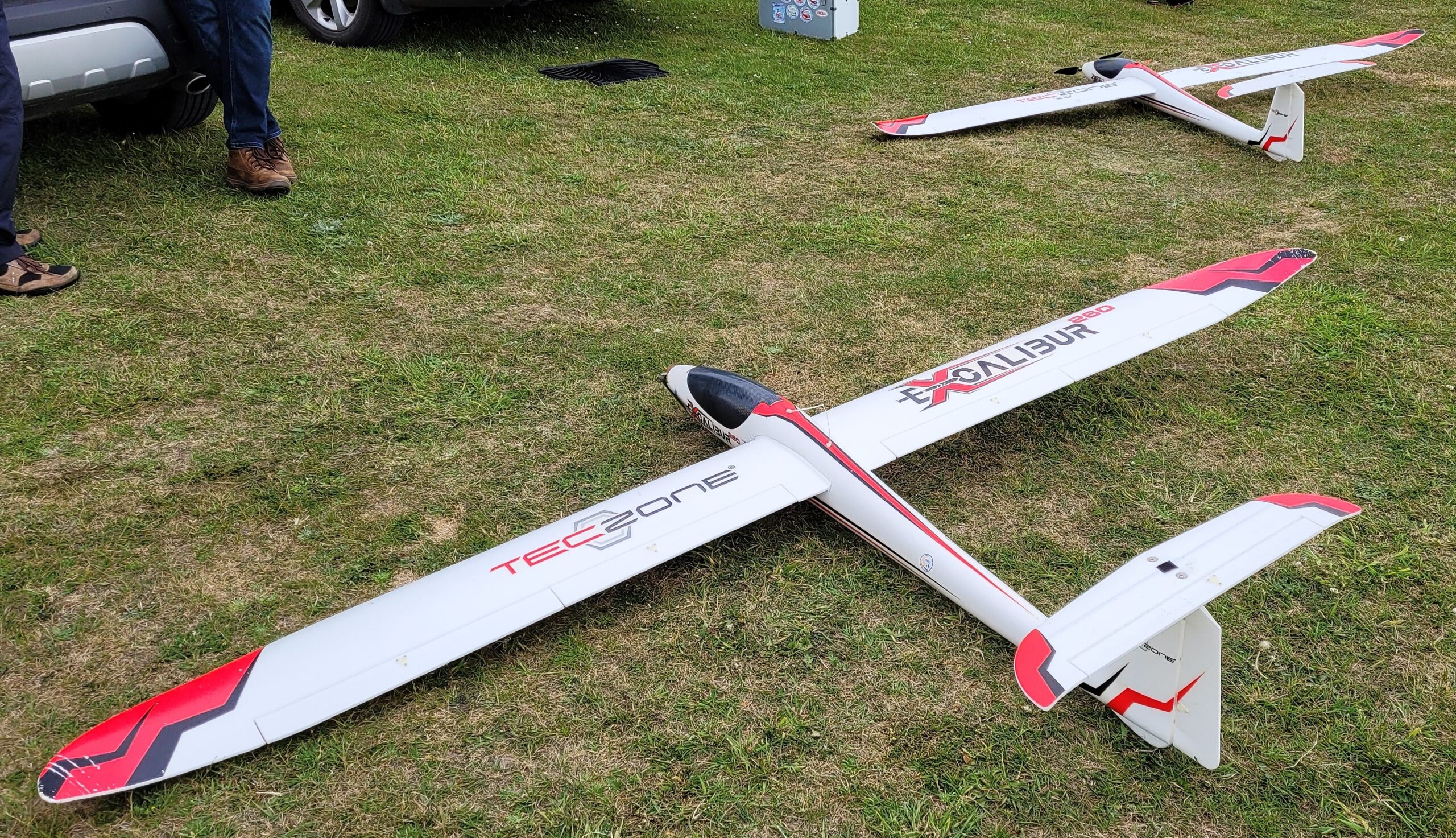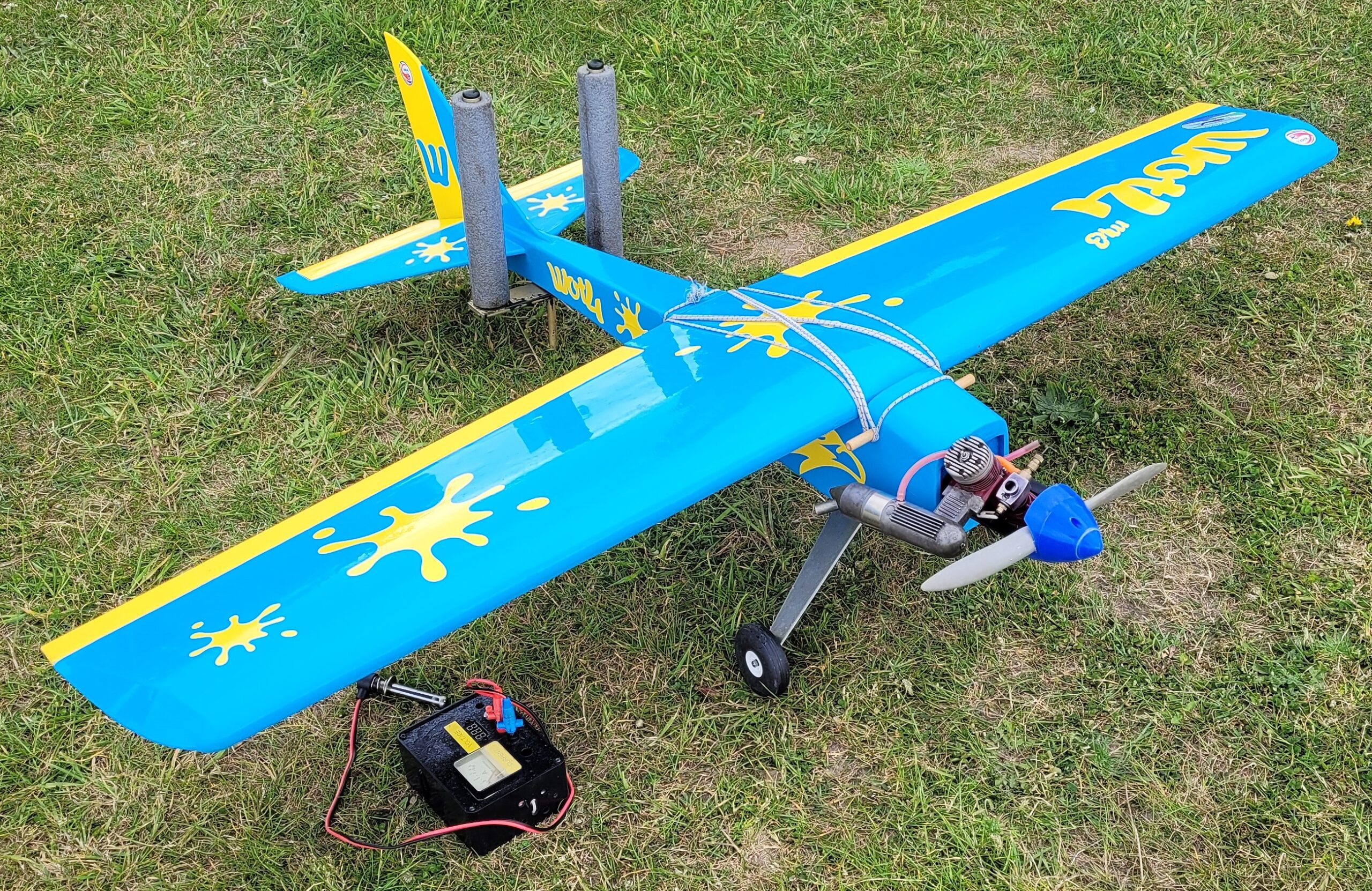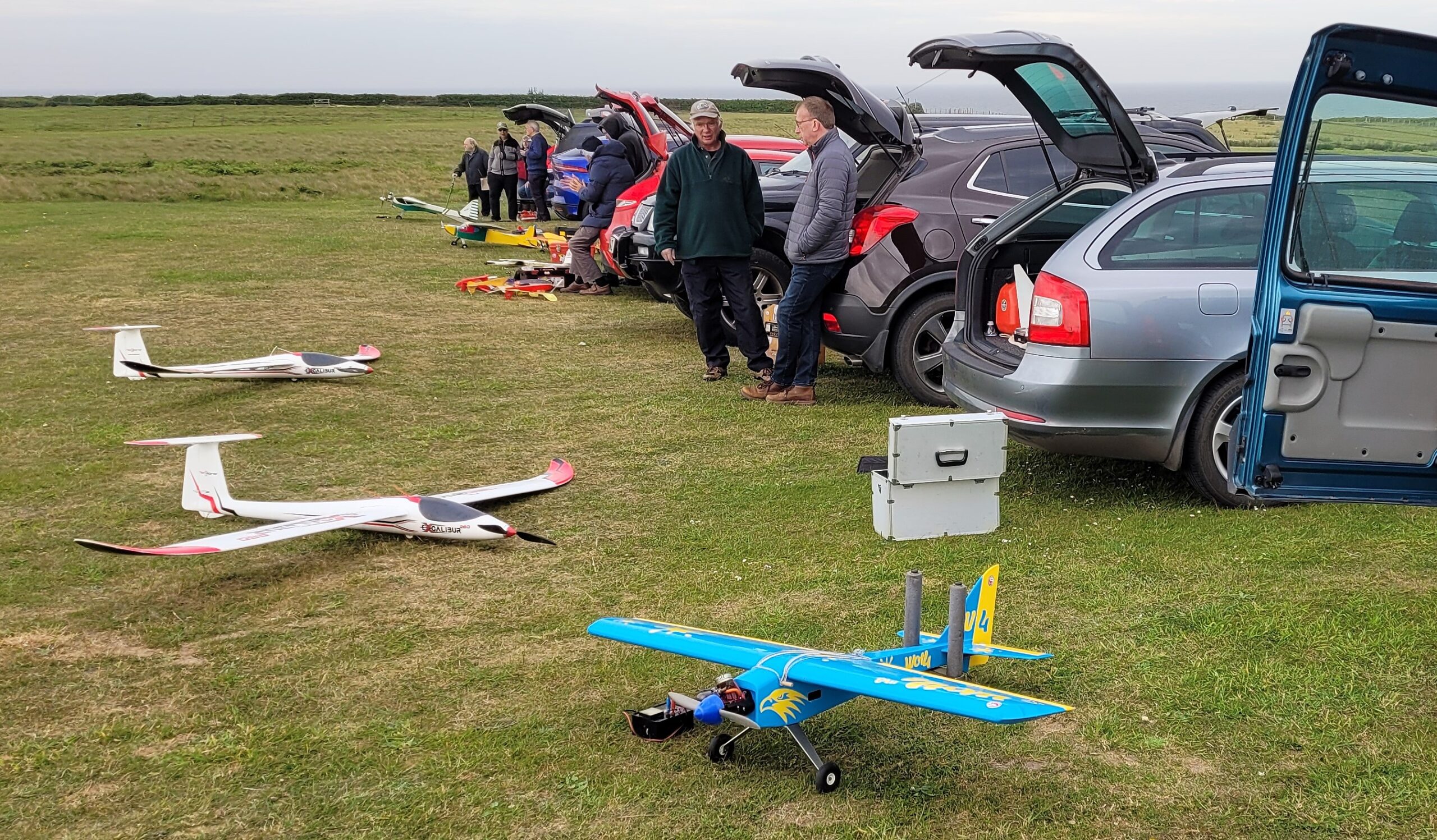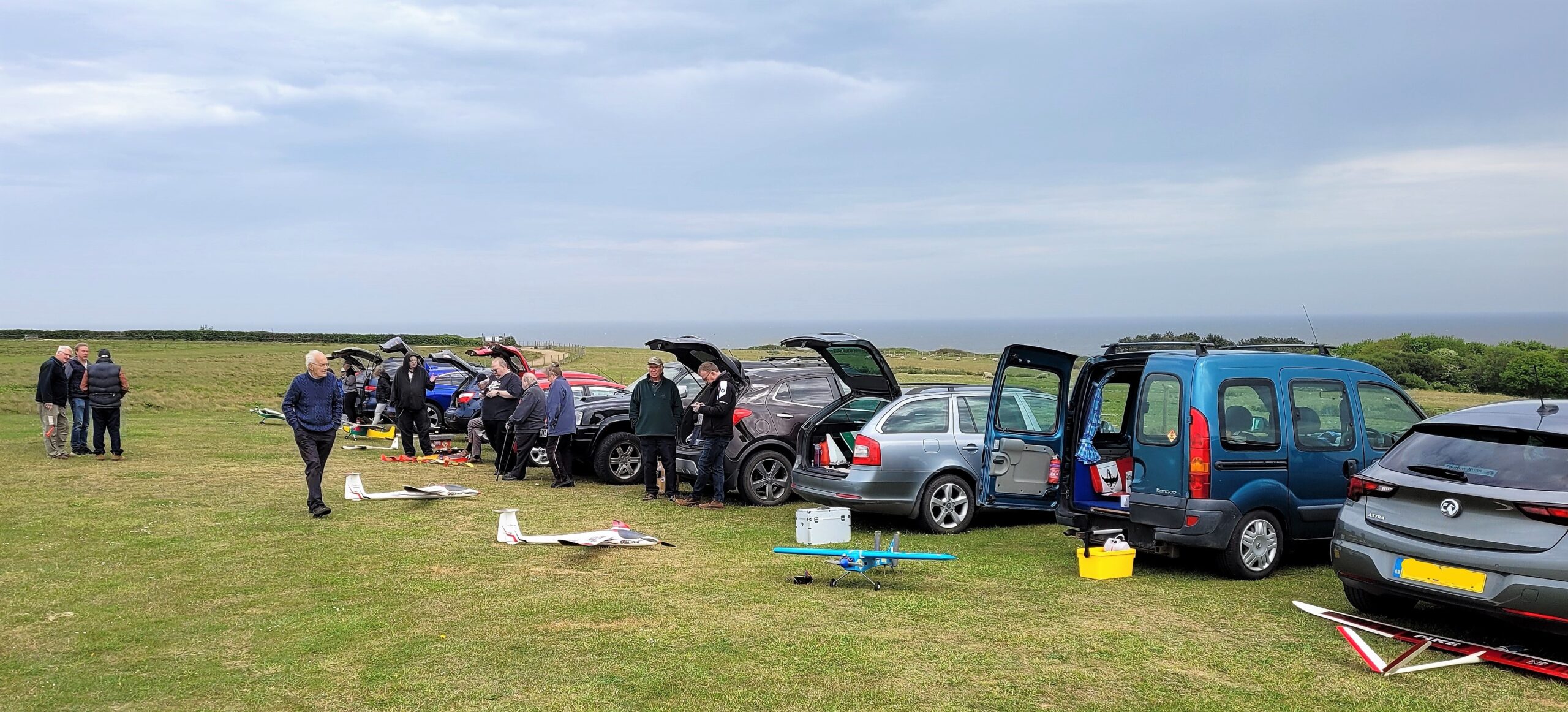 Video time now which this month has footage shot by myself and Dougal Entendre. Please watch the video full-screen, it's so much better with small models flying around.
If the video won't play for you please click HERE
On an evening Air Lingus flight from Dublin to Boston, the flight attendant nervously announced the following in her lovely Irish brogue:
"Ladies and Gentlemen, unfortunately, it appears that our catering service has made a terrible mistake. Despite the fact that we have 103 passengers on board, we only received 40 dinner meals. Anyone who offers to give up their meal, so that someone else can eat, will receive free and unlimited drinks during the 10 hour flight…."
Her next announcement came about 2 hours later:
"We still have 40 dinners available for anyone who is hungry…"
Colin Cowplain