The April weather wasn't as good as in March but overall it was reasonable and we had very few of the proverbial April Showers, in fact it was one of the driest Aprils on record. But one sunny day several of us got caught in a sudden downpour that interrupted our flying for a few minutes before we were able to carry on flying and dry out in the sunshine.

The rain doesn't show up in the photo but it was actually very heavy at the time. 1066 had forgotten that his jacket has a hood so we reminded him once he had got nicely drenched! At the start of the month the light winds that we had enjoyed in March continued and Chas and I were able to fly our tiny Eachine models several times, they are great little models.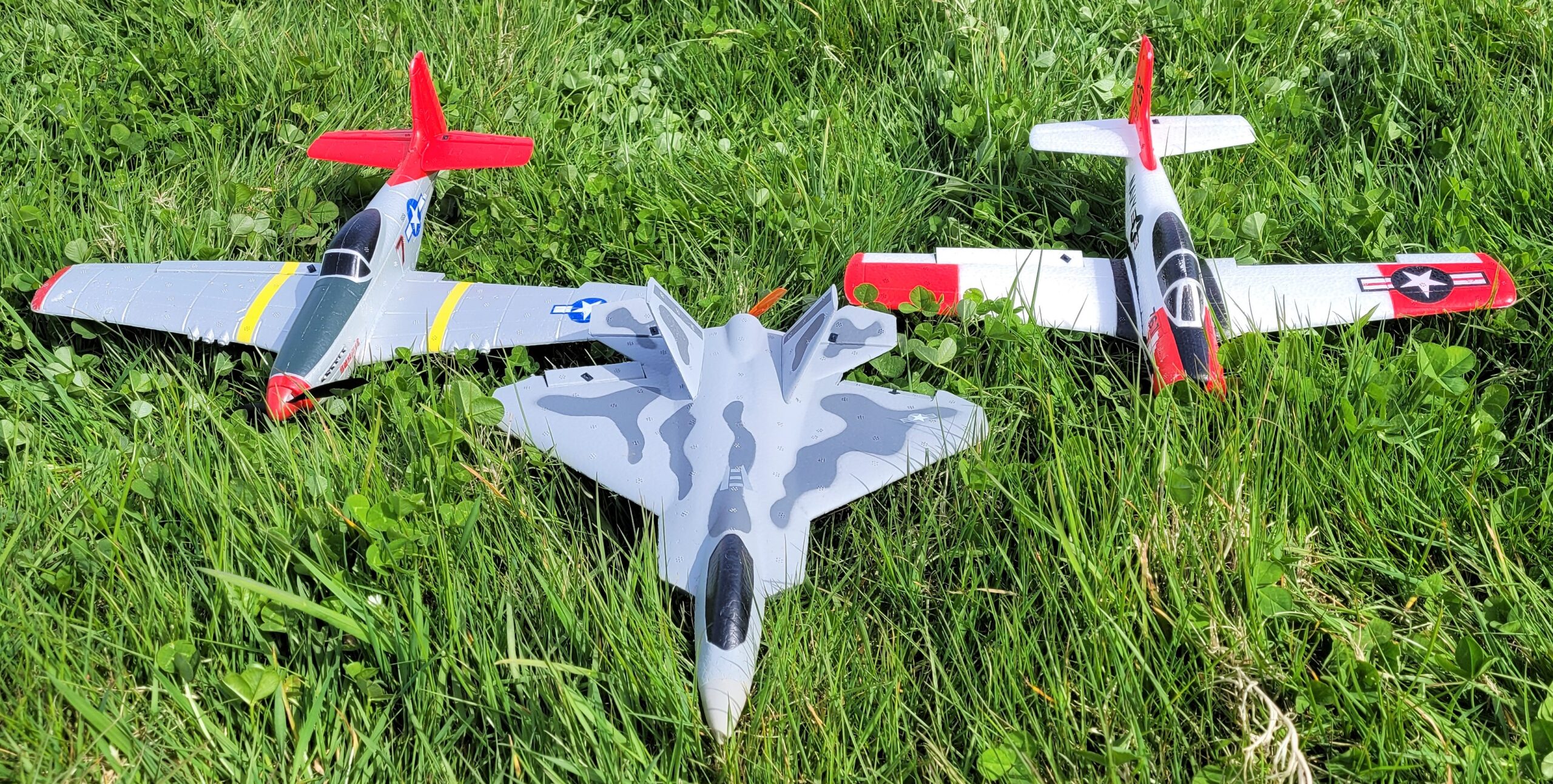 One day Dougal Entendre decided to try a new look and wore some WW1 flying goggles at the flying session. He said they were to stop his eyes watering in the breeze but he's really just a frustrated Biggles fan. The W E Johns fictional Biggles even appeared on a stamp!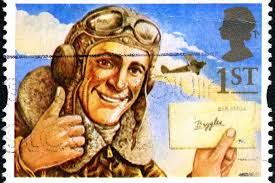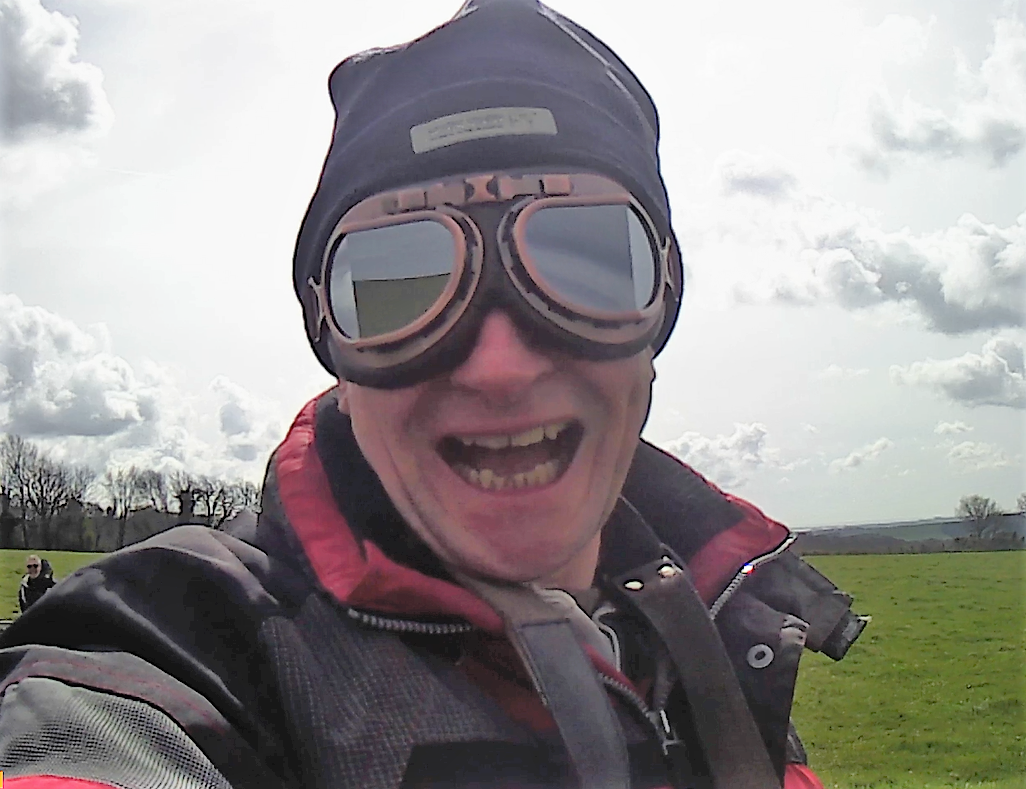 First class of course! I posted this photo on the club Facebook page and it got a lot of likes!
The first new model I'll feature this month is John Warren's Sunday Flyer and although it's a new model the design is not new to John, this is actually the third one he's built!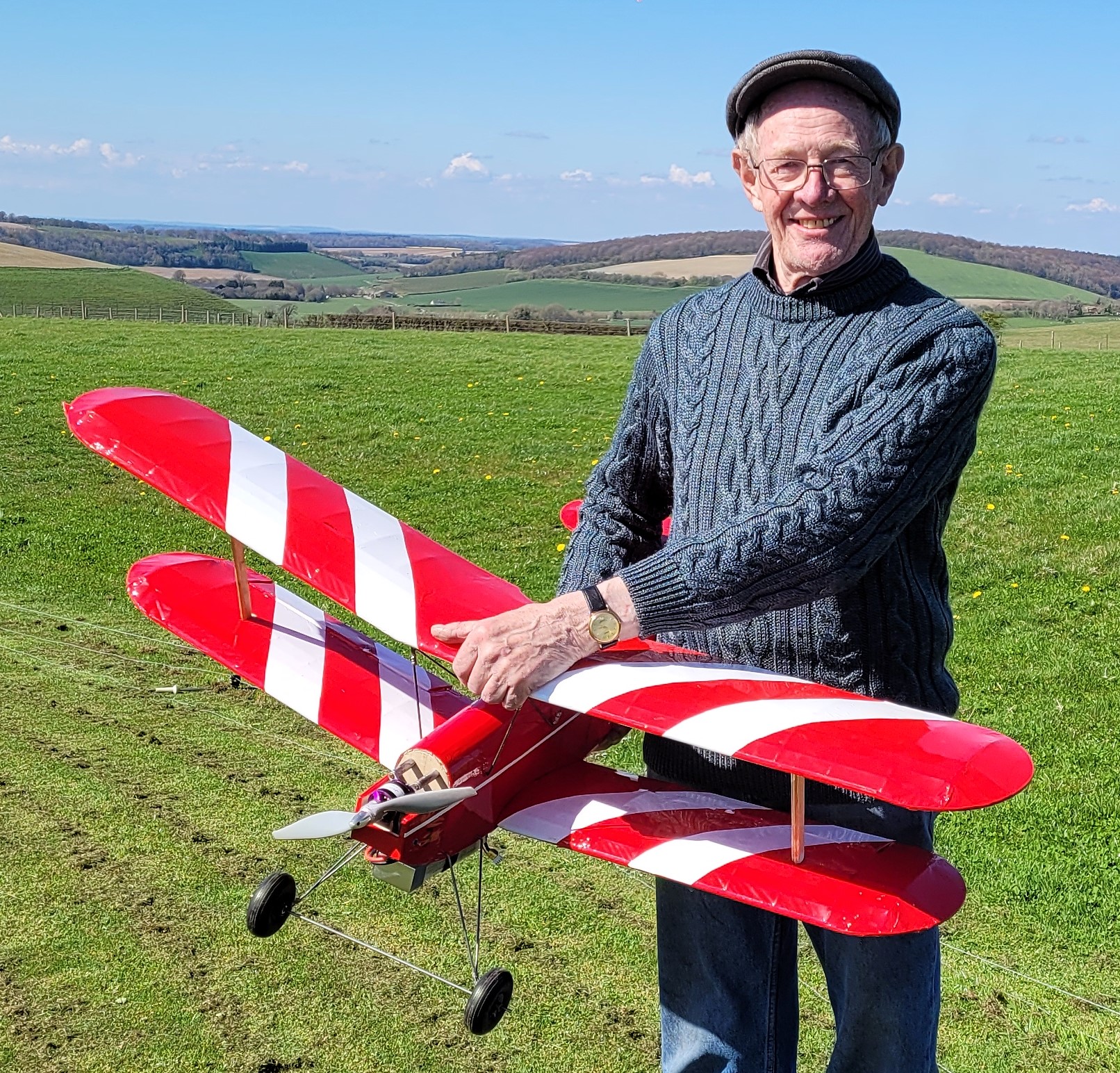 The original design by Mike Conrad was for just rudder and elevator controls and was powered by a 0.20cu in IC engine. The model is classed as a vintage style sports biplane and has a wingspan of 1180mm. When I first met John in the IBM model club many years ago he was flying an IC powered Sunday Flyer which he later converted to electric power. Eventually that one died and in February 2017 John replaced it with another Sunday Flyer which was built with the addition of ailerons in the bottom wing. Now John has built this third one which also has ailerons added and is powered by a 3542 motor and a 3 cell lipo.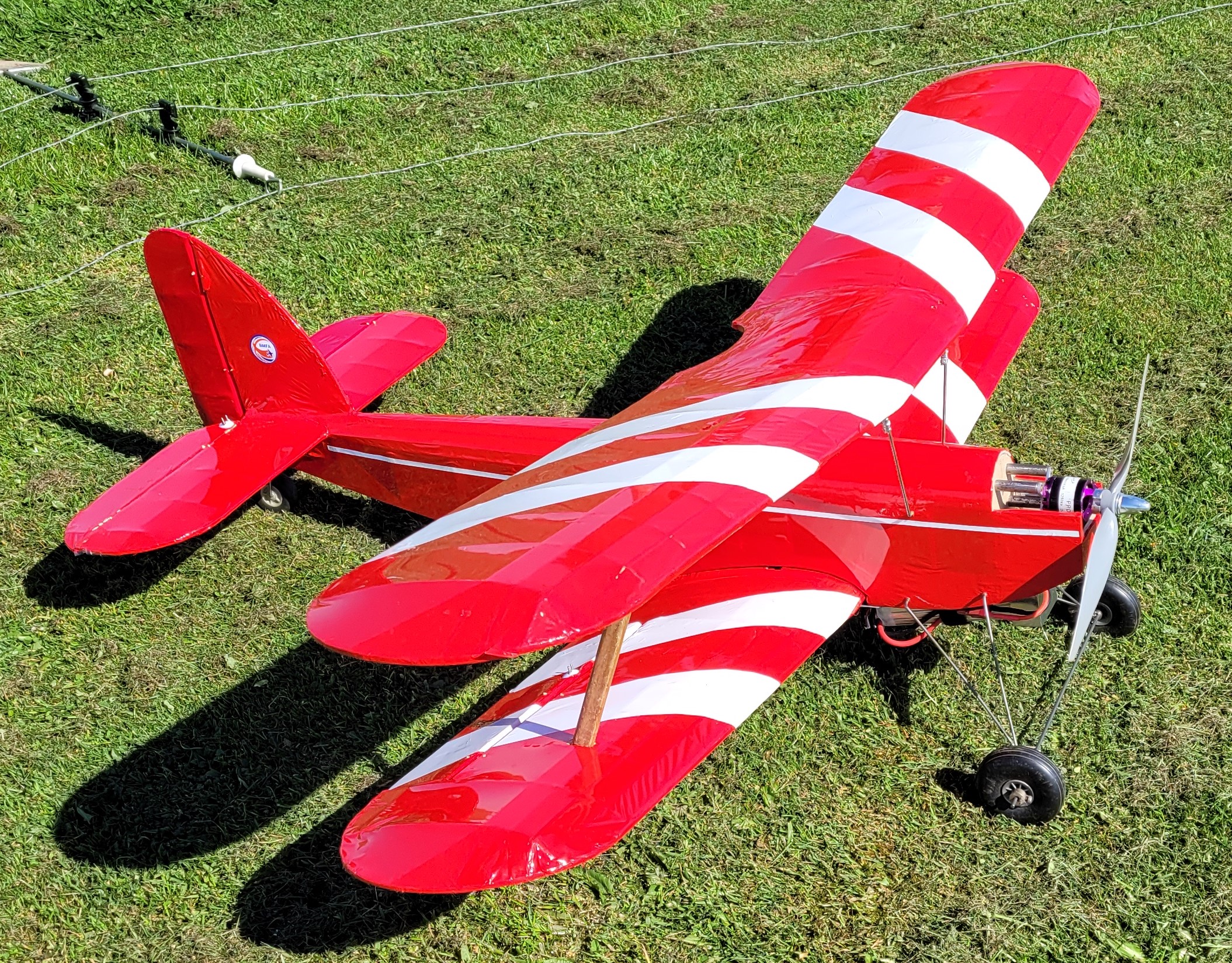 I was nominated to do the test flight and gave the model a quick check over. It all looked good to me but in the air I found the model needed full right trim on both aileron and rudder to hold it straight so I landed for John to make the necessary adjustments.
The ailerons are rather ineffective, presumably because the model was designed for rudder/elevator control and has lots of dihedral. So John switched in rudder/aileron coupling on the transmitter and mechanically added some right trim and I flew it again.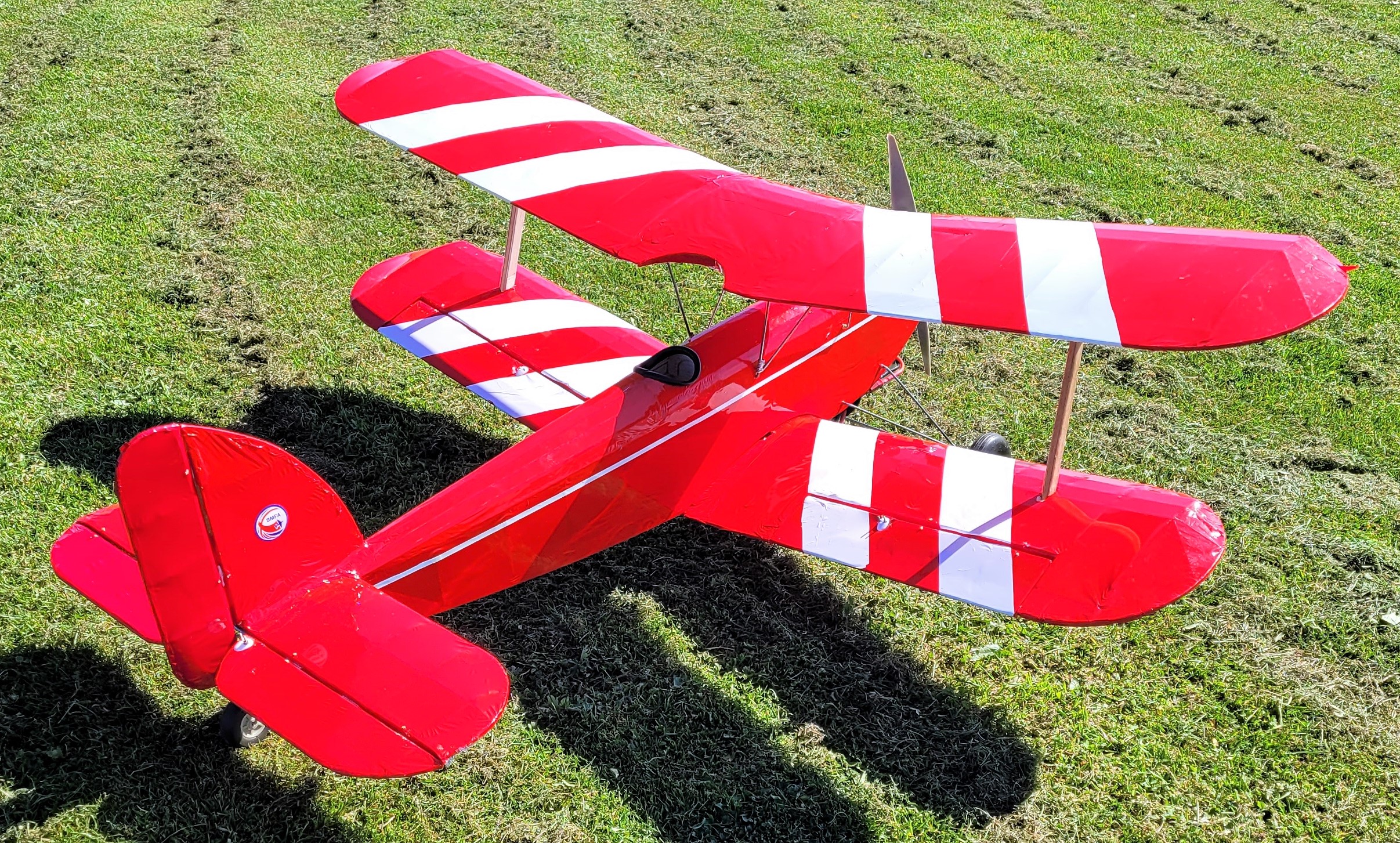 This was much better and the Sunday Flyer took off straight as a die but unfortunately as it lifted off the battery fell out so it was a very short flight! John took the model back to his workshop to redesign the battery fixing and I'm sure the next flight will be fine.
Last month I included the photo below and said it was "…a photo that Dougal snapped when he was able to get his FPV model up amongst the clouds one day. In this excellent shot you can just make out the Solent and the Isle of Wight in the distance. I was spotting and the model was at the limit of my vision when I saw a full-size plane approaching so I told him which direction to head and to descend Rapidly Also Of course."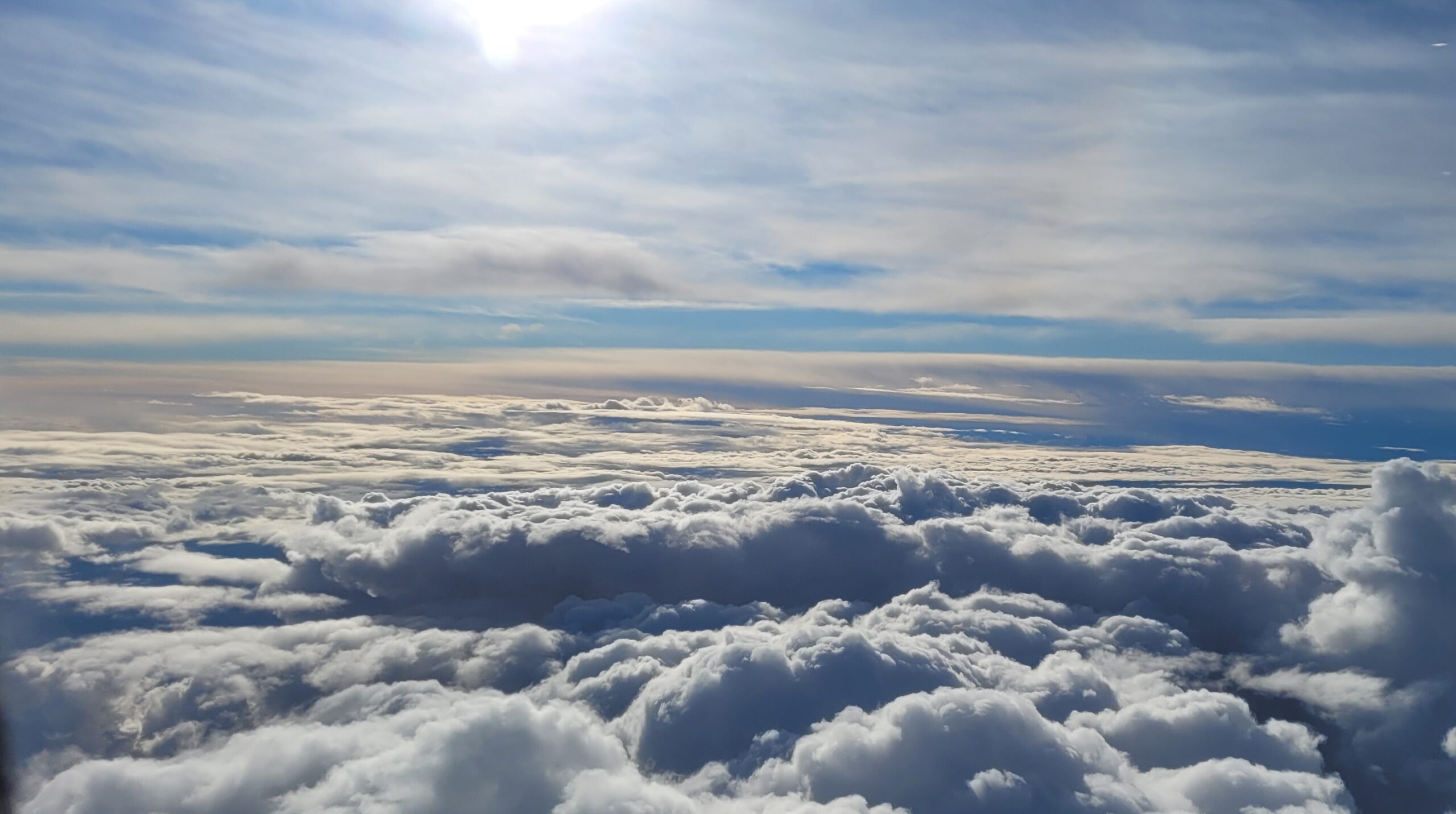 It seems nobody twigged that Patch News was published on April 1st and Rapidly Also Of is an anagram of April Fools Day. In fact I took the photo at around 33000ft over Portugal on a recent trip to Morocco. I wouldn't want to embarrass the first of several club members who said what a great FPV photo it was so I won't mention Woody…oops!
Norwegian Nick is an avid builder who always produces beautifully built models and the latest one to come off Nick's production line is this lovely Peter Holland designed Archie.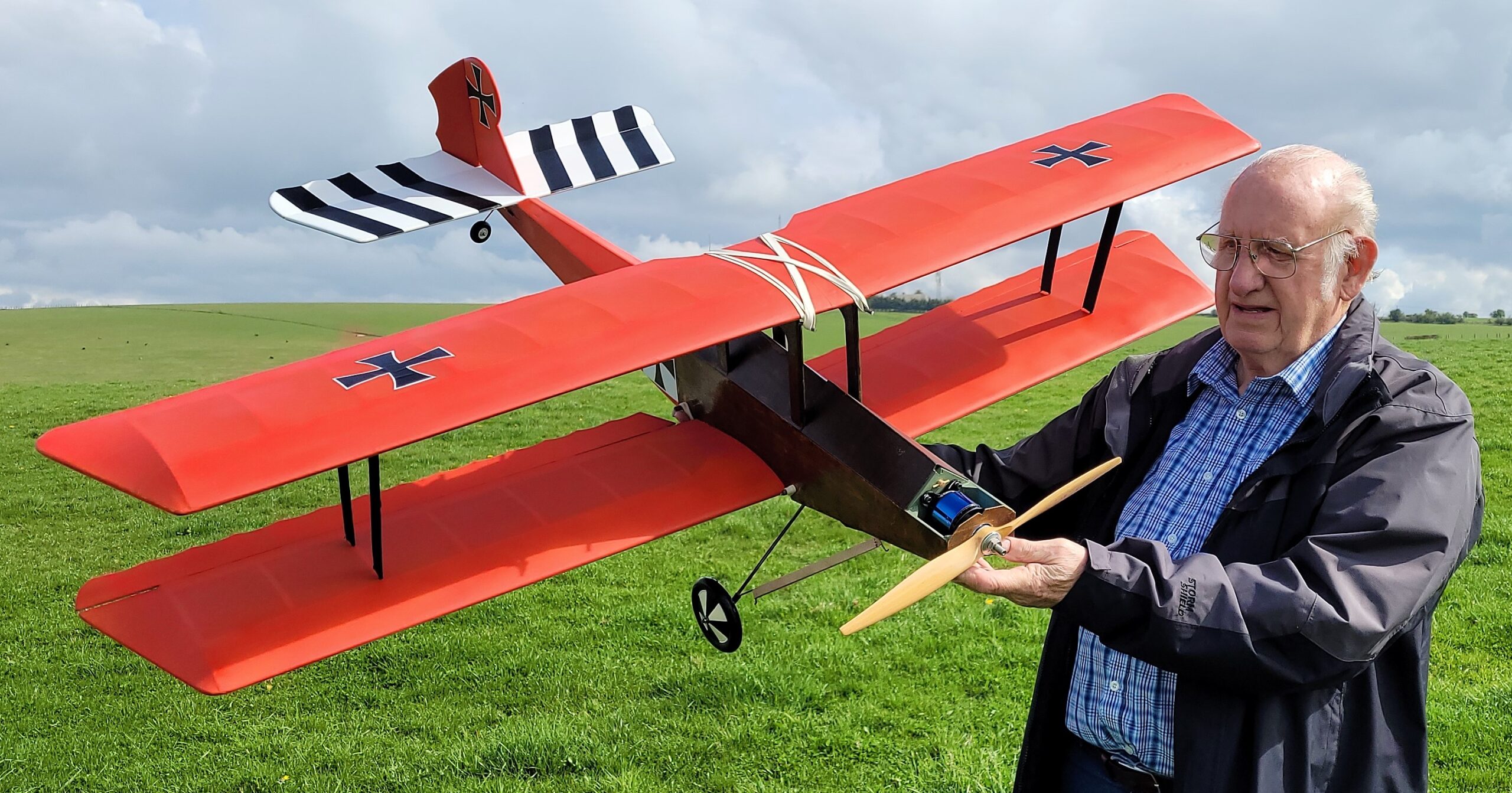 The Archie plan was first published in Radio Modeller in May 1972 and the plan can now be downloaded free of charge from Outerzone along with some supplementary notes.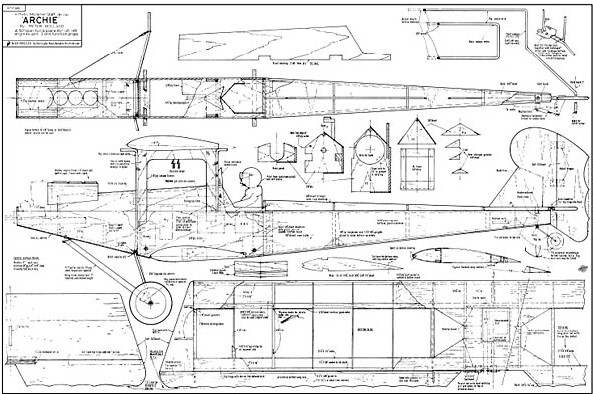 This is what Outerzone say about the model: This is Archie, the model we have had so much fun developing, building and flying. We set out to provide a model which would do the impossible and please all of the people all of the time, and we think we have succeeded! For the average to skilful pilot Archie is a perfect relaxer for a lazy afternoon in the sunshine, as the bees drone and the wispy clouds drift lazily across the sky. Although it is relatively slow flying, it is far from loath to perform simple manoeuvres, such as loops, rolls, inverted flying and similar aerobatics, but it will not spin easily because the stall is almost non-existent, which is as it should be, so that it can be 'held off' for those satisfying three pointers, or touch and go's. Also, if you fancy a brief chat to your next-door pilot, Archie will fly itself around quite happily for a circuit or so, yet send a control and it will respond. In other words then, a model to have fun with. What, however, if you are not a practised pilot? Well Archie is still for you, because it is a trainer which is not outgrown as soon as one has mastered the rudiments of flying. We do not recommend Archie as a trainer to someone who is going it absolutely alone from scratch – not because it is not as docile as other trainers, but because, if one does make an error, as all beginners do, then being a biplane there is more of it to break ! However, for the tyro who has the help of someone who, as a minimum, knows how to take-off and land, Archie can be recommended as a happy choice to ease your way into solo flying…"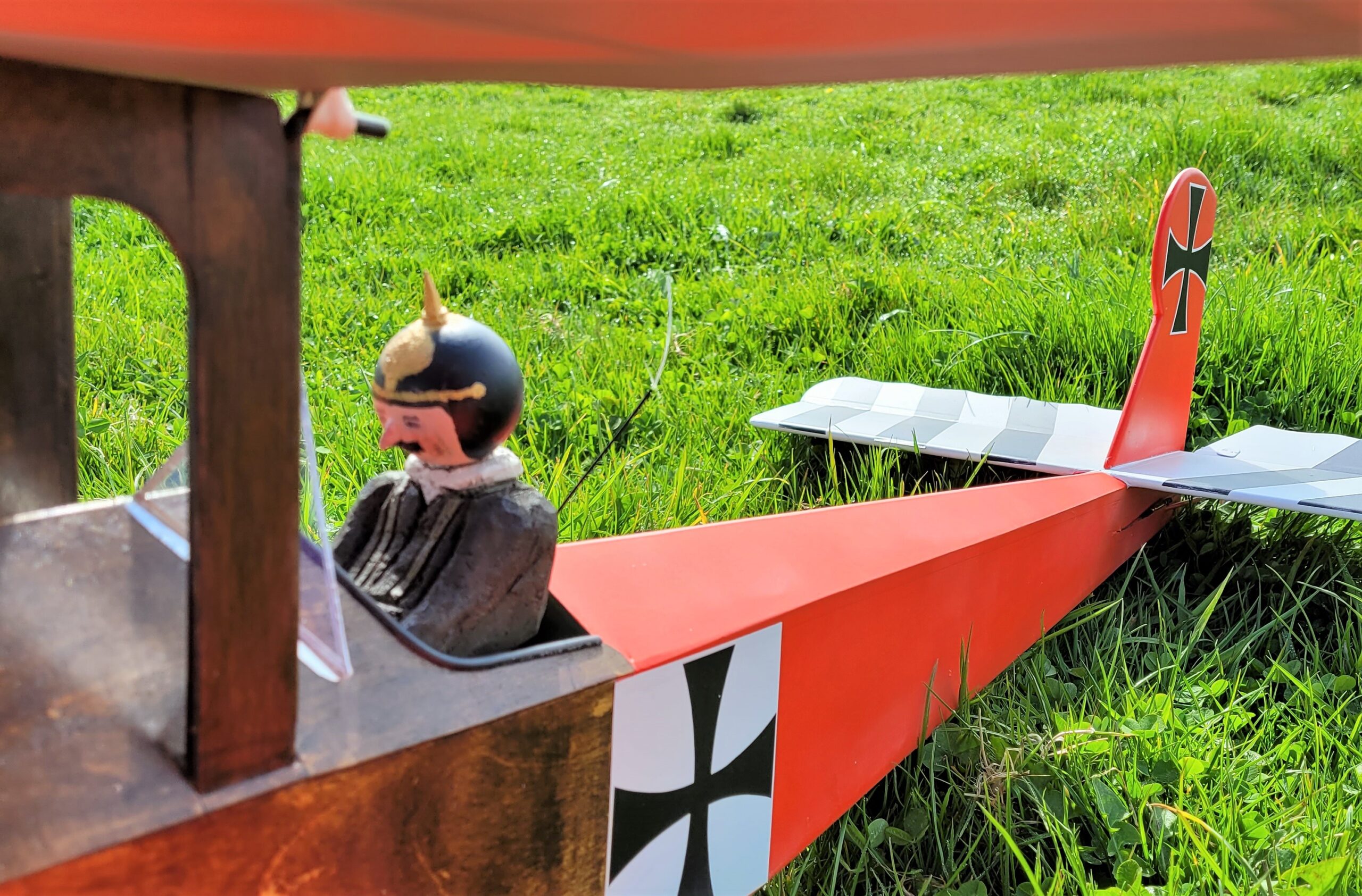 It is all starting to sound very much like John Warren with his aforementioned Sunday Flyer as this is the fourth Archie that Nick has built, the first three being IC powered but this one is electric. The Archie is of balsa and ply construction and Nick has covered it in Solartex. The wingspan is 50" and the model weighs 5lb 4oz complete with a 5 cell lipo.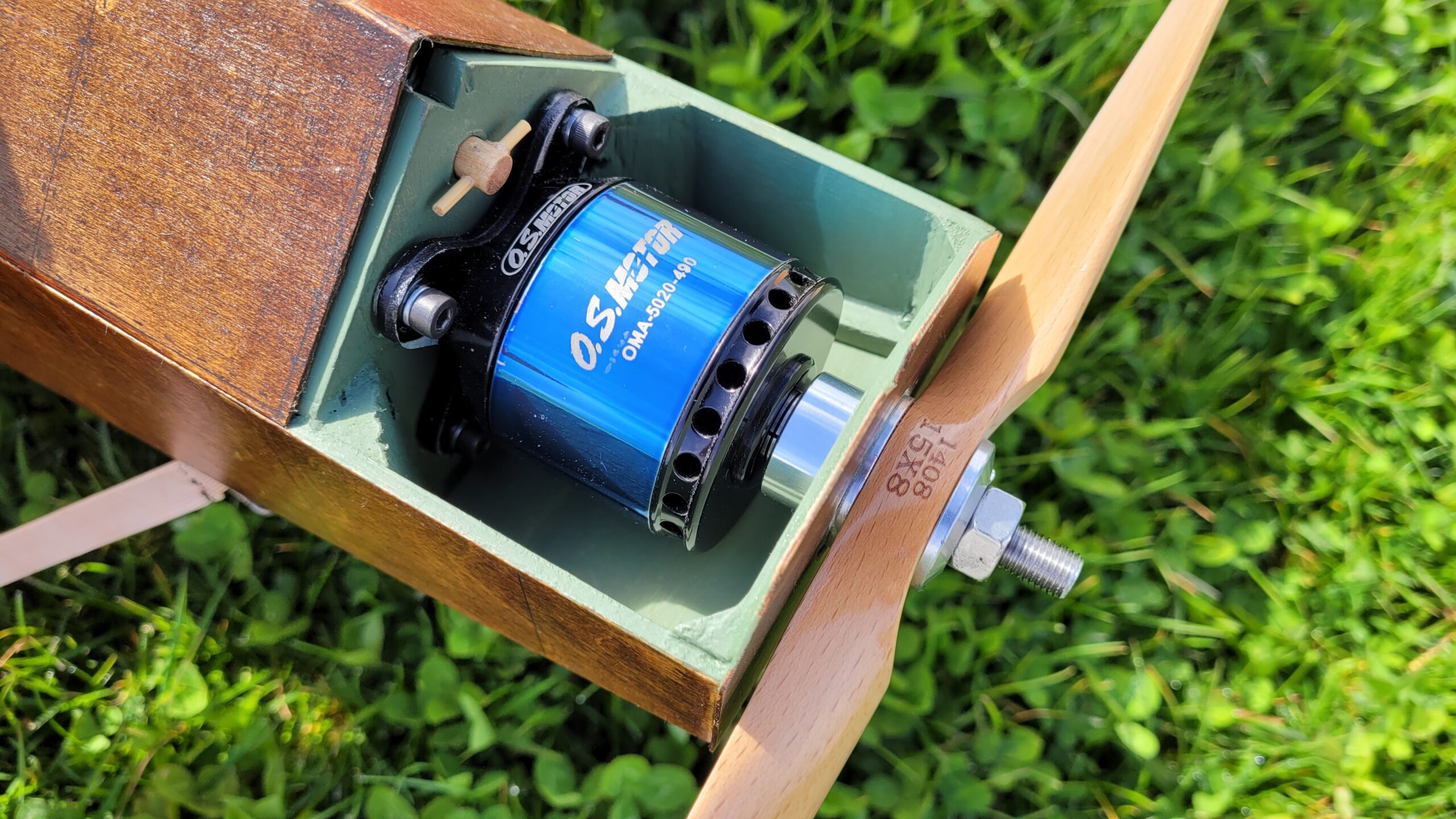 Nick is using a Hobbyking Skywalker 80 amp esc to power an OS-OMA 5020-490kv outrunner motor which swings a 15 x 8 wooden propeller. On the first day he brought the model up to the field Nick's pre-flight checks found that only one aileron was working.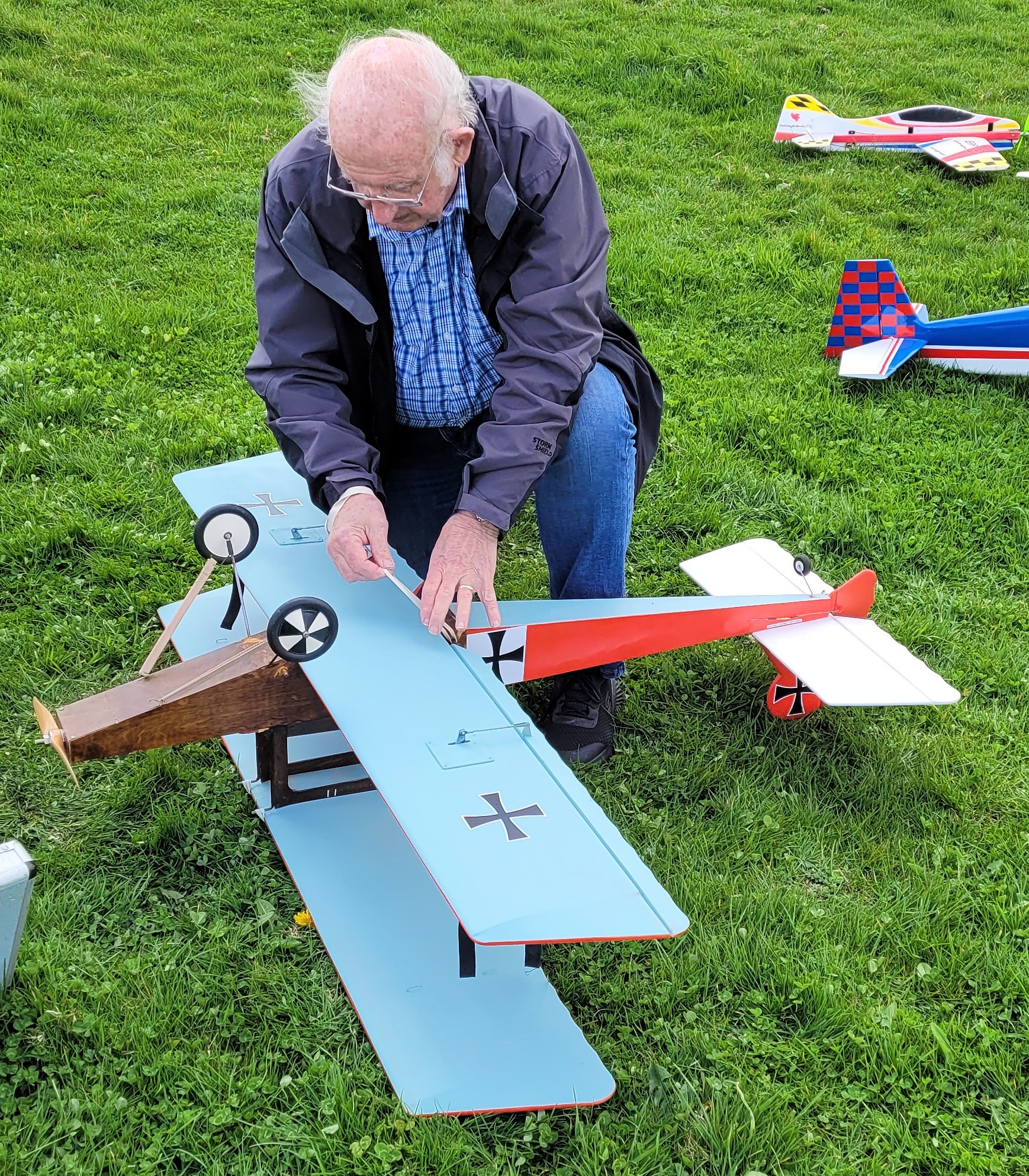 After lots of checking of connections, servo extension leads, and anything else any of us could think of Nick reluctantly took the model home without flying to check it over in his workshop. Eventually he discovered that on his transmitter he had got aileron differential set to Inhibit instead of Active. Never mind, it's all sorted now and Archie has now flown successfully. Nick flew Archie on 27th April and other than needing a load of down trim it was perfect. Don't take my word for it, you can see it for yourself in this month's video.
Last month I featured Leo, the club's latest junior member, and said he likes buying used and/or damaged models. Well he's been at it again, this time paying just £30 for a used Parkzone F4U-1A Corsair at a swap meet down in Cornwall.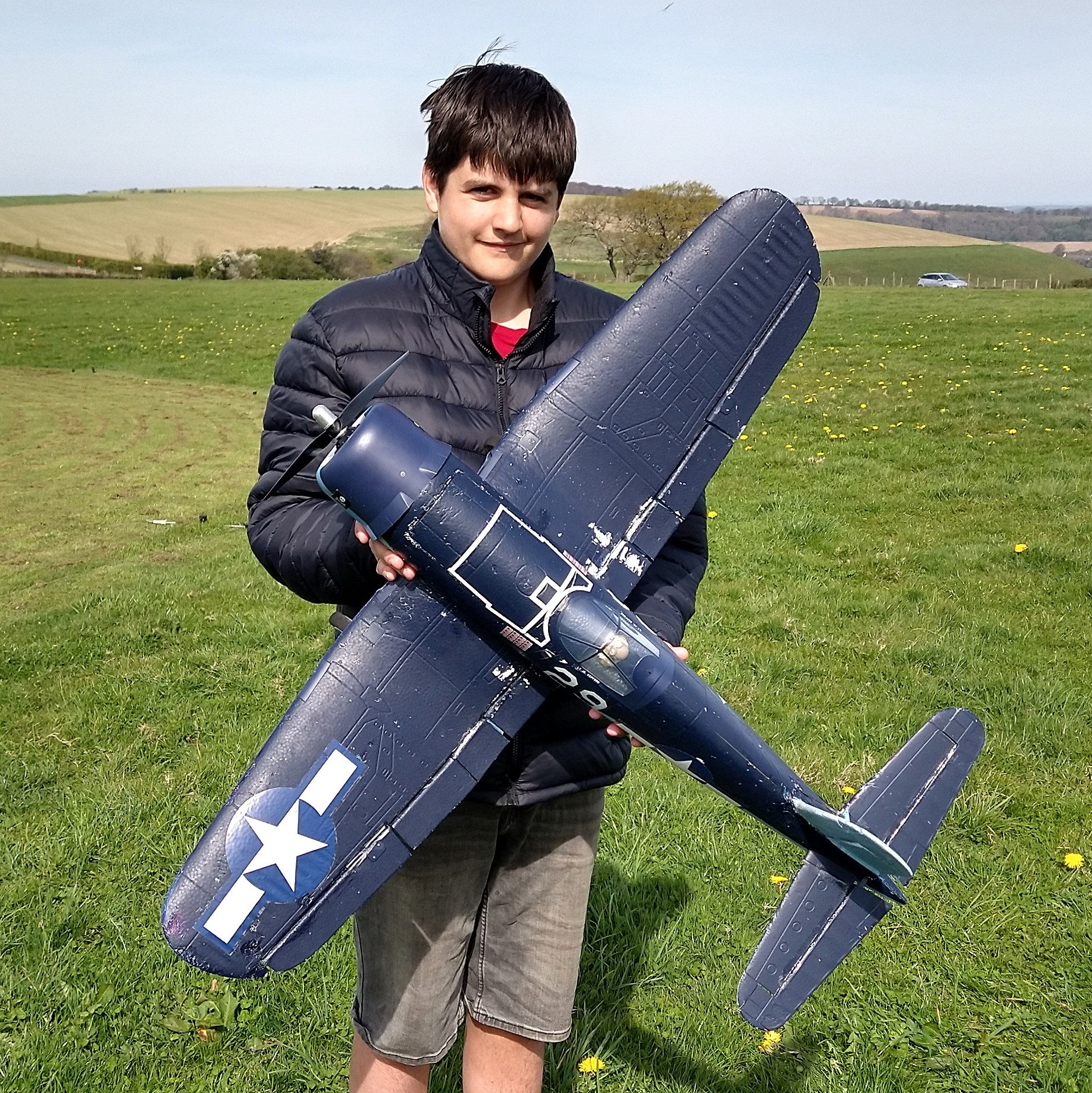 The model appears to have been well used and the paintwork could do with a bit of tidying up but for £30 it was certainly a bargain. The 44" span foamie came complete with the motor, speed controller, and the servos, plus it has the optional flaps fitted.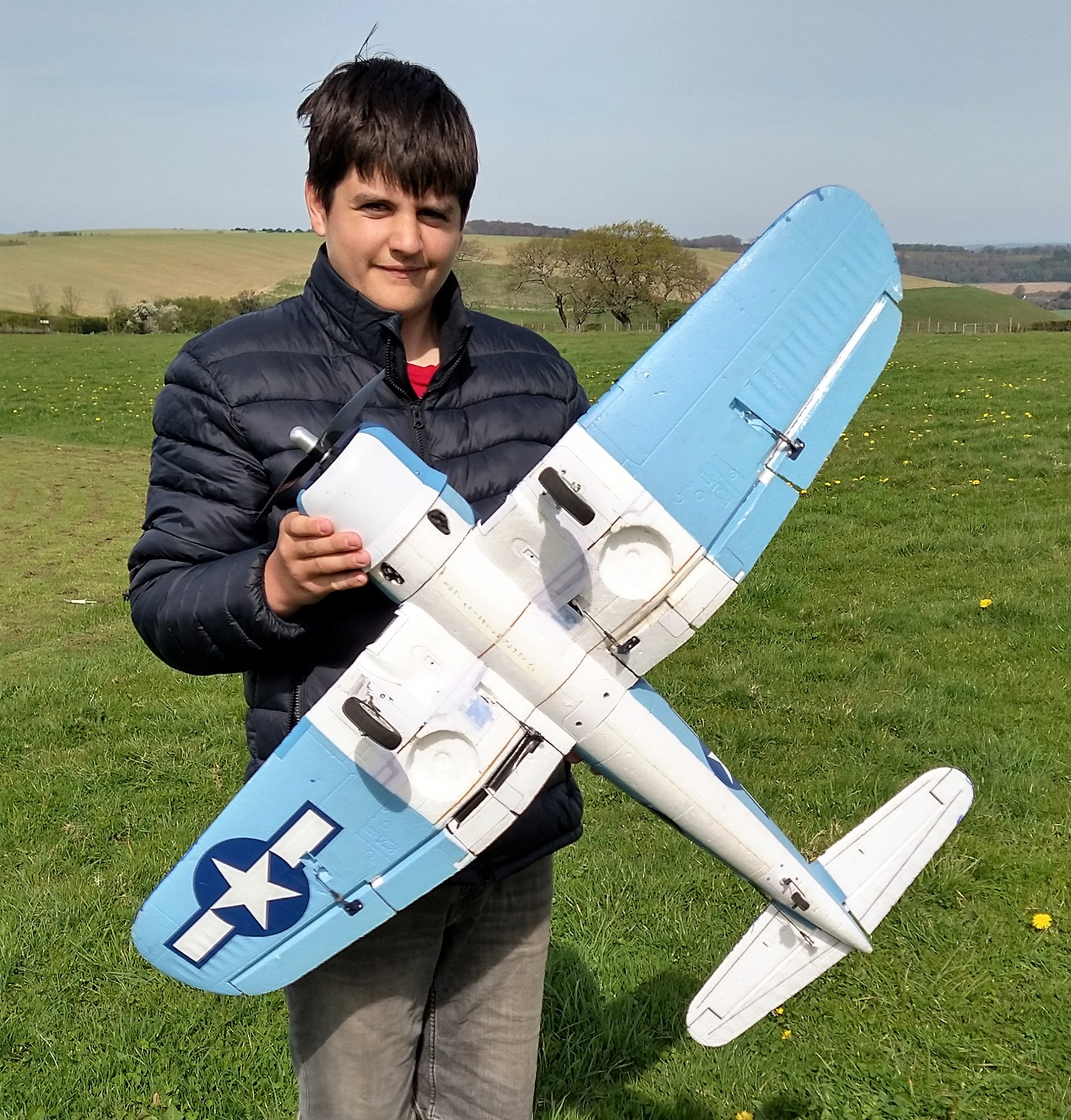 If it still has the original equipment fitted the motor is a 15 size Outrunner BL, the speed controller an EFL 30A and it uses a 3 cell 2200mAh lipo to power it all. It has a fixed undercarriage but retracts were available when it was first produced about 10 years ago. The Corsair flies really well, better than most of us were expecting I think, and the fixed landing gear copes perfectly with the grass patch. Leo doesn't seem to have any problems flying the plane and I think it will serve him well.
Woody's XFly T-7A Red Hawk flies very nicely once it's up in the air but getting it up has proved to be a bit of a problem. If the patch has been freshly mown and there's a bit of a breeze it will just about get off but if the grass is a little long and there are light winds it won't make it. So we tried hand launching the Hawk and it went away perfectly so now Woody has removed the fixed undercarriage and it's hand launches and belly landings all the way. In the air it looks much better without the wheels hanging down anyway.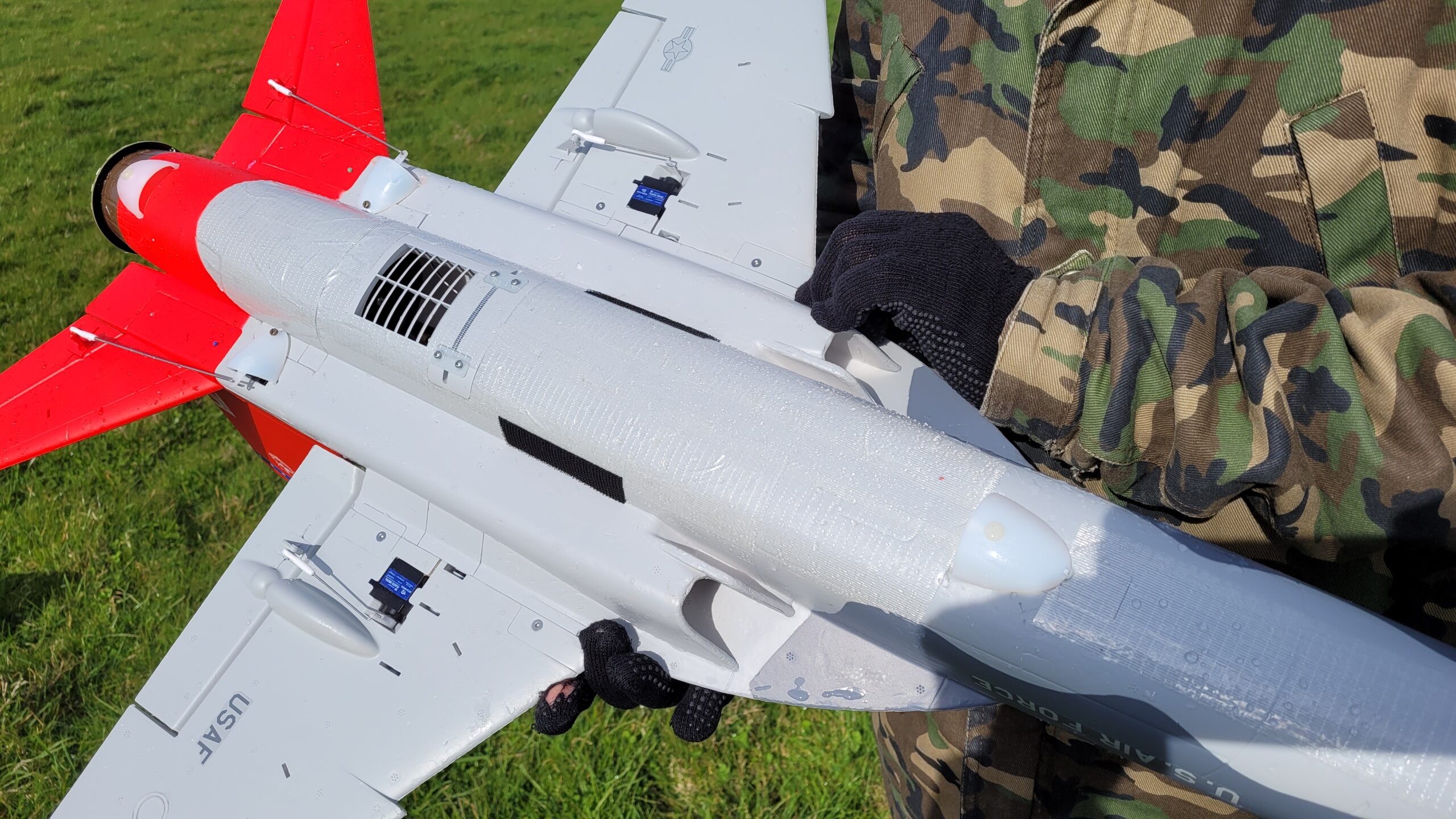 Woody added some protective tape to the underside, some covers to protect the elevator servos, and some Velcro that acts as finger grips for the launch. Without the extra drag and weight of the undercarriage it is easy to hand launch and makes for a much better flight.
Dwayne Pipe's now built Sea Vixen Mk3 as part of his quest of continuous improvement.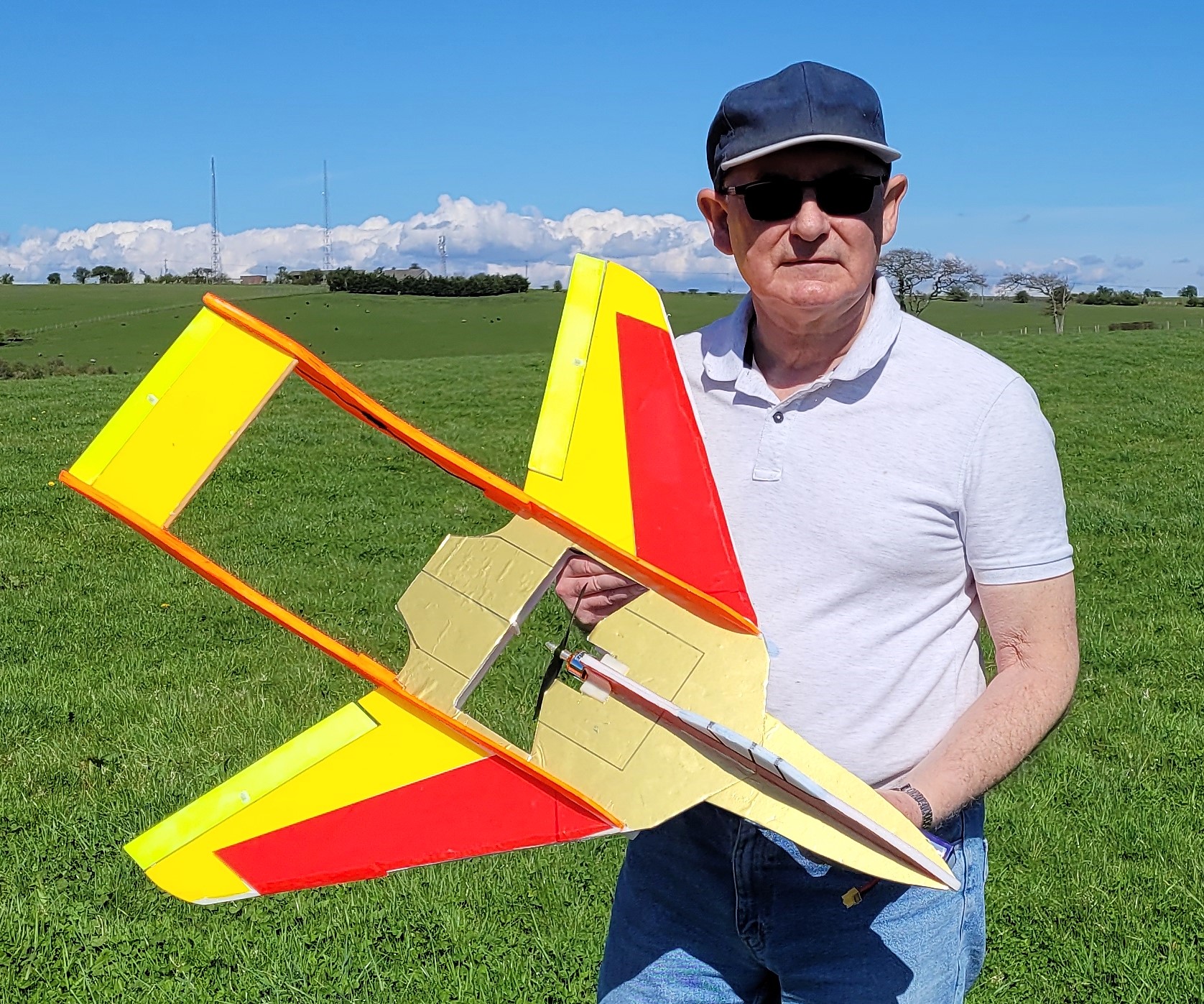 Here he explains what he's changed: The Mk 3 is a development using the experience of the other club members who have built this design. Bob has used a KF before (That's a Kline Fogleman wing section for those who don't know) but not I think on the Sea Vixen. The electronics are identical to the Mk 2. It has a 30 A ESC, 2200Kv motor with a 6×3 prop. Unlike most of the other planes built I have removed the paper covering, as whatever you do it eventually separates from the foam, but I doubled up the tail booms as the Mk2 was starting to warp with just a single thickness.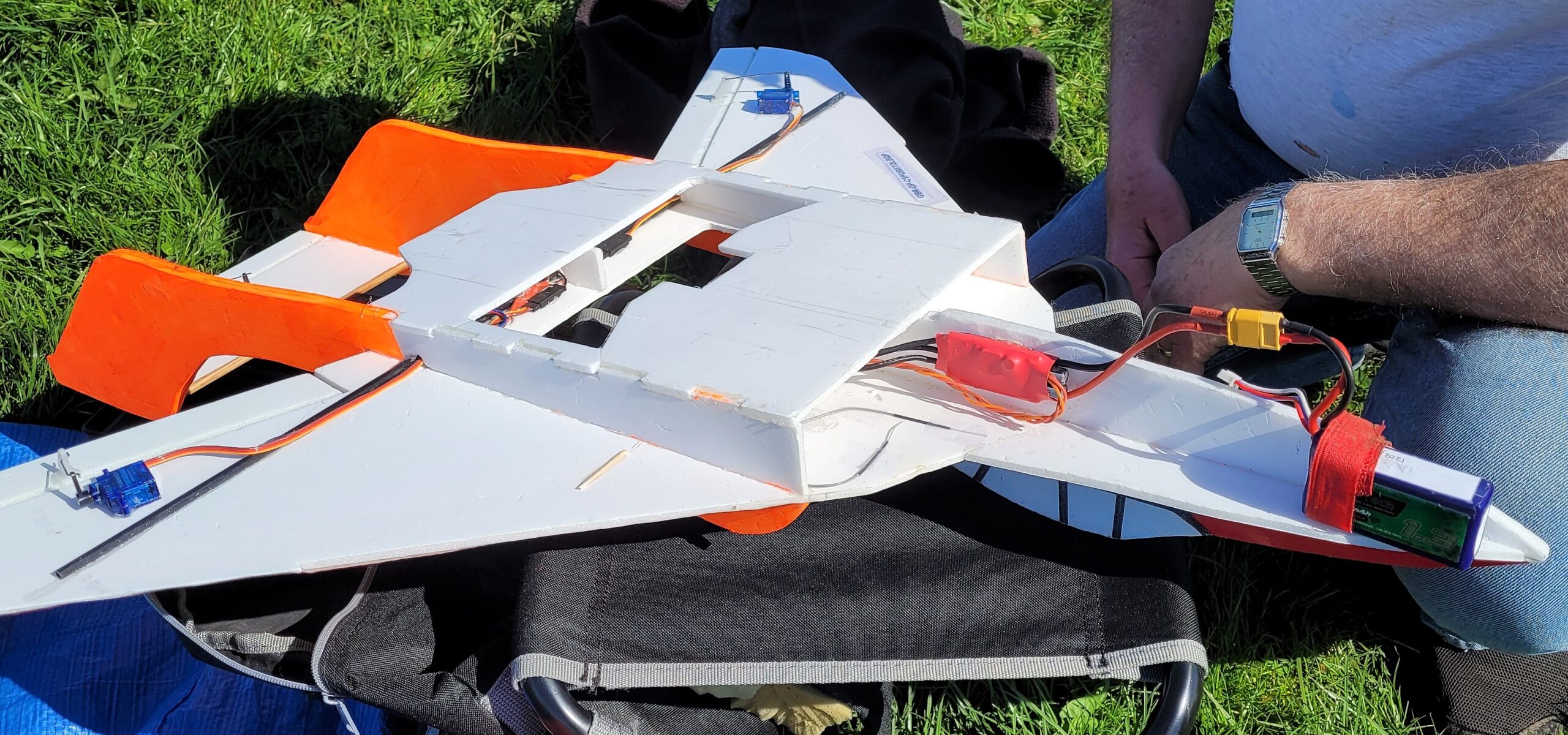 In addition the join of the boom with the fuselage is reinforced with 6x6mm balsa strip.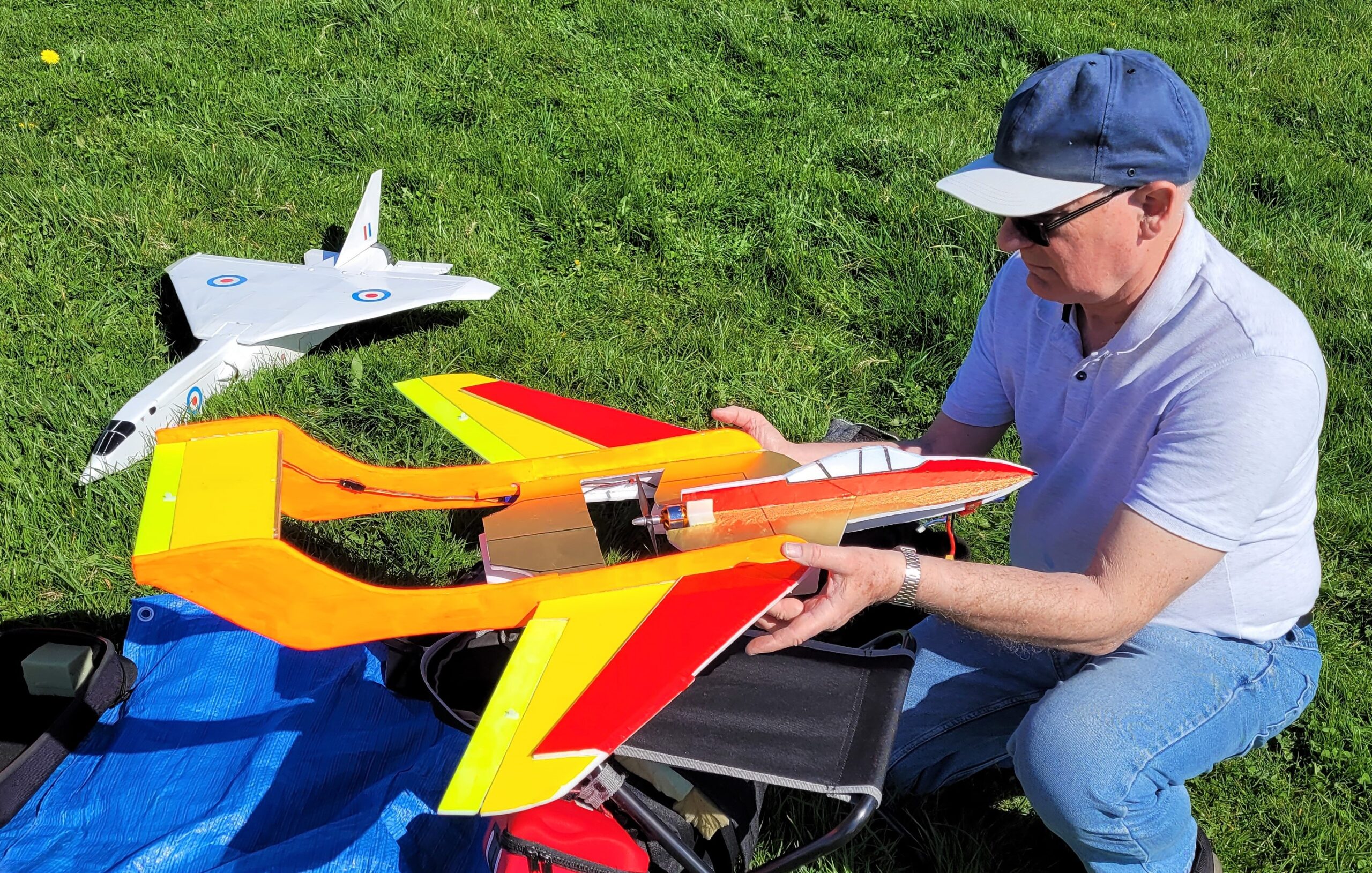 The wing is a KF design with the KF extending from the leading edge back 50% of the chord. This was done to provide more lift but also to reinforce the wing as the original was staring to warp which made flying it tricky. The KF section is made out of the remains of my Sukhoi wing as this is slightly thicker and certainly stiffer than the foam board we buy. The whole thing covered with a mixture of sticky back plastic, Solarcote and pound shop fluorescent acrylic paint. The new version flies very well, looks great in the air, and should be more durable than the previous versions. Watch it in the video.
We had a fortunately rare event at the patch in April when Catapult King's Yellow Tail crashed and the lipo started smoking. The Yellow Tail has a thin wing which gives it tendency to tip-stall and as Catapult was on the landing approach it suddenly dropped a wing and crashed. I was watching at the time and I was as surprised as Catapult was, the model looked to have enough speed to me. The Yellow Tail came down about a hundred yards short of the patch and almost immediately we saw puffs of smoke so we ran over and with my paparazzi hat on I took a short video before unplugging the battery!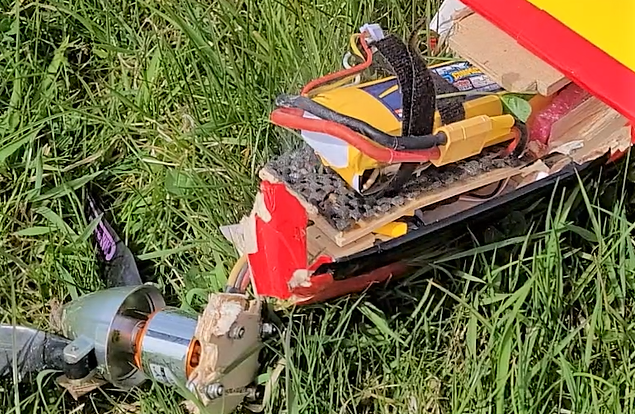 By the time we reached the model the worst of the smoke was over as only one cell was damaged and although it smoked a lot it didn't burst into flames. It's difficult to see the smoke in the picture above which is taken from the video, it shows up better in the video itself which I'll include in this month's video.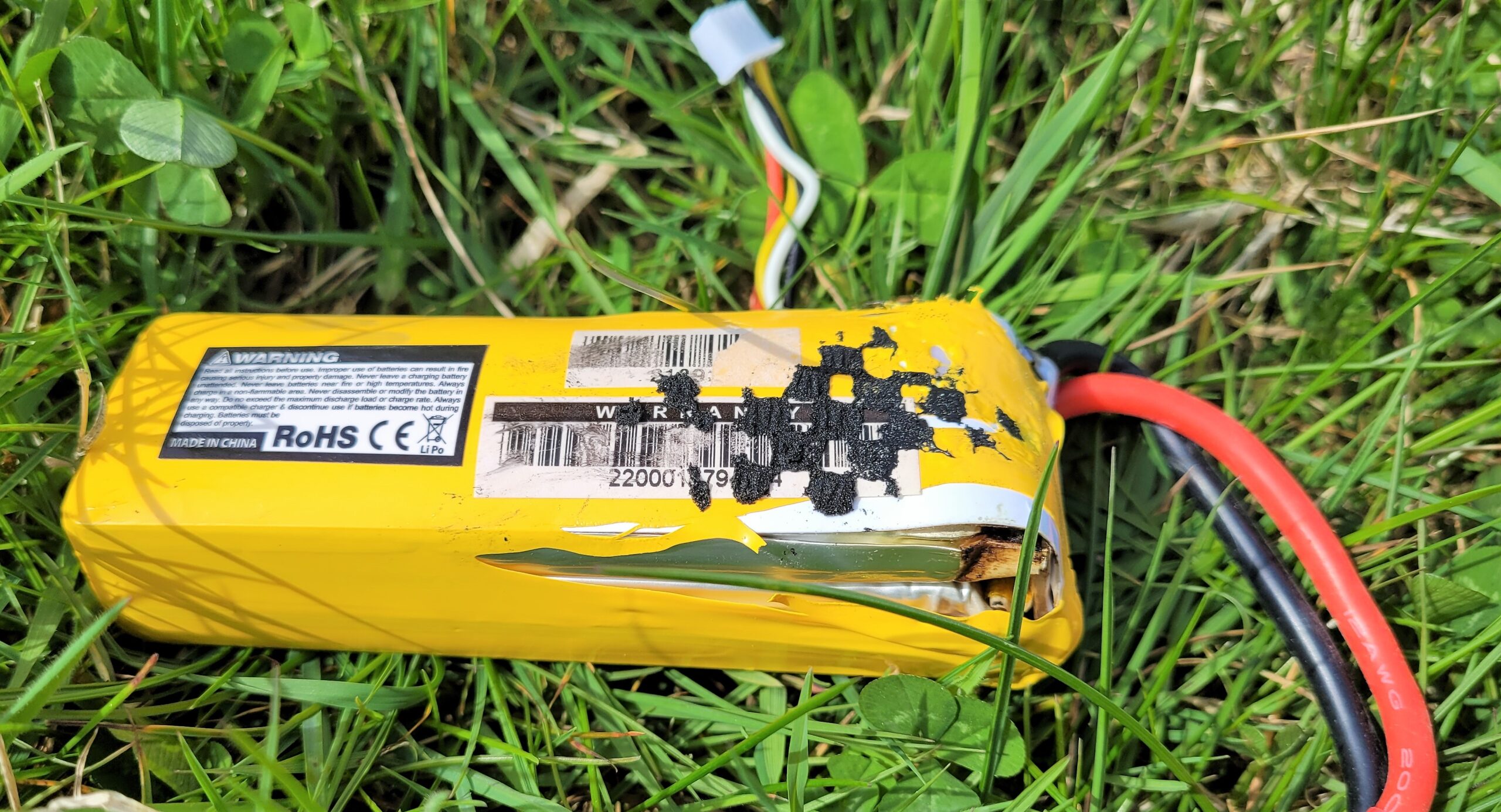 As you can see the pack has seen better days!
Mini-Mike has flown lots recently, in fact I think he's flown more in the last couple of months than in the whole of last year. His flying has improved with the extra practice and he seems to have got his landings under control now with both his Pitts Python and his Arrows Hobby Marlin. I snapped him looking pensive "Which one should I fly…?"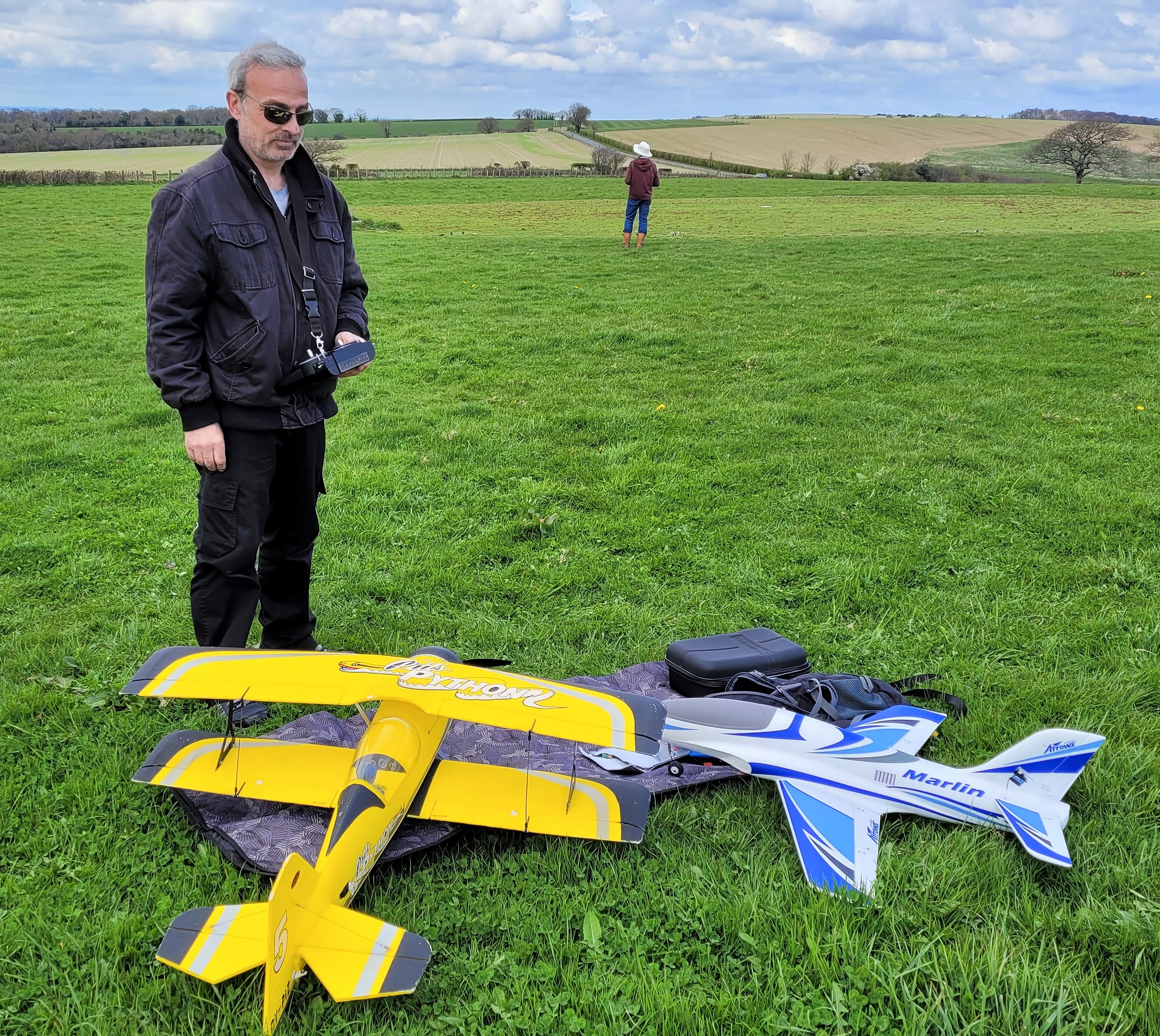 He settled on the Pitts Python first but also flew the Marlin later in the day.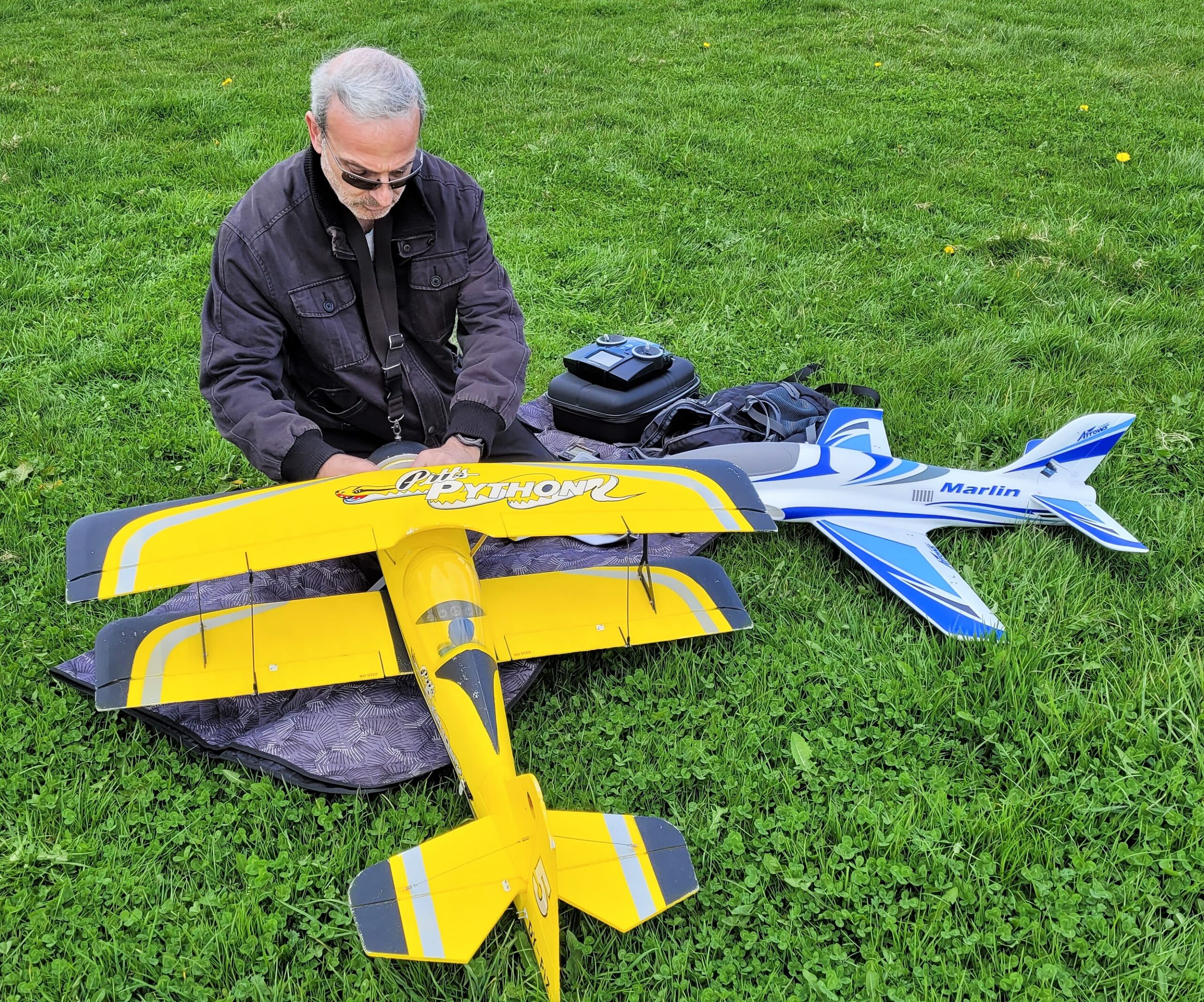 Sadly I have no flying shots this month but here is a selection of screenshots from videos that Dougal and I shot with our onboard cameras. The first one features 1066…don't ask!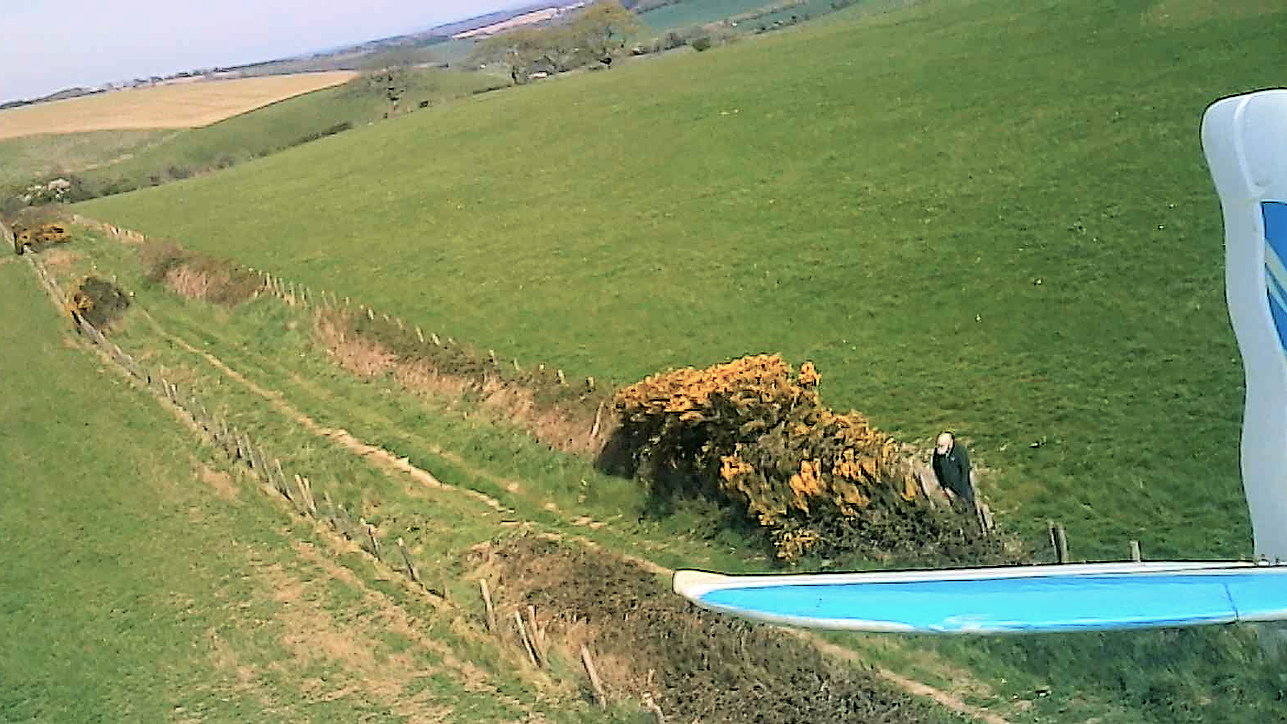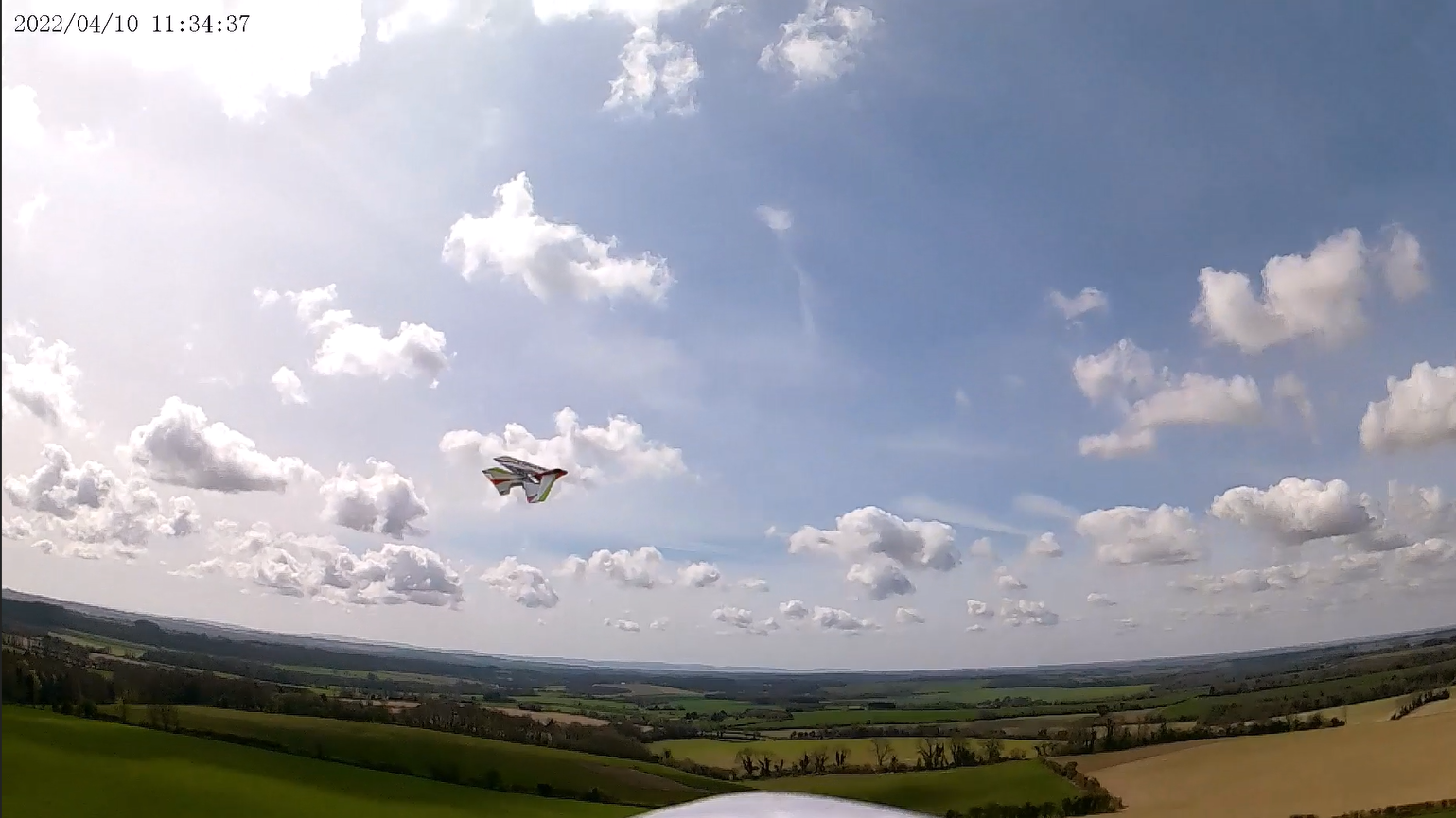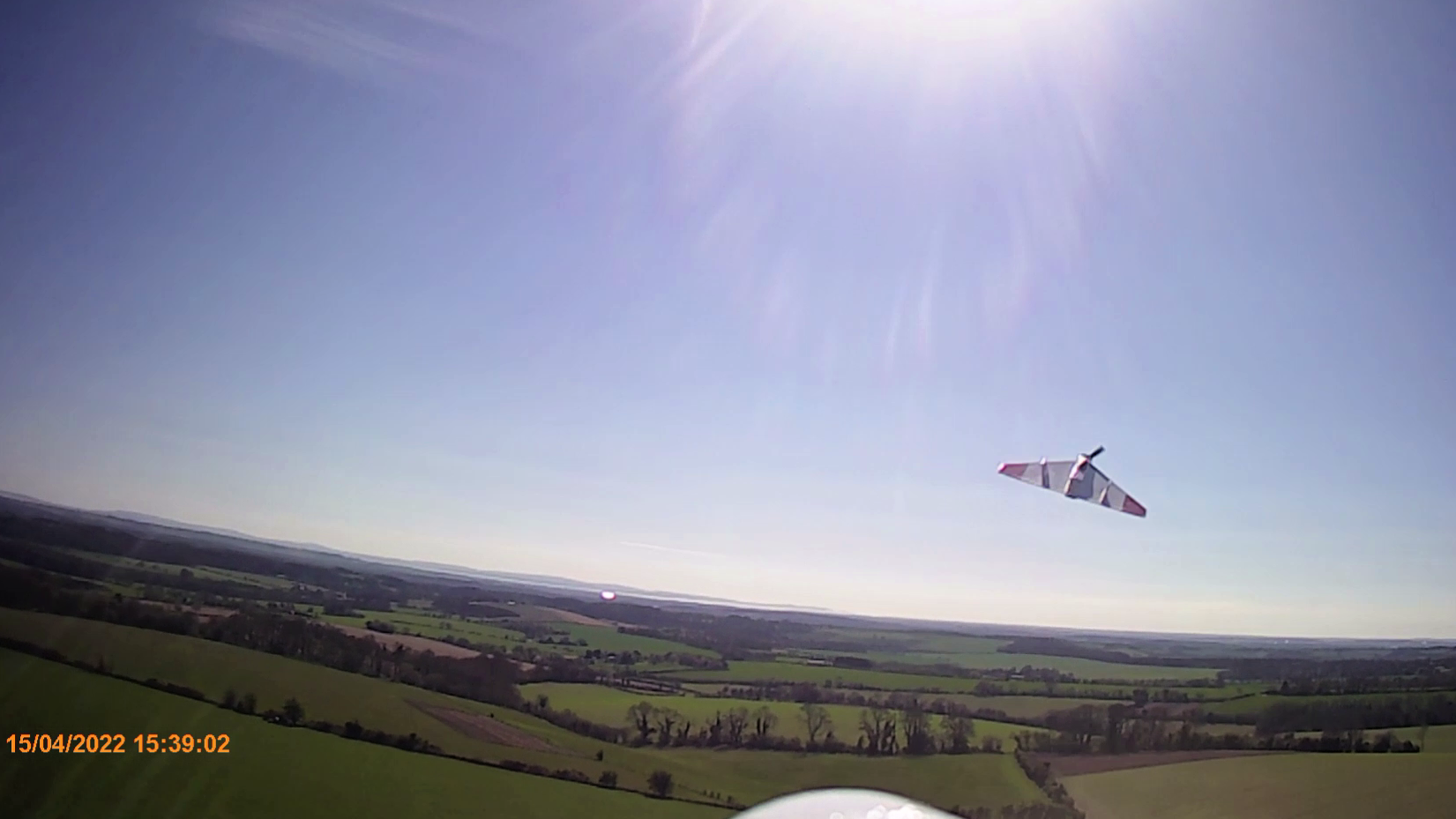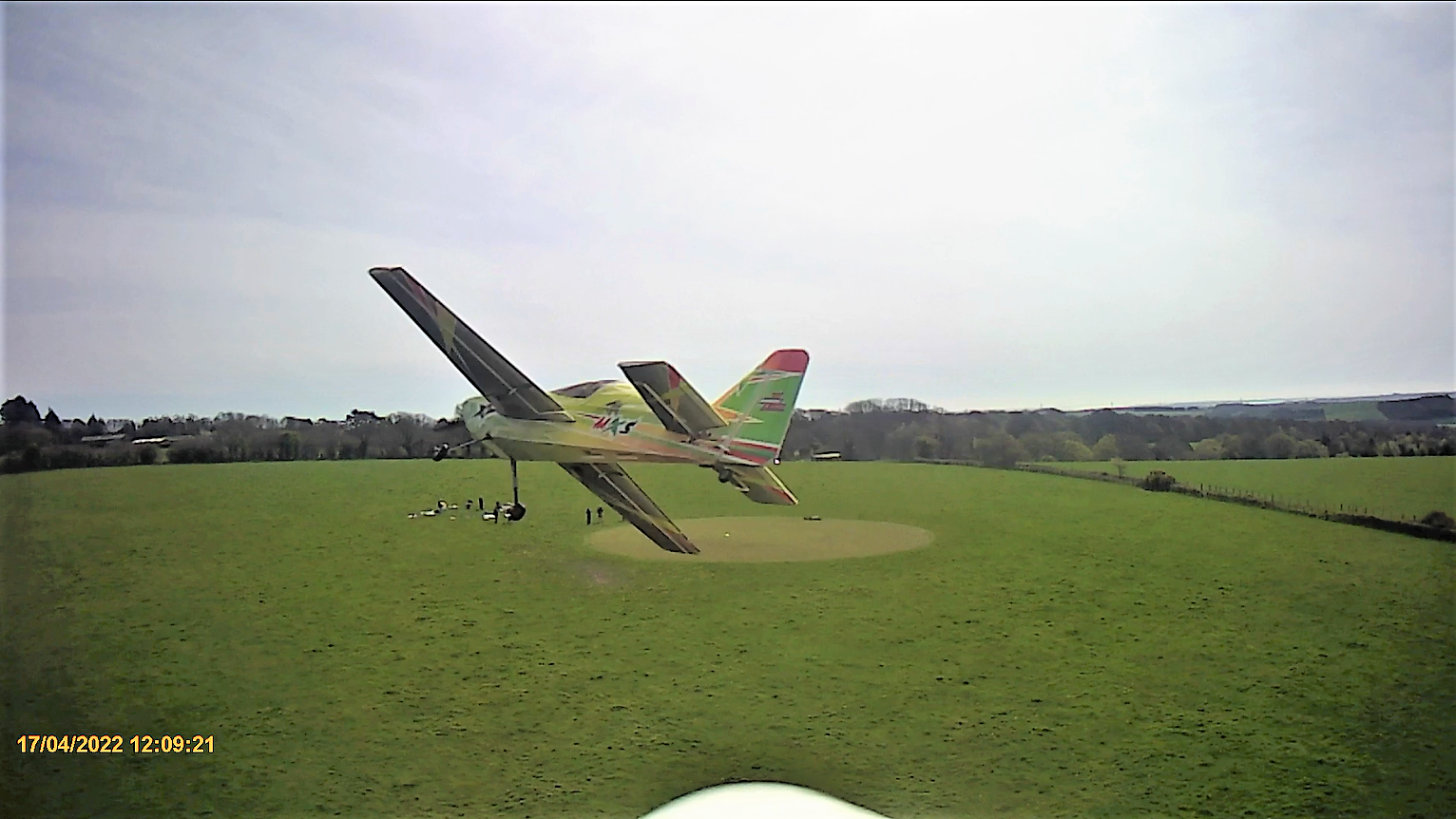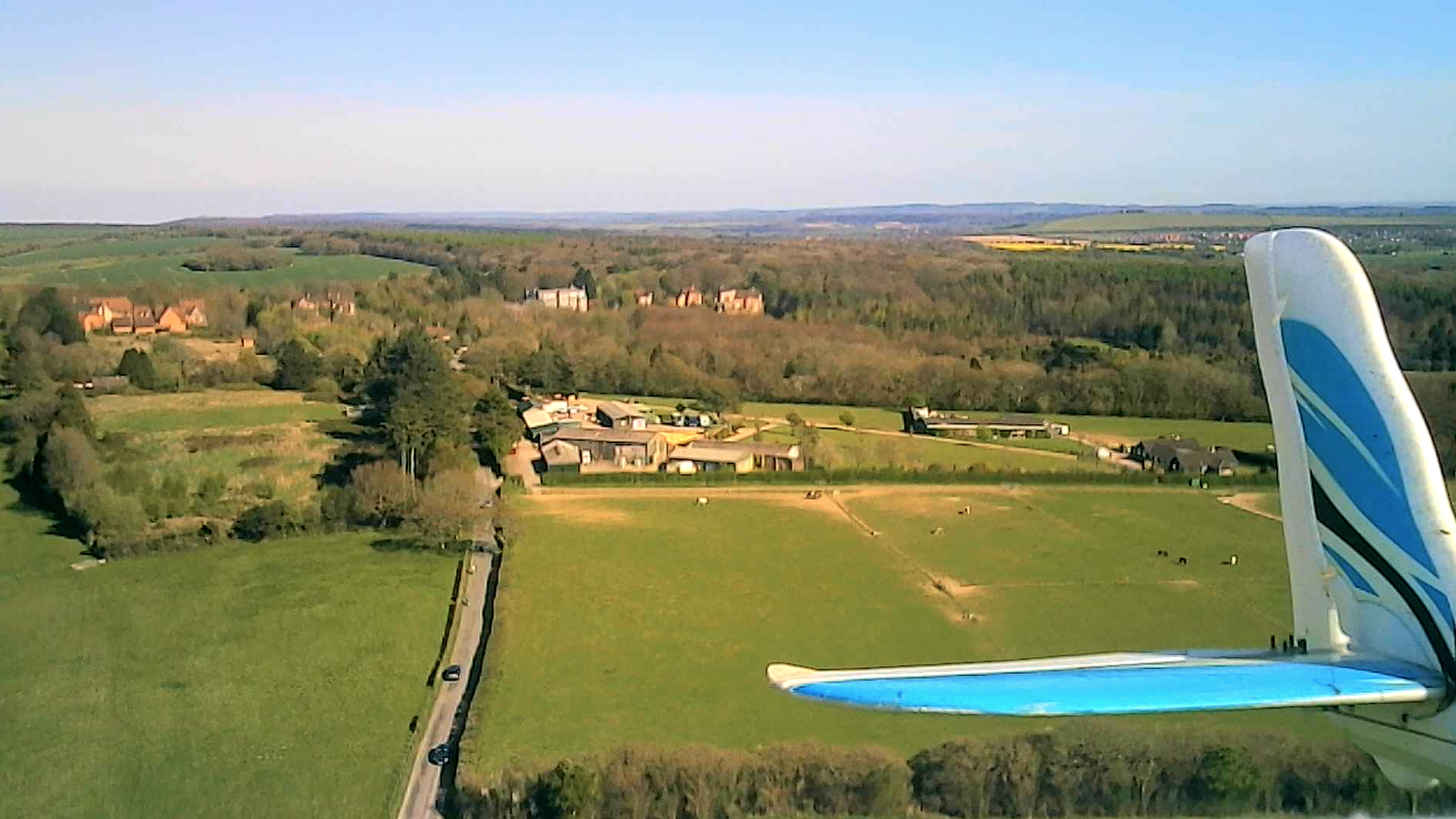 Video time now which this month includes footage by Dougal Entendre and myself. Please watch the video full-screen, it's so much better with small models flying around.
If the video won't play for you please click HERE
The late Captain Mickey Munn – an all-round fine fellow, highly experienced pilot and, at the time of this event, Sergeant in the Red Devils ( Parachute Regiment display team) – was piloting a Britten Norman Islander to jumping altitude with a full load of paras crammed into the rear of the aircraft.
With no warning at all, a bang and a flash of flame, the port engine blew itself to pieces. Mickey's hands flashed around the cockpit as he brought the aircraft under control.
As soon as the aircraft was straight and level he turned to his passengers and said: "Phew. I think you chaps should…"
But his words tailed away as he gaped at the empty passenger cabin.
At the first sign of trouble, the paras had leaped from the aircraft and were at that moment floating serenely towards the earth. Mickey landed safely to tell the tale.
Colin Cowplain