June saw some lovely weather at the start of the month and we did lots of flying but later on in the month it turned very windy. A fairly long dry spell meant the patch grass didn't grow very much so we didn't need to mow too often, and farmer George kept the bullocks in the lower field for most of the month where there's some shade for them. But when we went along to fly on Friday 24th we were greeted by George's sons and asked to help move the bullocks into our field. Fortunately this herd is used to us now and they were too interested in the long grass to bother us at all.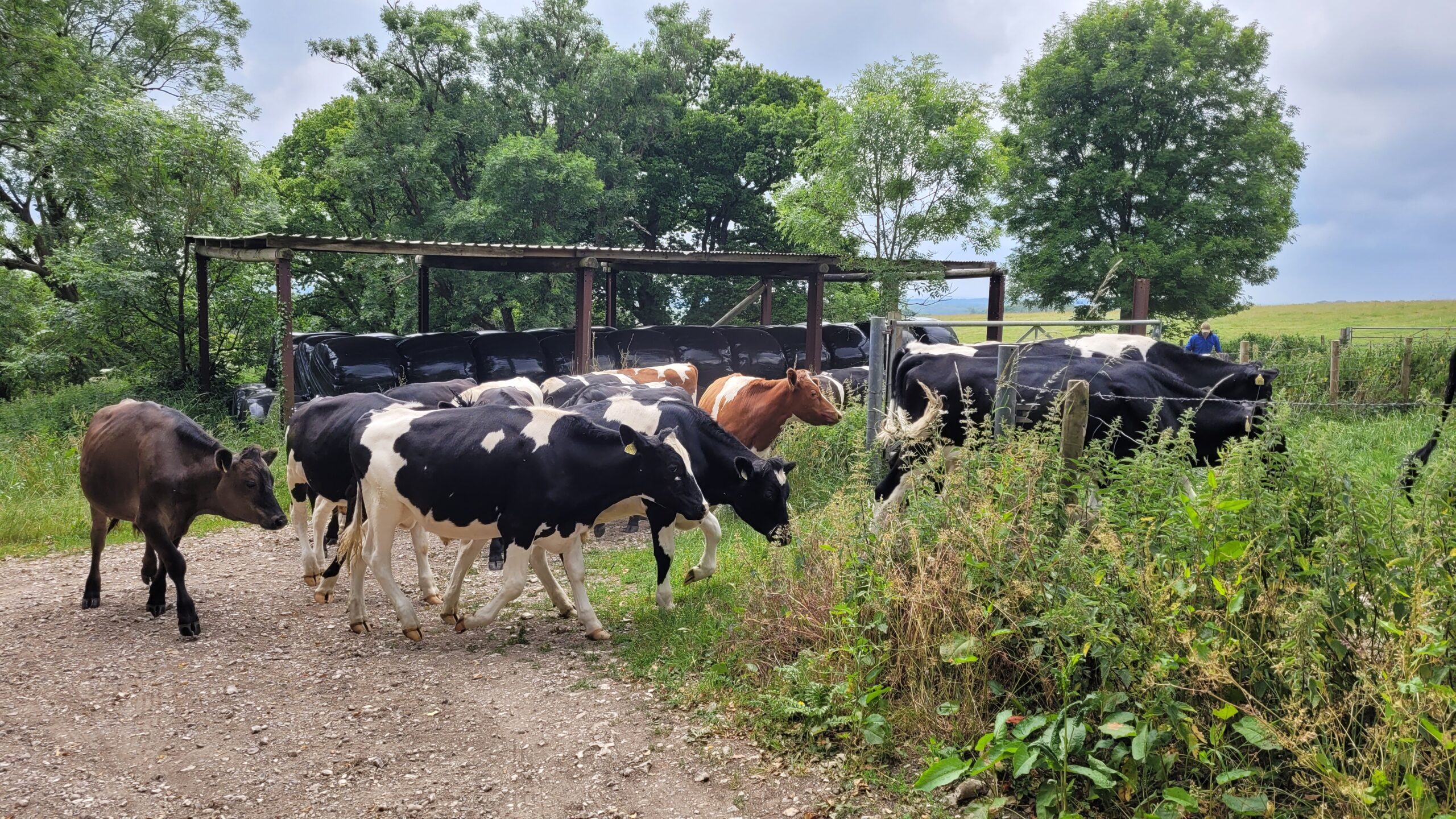 In Patch News last month I included a photo Dougal Entendre rehearsing his Riverdance routine. Well this month he overdid the rehearsing and badly sprained his ankle.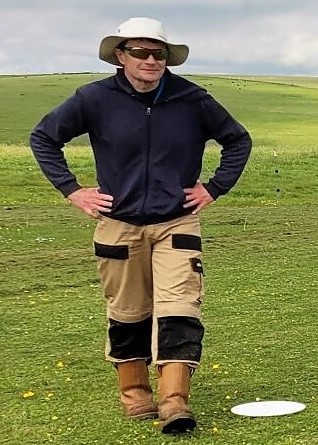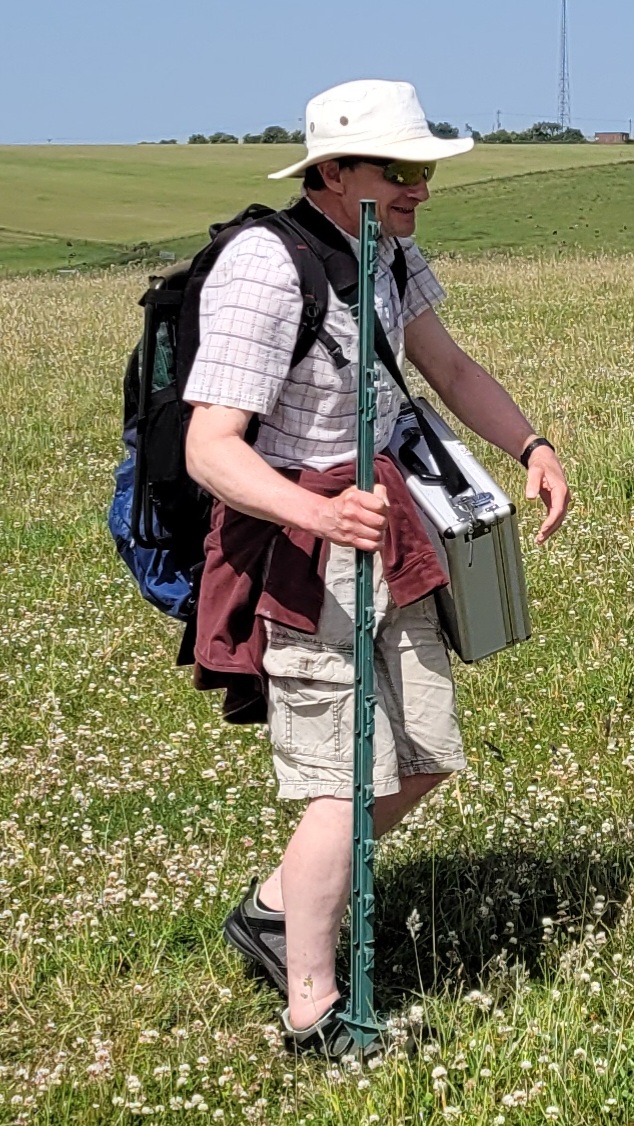 Of course Dougal came out with a load of rubbish saying he sprained it when leaping up and running to help a struggling pilot save his model but we know the truth…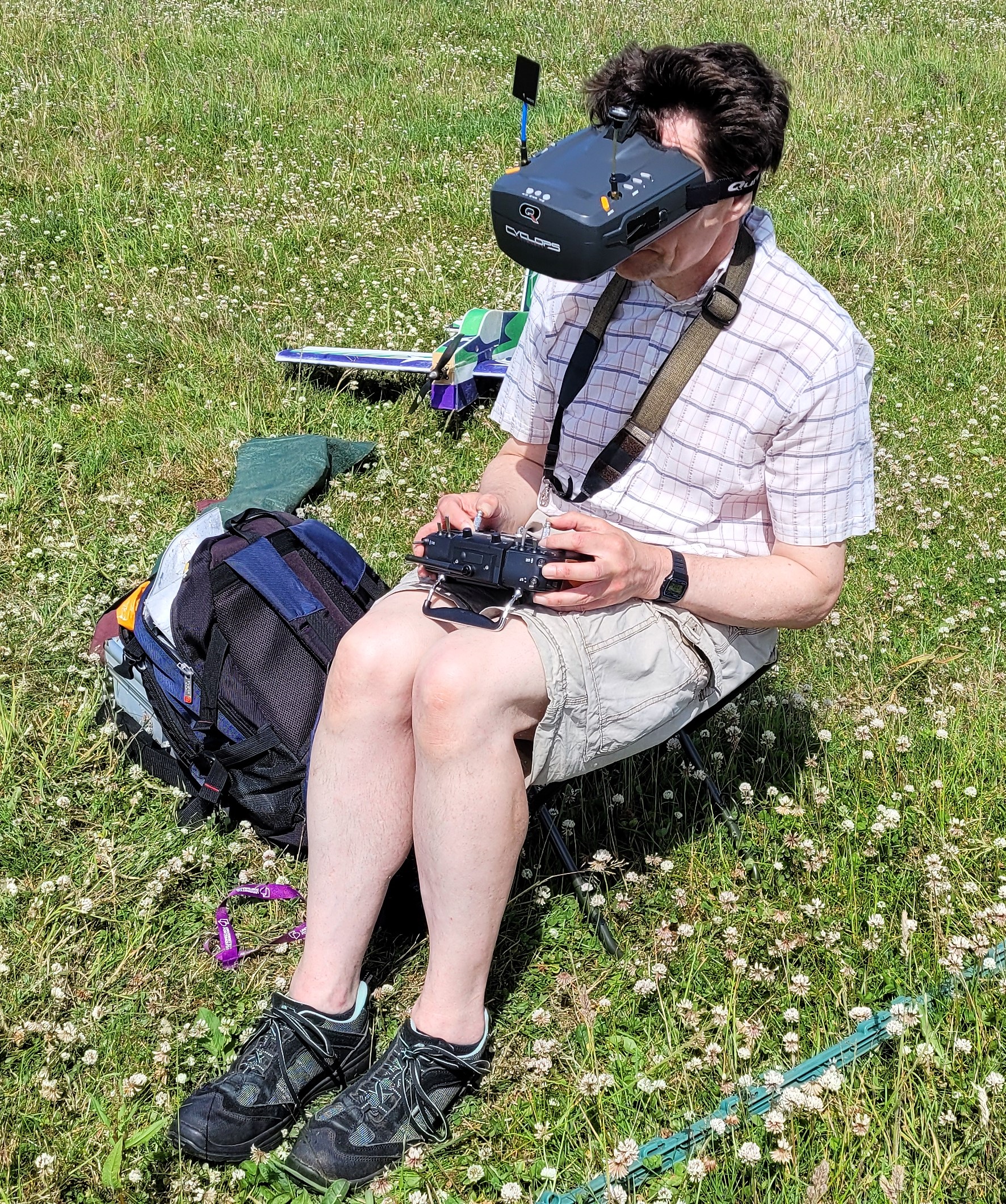 Fortunately he was able to fly FPV whilst sat in the pits and one of his 'people' helped out.
We had a couple of prospective new members visit us in June, the first being Peter Fothergill who is returning to the hobby after a long break. On his first few visits Peter flew a small foamie RTF electric glider fitted with a gyro that flies very well and Peter had no problems at all flying it. Then later in the month, having got used to the little one, Peter brought along a Multiplex Heron, a 2.4m span high performance electric glider.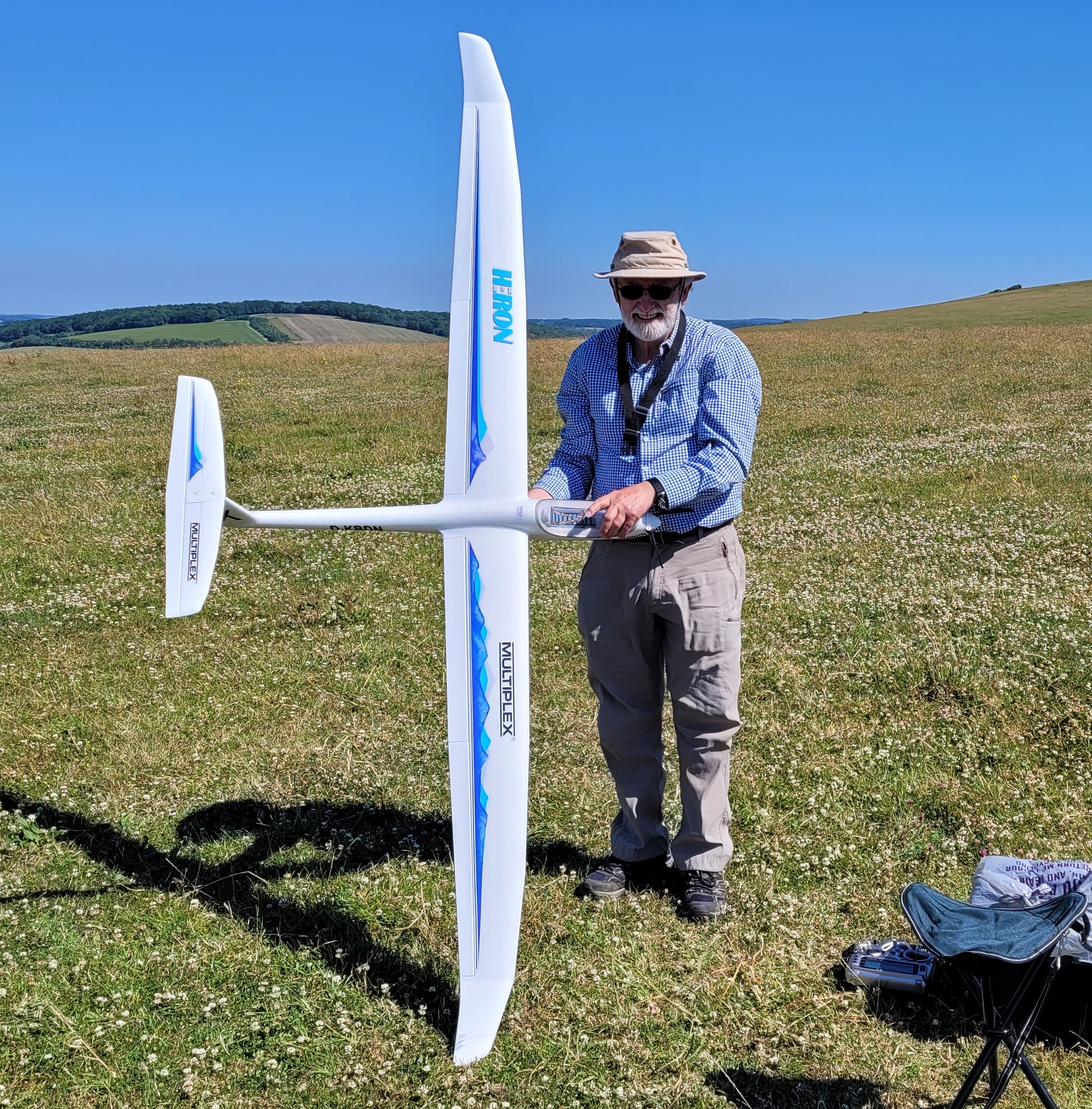 Again, Peter had no problems flying the model which seems to be an excellent performer.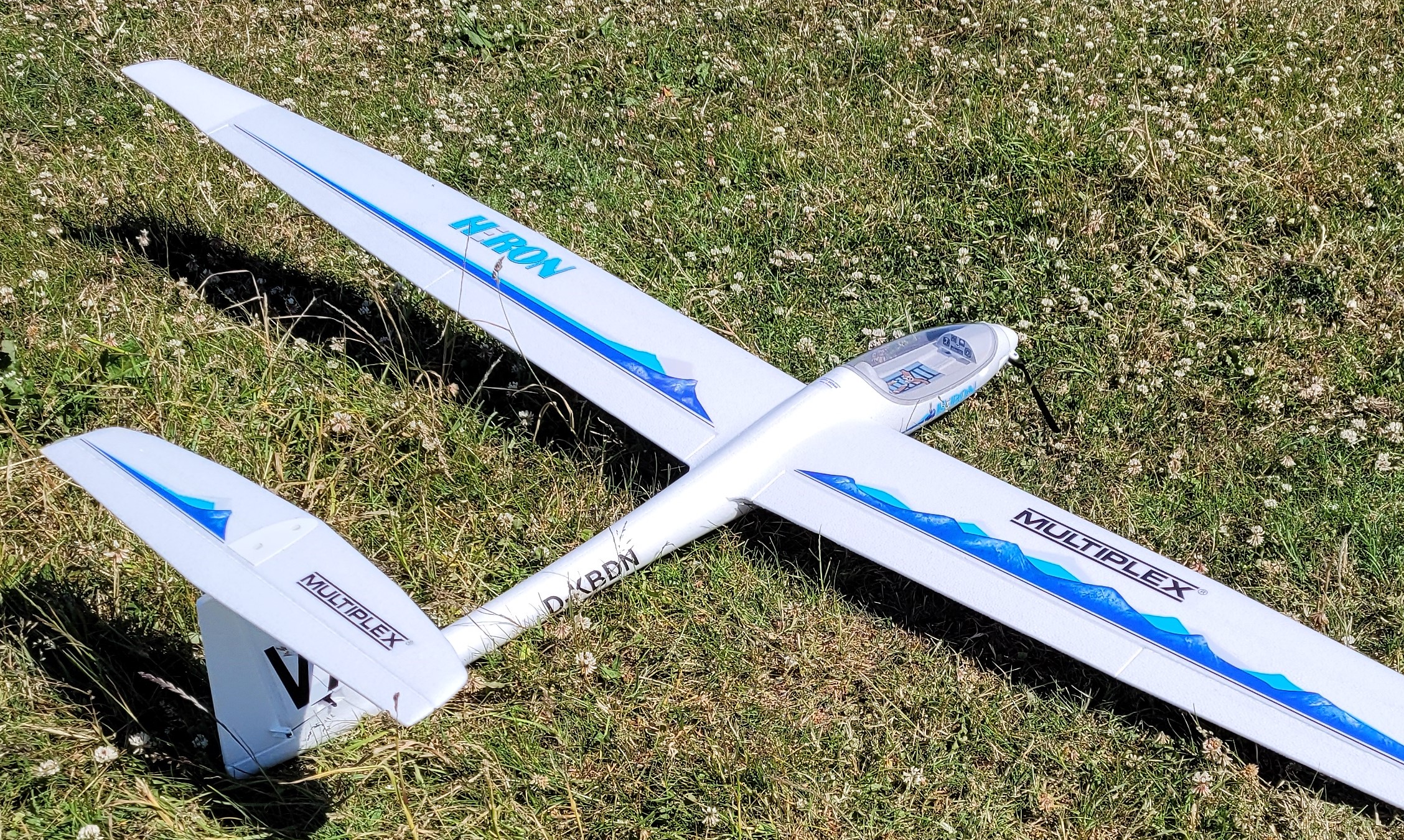 On its first outing the folding prop didn't fold so the brake needed to be set on the ESC, and every so often the telemetry feedback said "Receiver signal low" and then on one occasion "Receiver signal critical". It didn't seem to bother the Heron in the slightest but it did make Peter understandably nervous and he very sensibly decided to land early!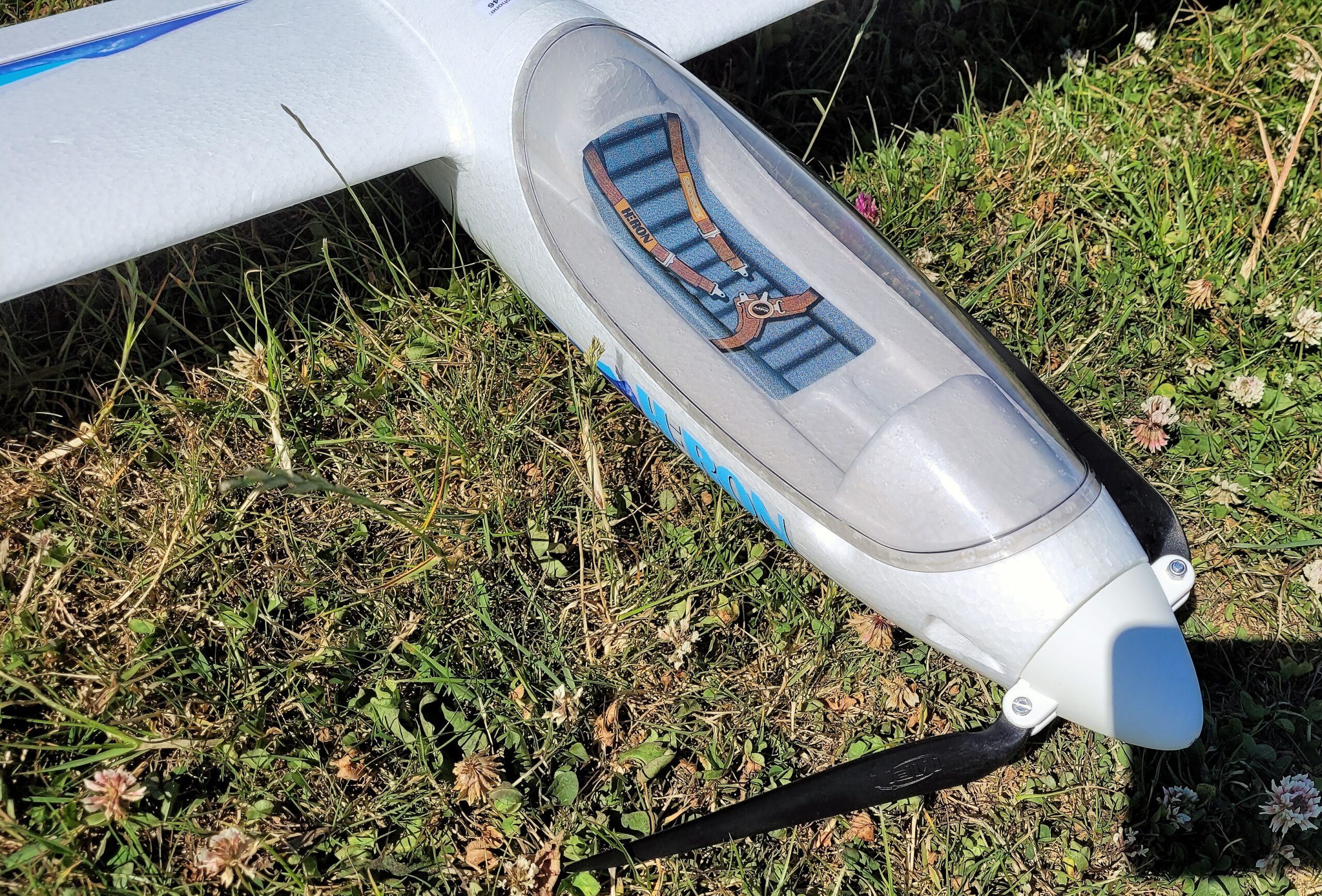 So a couple of things for Peter to sort our but otherwise all was good. Having served his three visits Peter was invited to join PAM and is now a paid up member, so welcome Peter.
The second prospective member was James, a very pleasant thirteen year old lad who was brought along by his mum and dad. James had already been flying a small electric gyro equipped glider for a little while and he quickly demonstrated that he was able to fly it with little help. At the time of writing James has only visited once but he's very keen and I'm sure he'll soon return and will be showing all us oldies how to do it before too long.
On the subject of thirteen year old lads, in June Dougal Entendre took and passed Leo for his BMFA 'A' certificate so congratulations to Leo. He is very quick and capable at mending broken models so Woody gave him his rather badly smashed Wot 4.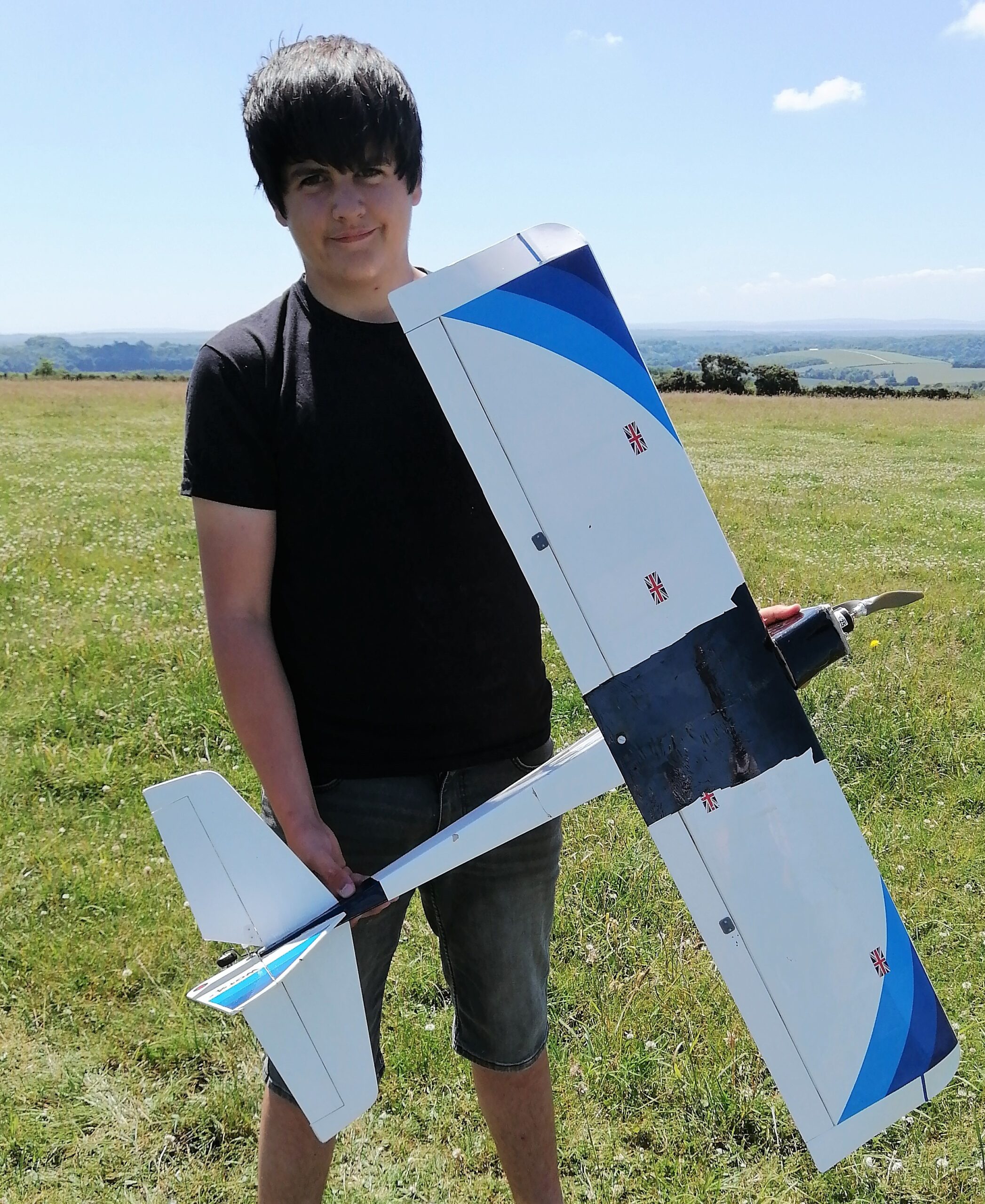 Leo had the Wot 4 fixed and flying again in just a couple of days. He is now also flying the Skylark mini pattern ship that he bought from Dougal; he seems to fly it with no problems.
Charlie (also thirteen) didn't fly during the cold winter months but returned in June flying his electric glider. Unfortunately his transmitter battery alarm sounded at the end of his first flight and he was unable to have a second flight. So I let him have a flight with my tiny Eachine Mustang which he flew perfectly. I remembered that when Charlie first joined the club his mum Nadine had said she'd quite like to try flying a model so I let her fly the Mustang after Charlie. She coped very well, just needing a bit of guidance on when to turn so the plane didn't get too far away. I wonder if I can talk her into becoming a member…
As well as Peter's new Multiplex Heron several other new models were flown in June and the first I'll feature is Mike Creamer's foamboard Sukhoi SU-27.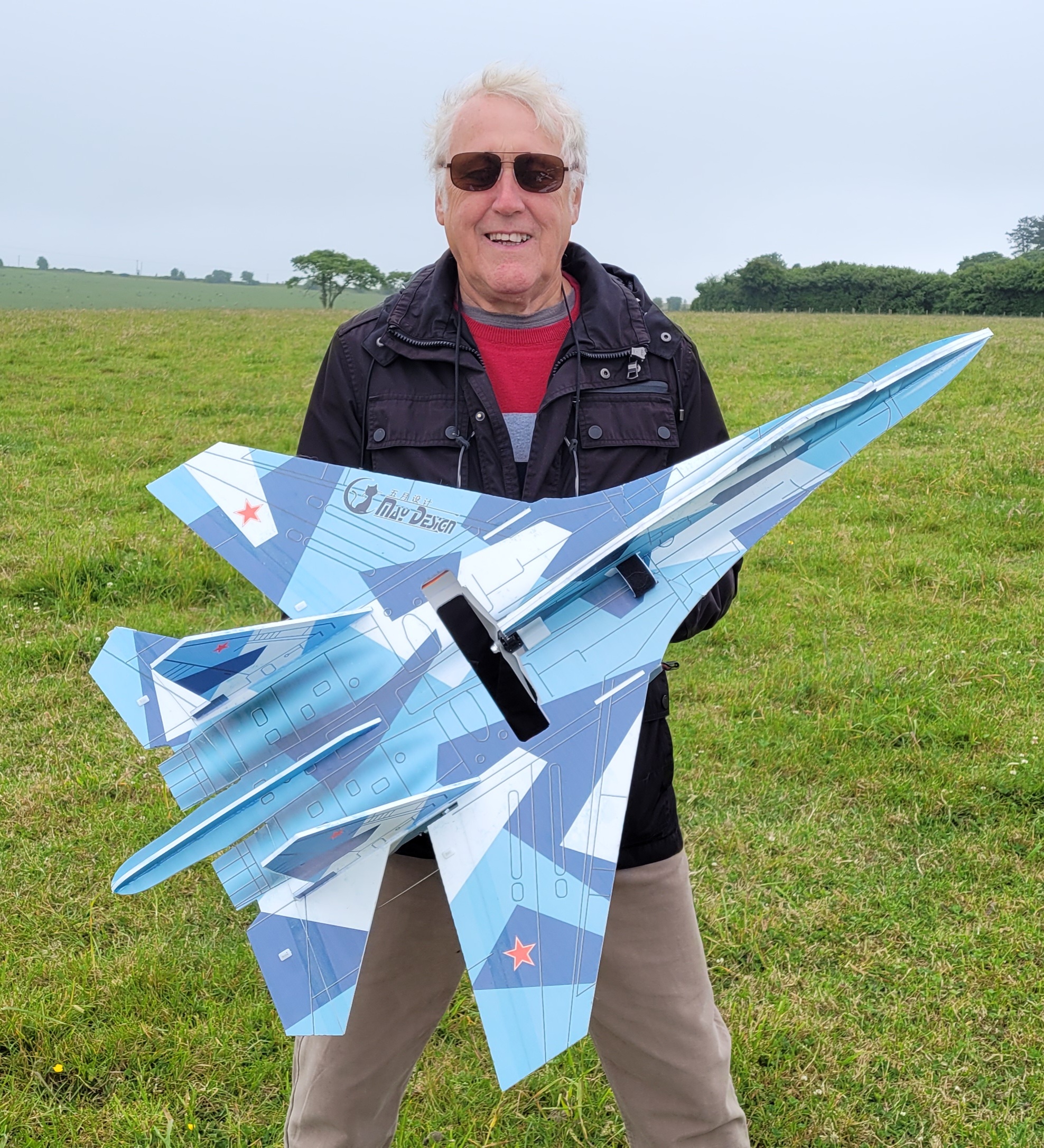 It appears to be almost the same as the ones we used to buy from HobbyKing before they closed their UK warehouse but Mike bought this one from Banggood.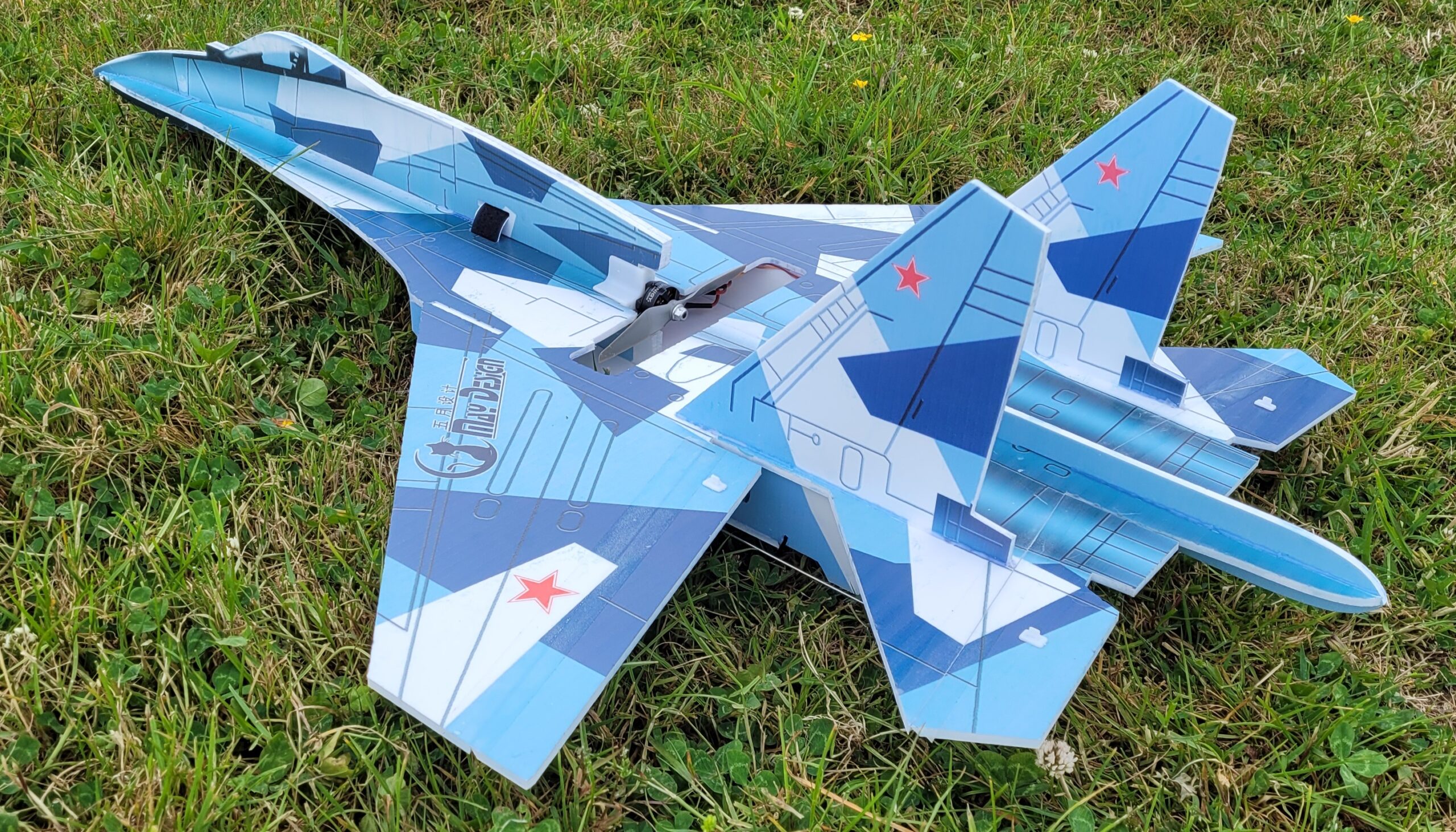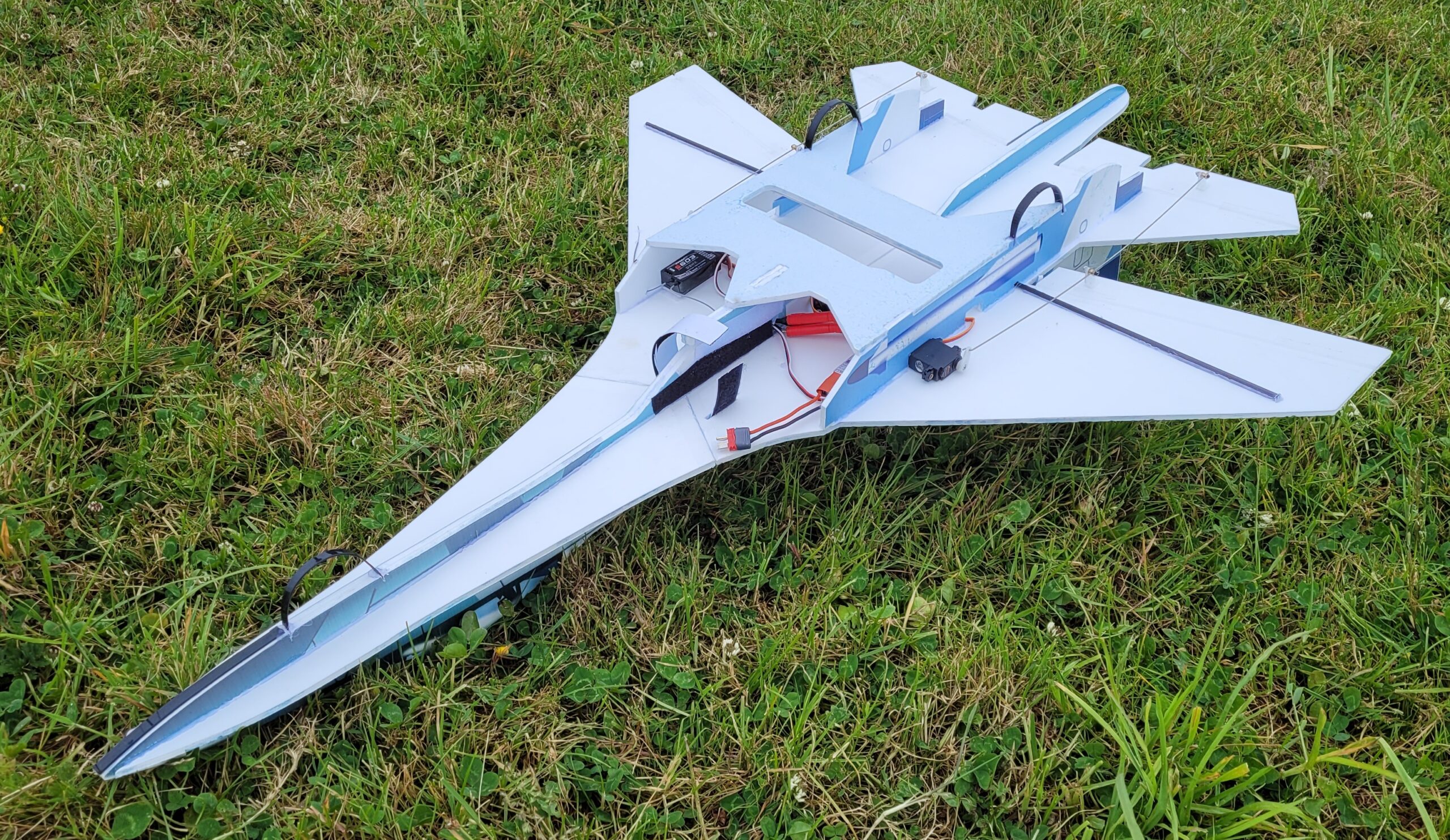 The foamboard models are all pretty similar and Mike has fitted his with a Turnigy motor and Spektrum radio gear. I've always said I think the SU-27 is the best of the foamboard jet range and Mike's has reinforced that belief as it flies brilliantly. It was a bit noisy at first as he hadn't enlarged the propeller slot but a quick hack with a scalpel soon had it quieter.
1066 is well known for flying very low fast circuits and some of the more childish members (like me) can often be heard shouting "Lower" as he skims the patch. This month he got as low as is possible without crashing and caught some of the grass at the edge of the patch.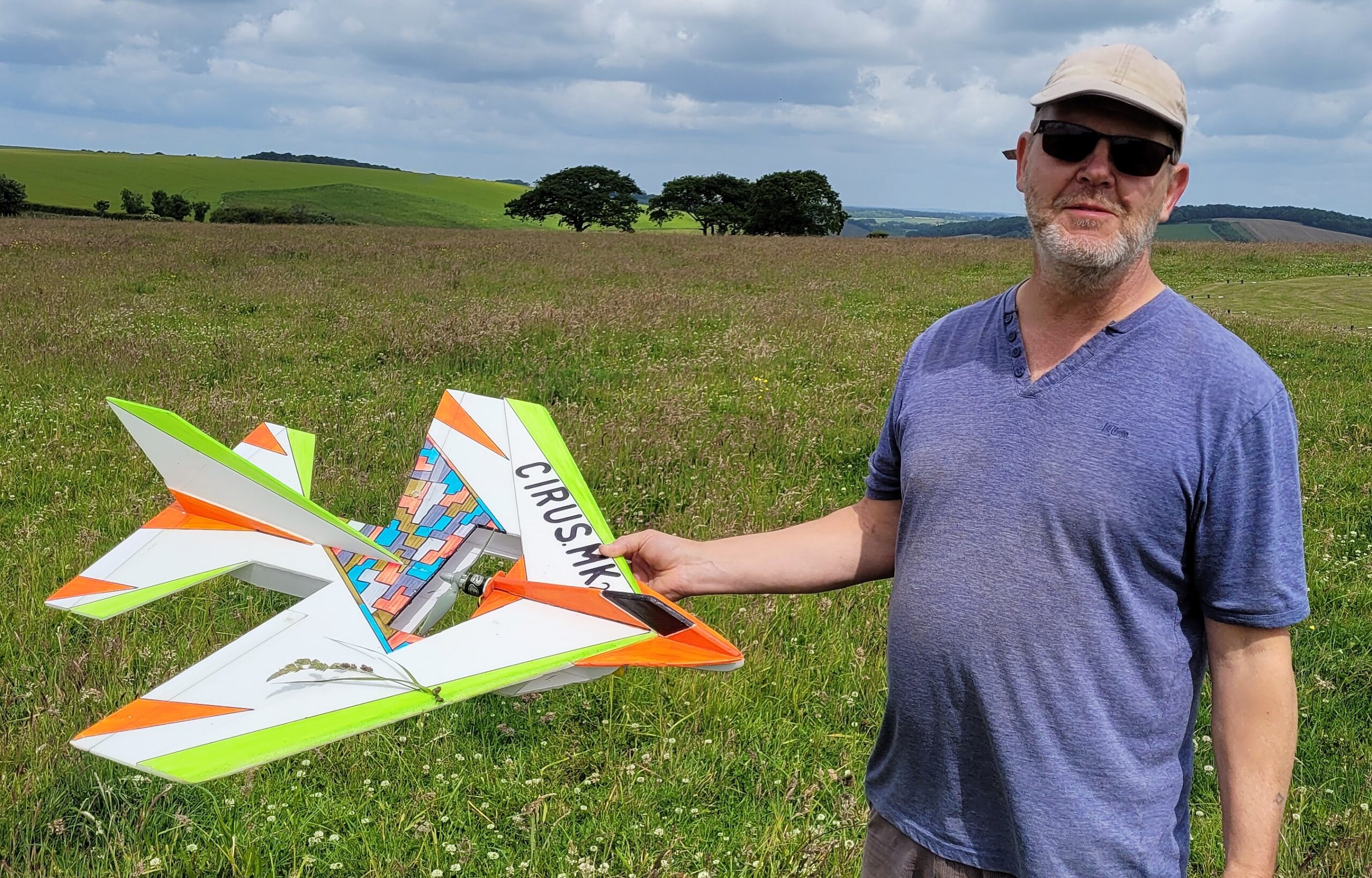 The grass cut into the wing leading edge but fortunately the Cirus just kept on flying.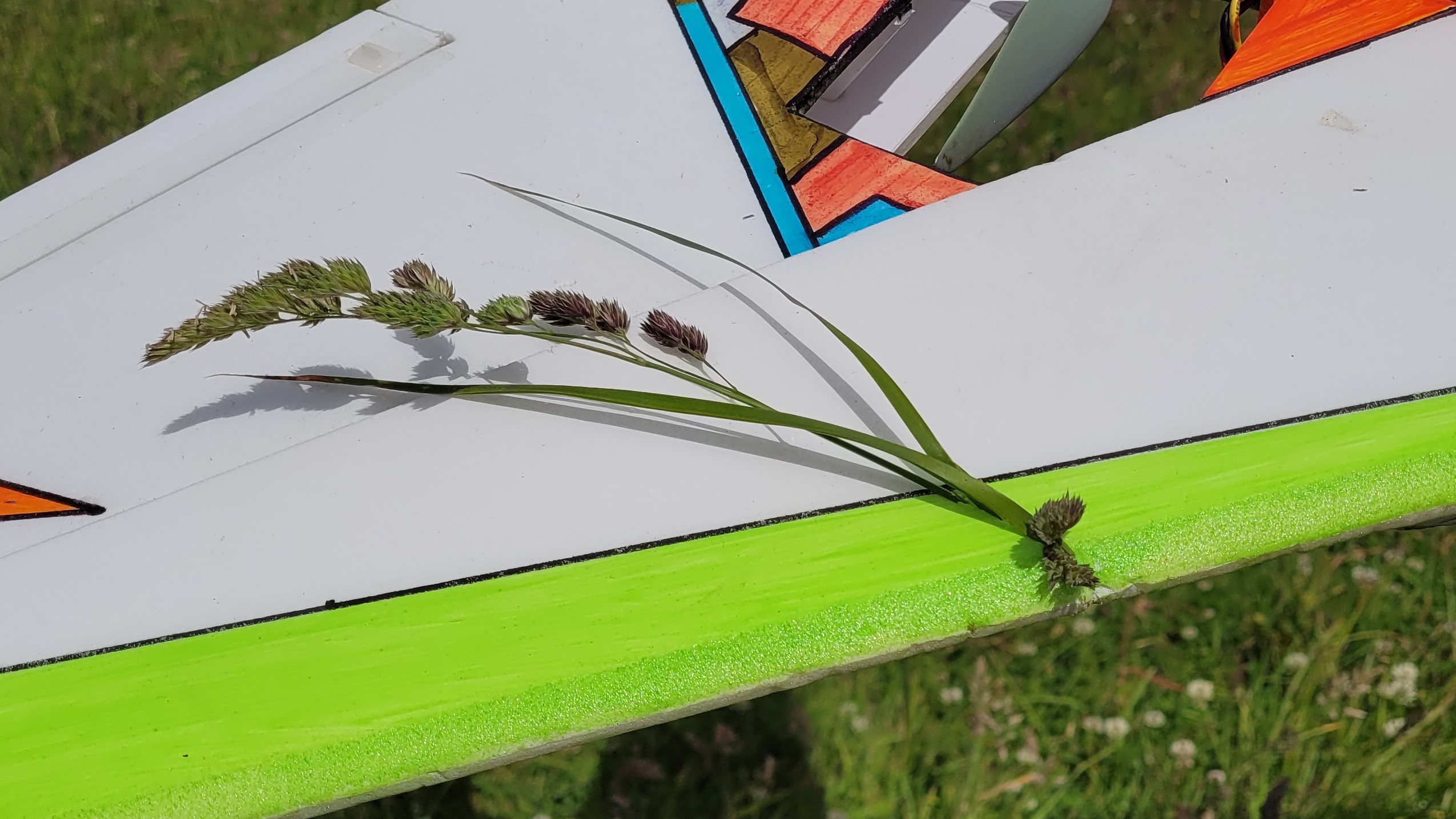 I tried following the Cirus when I was flying FPV one day this month and I'm sure he was trying to get me to fly into the deck… he very nearly succeeded.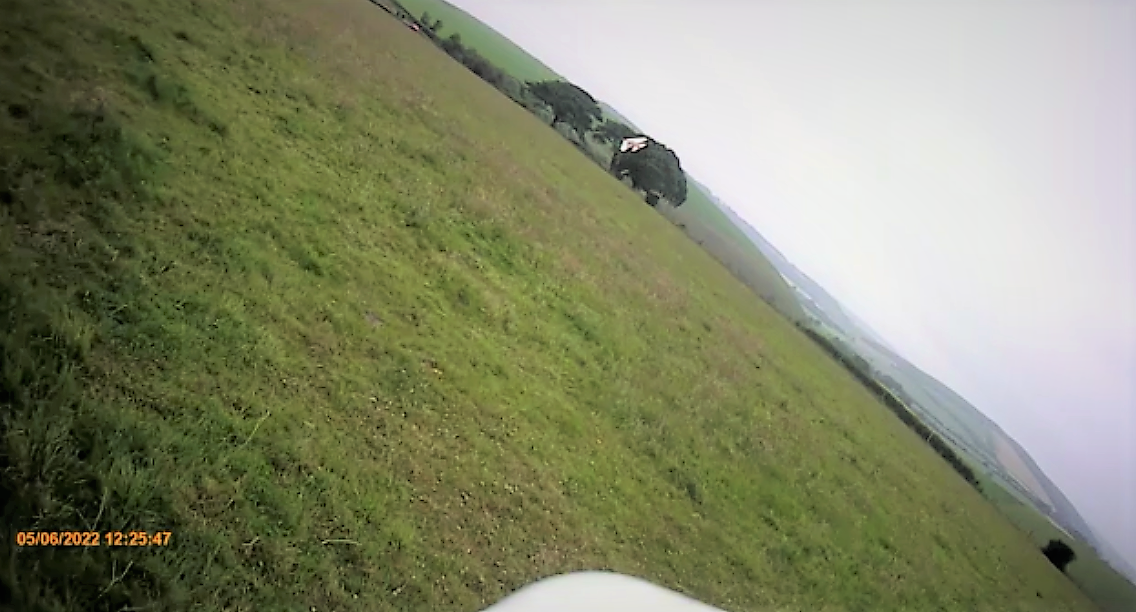 The next new model to be flown in June was Bob the Builder's rather nice E-flite Conscendo Evolution, a 1.5M span electric glider that Bob received for his 80th birthday.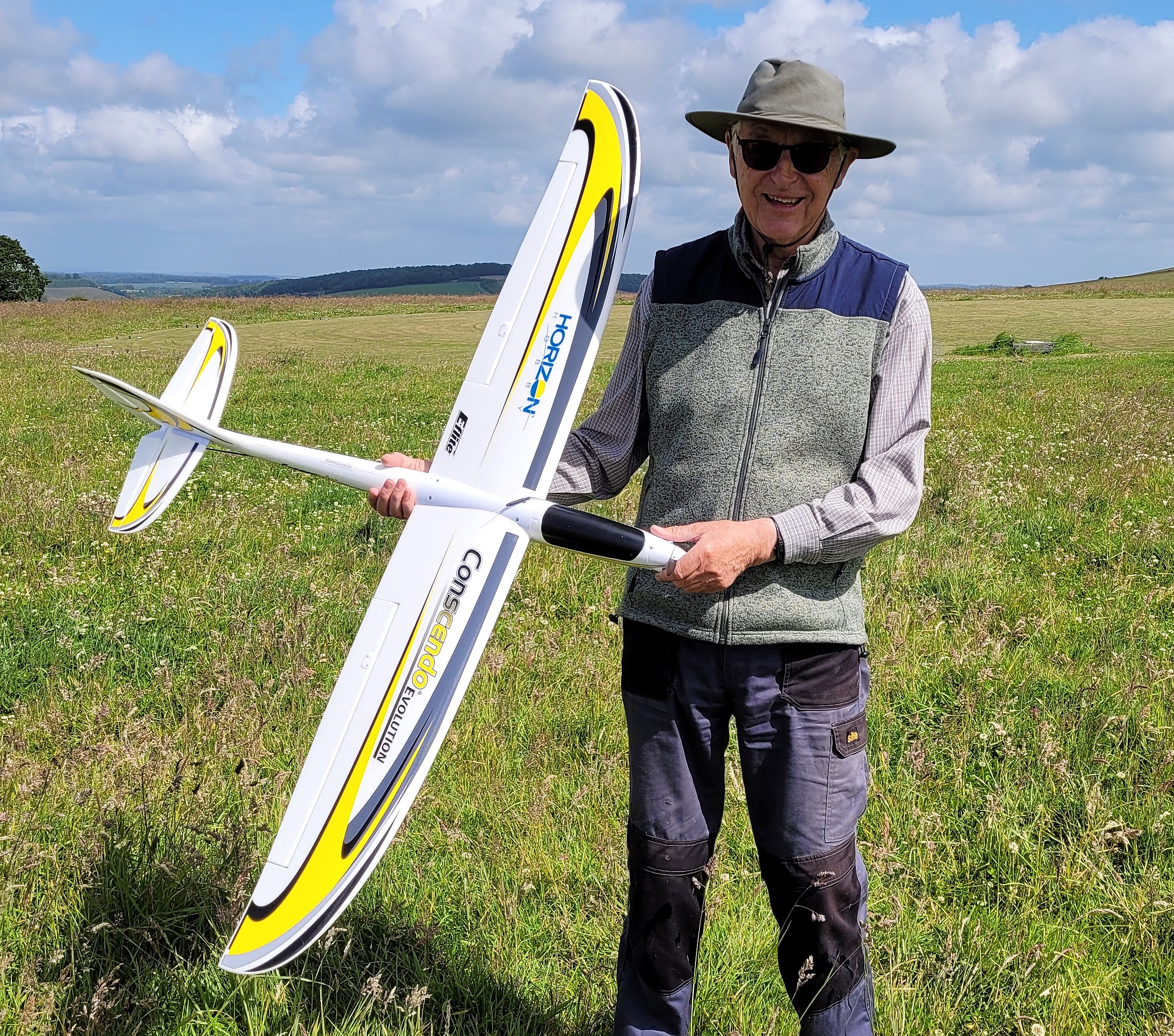 This is what E-flite say about it: With a 3S LiPo battery, the factory-installed brushless power system – featuring a 30-amp telemetry-capable ESC, specially-tuned outrunner motor and folding prop – delivers plenty of thrust for fast climbs to soaring altitude, sport flying and aerobatics. Using a 4S battery, it delivers even more speed and thrust for unlimited vertical performance without the need for modifications or upgrades. The new higher density EPO airframe has the additional strength and stiffness to handle anything an intermediate to experienced pilot will want to do with all that power. Yet the Conscendo Evolution is still easy to launch, fly and land. Flight ready in less time than it takes to charge a battery, the Conscendo Evolution offers a wide range of pilots a unique flying experience that no other model can provide.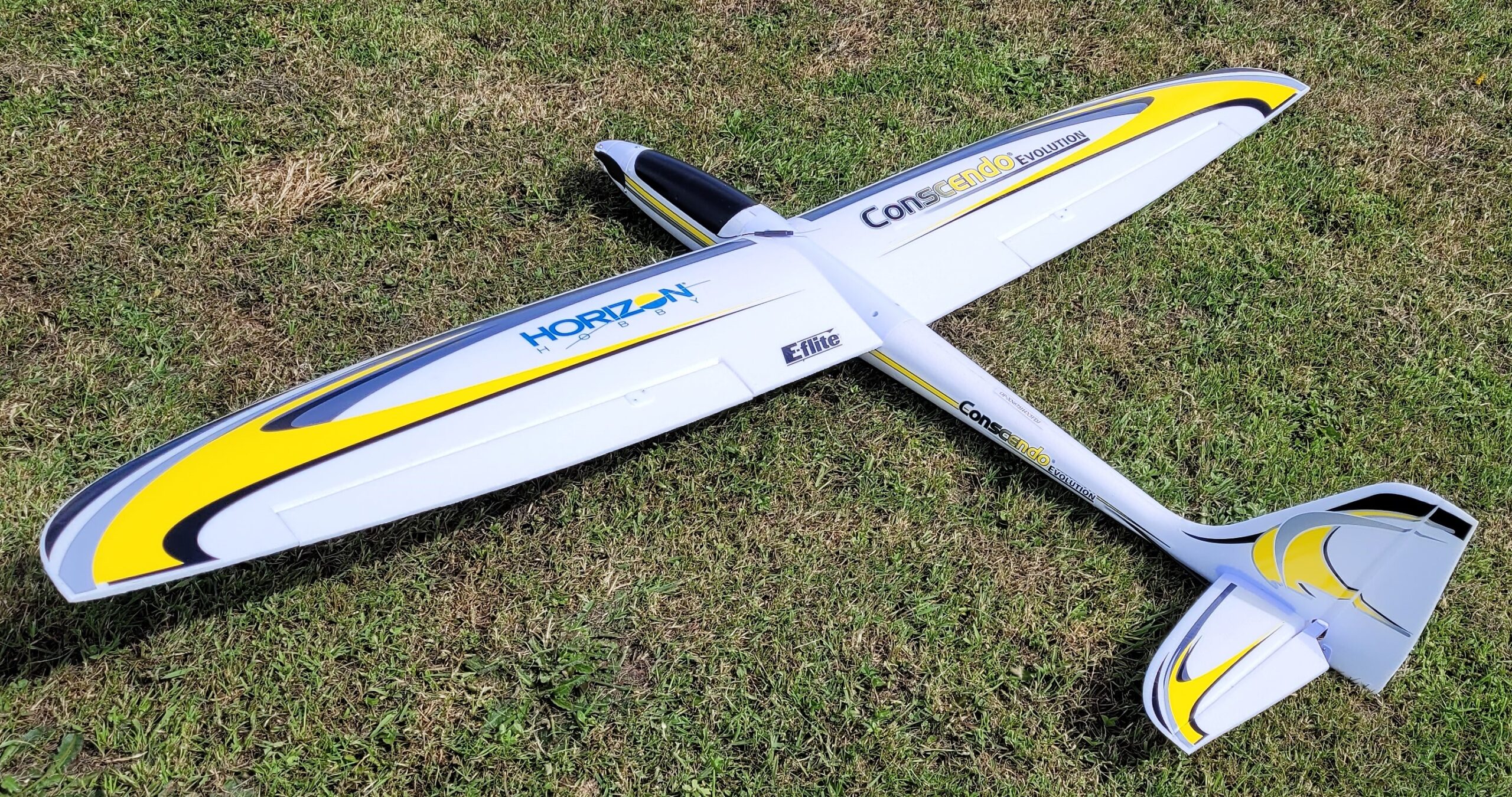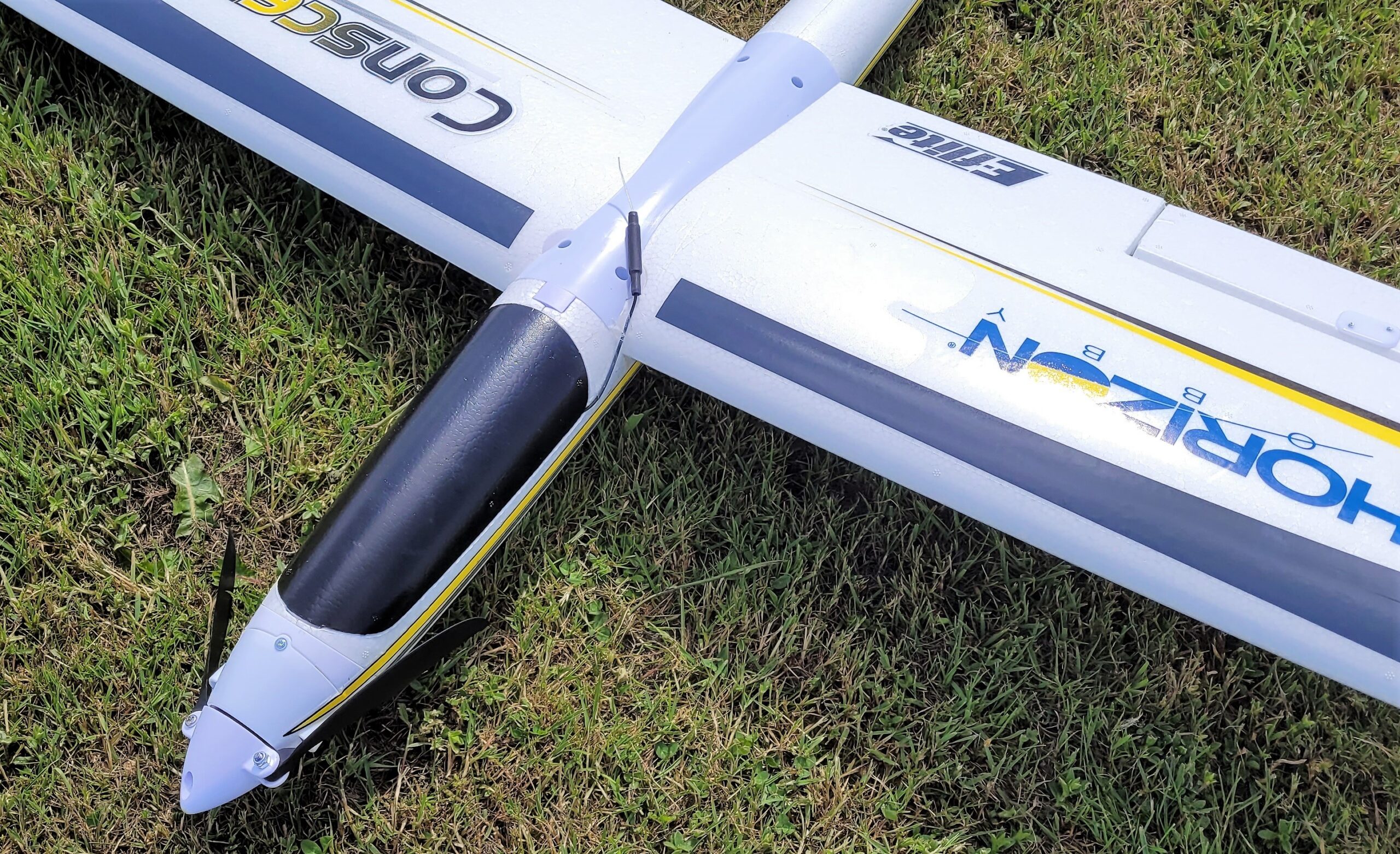 The first flight was made using a three cell lipo and the model flew very well, performing just as described with plenty of power for the usual glider aerobatics. You can watch some of the first flight in this month's video. On a later flight Bob switched to a four cell pack and the Conscendo certainly had more than enough power for vertical climbs etc.
Dougal went along to the Horsham club's Airborne Fun Fly on 12th June where he had a good time flying his Maxford Spad, Spitfire, Mini Blitz, and HobbyKing MX2.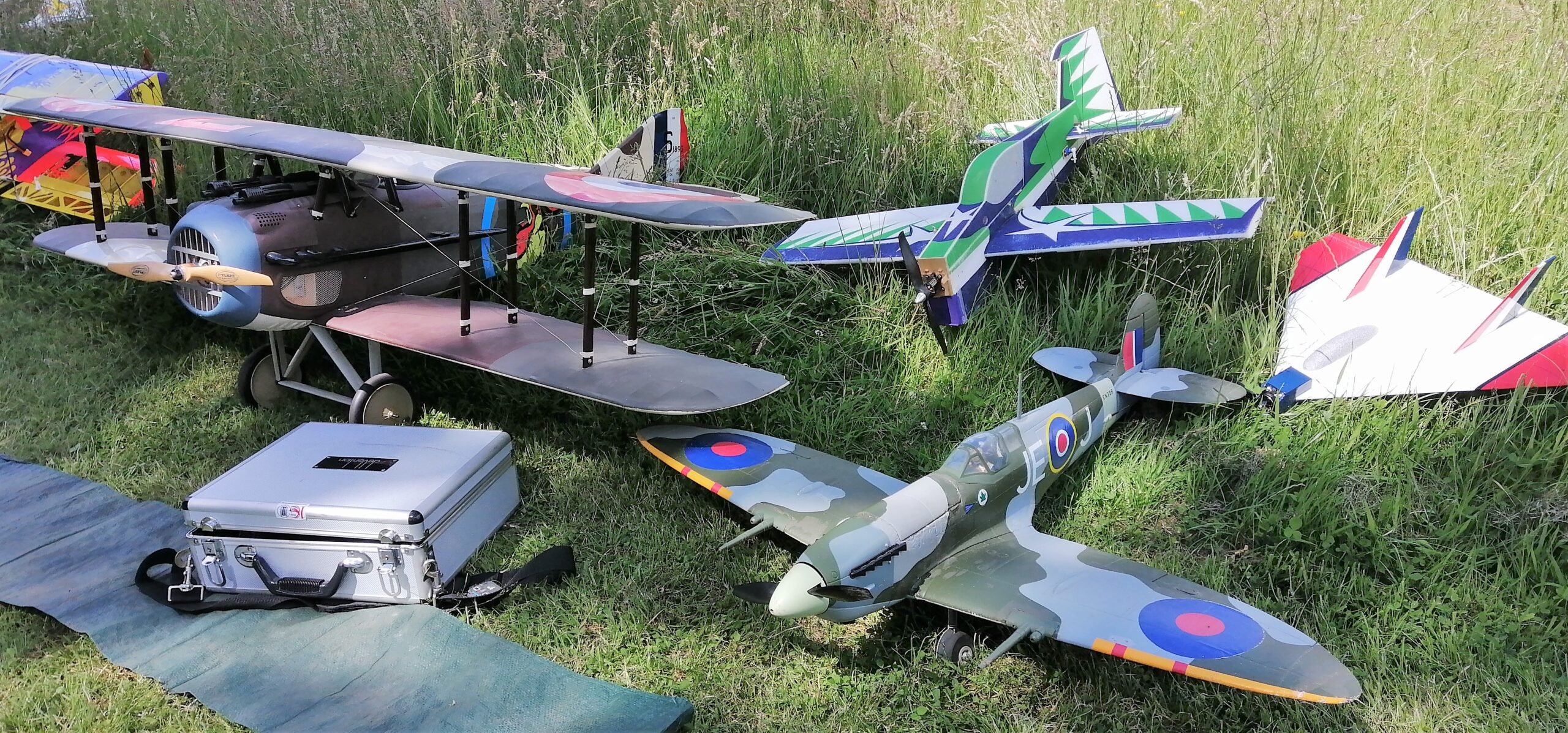 During the event the club ran some fun-fly competitions and Dougal took part, managing third place in the Max Loops in 60 Seconds competition and winning the Two Minute Timed Flight (you have to count, no timers allowed) with a score of 2.03, well done Dougal. He took lots of photos, some of which I'll include later, and he also filmed some of the models in the pits so I'll include that in this month's video.
Woody bought two new models this month, a balsa Max-Thrust Riot and an F-22 Raptor. The Riot came from ModellbauUK at Medstead and the balsa ones are built by Pro-Build.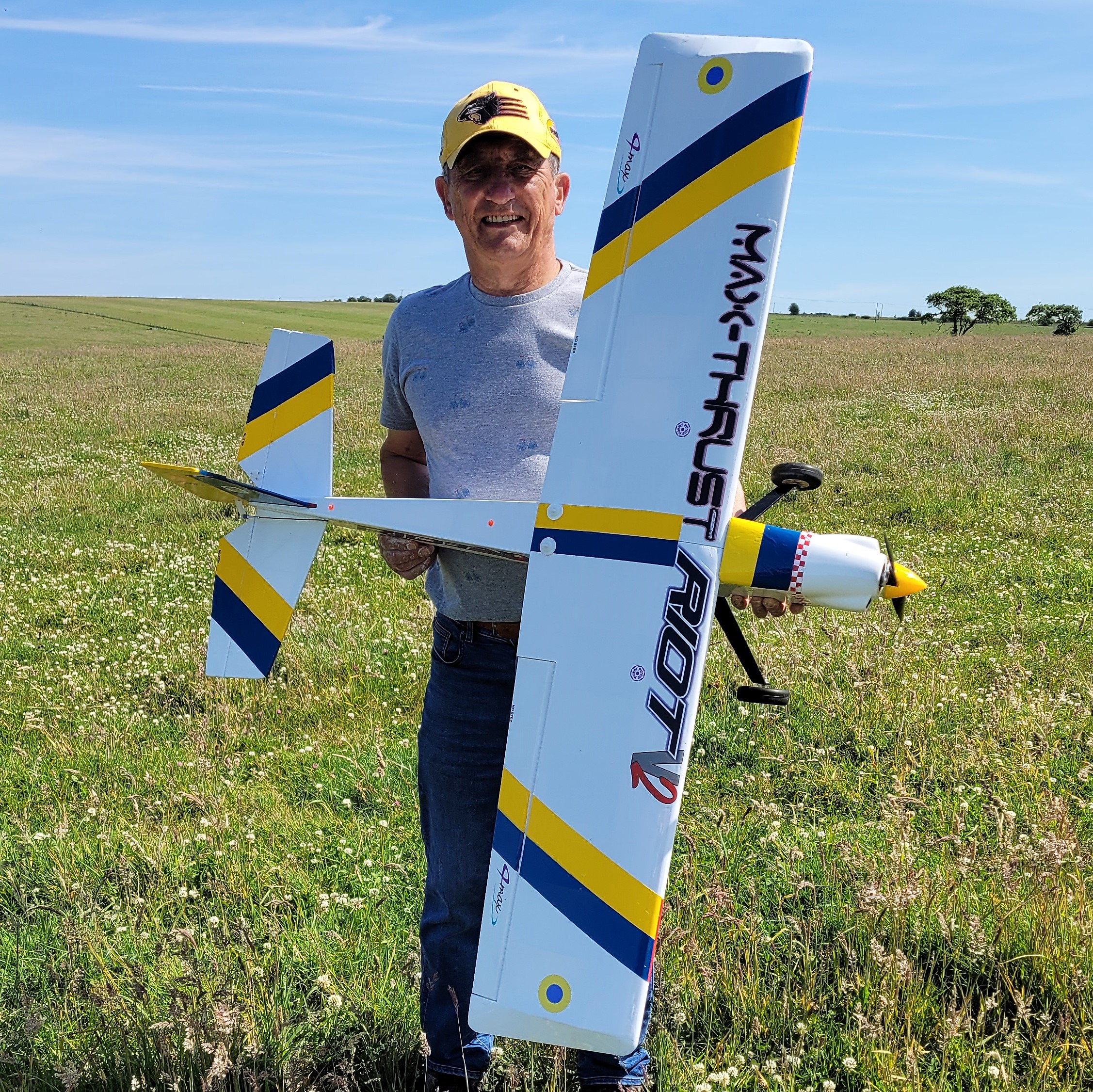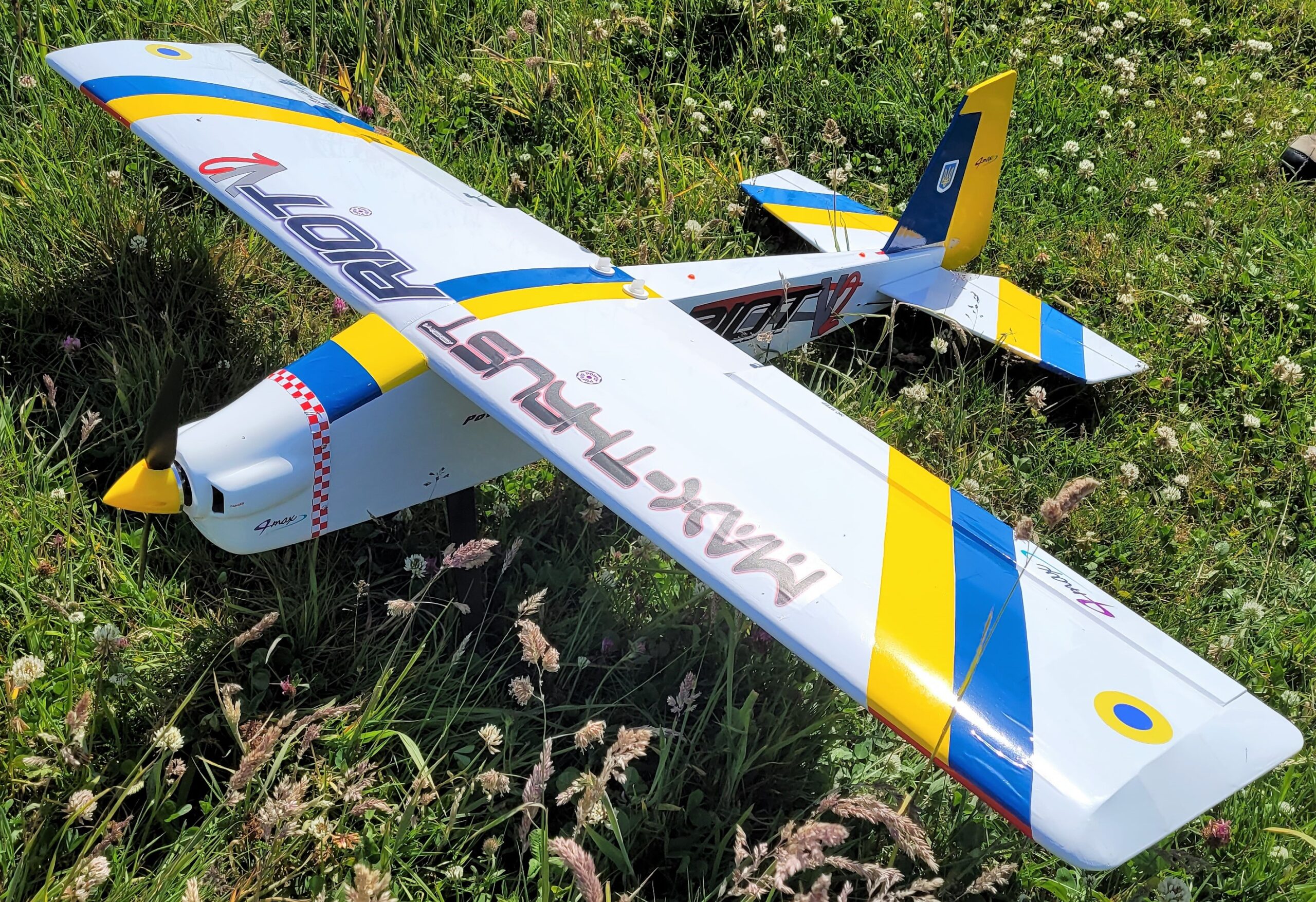 Woody had really wanted one of the original foam ones but ModellbauUK only had balsa ones in stock. The Riot came covered in just plain white so Woody added the blue and yellow Ukrainian trim. I'm impressed, he's made an excellent job of it, it looks very good.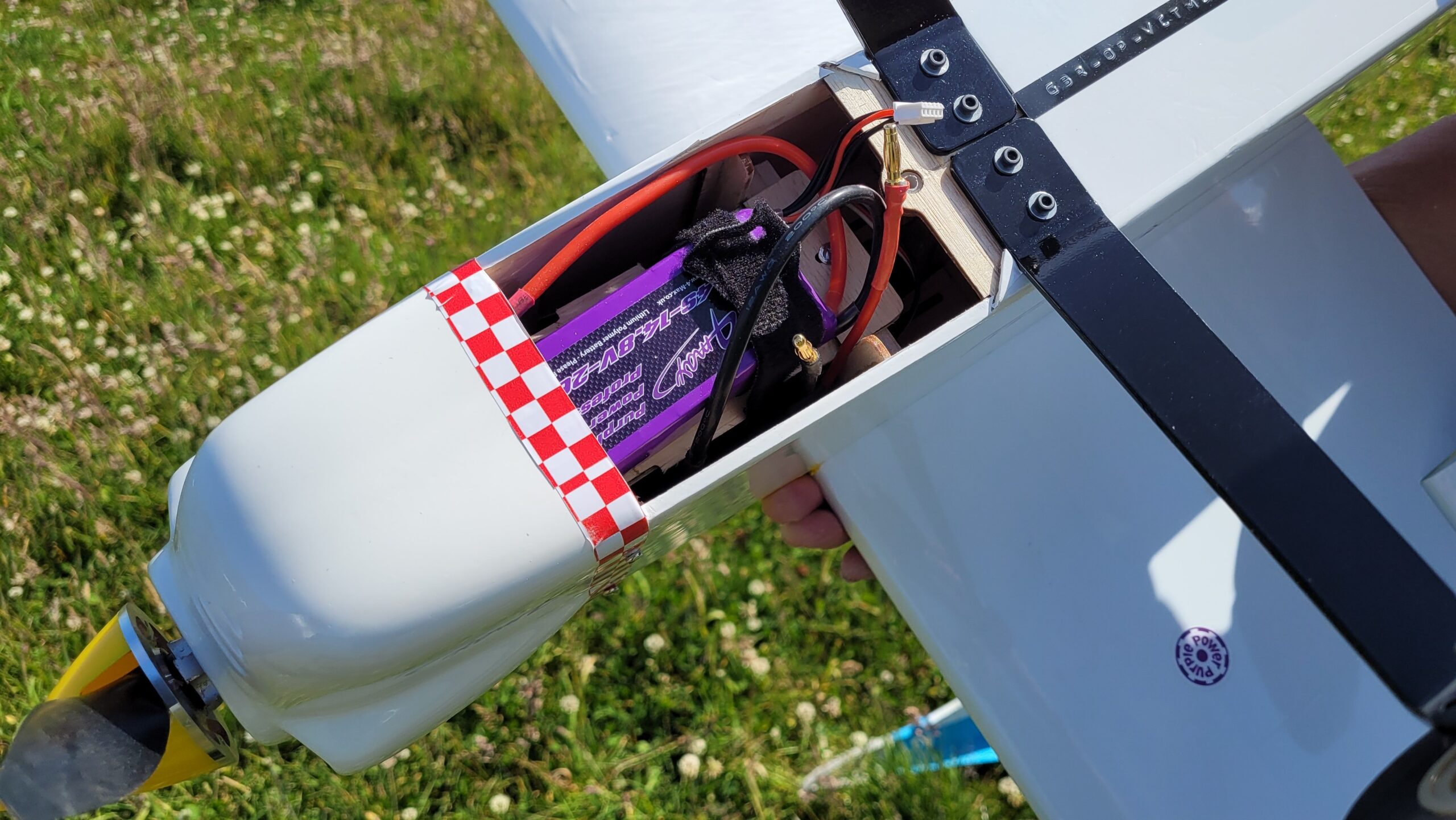 The Riot is fitted with a Purple Power 3542 1000kv motor which spins a 12×6 propeller. It uses a 60A speed controller and a 4 cell lipo. I was surprised how heavy the plane was when I picked it up and Woody explained that he'd needed to add 180g of lead in the nose to achieve the correct C of G but it must be a lot heavier than the foam version even before the nose weight is added. My own foamie Riot is much lighter and flies well on 3 cells, I don't think the wood version would get off the ground with only 3 cells. Anyway, it was fine on 4 cells and the first flight went well with the Riot behaving exactly as it should.
Woody's second new model of the month, an F-22 Raptor, came from Banggood and to give it the full title it is an HEE WING Hunter F22 MPP Foam PP Magic Board RC Airplane Kit. That's a bit of a mouthful for a 400mm span foamboard jet!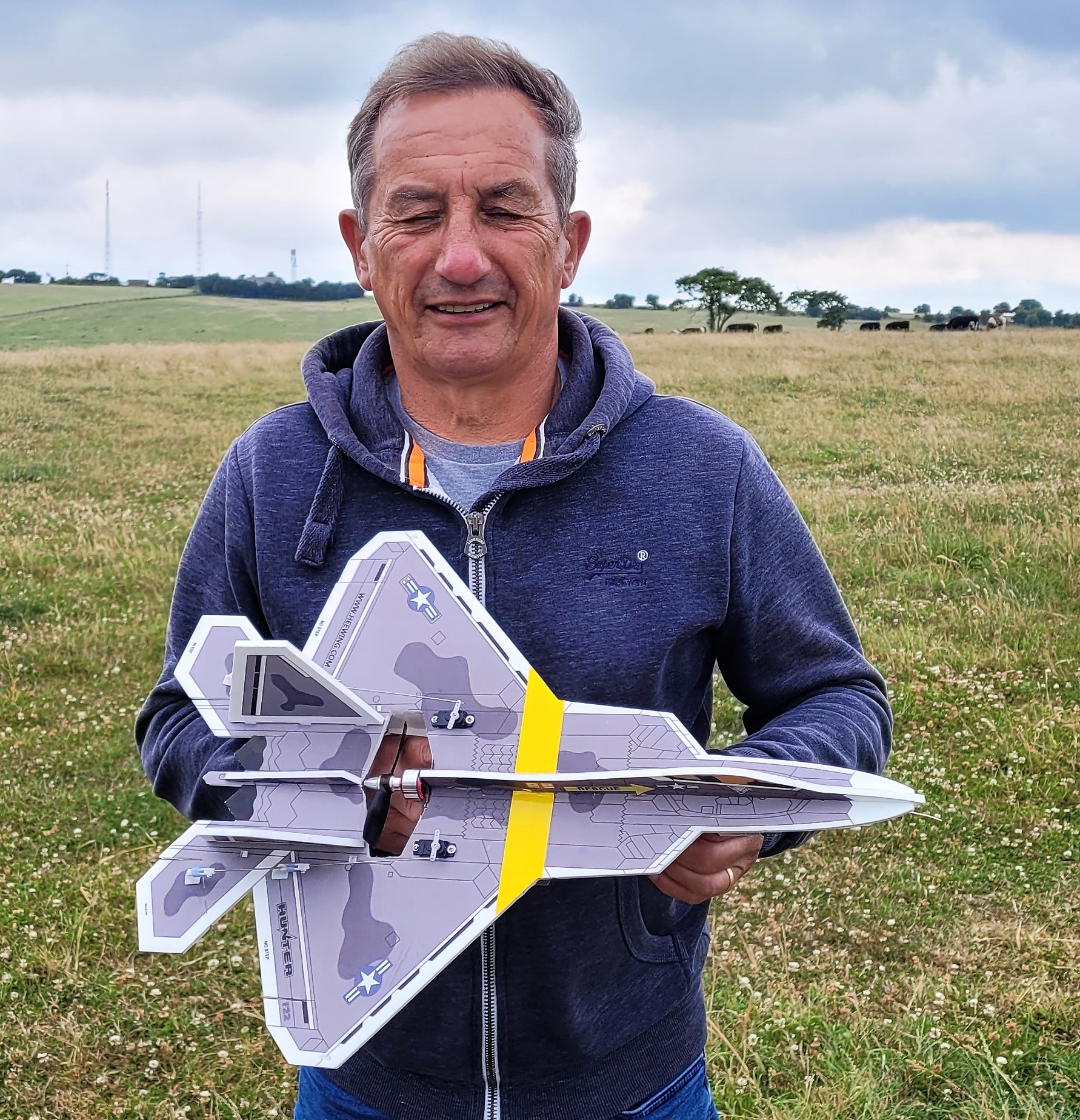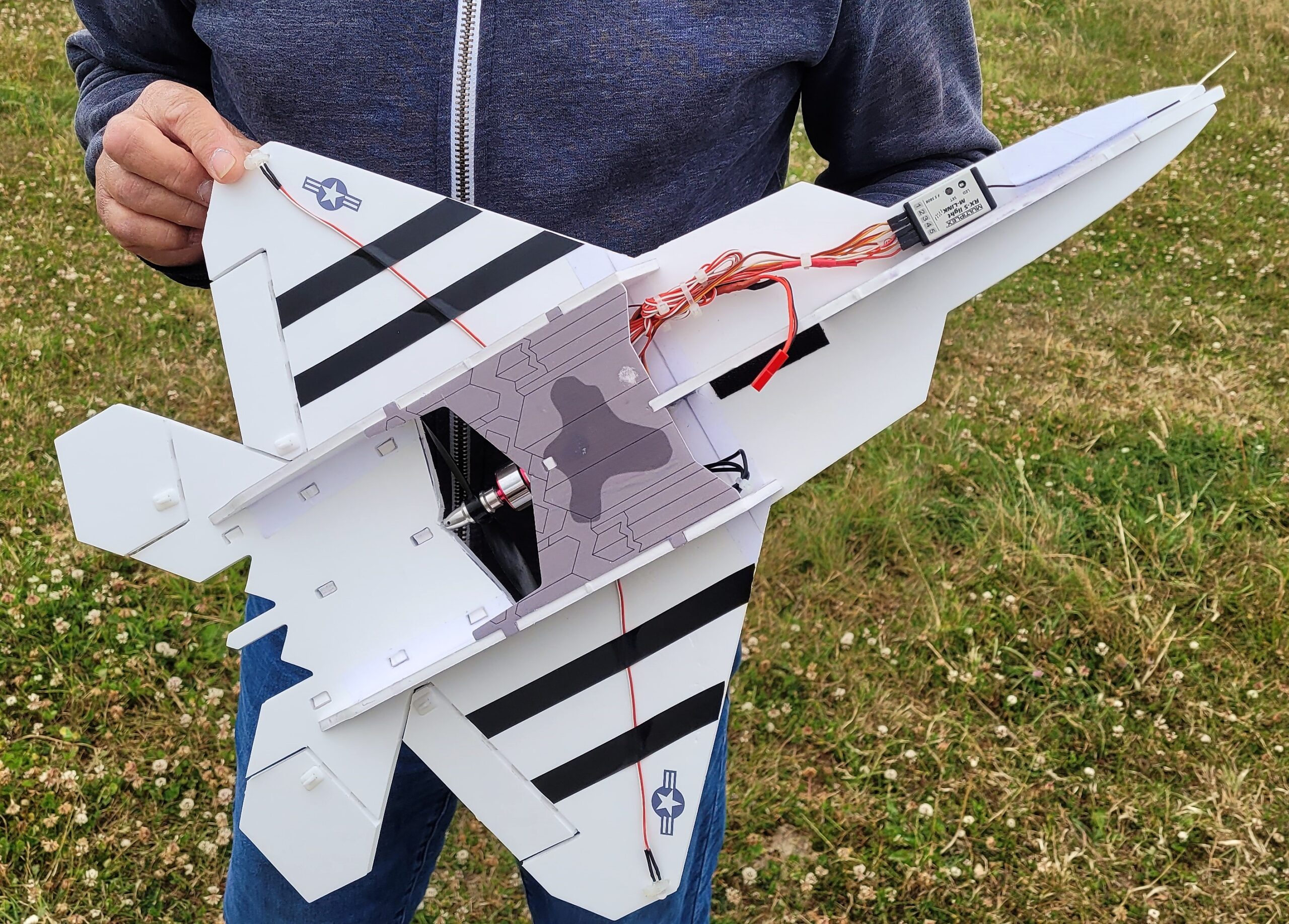 This is the slightly Chinglish description from the Banggood website: This products are producing by MPP magic board, UV print and laser cutting. With gorgeous workmanship and exquisite appearance, this incredible creative RC plane machine is made of lightweight and super durable material, tough and high strength. We set PNP version, which is very suitable for the DIY of airplane model enthusiasts. Electronic combo comes with brushless motor and esc, providing powerful performance. Version comes with flight controller which can self-stabilize flight control, achieve one-button takeoff and stable output to excellent performance. Note: PNP just for easy name, the PP frame PNP listed here is not pre-assemble. It requires assemble after you received.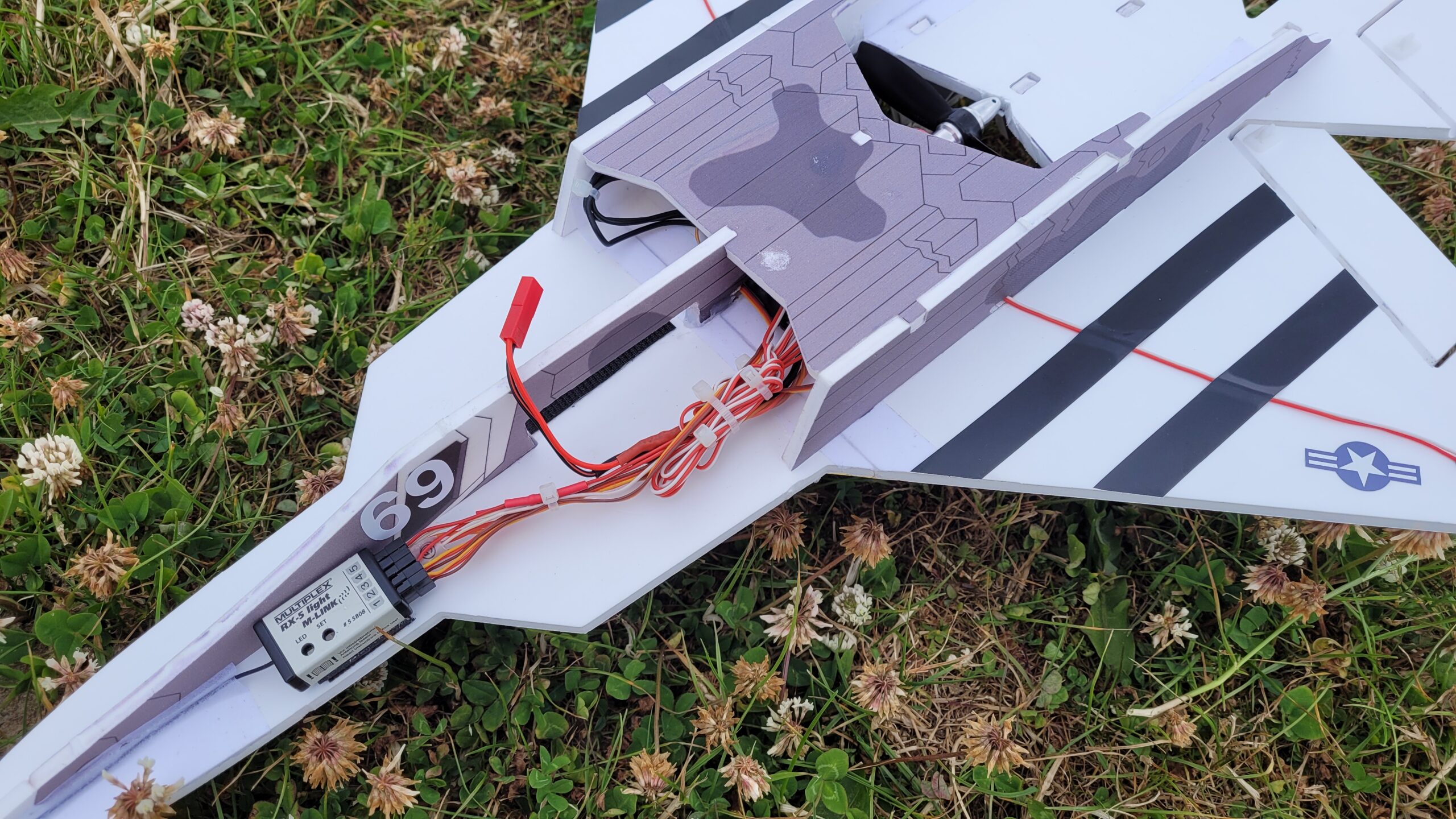 That's all very clear then! Woody's is the kit version so basically just the foam airframe parts and he has fitted it out with a Purple Power 2321-2050kv motor spinning a 4 x 4.5 prop and coupled to a 12A speed controller and powered by a 2s lipo pack.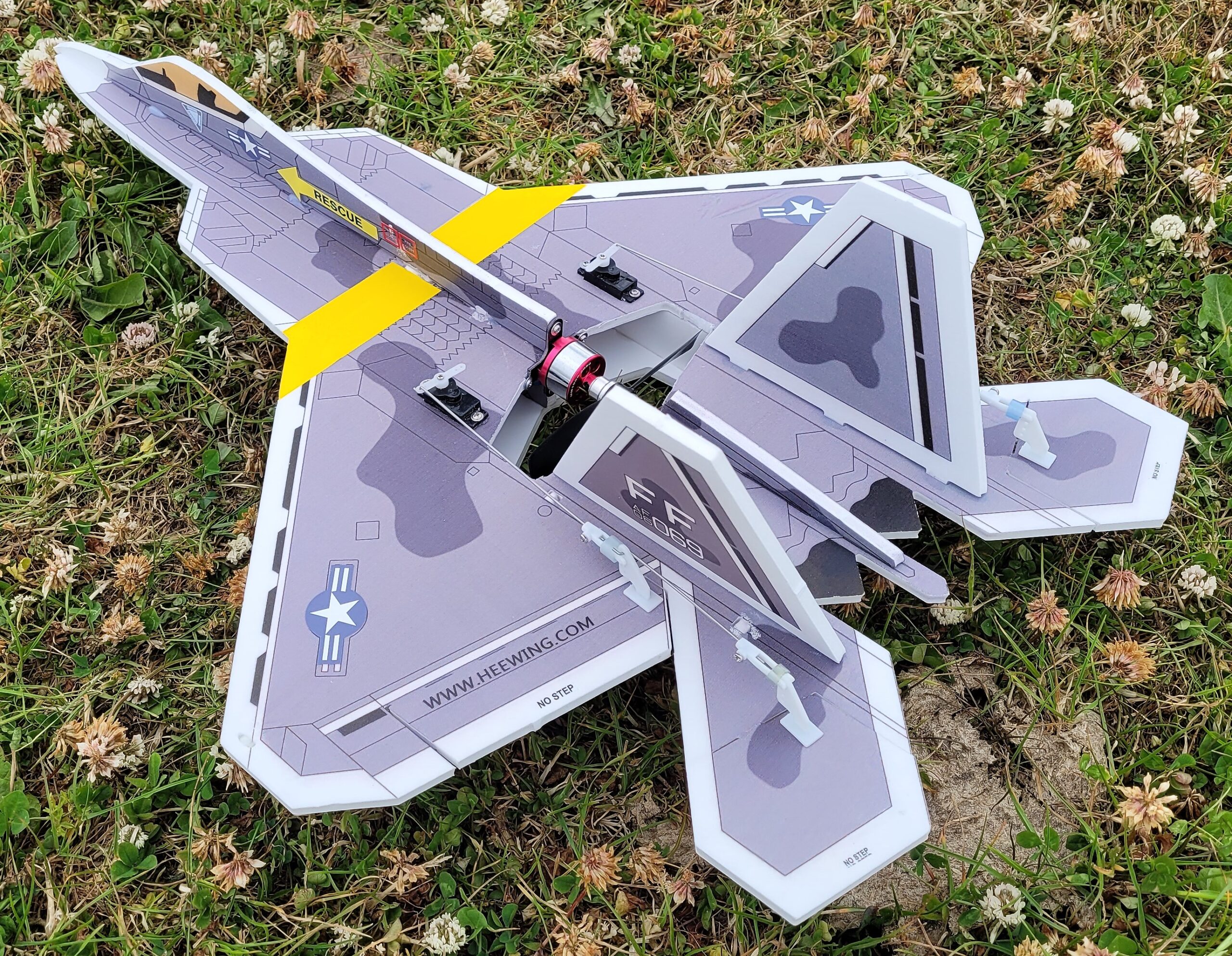 It was very windy on the day that Woody brought the Raptor to the field so he decided not to risk flying it but he has put it together well and I can't see any reason why it shouldn't fly ok. I'm slightly concerned that the RTF version which comes complete with the motor, esc, and servos also has a gyro and I'm wondering if it really needs one, time will tell.
We haven't seen much of Kryten lately but I did find a video he's made of an electric plane:
As Kryten has been so busy making that video he hasn't been able take any photos of flying models so here are some ground shots that Dougal took at the Horsham Airborne event: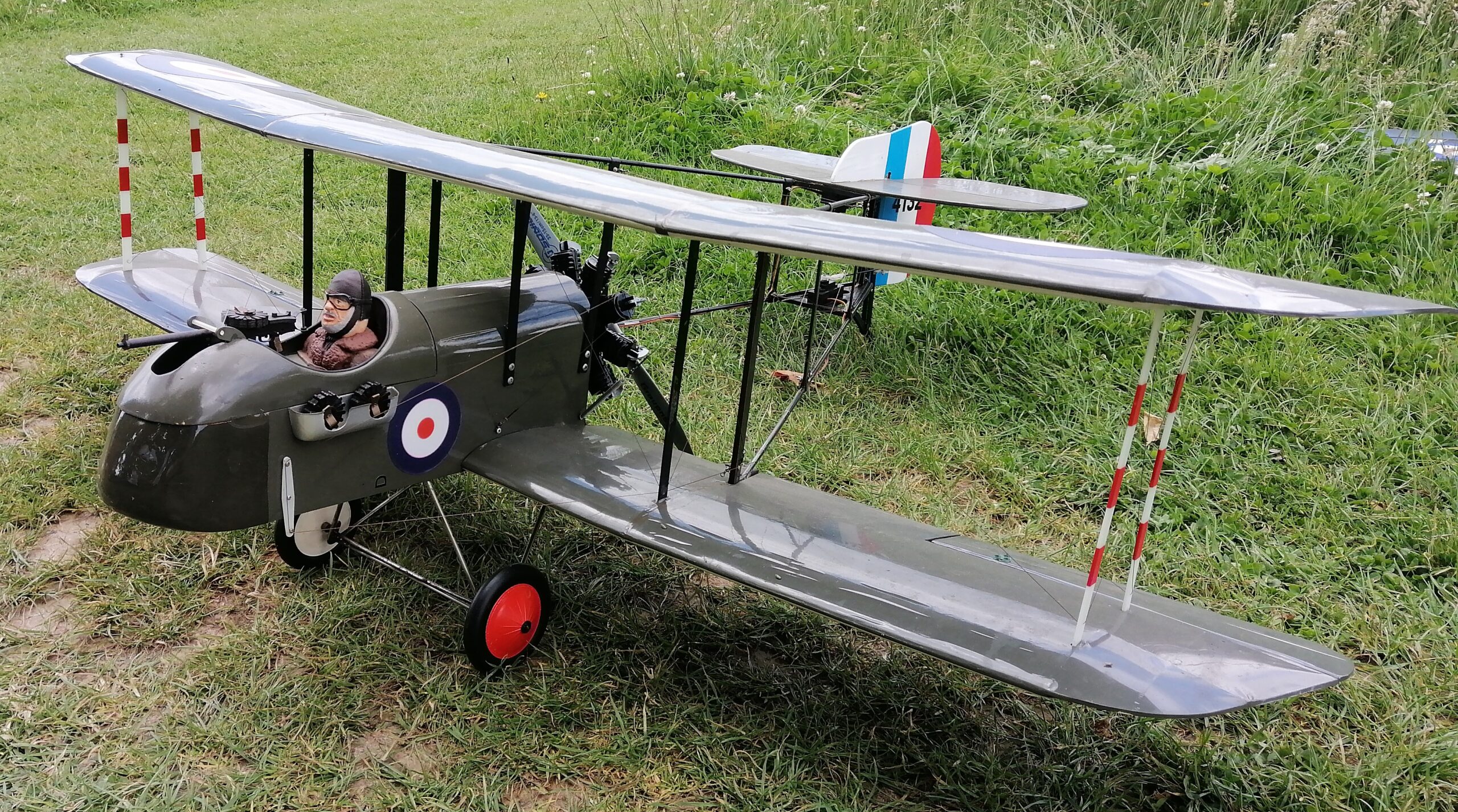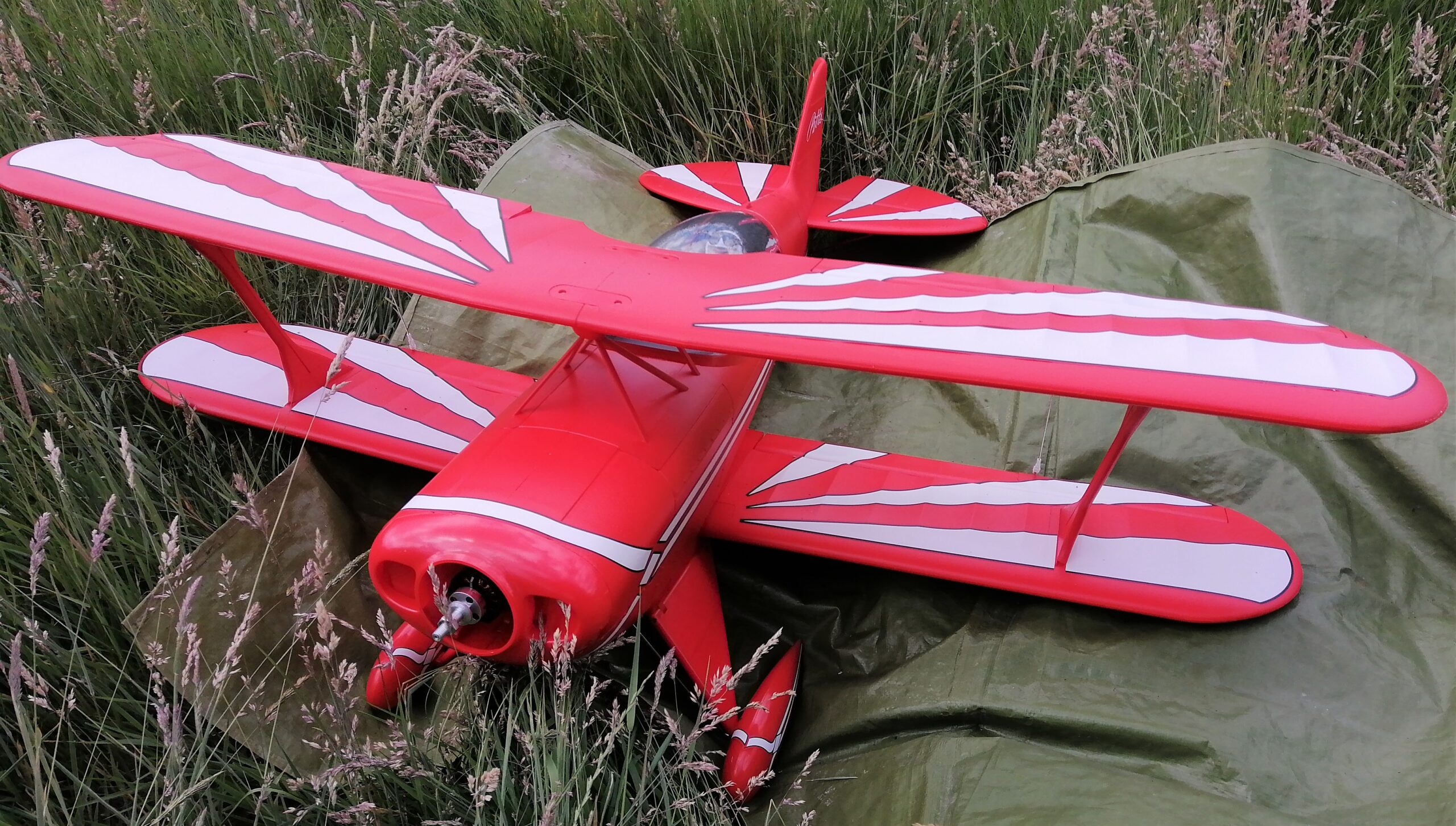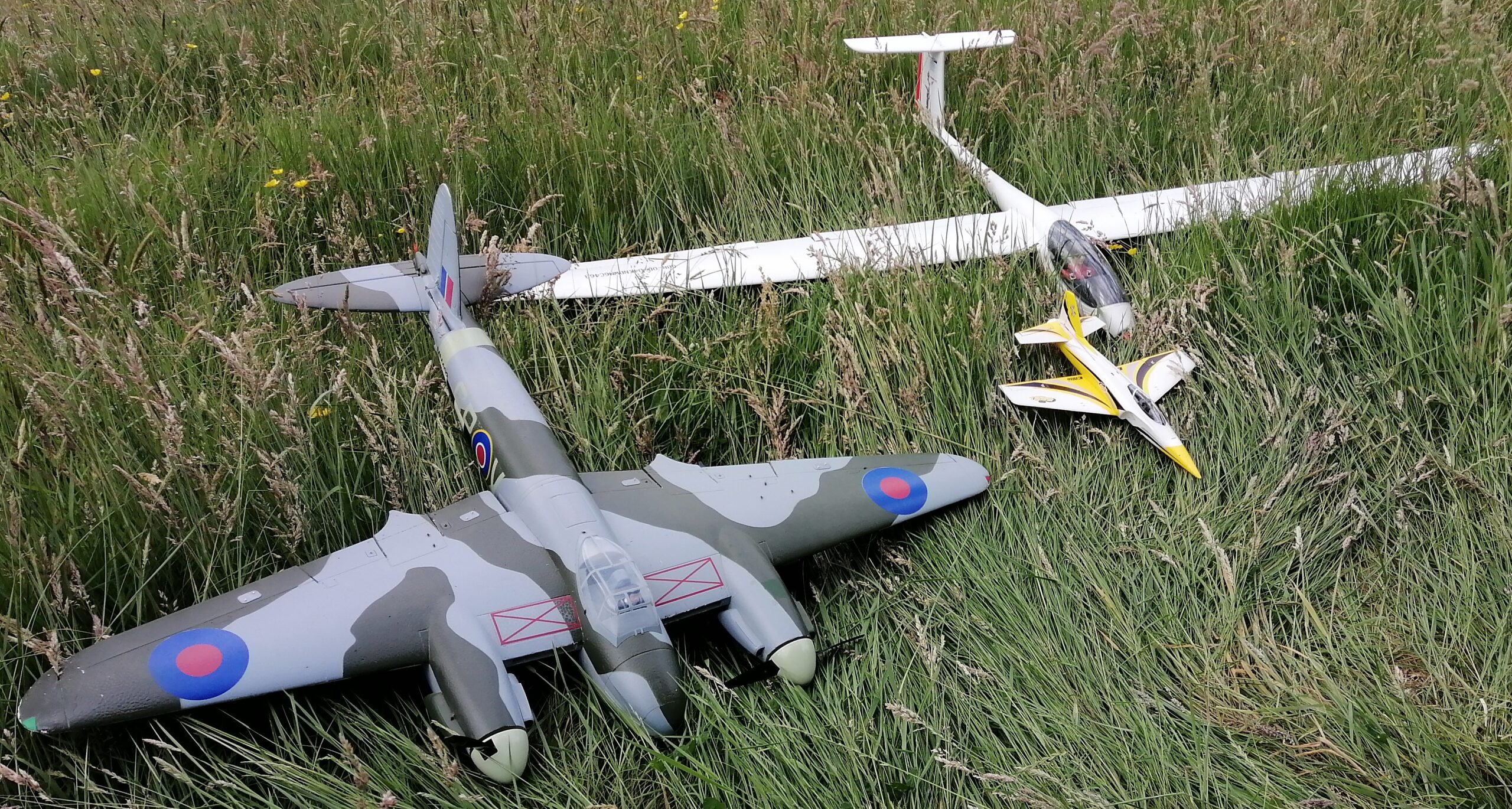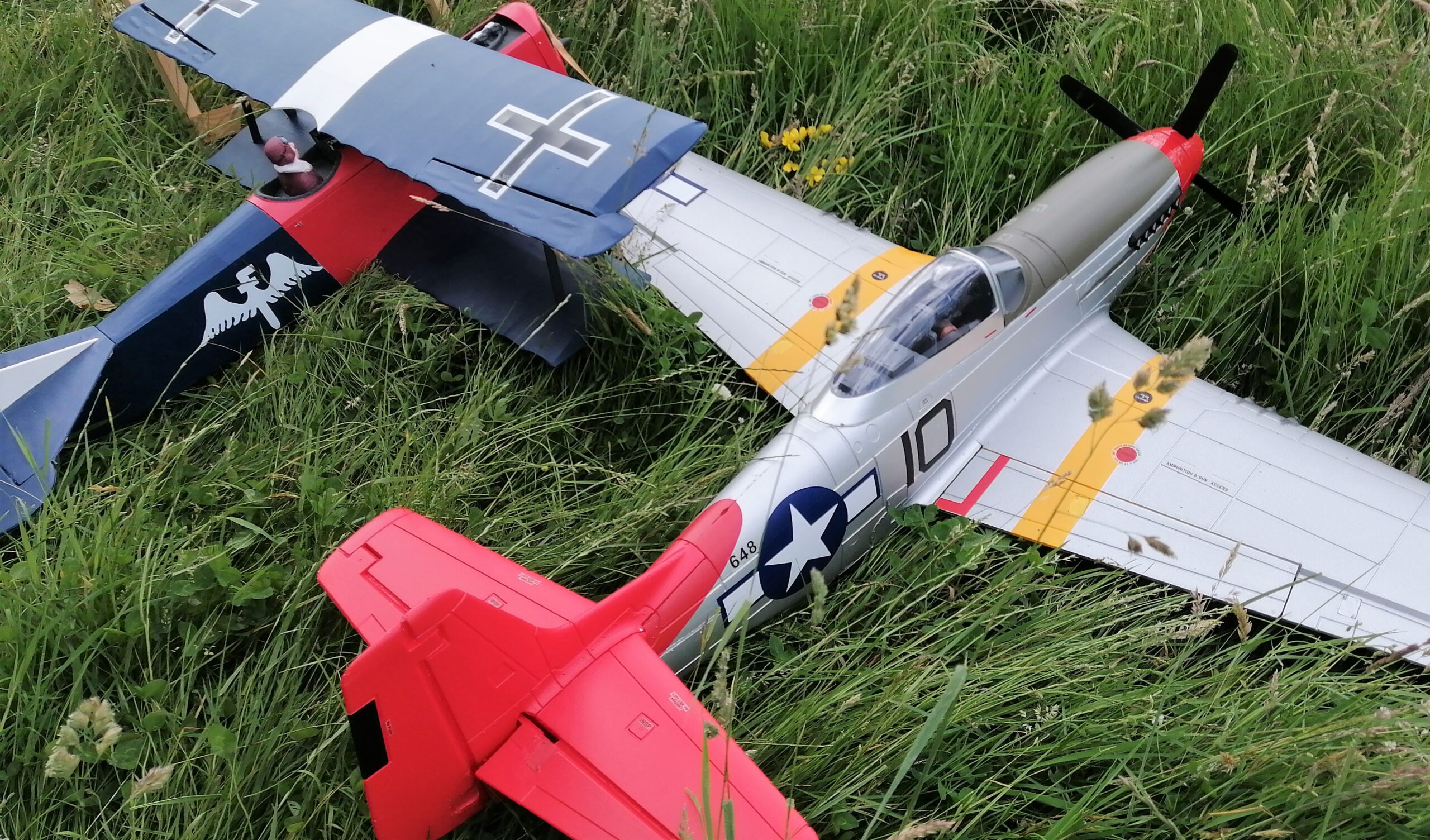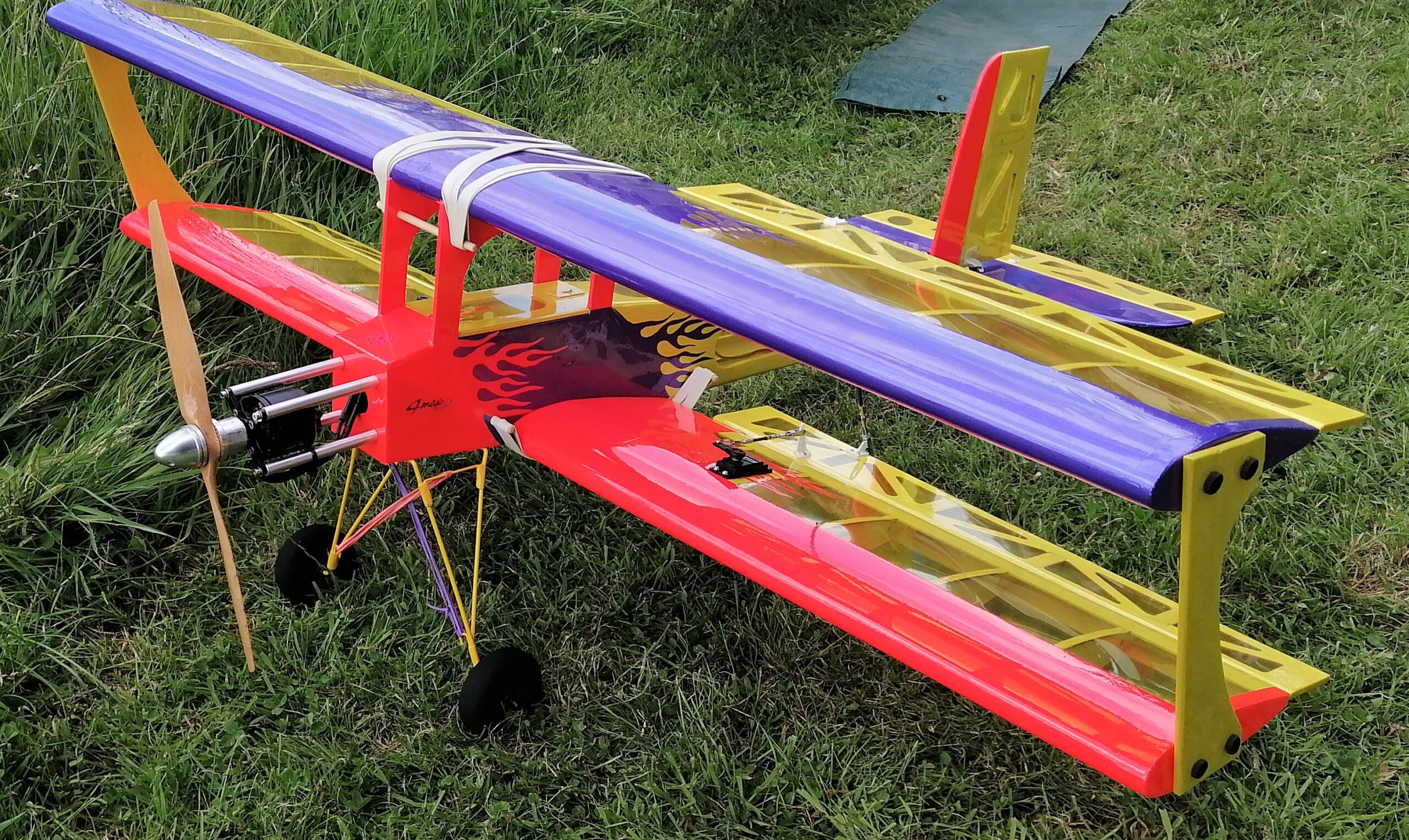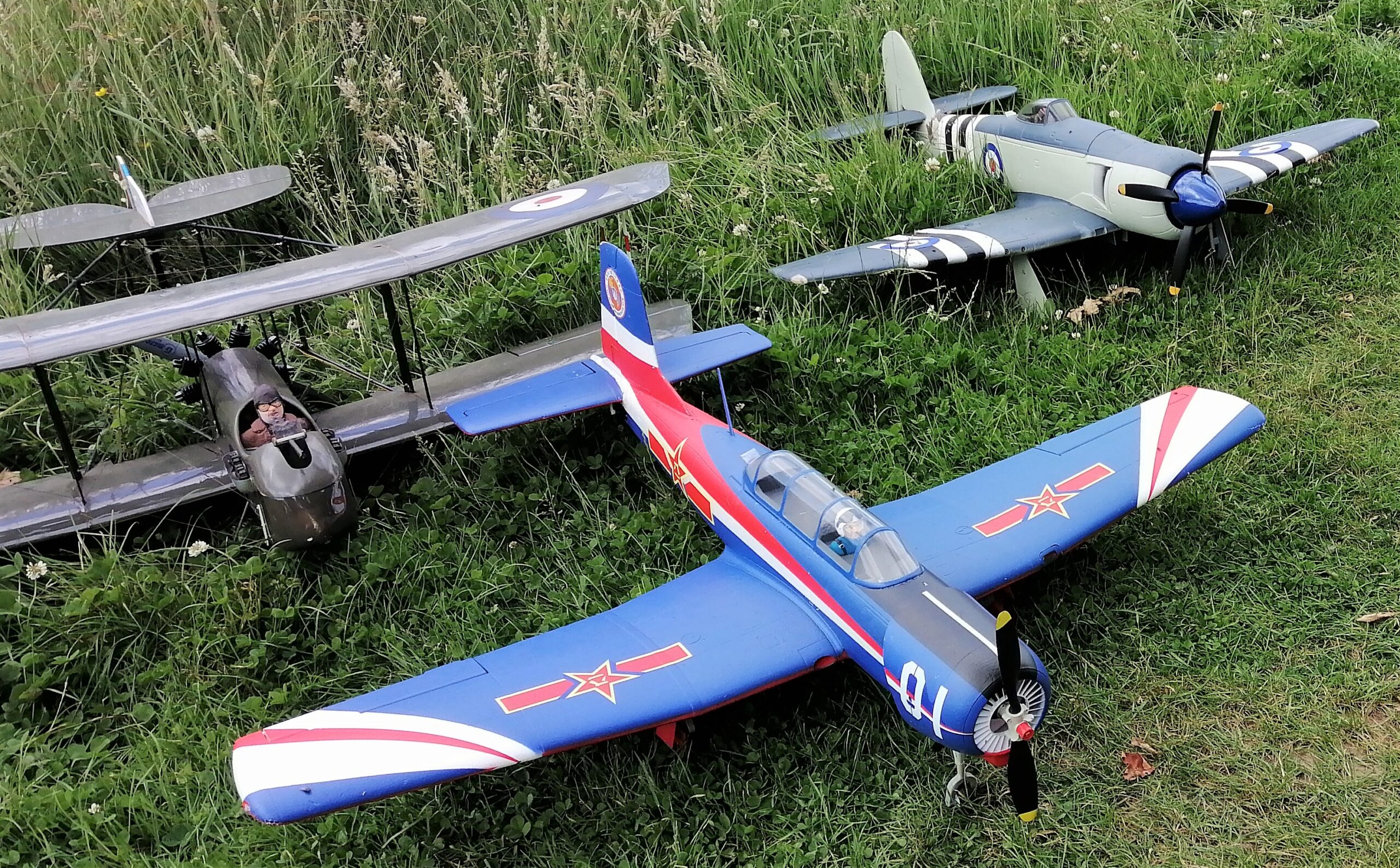 Video time now with content taken by Captain Slow, Dougal Entendre, and me. Please watch the video full screen, it's so much better with small models flying around.If the video won't play for you please click HERE
A chap at the airport is waiting for his flight but he's lost his watch, so he looks around for someone to ask the time. He spots another traveller with a couple of suitcases wearing a very flash looking watch, so he asks him for the time.
The man replies, "Sure. Which country?"
Our chap asks, "Which countries do you have?" to which the reply is "All countries!"
"Wow! That's a pretty cool watch you've got there."
"That's nothing. This watch also has a GPS, WhatsApp, e-mail and can even receive TV channels and display them on its miniature active colour pixel LCD screen!"
"That's incredible. I've lost my watch and could do with one like that… would you consider selling it?"
"Well, actually the novelty has worn off by now, so for £100 it's yours!"
The watch-less traveller can hardly whip out the cash fast enough, and hands over £100.
The seller takes off the watch and gives it to him. "Congratulations, here is your hi-tech watch." and then handing over the two suitcases over says, "And here are the batteries!"
Colin Cowplain