Wow, July was certainly a hot one with England seeing a record high temperature of 40.3C on 19th July. On 1st July the bullocks were still in the field and members were wearing jackets but by the 24th an aerial shot shows just how parched the general area had become.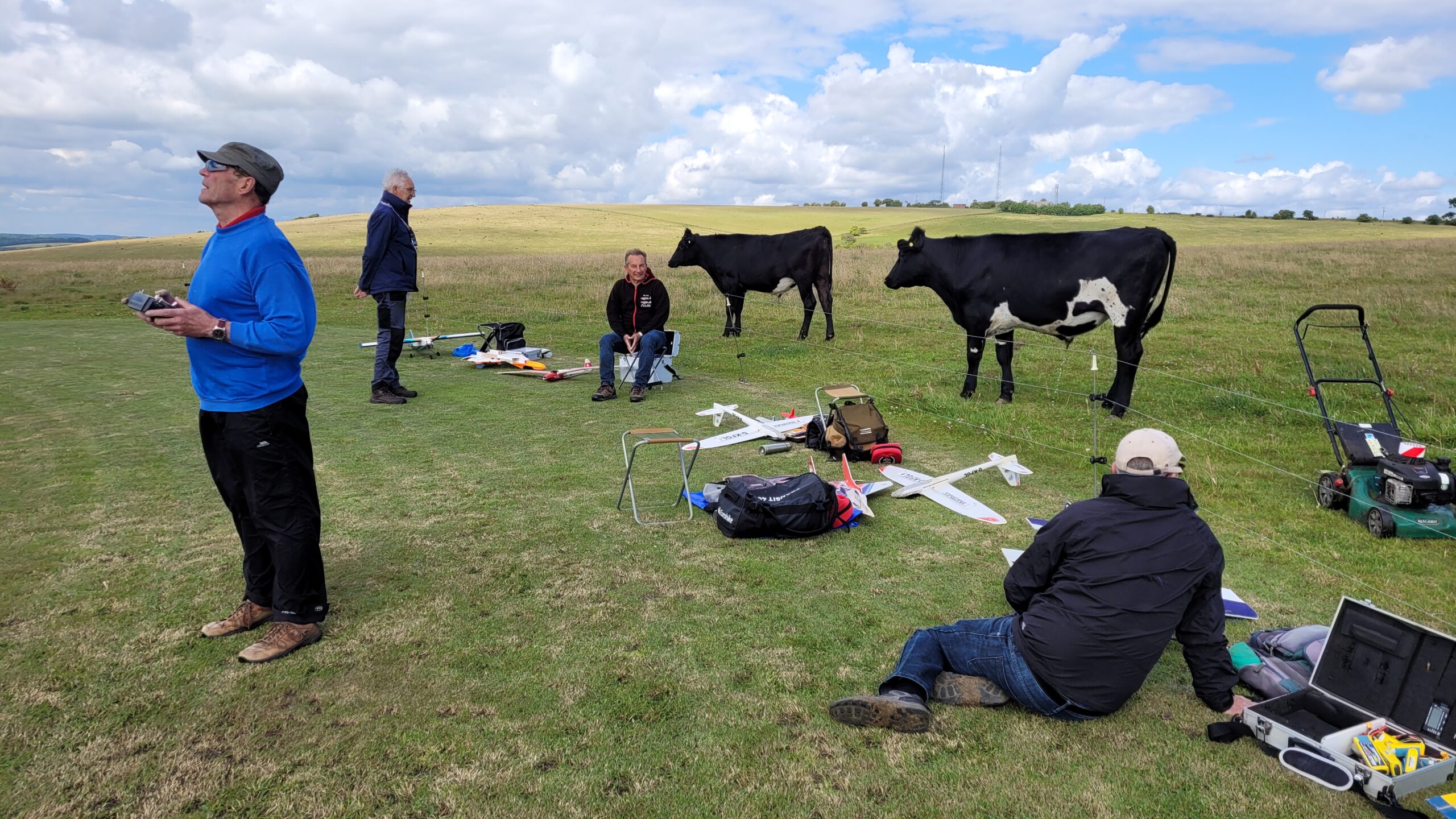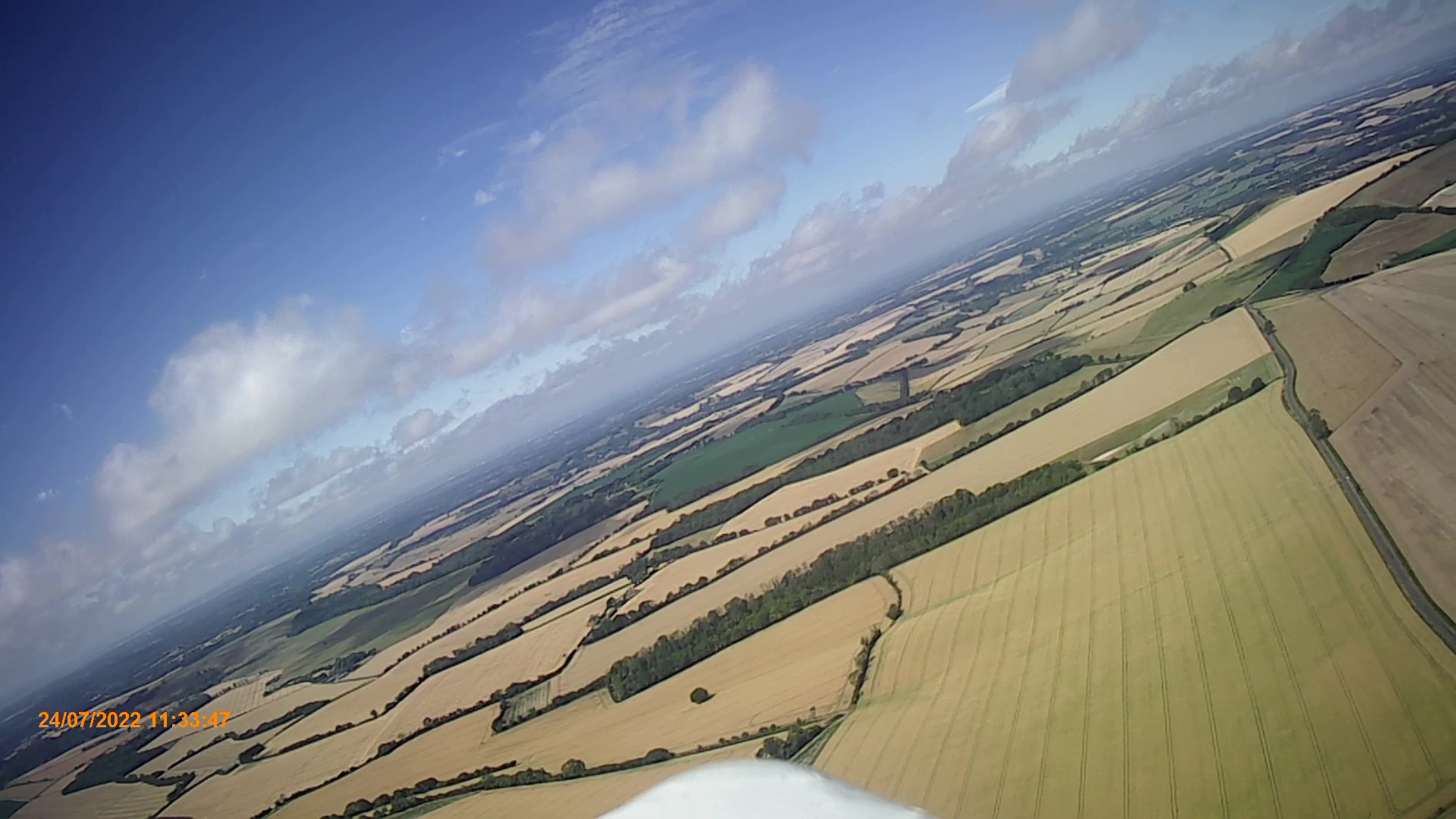 It made it quite difficult for FPV pilots to see the patch as the whole field had become the same colour. At least the heat meant that the bullocks were only in the field for a few days at the start of the month before being moved to the lower field where there's more shelter. They returned briefly later in the month for a few days but they weren't a problem to us.
Now a sobering warning to us all to take care with our battery charging. For some time 1066 has been using a very professional looking set-up using three chargers to charge multiple packs with no problems but in July one of the packs being charged caught fire.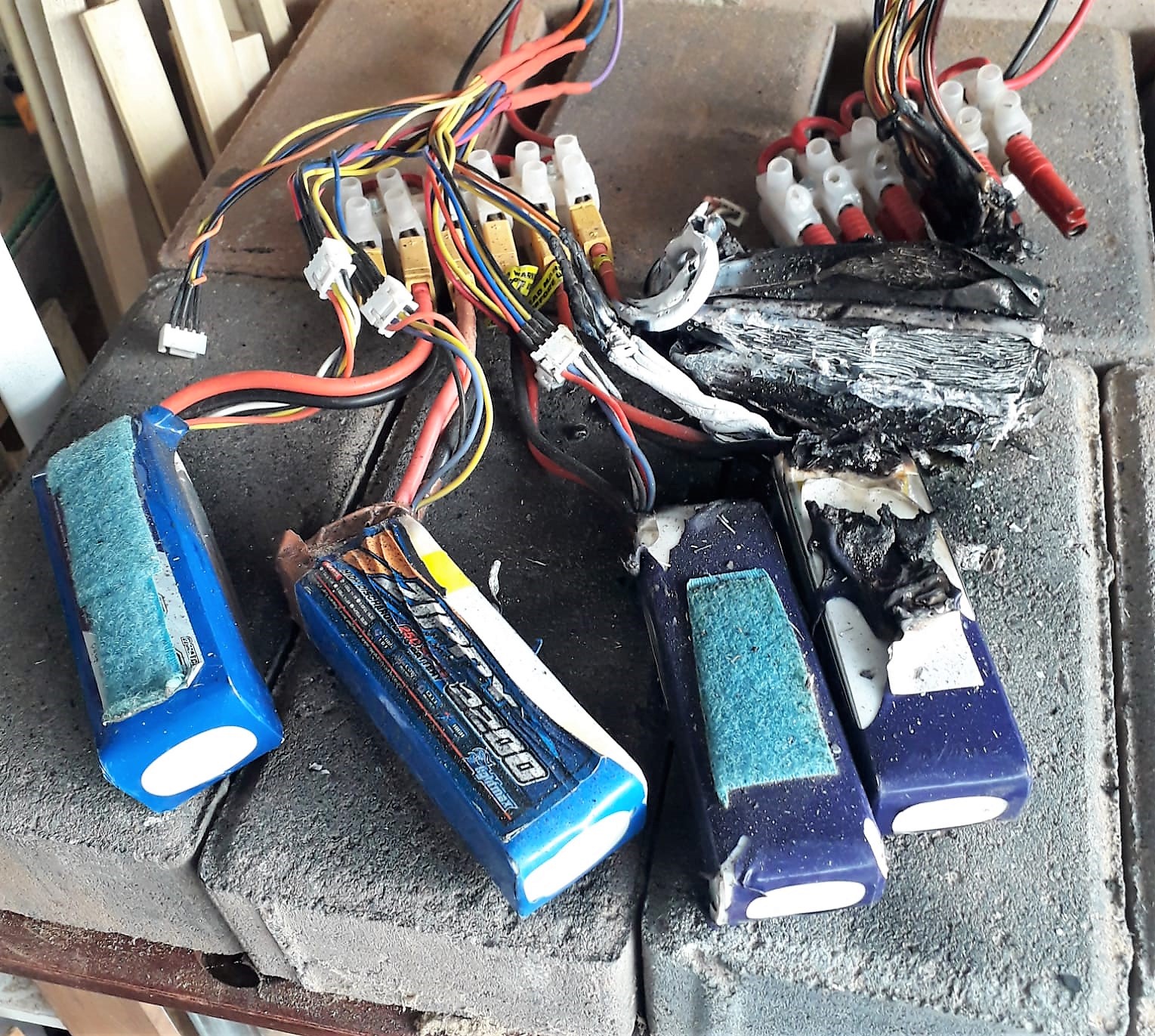 The fire spread to the other packs and destroyed several batteries along with the wiring and connectors. The chargers were all smoke damaged but seem to still be working ok.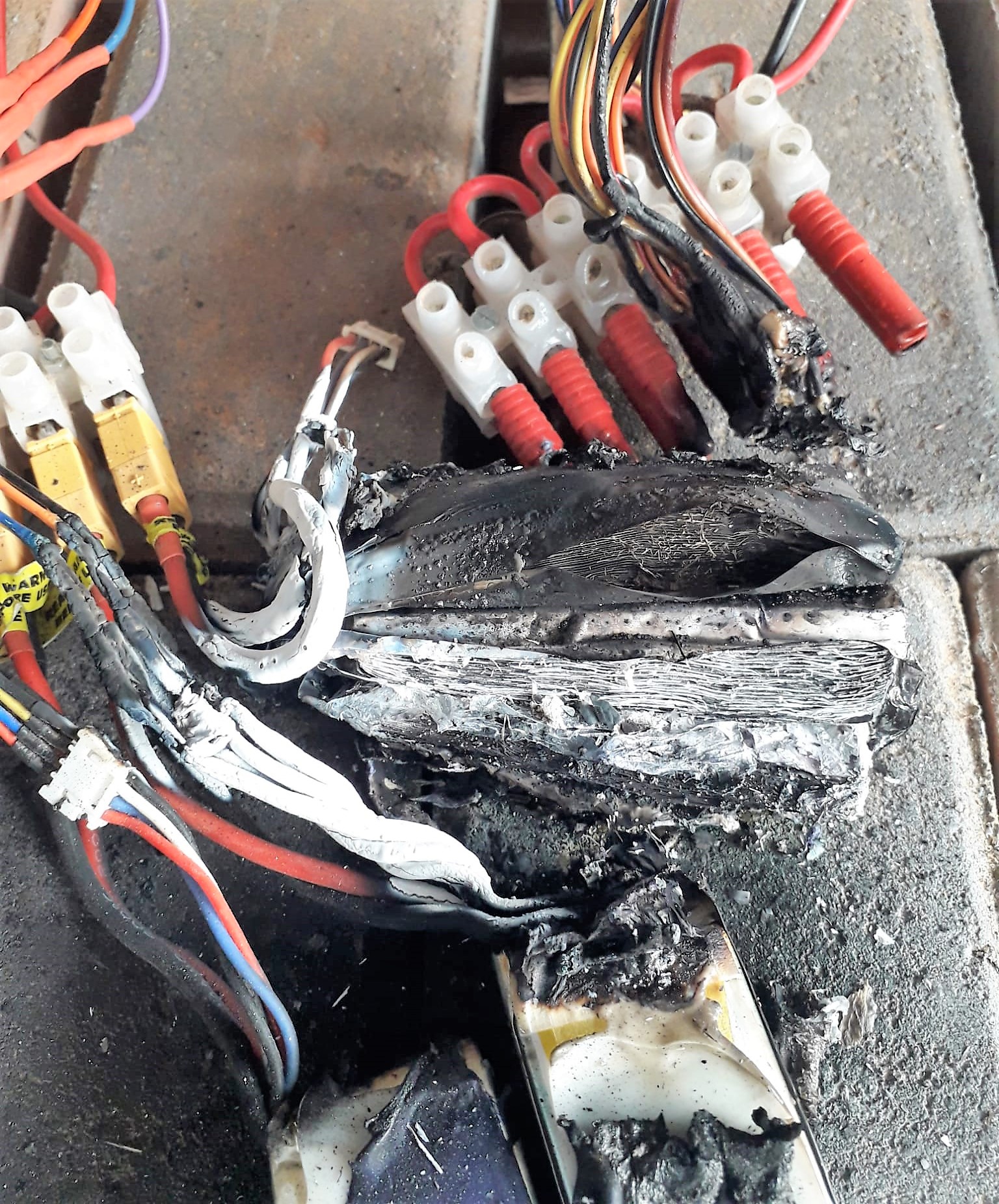 1066 was charging packs in parallel which some people aren't keen on but that doesn't seem to have been a factor in this case. The packs were all quite old and 1066 thinks one of them failed and caught fire. Very sensibly he had all the packs on a layer of bricks so the fire didn't spread any further and this highlights the need to think about our own set-ups.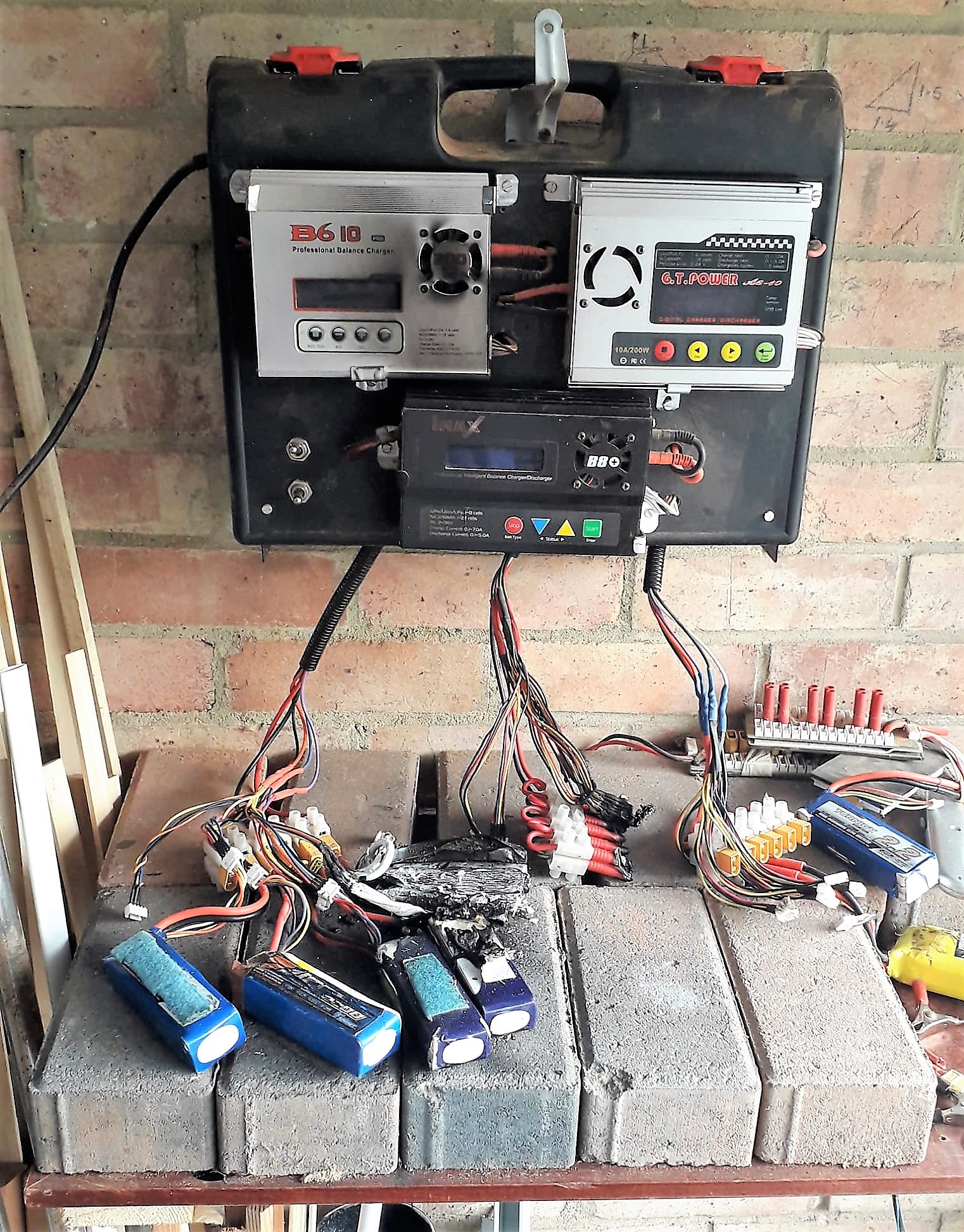 1066 has now made some changes so only one pack would be destroyed in a repeat event.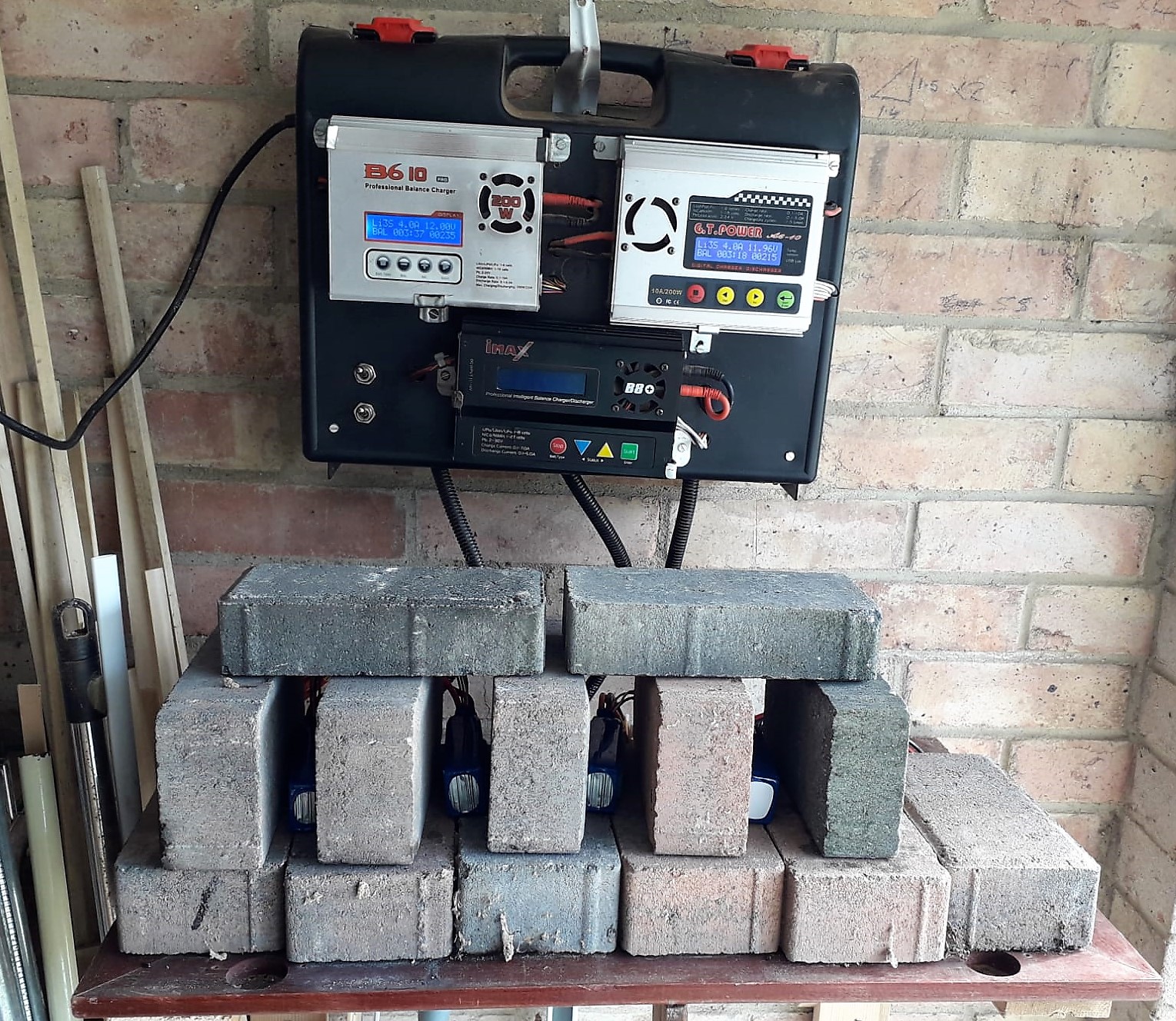 What would happen if one of your lipos caught fire whilst charging, could the fire spread? At the very least the packs should be a non-flammable container to stop any fire spreading.
Earlier this month Captain Slow circulated the offer of some free models and modelling gear that belonged to a Chichester club member who had sadly passed away and young Leo went along and collected some of the models. Two are vintage style and appear to have been IC powered originally but Leo has fitted them out with electric power.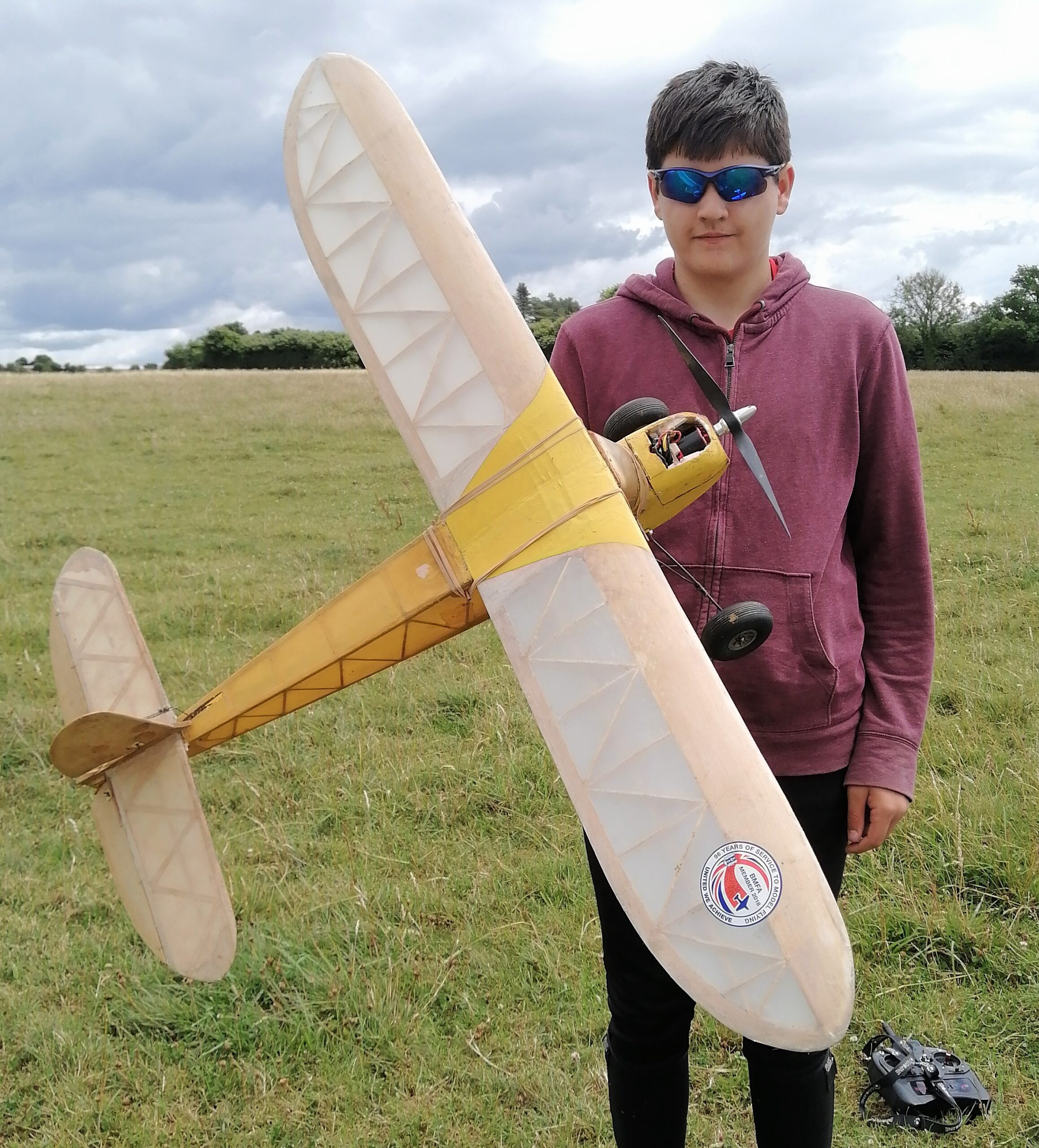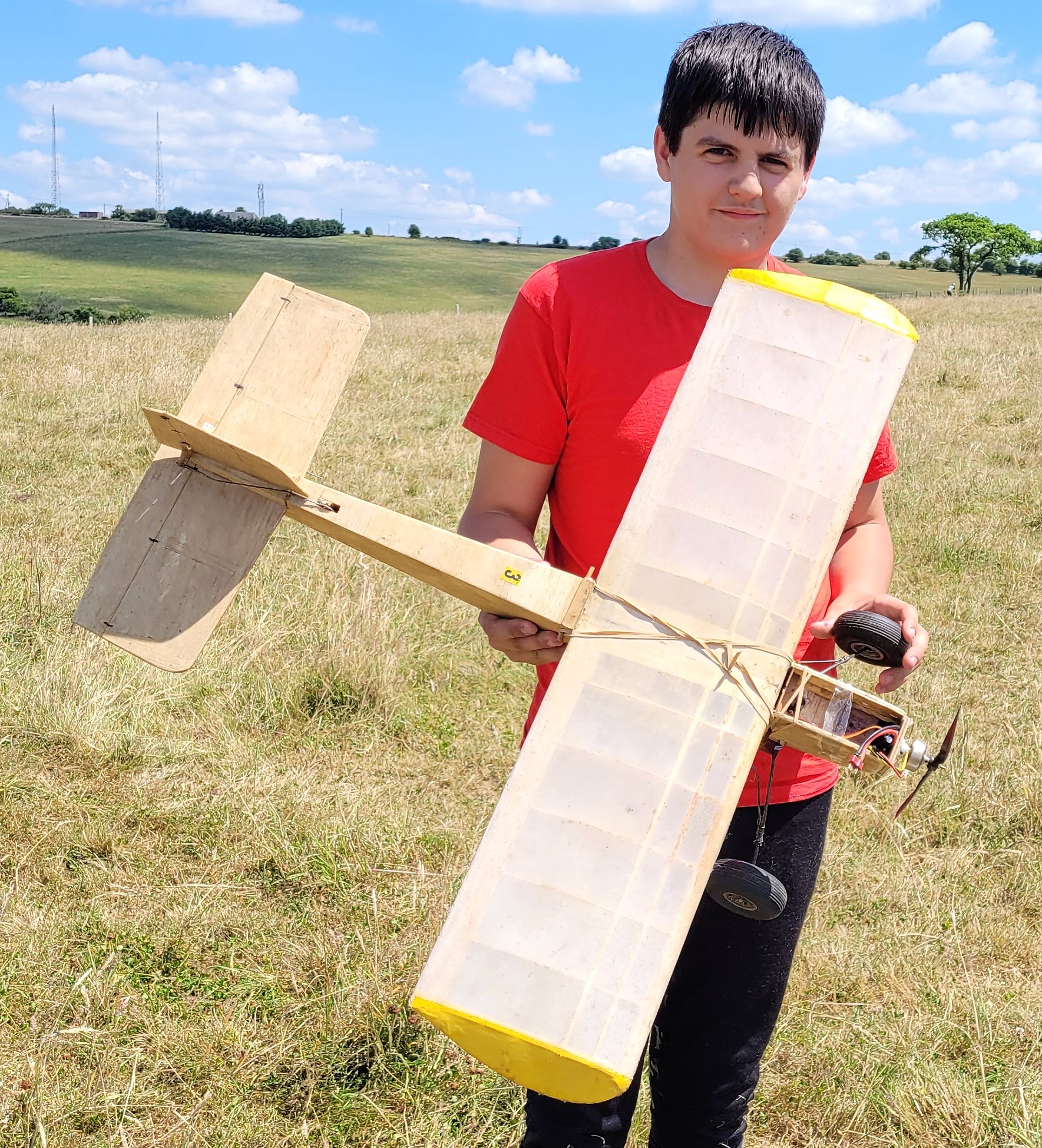 I have no details of the models but in this month's video you'll see one of them flying well.
In the May Patch News I included some photos of a couple of models Chas had bought, a Lockheed T-33 Shooting Star and a P-47 Thunderbolt. Neither of the models had flown at the time and I don't know about the T-33 but the Thunderbolt has now had several flights.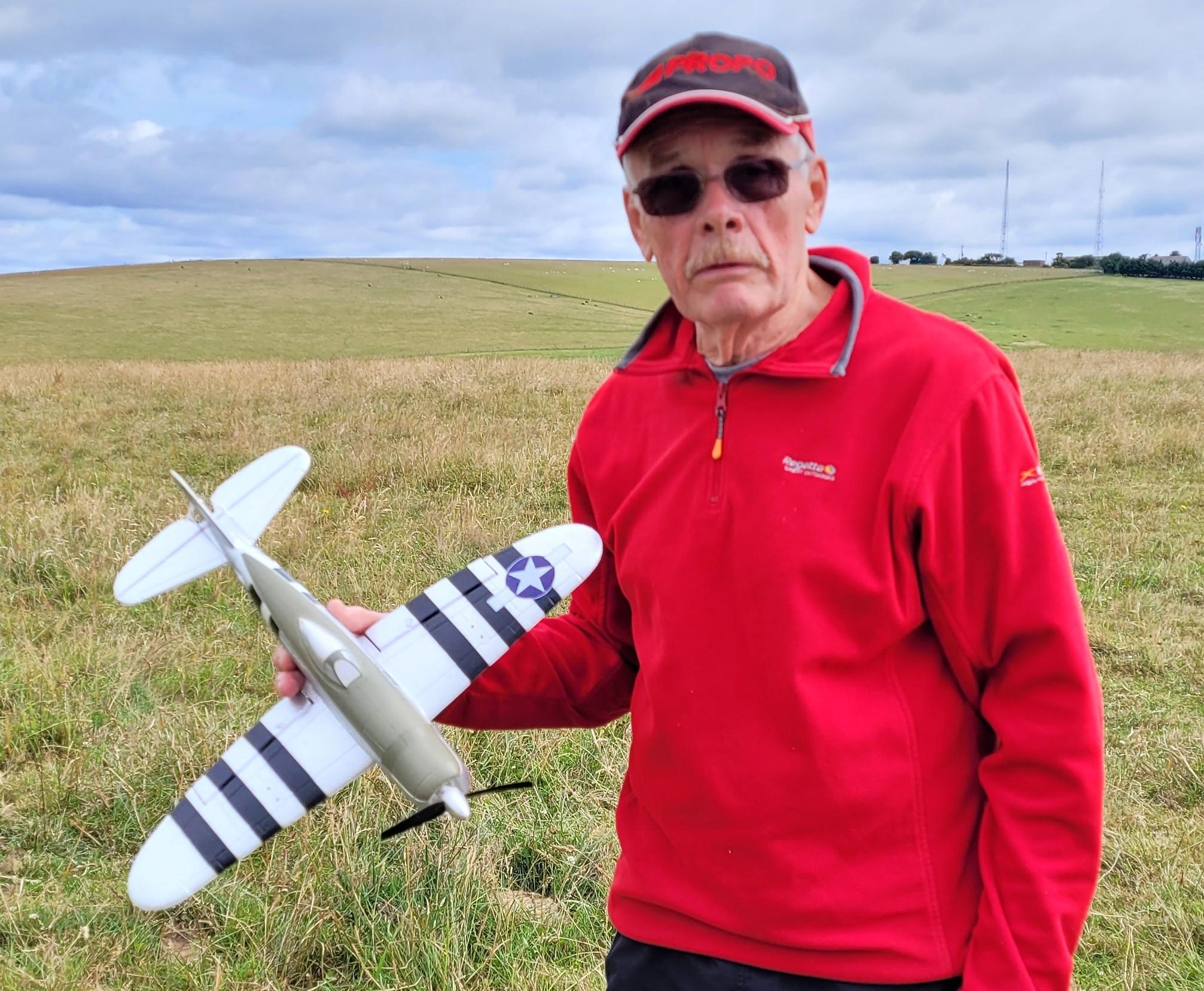 Like the other tiny models that some of us are flying the Thunderbolt is made by Eachine but at 500mm span it's quite a bit bigger than the others in the range. It's the Razorback version of the Thunderbolt with the 'bubbletop' canopy and although I have no idea how true to scale it is I think it looks right and it's certainly a pretty little model.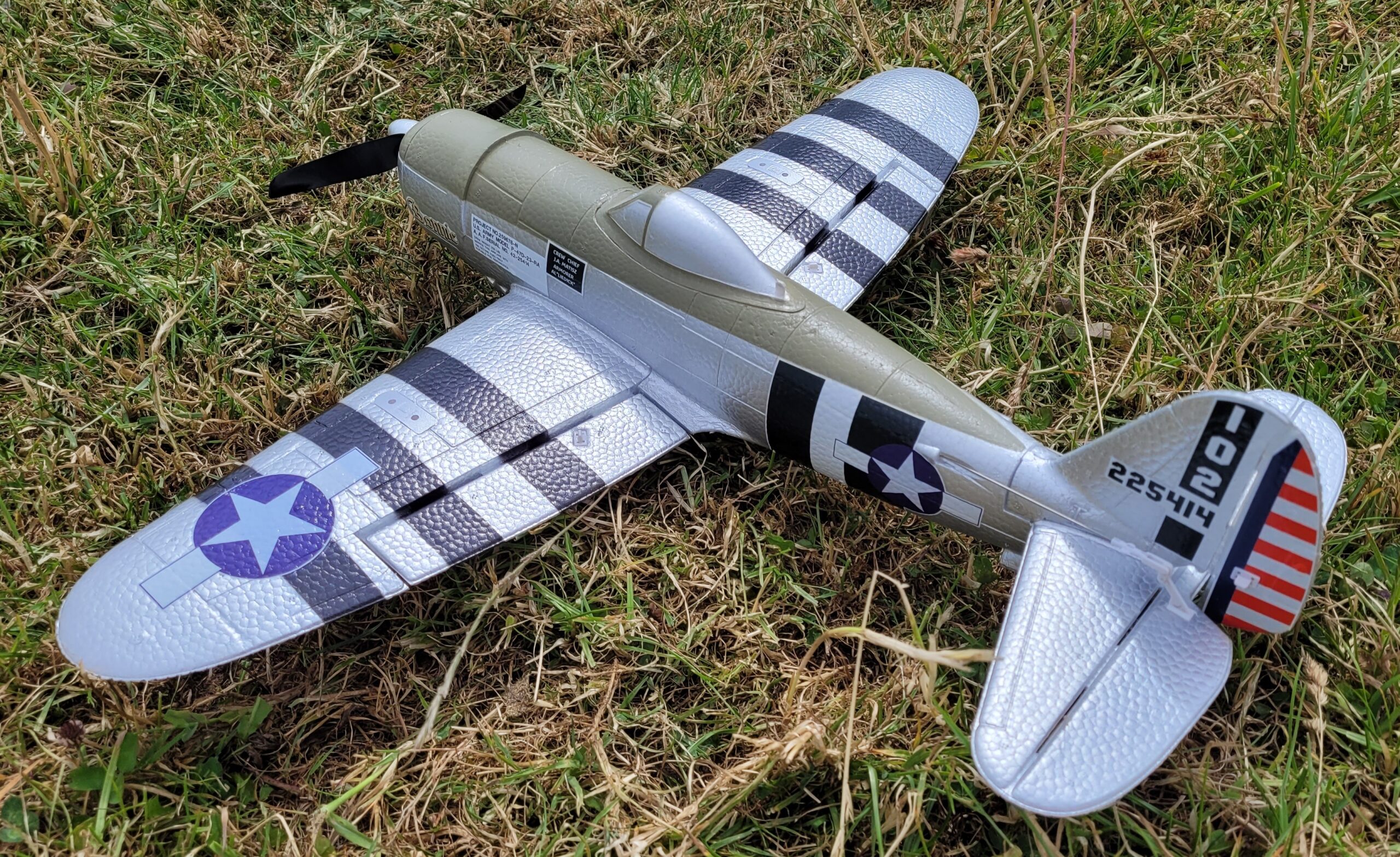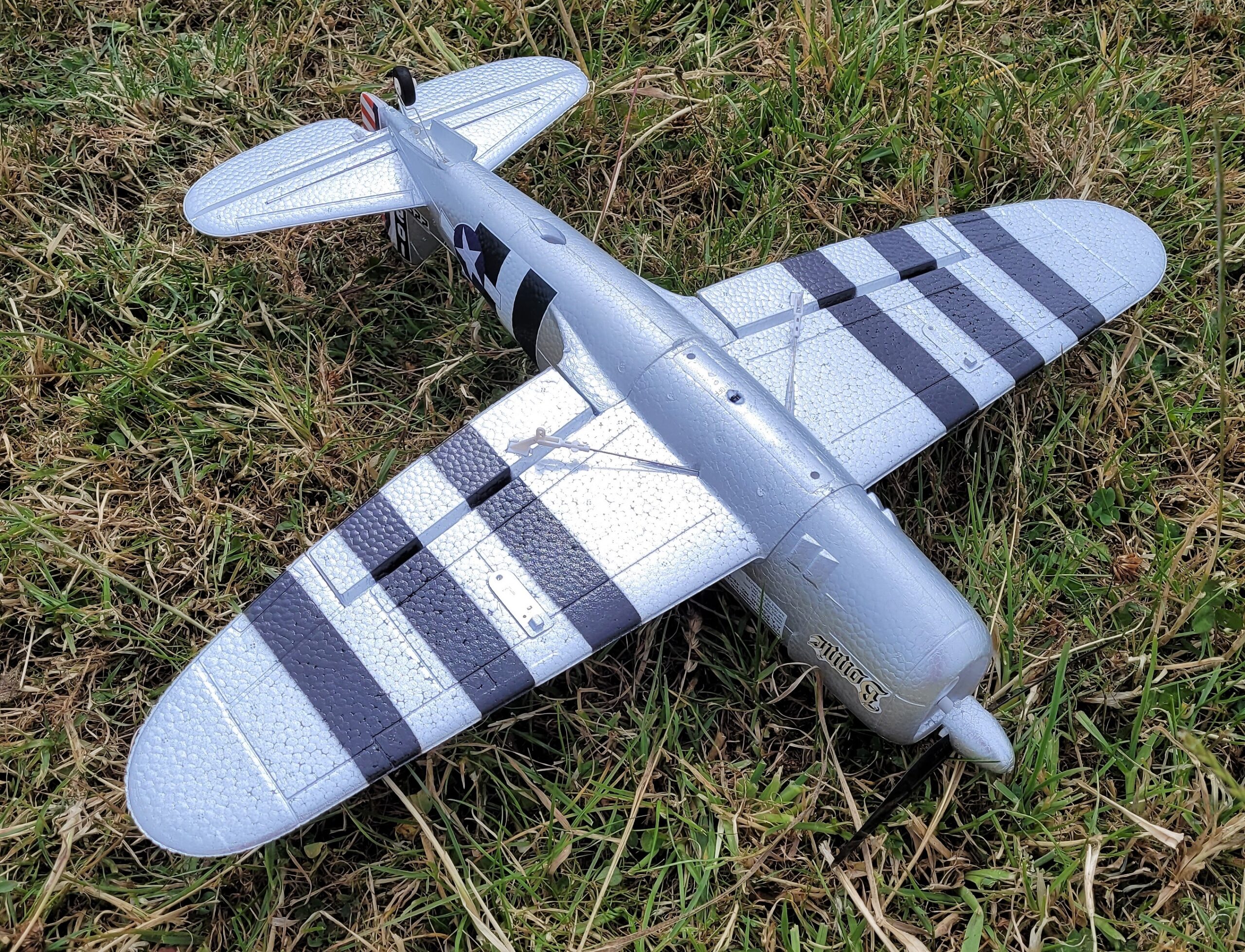 Like the other Eachine models it comes already fitted with the receiver, servos, and a built-in gyro but the transmitter that it's supplied with is a little different to the others and apparently it uses a different protocol. However Chas has now managed to successfully link the P-47 to his RadioMaster transmitter so doesn't have to use the Eachine one.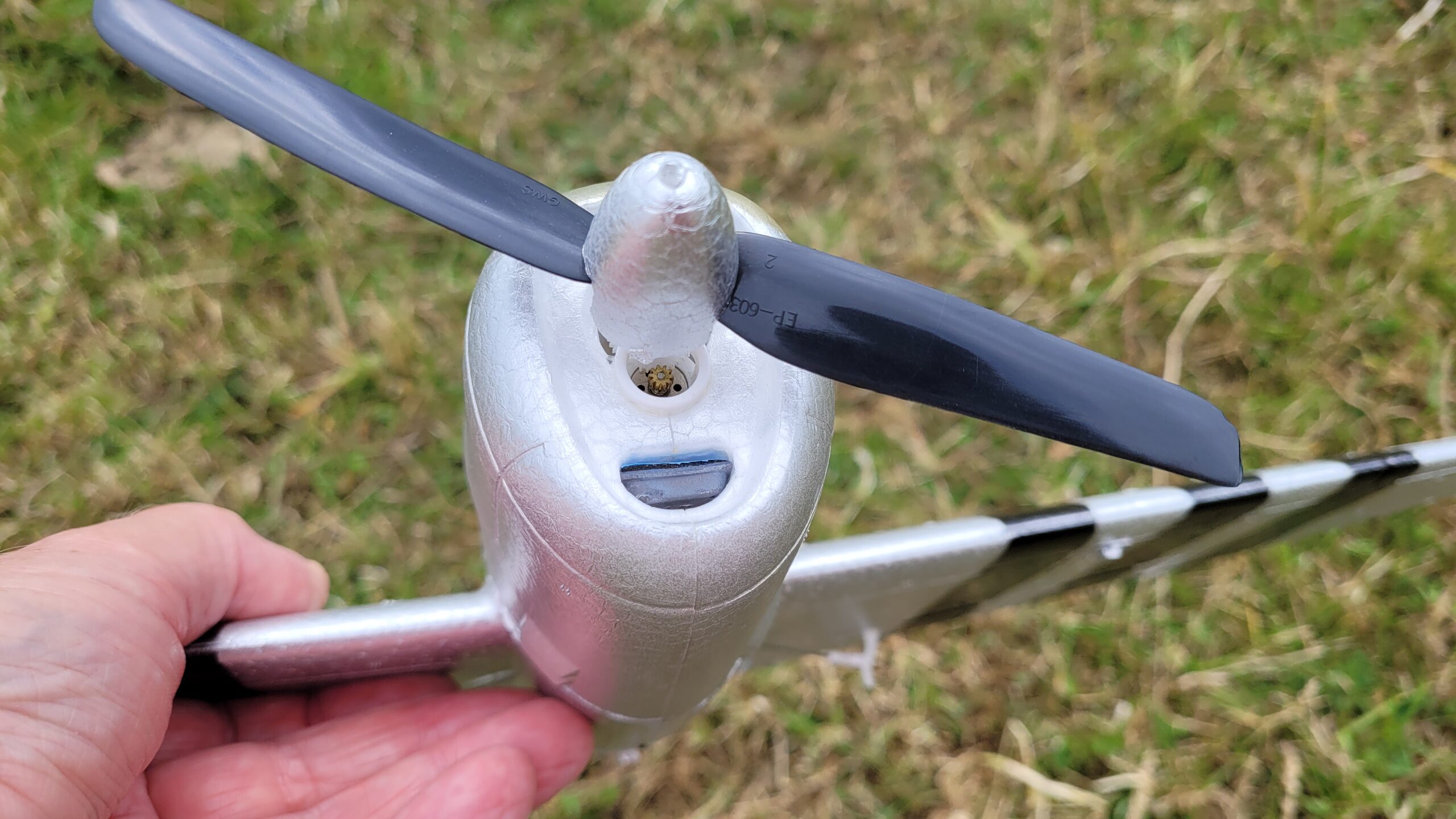 Chas thinks the P-47 uses the same motor/gearbox combination as the smaller models and before flying had read that people were saying the Thunderbolt was underpowered. This turned out to be correct, the little Thunderbolt flew nicely and it looked good in the air but it definitely needed a bit more power. It was great for just stooging around but I don't think there was enough power for aerobatics. Chas was talking about swapping the motor out for something more powerful so watch this space for an update. Meanwhile watch the video where you'll see that it flies well enough with the supplied set-up, just a little slow.
After many months of hard, intensive work Captain Slow has finally completed his Sea Vixen, a model that usually takes others a couple of weeks at the most to put together!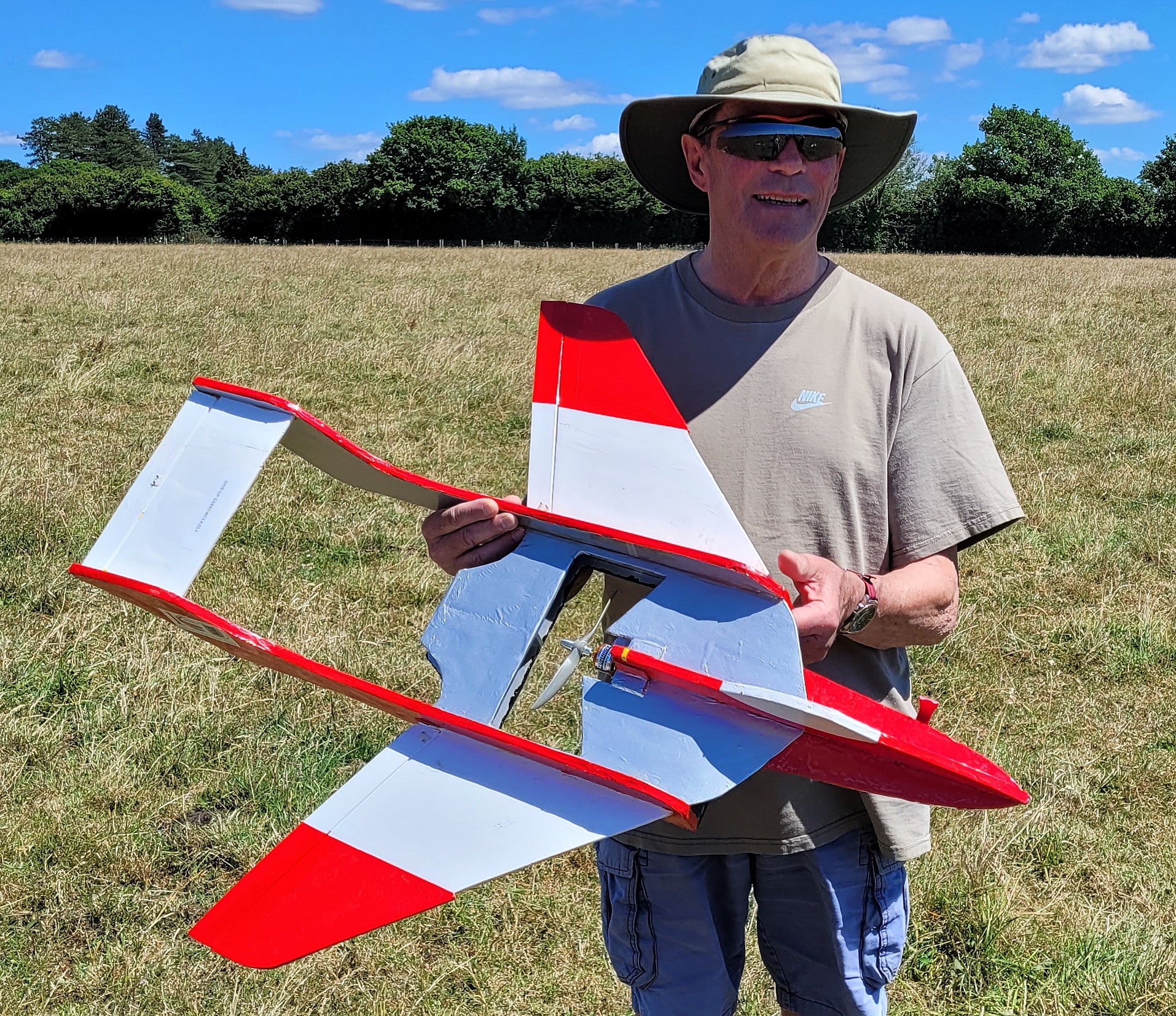 Captain Slow built it using Dwayne Pipe's plans and it was worth the wait, after all those months of foamboard cutting and then covering the model it finally took to the air.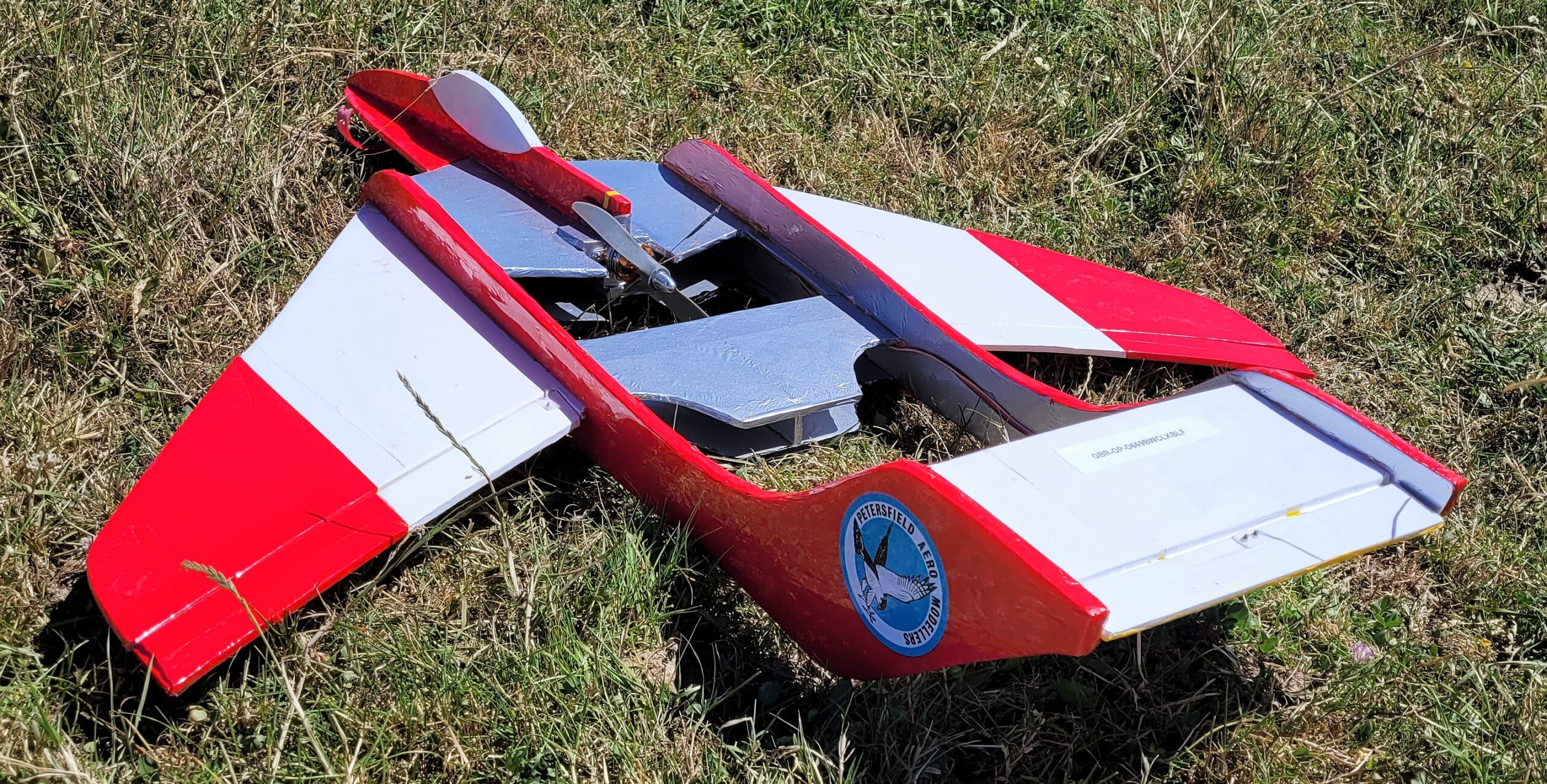 There was quite a lot of debate about the correct C of G position with 'the further forward the better' option being tried first. That turned out to be totally wrong and after a couple of false starts and twice moving the C of G rearwards the Sea Vixen eventually got airborne.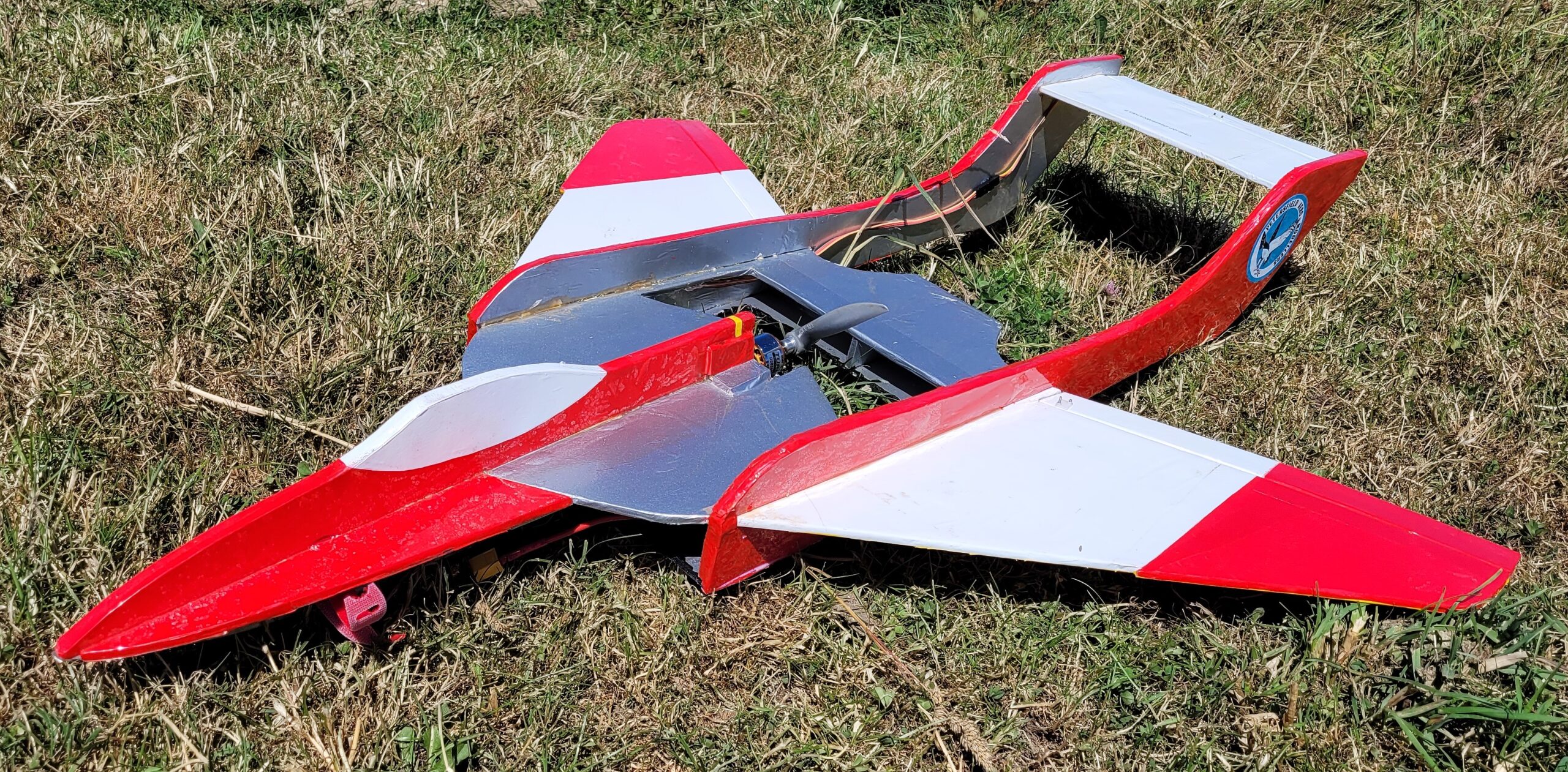 Captain Slow did a few tweaks to the expo and rates before he was happy with the way it flew and the C of G could probably still be moved rearward a little but it now flies well.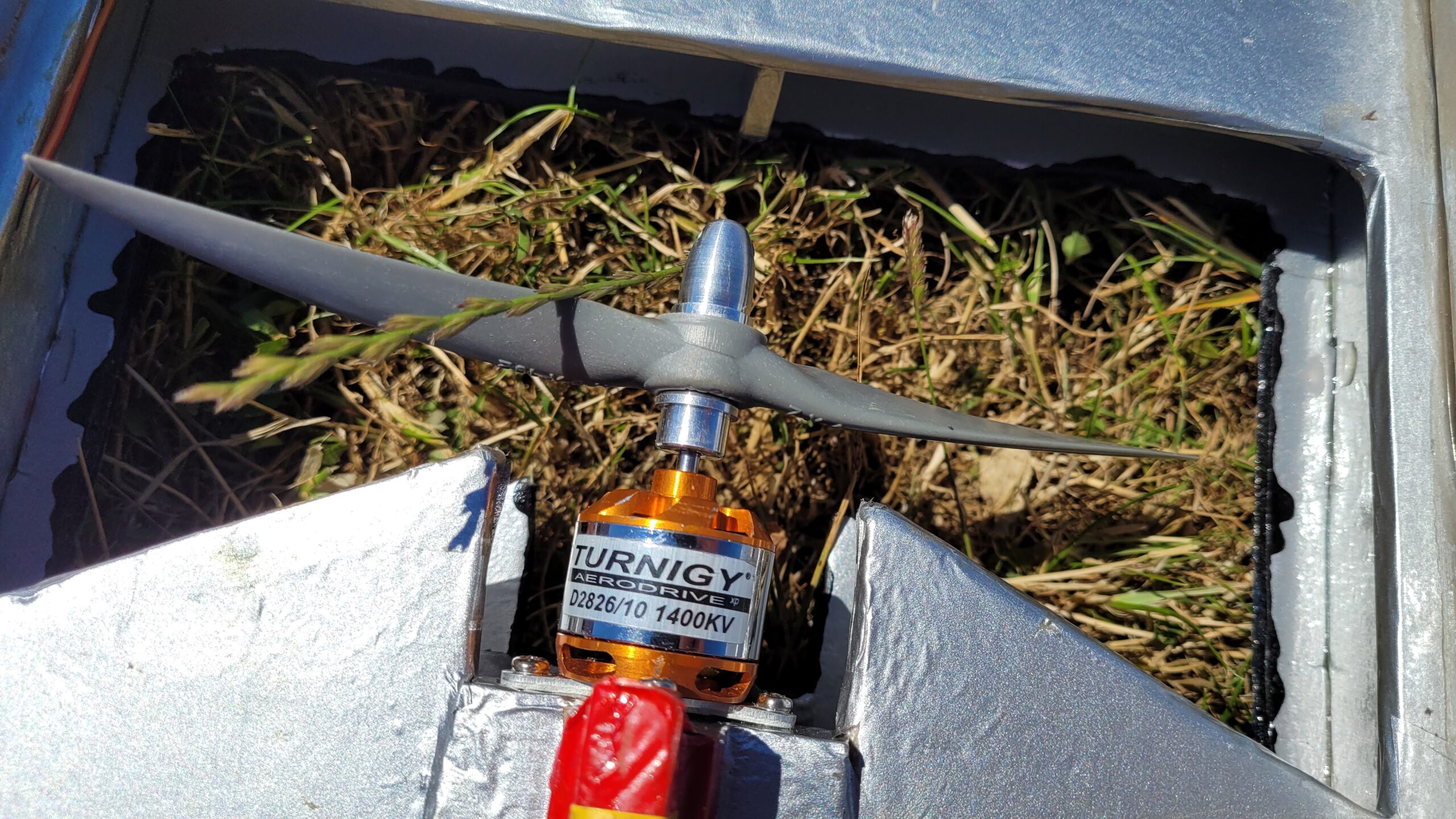 He has fitted it with a Turnigy 2826/10 1400KV motor and is talking about changing it to a higher KV motor to give the model a bit more speed. Captain Slow, more speed? Surely I've got that wrong! It's in the video so take a look and see what you think.
Under the watchful eye of Dougal Entendre new member Geoff Hill has been flying an electric glider that was fitted with an old brushed motor which overheated badly. So he took the decision to bring the system right up to date and fitted a more powerful brushless motor on the front, out in the fresh air where cooling wouldn't be a problem.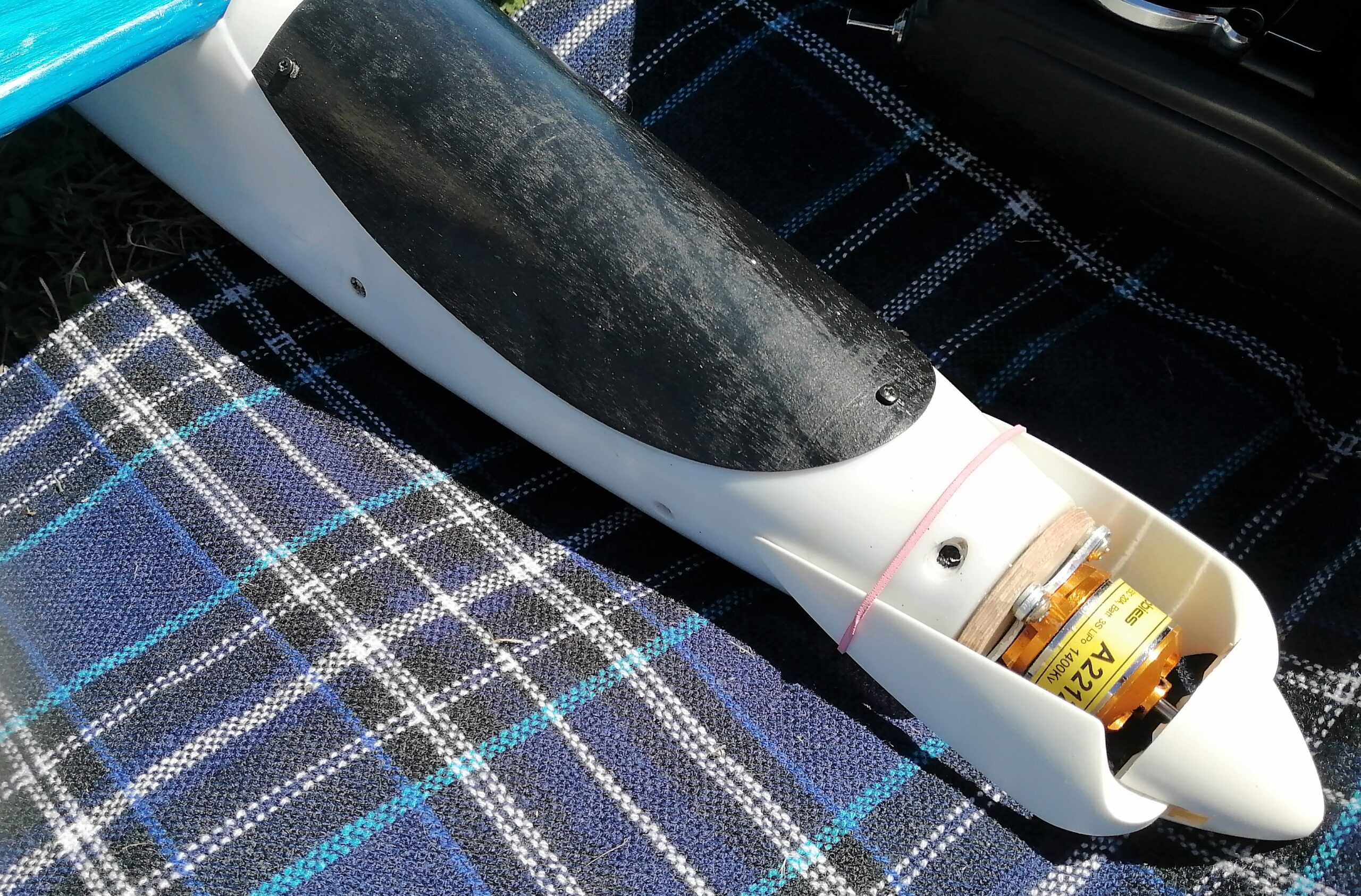 Much better, the glider flew really well…right up to the moment that the new motor tore itself off the front! If anyone is desperate for a hardly used 2112 brushless motor they should start combing the valley as despite lots of searching it hasn't yet been found!
Dougal himself also had a loss from the front end of a model in July but in his case it was just the propeller from his Mini Blitz. The loss was rather unusual as, whilst it's not unknown for the prop driver complete with prop to detach, on Dougal's plane the prop hub broke in half so the whole prop flew off but the driver and the nut stayed in place.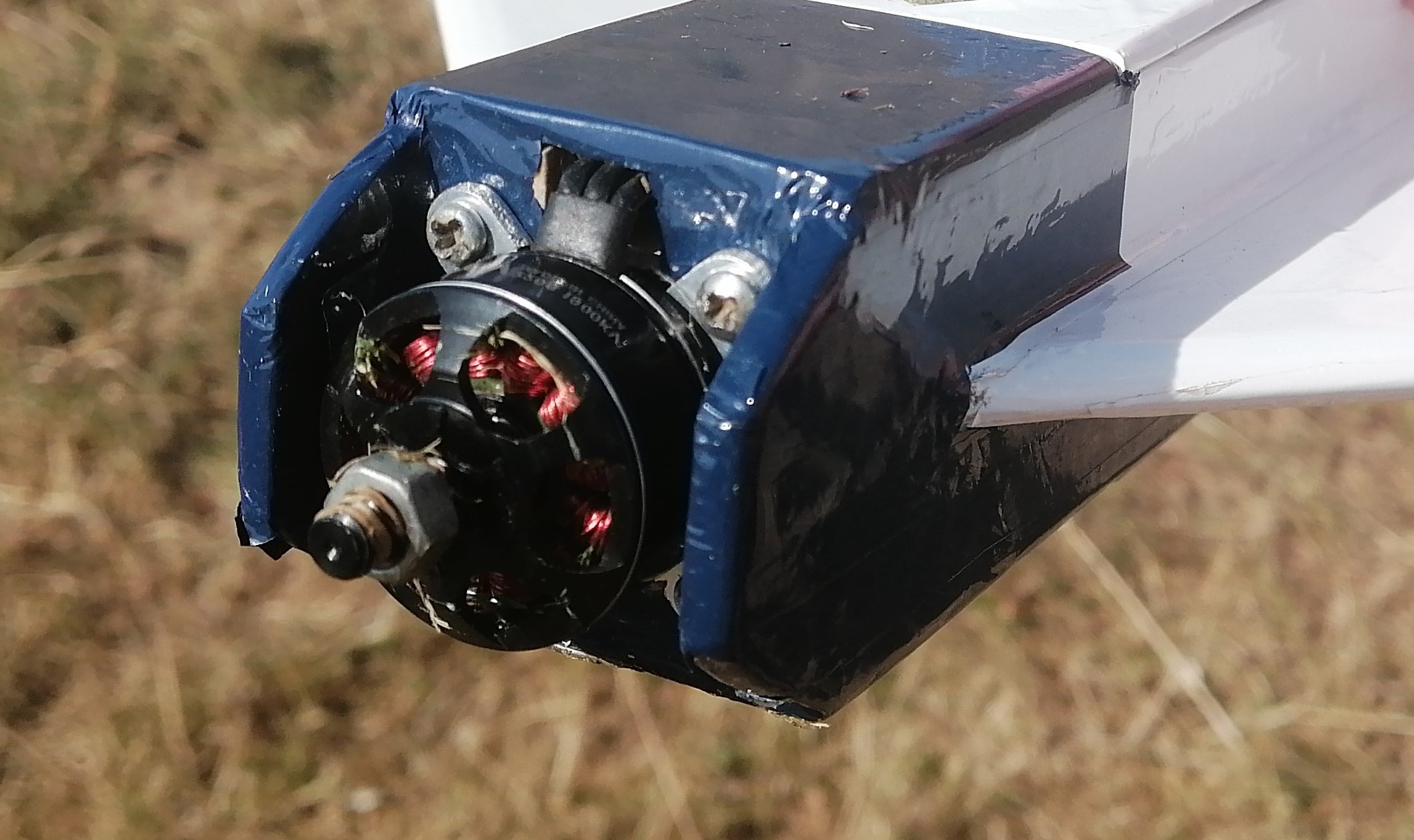 Occasionally a prop will throw a blade, an event that's usually followed by the imbalance of the remaining blade ripping the motor out of the model, but I've never seen a propeller hub break like that. Mind you the prop was one of the extremely cheap ones several of us bought in a HobbyKing sale years ago, I remember buying lots that were only a penny each! Ah yes, the good old days of HobbyKing sales when they actually had stuff to sell.
On 13th July Competition Secretary Dwayne Pipe ran the Chuck Glider competition for us.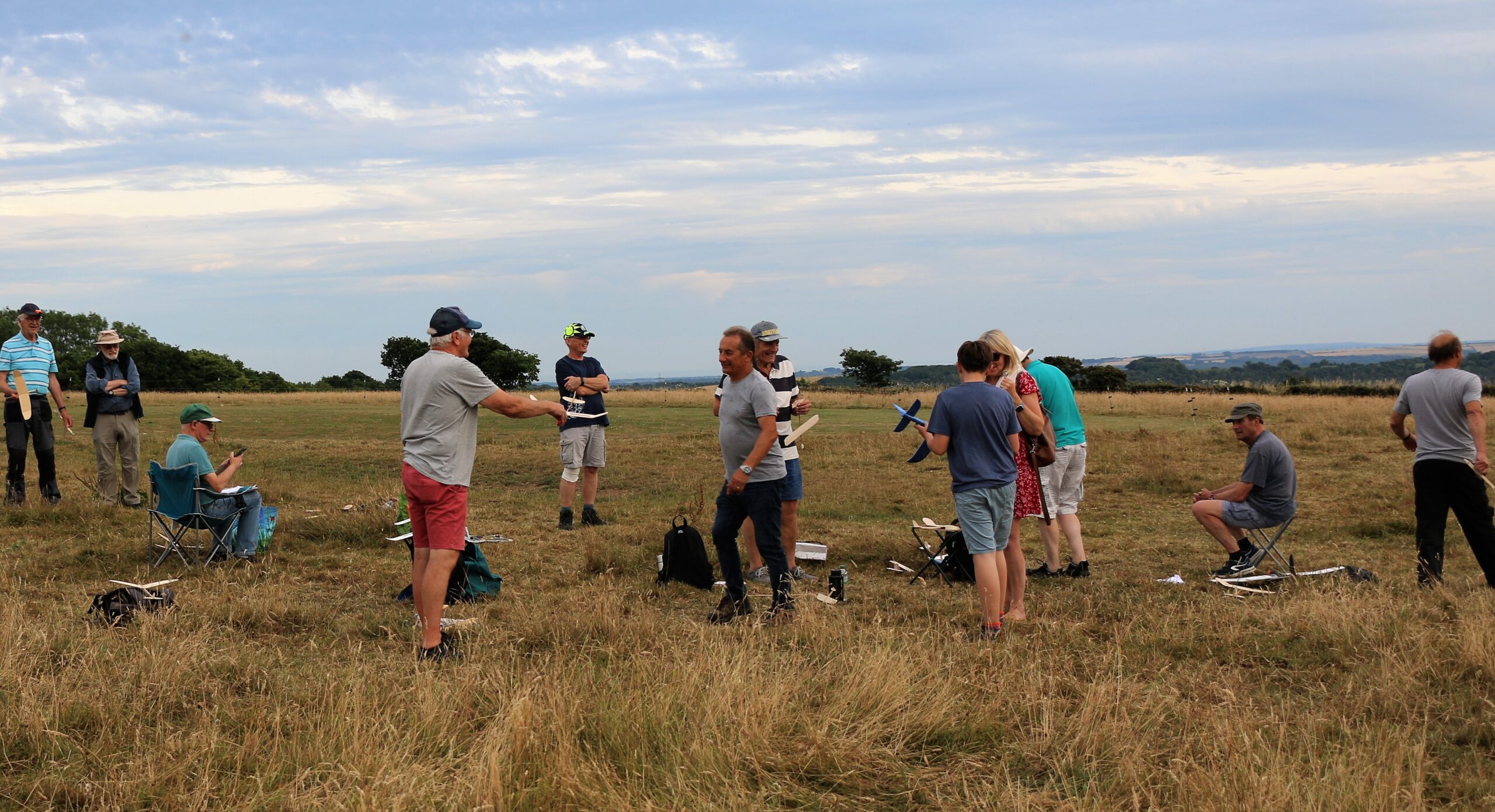 This is Dwayne's report of the event: This years' Chuck Glider competition was held once again in perfect weather conditions. No wind and a warm summer evening up the patch. We had a record 13 folk come and despite the chaos of trying to organise PAM members, we all had a good time. The usual suspects won with Andy Palmer romping ahead with a total time of 86.1 seconds. Tony Neal came second with 39.65 seconds and Bob Hill came third with 36.95 seconds. Mention needs to be made to our junior and honorary women's section of Charlie and Nadine who both joined in the fun. In the catapult launch event Bob Hill came first Geoff Hill came second and Alan Wood came third. The evening ended with a couple of micro planes showing off their paces. Thanks Dwayne, it was a great evening with perfect weather that was enjoyed by all who attended. Kryten took some great photos and commented on the differing styles. But me… I'm saying nothing!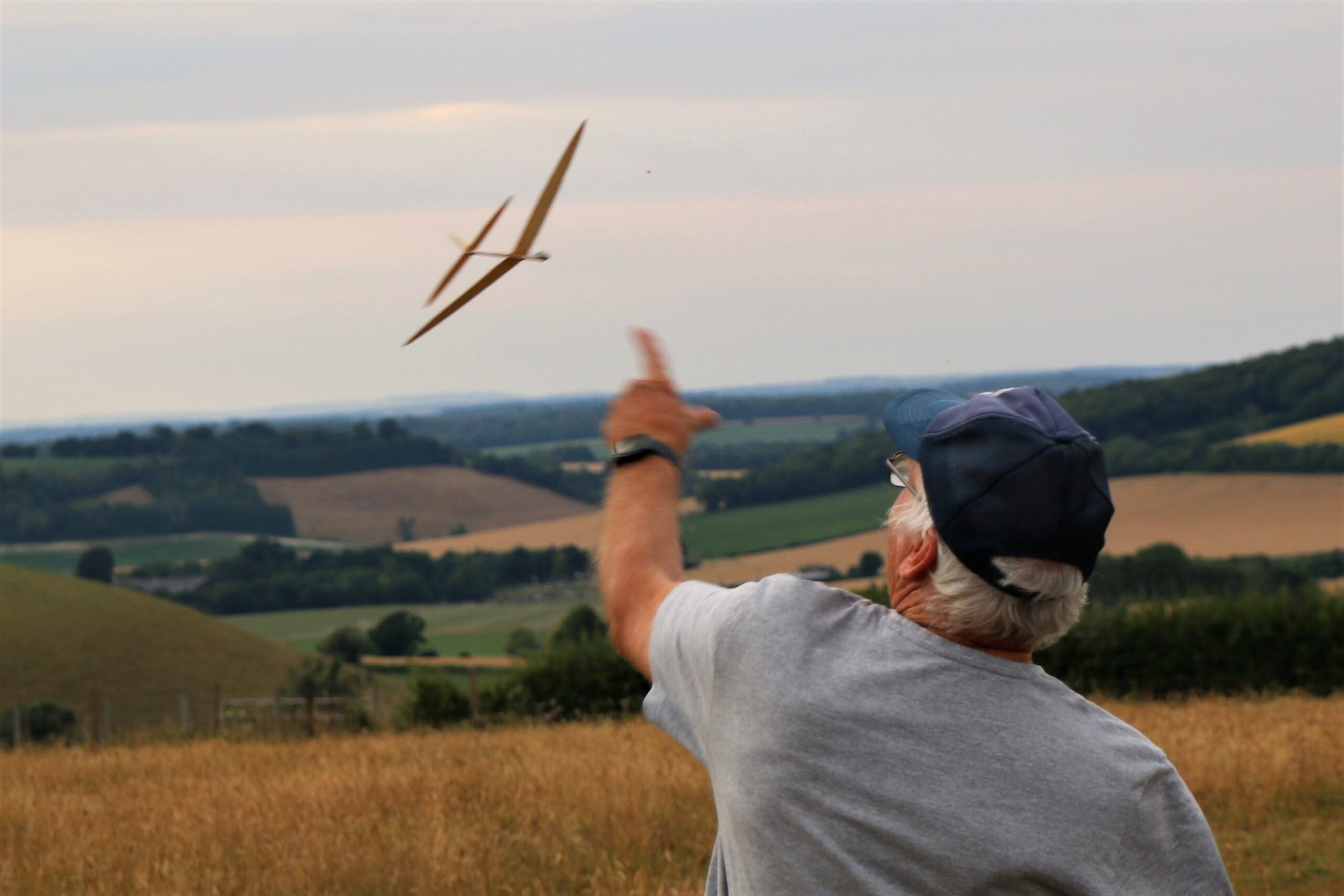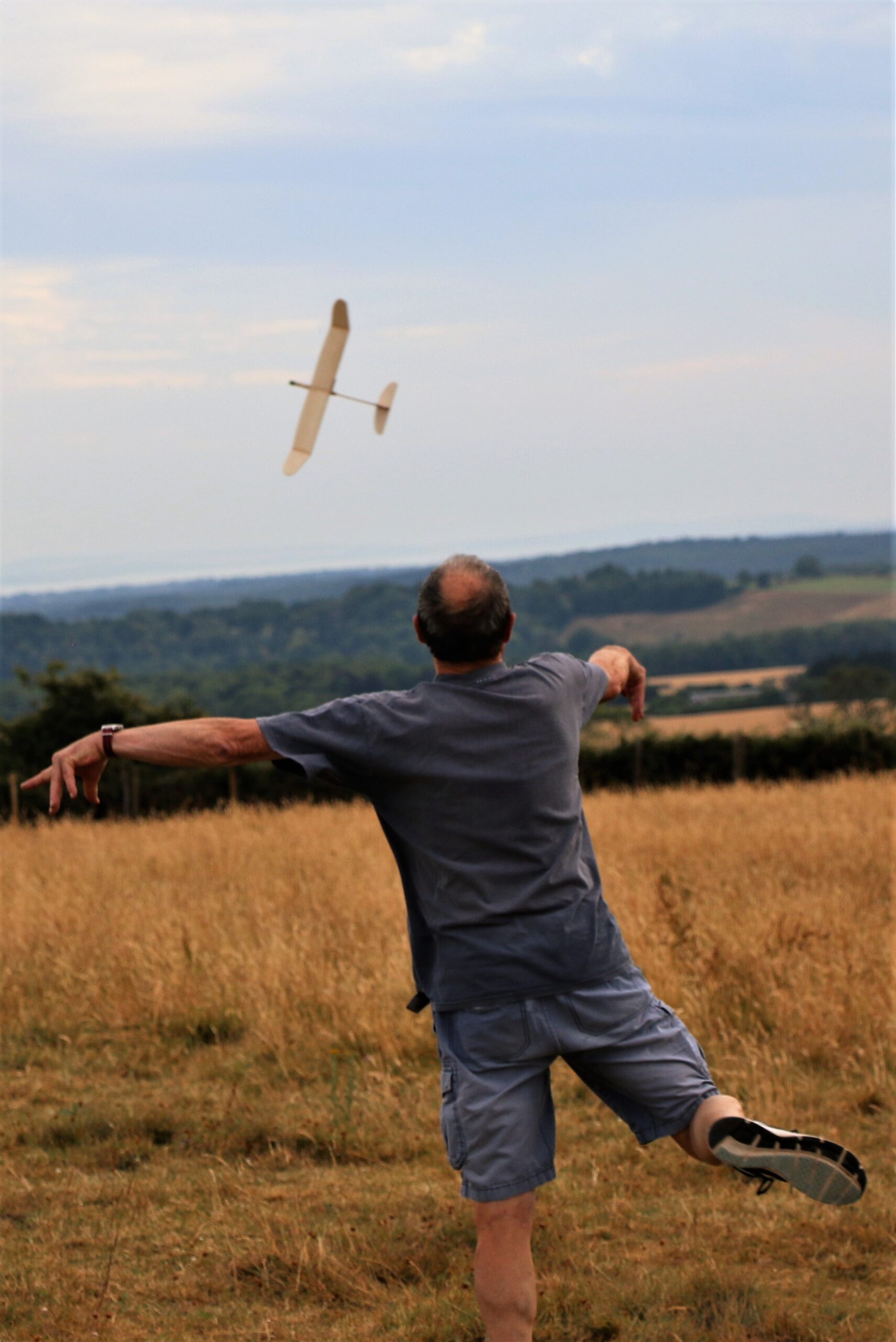 After a long absence Percy Vears returned to the field in July and brought with him two newly completed ducted fan models, a Mig-15 and a Folland Gnat.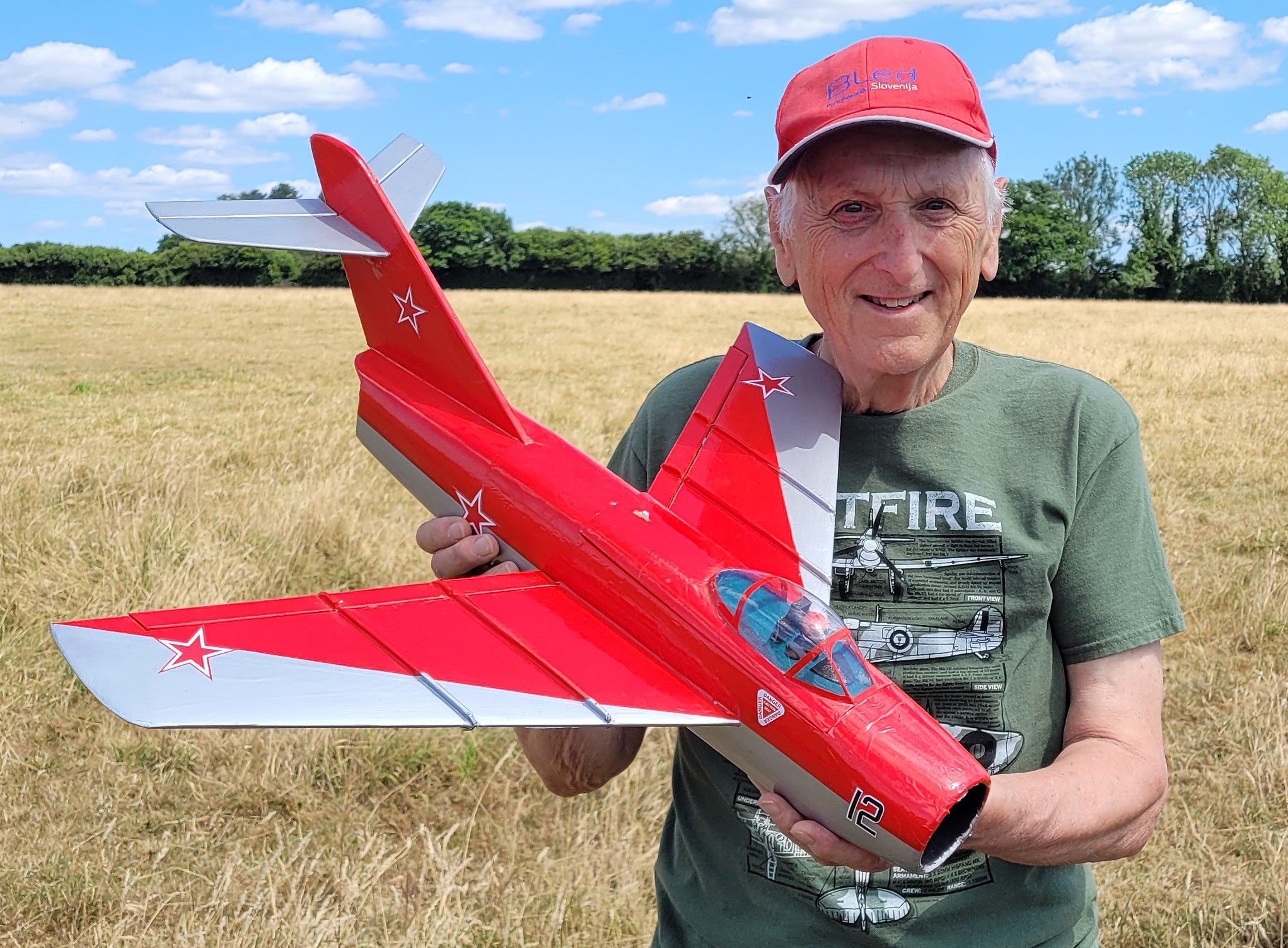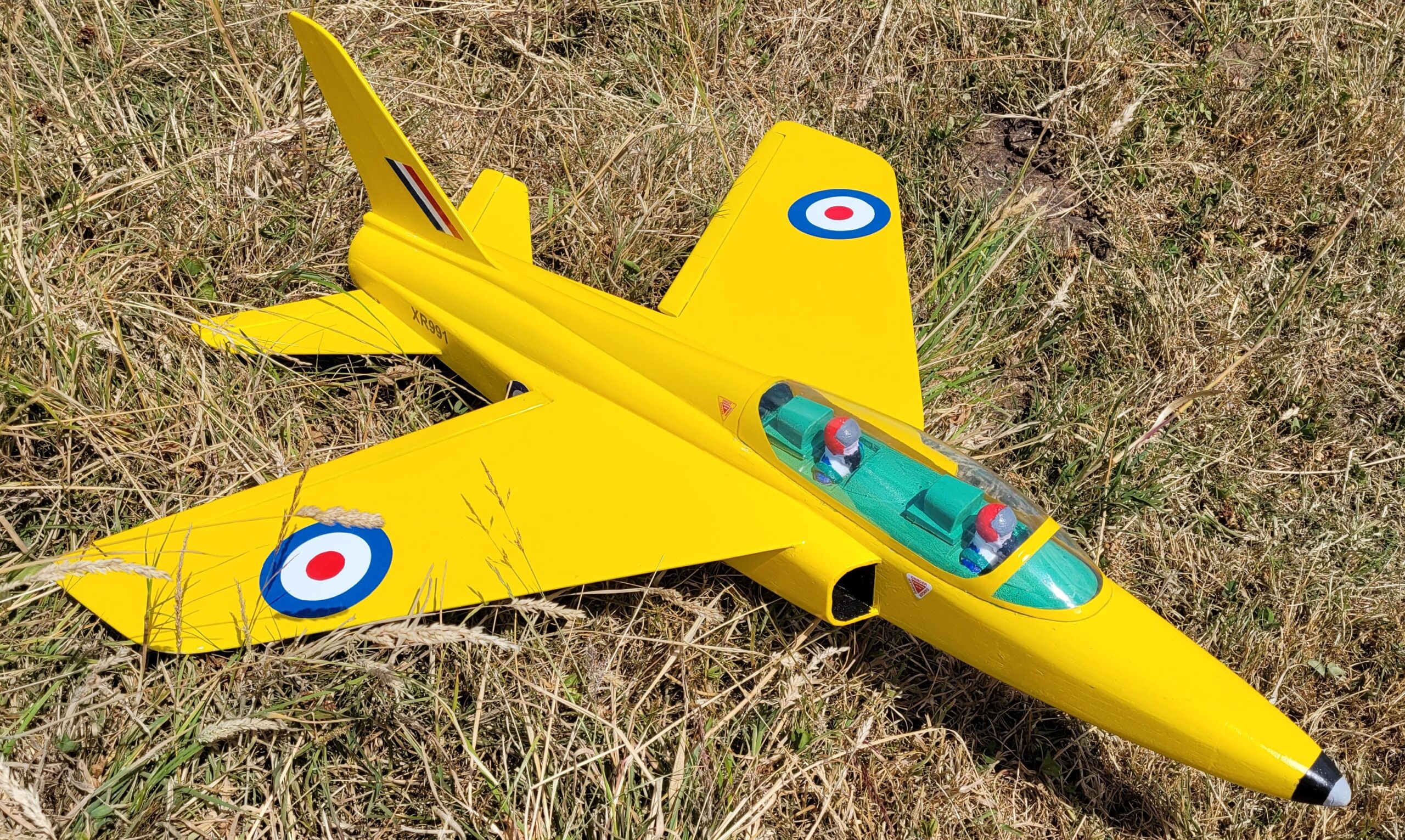 He built them both from the Tony Nijhuis plans and has made a lovely job of them both. We tried the Mig-15 first but found there wasn't enough thrust to get away from the launch which we didn't understand as Percy had used the recommended fan/motor combination.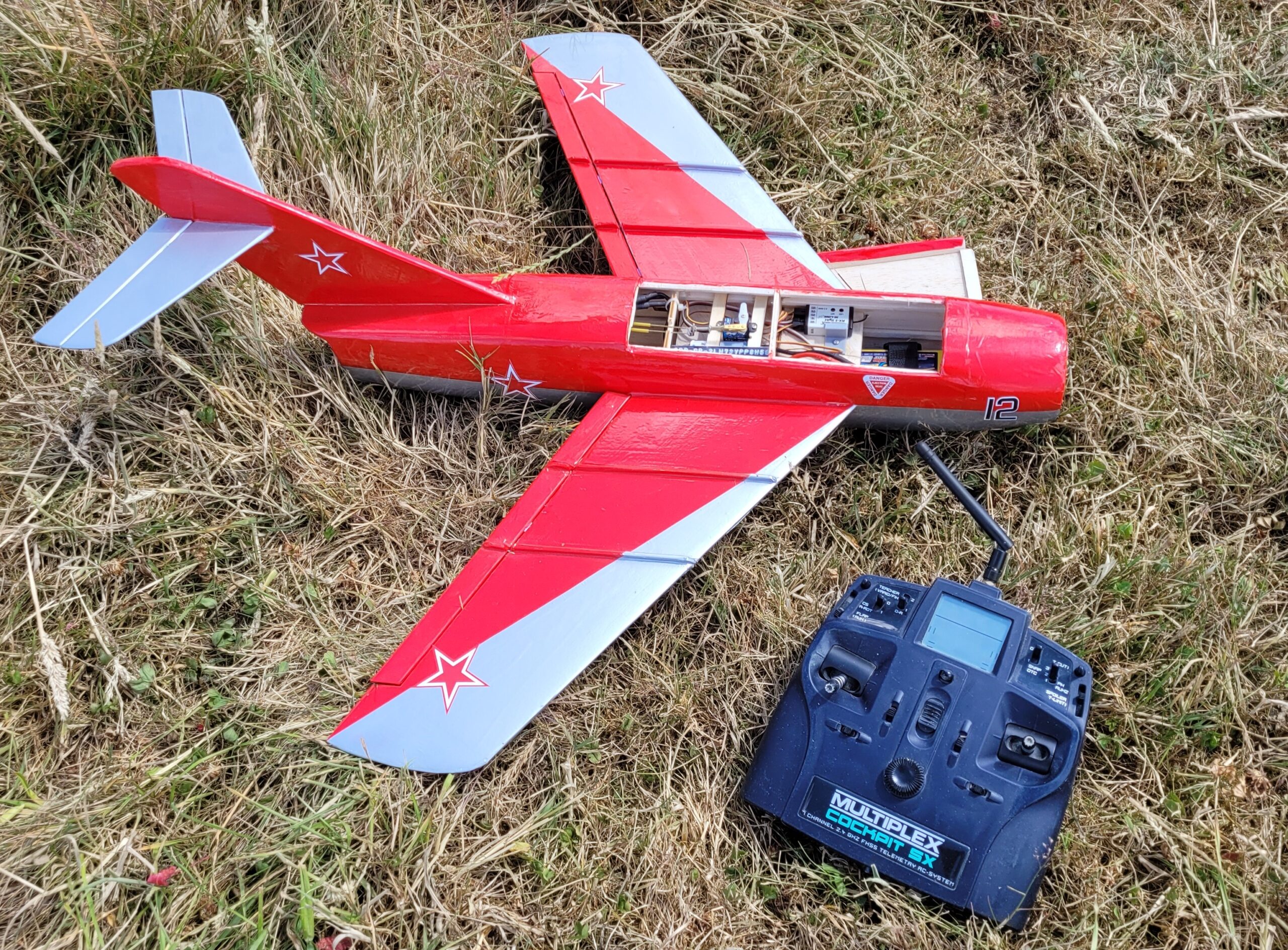 Percy's batteries are rather old so he tried one of Dougal's but it was no better. Back at the workshop he discovered what the problem was: Reading Tony Nijhuis build notes, he specifies 3-cell operation. When I was given an FMS EDF (new and boxed) for this project, I assumed it would be suitable. Following the problems on Friday, I did some further checks and discovered that the motor is available for either 3 or 4 cell operation, but the 3-cell motor should not be used with 4 cells, so trying with 4 cells would probably damage it. The 3-cell motor has 2627-KV5400 marked on it, and the 4-cell is marked with 2627-KV4500, but with the motor fixed within the thrust tube it is difficult to determine which one I have. After much thought I found a solution – use the bright sunlight to illuminate the inside of the thrust tube and use a highly polished table knife as a mirror. I was able to see that I have a motor designed for 4-cell operation. Running this motor with a 3 cell LIPO only gives 400gm of thrust – not enough. With a newly purchased 4 cell 60C LIPO it delivers 823gm of thrust, and since the weight of airframe and battery totals 638gm, should be adequate for a lively performance. Moral – photograph markings on the motor before embedding it in the thrust tube!
So next time out Percy came armed with some 4 cell 60C lipos and the Mig flew beautifully, very fast at full throttle and with lots of power for loops and vertical climbs.
Having initially failed with the Mig we weren't sure about the Gnat but gave it a go anyway and we were all pleasantly surprised when it just flew away with no problems at all.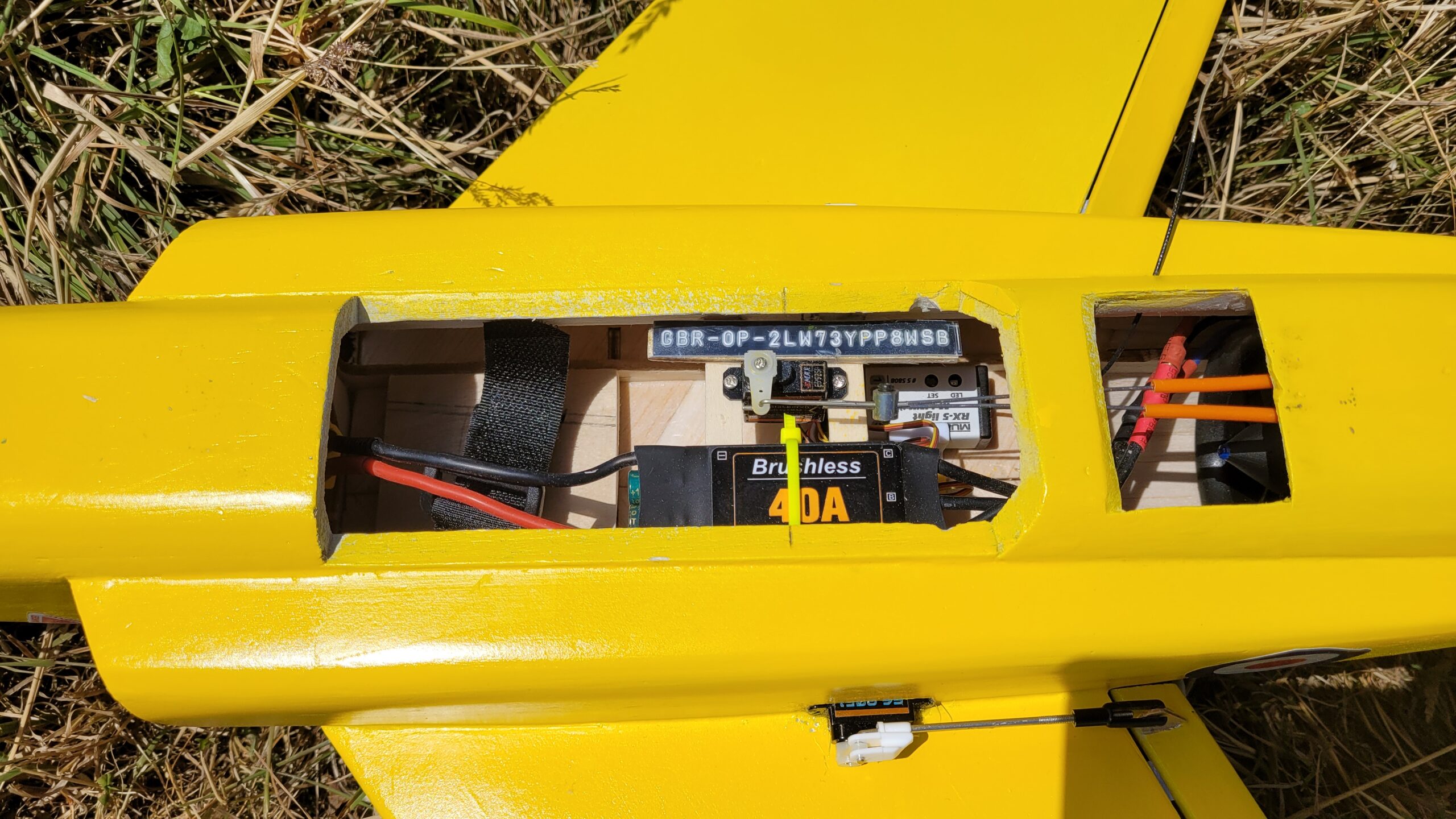 After a couple of circuits the power was starting to drop off, presumably because the elderly lipo was past it's best, so landing was called and Colin found the Gnat glided better than expected but landed nicely. Some of the flight is in this month's video for you to see.
Three PAM members had flight experiences away from the patch recently, all as presents from their families to celebrate their great ages! Catapult King enjoyed flying a Lancaster simulator: The Lancaster SIM flight was a present from my family and took place at Perry Air in Shoreham. It was a great experience but as you can see by the landing I really couldn't get my act together. I'm used to an immediate reaction from my models but here there was quite a delay between me turning and the plane reacting, I'm all over the place. In addition when you turn there's a tendency to pull on the yoke so again you're not going where you're supposed to. There were two flights one of which you fly (or attempt to) under the Severn Bridge the other was bombing the Eder damp, that one I got right but only just. Great day followed by Ham, Egg and chips. You can see the video by clicking HERE. I thought he did well, it looked like a pretty good landing to me.
Kryten's 70th birthday present was a trip with Solent Flight who are based at Lower Upham Airfield which is just 8.8 miles due west of our patch. This is from Google Maps: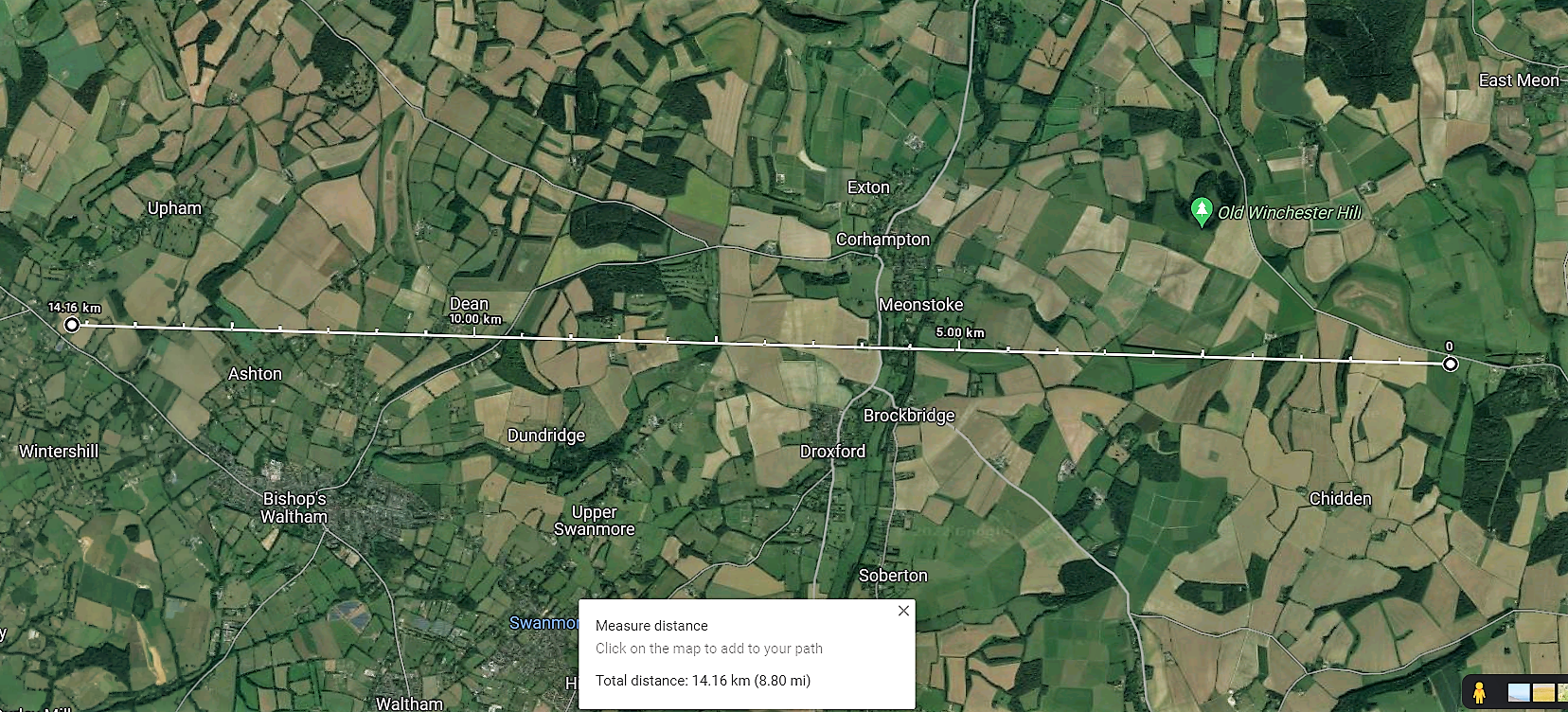 When we see a light aircraft fairly low over our field it's often one of Solent Flight's planes.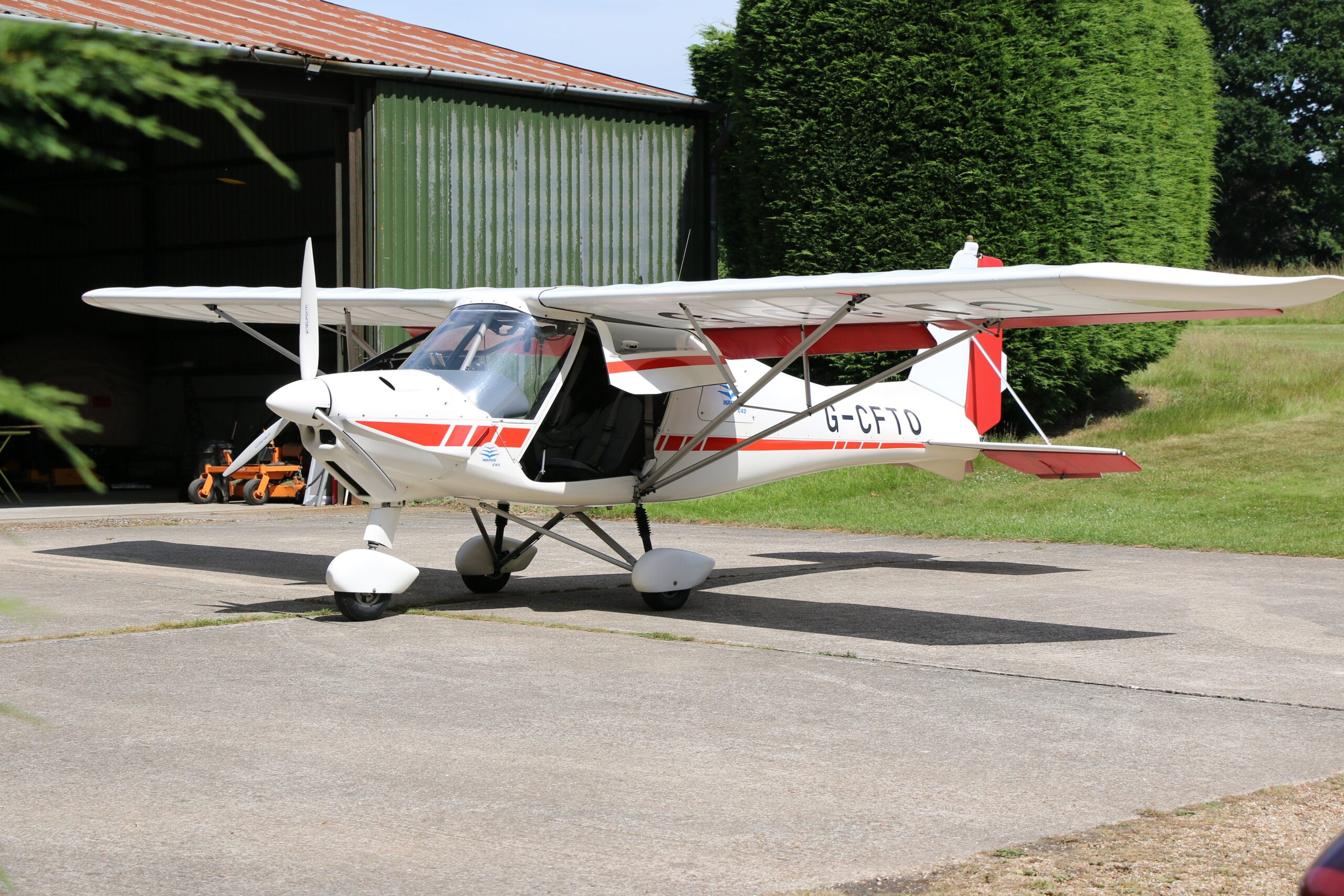 Kryten's flight was in this Comco Ikarus C42 which was built in 2008 and is powered by an 80hp Rotax 912 engine. He flew out over Portsmouth harbour and the Isle of Wight and did an overshoot of Sandown Airport before heading back over the harbour and up to Lower Upham. As you would expect Kryten captured some lovely photos during the flight: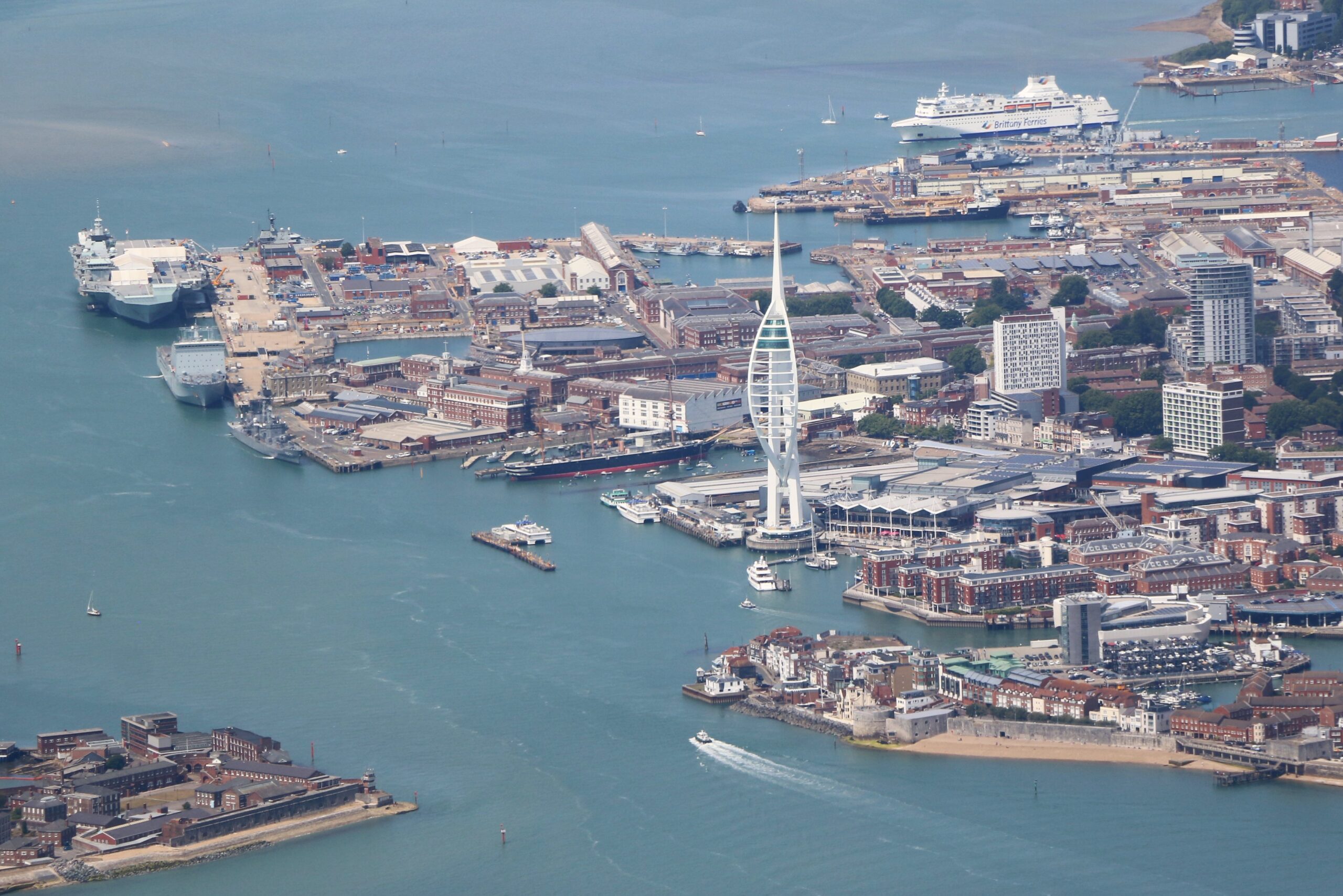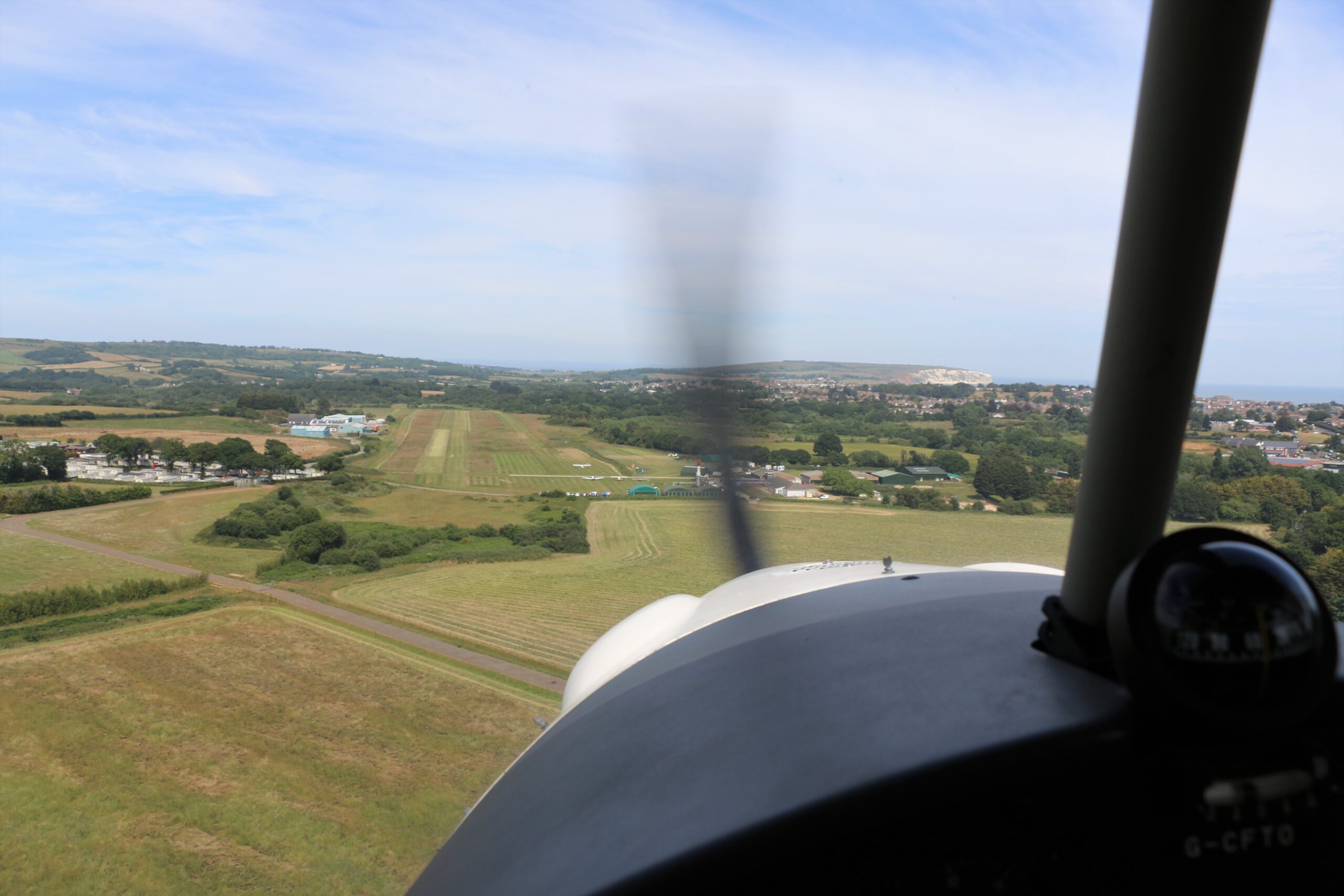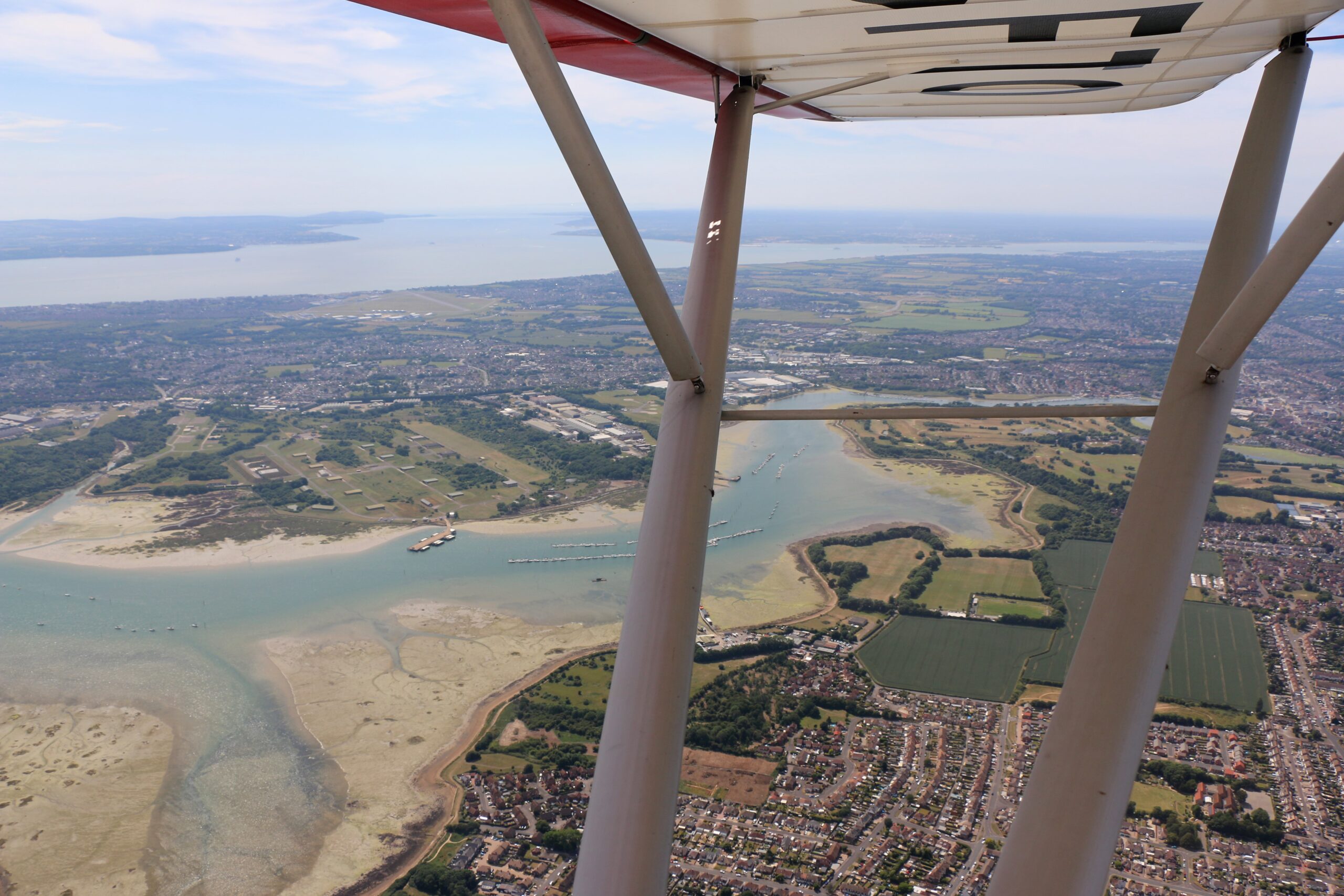 The last of the three was Bob the Builder who received a glider flight for his 80th birthday. Bob took the flight at Lasham Airfield with the Lasham Gliding Society in an ASK21. This is what they say about the glider: Our main two seat glider is the ASK21 of which we have five in our fleet, a German built two seat trainer well known for being one of the safest and most adaptable two seat trainer available on the market.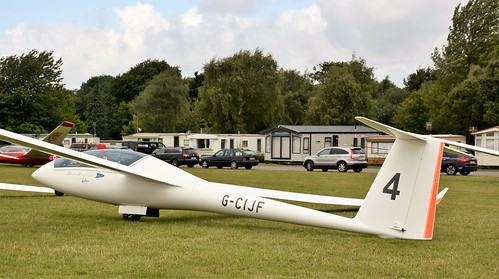 Bob says he had a great flight which started with an aero-tow to 2500ft by a Robin DR40 and included some time circling up in a thermal with several other gliders.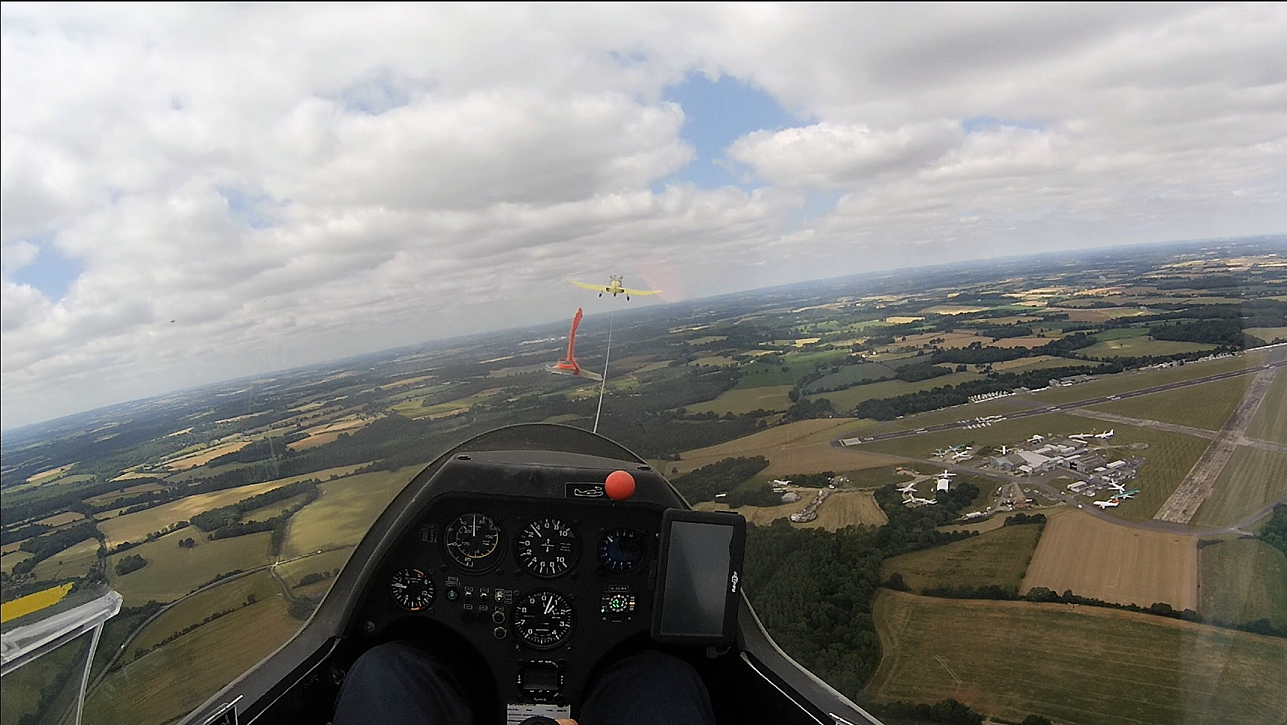 Didn't anyone warn them that his other name is Basher Bob due to numerous mid-air collisions?! Bob didn't take any photos but did get some interesting video of the take-off and aero-tow with his headcam which you can see by clicking HERE
New member Peter Fothergill has been getting on well flying his Multiplex Heron electric glider but needed a model with an undercarriage to be able to take his BMFA 'A' Certificate so he bought a Weston Models Cougar 2000. I did the test flight for him and was rather surprised to discover that although the elevator was working correctly the elevator trim was reversed. When I took off the model climbed steeply so I pushed in lots of down trim and the Cougar promptly looped! Once I'd figured out what was going on I added lots of up trim until the model stopped climbing and levelled off. Weird, I've never seen that before and can only assume it's something it the programming on OpenTx that needs sorting.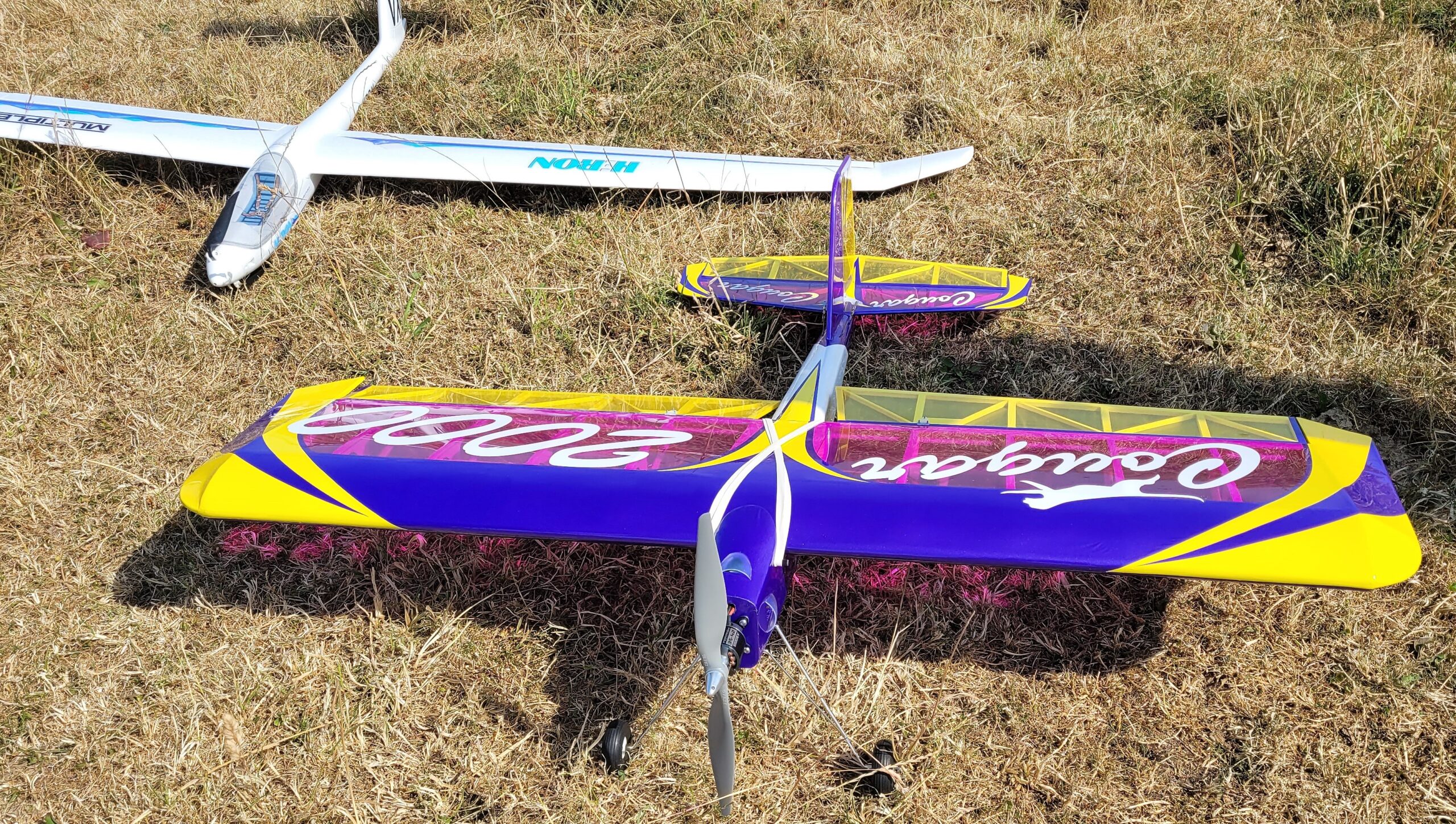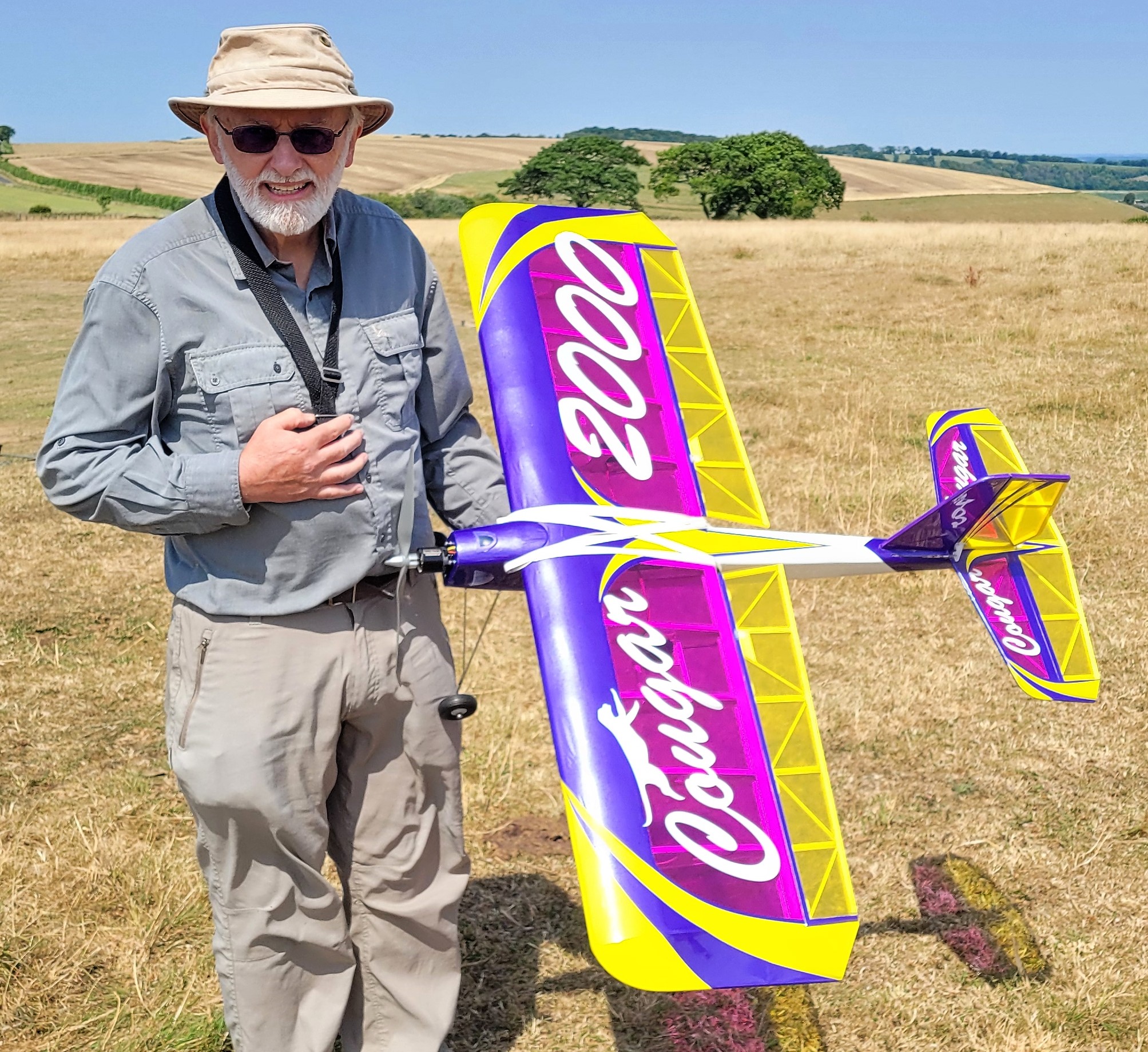 The Cougar flew well and Peter was able to fly it without too many problems and managed to land it safely. The second flight second flight also went well until it came to the landing approach when I think Peter must have pushed down rather than pulled up on the elevator control and the model suddenly dived in, too late for me to save it. There was a lot of damage but Peter says he hopes to repair it sometime in the future.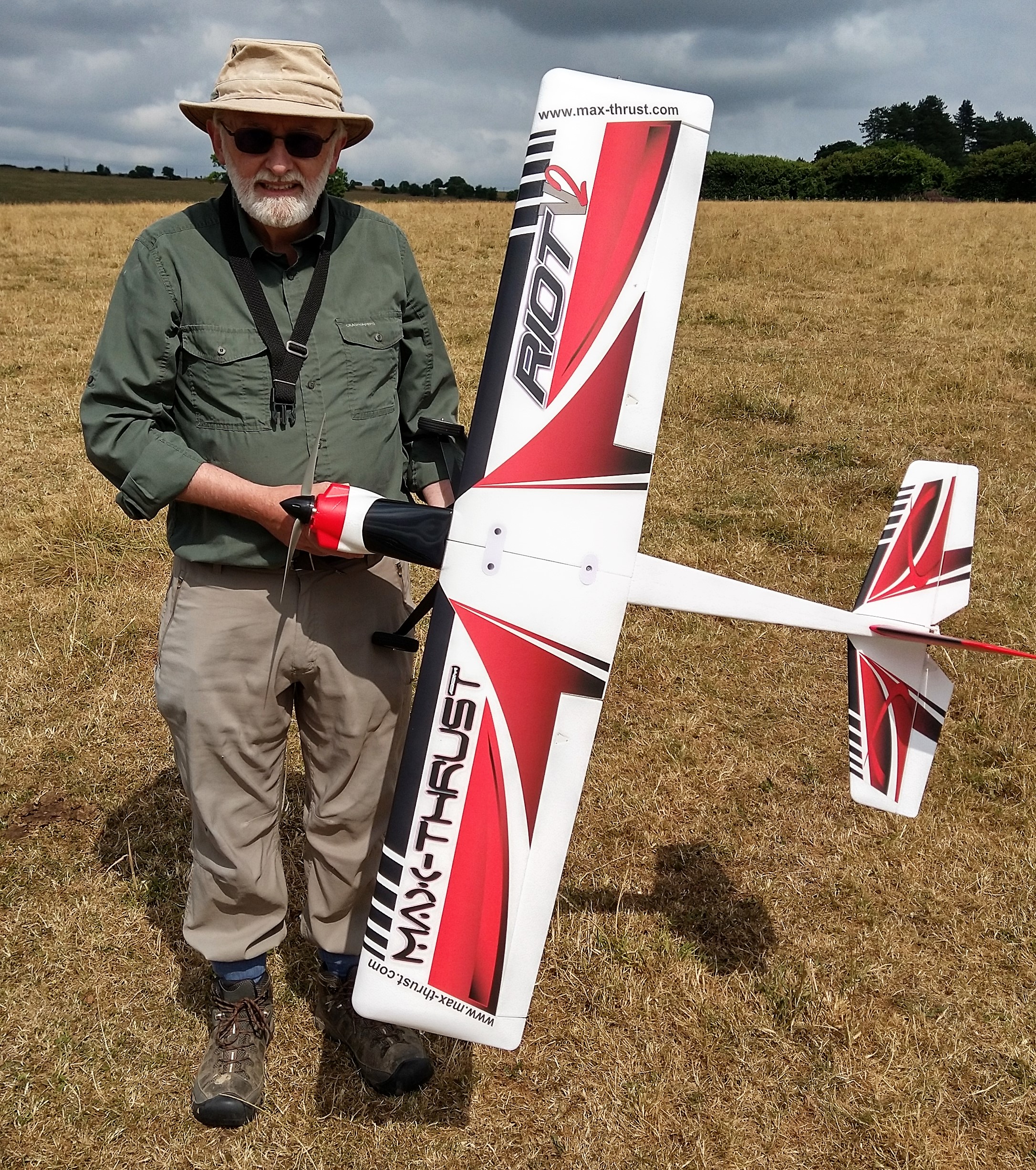 In the meantime he's replaced the Cougar with a Max Thrust Riot, a model that is probably rather better suited to Peter's skills at this stage and he's been flying it well.
Mini-Mike has resurrected an old electric glider that he's owned for several years and has replaced the old brushed motor that was originally fitted with a brushless one. The glider is a JP Greensleeve which is 2 metre span and it's now fitted with an Airtek Airmax 3536 910kv motor which swings an 11 x 8 propeller and is powered by a 3 cell 2200mAh lipo.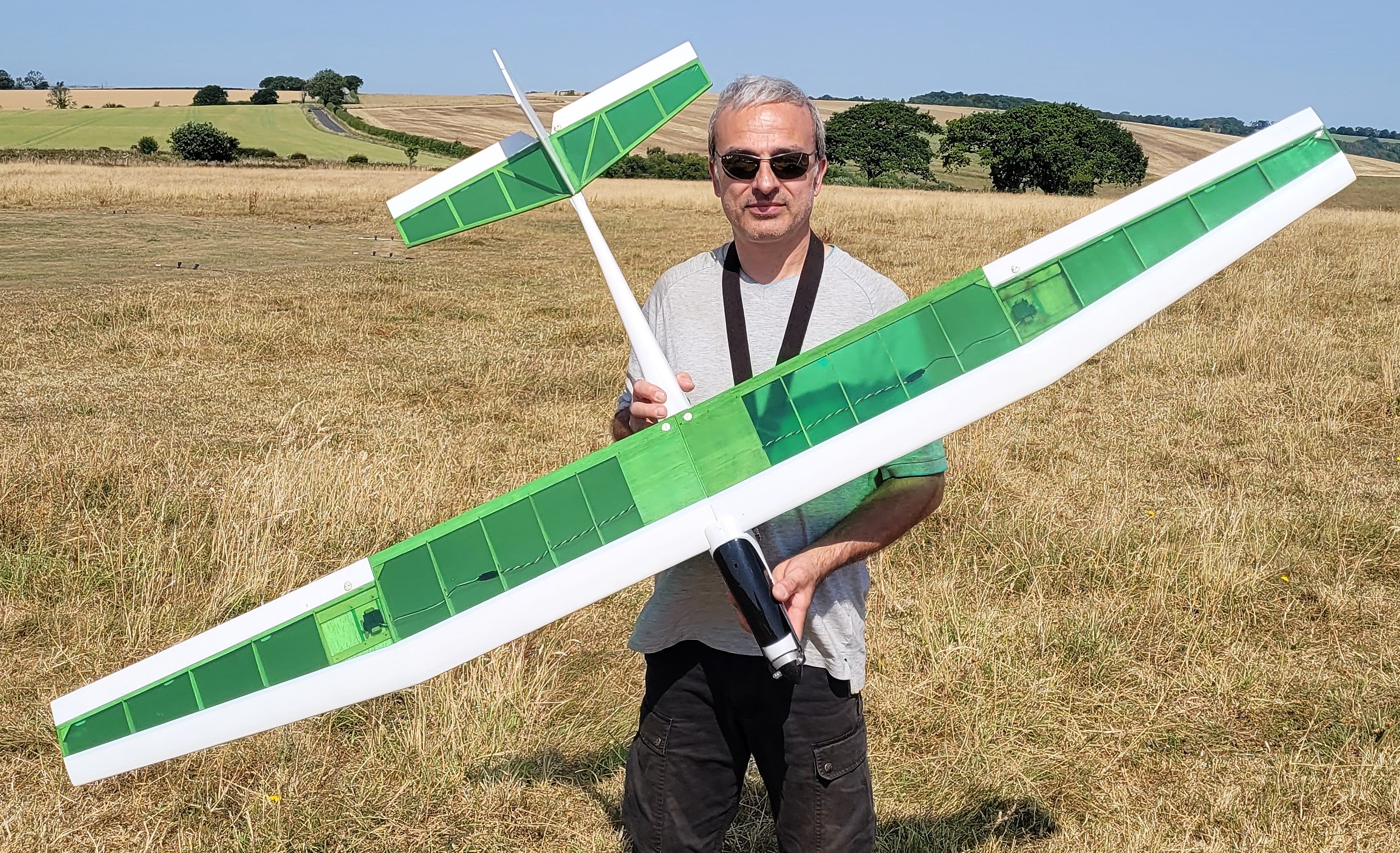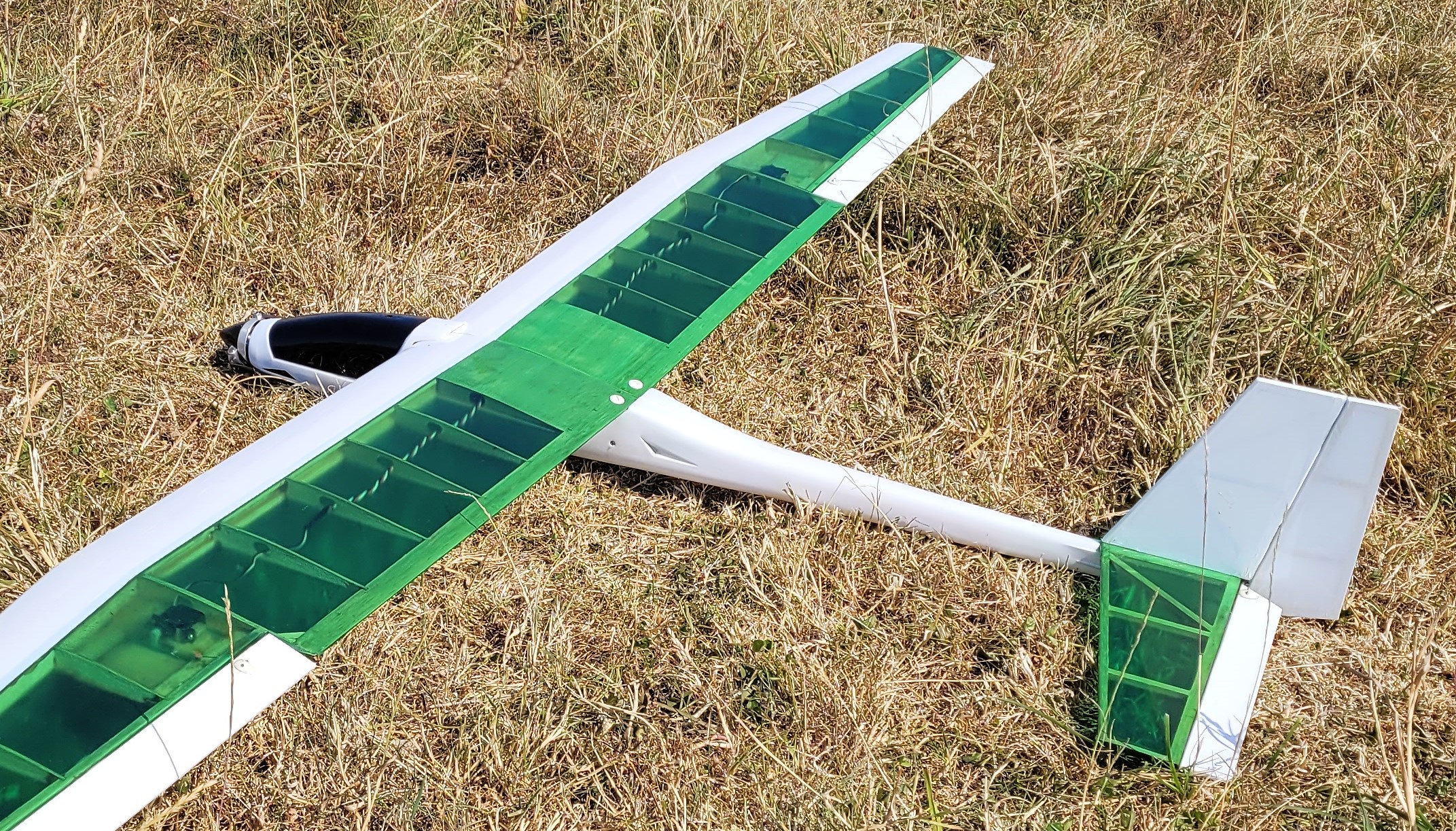 Mike seems to have chosen well, the Greensleeve flies well with the new set-up.
Like Mini-Mike Dougal has also revamped an old glider but Dougal's is one that was a pure glider before and which he has now electrified. Dougal has previously flown the model as a slope-soarer but decided he'd like to be able to fly it from our flat field.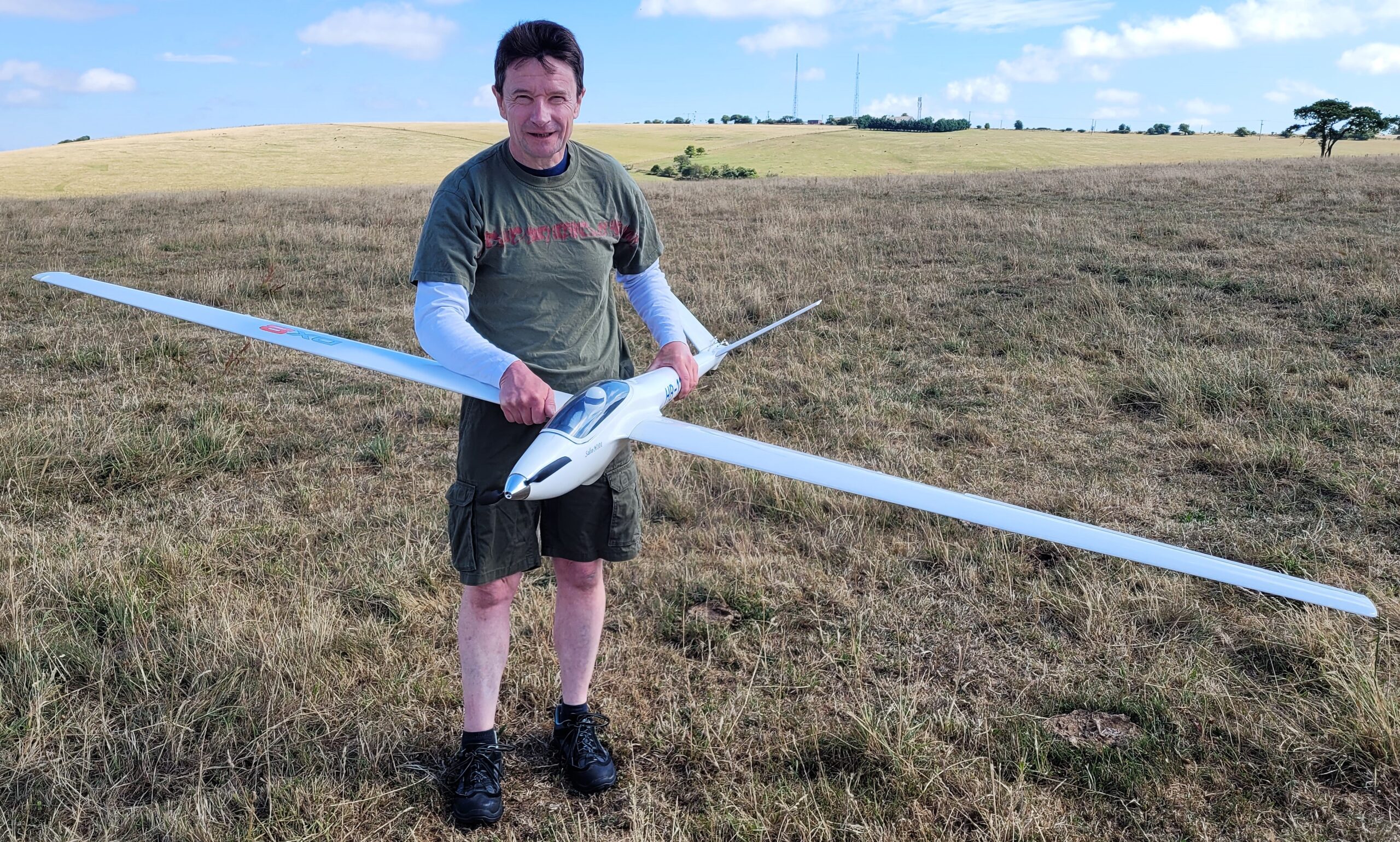 The model is a 100" wingspan model of a Salto H101, an aerobatic glider made of glass composite construction that was developed in Germany in the 1970s. The first time he brought it along the motor wouldn't run correctly, something we thought was down to a speed controller problem but it turned out to be the motor so Dougal swapped it out for a new 4240 890kv motor and tried again. It's piloted by the Stig so it should fly well!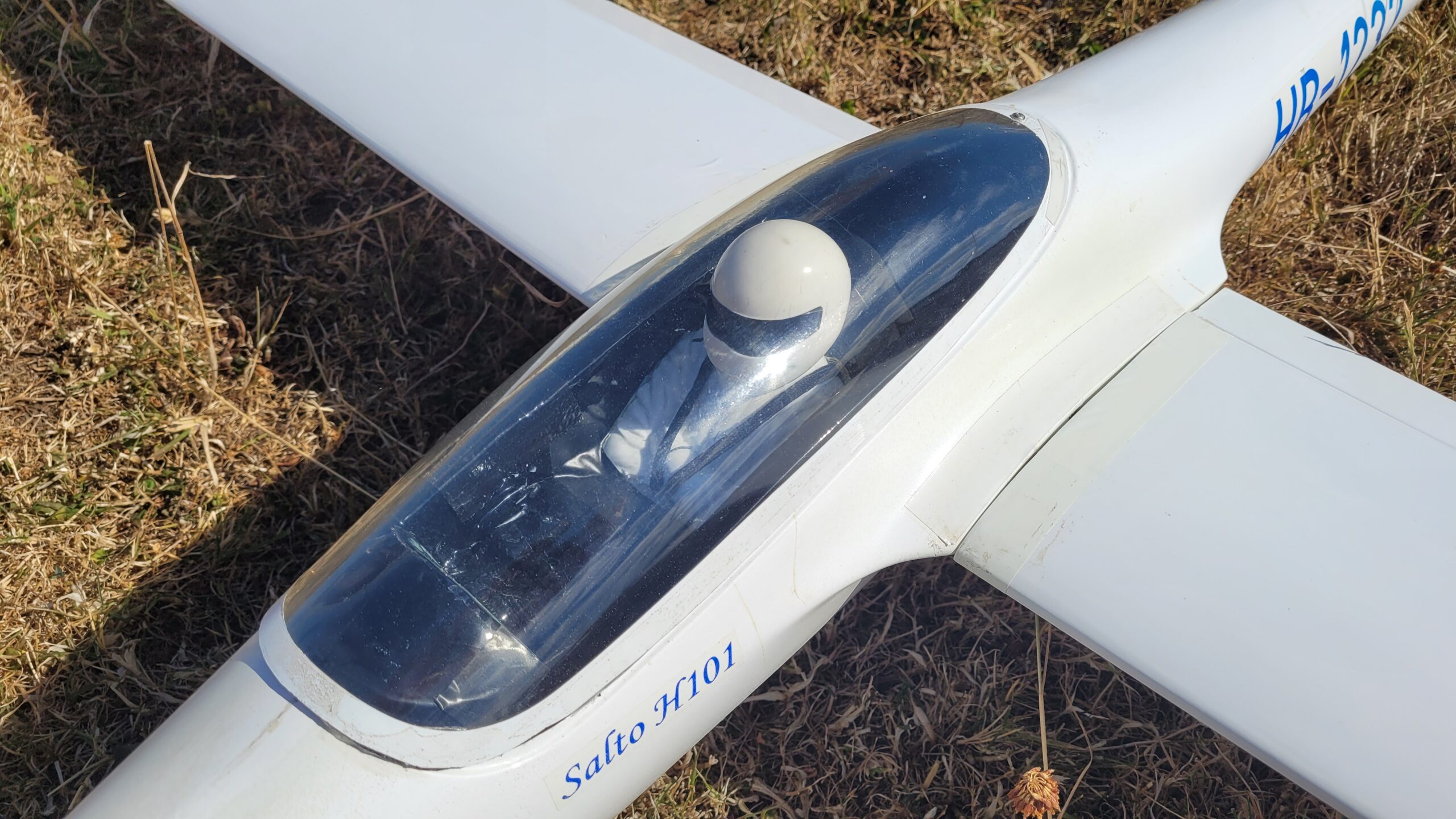 This time the model flew perfectly using a 3 cell battery but the climb out was more gentle than Dougal would have liked so next time out he used a 4 cell pack which proved to be much better. I have some great video of it both from the ground and from my FPV plane but that will have to wait until next month, meanwhile I'll tease you with some photos.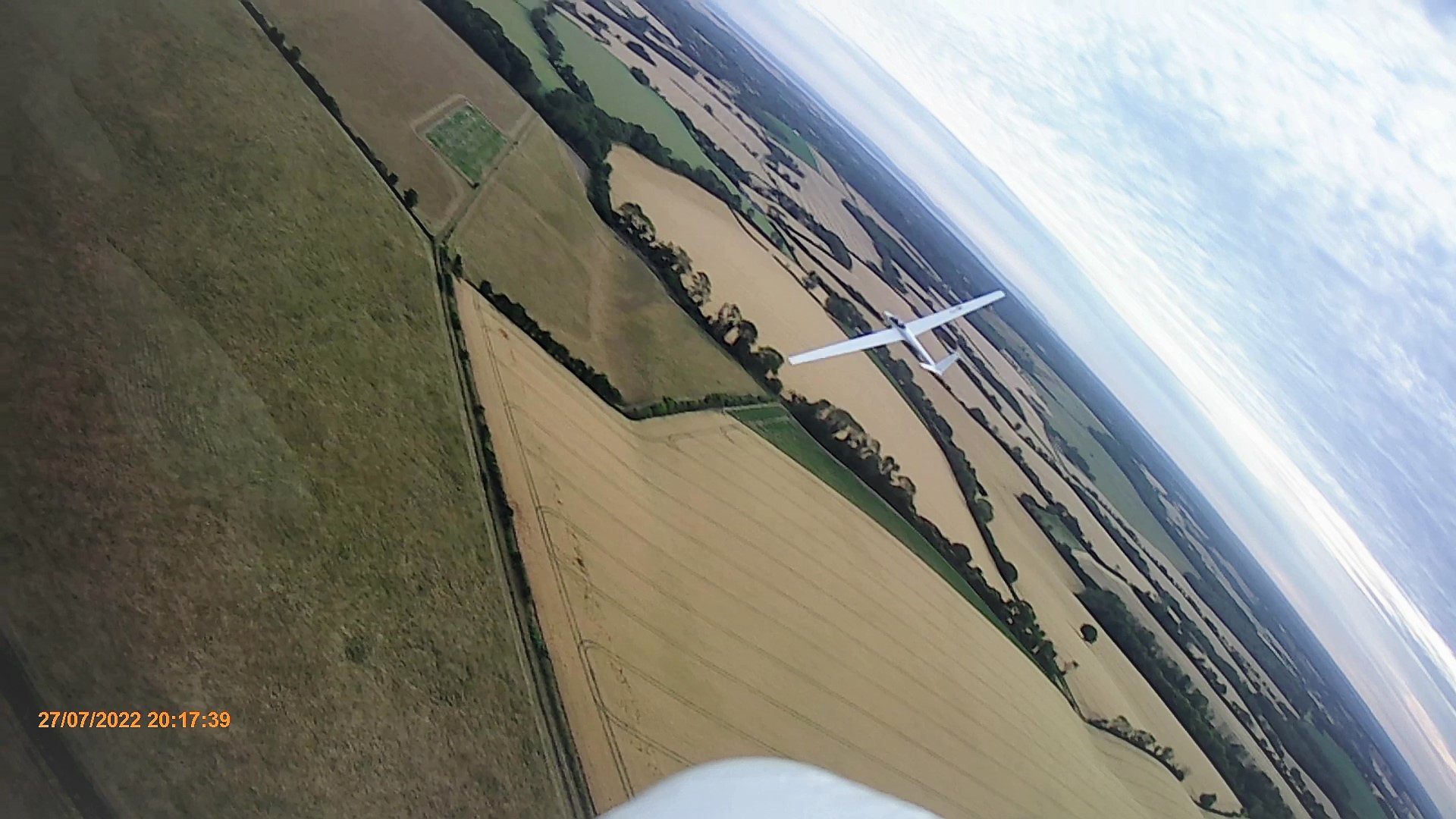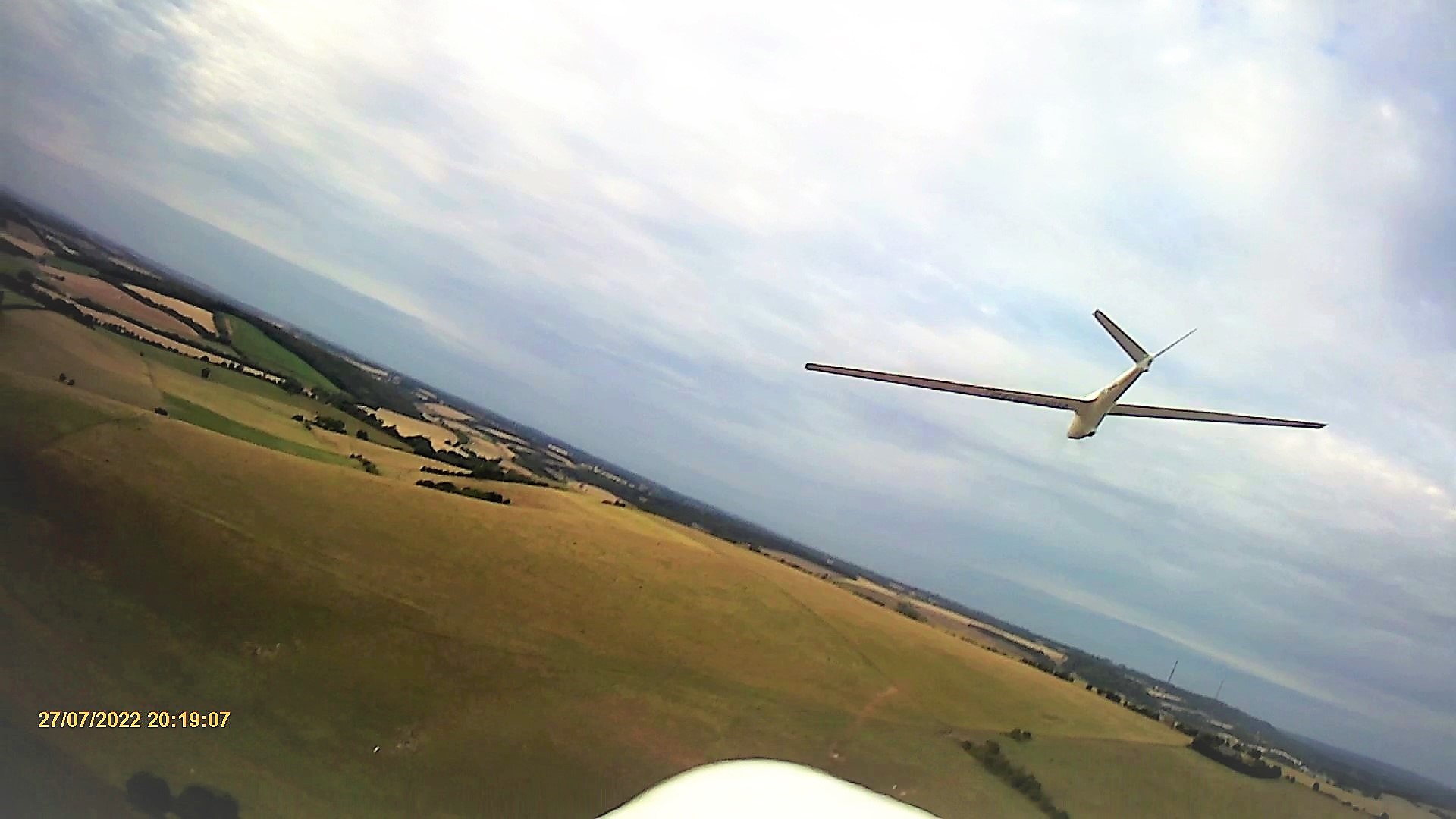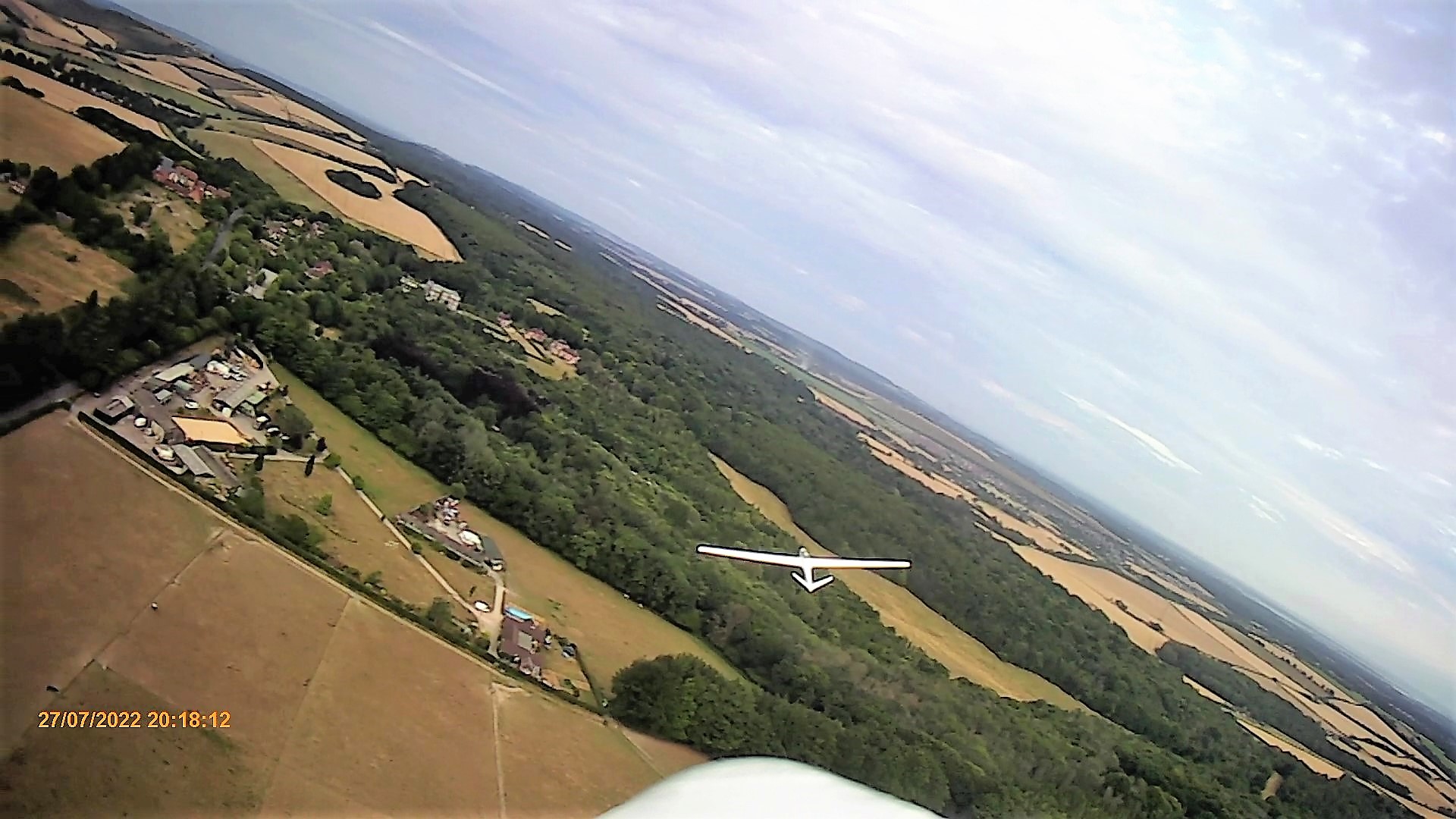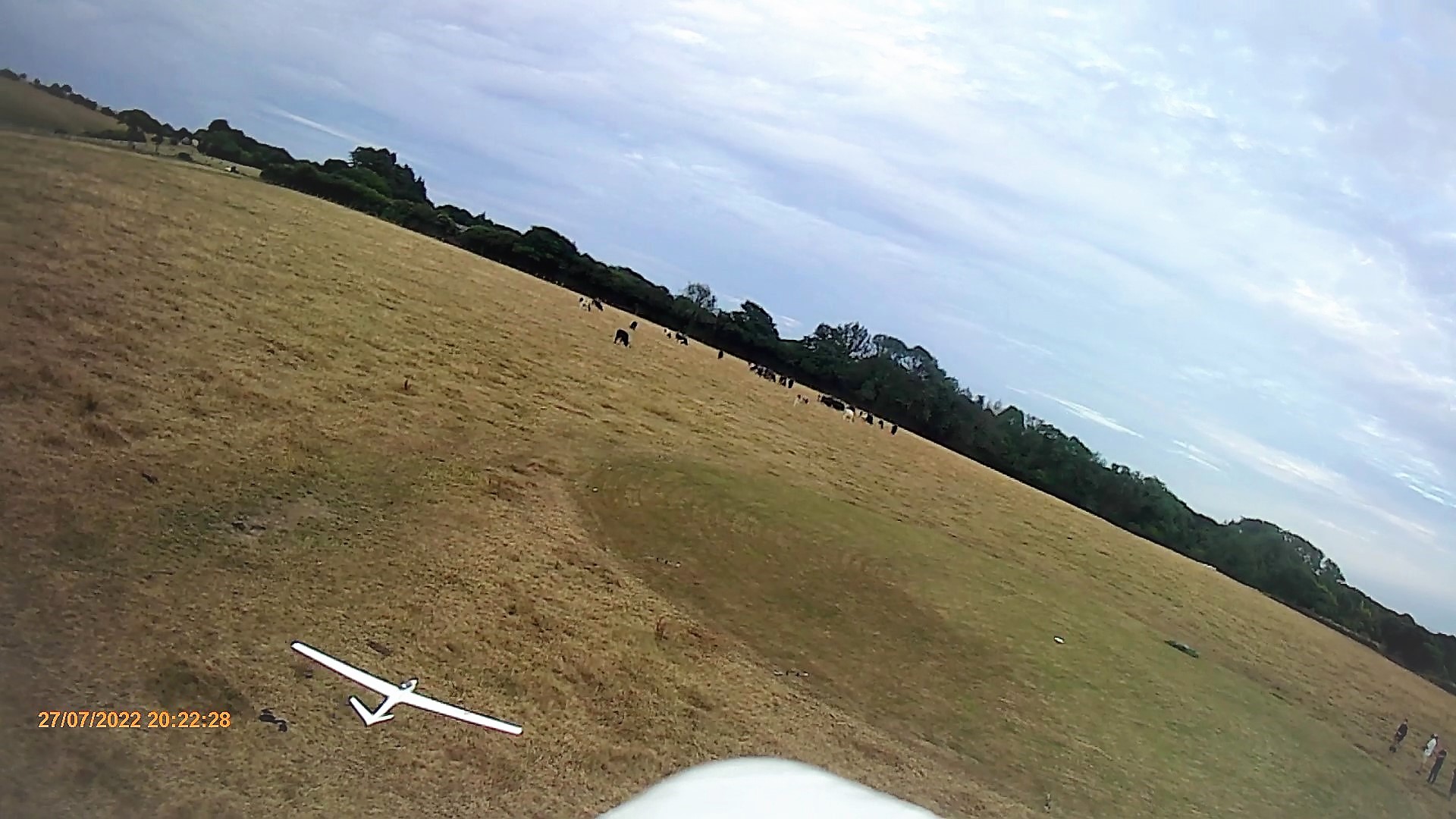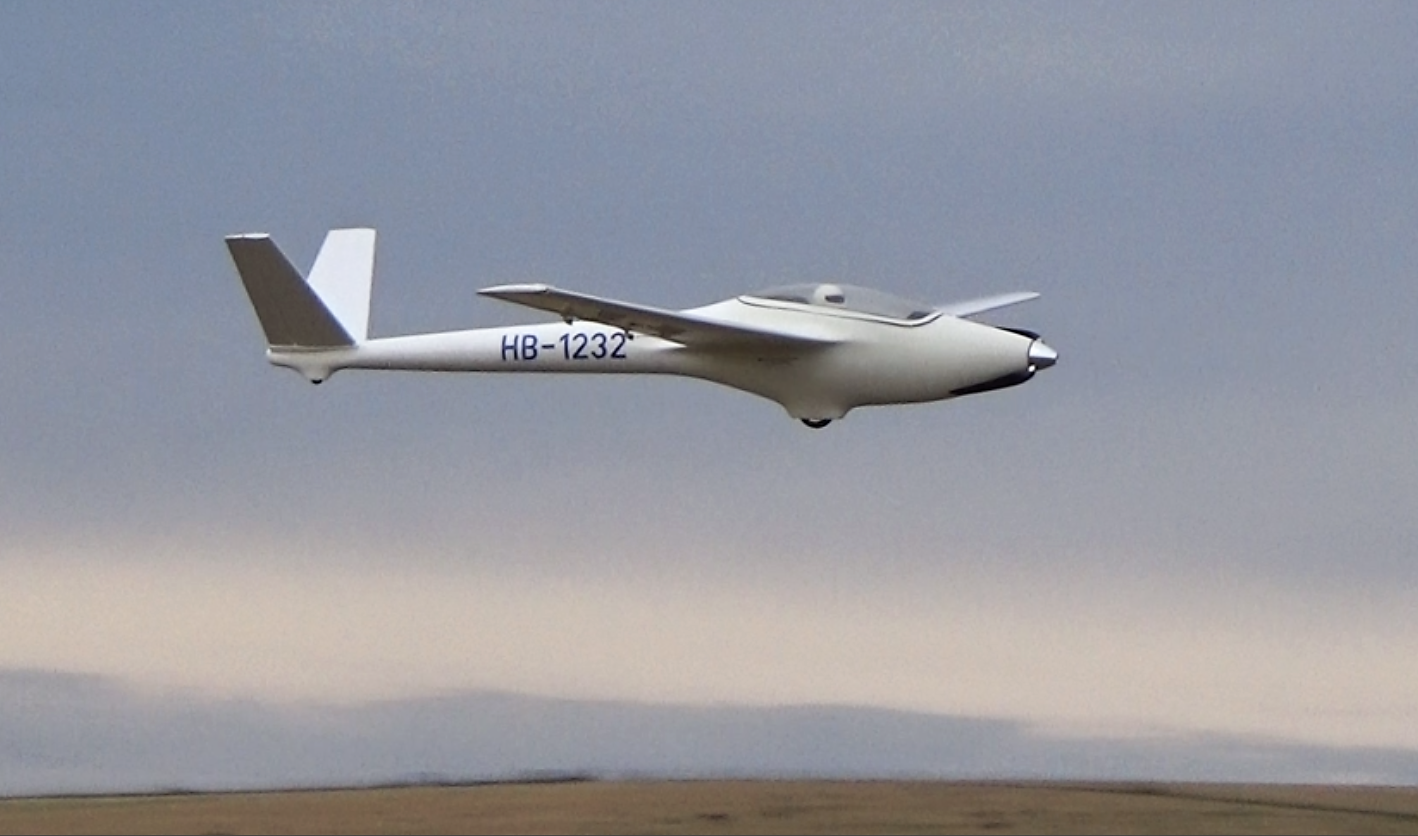 Video time now which this month includes footage shot by me, Dougal, and Captain Slow. Please watch the video full-screen, it's so much better with small models flying around.
If the video won't play for you please click HERE
And finally, as we arrived at the field one evening a pair of Apache helicopters flew very low over the field. It was great to see them and as we hadn't started flying it wasn't a problem but we need to be aware as it could happen when there are models in the air.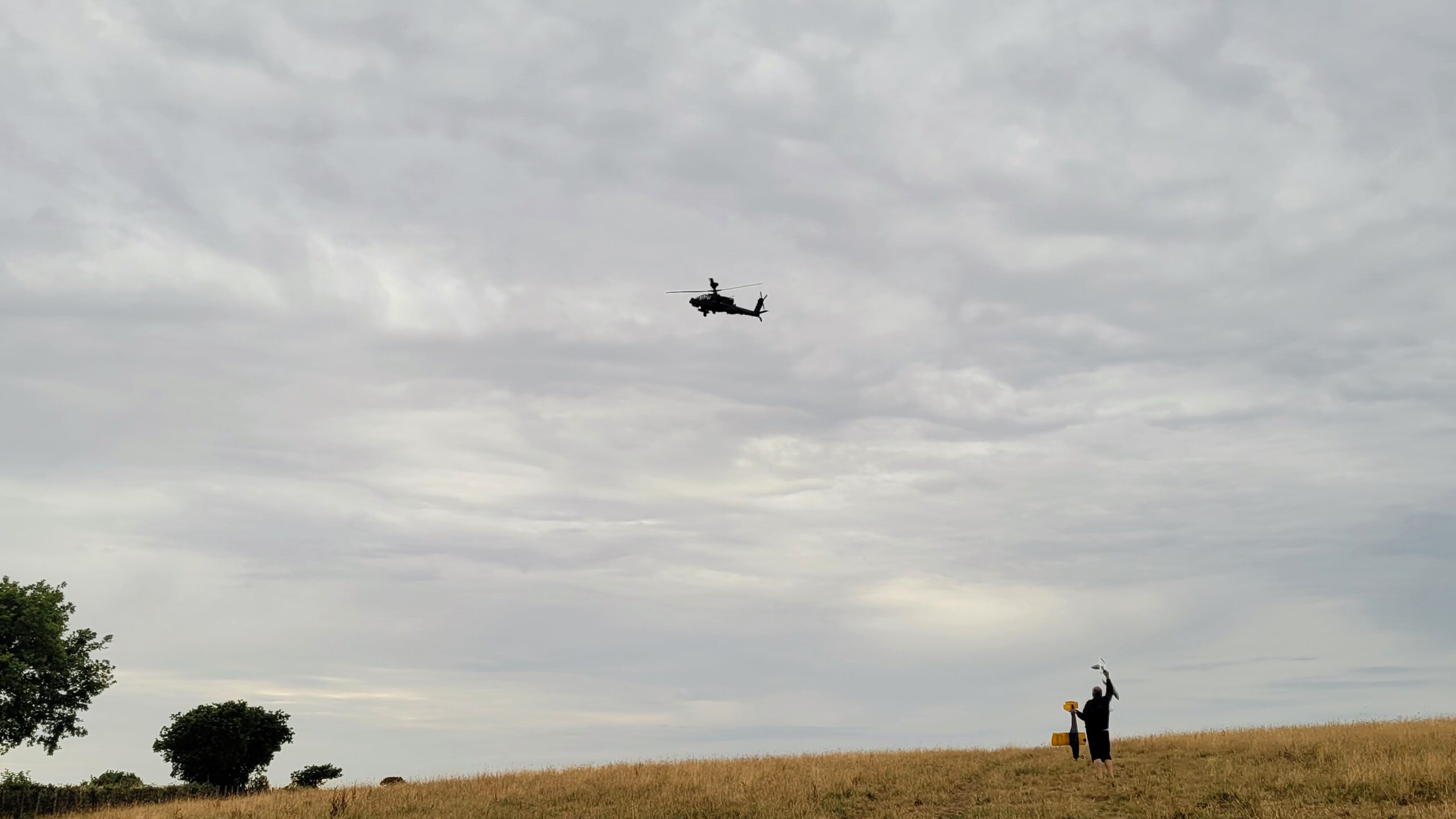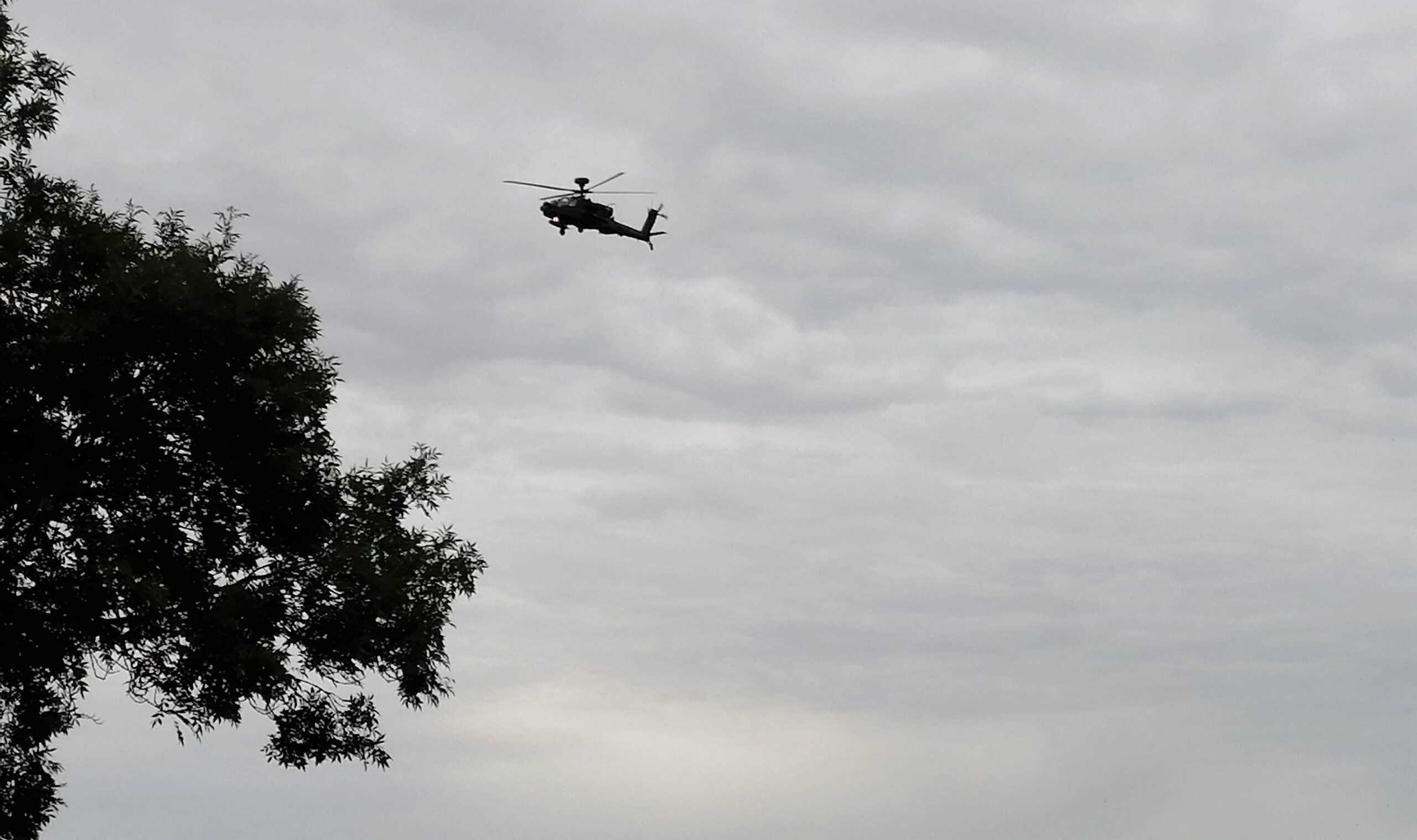 We must always be alert and prepared to take avoiding action at a moment's notice!
My grandson kept asking me to show him how to make paper planes.
I resisted at first but eventually I folded…
Colin Cowplain