The hot dry weather of July continued into August and with temperatures in the mid-thirties at the field we sometimes wilted a bit but at least we didn't have to mow the patch or contend with the bullocks. Members took full advantage and enjoyed lots of flying.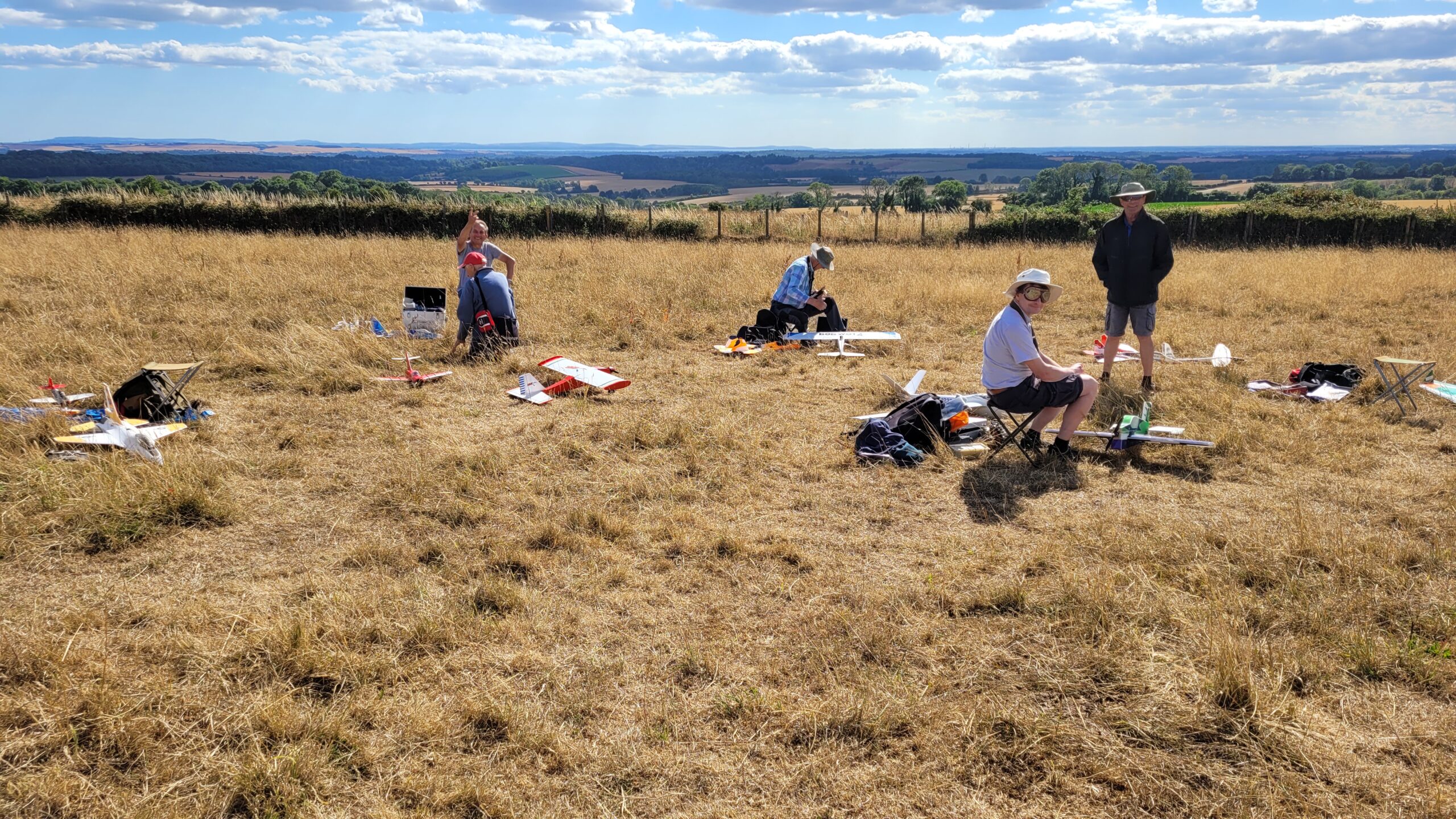 In the middle of month we had a few light showers but not enough rain to green up the field. Later, towards the end of August, there were stronger winds and a little more rain.
Early in August we received the sad news that club member Ian Daniels had passed away.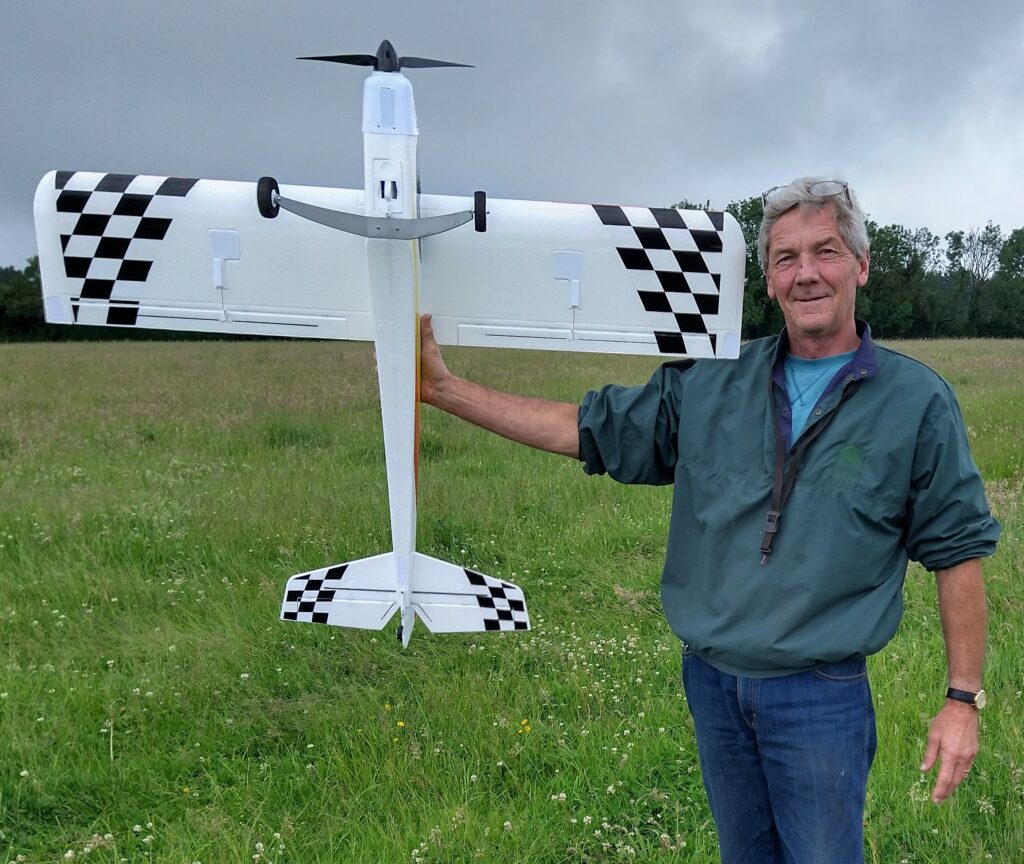 Ian was not a long-term member having only joined the club in June 2021 but he was a very popular chap with a long history of both model and full-size aviation. We were aware of Ian's illness when he joined the club and on 31st July he lost his battle aged just 59.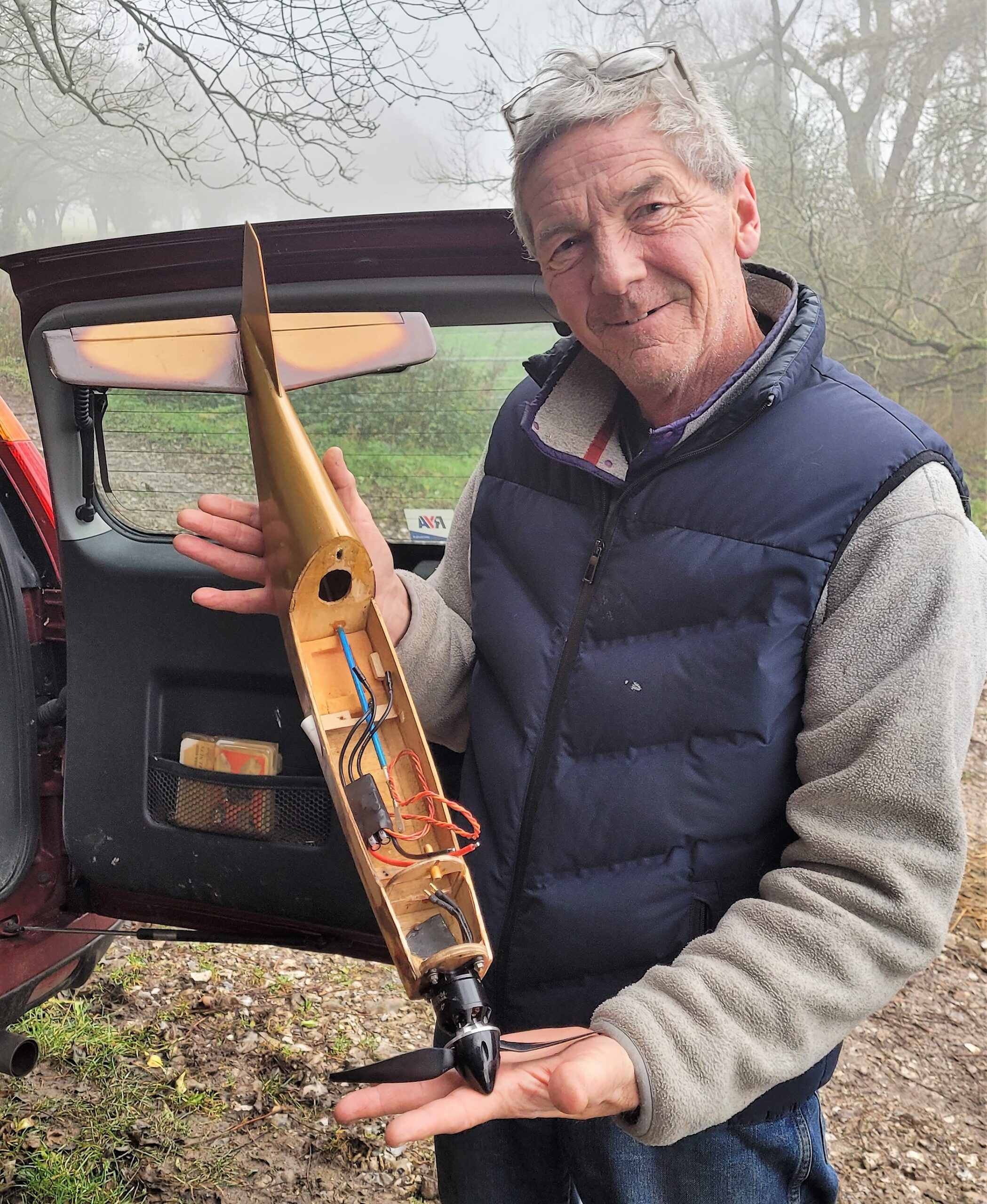 Five members attended Ian's funeral at The Oaks crematorium on 22nd August where they learnt lots about his very full life including that he had been a ski instructor and had lived in St. Lucia for a while working as a scuba diving instructor. Ian will be greatly missed.
In the last Patch News I featured Dougal Entendre's Salto H101 glider which he'd electrified and test flown but I hadn't had time to edit the video I'd taken of it flying.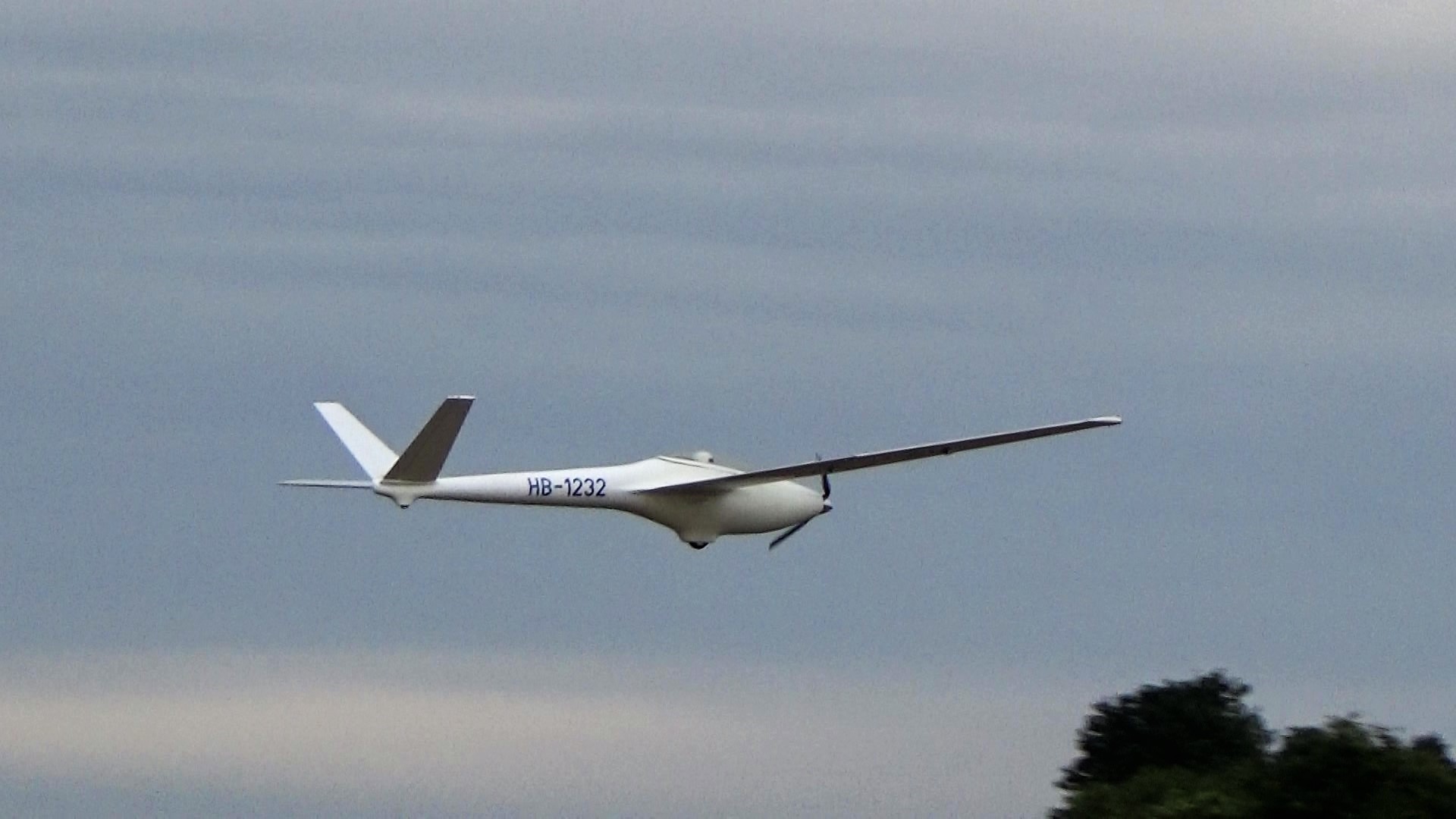 It's done now and you can see ground based and FPV footage of it in this month's video.
Young Charlie took a trip to Sussex Model Centre in Worthing and came away with two models, an Alpha and a Spitfire. The Alpha is one of a series of three produced by Flite Test, the others being called Bravo and Charlie. I can't help thinking the Charlie would have been more appropriate but SMC didn't have one! This is from the Flite Test website: The Alpha was designed to be a quick and easy to fly build, an all-around best performer out of the Triad series. The FT Alpha is compatible with the FT Bravo and FT Charlie kits. Each airplanes' wings are built to be removable from the fuselage, and can be swapped with any of the other Triad planes, giving the builder essentially 9 planes to choose from. There is no need to re-calibrate the center of gravity on the aircraft after swapping, the CG remains the same no matter what combination you configure. This is great for the flight line and swapping with others, making it an enjoyable experience for all. We want you to have an amazing experience both in building and flying. This kit comes with everything you need to complete the FT Alpha Aircraft. Push-rods, control horns, firewalls and all other items needed to make this airframe electronics ready are included in the kit. If you choose to purchase our power pack F and battery, balance, flight performance and assembly will be quick and easy.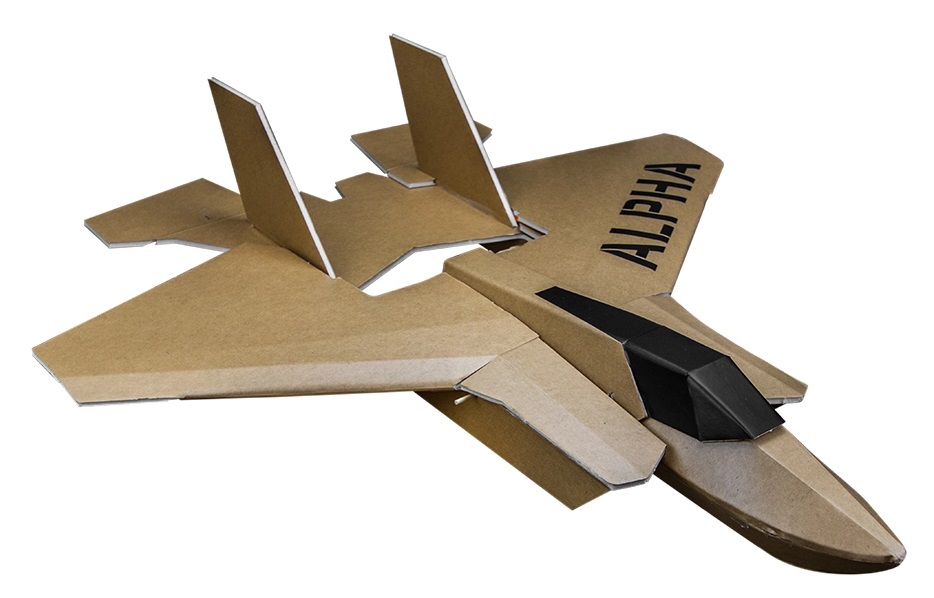 The website also has a series of build videos so Charlie should be able to build the Alpha without too many problems, he'll learn a lot and will also have more idea about completing any repairs should they prove necessary. I expect mum Nadine will help and also learn! The Alpha is 736mm span so is a reasonable size and it appears to fly well in the videos.
The Spitfire Charlie bought at the same time is one of the tiny ones sold by Eachine although the models seems to appear with a variety of manufacturer's names. Like the others is comes totally finished and ready to fly and the box even includes the transmitter.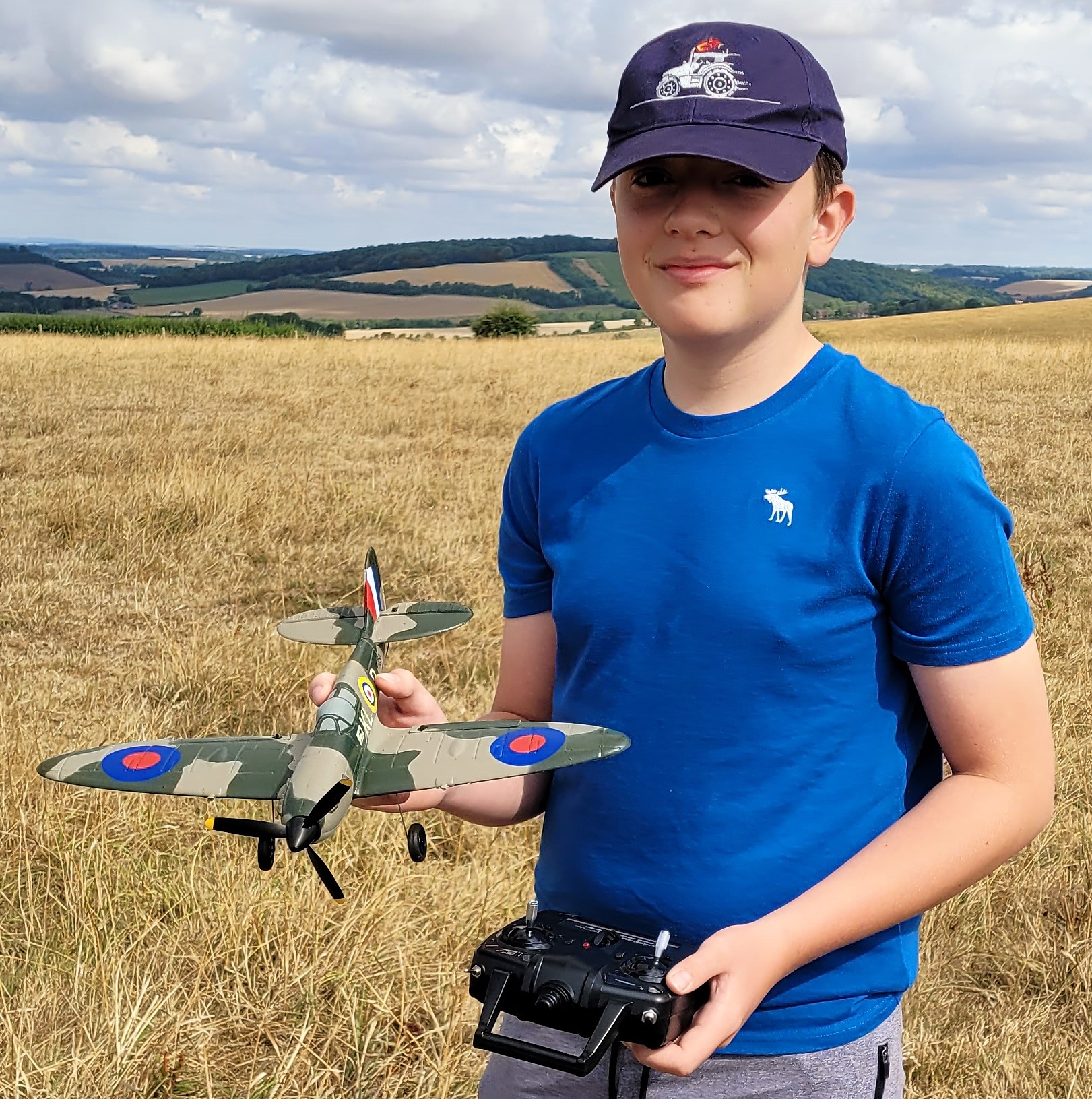 Also like the others the Spitfire is fitted with a switchable gyro which makes it easy to fly when it's in the beginner mode. Charlie is having no problems at all flying the Spit although so far he's tending to fly it at a very high altitude where some of the very slightly older people (me!) with poorer eyesight struggle to see it. Soon he'll twig that we don't fly low because we're clever, it's because that's where we can see them!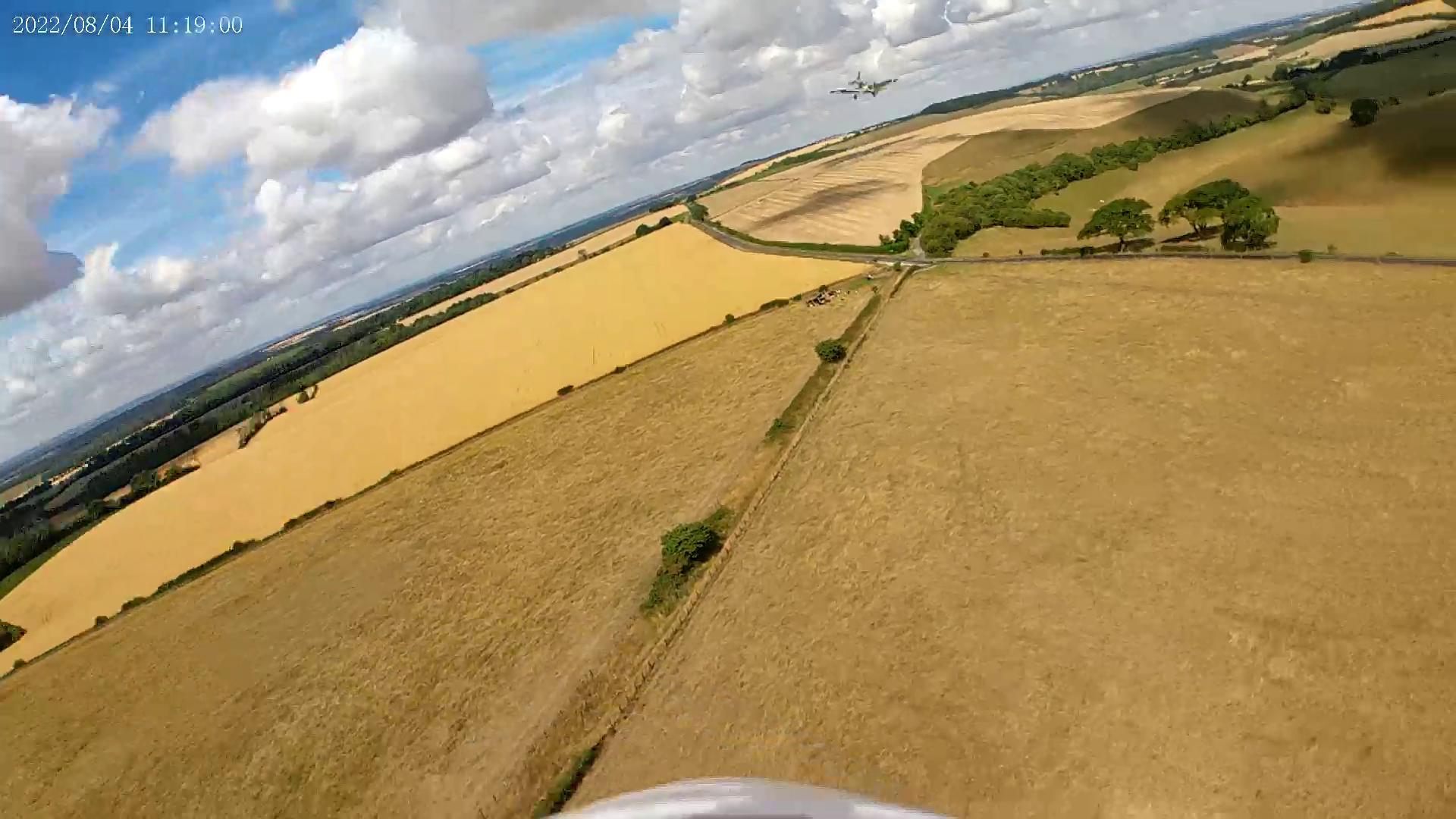 Dougal managed to catch Charlie's tiny Spit in his FPV sights briefly during one flight.
I promise it really is there in the photo, just below the cloud and slightly right of centre!
I featured a couple of new edf models last month that were built by Percy Vears during the lockdowns, both of which flew well. Last month's video included his 3 cell Gnat flying and this month the video has the Mig-15 being pit through its paces on 4 cells, its very fast!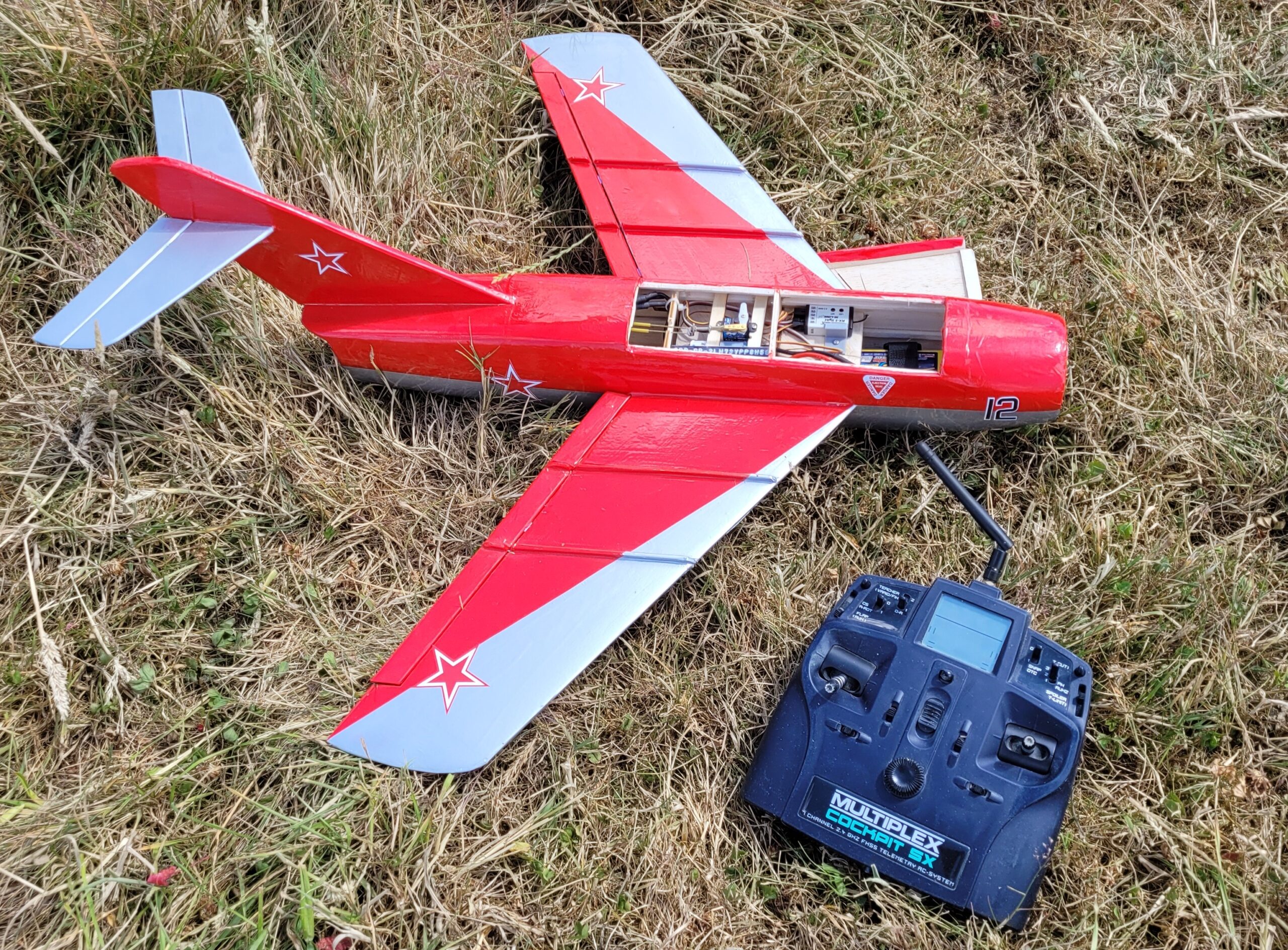 Percy has also been building a Tony Nijhuis designed Lancaster over the last few years and in August he brought the recently completed model along for a test flight.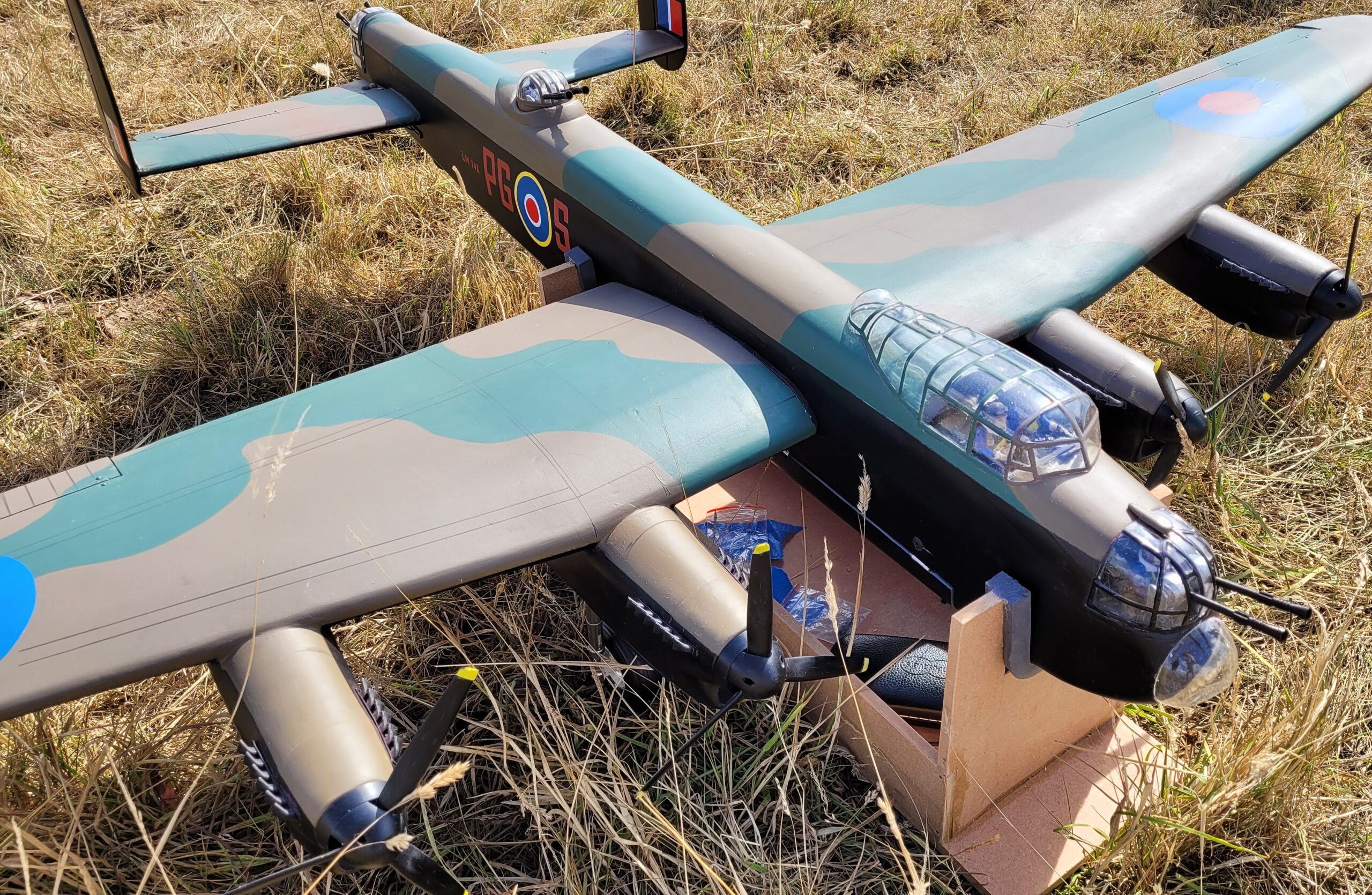 It's a beautiful model that I have covered in previous editions of Patch News. During preparation for flight Percy noticed that one aileron and the elevator glitched momentarily when the electric retracts reached the end of their travel, rather worrying.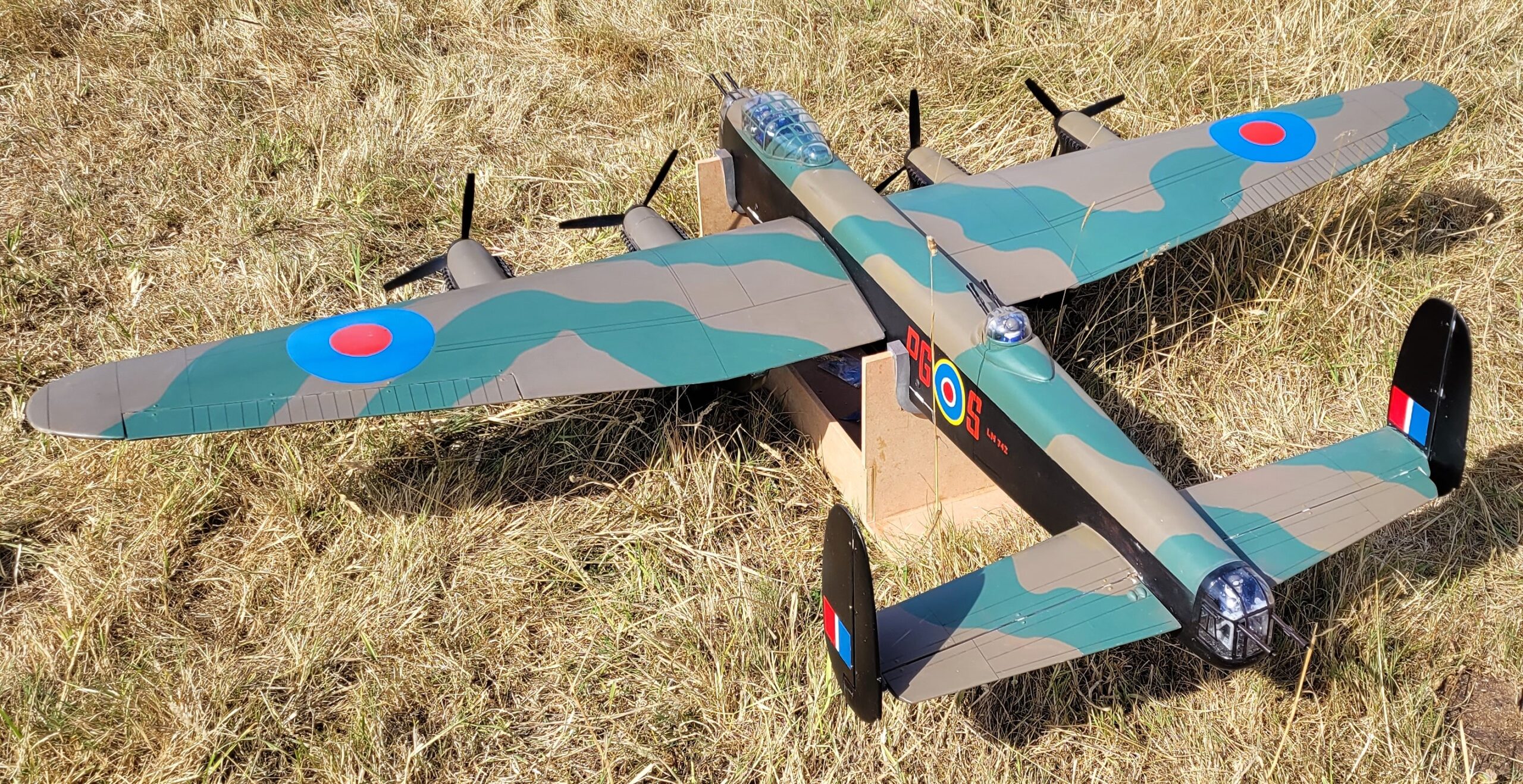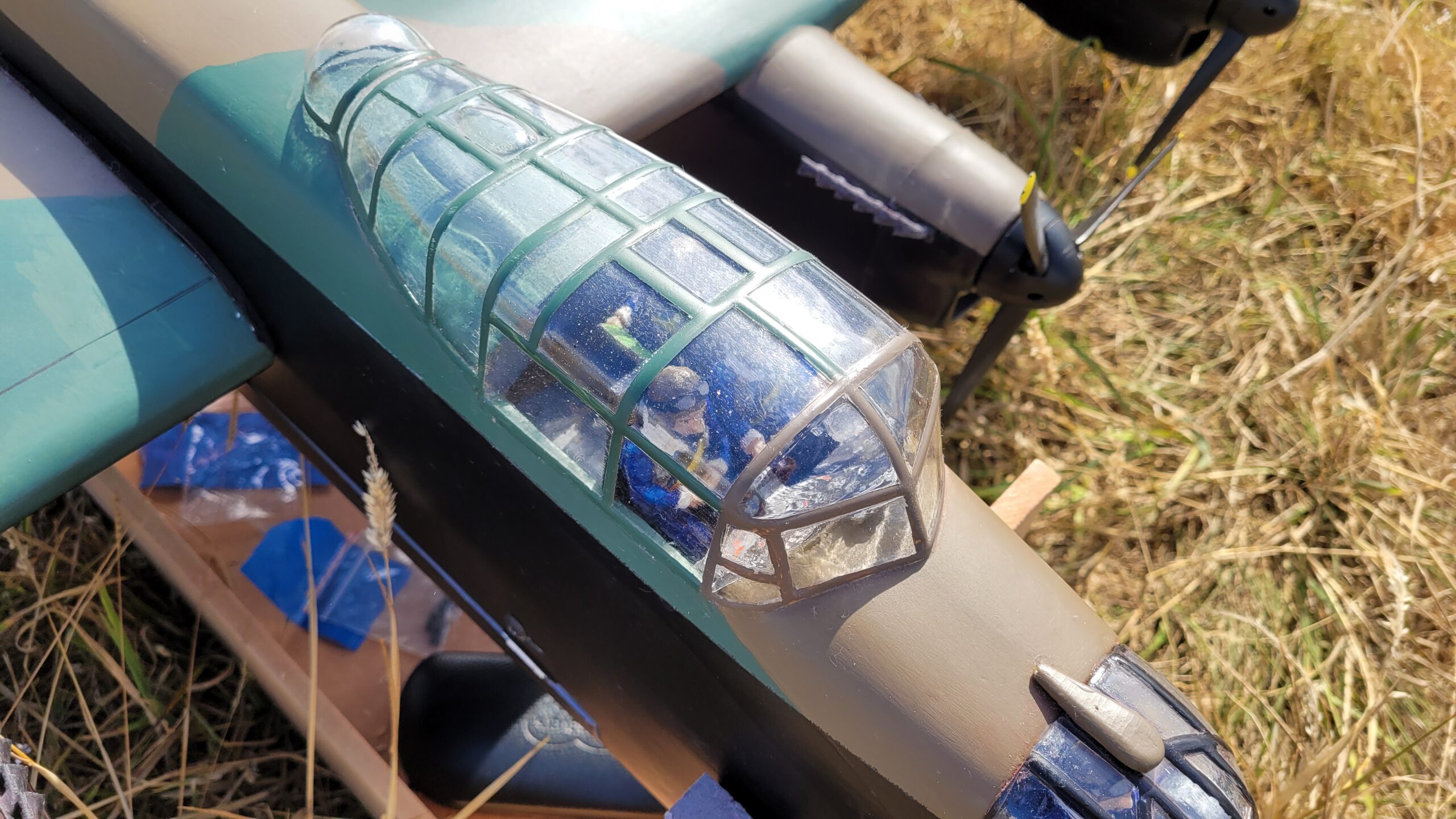 We did a check to see if they were pulling a lot of current and overloading the BEC but there didn't seem to be a problem so Percy decided we should ahead with the flight.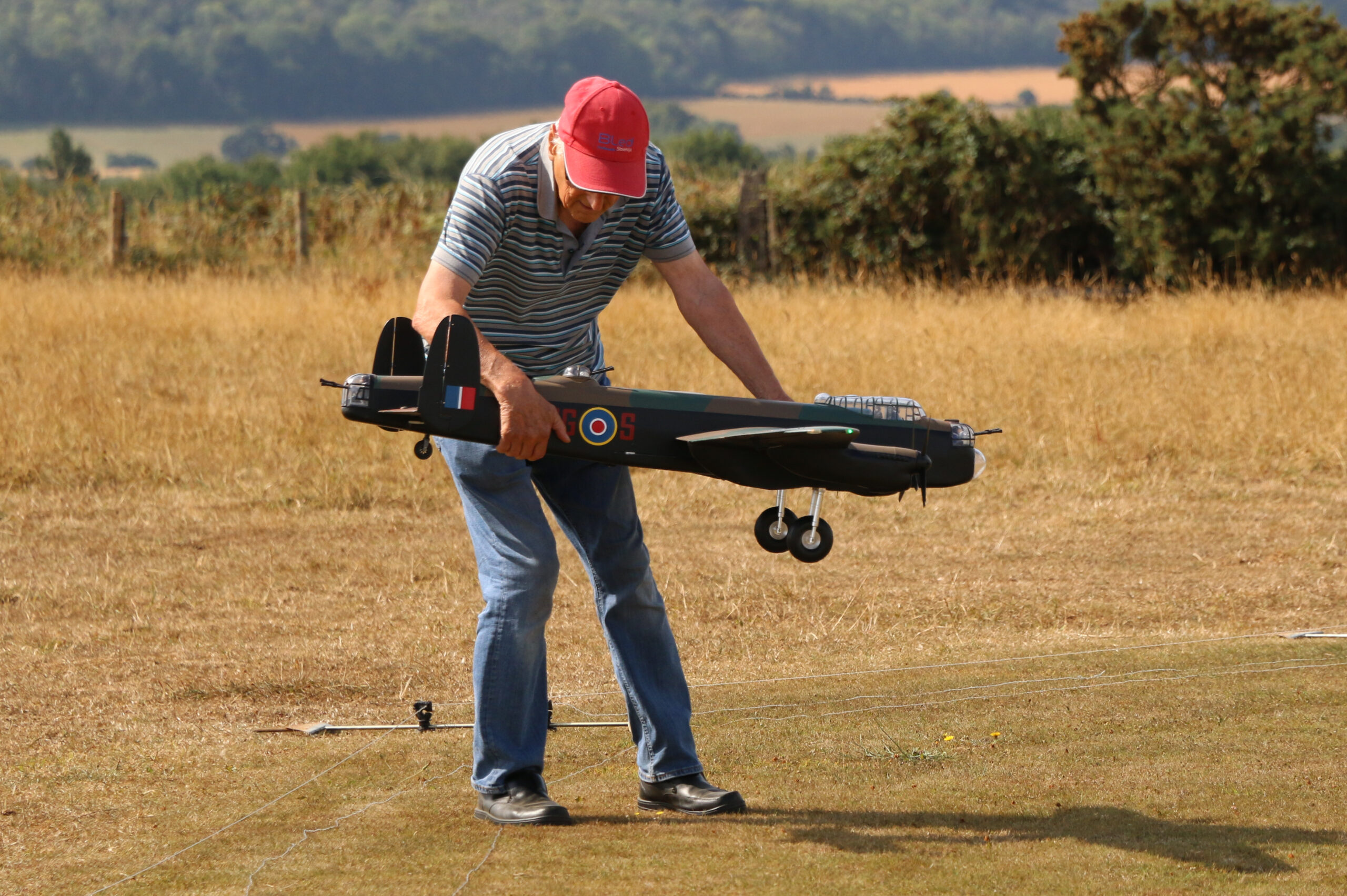 I was nominated as test pilot and the Lancaster looked great as it trundled across the patch and rose into the air beautifully, it just needed a little up trim to maintain level flight.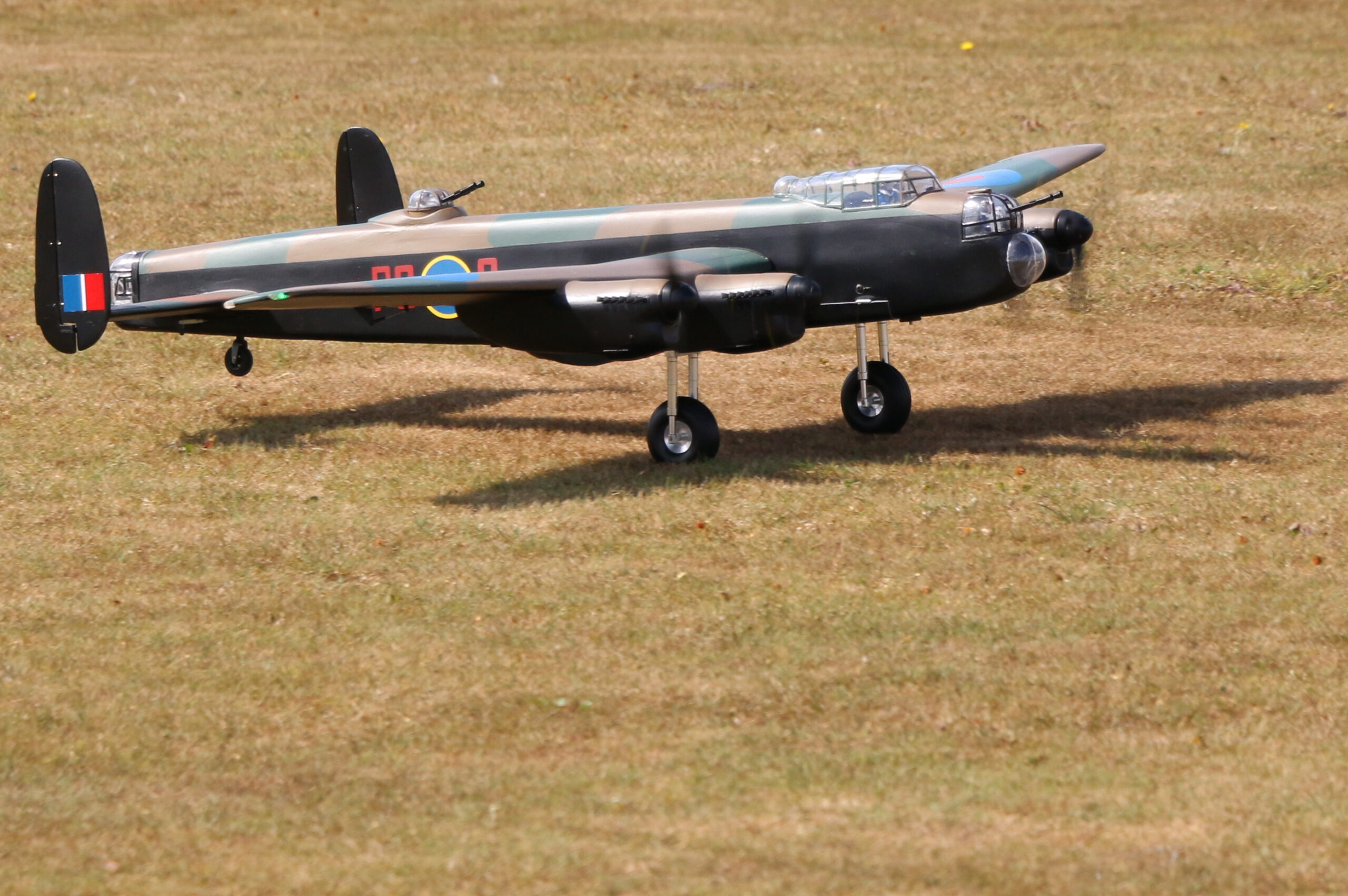 On the downwind leg I raised the retracts and the plane veered very violently to the right and downwards, much more than I thought the glitch would cause. I got it back level and decided I should continue round the circuit to land but when I lowered the retracts there was the same violent reaction which I manged to recover but then at low level it did it again and the Lanc hit the fence by the lower track. With the benefit of hindsight maybe I should have continued to climb for height after the initial glitch and not lowered the gear until I had plenty of height but who knows. At the time I just wanted to get it down.
The damage looked pretty bad, mostly at the root of the starboard wing but Percy was confident he could repair it fairly easily and just a week or so later he reported that he had already fixed the worst of the damage and was tidying it up cosmetically. Percy is going to fit a separate retract battery and will do some extensive testing before flying it again.
Not content with building two EDFs and a Lancaster Percy also found time to build himself a new Splot, saying his original one was getting a bit tatty in it's old age.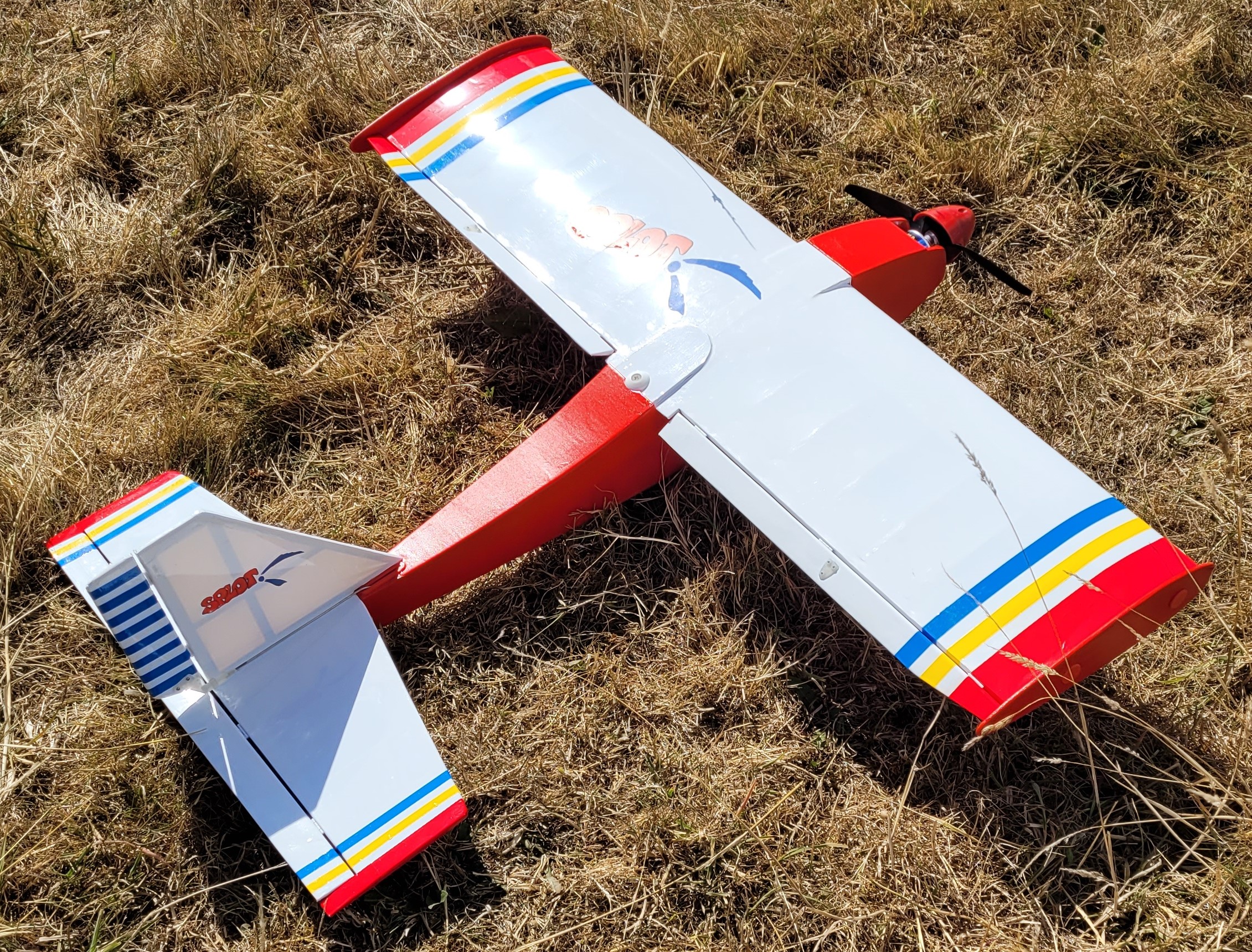 The new one is far from tatty, very smart in fact, and uses the same power set-up as his previous Splot and it flies just like the first one, very well like all Splots do.
It's always encouraging for the lesser mortals when one of the so called experts gets it ever so slightly wrong and I thought we would all enjoy seeing the result of one of Dougal Entendre's infamous low inverted passes going a little awry when encouraged by others.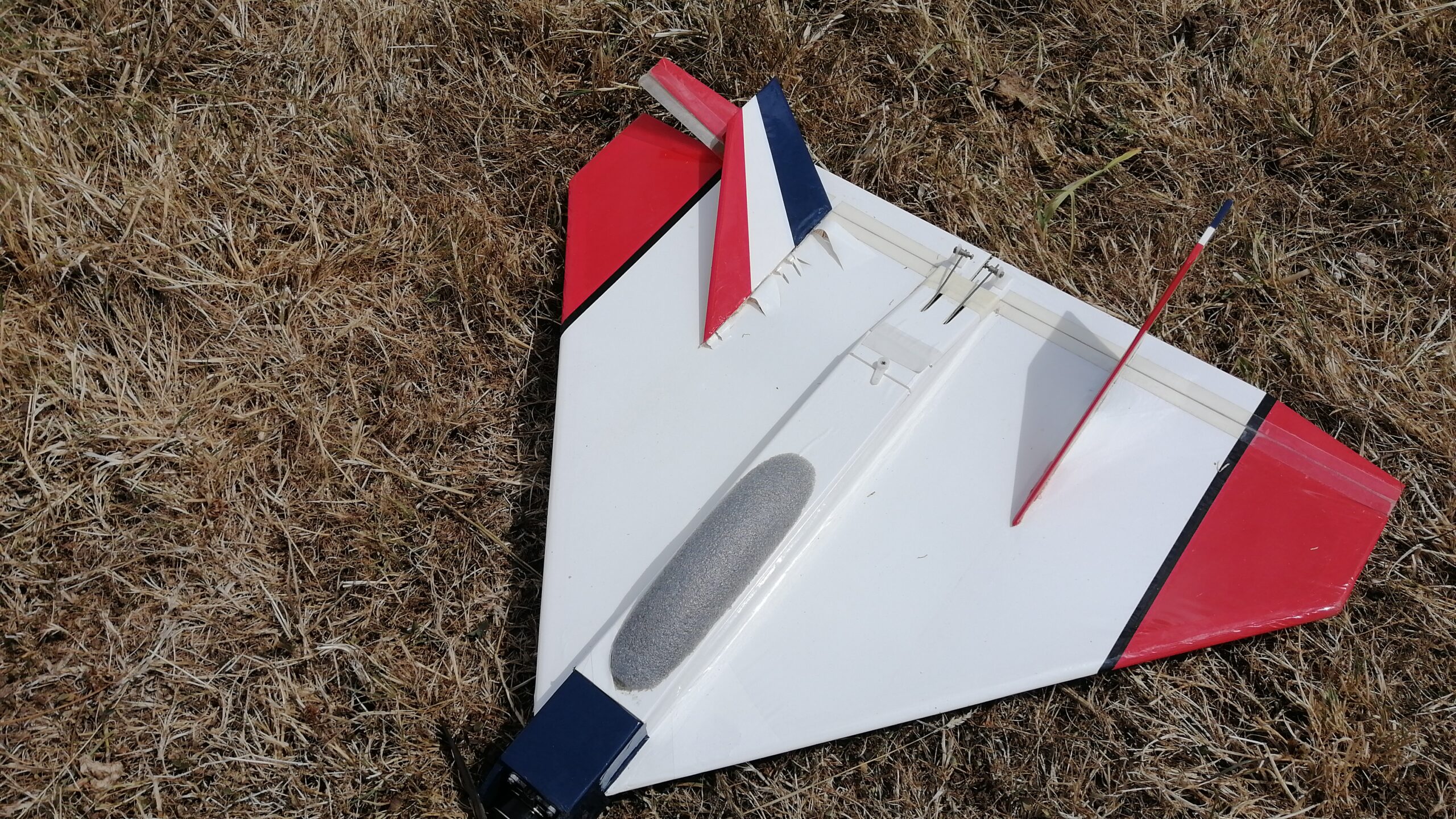 Dougal responded to the shouts of 'Lower' and pushed it just a tad too much when flying his Mini Blitz and the inevitable happened! Fortunately there was only minor damage.
Catapult King has been building again and he can always be relied on to come up with something unusual, no box like trainers with thick sectioned parallel chord wings for him.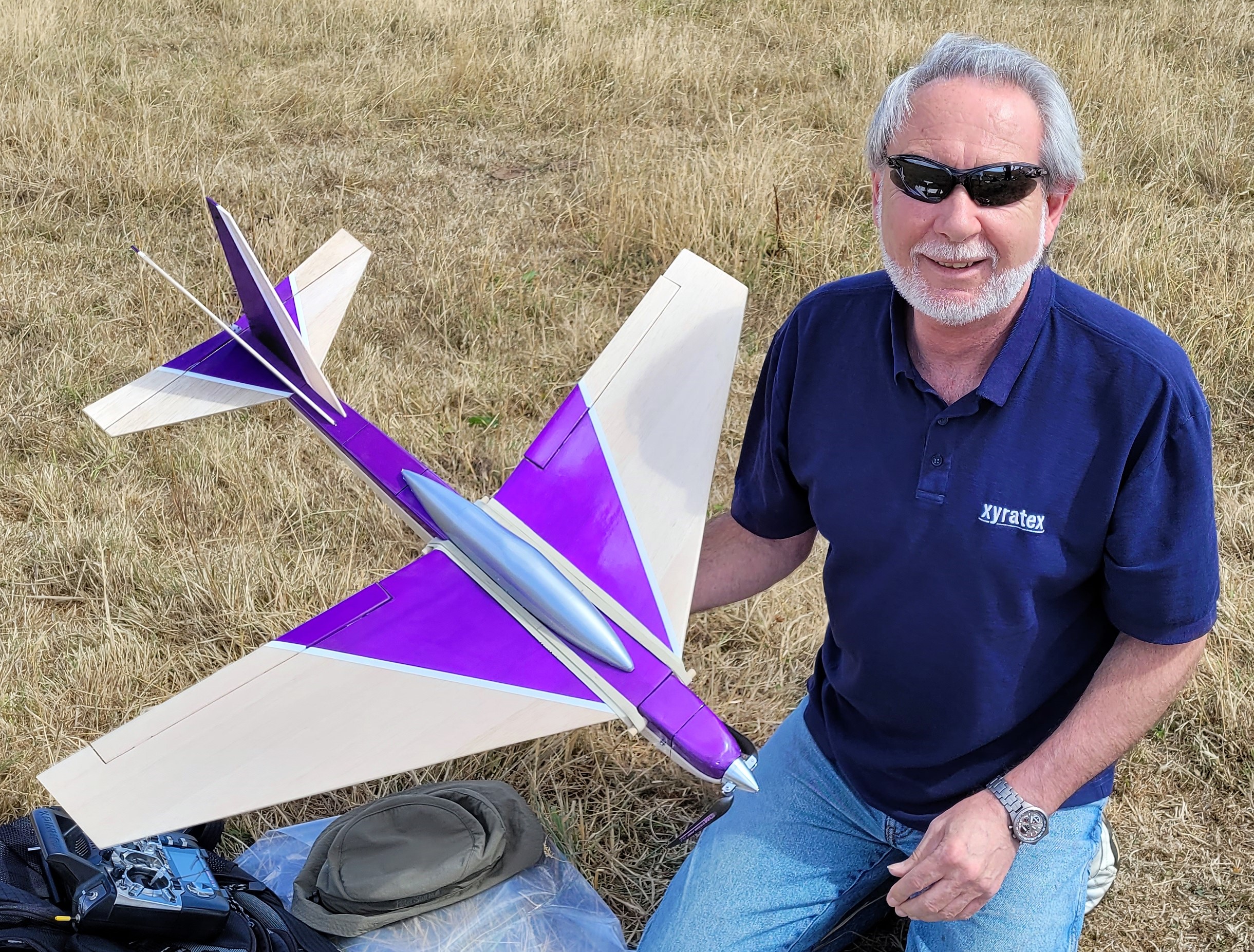 This time he's built a Purple Piper. What's that I hear you ask, I'll let Catapult explain: The plans were first released in Radio Modeller in June 1989 but I got them from Outerzone. The designer is John Rutter who took the wing from an old Mirus as the fuselage for that model apparently wasn't much use. So he designed this new fuselage and called it the 'Pink Piper' namely because his was pink. Mine's purple so it seems fitting to call it the 'Purple Piper'. Originally an IC design I've obviously changed it to electric. It currently uses a Turnigy 2836 – 1000Kv motor with a 3s 2200 battery. As we saw, with a 7 x 4 prop it only just flew so I changed that for a 9 x 5 which was better but that prop can just hit the rubber band wing dowels. I will change both the motor and prop for a 1200 to 1400Kv and an 8 x 6 prop when I can find some in stock. I think that combination will be successful; we'll have to wait and see. As Catapult says the model was a little under-powered but, as you can see in the video, it actually flew pretty well, just rather too slowly.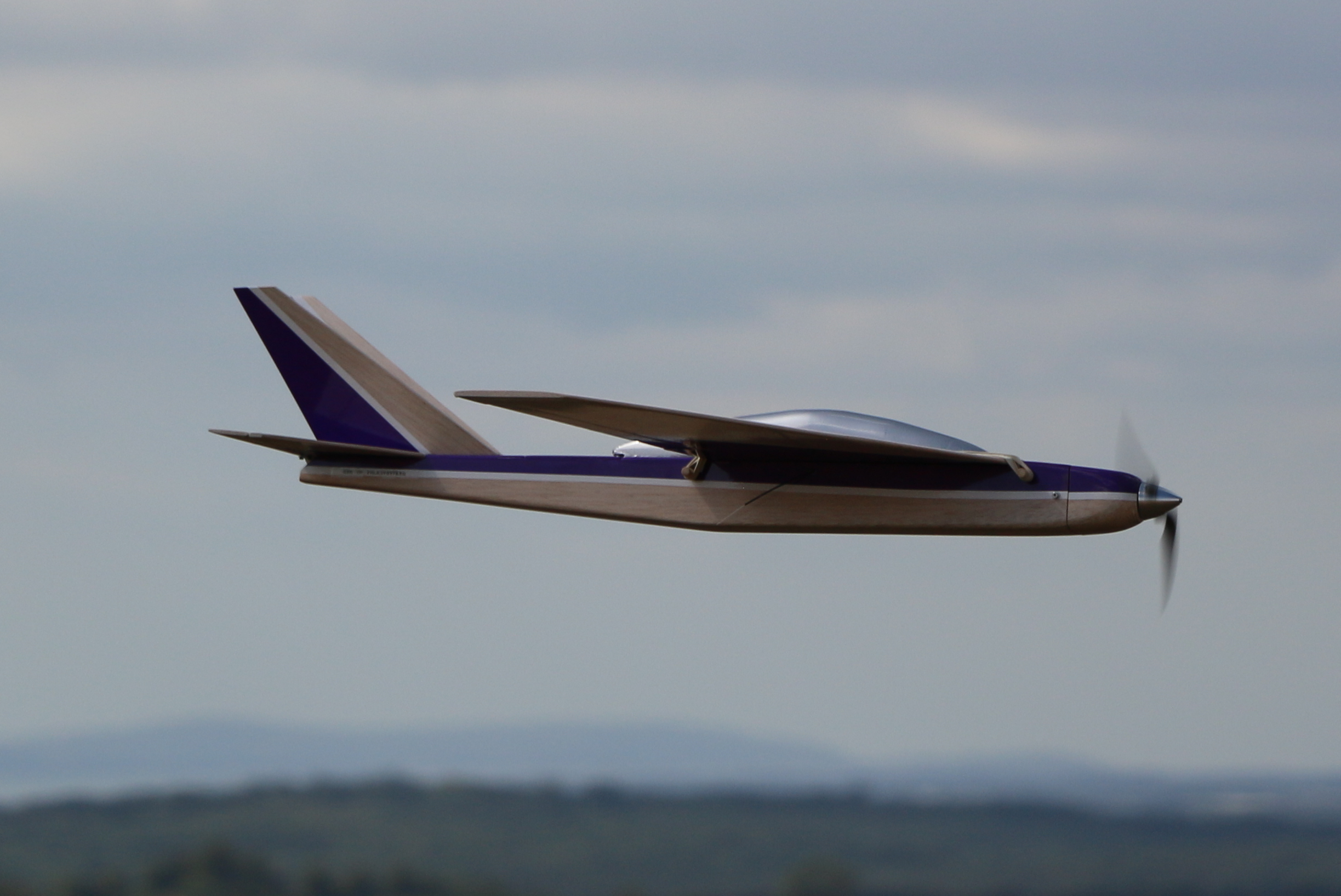 The next time out with a bigger prop was much better but the Purple Piper could still handle a bit more speed and by the time you read this it will probably have been re-motored. Any model with a Mirus wing is definitely something 1066 will drool over and if it ends up being fast as well I reckon he'll be borrowing the plans.
Several PAM members attended the Popham Model Show in August and some came away with goodies! The show was excellent with some good models and equally good displays.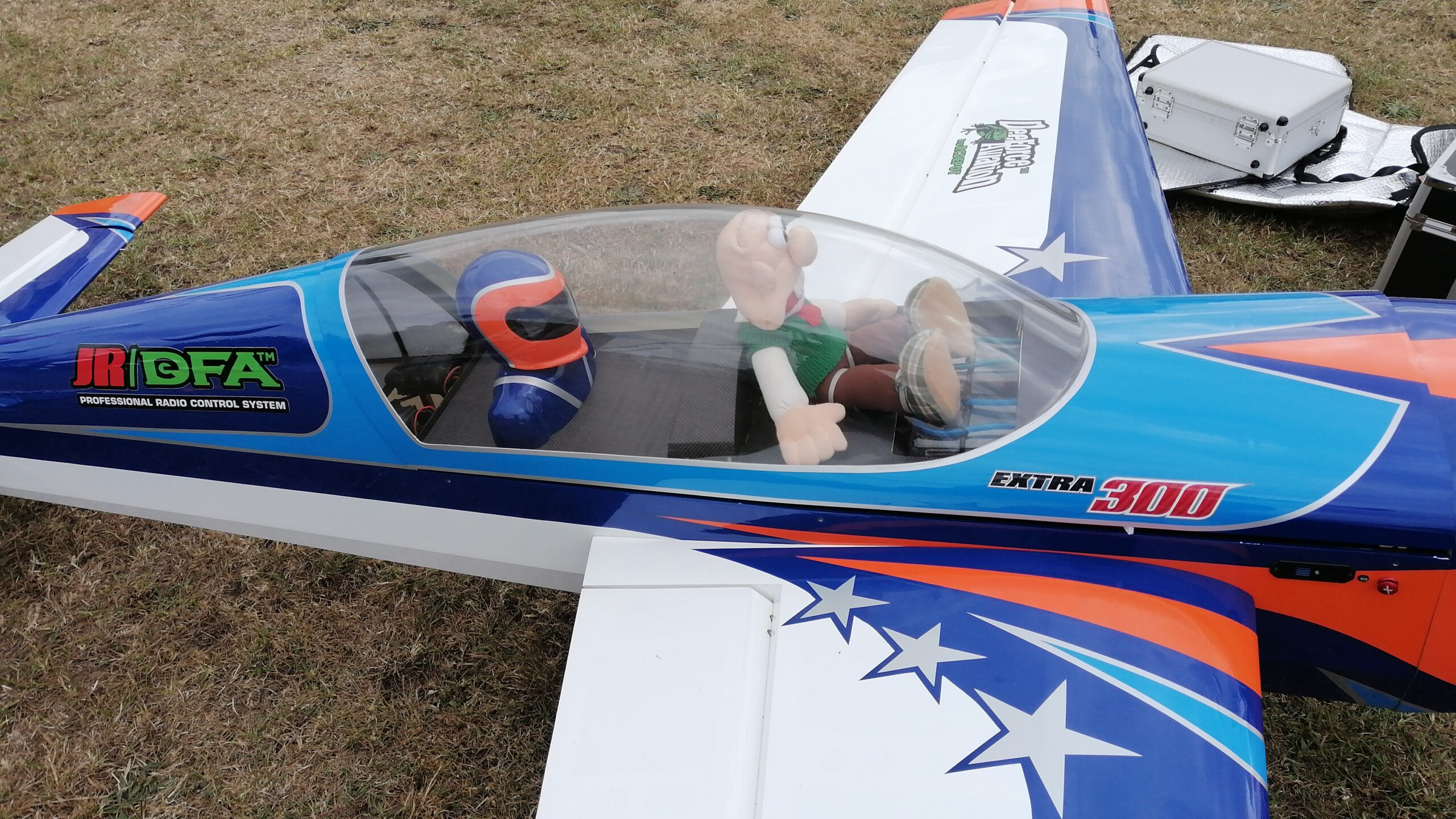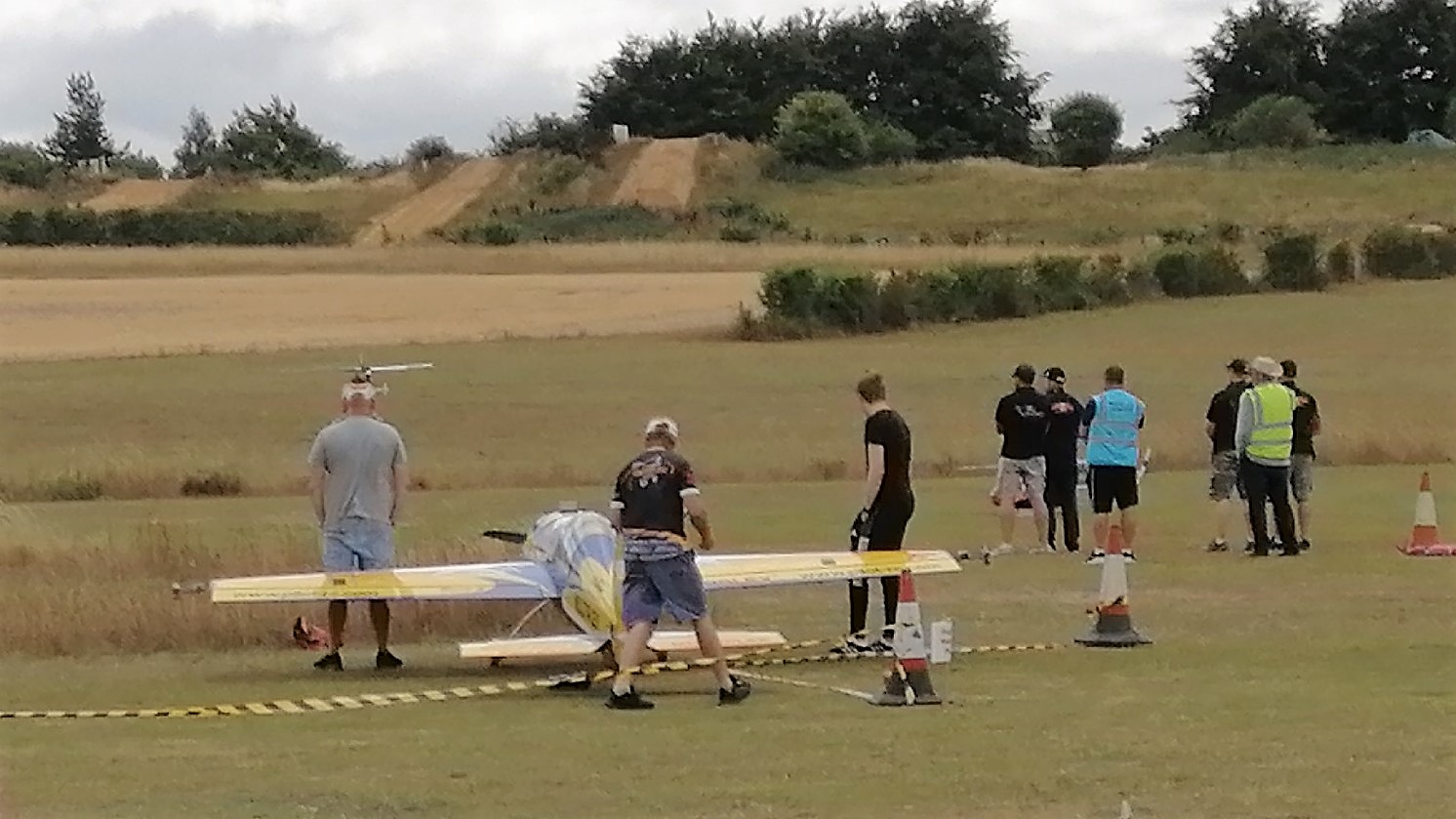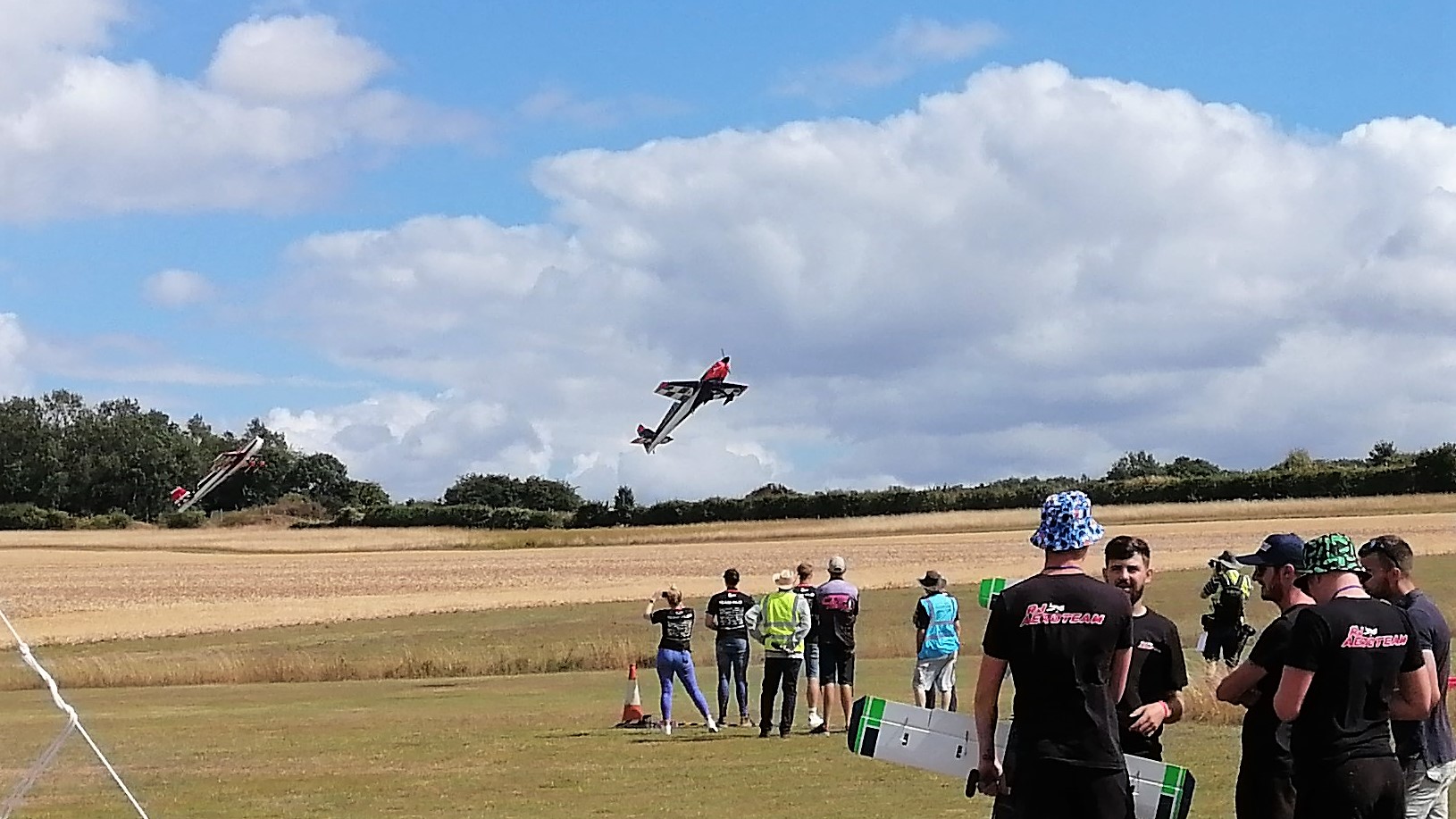 There were many more trade stands than last year so hopefully the show will just keep on getting bigger and better. Young Charlie fell for a second-hand HobbyKing Lancaster on one stall and despite Dougal and I urging caution he decided to go for it and haggled the price down to £80. Another member who splashed the cash was 1066 who picked up an Arrows Viper at a very good price. Once home he put it together in just a couple of hours.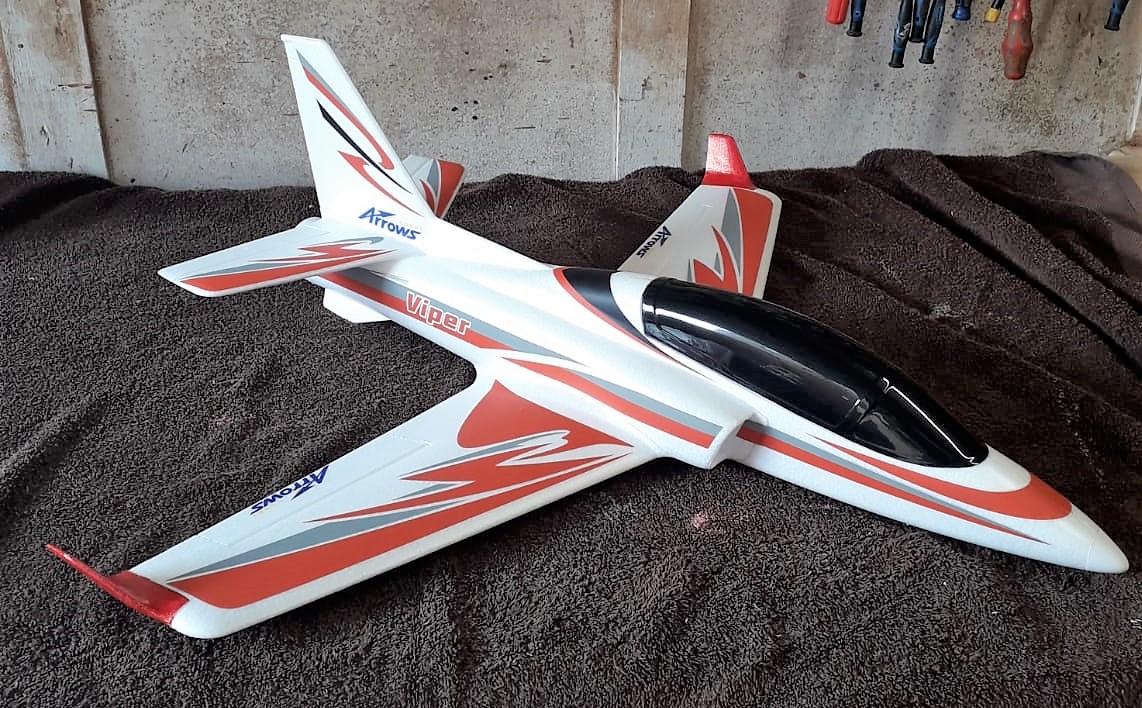 This is from the Kings Lynn Model Shop website: Sleek, powerful and perfectly formed the Arrows Hobby Viper will be something of an eye-opener to anyone who still thinks EDF jets have some catching up to do. Experience the Viper in action and you'll quickly realise that nothing could be further from the truth. Packing a jet-like 50mm 11-blade fan that's spun up by a precision 2627 4500KV brushless motor, this 3S-fuelled pocket rocket will find favour in the hands of all who seek smooth, flowing aerobatics, a cloud punching performance and exceptional speed. But that's not the half of it, the Viper is also a beautifully practical jet that exhibits exceptional low speed handling, is small enough to transport in one piece, retract free (hassle free) and enticingly budget-friendly. All this grace and performance from a 3S LiPo will almost certainly have you reassessing your EDF spend. So good is the Arrows Viper we're convinced it'll become a frequent flyer in your air fleet and, as we all know, that equates to superb value for money. As Arrows Hobby so rightly says in its promotional blurb, "Small (and simple) is beautiful." I've looked at the Viper a few times but keep telling myself I don't need one!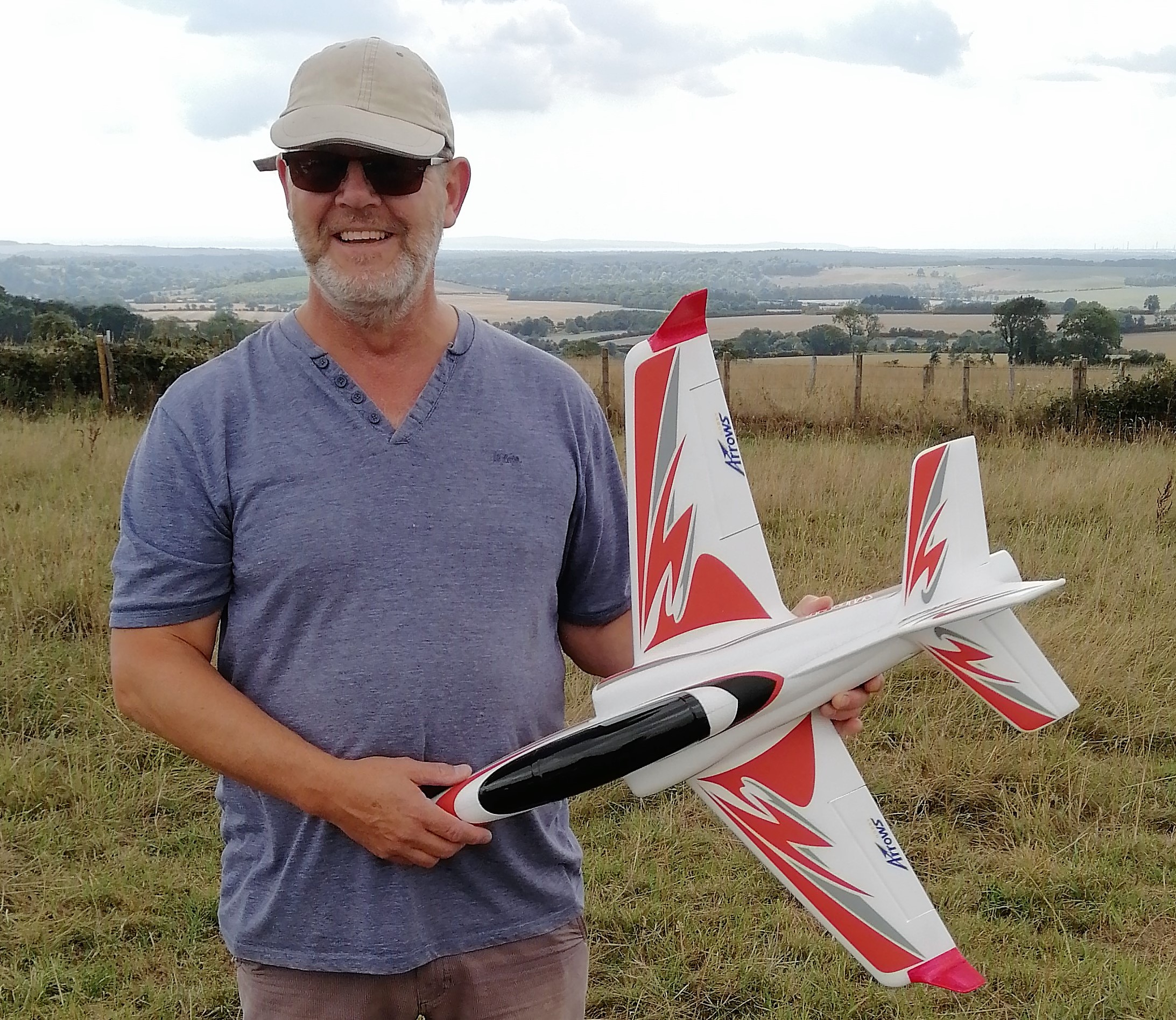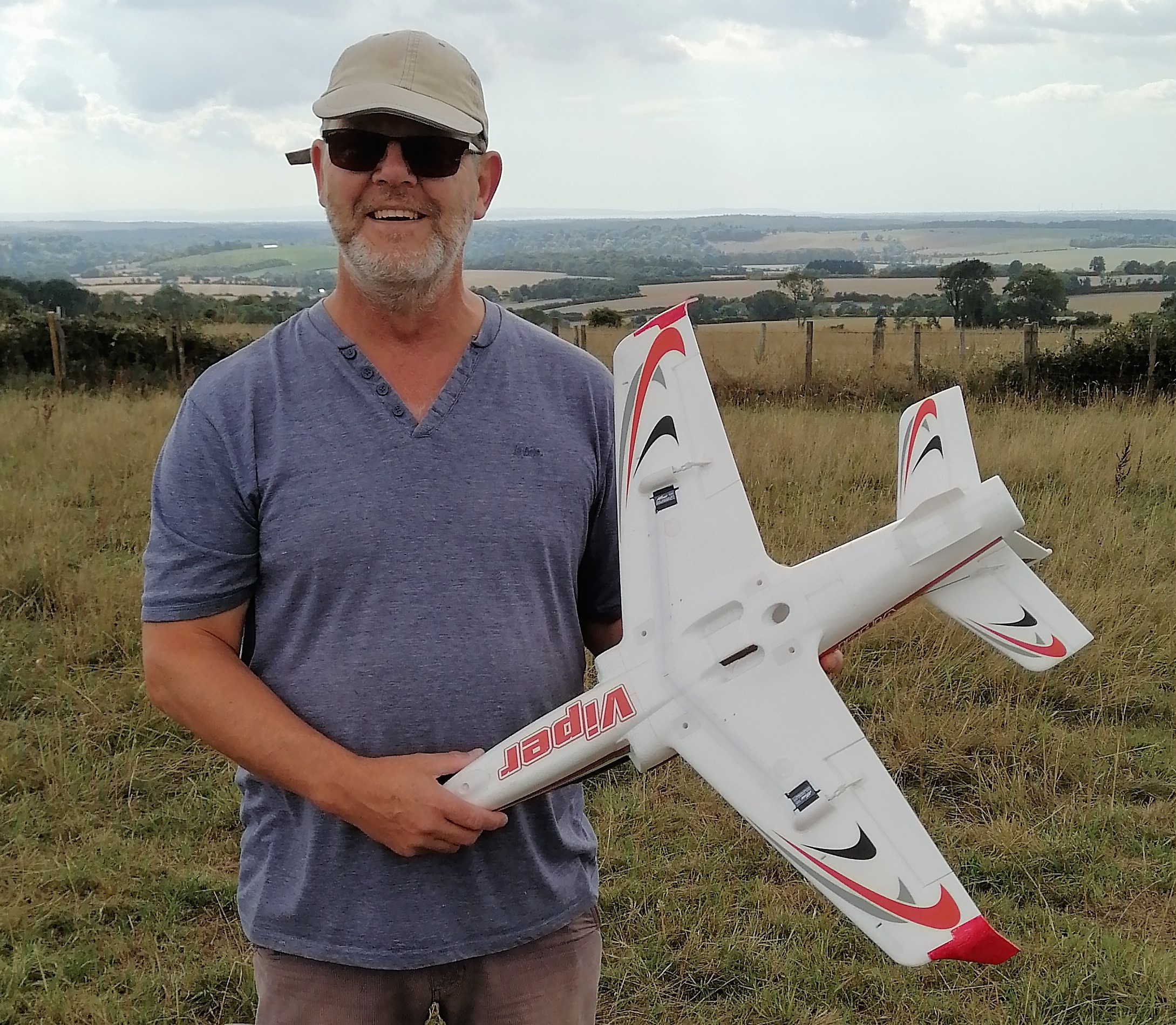 1066 flew his Viper while I was away and watching the video that Dougal shot of the first flight made me very jealous, I think maybe I do need one after all, I feel a pain in the wallet coming on! You can see what you think of the Viper's performance in this month's video.
Bob the Builder has been at it again and has produced a model he's called Bigger Basher as it replaces his smaller Basher that he lost sight of one day with the inevitable result!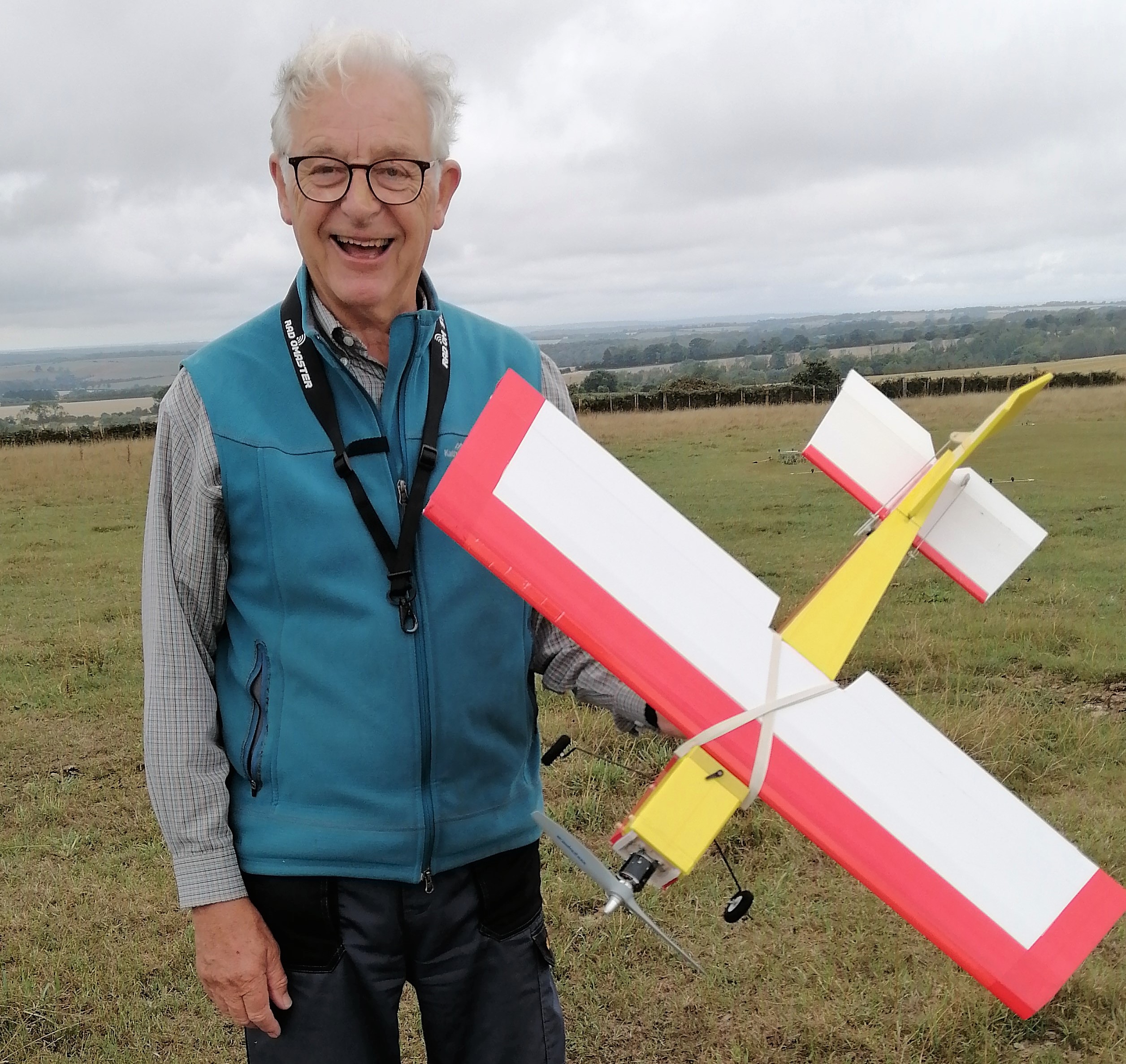 The Bigger Basher is based on a Flite Test Simple Stick and is made from 5mm Hobbycraft foamboard with the paper covering left on and stuck together with hot melt glue. The wingspan is 840mm (the width of the foamboard) and the spar is a section also made of foamboard. The motor is mounted on a foam box that slides into the front of the fuselage and held in place by three wooden dowels which makes for easy motor swaps and repairs.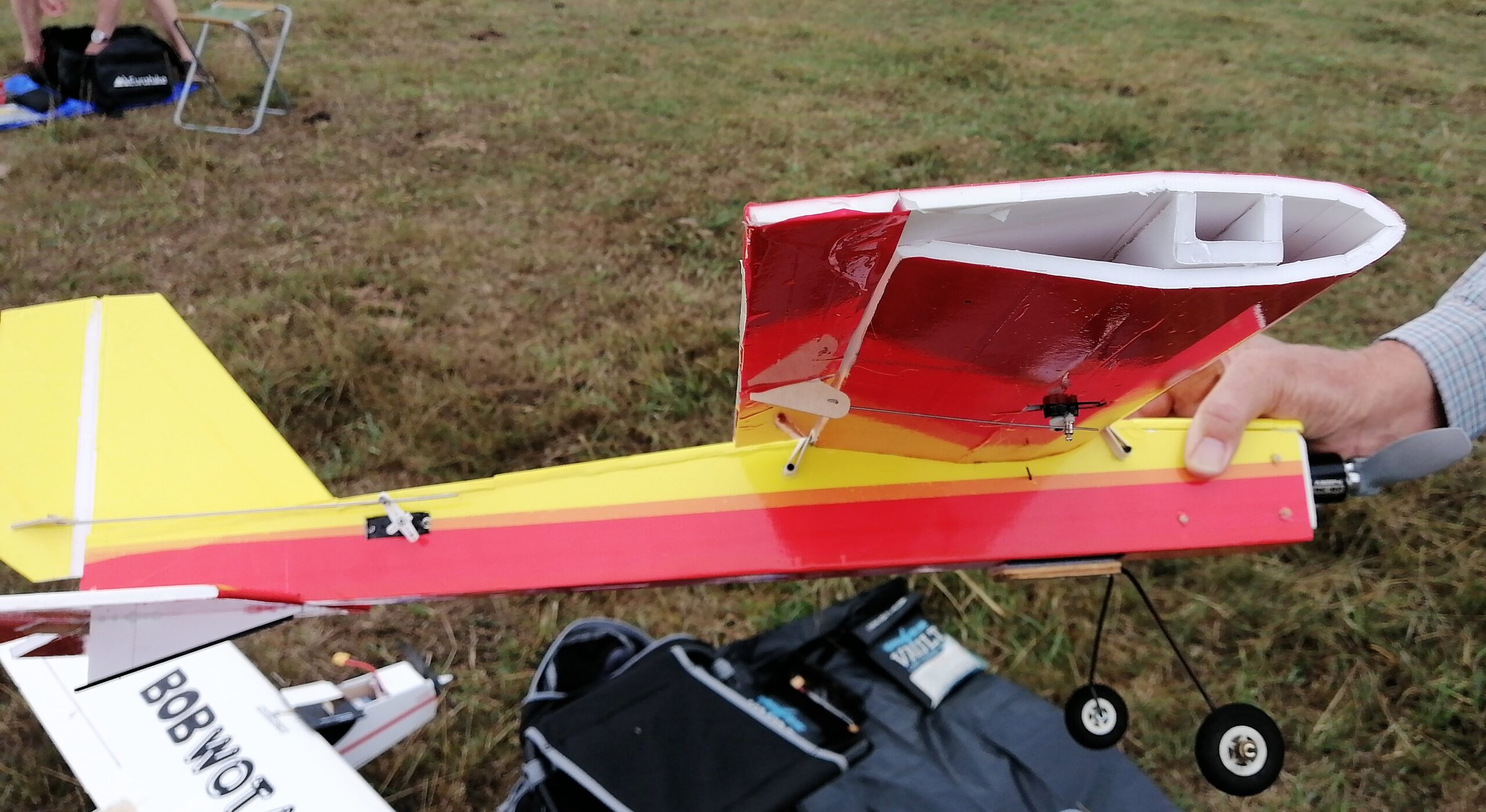 The undercarriage is currently held on by Velcro but Bob says it doesn't work too well so he's thinking of changing it. The motor is a Propdrive 2836 1400kv which swings a 9×6 prop and the power comes from a 1300mAh three cell battery. Servos are all standard 9gm ones as used on various other models. The Bigger Basher is covered in packing tape to add colour and strength. It's proved to be an excellent aerobatic flyer, cheap and quick to build.
Geoff Hill produced not one but two new models in August. Well strictly speaking only one is new, the Orion E is what Geoff calls an "attic rebuild". I think we can all relate to that!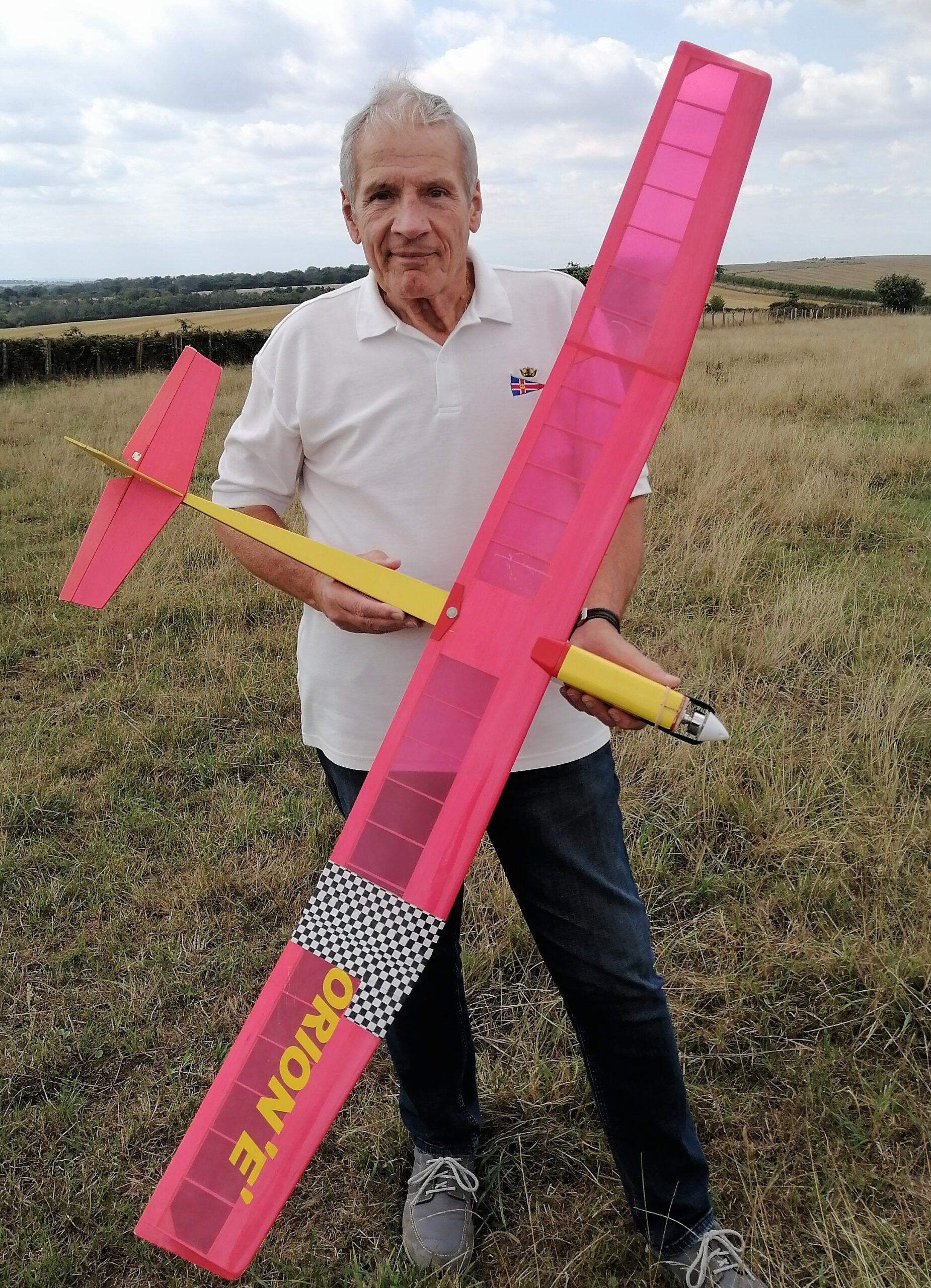 The Orion E is a powered glider that has been brought up to date with a Turnigy DST 1200 motor, a 30A speed controller and a 3 cell 2200mAh lipo. The receiver is Flysky FS-GR3E.
The genuinely new model is a Coachman, a four channel trainer plane which Geoff has built from an RCM&E magazine plan that was published way back in November 1996.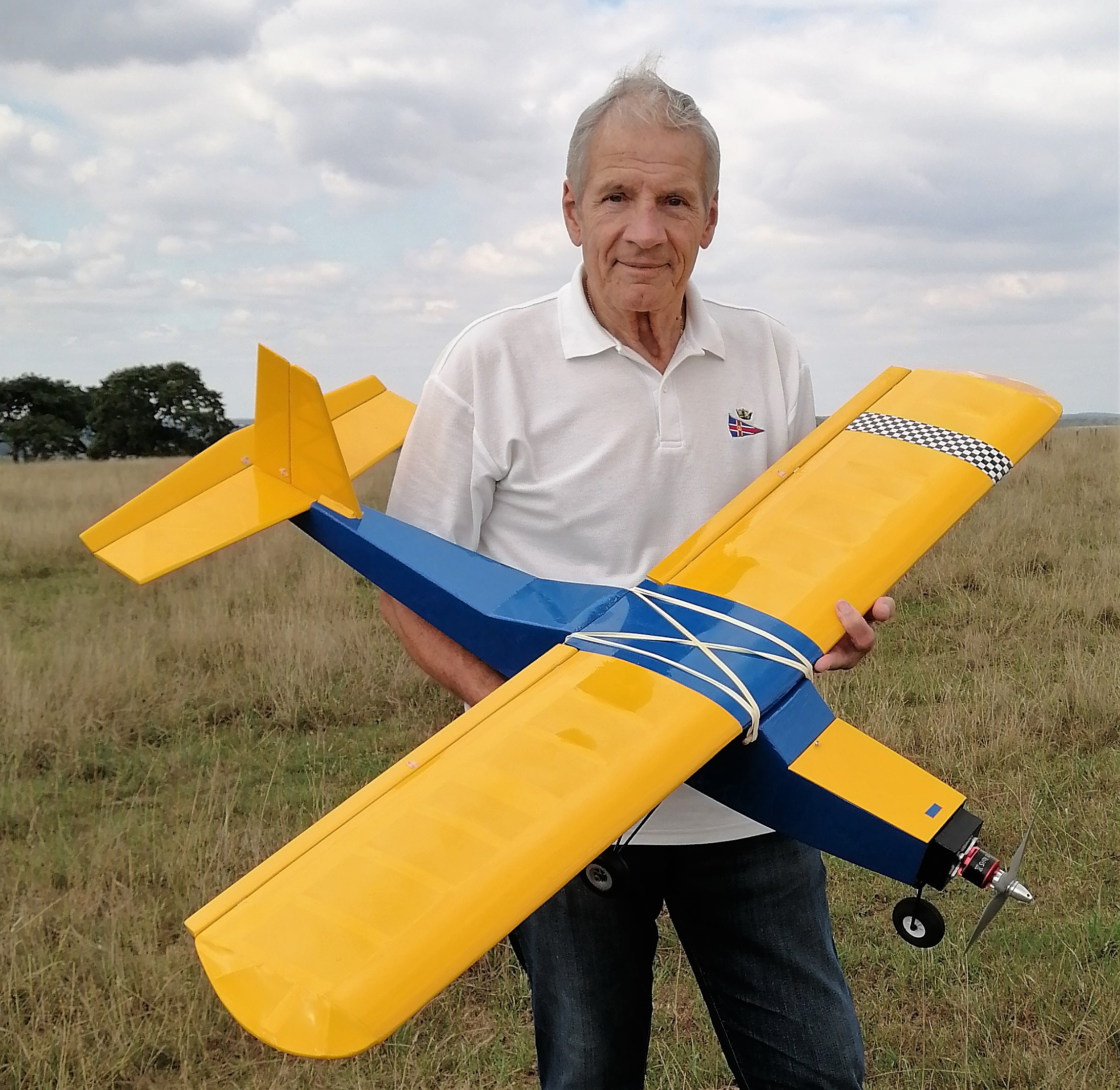 It was designed for i/c engines but Geoff has extended the nose and fitted a Racestar 3536 1200kv electric motor which is powered by a 3 cell 3650mAh lipo. The Coachman is fitted with a Radiomater R88 receiver and although it flies ok it still requires a bit of tweaking .
Kryten took lots of great photos for us in August, some static shots and some airborne. I've used some of his static shots in the write-up and here are some of his airborne ones: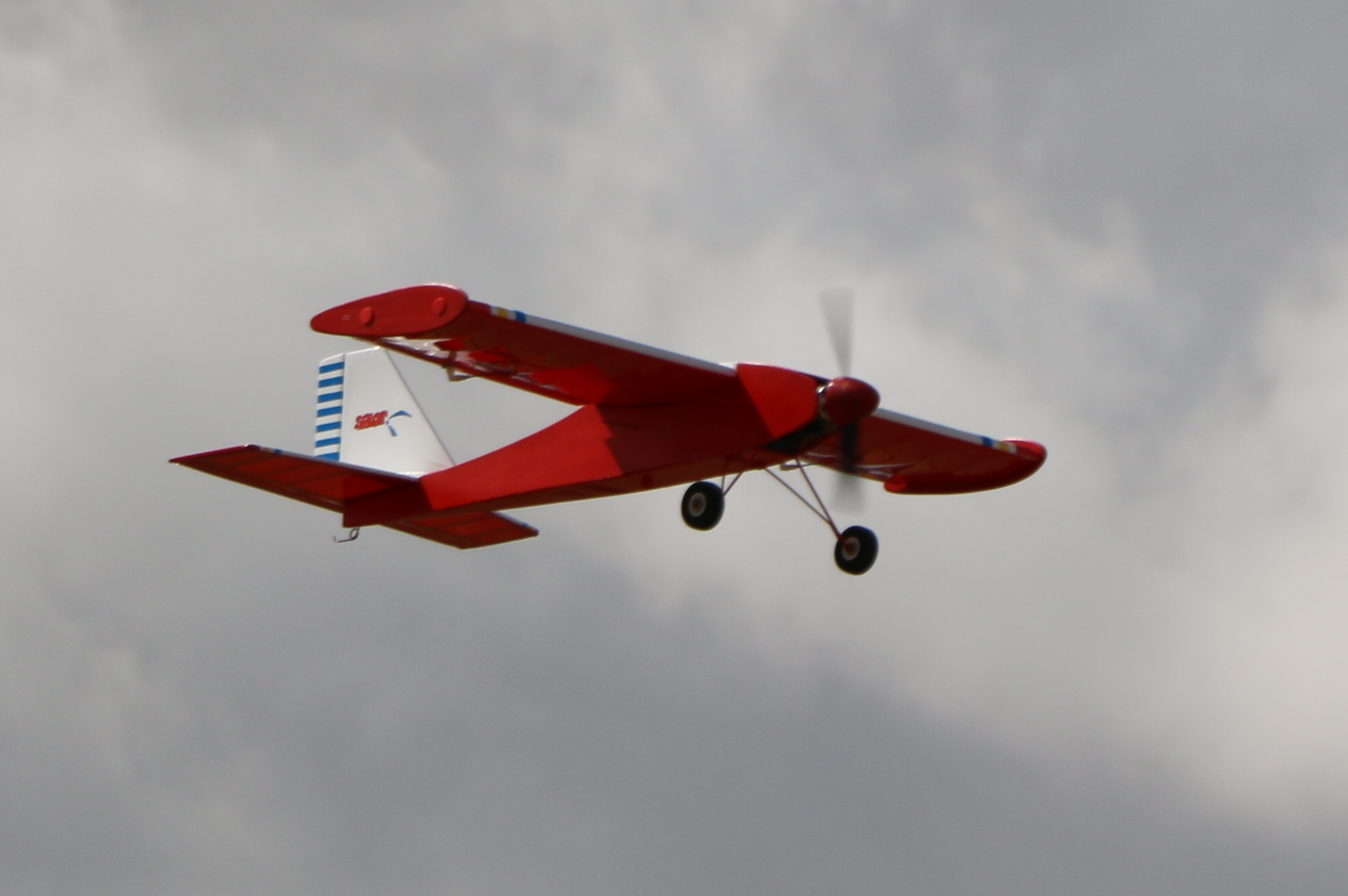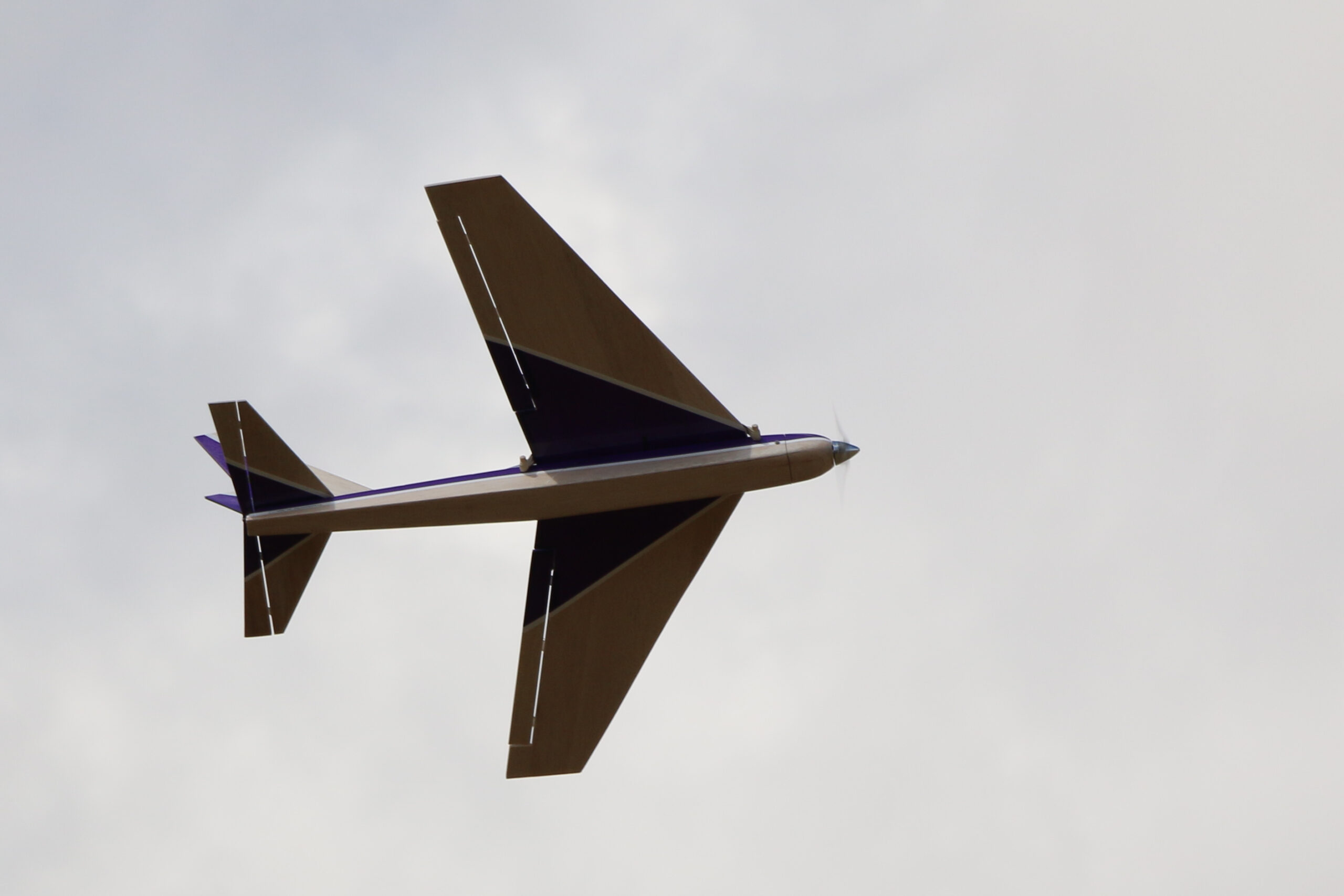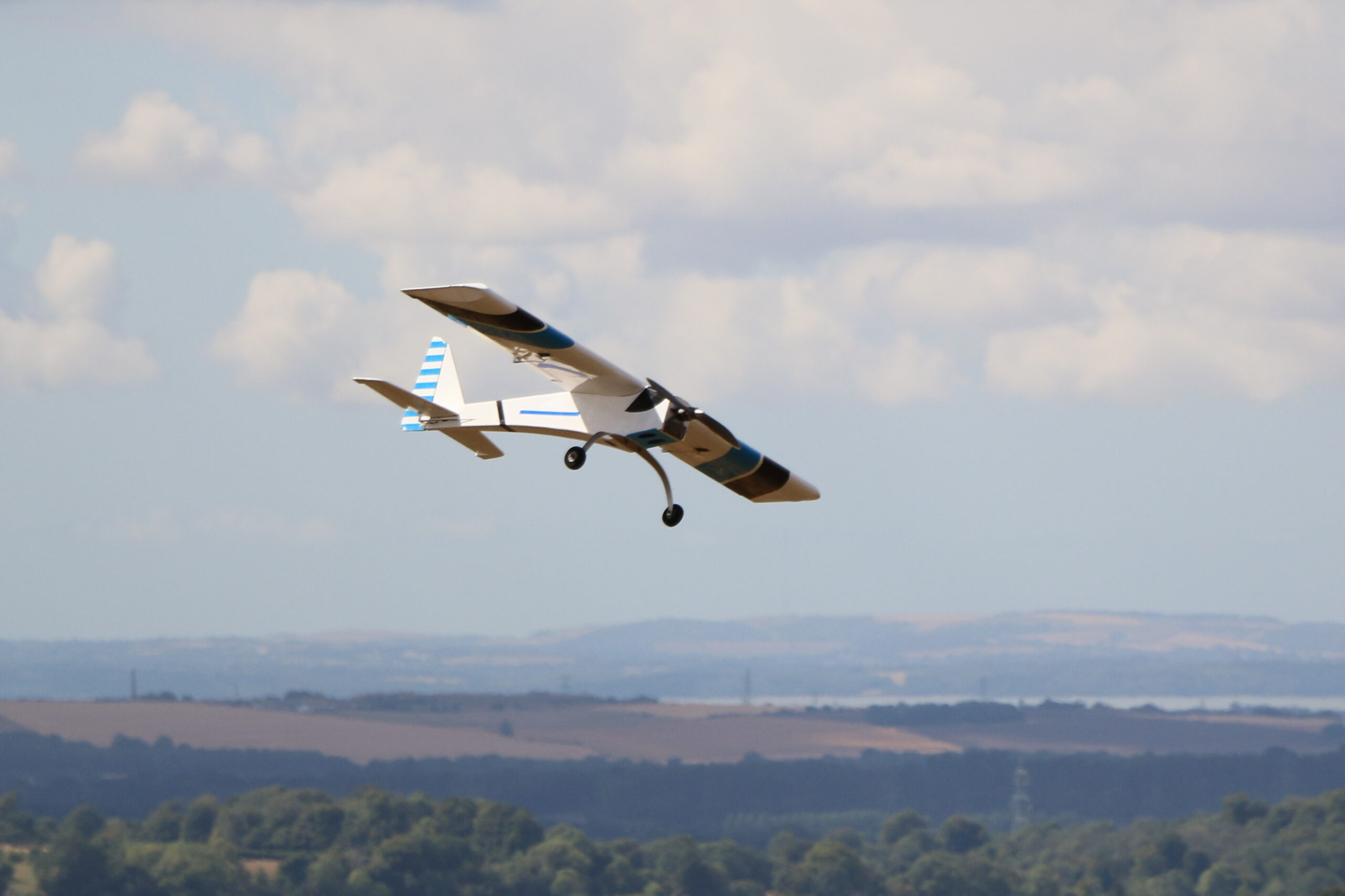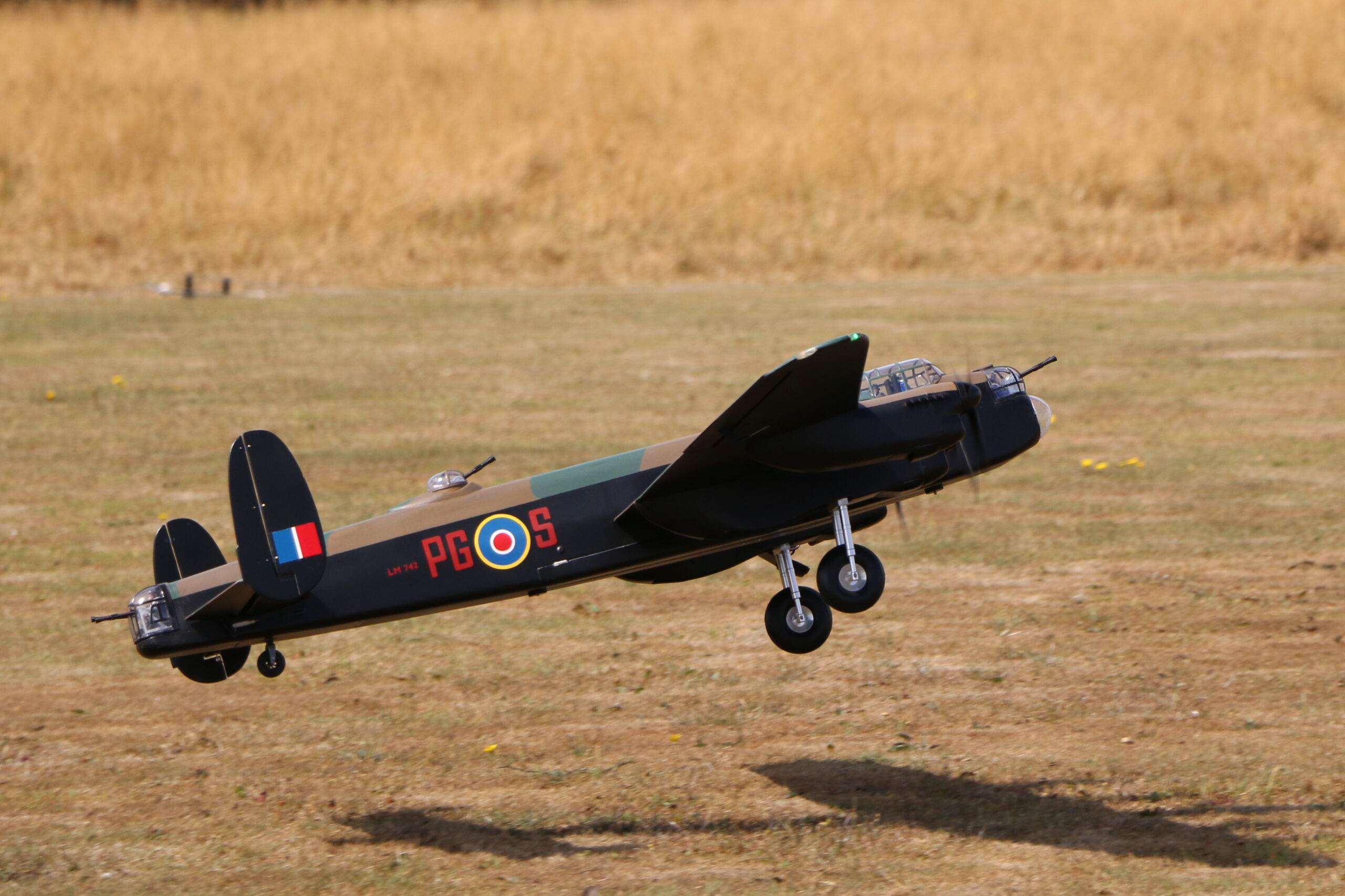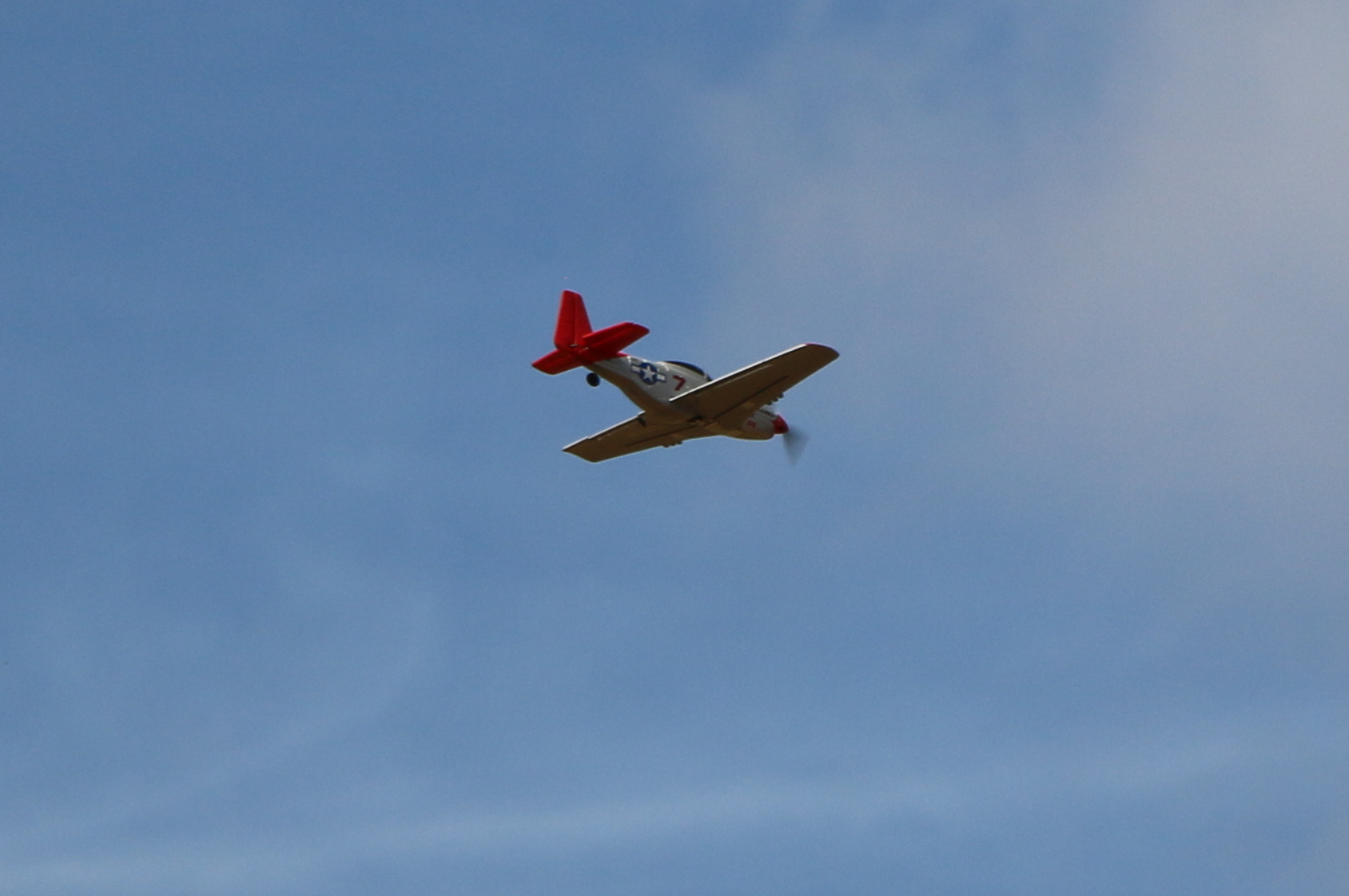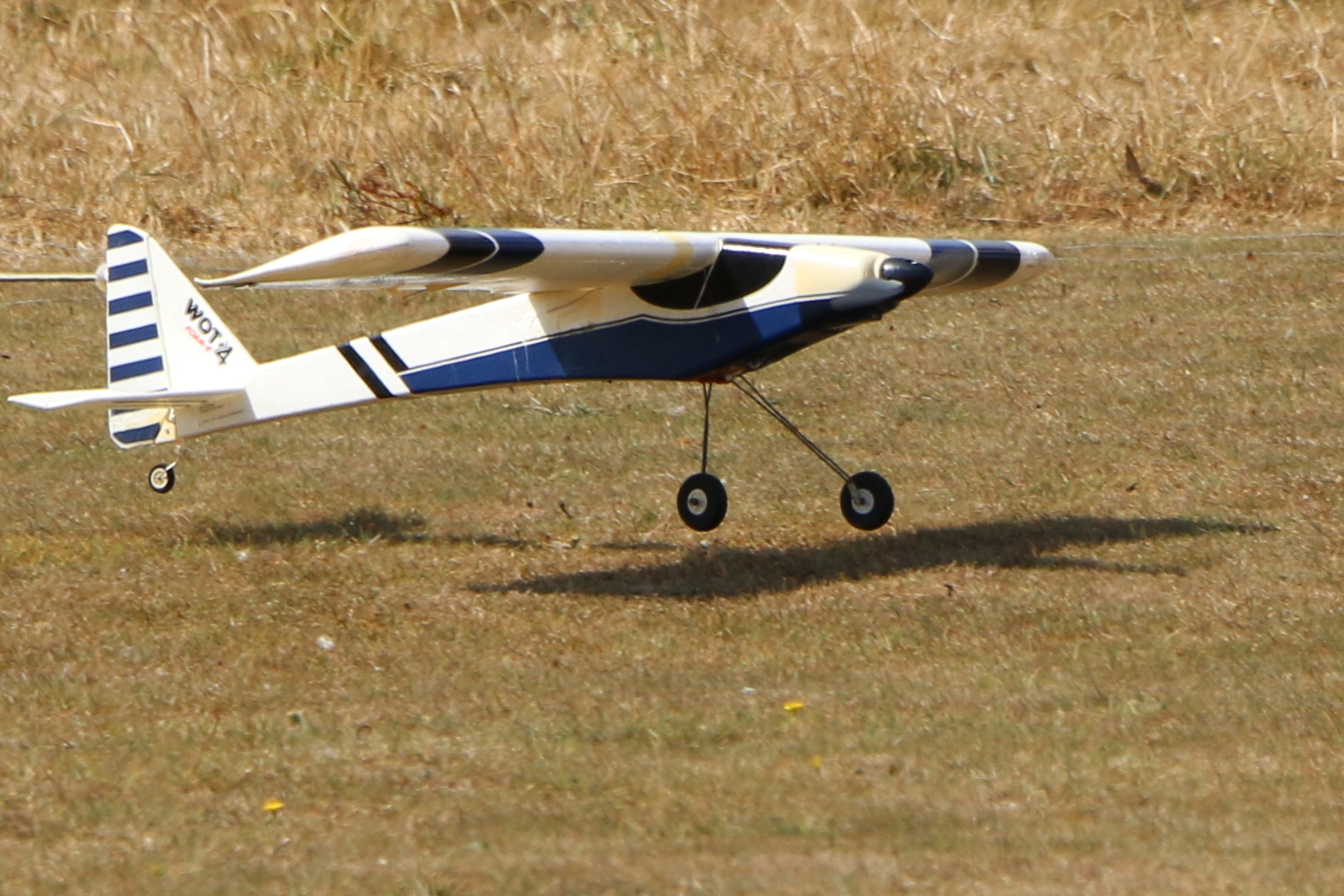 Video time now with footage taken by myself, Dougal, and Captain Slow. Please watch the video full-screen, it's so much better with small models flying around.
If the video won't play for you please click HERE​
Son: Mum, when I grow up I want to be a pilot.
Mum: Make your mind up son, you can't do both.
Colin Cowplain