I must start by apologising for the lateness of this Patch News. I seem to have been away for most of June and only arrived home on 2nd July after being away for the last two weeks of June. Of course this means I haven't been flying much so I'm relying on information, photos, and video that others have been kind enough to provide, and this edition will undoubtedly be rather shorter than usual. Many thanks to Dougal, Kryten, Dwayne Pipe and all others.
Some of you may remember that last year the mower packed up and it was decided to buy a new one and to keep the original one as a back-up once it had been repaired. Percy Vears has now repaired it and brought it along to check it was working properly. All was good and Bob the Builder & 1066 did a bit of gang mowing.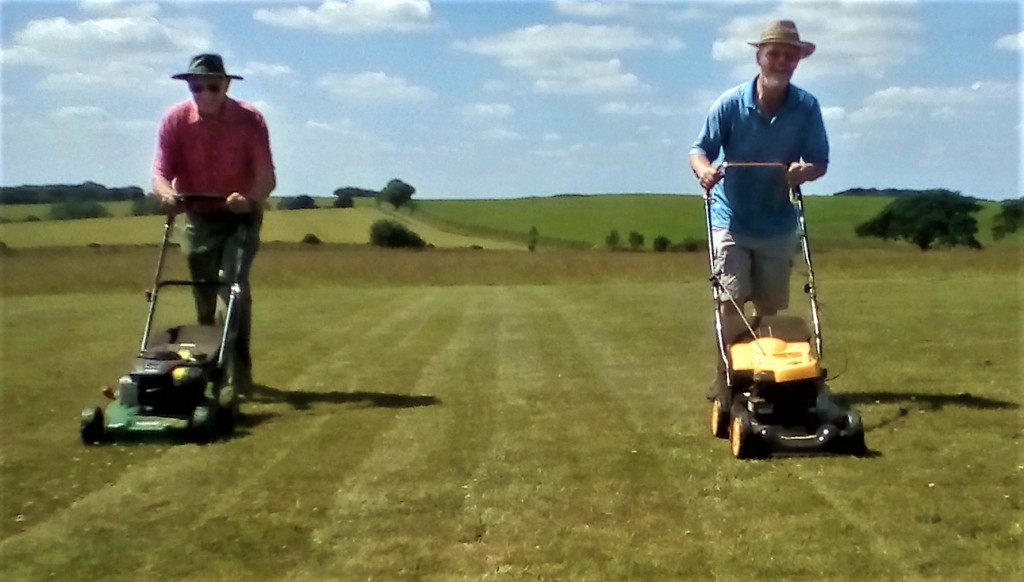 So now we have a back-up mower should one fail. With the new fence in action the condition of the patch has improved dramatically and that has the added bonus that the mower has an easier job to do, less bullock 'deposits' and hoof marks to mow over! The patch is looking great at the moment.
The first new model to feature this month is a glider from 1066. It's a 2.4 metre span ASW-28 that he bought from HobbyKing but he's chucked the box and instructions with all the info!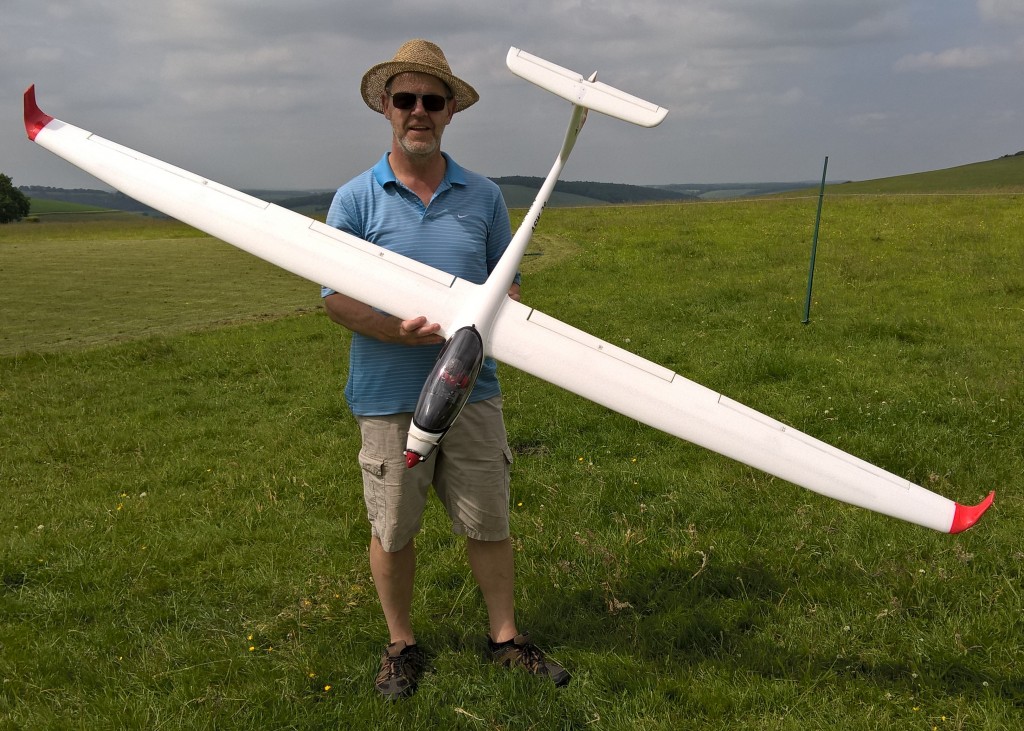 Apparently the original manufacturer is Volantex and this is from their website: The full-scale ASW 28 is a Standard Class glider with a fifteen metre span built of modern fibre reinforced composites. The manufacturer of the ASW-28 is Alexander Schleicher GmbH & Co. The 'W' indicates this is a design of the influential and prolific German designer Gerhard Waibel. Serial production started in 2000. As all Standard Class sailplanes, the ASW-28 does not have flaps or other lift-enhancing devices. It has tall winglets, a retractable undercarriage and a water ballast system. The structure is a complex composite of carbon, aramid and polyethylene fibre reinforced plastic. This permits a light structure with the strength to carry large amounts of water ballast, thus permitting the widest possible range of wing loadings for weak and strong soaring weather.
The Volantex ASW 28 is a sport scale model that does incorporate flaps unlike its full scale counterpart. It comes plug and fly so you just need to complete some final assembly, install your battery, receiver and fly. The airframe is a mix of EPO foam for the wings and tail, with a blow moulded plastic fuselage. This gives a slick finish that is also extremely durable. Great for those less than perfect slope sites. A powerful 4018 850kv brushless outrunner motor rockets the ASW 28 to altitude, then when you throttle down, the propeller folds back for extended soaring. Accessing the battery is easy through the canopy with four small snap locks that keeps the canopy secure.
This Version 2 comes with lots of extra features. The wings come with two spars in each wing to give extra strength during those tight turns and power dives. Installing the wings is now easier with a plastic latch for securing the wings. Inside there is now a bigger plywood tray to make it easier to carry FPV cameras, VTx's or other electronics. Landings are now a lot easier with the inclusion of landing gear. No more scraping the fuselage.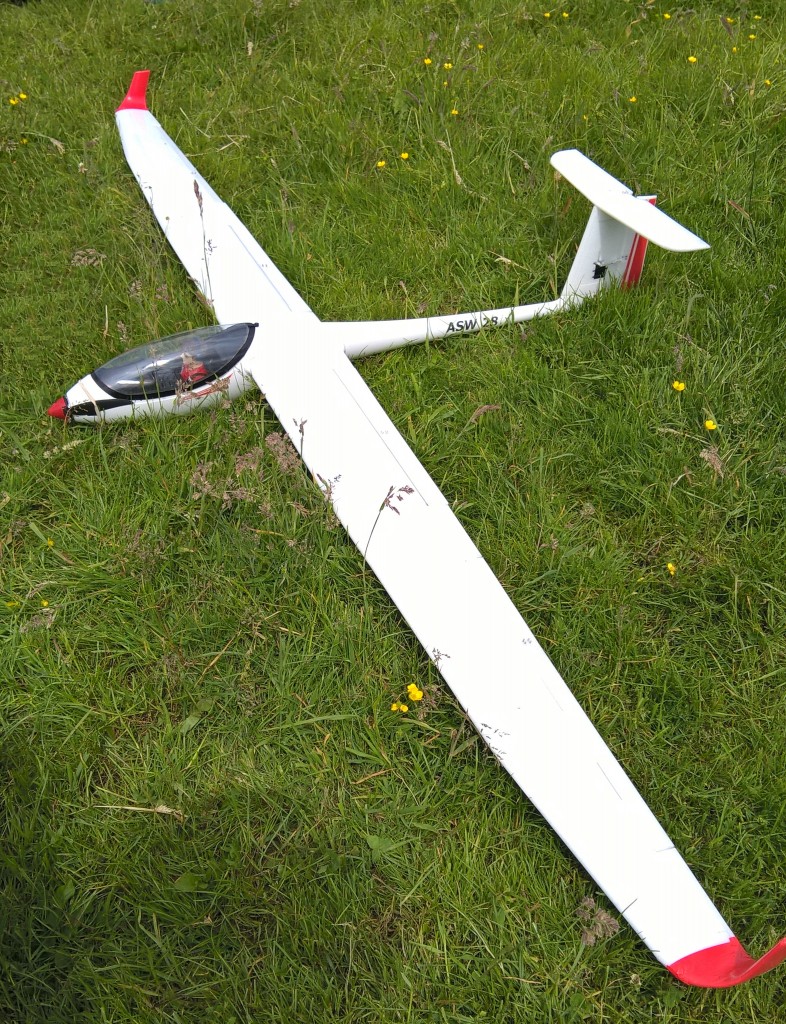 Not sure what VTx's are, anybody know? Anyway it seems to fly well. 1066 says he'd like a bit more power but then he always does! The wings certainly flex a lot but it looks good in the air and it was definitely a bargain price.
Chris P Bacon had an 'eventful' June, he managed to destroy not one but two of his Chris Foss models! The first was his Wot-4, one of the built from wood versions that comes ready for either I/C or electric motors. Chris P's was electric of course, powered by a Turnigy L5055C 700Kv outrunner and a 4 cell lipo battery.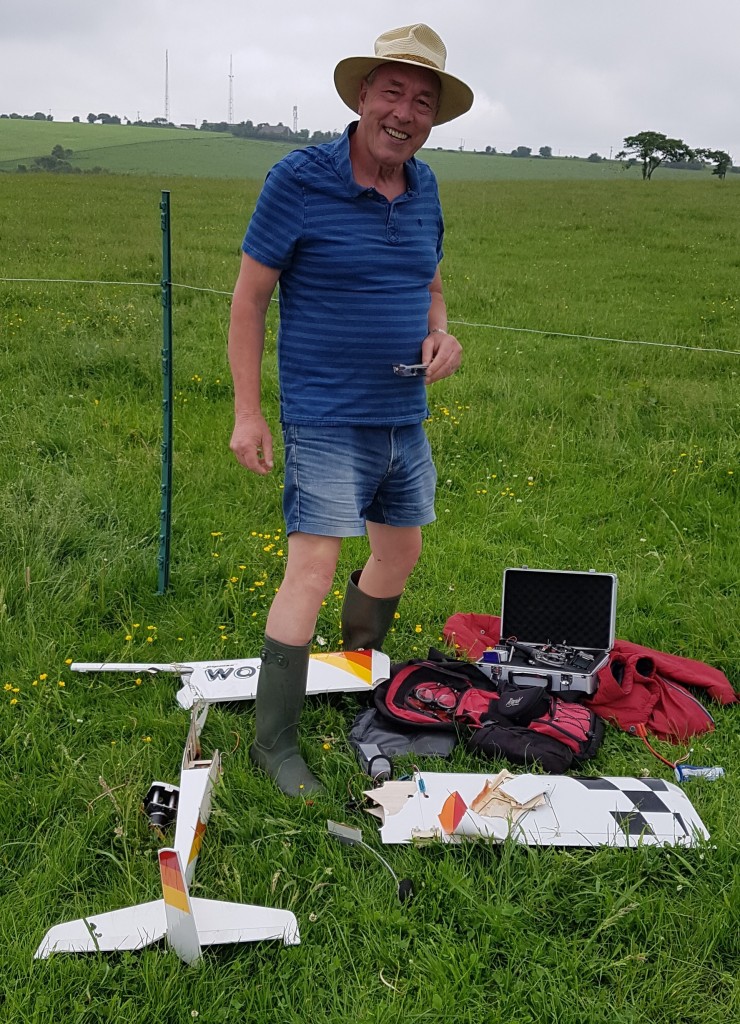 The model took off normally but almost immediately Chris P said he had no control. The model didn't appear to do much other than continue in the same direction but losing height quickly. The resulting crash was pretty comprehensive and I don't think it will be repaired. Although the first call was loss of radio it all appeared to be working perfectly after the crash and Chris P is now wondering if it was actually a lipo failure and all he had really lost was motor power. The pack had previously swollen but the cell voltages appeared to be fine and when we checked them again after the crash the voltages still looked normal. But later he wondered if the meter just showed 3 cells at normal voltage and nothing at all on the fourth cell. I'm not sure a duff cell would actually not register at all and anyway I think the model would still have flown on 3 cells although obviously with a quarter less power. Chris P has ditched the pack after the crash so now there's no way of knowing for sure.
Chris P's second Fossie failure was with his Wots Wot, that's the biplane one. The Wots Wot is quite large for a bipe at 50" span and it weighs around 7lbs. It's all built up construction from balsa and ply, and is designed for a .70-.81 4 stroke glow engine or a 5 cell electric set up with a 5055 700Kv motor. That's the same motor as Chris P had fitted to his Wot-4 but that used 4 cells. This time the crash had a much simpler explanation, loss of orientation.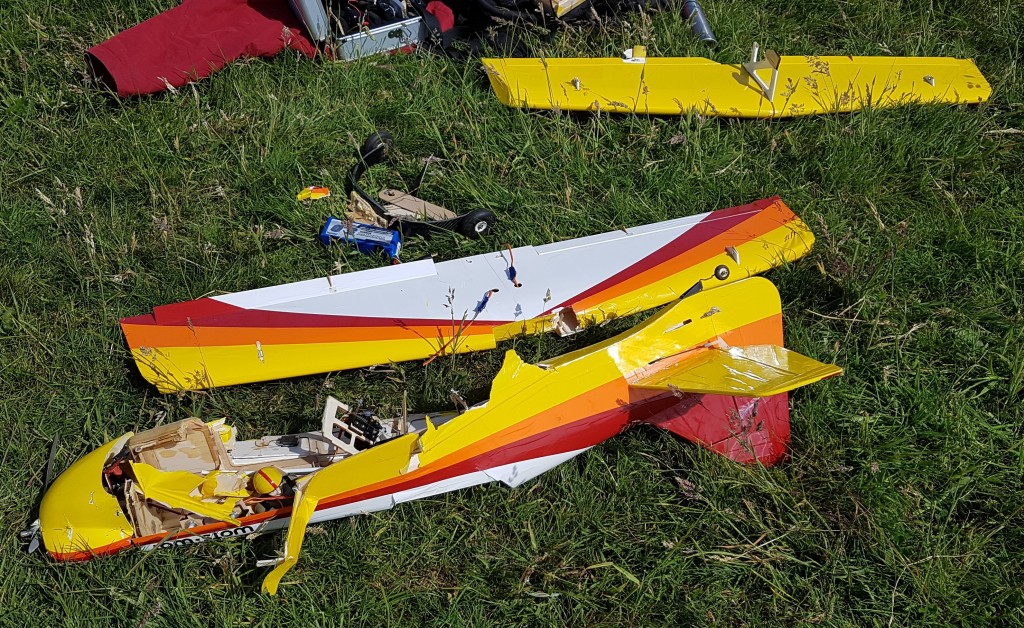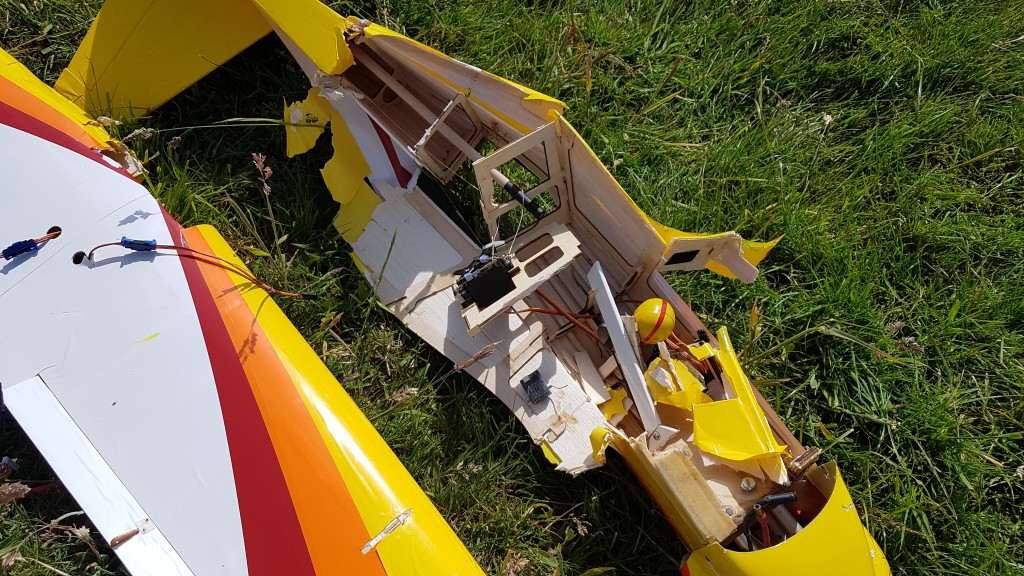 The model was flying fine but, at a reasonable distance from the patch, Chris P simply lost orientation and the Wots Wot crashed heavily. It's a shame to lose a model like that but I think it's fair to say that Chip P never quite mastered it and although I flew it several times I must say that I never felt quite at home with it somehow.
On to more sedate things now, Captain Slow has re-motored his Multiplex Twinstar which was originally built with a pair of 6v Speed 400 brushed motors and flew on an eight cell nimh pack.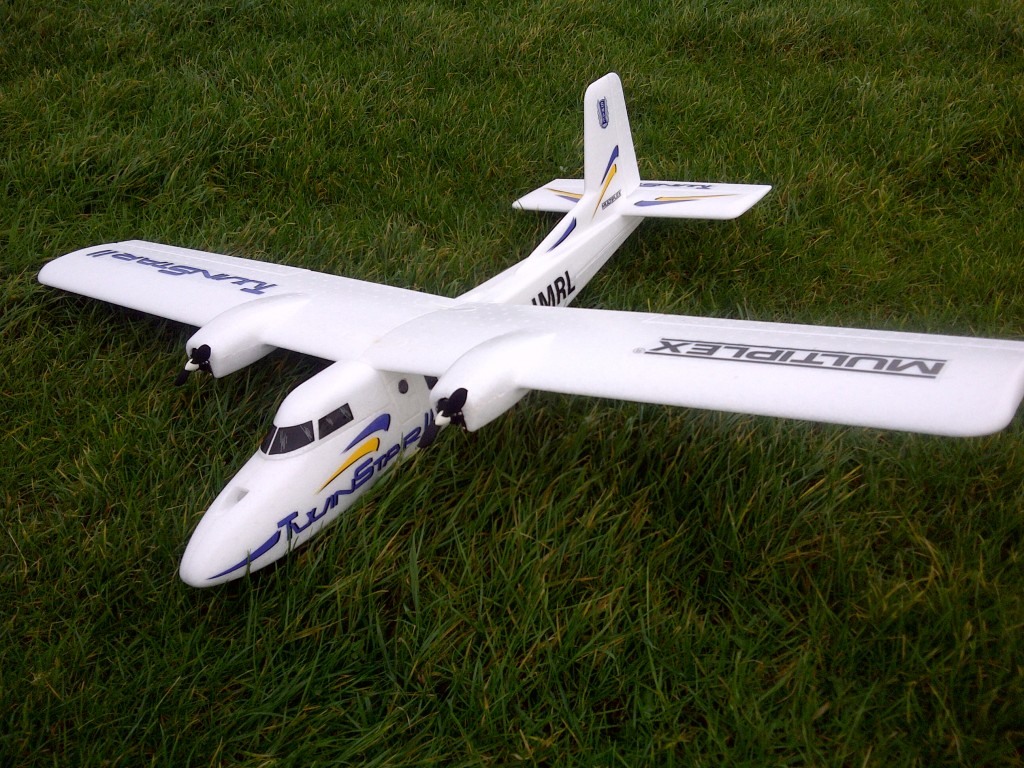 But the always-with-the-latest-tech Captain Slow wanted to ditch the NiMH batteries and use his lipo packs. He wasn't convinced that the 6v brushed motors would be able to handle the higher voltage of a 3 cell lipo so to keep up with the latest technology he bought a pair of 12v Speed 400 brushed motors!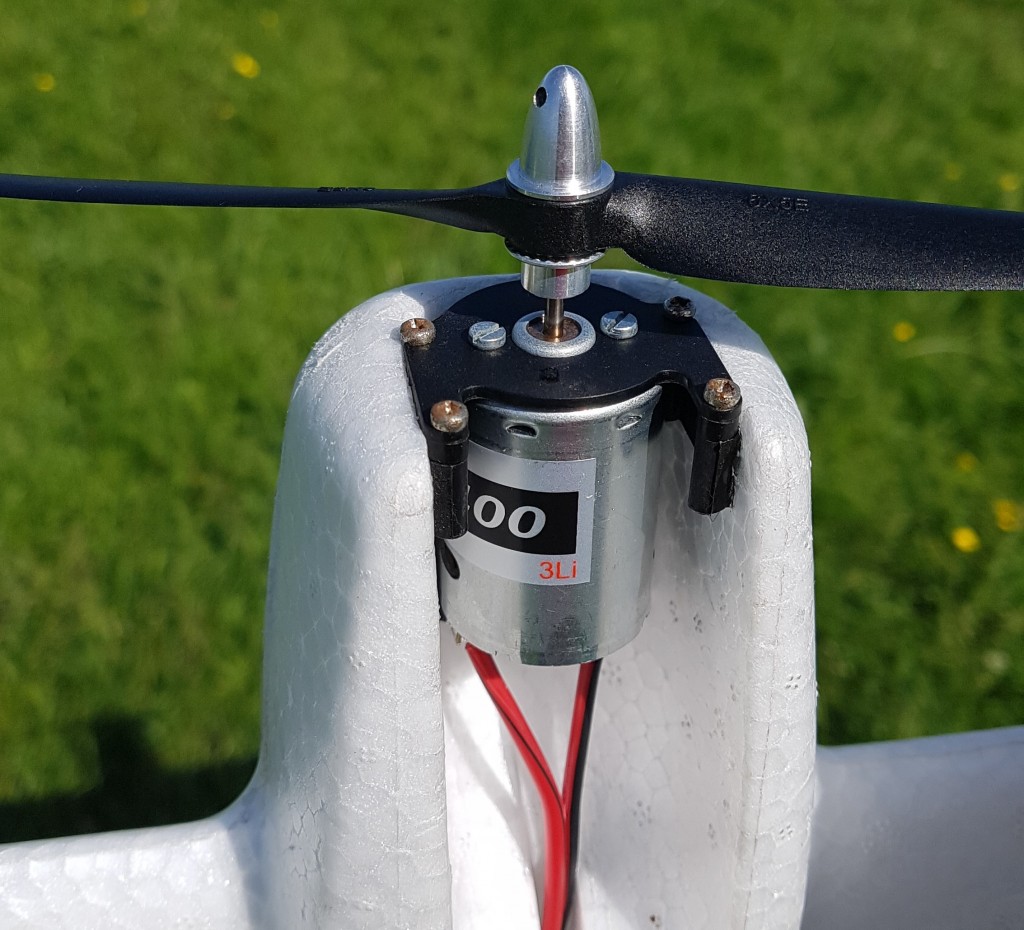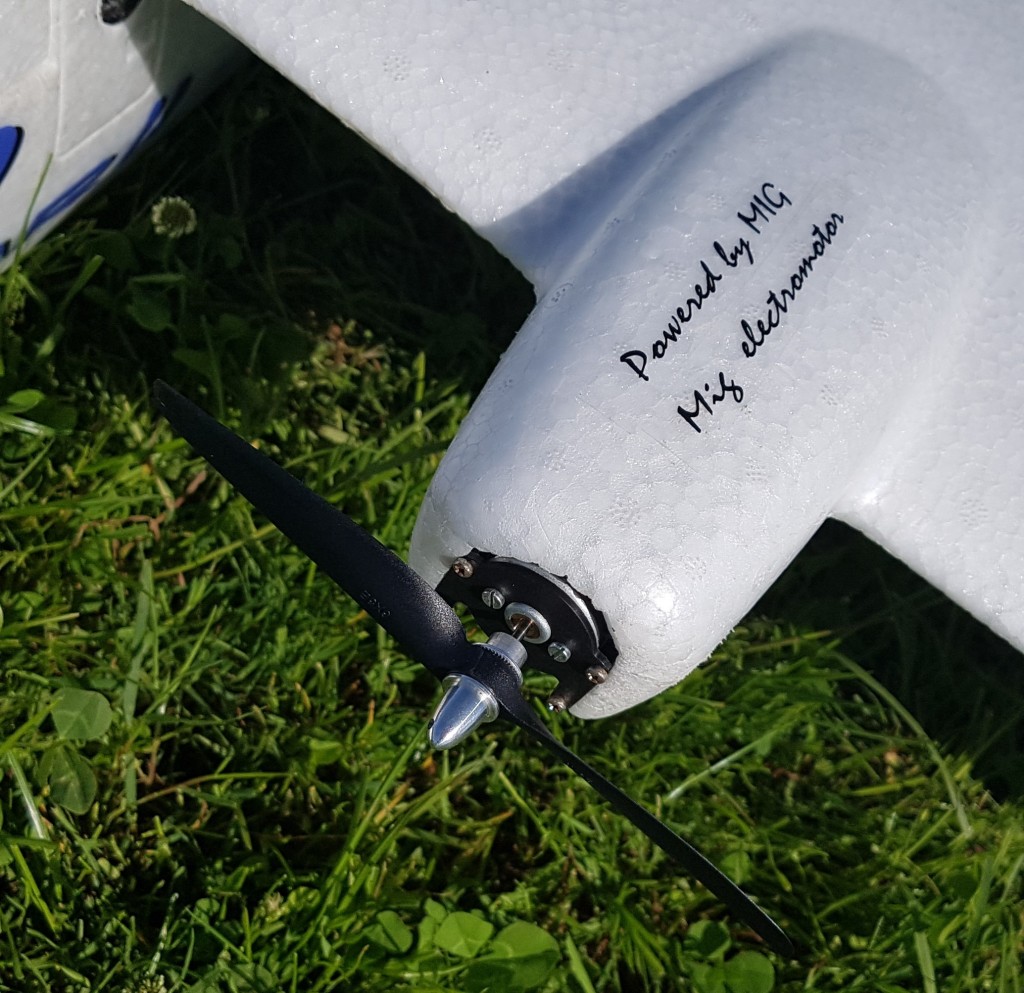 To be fair (that's not like me at all) he said that if he had switched to brushless outrunner motors he would have had to change all the wiring within the wings. I'm not sure about that, the latest versions of the Twinstar come with outrunner motors and the speed controllers fit in the nacelles behind the motors so surely you could use the two wire power leads that are already in the wings? No doubt Captain Slow will explain…
Percy Vears took a trip up to Medstead to see Ian at ModellbauUK and bought himself a Max-Thrust Riot.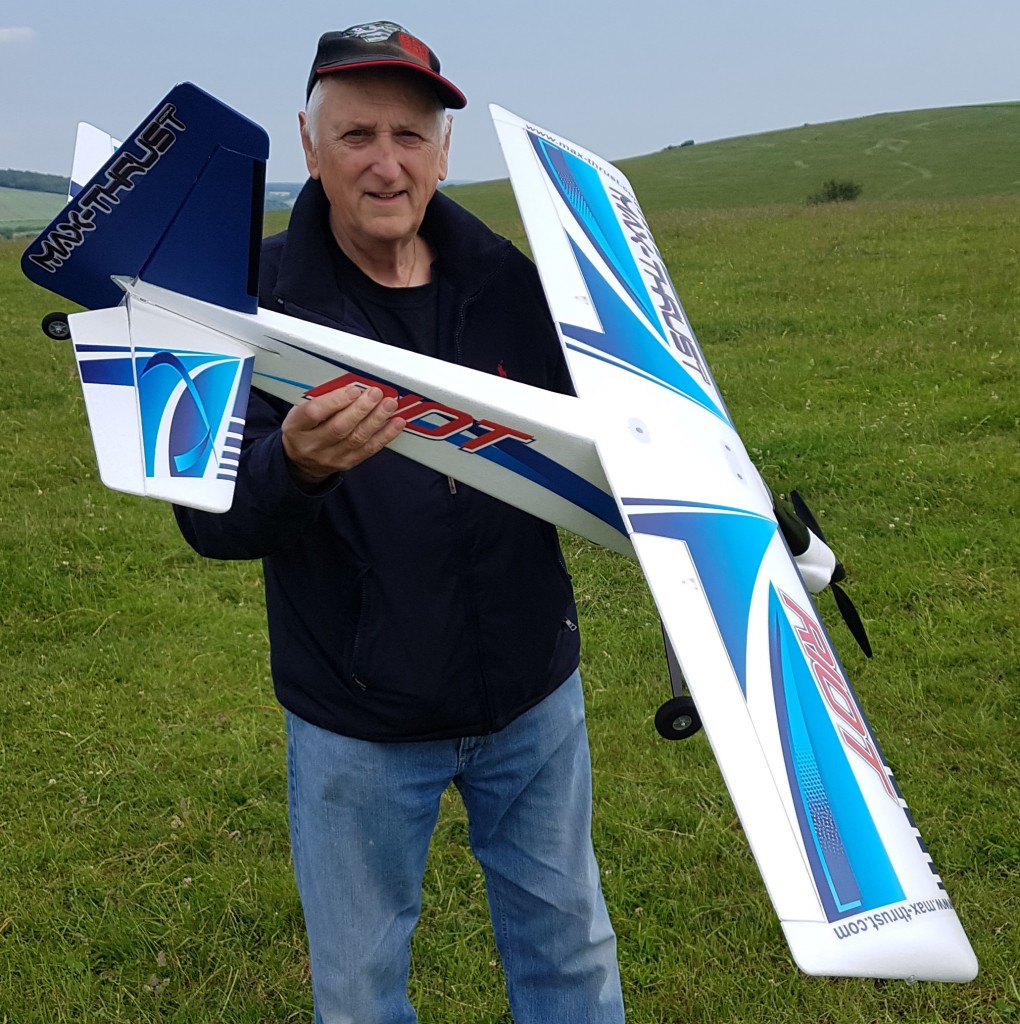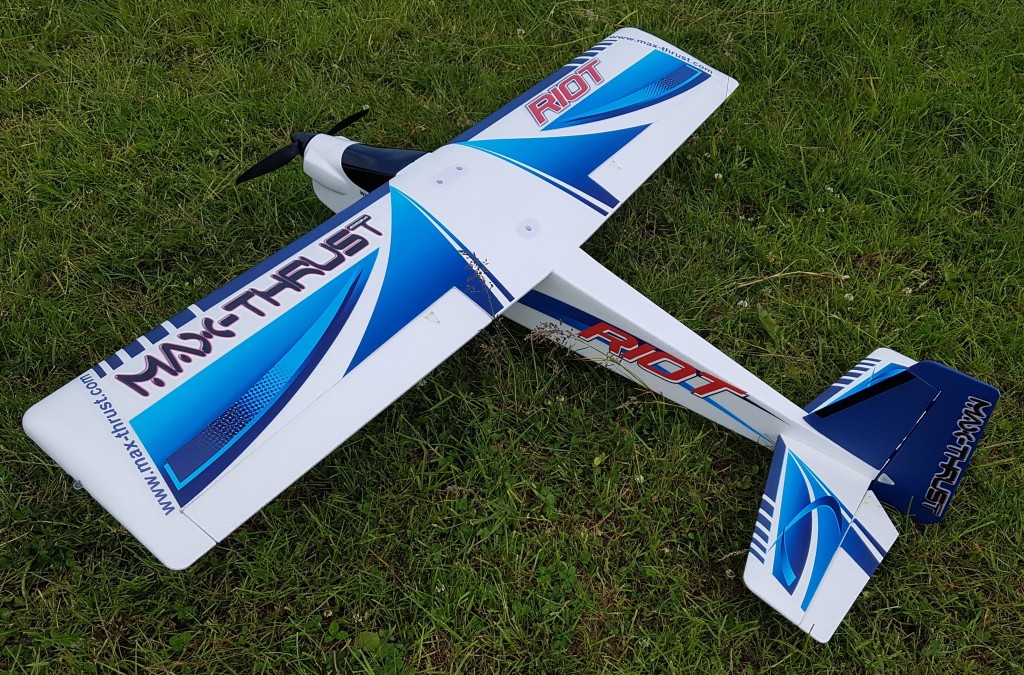 It's very much a Wot-4 lookalike but is supposed to be better in certain aspects. This is what the website says about it: The Max-Thrust Riot is the perfect all-rounder. With reduced control throws it's smooth, stable and remarkably easy to fly for the novice or beginner. Increase those throws and the Riot more than lives up to its name thrilling the most ambitious aerobatic pilot. Featuring durable "EPOFLEXY" construction throughout, the superbly moulded airframe is not only very light and stiff, it's extremely tough too. It's ideal for operating from "less than perfect" flying strips, resisting hangar rash and those inevitable bumps. And to keep you flying there will be full spares support available.
The Riot is 1400mm span and comes complete with all you need to get it in the air except a receiver and battery. Everything just screws together, no glue required.
I haven't had a go with it yet but I watched Percy flying it and it looks very steady in the air, and it even has lights on the wingtips, Woody must be yearning for one already! 1066 did the first flight and found it to be very aerobatic on full rates but at the moment Percy is flying it on the more sedate low rates.
While I was away Dougal Entendre sent me a couple of reports for Patch News, here's the first one: Catapult King brought along his F16 (formerly Chris Hard's). He'd not flown it for a while, and forgot that anything over half throttle is inadvisable, which led to quite a hairy first flight. He kindly let me explore its flight envelope on the second flight – all went well until I tried it inverted, when it went into quite a violent oscillation. I throttled back and pulled out successfully, then tried it again – same result. I flew it around fairly gingerly for the rest of the flight, and landed it without incident. We investigated the all-moving tail and found no problems, but as shown in the photo it transpired that in fact the whole of the rear part of the fuselage (apart from the hatch cover) had almost broken off!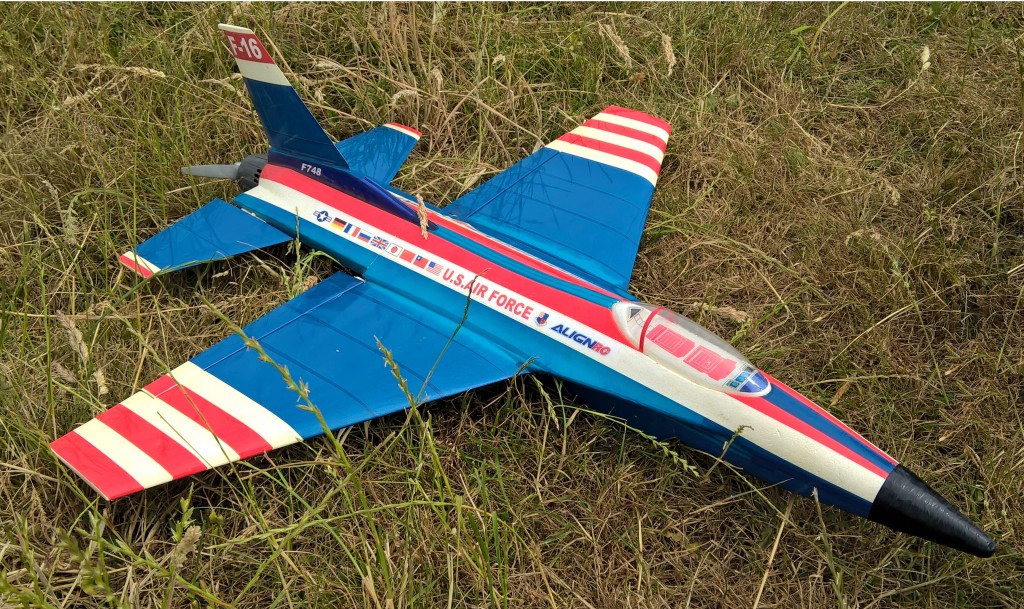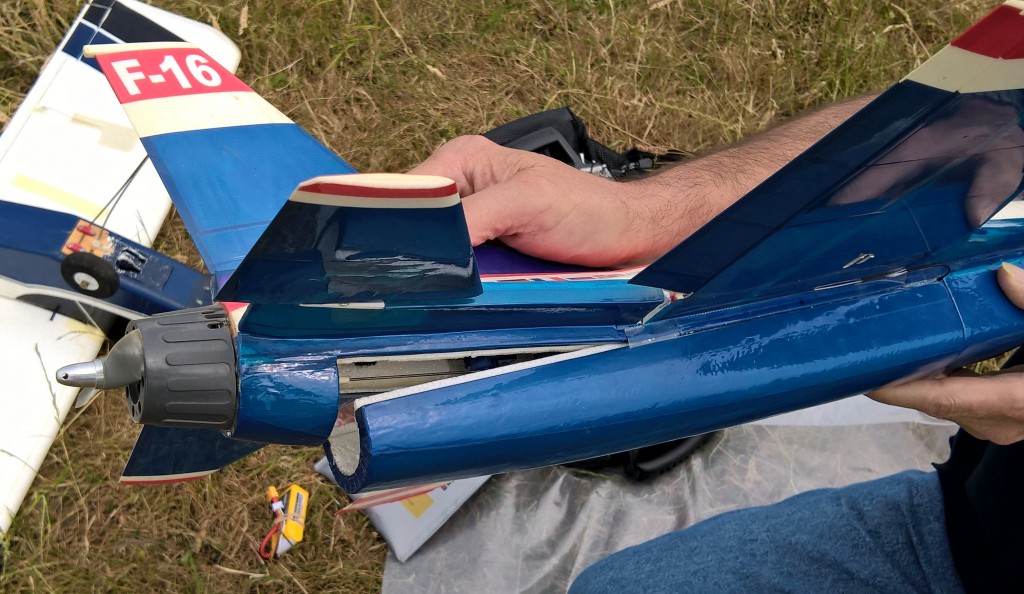 We were lucky to get away without a much worse outcome.
Later on in the pits, someone said "Hey! Look at all those flies!" A huge cloud was coming our way, and we quickly realised it was a swarm of bees. We all kept our heads down, and fortunately they passed without incident.
Towards the end of the morning 1066 was aerobatting his Piper Cub (as he does). He pulled out of a manoeuvre inverted over the south field, then appeared to go in quite hard. He stomped off to get it muttering about how that was the end of that, but remarkably came back with it all in one piece, with no sign of any accident! I think he would have flown it again if we hadn't put the electric fence back up by then.
Dougal's second report is about his visit to the Horsham club following the cancellation of the show at Sumners Ponds: I had a brilliant time flying at the Horsham club's field in just about perfect conditions. We parked along the edge of the field under the treeline, which provided some welcome shade. Although the field was covered in grass about 18 inches high, they had mown a track out to a 60m strip in the middle. I must say the facilities were excellent – they had a large shipping container for all the mowing equipment with an en-suite chemical loo, and a generator for recharging batteries if required. Free tea, coffee and biscuits were supplied throughout the day.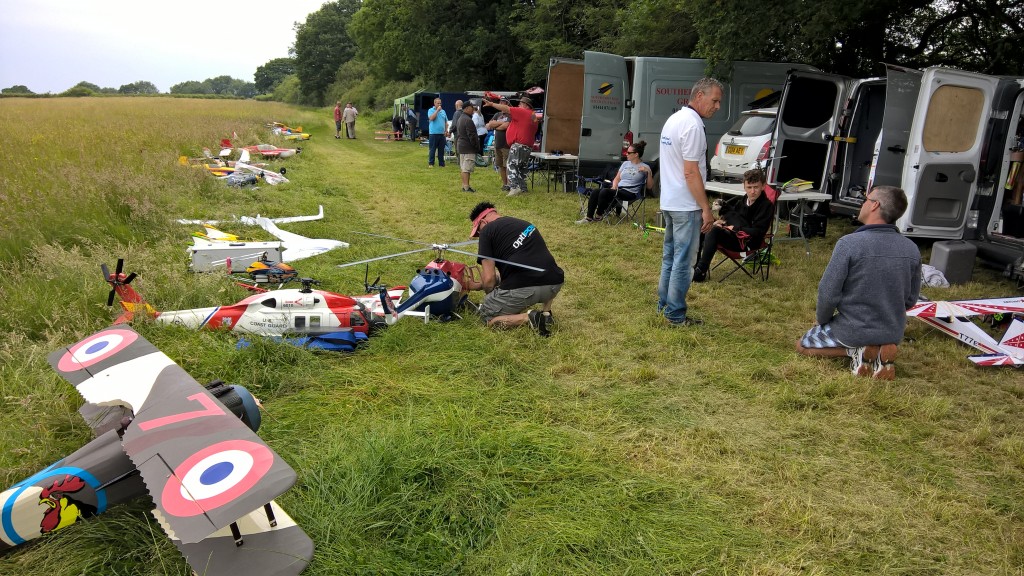 There was a good variety of models, from gliders, large scale and large 3D planes down to club trainers, and a smattering of helicopters. Flying was very relaxed; in fact general flying was suspended at one point while someone took his 'A' test!
I had 5 flights during the day, and my Mini Blitz delta attracted every bit as much attention as the SPAD. In fact, the Horsham club chairman later emailed me to ask for details of the delta, as he thought they might do a club build competition based on it themselves!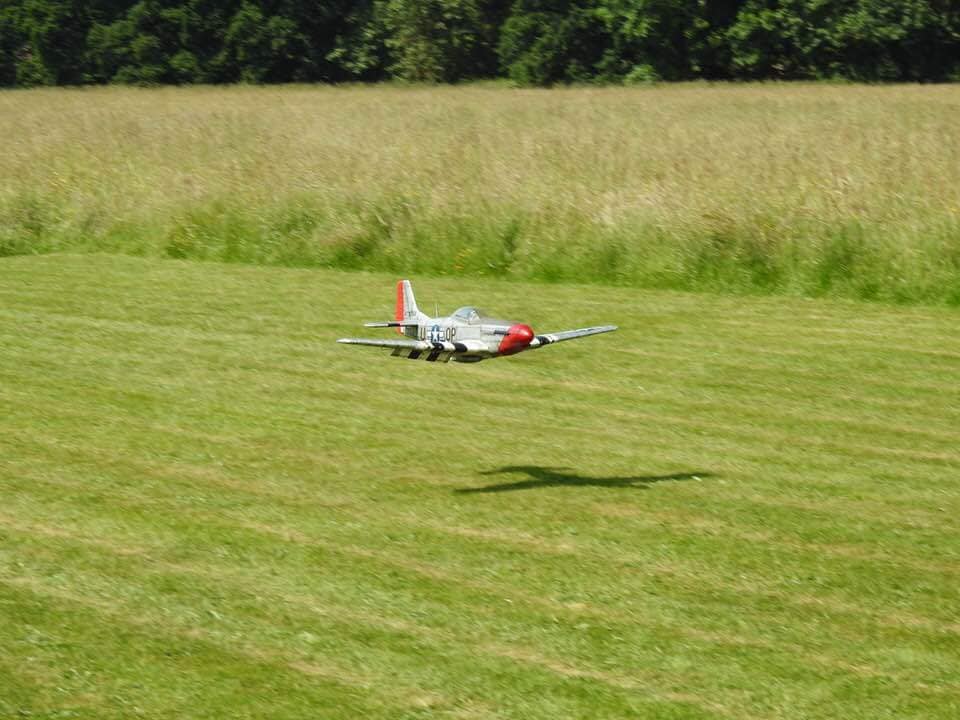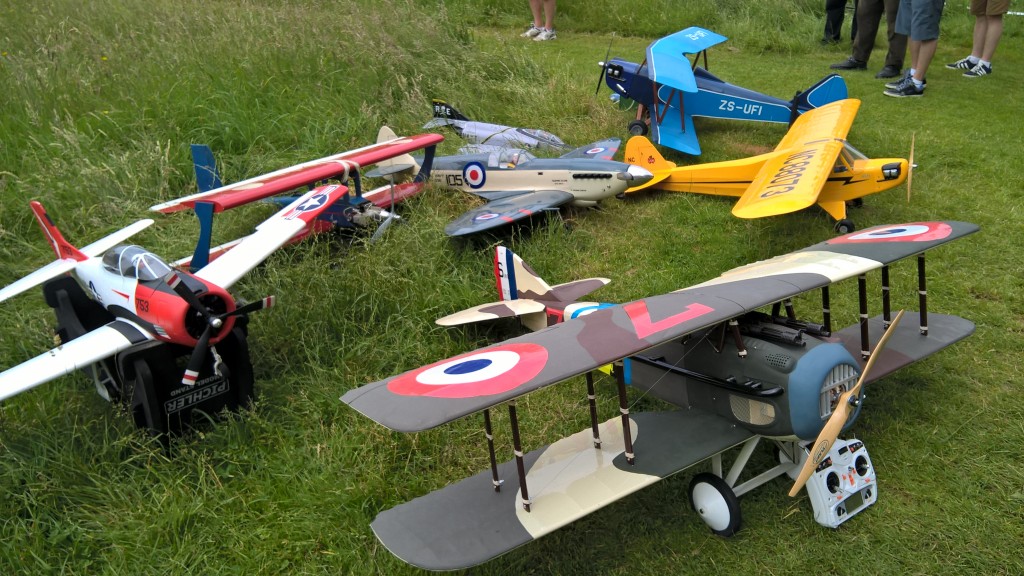 I counted at least 25 cars and vans at the busiest point, so it was quite well attended. All in all one of my best RC days out, and if they do it next year I will certainly try to get along there again.
Thanks for those reports Dougal.
The last new model I spotted (and was asked to test fly) in June was Bob the Builder's Durafly SlowPoke.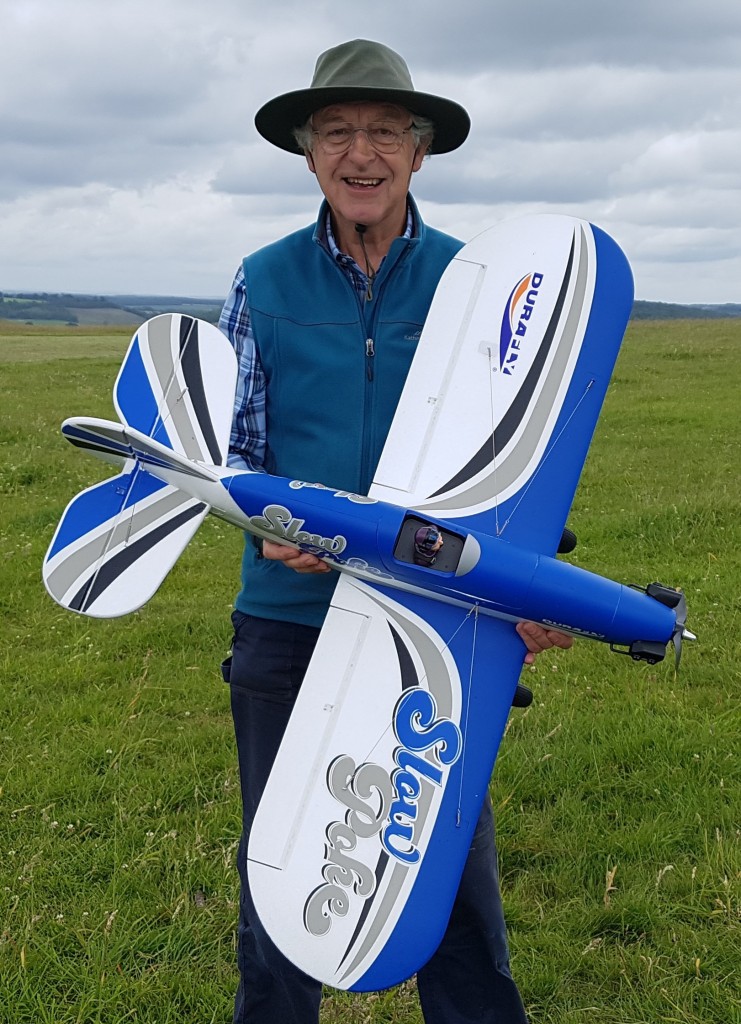 It's another one from HobbyKing and at 1200mm wingspan is a handy size and uses almost 'standard' 2200mAh 3 cell lipo packs. It is a Plug'N'Fly so just needs a receiver and battery. The power is provided by a 3648 700KV motor and 40A ESC and the prop is a 12 x 8. The model comes with large balloon wheels that are perfectly suited to our grass strip. It flies beautifully, handles the wind well, is nicely aerobatic but looks good just stooging around the sky.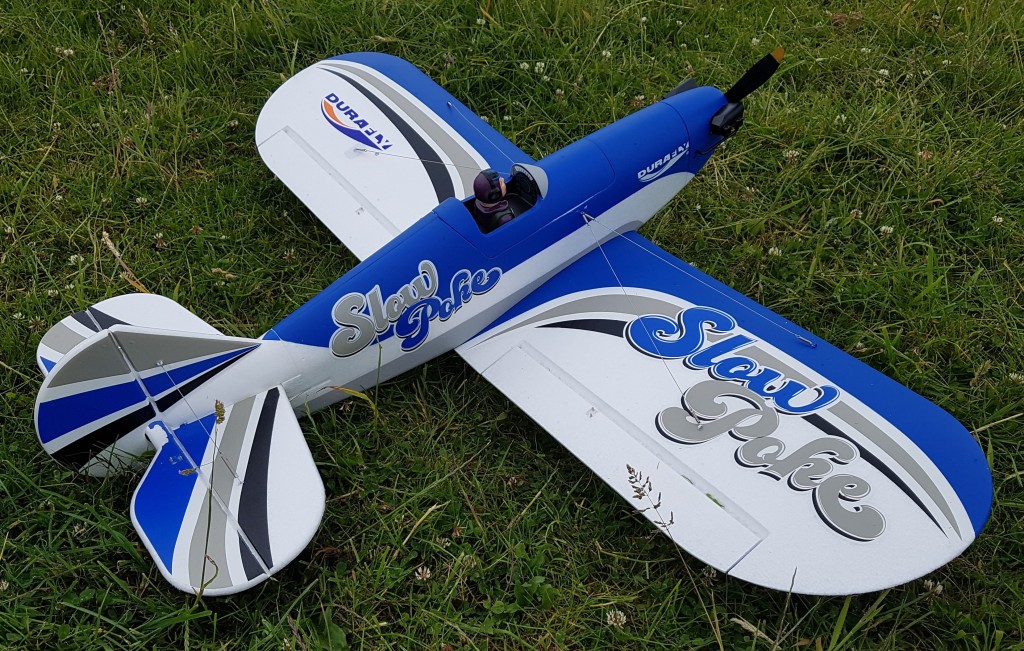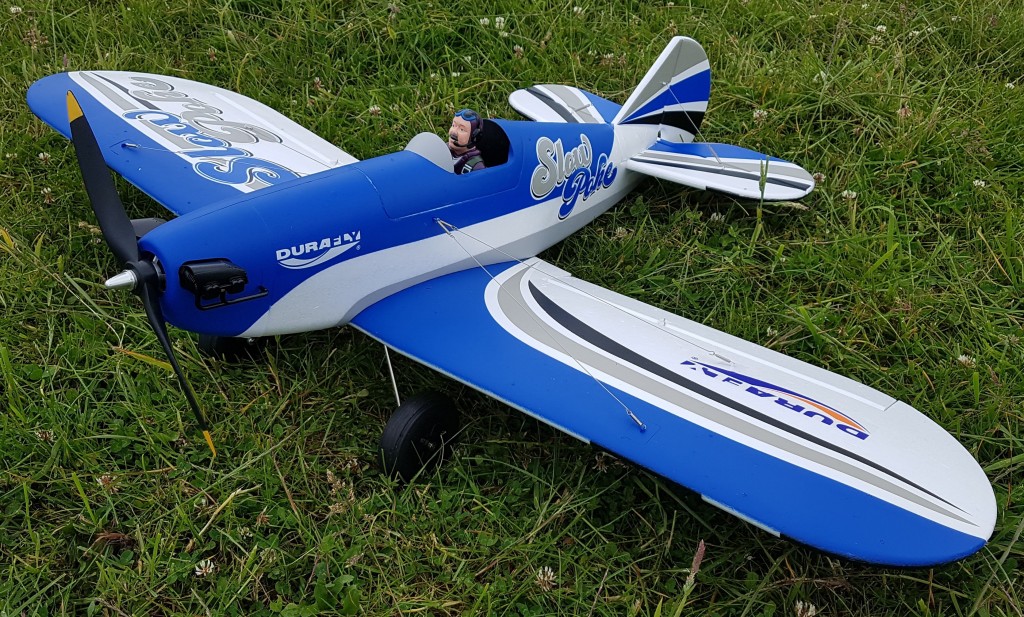 When I did the first landing I remarked 'If you can't land that you can't land anything'. Bob has tried to prove me wrong a couple of times, it seems to be magnetically attracted to the only fence post we leave in place when we fly! All in all a lovely little model and you can see it in action in this month's video.
Inspired by the success of Bob the Builder's Blitz Fu Dougal decided to try this, a Kung-Fun-3: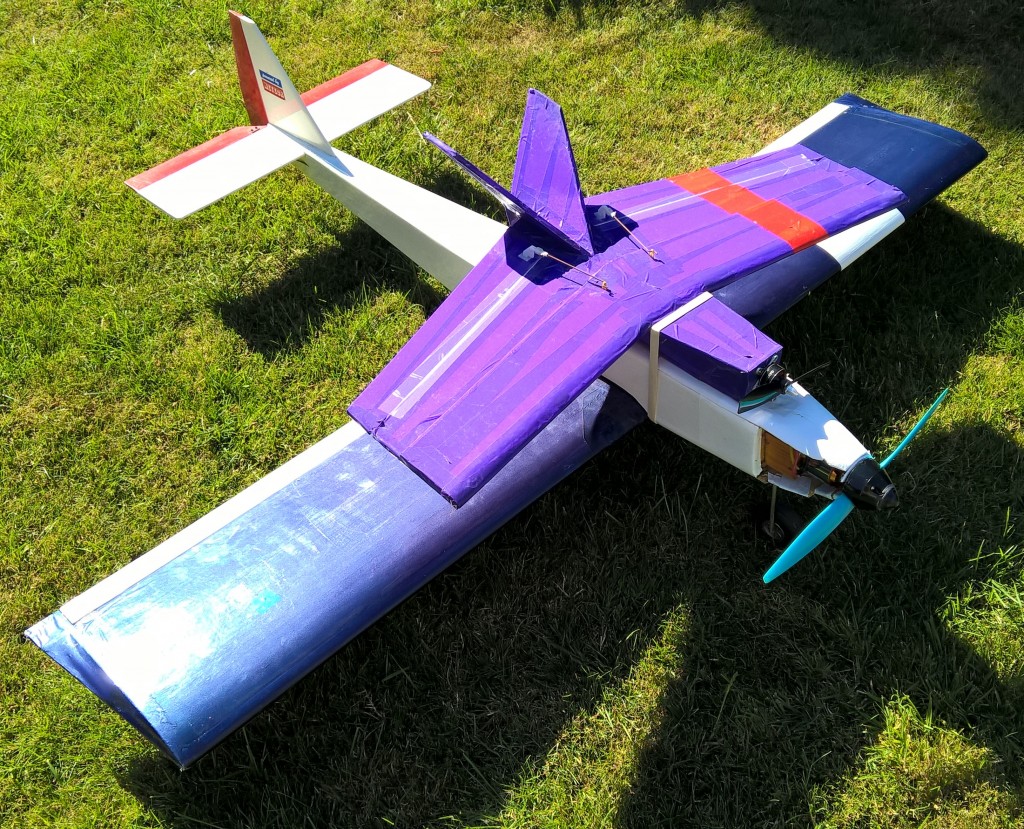 He says it's just a concept at the moment as he hasn't finalised the attachment method. I'd be a little concerned about the prop clearance on the Kung Fu myself!
I have a few photos from last month's club model flying day for you: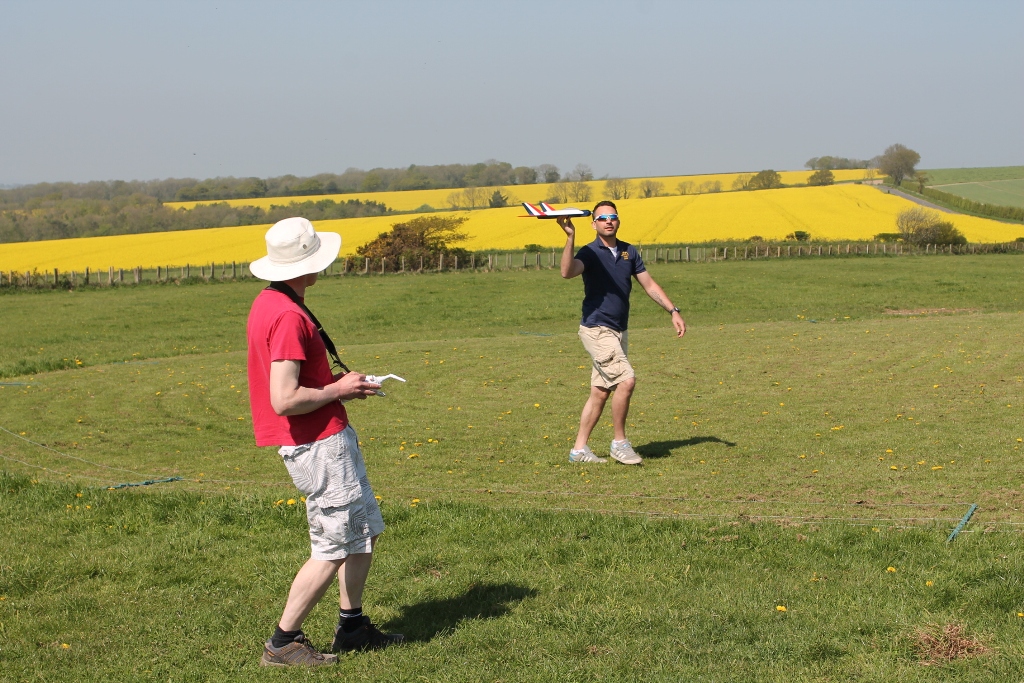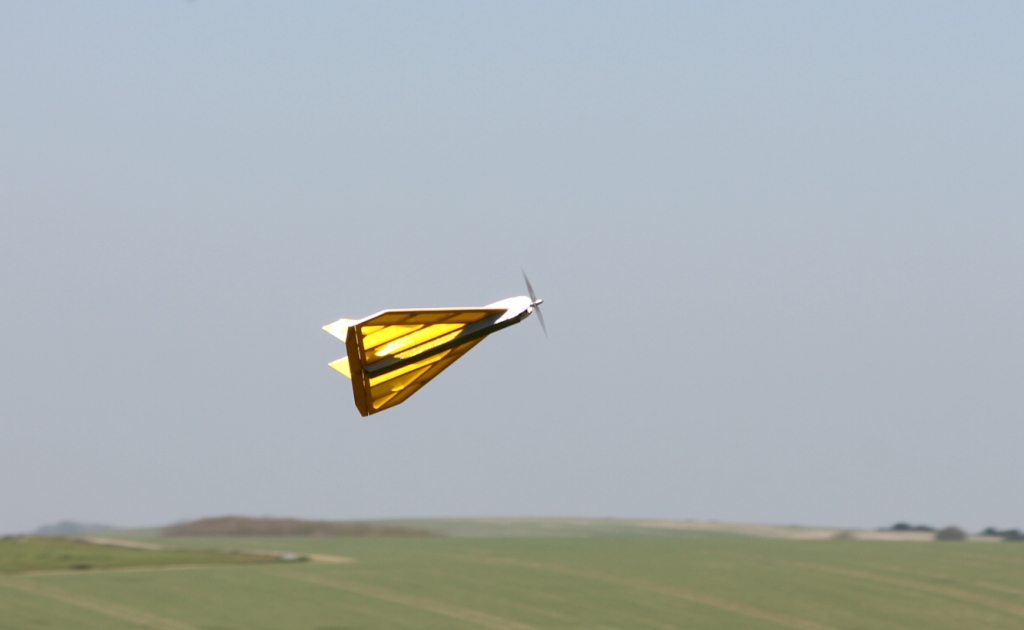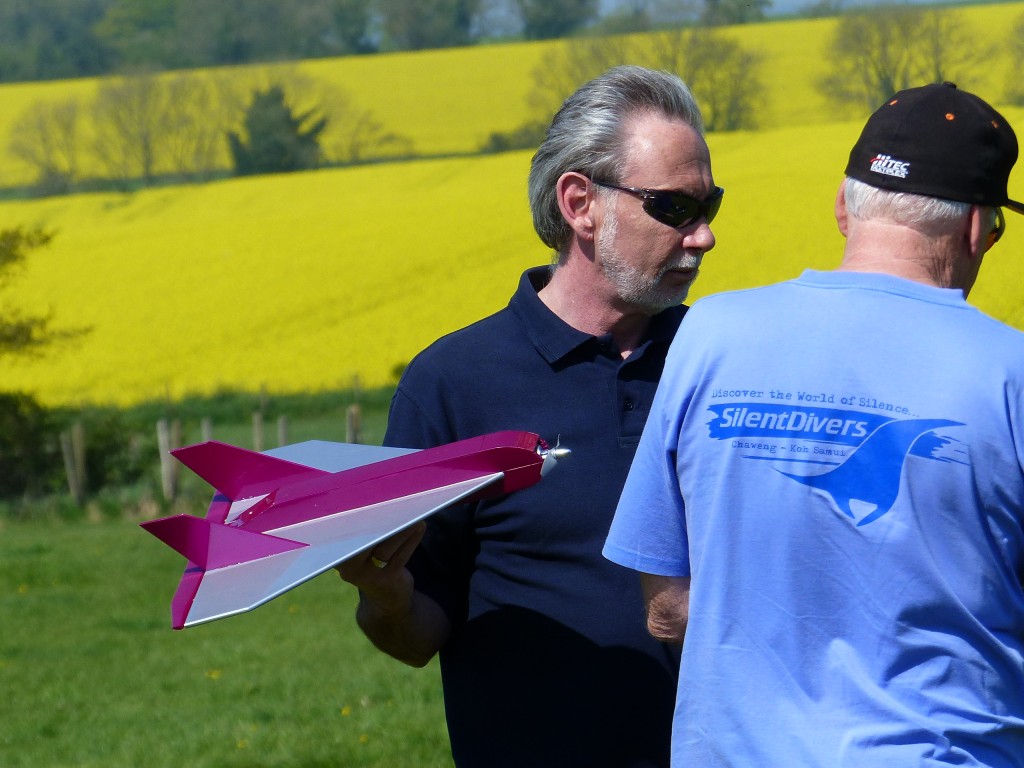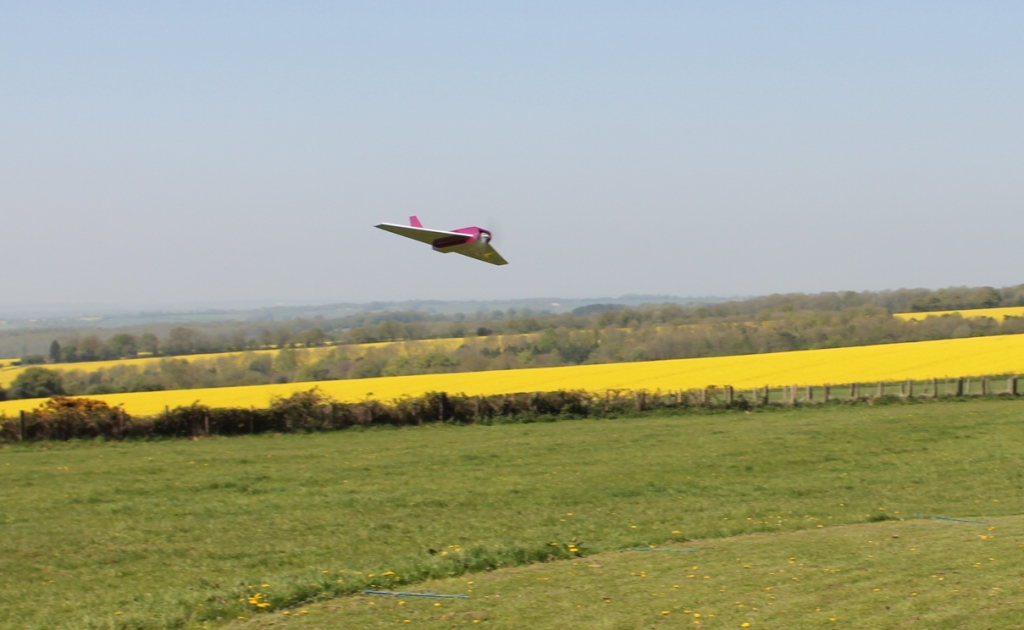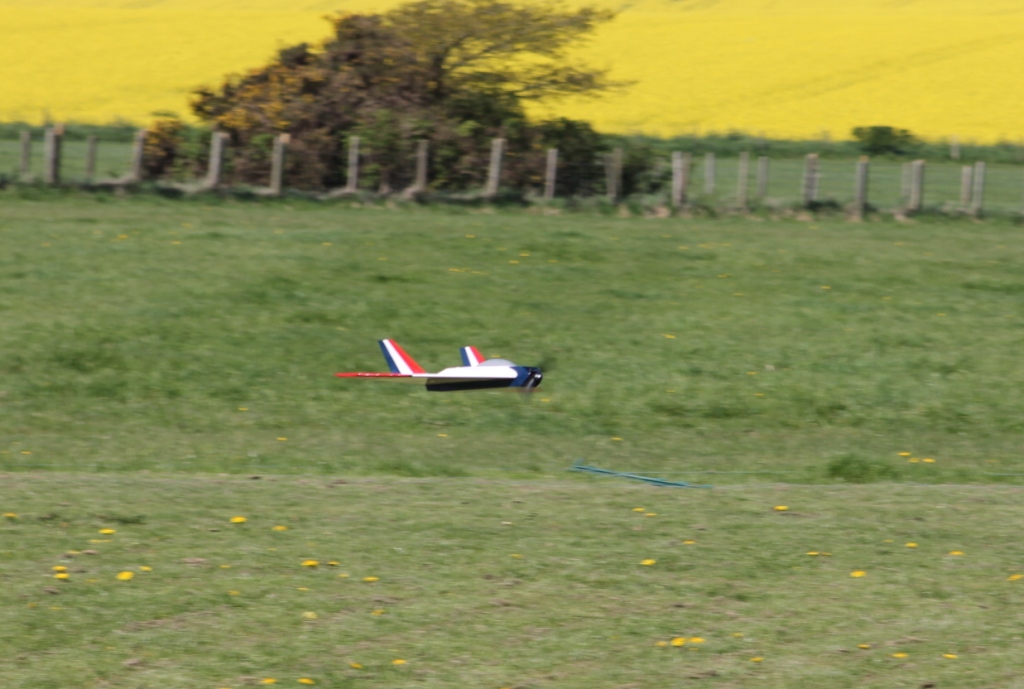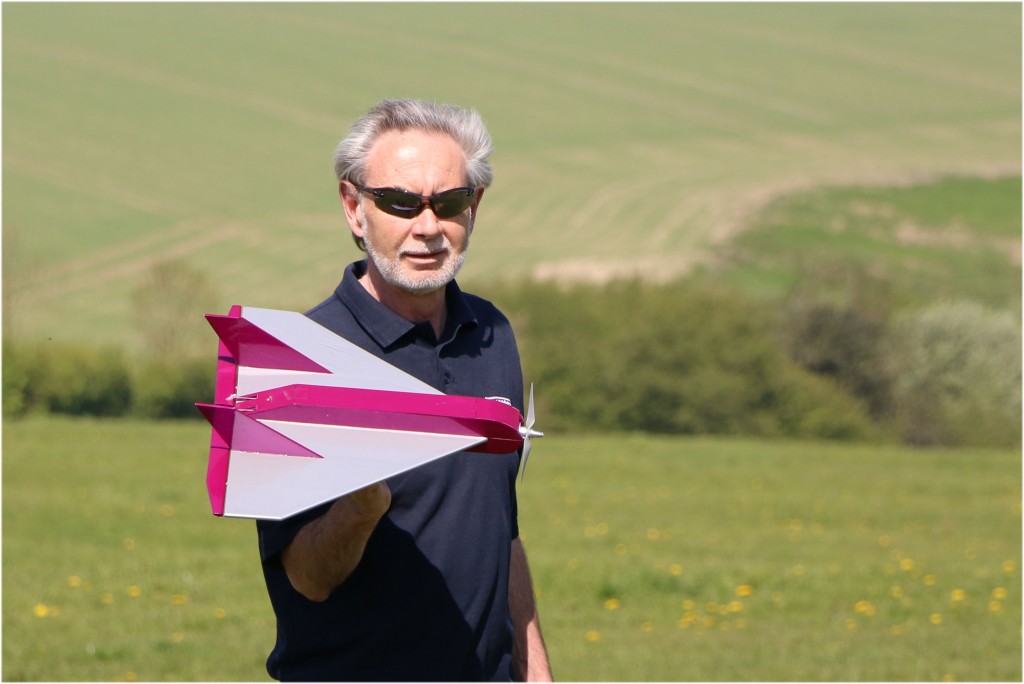 Time now for the video:
Please watch the video full screen, it's so much better with small models flying around. If the video won't play for you CLICK HERE
Both optimists and pessimists contribute to the society. The optimist invents the aeroplane, the pessimist the parachute. — George Bernard Shaw
Colin Cowplain