Well what a month February turned out to be, it began with some pretty good weather but then deteriorated into a series of storms with extremely strong winds. The weather station on the mast opposite our field (Holfuy – Mercury) recorded wind speeds of over 80mph.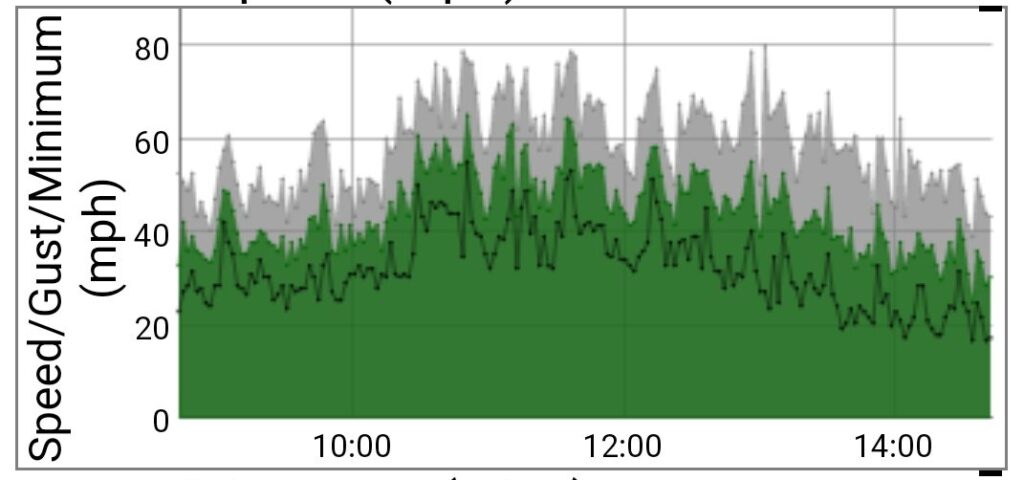 When Captain Slow and Woody went to change the battery they found that some branches had come down in our parking area so four of us then went and cleared everything away.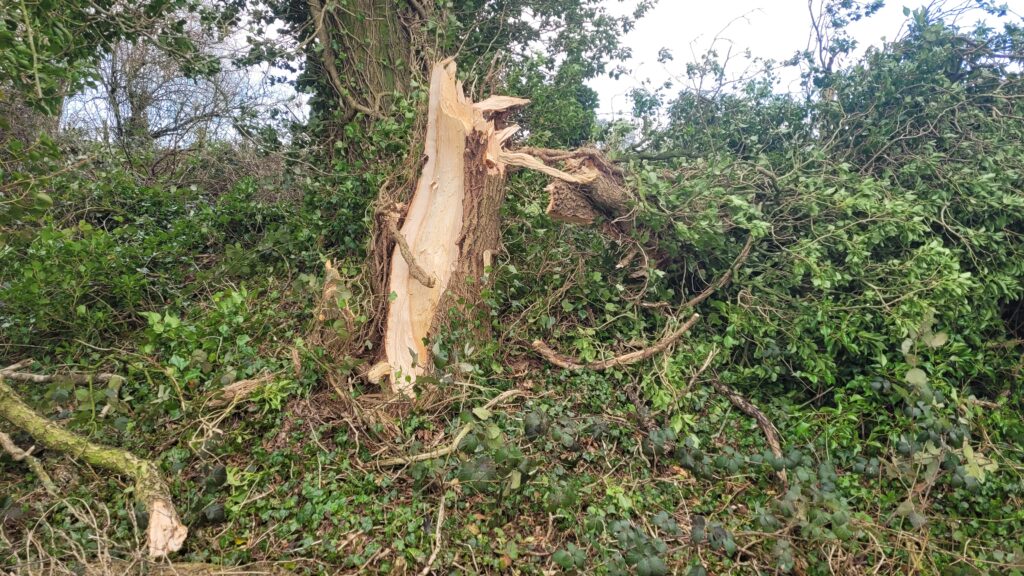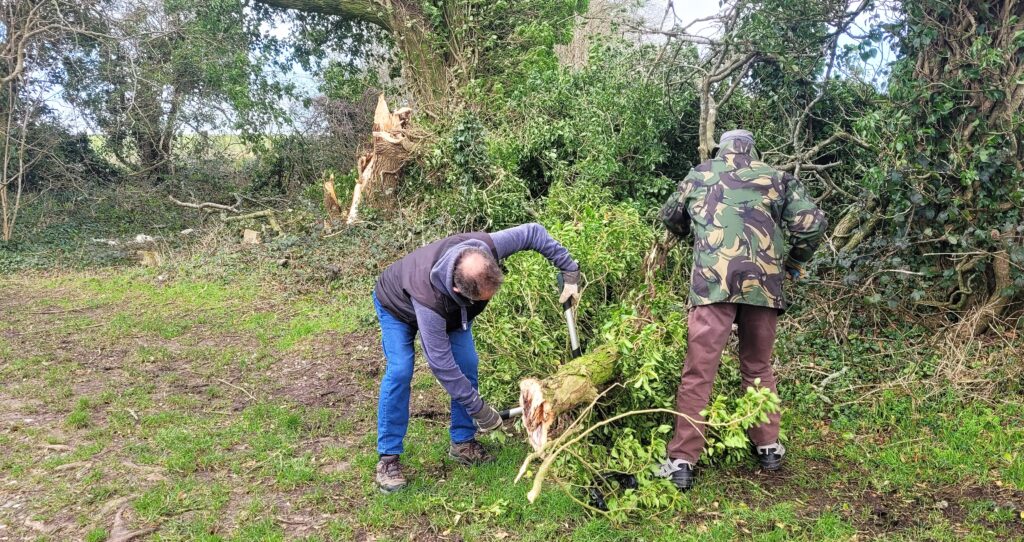 We also cut some of the undergrowth back to give all the cars space to park more easily.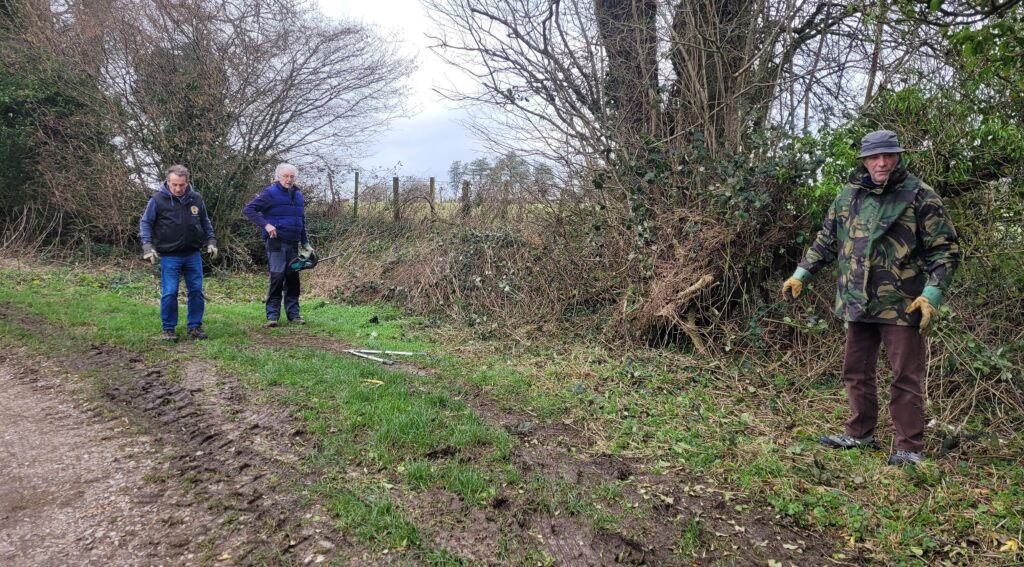 We cleared both areas so there is room for everybody as long as people park sensibly. Please think of others when you park, don't just dump your car in the middle of the area, park up close to one end of the area or close to any cars that are already there.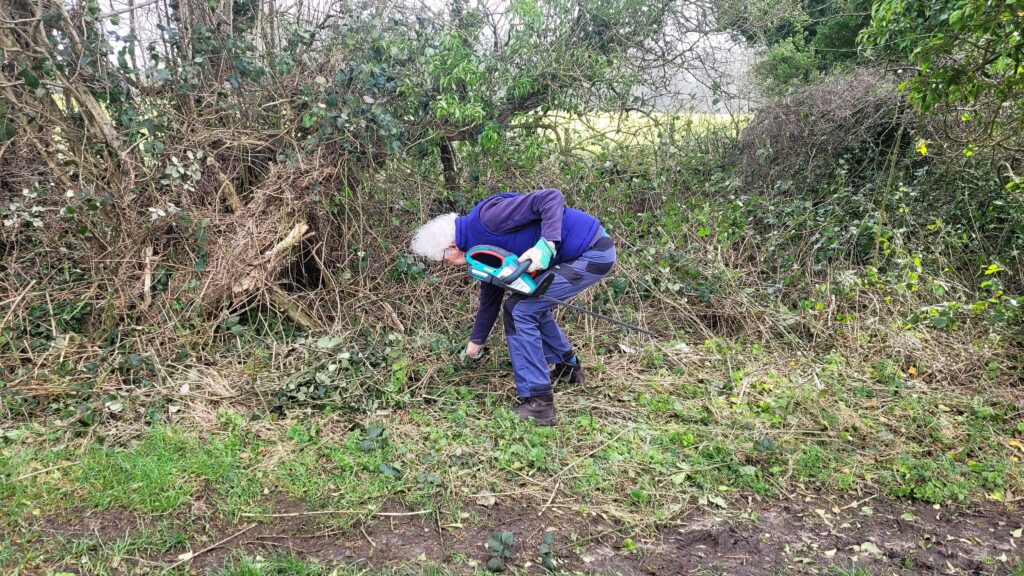 Despite the terrible weather stopping all flying for twelve days in a row the regular fliers actually managed to get airborne quite a few times, mostly near the start of February, and we were also able cut the patch again. The sheep came and went a few times but were never a problem to us and they soon had the grass reasonably short over the whole field.
On 4th February Gordon Bennett snivelled round our Chairman Captain Slow who's birthday it was the previous day and flew his Mig-29 with a Happy Birthday banner in tow.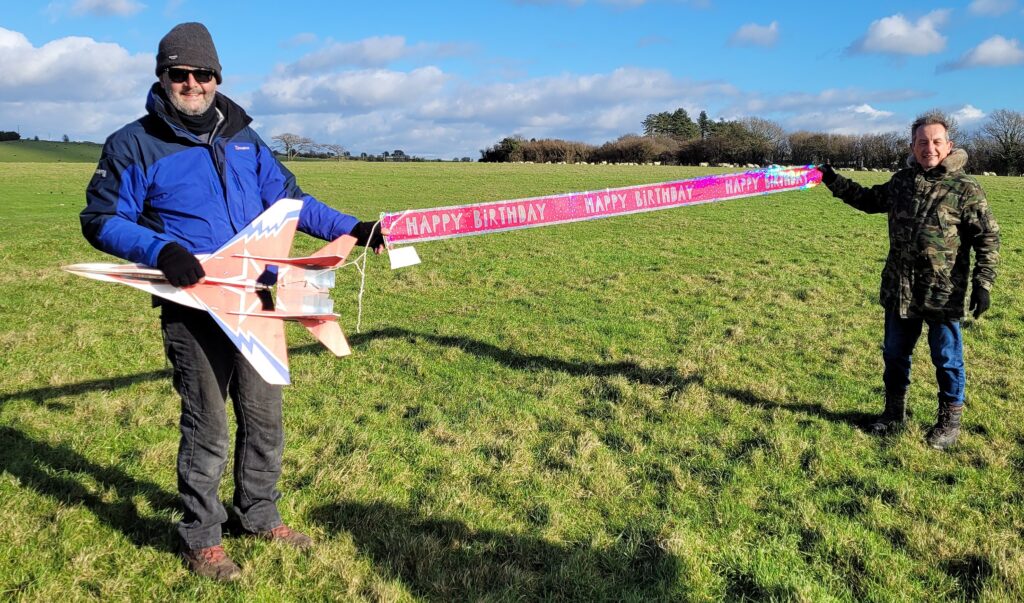 He was obviously hoping for special privileges but all he got was a cake like the rest of us. Actually the only person who got any sort of special treatment was 1066, he wasn't able to be there on the day so Captain Slow saved him a cake and a few days later the rest of us had to stand and watch longingly while 1066 munched his slightly stale cake alone.
In the good weather at the start of the month I was able to take my Volantex Ranger up to some light and fluffy clouds whilst flying it FPV and I recorded some nice video footage.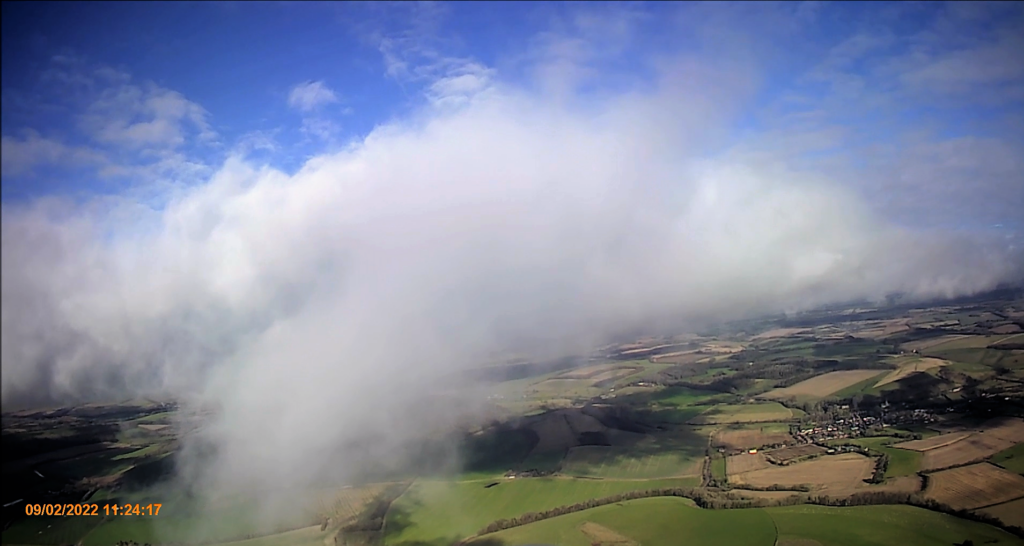 That's East Meon on the right of the picture. The following day Dougal Entendre also managed to get some FPV cloud footage but sadly the day was more overcast and the cloud was the nasty plane enveloping type that Dougal and I have learnt to fear and avoid!
Two new EDF models were flown in the month, the first being Woody's rather nice T-7A Red Hawk which is produced by XFly, a manufacturer I've not come across before.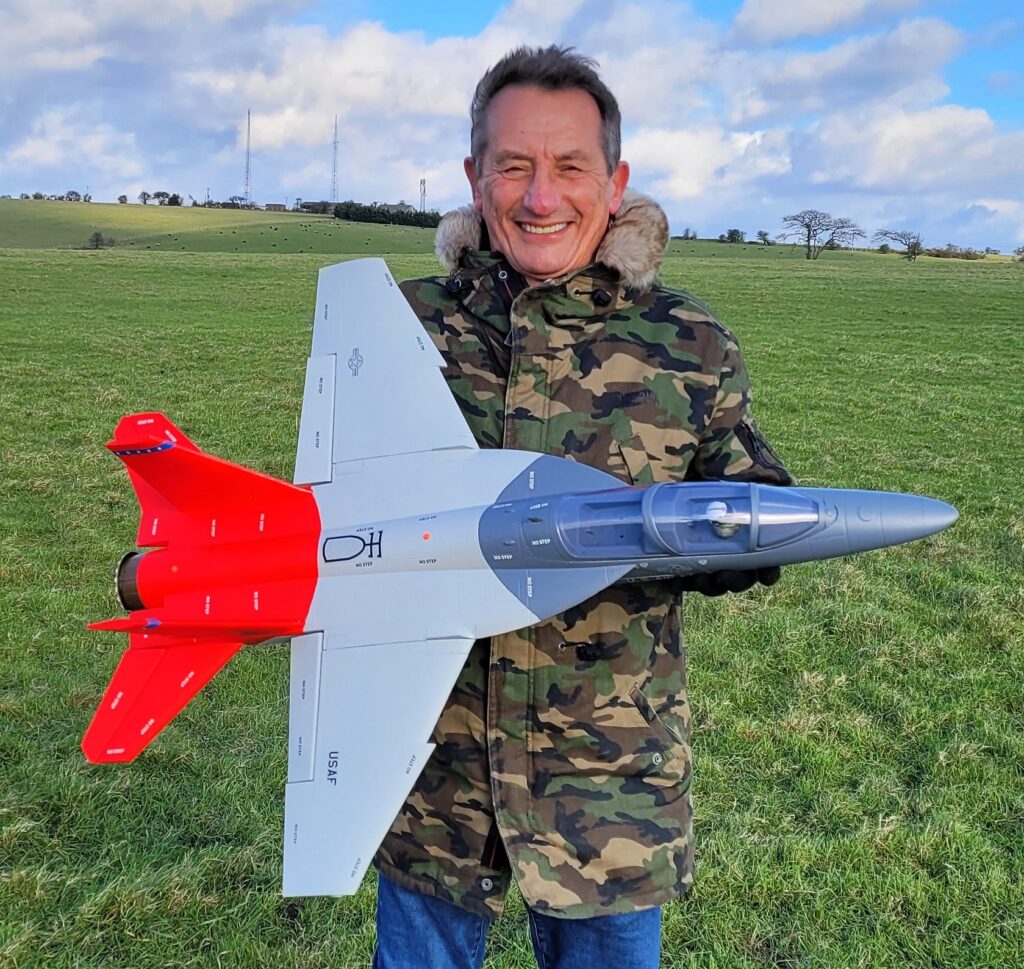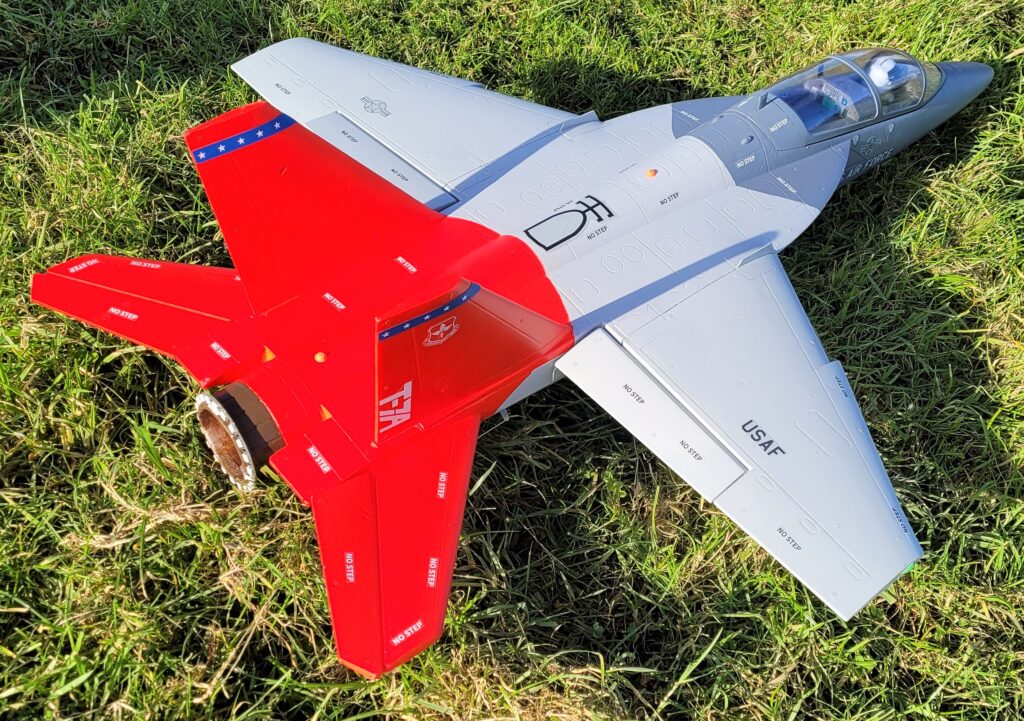 Woody bought the model from Wheelspin Models, this is how their website describes it: The Boeing-Saab T-7 Red Hawk, originally known as the Boeing T-X, is an American/Swedish advanced jet trainer produced by Boeing in partnership with Saab. It was selected on 27 September 2018 by the United States Air Force (USAF) as the winner of the T-X program to replace the Northrop T-38 Talon. The shape of the T-7A is similar to the reduced version of the F/A-18 because they are designed with a large leading edge root extension surface and a V-shaped double vertical tail design. Not only does this design provide dexterous control at low speeds but it also has better flying capabilities at high angles of attack, so that its flight performance can be closer to the fighters in active service. It is also equipped with an embedded training system and remote connection, which can be combined with the most advanced ground training exercises. The pilots who have completed T-7A exercises can easily get hands on the F-22, F-35 and other 5th Generation fighters which shortens the intermediate adaption period. The XFly Model T-7A Red Hawk 64mm EDF jet is an easy-to-fly and versatile trainer jet for a wider variety of experienced pilots to enjoy – including those with limited EDF experience. The 4S compatible brushless motor and 40-amp ESC that are matched to a 12 blade 64mm fan deliver an abundance of speed, thrust and a turbine-like sound compared to other models in its class. The model arrived pretty much finished with the motor/fan unit and five 9g digital servos already fitted but Woody felt the need for speed… no sorry, not speed, lights!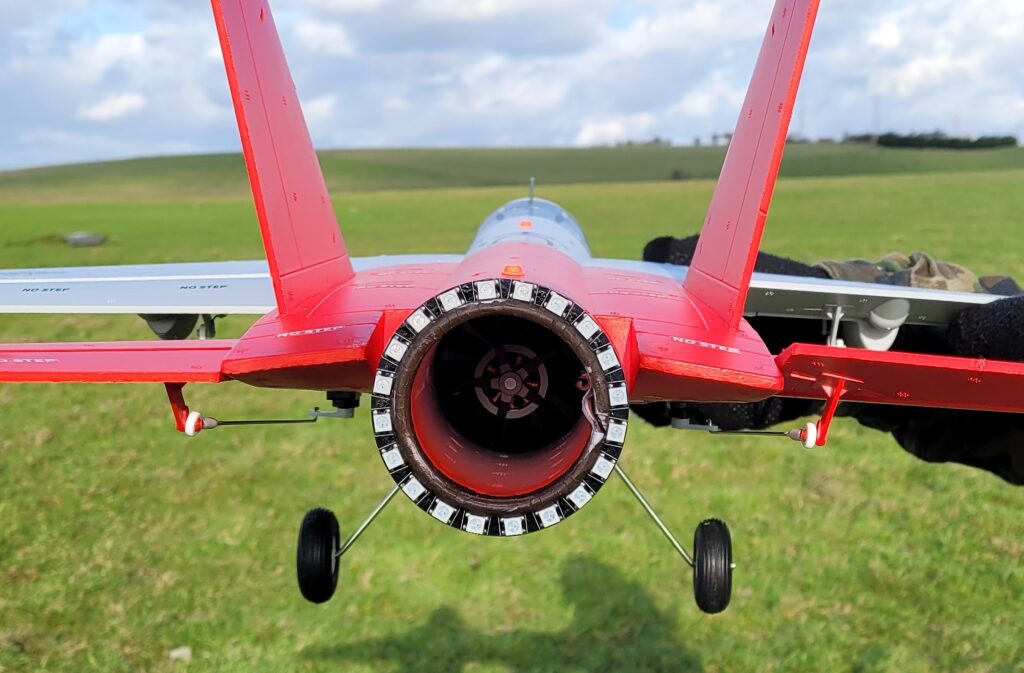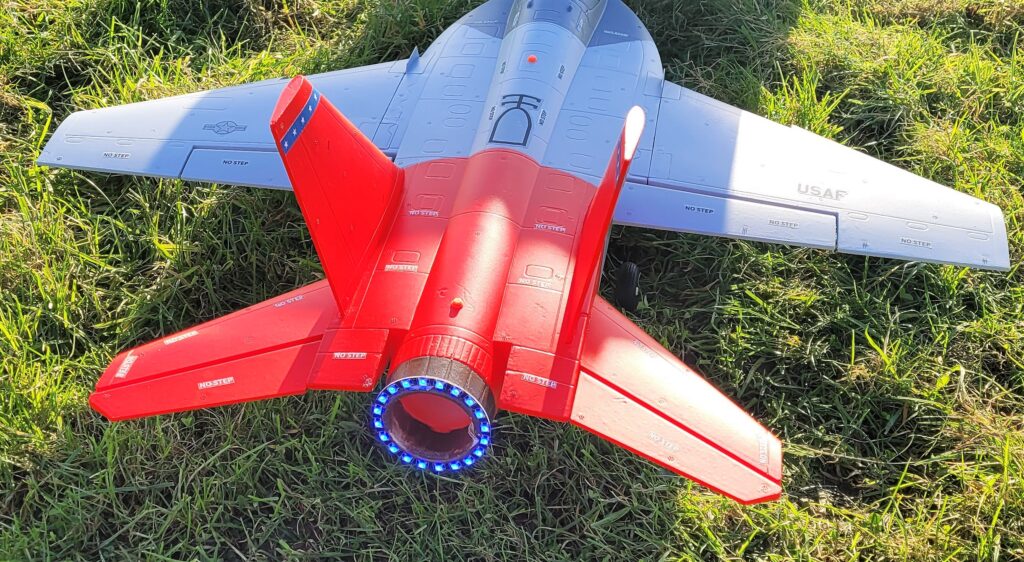 He bought an Afterburner light set from George Worley at 4-Max and fitted it to the end of the tailpipe. It's a ring of LEDs which is connected to the throttle outlet of the receiver so the higher the throttle setting the brighter the LEDs glow. I have to say that it's pretty impressive and shows up quite well especially on duller days. Woody asked me to do the test flight and all went well although it only just lifted off the newly mown grass in time.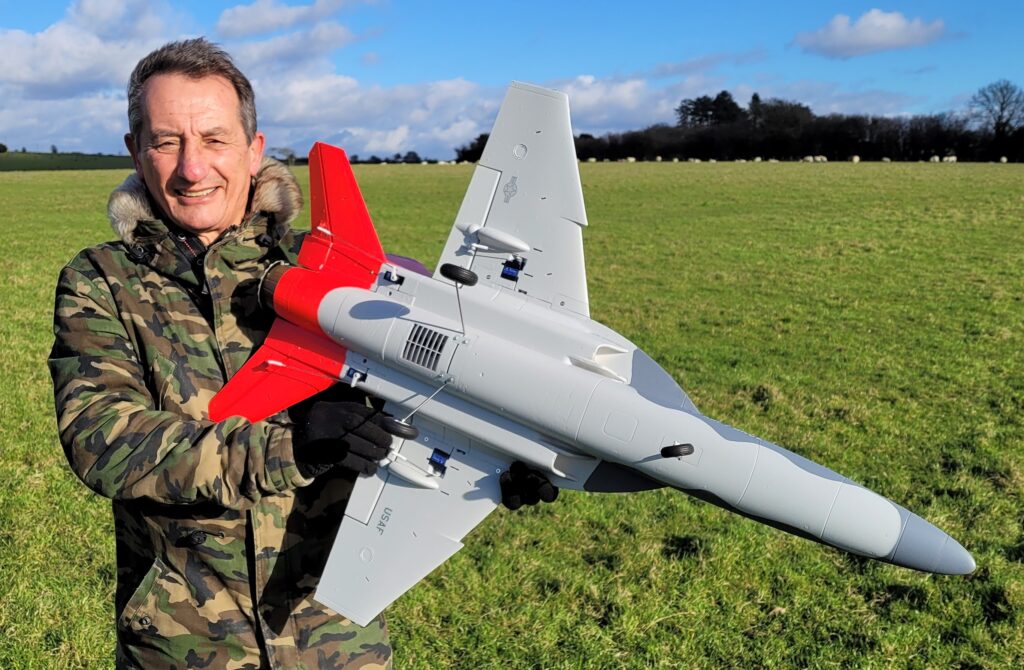 I think Woody will probably end up removing the optional undercarriage in favour of hand launching and belly landing. Other than that all was good, the model handled nicely, sounded great, and had plenty of power. Dougal Entendre filmed the flight so some of it can be seen in this month's video and you should be able to see the afterburner in action. Woody has since fitted the XFly gyro to the T-7 which should help smooth out the flying.
When I was flying my little Mustang and Raptor models last month I struggled to check the battery voltages. The tiny Eachine models use single cell lipos that are charged from a USB port but there's no way of knowing the state of charge other than by an LED. Most of the lipo testers we use at the field can't check single cells so they are of no use. But Chas showed me a Turnigy gizmo that he was using for the lipos he uses in his Eachine Trojan.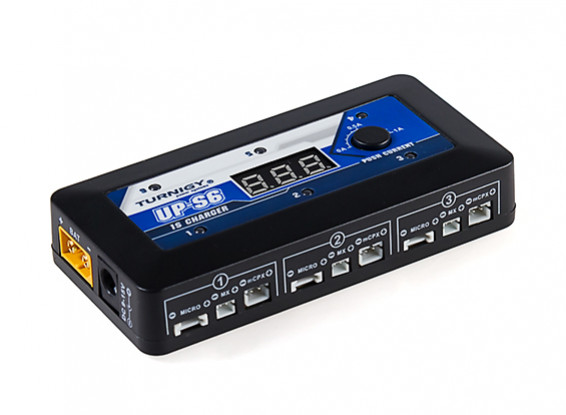 It can be powered by any 3 cell lipo with an XT60 connector, will charge up to six single cell lipos at once, and reads of the voltage of each one sequentially whilst it is charging. When a lipo is fully charged it beeps and the LED for that outlet turns from red to green. The current supplied can be adjusted between 0.1A and 1.0A and it can be switched for either LIPO or LIHV batteries. It has 3 different types of connector at each of the 6 ports so can charge a variety of single cell lipos and it also has a USB socket so you can charge a phone etc. It was perfect, just what I needed, but HobbyKing no longer sells them, typical!
Searching the internet I found the same device is sold with a variety of different names but almost all were around the £25 mark (some up to £35). Chas thought his had cost him around £15 and after much searching I found one just over £16 including postage. Mine is an Ultra Power UP-6S and is identical to Chas's Turnigy in everything but the name.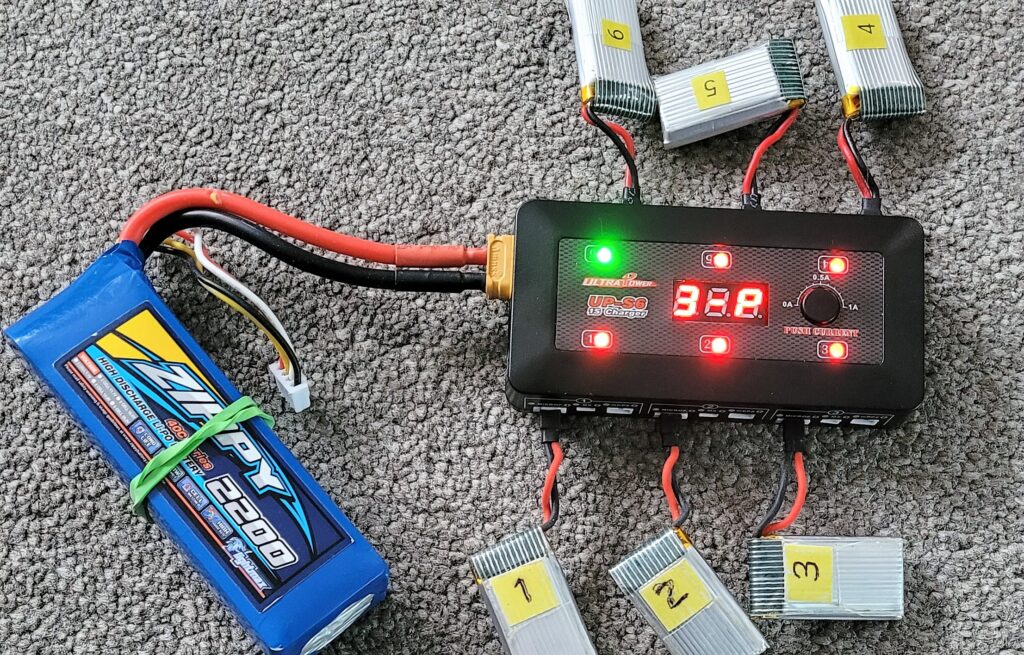 So now I can easily check the voltage of all my cells at the field and charge them if necessary and I could even charge my transmitter from the USB socket in an emergency. There is also a cheaper version that looks almost identical but has a fixed current output of 1A so check the specifications carefully if you are in the market for one.
On the subject of the Eachine models I lost the propeller from my Raptor in the long grass one day. The props are just a push fit and it came off when I landed and I didn't notice it was missing when I picked up the plane. It came with a spare so I have been able to continue flying but it seemed sensible to get some spares. The Banggood website has lots of tiny drone props that would fit so I ordered some Gemfan 65mm red ones (I think they'll be easier to find in the grass!). I've not had a chance to fly one yet but the reviews say they give more thrust and longer flight times than the original paddle style propeller.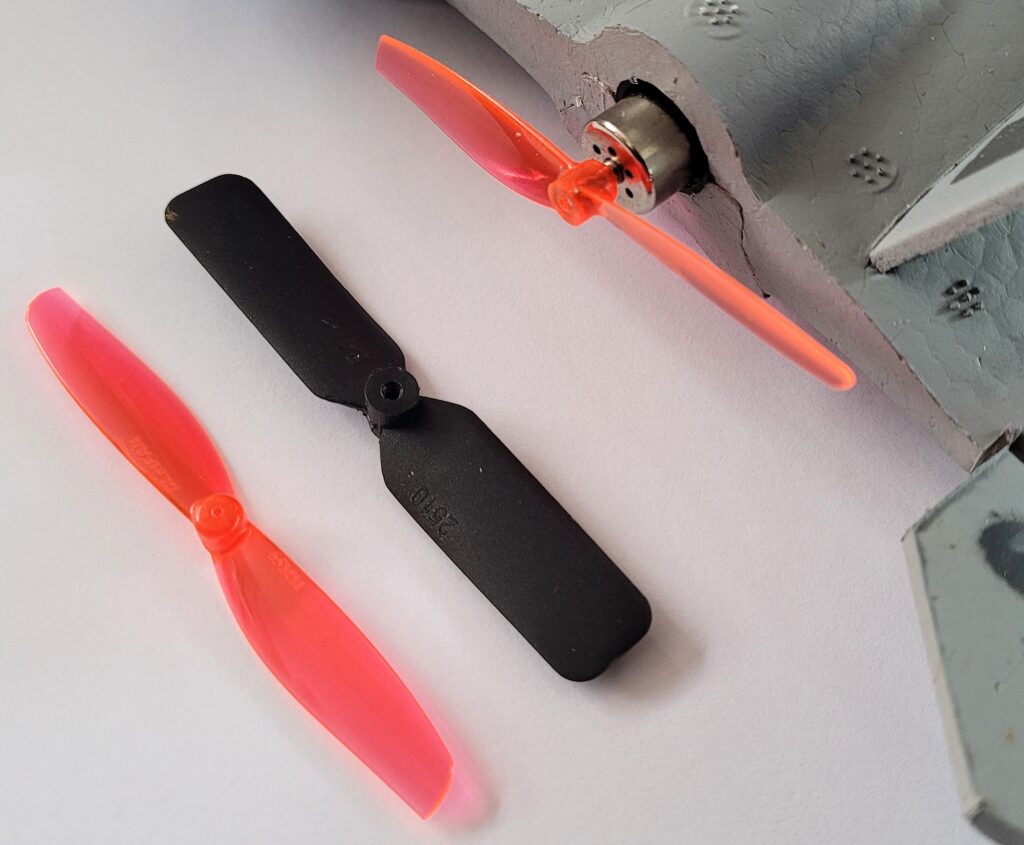 The pack I bought is for a Toothpick drone and consists of four pairs, four tractor props and four pushers. As all eight only cost me £2.49 I figured I could cope with having four pushers I don't need. Anyone want to buy some 65mm pusher props, only £1.50 each?!
Basher Bob has behaved himself recently and hasn't collided with anyone for quite a while so he can revert to his Bob the Builder name…for now. So, in February Bob the Builder built and flew a new foamboard model which he describes as an F22/SU57 hybrid.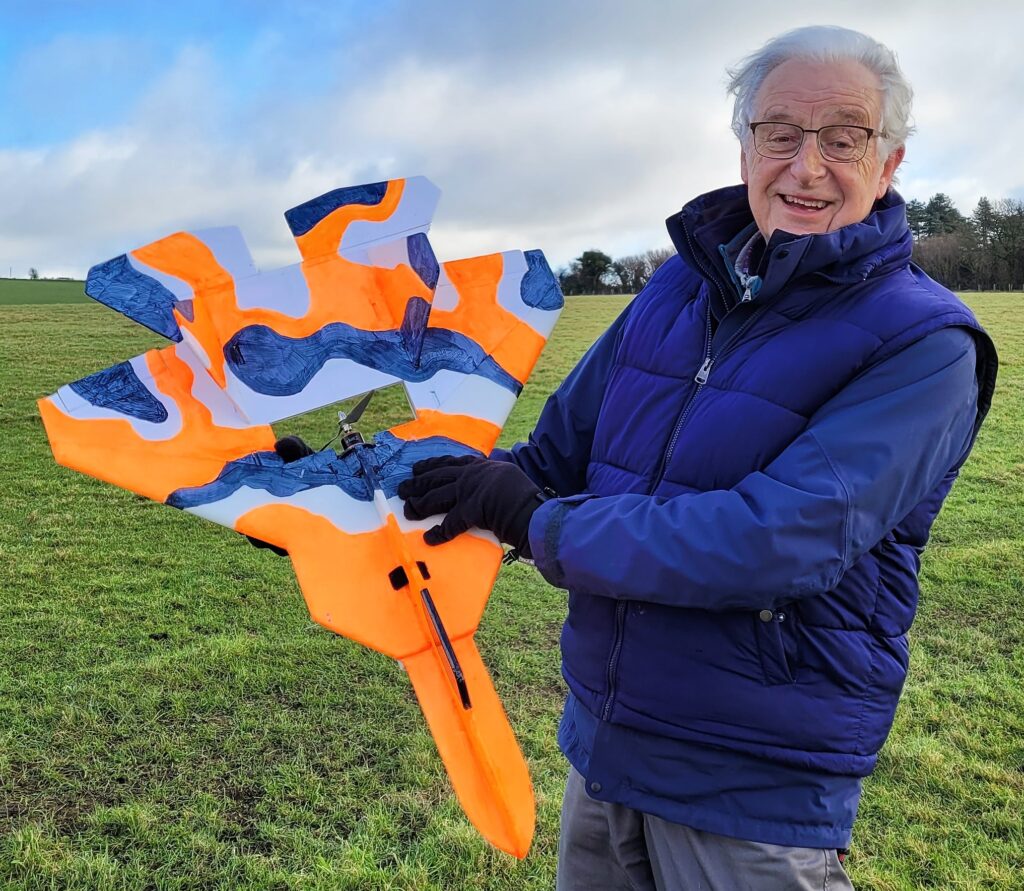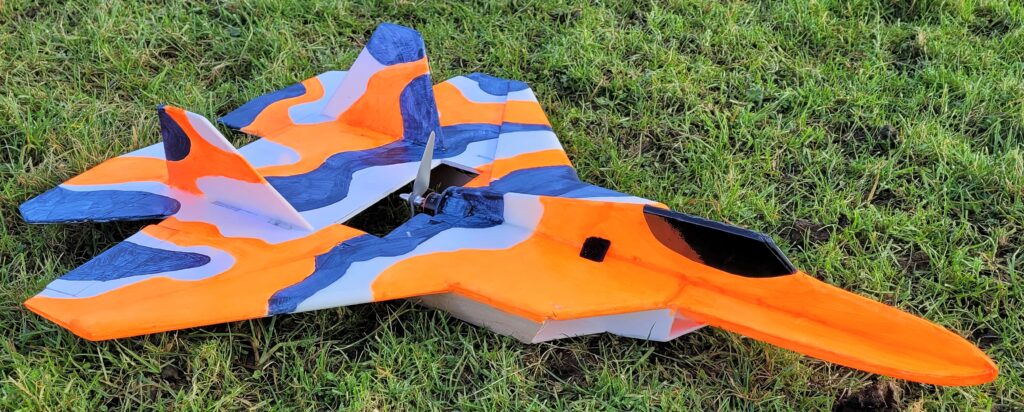 This is what Bob says about it: The design is a mishmash of both aircraft including RCpowers.com F22 Version 5 models. There are several videos on YouTube about building and flying F22 foamies, I tried to pick the best features and combine them with my own experience. The result is a much stiffer airframe with very flexible controls. My plan is to start with 6 servos providing all possible control options which I can experiment with to find which combination performs best. Elevons alone, elevons and ailerons. Separate elevators and ailerons, flaps, spoilerons, Rudders, etc.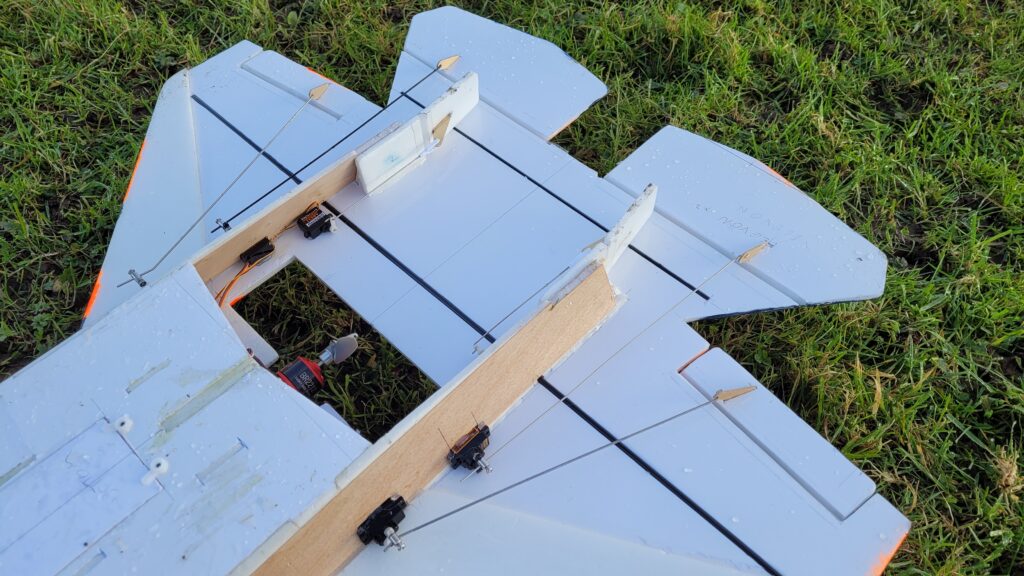 I intend to use a standard 3s 2200kv motor but am currently running an 1800kv one. The extra stiffness comes from the 3 layers of foam on the KF wing and the fact that I left the paper on all the foam board aft of the KF aerofoil. I needed to seal the paper otherwise it would have all fallen off the first time it got wet and noticed a cheap spray can of finishing varnish in Lidl which I have used, seems to be OK so far.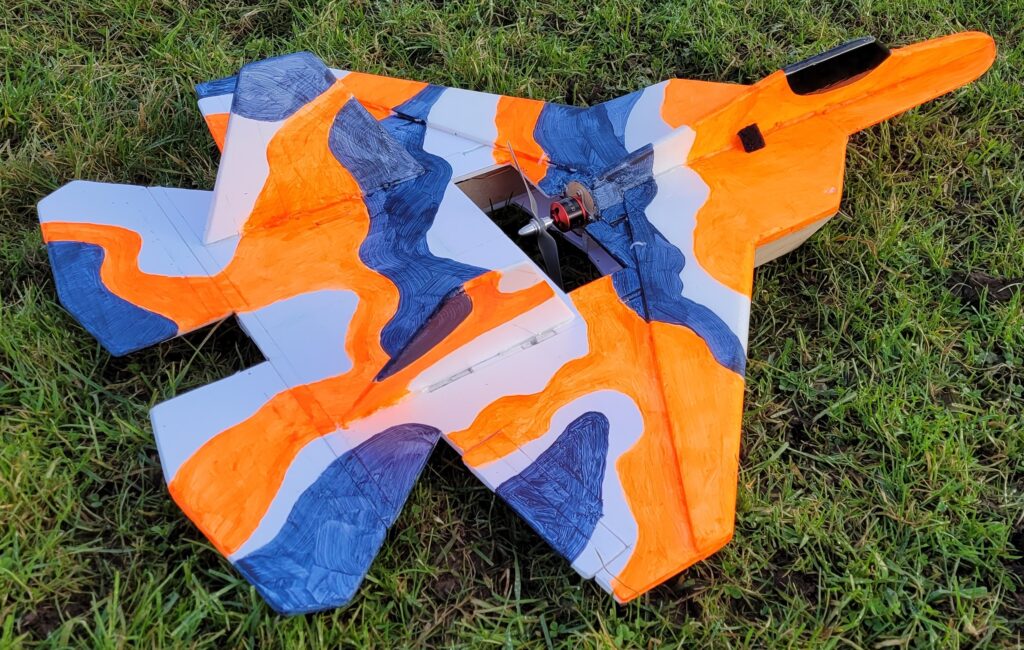 It's a bit heavy at 700 grams AUW but lift seems to be better than a totally flat board as it is easy to land properly rather than dropping the last few feet as with most other foam boards. The art work is painted by hand with acrylic paint from the art shop. Battery is 3s 1300 to 2200 with a 30ESC. Well done Bob, it looks great and flies as well as it looks. At the field some members said the colour scheme reminded them of the Dazzle camouflage sometime known as Razzle Dazzle used on warships mostly in WW1.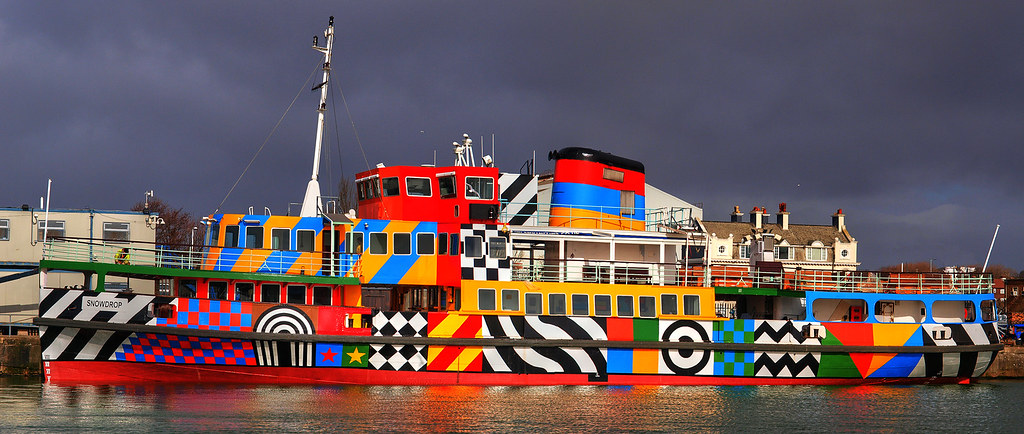 This is the Mersey ferry Snowdrop in Dazzle camouflage. It seems odd to use a camouflage ship scheme on an aircraft but it shows up really well in the air. So is it a Bobby Dazzler?
We were joined by a prospective new member this month, Glyn Morden. Glyn has been a modeller for some time and likes old-timer type RC models which might struggle in the rather breezy conditions we tend to get at our field but on his first visit he flew his Phoenix 2000 electric glider which is ideal, in fact there are already several of them in the club.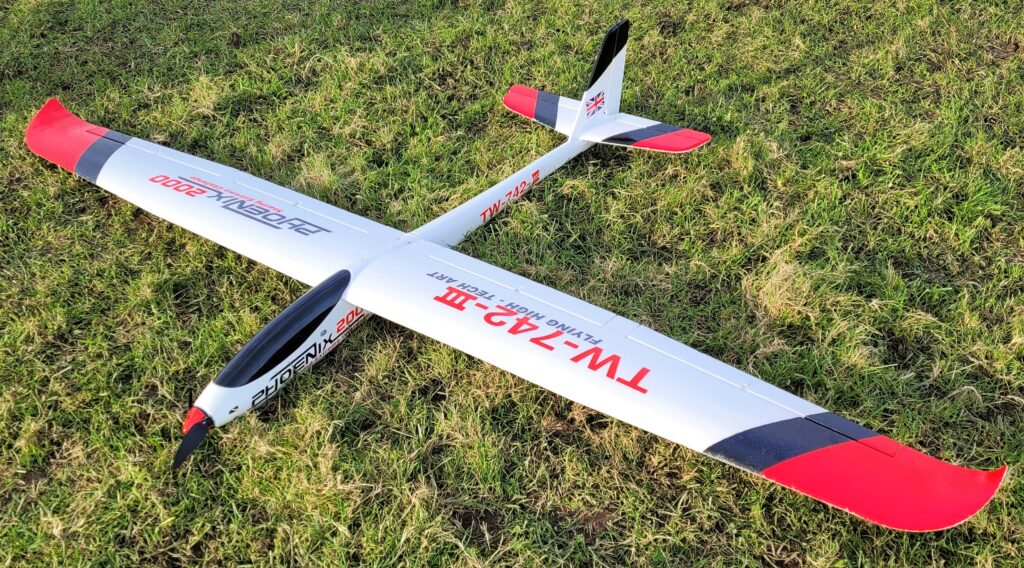 Glyn also brought along a Mercury Matador that he built from a Ben Buckle kit during lockdown and has covered in film. I remember the Matador from my youth, I built and flew a diesel powered free-flight one in around 1963-64. Mine was nylon covered, heat shrink film hadn't been invented back then. Obviously I was only 2 years old at the time…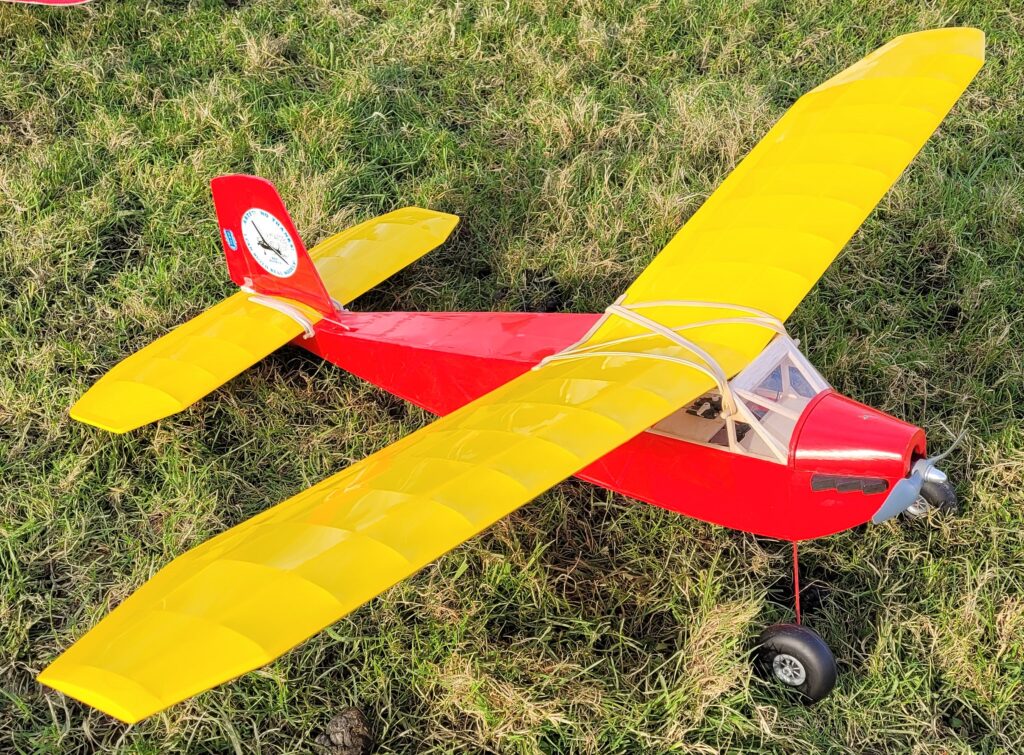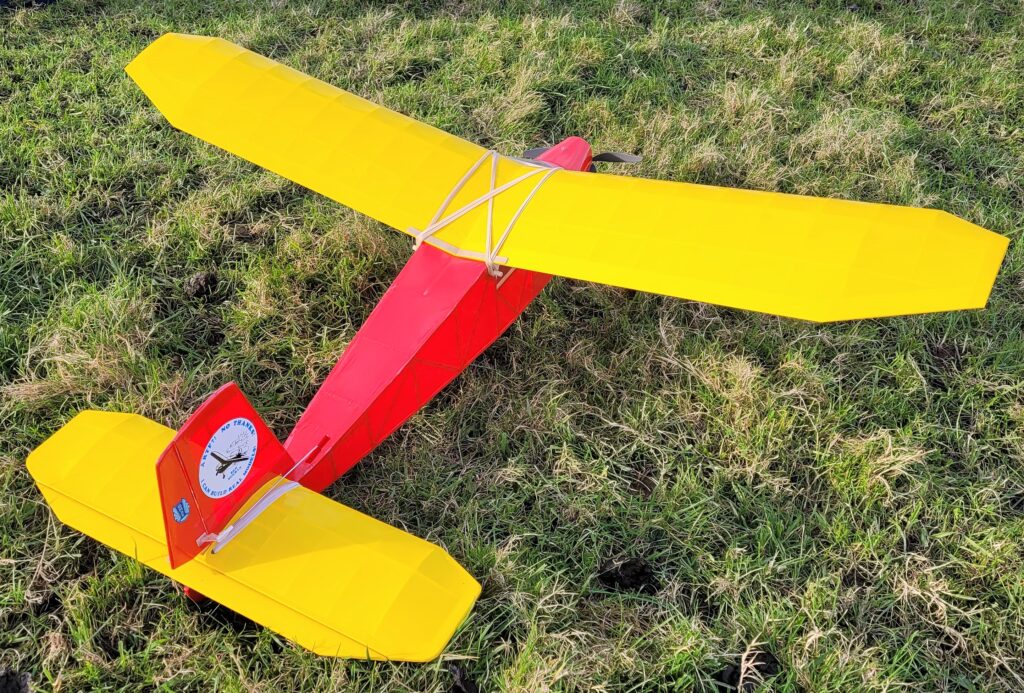 Glyn's Matador is bang up to date with electric power and three channel radio control.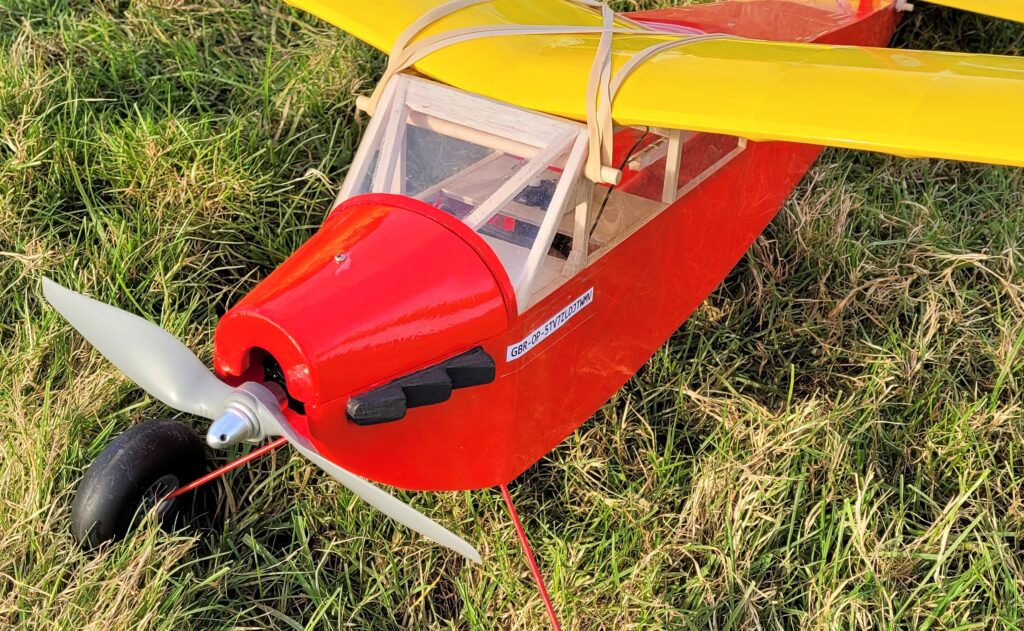 The motor in an Overlander 1000kv which swings an 8×4 propeller and he is using a 2200mAh 3 cell lipo which also runs the radio with just rudder, elevator, and throttle control via a Turnigy 20A speed controller. Welcome to Petersfield Aero Modellers Glyn.
One day when I was trawling the Banggood website I spotted a mini cube camera with built in video recorder that was reduced to just £10.51. I'm not really sure why I needed it but it seemed rude not to, plus I seem to get loads of discount vouchers on the Banggood site so I used one and got the camera delivered for £9.14. According to the specs it will record at 1920 x 1080P /1280 x 720P at 30fps which is pretty good but not top spec.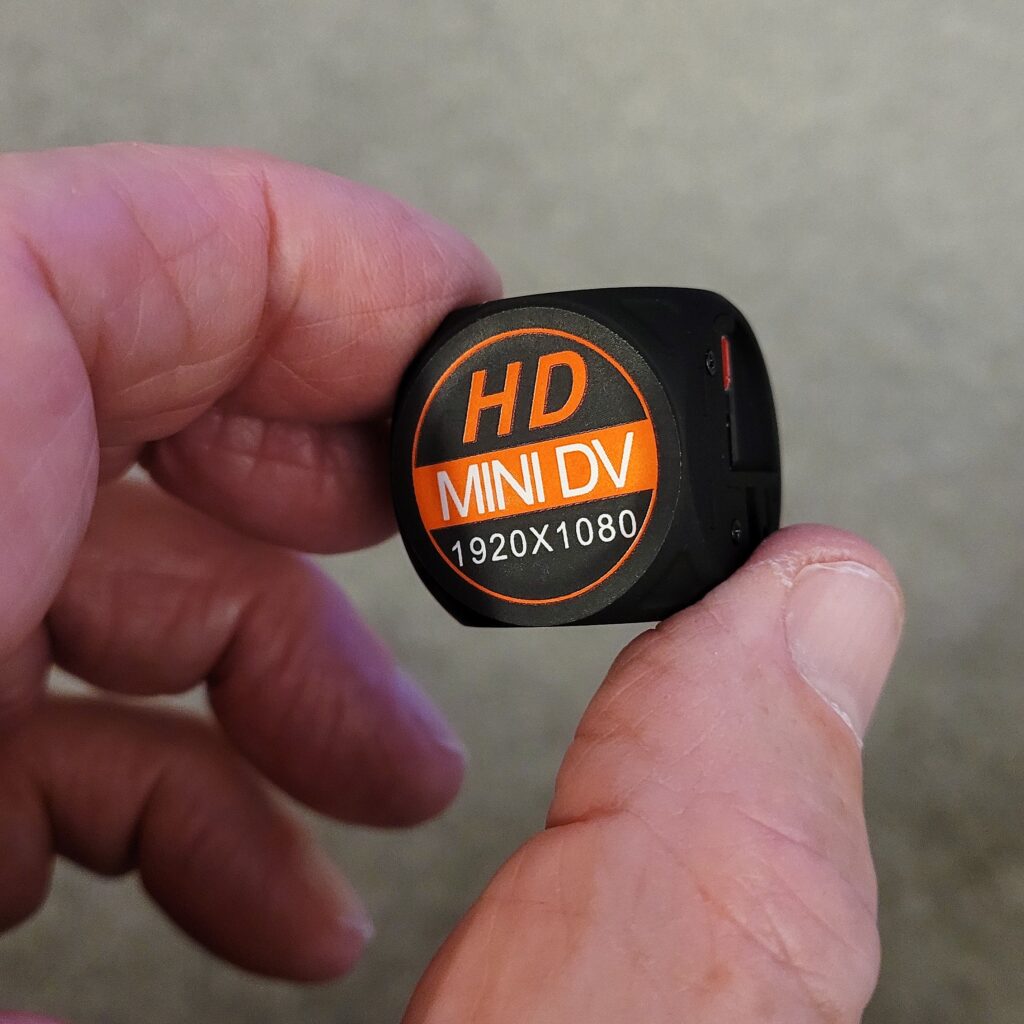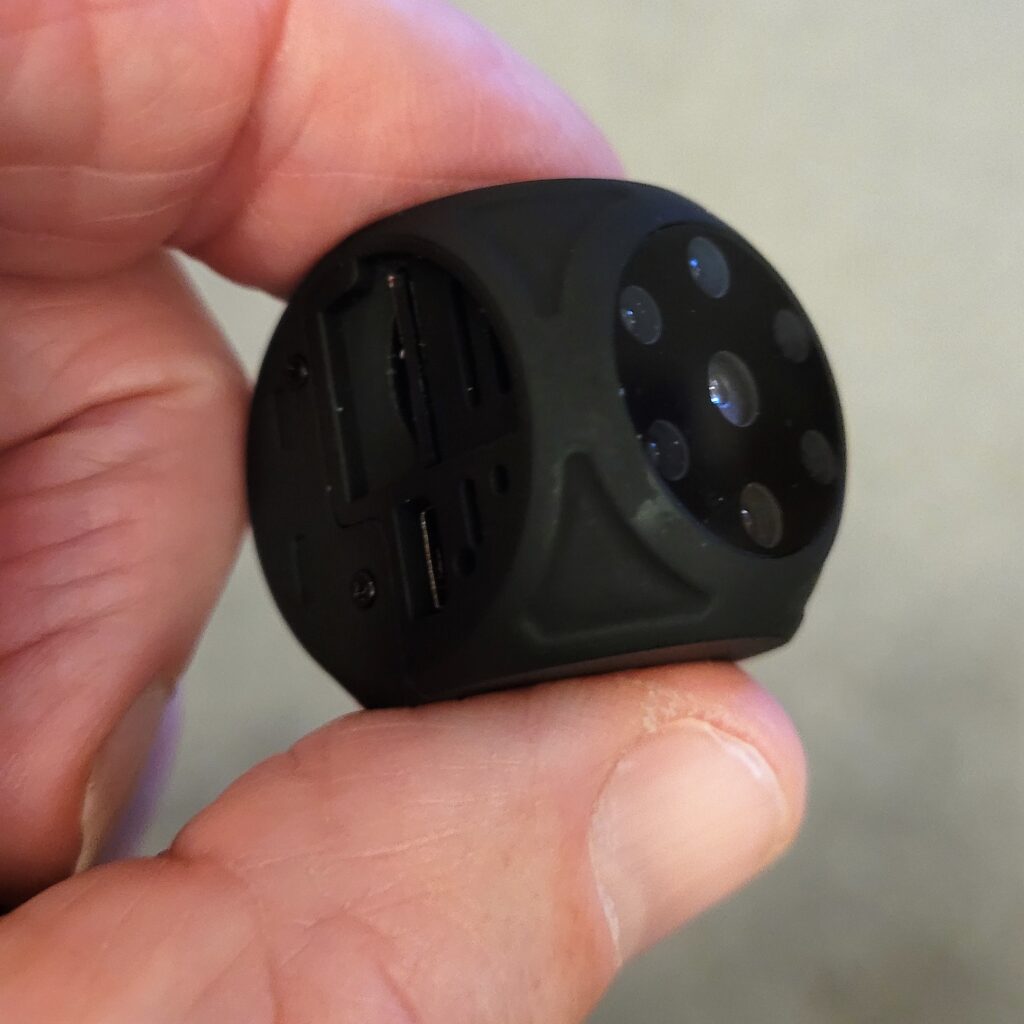 It comes with quite a variety of straps and mounting brackets so to test it out during the storms I tried it as a dash cam a few times and it provided pretty good quality recordings.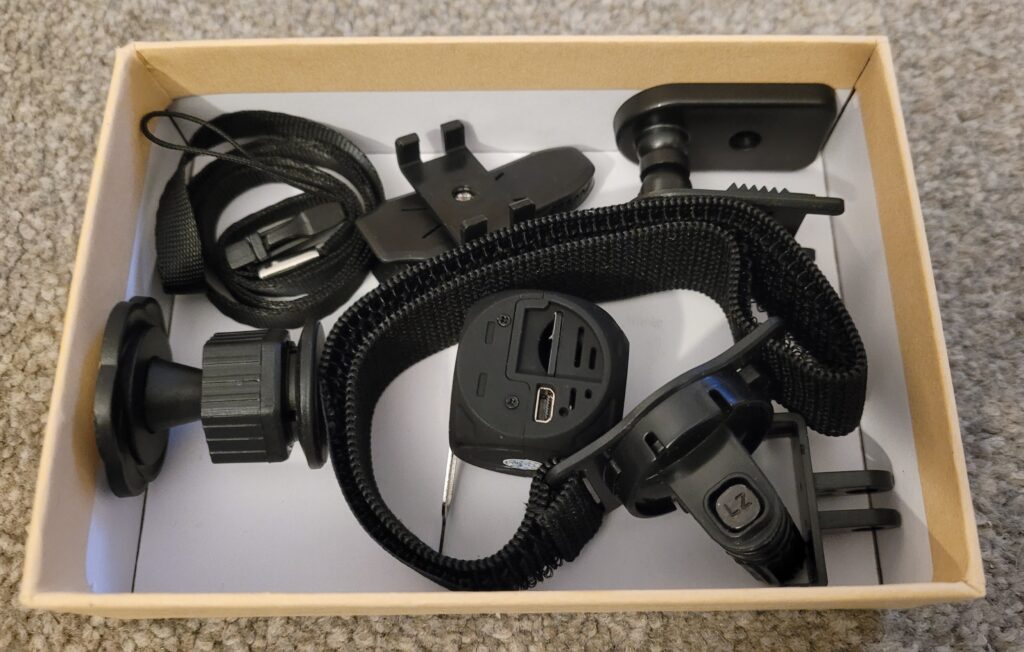 On the first flyable day I used it as a dash cam driving up to the field where I turned it off and put it in my pocket before taping it to my Ranger for a couple of flights. Back home I downloaded the videos and found I had an hour of video of the inside of my pocket…! But next time out I captured some nice video although the grass colours are a bit off.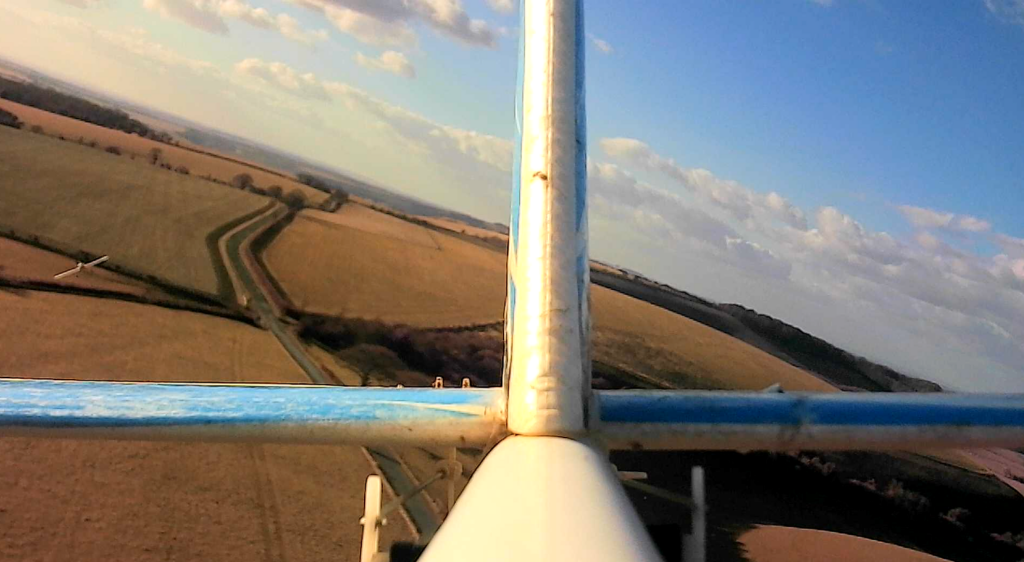 Then I saw that the price has been reduced again and it's now just £7.48. I mentioned this at the field and promptly got orders from Dougal, Captain Slow, and Gordon Bennett. While placing their orders I added another one for myself and all four arrived in two days.
Chas has been happily using JR radio gear for a while but has now bought a RadioMaster TX16S MAX transmitter. Here he explains why he's making the switch: I was considering purchasing new JR receivers for two models I'm either building or about to commence building. I was in for a bit of a shock as the price of a six channel receiver had risen from just under £80 to £96 and the eight channel was now £110. I've always been happy with the reliability of this brand but the functionality of JR equipment is rather dated.
Having seen Bob and Mark using RadioMaster transmitters I decided to find out more. They have an internal multi-protocol module and the facility to use an external JR type module. It just so happens that I bought a JR 2.4 GHz module (no longer available) some years ago for my old PCM9X transmitter. Having quizzed Bob on several occasions and downloaded the TX Open Companion software I was gradually being won over. This software allows the user to update the transmitter's firmware, set up models and check these setups on the inbuilt simulator.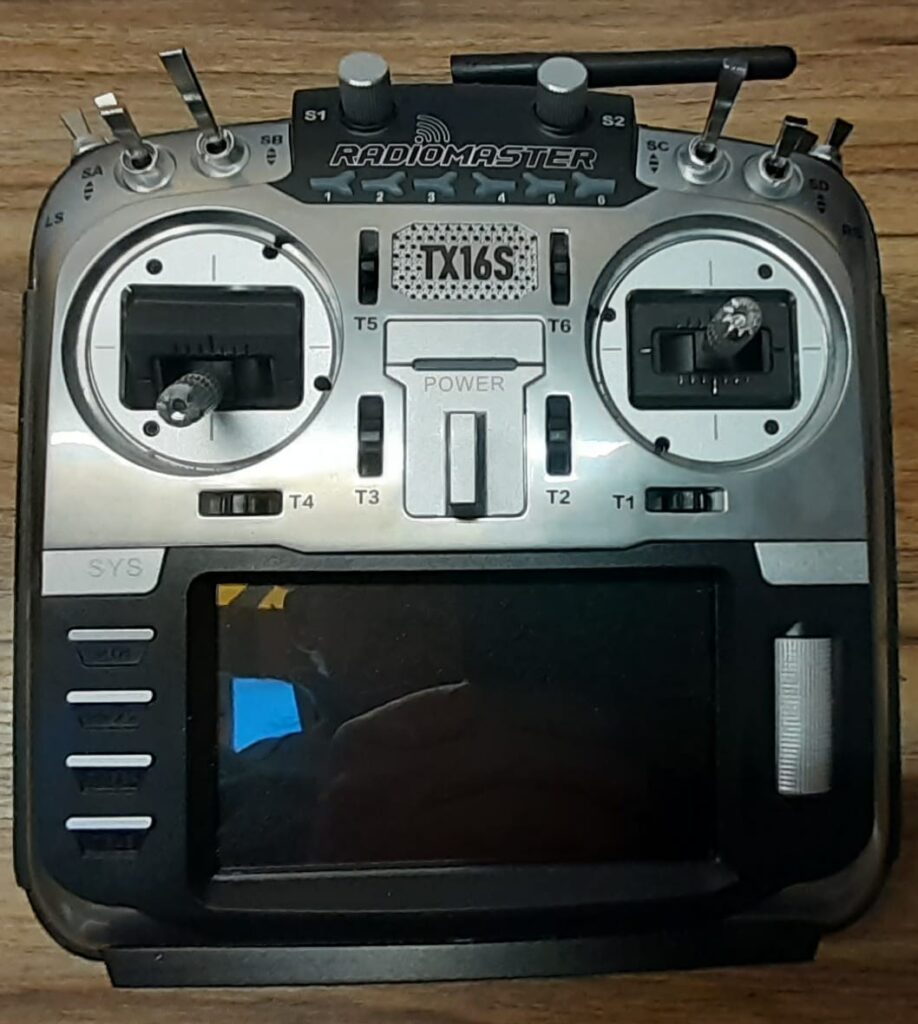 Having viewed several YouTube videos it became clear that I could use the transmitter for my Eachine T28 Trojan and E-Flite UMX Yak 54 and the fact that I could buy an FrSky eight channel receiver, with a built in vario for £38, swayed me into purchasing one of these units.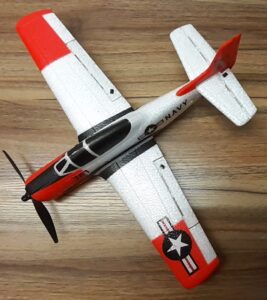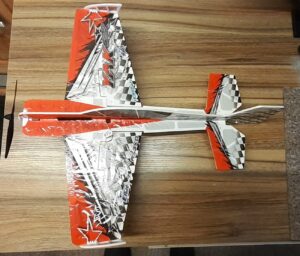 Having taken delivery of my transmitter I've played around with it and the Companion software to become familiar with its many functions. An example of these functions is an instant trim. When you're testing a new model you may have to hold in some up elevator and maybe some aileron to keep the model flying straight and level so then, all you need to do is, flick a switch and the respective trims are set to the stick positions allowing the sticks to be returned to their neutral positions.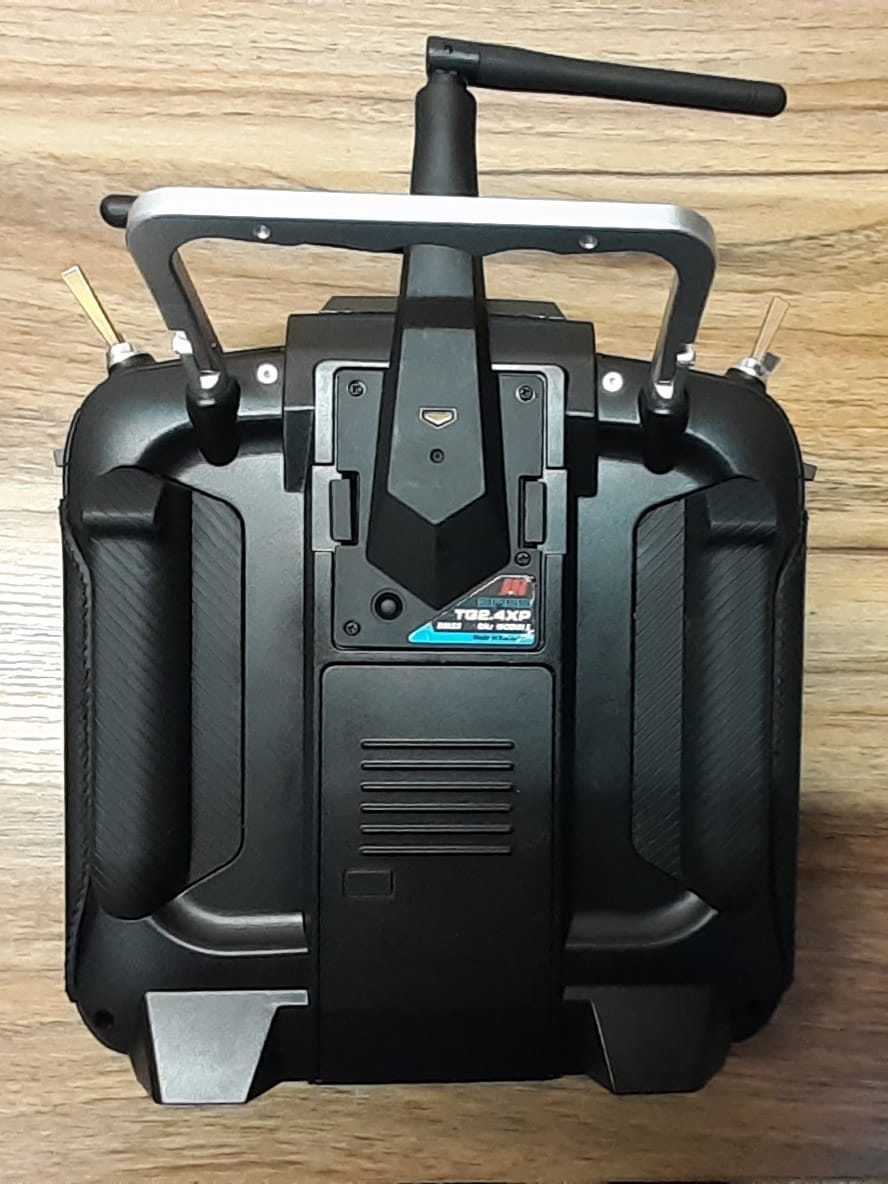 Unfortunately since obtaining this new toy the weather has been at its worst with rain and high winds for the last couple of weeks I've not been able to try it out yet so I'm keeping my fingers crossed that next week's weather may be more favourable.
While Gordon Bennett was unwell recently he decided he needed to cheer himself up with a little retail therapy. He must have needed a lot of cheering up as he bought an E-flite Viper 70mm EDF. The Viper is a model I've always drooled over but jealous…me? Never!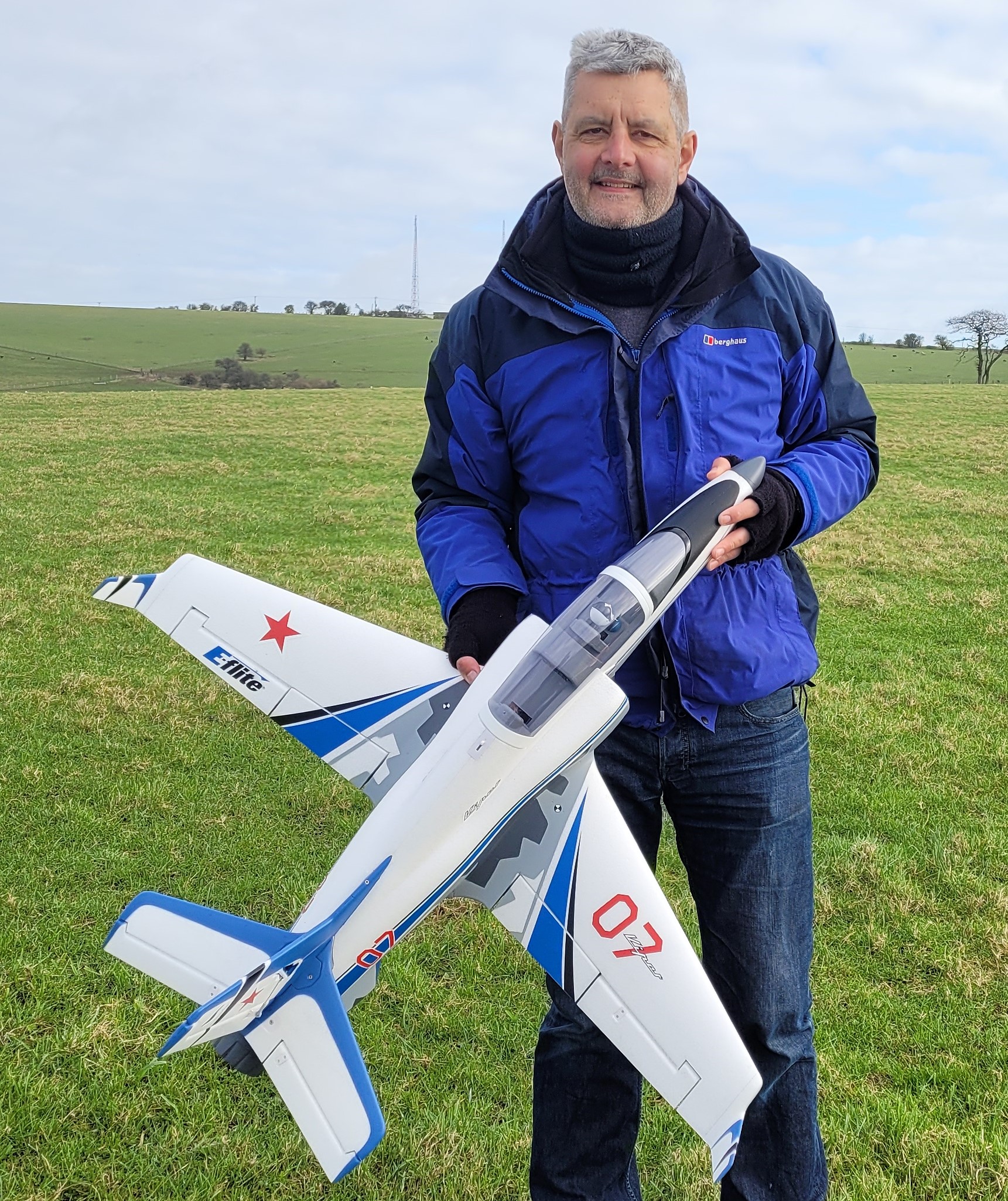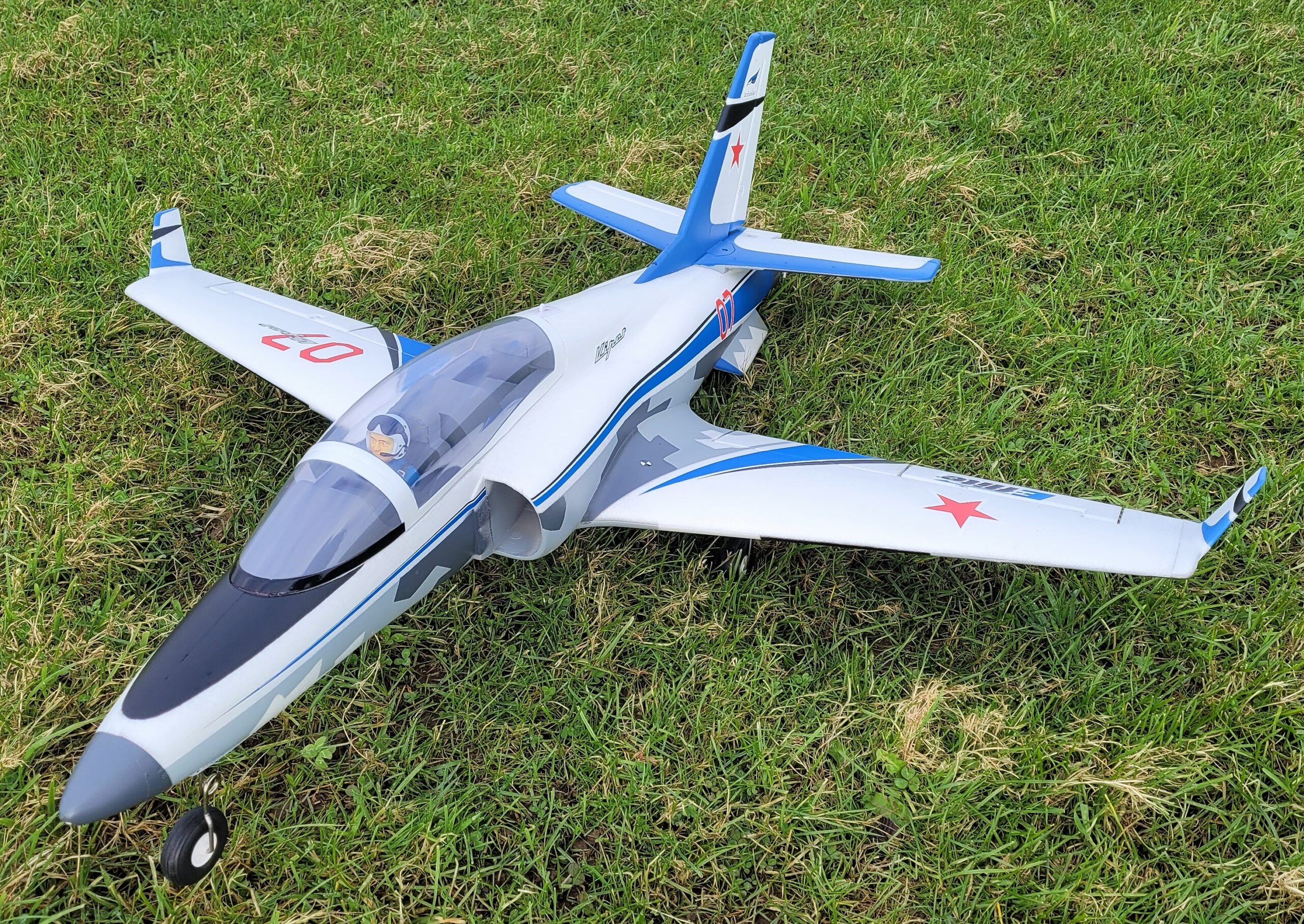 This is from the Horizon Hobby website: The Viper 70mm EDF offers smooth, sport airplane-like handling plus incredible performance and aerobatic capability that makes it the perfect choice for experienced and first-time jet pilots alike. At its core is a 6S-compatible brushless motor and 70-amp ESC that are matched to a 12-blade fan to deliver an abundance of speed, thrust and a turbine-like sound. Functional, factory-installed flaps and electric retracts are included to provide the best jet experience and the widest flight envelope possible. Assembly is fast and simple with a one-piece wing and stabilizers that bolt into place–no glue required. The detailed cockpit is integrated with the large top-mounted hatch that makes flight battery access as easy and convenient as possible. Digital, metal-geared servos and ball-link equipped linkages provide precise control, and the lightweight yet strong EPO airframe adds to the durability and precision. But what truly sets the Viper 70mm EDF apart, and helps make it the BEST choice for a first jet model, is how easy it is to take off, fly and land. It's a scale jet that flies smooth and handles like a sport airplane, with stability that makes it feel rock-solid so all you have to do to make your jet pilot dreams come true is advance the throttle.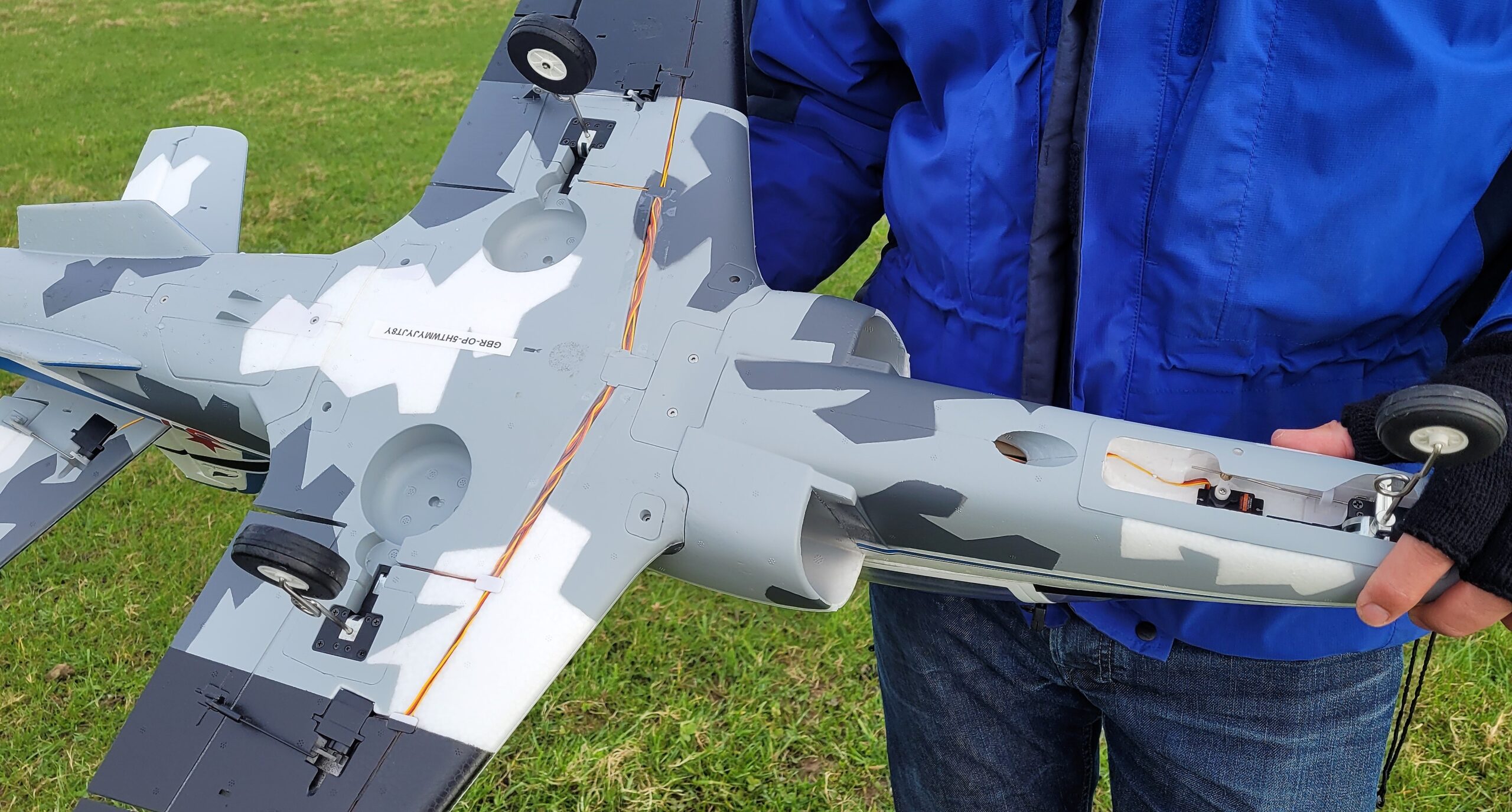 As the 1100mm span Viper uses 6 cell lipos Gordon also had to buy some batteries so being unwell was a pretty expensive experience! The model feels quite heavy so we were a little concerned about it getting off our small patch but with the thrust provided by the 6 cell set up it was no problem at all and with the application of half-flap the Viper lifted off by the halfway point. Gordon uses Spektrum radio so was able to use the AS3X stabilisation the model comes provided with but he had the SAFE mode turned off. After a couple of circuits Gordon had the wheels and flaps up and we could see that the Viper is a very smooth flier and is also very quiet. Gordon didn't try any aerobatics on the first flight, he just wanted to get the feel for flying what is his first EDF. He did a couple of practice approaches with wheels down and full-flap and as you can see in the video it all looked good. When he actually came to land the model dropped the last couple of feet too fast, bounced, and turned turtle. Fortunately the damage was very minor, was easily repaired, and it has since flown again. It's all part of the learning curve Gordon!
Here are a few airborne shots taken in February, all are screenshots from videos: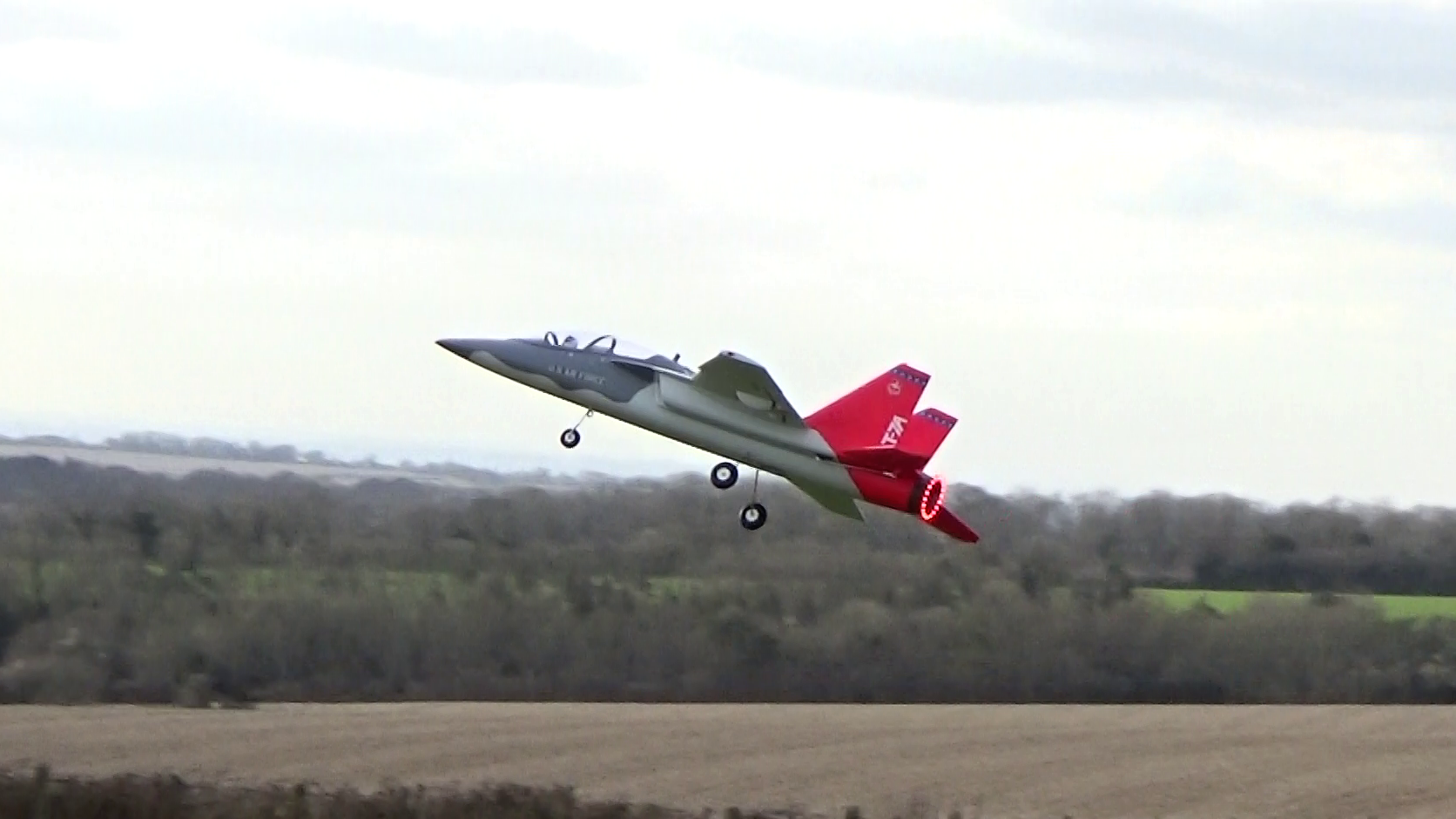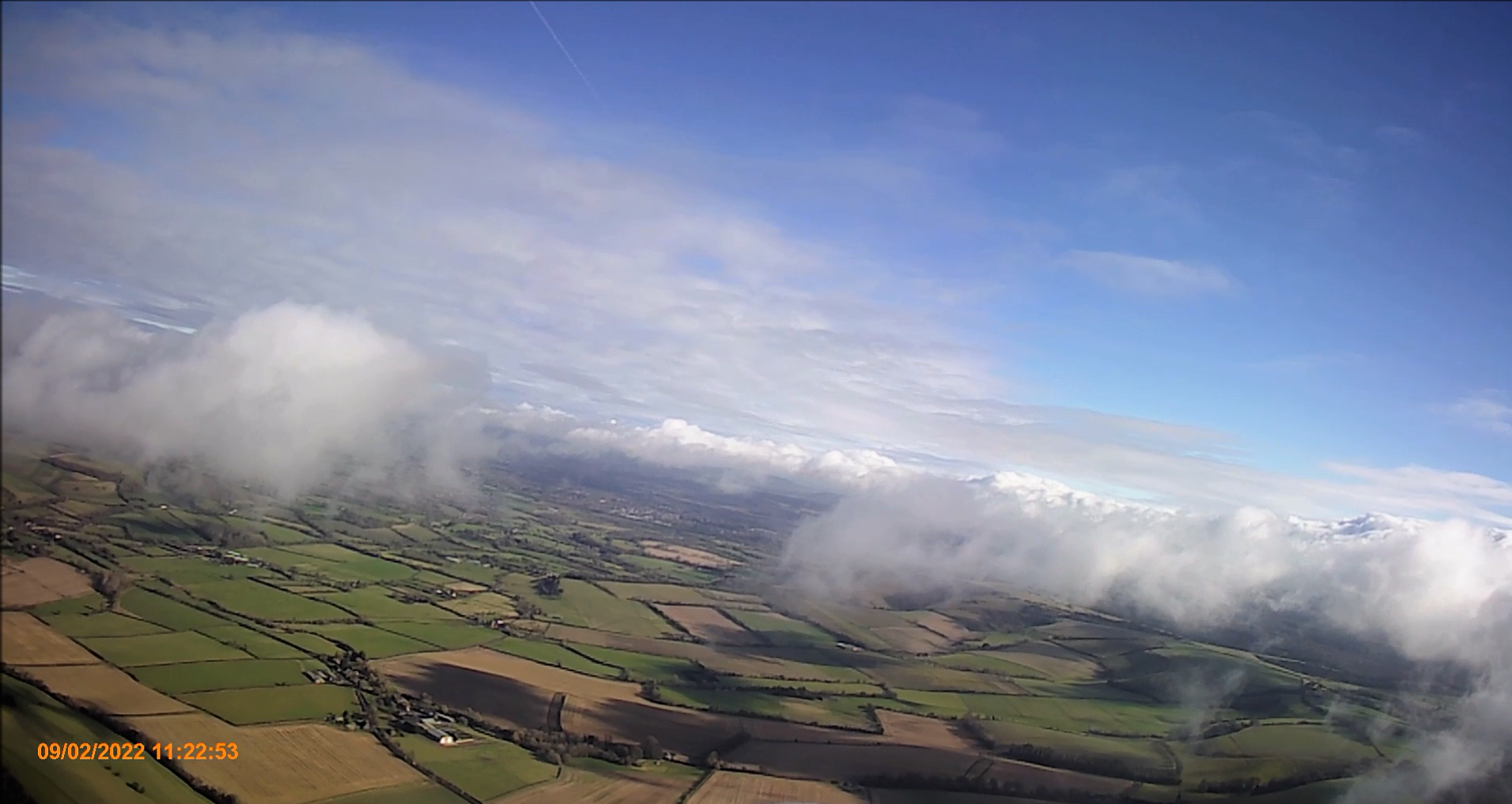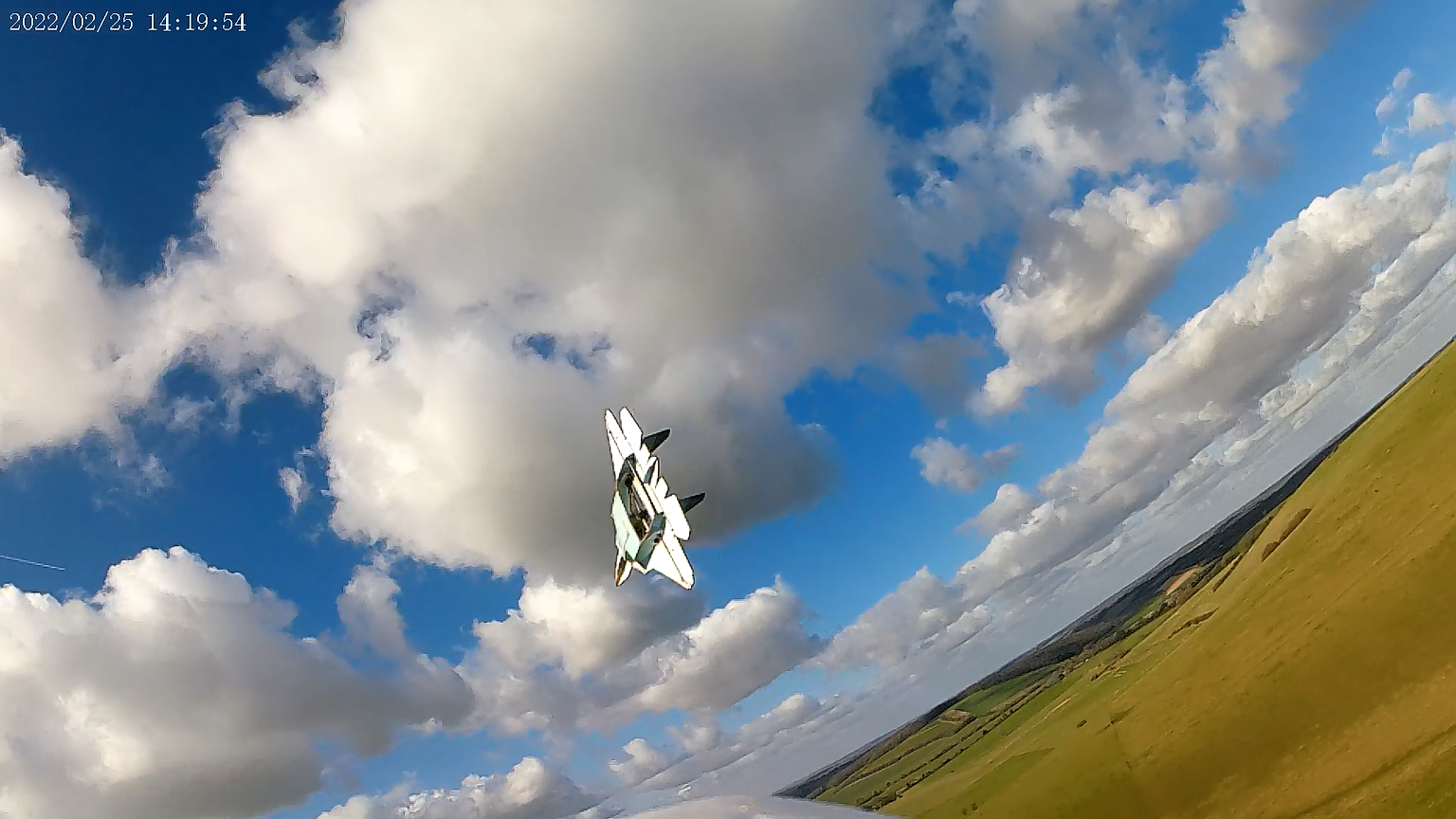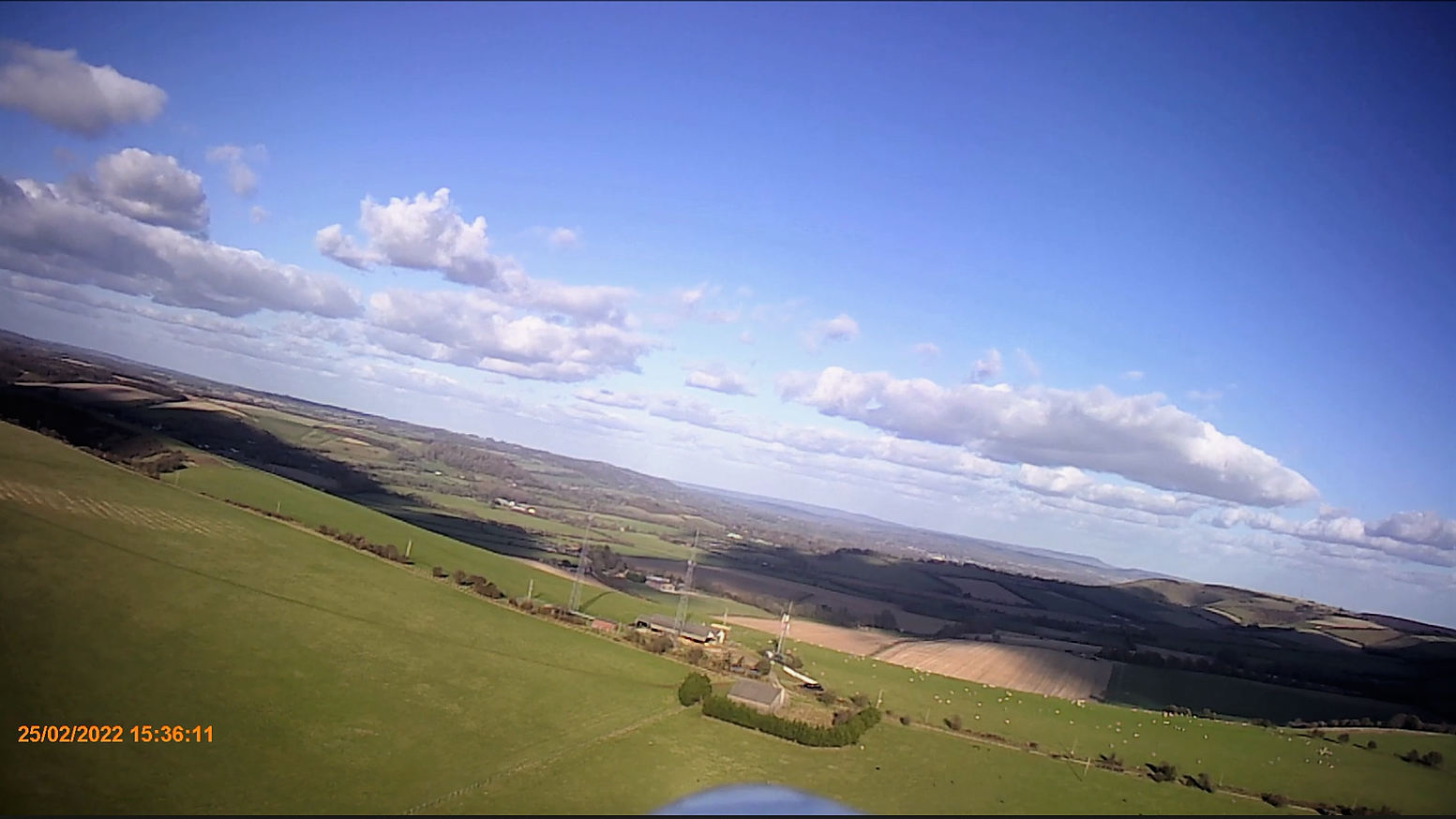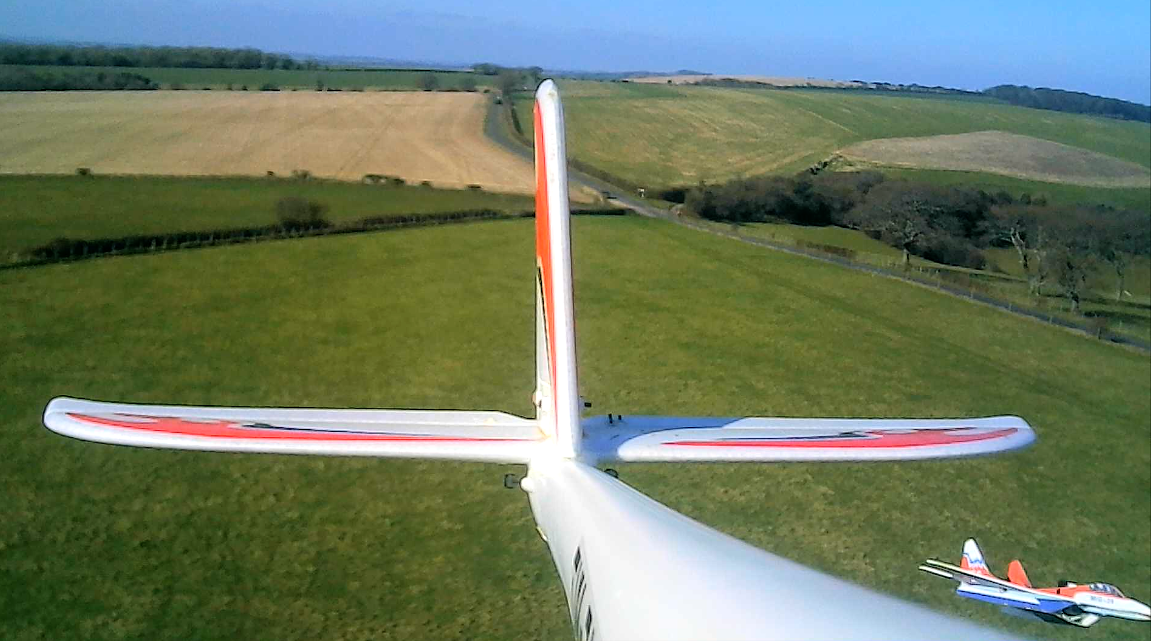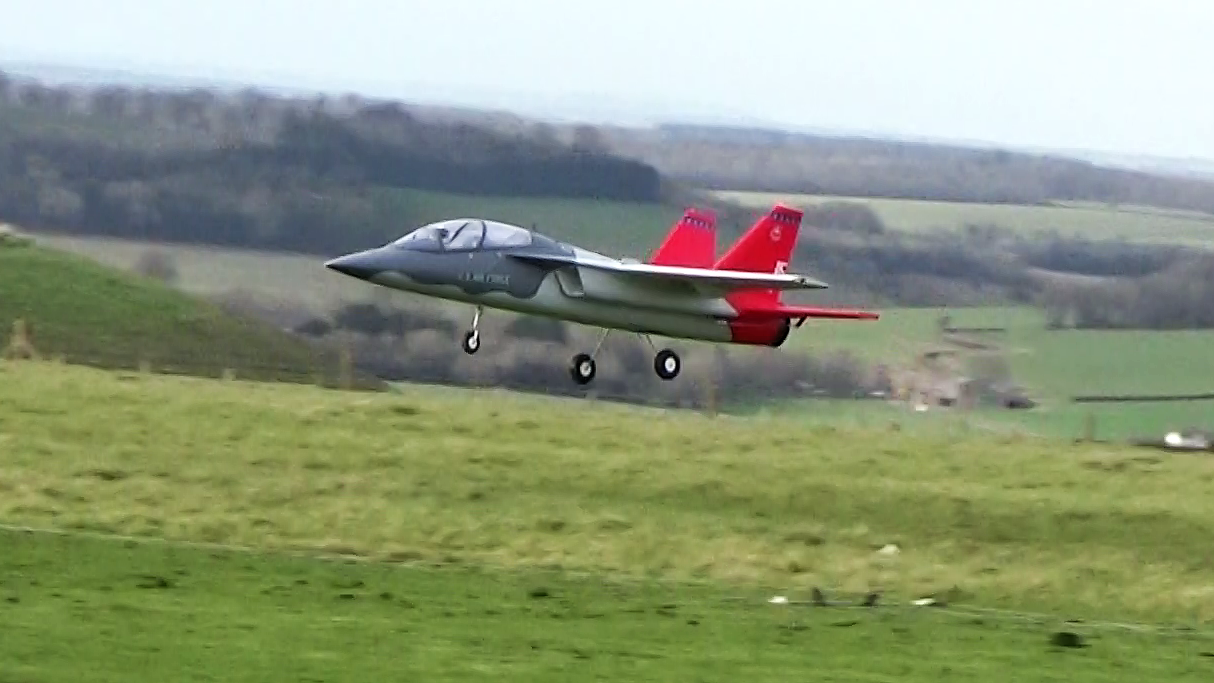 Video time now with footage shot by myself, Captain Slow, and Dougal Entendre. Please watch the video full-screen, it's so much better with small models flying around:If the video won't play for you please click HERE
Apparently British Airways flights are really fast, when I called to check the flight time from Heathrow to New York the girl said "Just a minute…"
Colin Cowplain