DON'T FORGET,  DELTA JUDGING AT THIS THURSDAYS MEETING 10TH SEPTEMBER,
WITH FLIGHTS THIS  SUNDAY 13TH SEPTEMBER

Here are the rules for the inaugural P.A.M. Delta challenge.
(1)  All Delta's must be built with the dimensions supplied below and must be a flat plate wing, i.e no wing section.
(2)  All other design details, Fins, Fuselage, Control Surface size, Motor size, Prop position, building materials etc are at the builders discretion.
(3)  Delta's must be built in private and can not be revealed before a designated club meeting. Then all models will be test flown on the following Sunday.
I really hope a lot of us have a go, it will be interesting to see what is produced and how well they fly.
There are a lot of things to consider, like the building material, Balsa allows a good finish, and will be light, but could break easily on that first unknown flight. Correx will be heavier and possibly look rubbish but will be much more robust for those early flights.
All models that are produced will be judged by those present and a small prize will be awarded to the winning builder.
Delta's must not exceed the following dimensions:-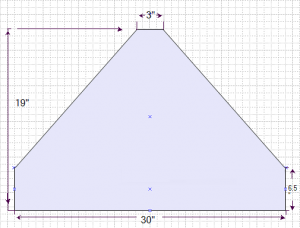 Good Luck
Steve
STOP PRESS:
Designated judging date is at the club meeting on Thursday 10th September
with flight tests to be carried out on the following Sunday 13th September.