The October weather was definitely autumnal, we had some really good flying days with sunshine and light winds but also a lot of wet and windy weather that prevented flying. The temperatures were generally higher than average and the grass continued to grow so we mowed a couple of times and Woody showed off with his one-handed mowing…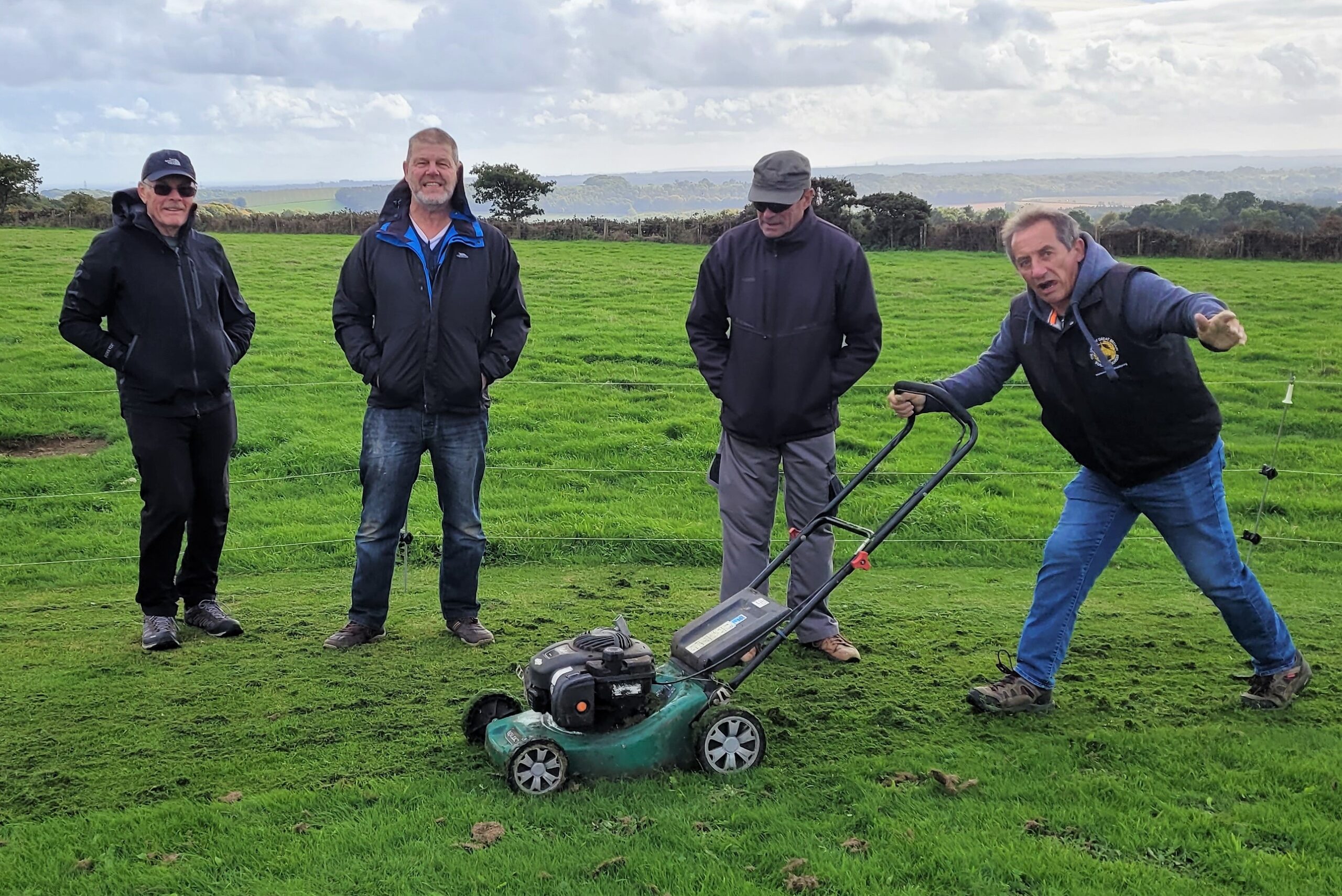 We mowed over his mistakes later! Leo's mum Jill snapped this atmospheric photo which she called 'Over the hill'. I'm not sure if she was referring to the scene or the members: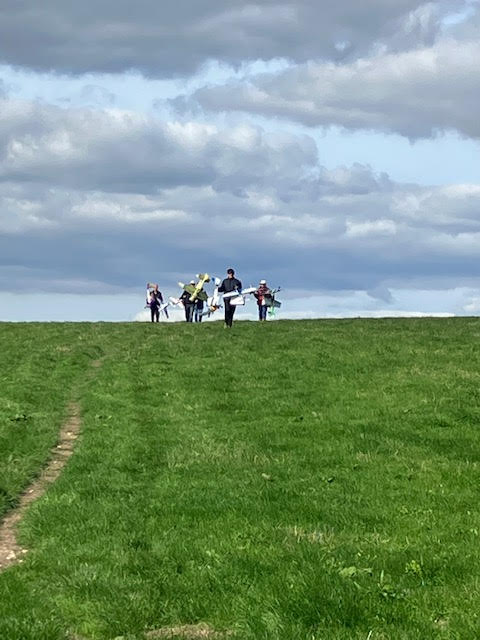 Several new models graced the sky in October, I'll start with Gordon Bennett's new Pitts Special. The Pitts is very small at just 434mm (17") wingspan and 393mm (15.5") long and Gordon brought it up to the patch in the box that the model was supplied in.

Its' full title is the E-Flite UMX Pitts S-1S AS3X – BNF Basic with AS3X and SAFE Select.
I thought it was just intended for indoor flying but apparently it can be flown inside or out.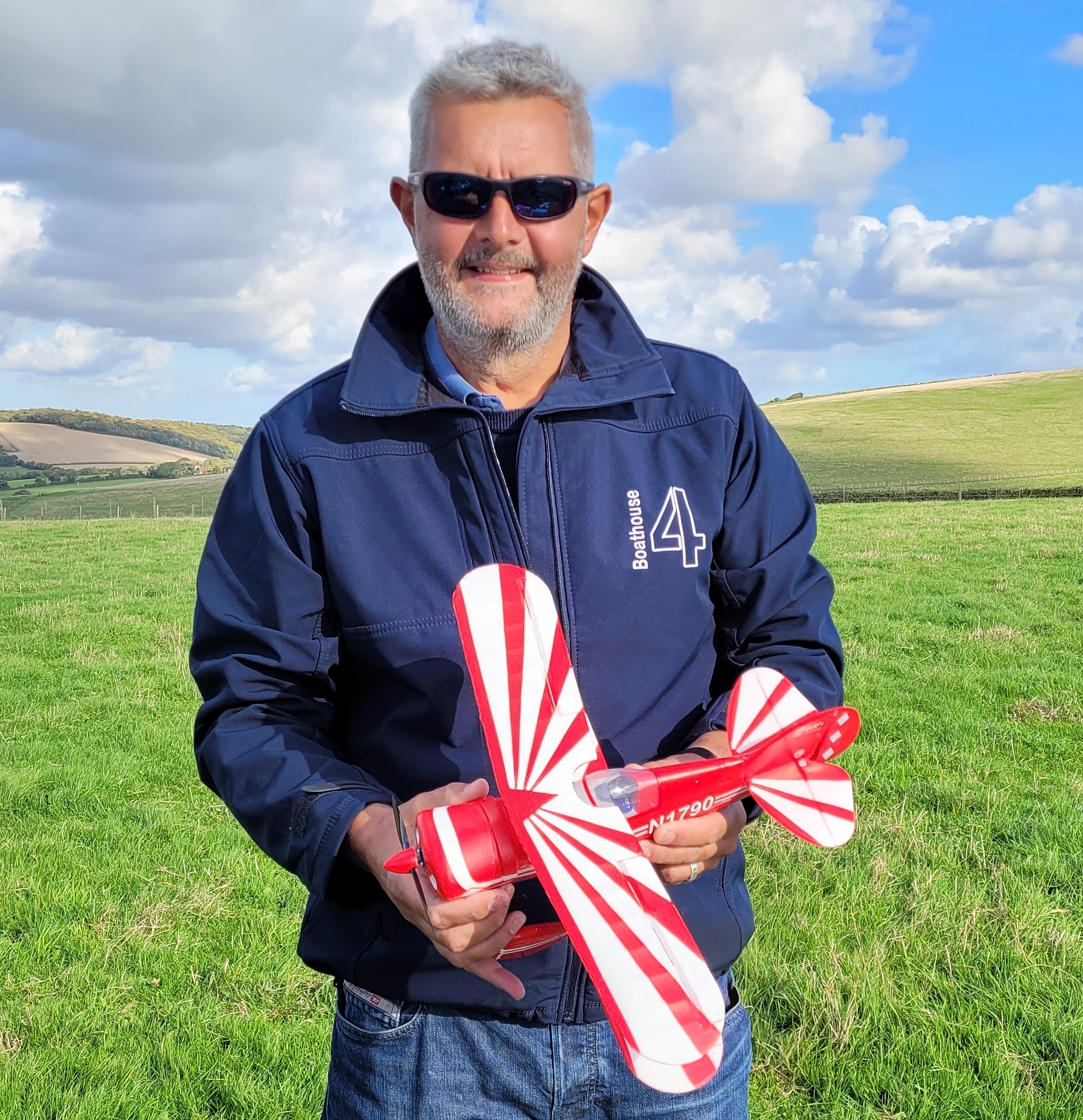 Gordon has only flown his outdoors and says it handles a breeze surprisingly well. It was certainly flying well when I saw it and I filmed some of the flight for this month's video. This is from the E-Flite website: Due to its overwhelming popularity, E-flite® has brought back the UMX™ Pitts® S-1S with updates and upgrades that make it the easiest to fly, most convenient, and most affordable Pitts model yet! It now includes optional-use SAFE® Select, is both 2S and 3S compatible, and provides real-time battery voltage telemetry to compatible Spektrum AirWare™ equipped transmitters. Because of its ultra-micro size, the UMX Pitts® S-1S can be flown indoors in gymnasiums and other suitable spaces, or outdoors in many yards, parks, and sports fields.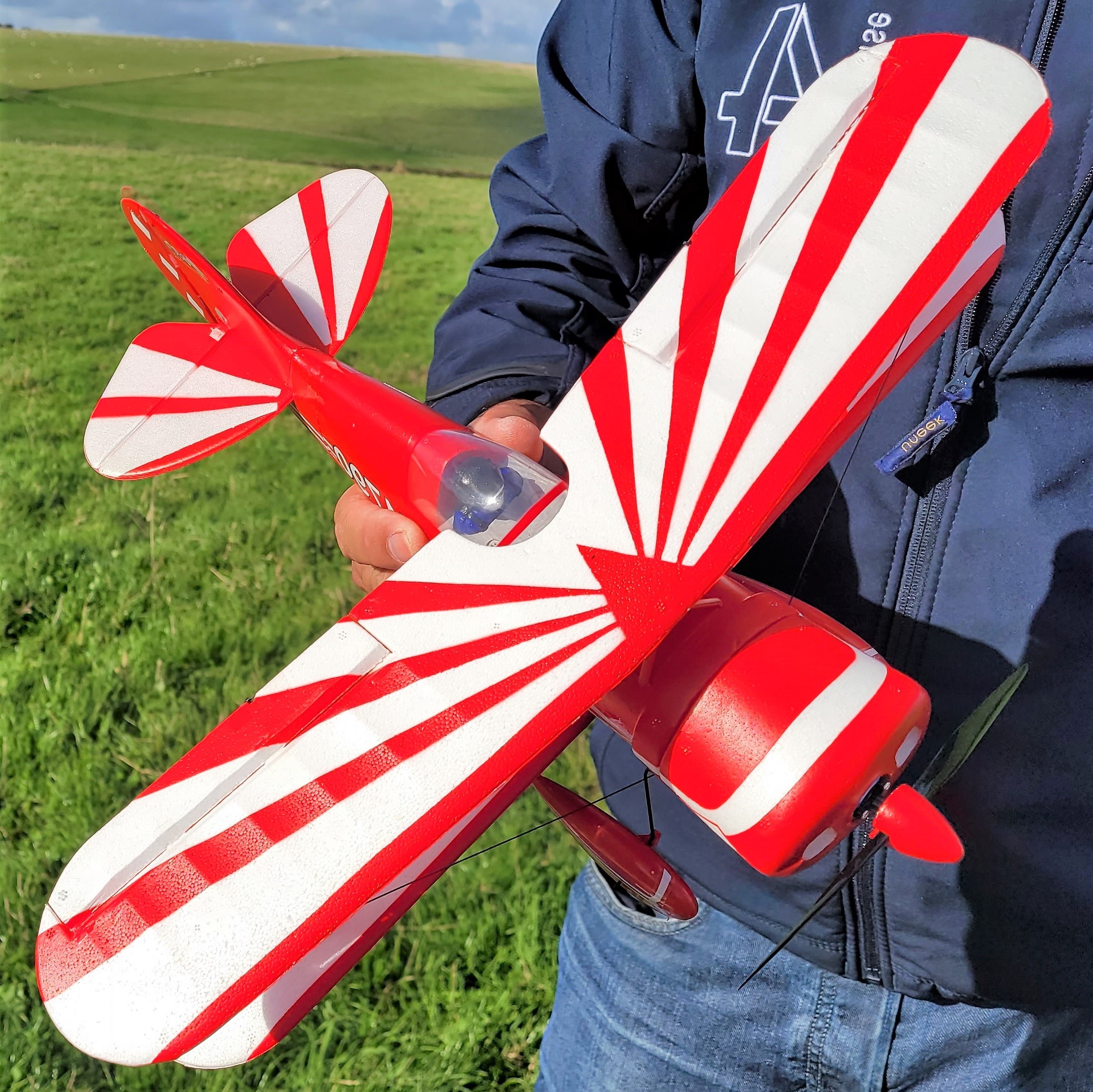 Gordon uses Spektrum radio with the AS3X and SAFE and I think he flies it with 3 cells.
Peter Fothergill has been successfully flying his Max Thrust Riot whenever possible and is learning fast and is now well on the way to taking his BMFA 'A' certificate. To accompany the Riot he recently also treated himself to a Volantex Phoenix 16oo S electric glider.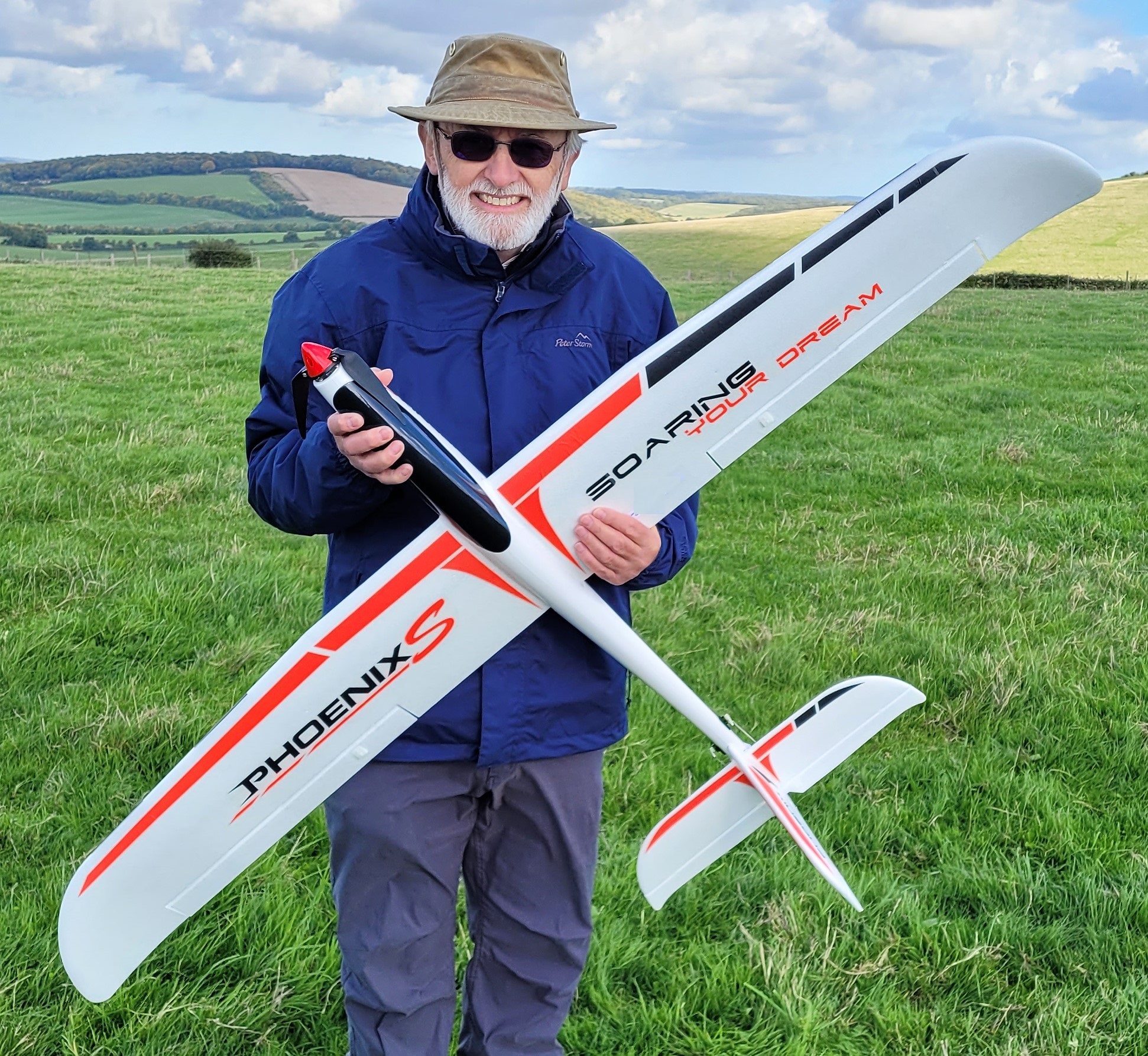 I have a Phoenix 16oo myself but mine is an earlier version and there are a lot of changes.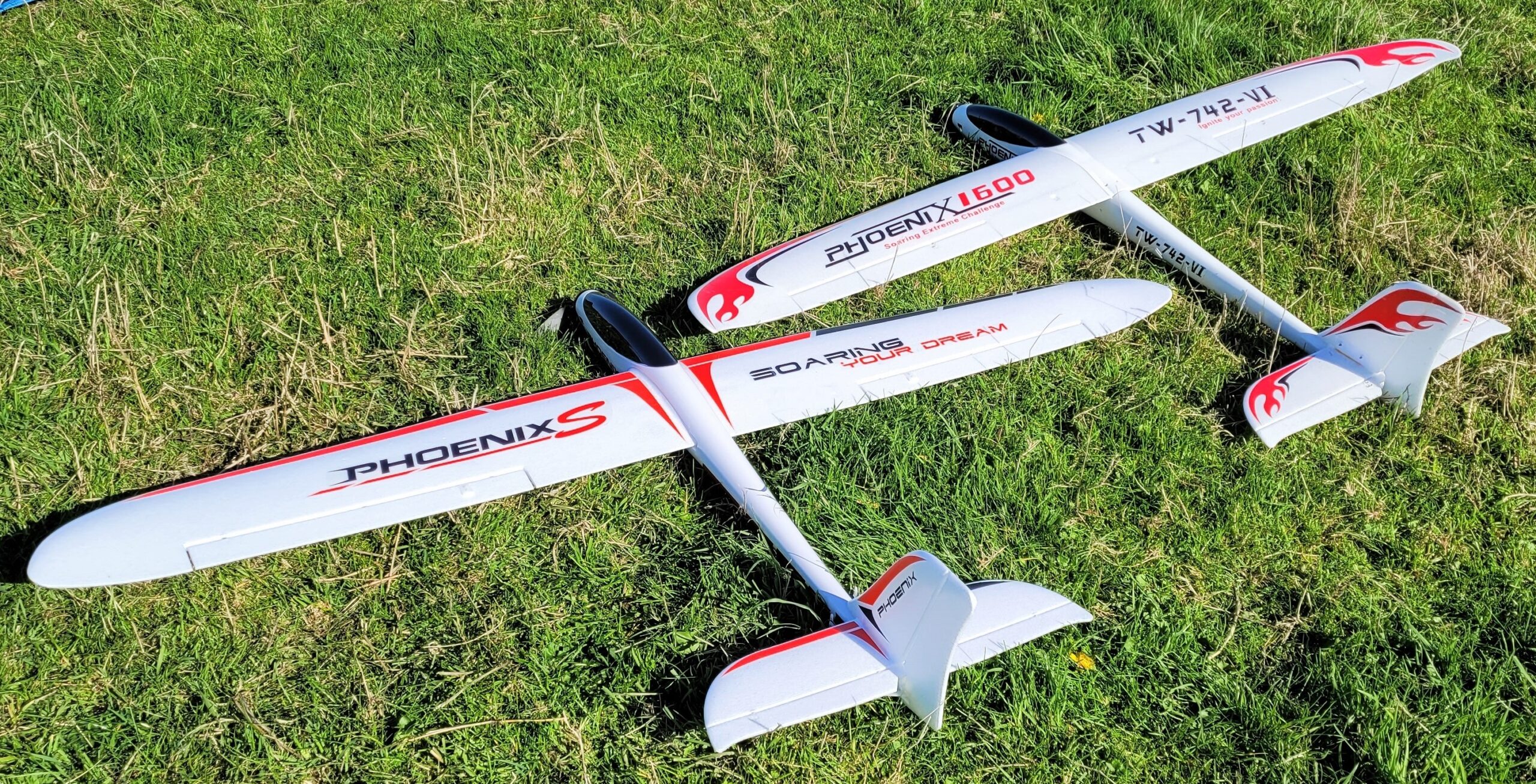 The earlier ones were sold as 3 cell models and were known for burning out motors (yes mine did) but the new version is sold as a 2 cell model. I wonder if both versions use the same motor but Volantex have found there aren't any problems if it's run on 2 cells.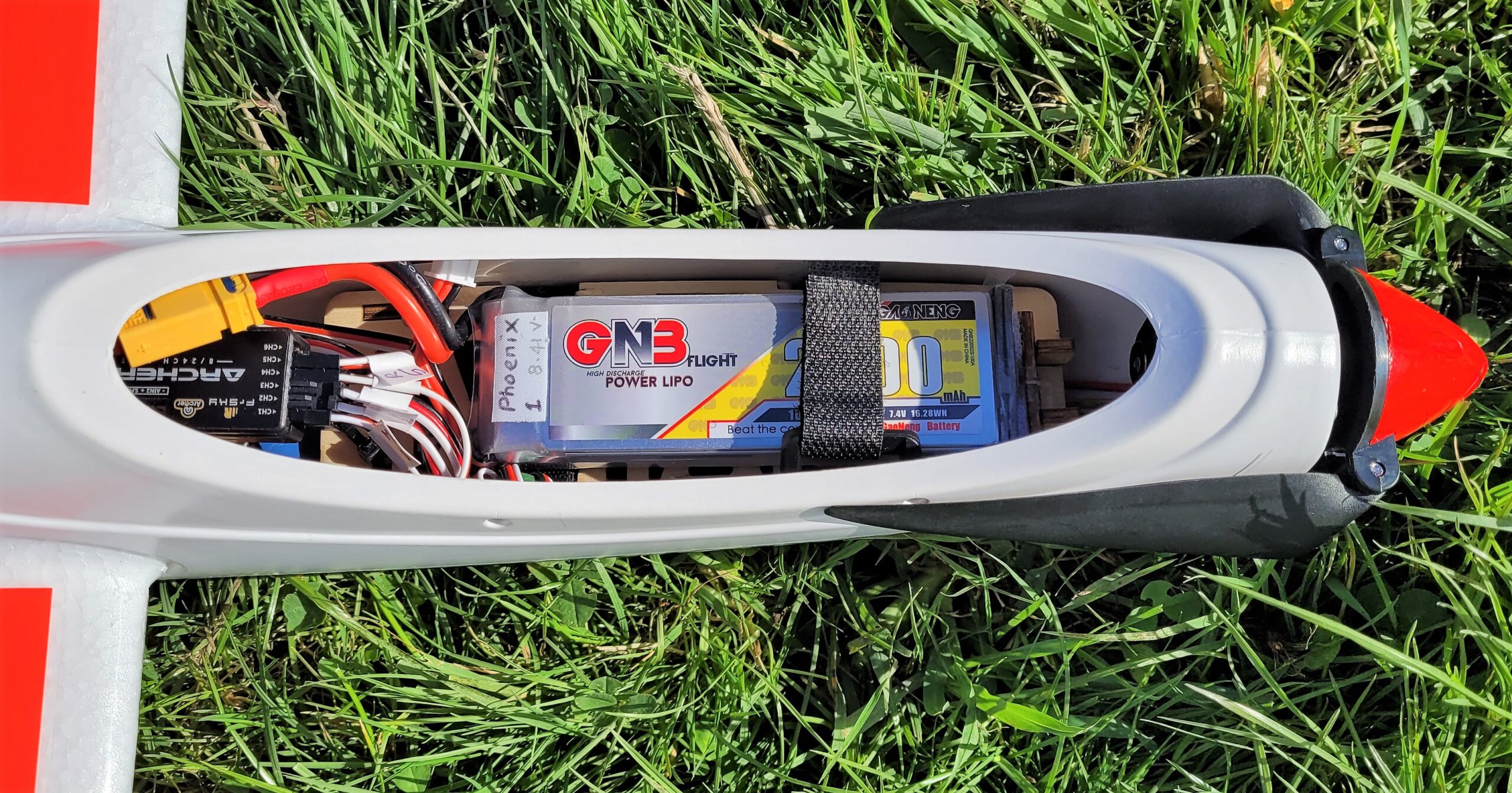 The wings on the new version plug into the fuselage sides rather than being screwed down on top and are a different shape with a partially swept leading edge. Also the fuselage is shorter on the later one but I think the tail is identical. It seems a little odd to go for 2 cell 1500mAh packs rather than the almost universal 3 cell 2200mAh ones but the model performs well on 2 cells and is no doubt lighter than the earlier version. Peter is getting on well with his and is getting used to the slightly tricky task of landing a glider than doesn't always want to come down when the pilot thinks it should. Some of the first flight can be seen in the video as can Peter taking off and then landing his Riot absolutely perfectly.
Following on from his success with his Arrows Hobby Viper ducted fan model 1066 has been spending again, this time on an Arrows Hobby F-86 Sabre, another ducted fan plane.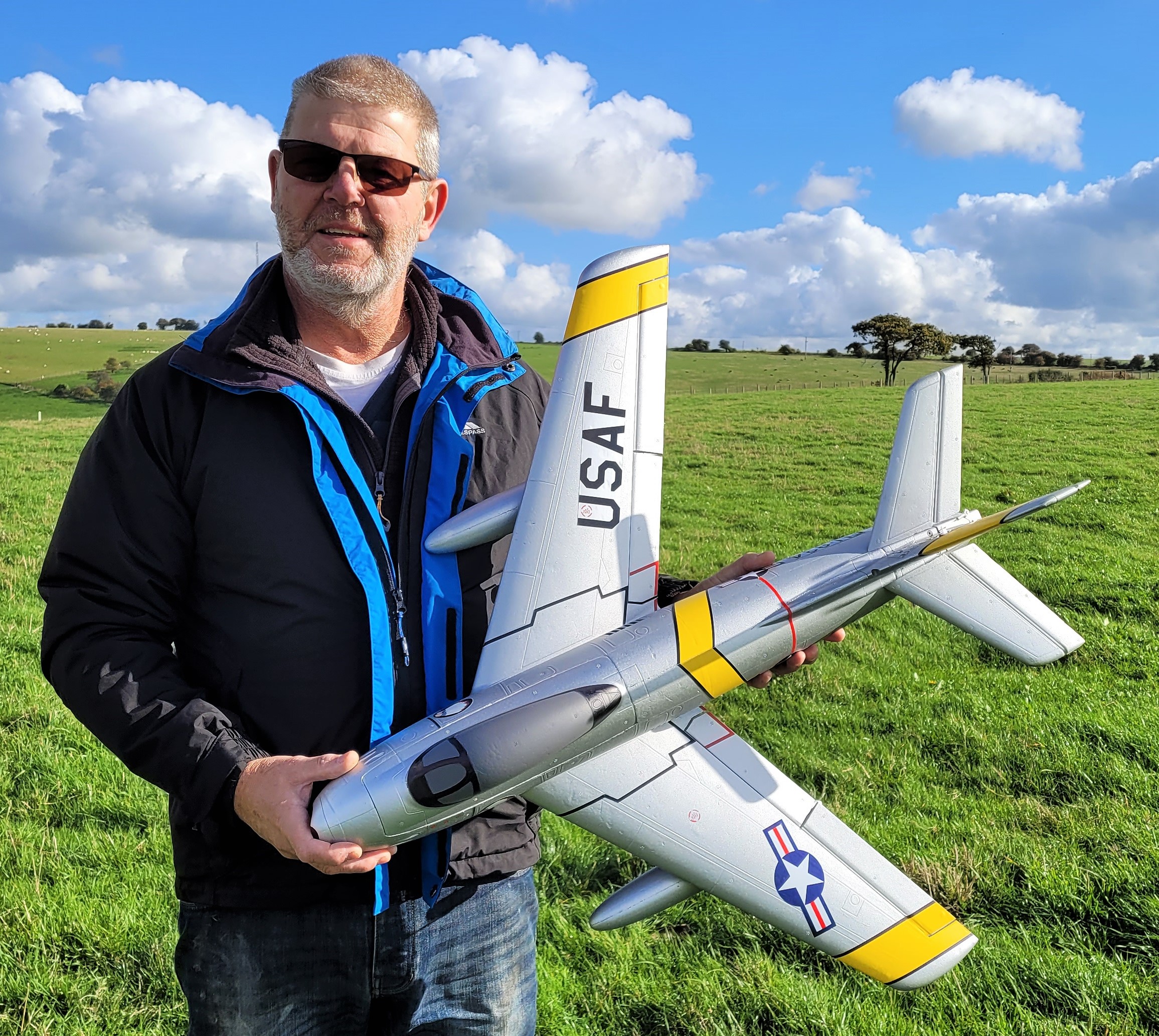 At 860mm span the Sabre is bigger than the 773mm Viper and it uses a 64mm fan running on 4 cells rather than the 50mm fan and 3 cells of the Viper. 1066 says he didn't think the quality of the Sabre was quite as good as the Viper but overall it was perfectly satisfactory.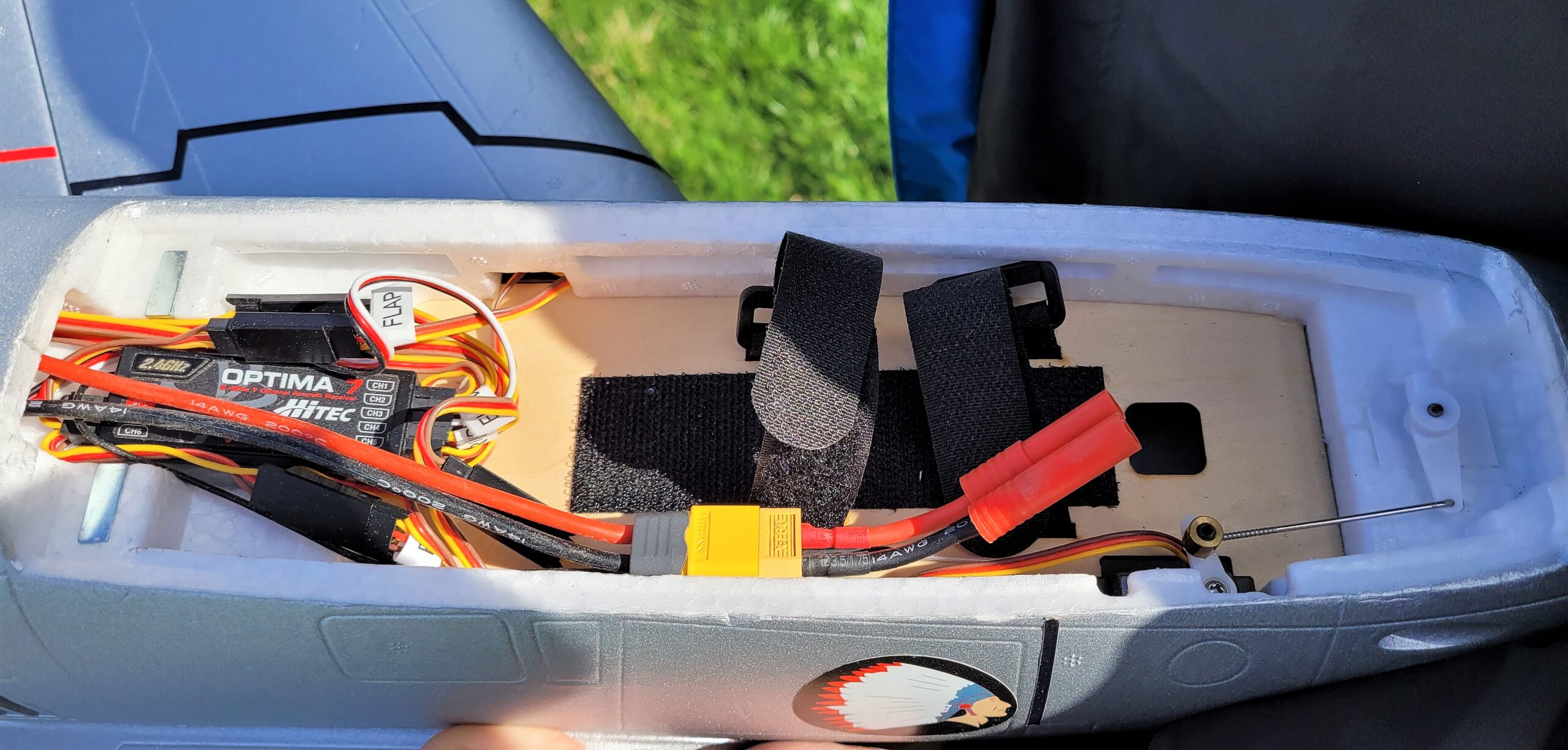 The completed model certainly looks nice and you will see in the video that it flies very well indeed. This is what Arrows say about it: While Arrows has introduced a number of EDF jets, from the hand tossed Viper to the high-end MiG-29 and F-15, our engineering team began with the Marlin 64mm EDF, still the best EDF trainer made. The F-86 is the successor to the Marlin with fixed gear for strength and the same full 5-channel performance with flaps. The plane has excellent performance and agility at high speed and stability during landings. The smooth 12-blade 64mm fan sounds more realistic than older 5-blade 64mm units others use. Because of the more powerful 2840-3150KV motor and a 40 amp ESC, this plane is capable of top performance even though it is larger than other 64mm F-86's, with manoeuvers such as rolling, diving, looping, and inverted flight. The quick release landing gear allow for fast transition from ground take-off to hand launch and facilitates easy transport. The EPO foam is tough and at 820mm length and 860mm wingspan, it is a perfect 1/10 scale of the original full-scale plane. The contours, panel lines, and markings are highly accurate and realistic. The special water-based paint has a very realistic look. Assembly is fast and easy using only a few screws.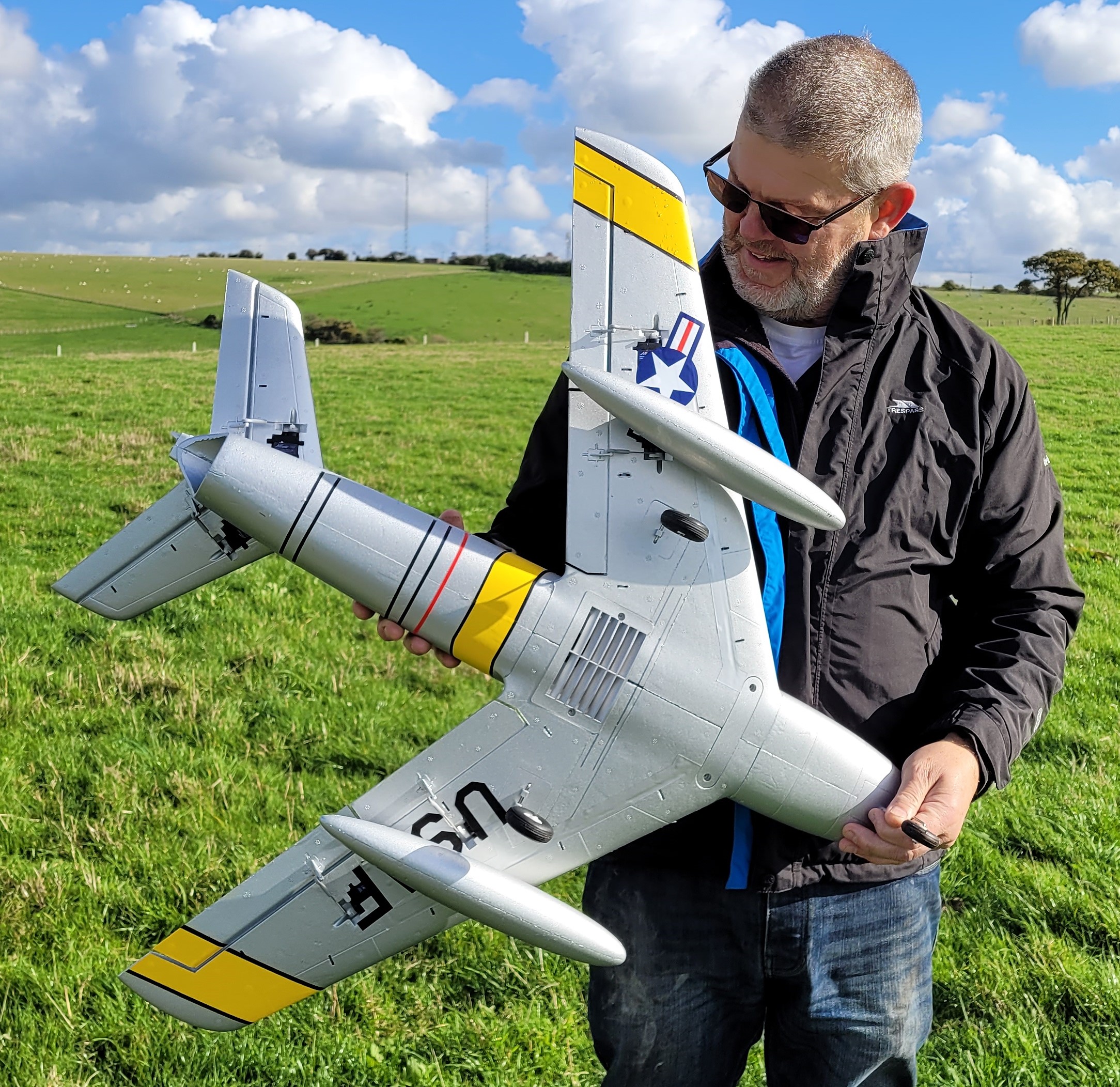 As Arrows mention the undercarriage is easily removable but so far 1066 has left it fixed in place and is enjoying doing proper take-offs and landings. The Sabre would obviously look better in the air without the wheels hanging down but hand launching and belly landing would make it more susceptible to damage so I think 1066 has made the right decision. The ideal solution would be to have retracts but with our small patch and grass that is sometimes not as perfect as we'd like retracts can be more trouble than they are worth.
In the August Patch News I reported on the Lancaster that Percy Vears had built. Sadly on its first flight we found there was a major glitch whenever the retracts were operated and the Lanc crashed. The damage wasn't too bad and Percy did the necessary repairs and fitted a separate battery to power the retracts and when ground tested all seemed well.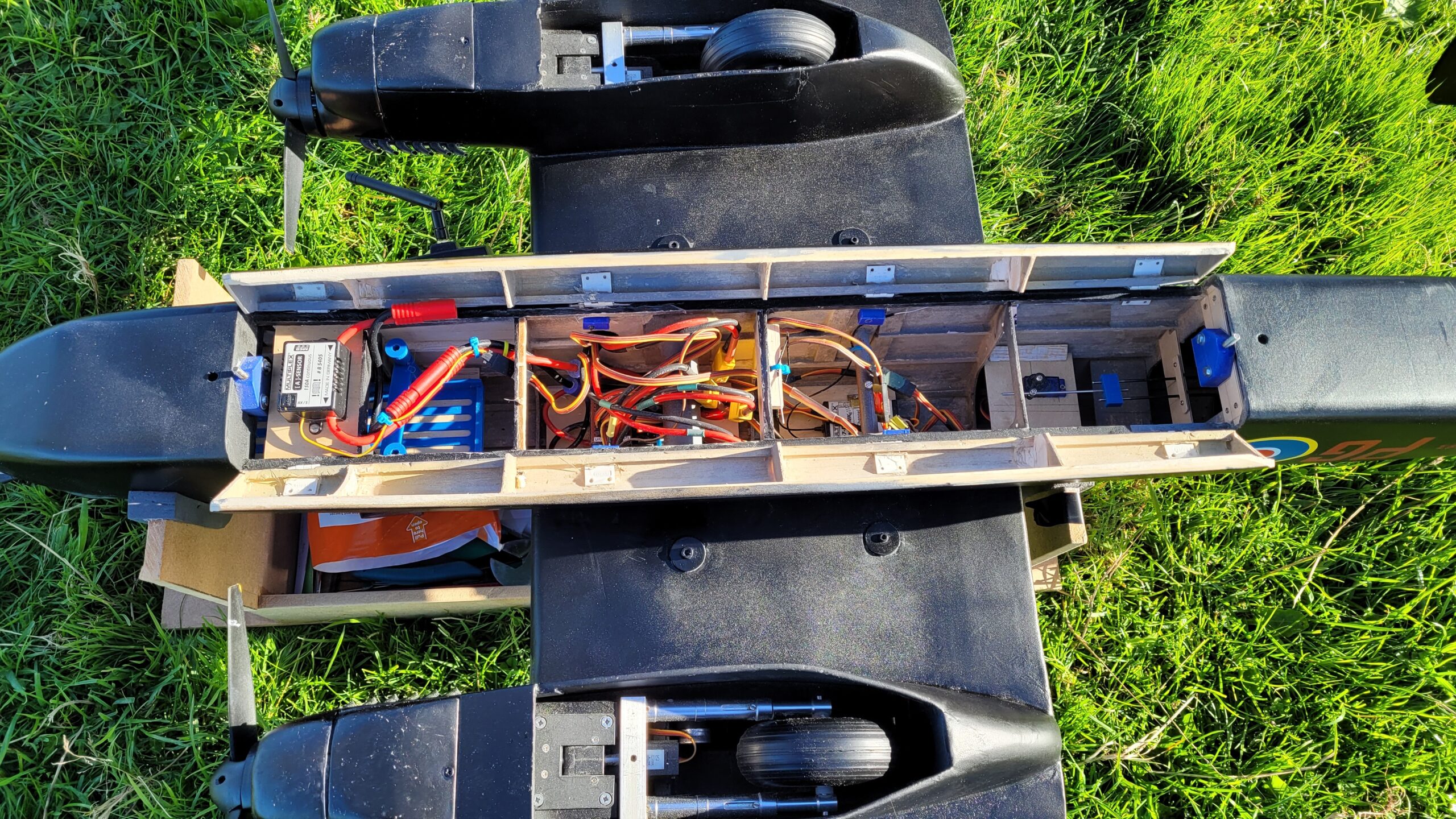 So in October we tried again and this time I decided to not try switching the retracts until the Lanc has reached a decent height. The plane took-off ok but was a fair bit out of trim and very twitchy which seemed strange as on the previous attempt the Lancaster was only slightly out of trim and wasn't twitchy. But by the time I'd got onto the downwind leg I'd pretty much sorted things out and the Lanc was at a reasonable height. Then the plane pitched up but levelled out with some down elevator but after a few seconds went into a right hand spiral and nothing I tried made any difference. The only clue as to what went wrong was that the transmitter telemetry screen had switched from displaying how many the milliamp hours were left in the flight pack to showing the receiver voltage. The display only switches from the chosen setting when something reaches an alarm level so although the receiver battery voltage was showing at 4.9v (which should have been ok) presumably it had dropped to a dangerous level previously before recovering when the plane crashed.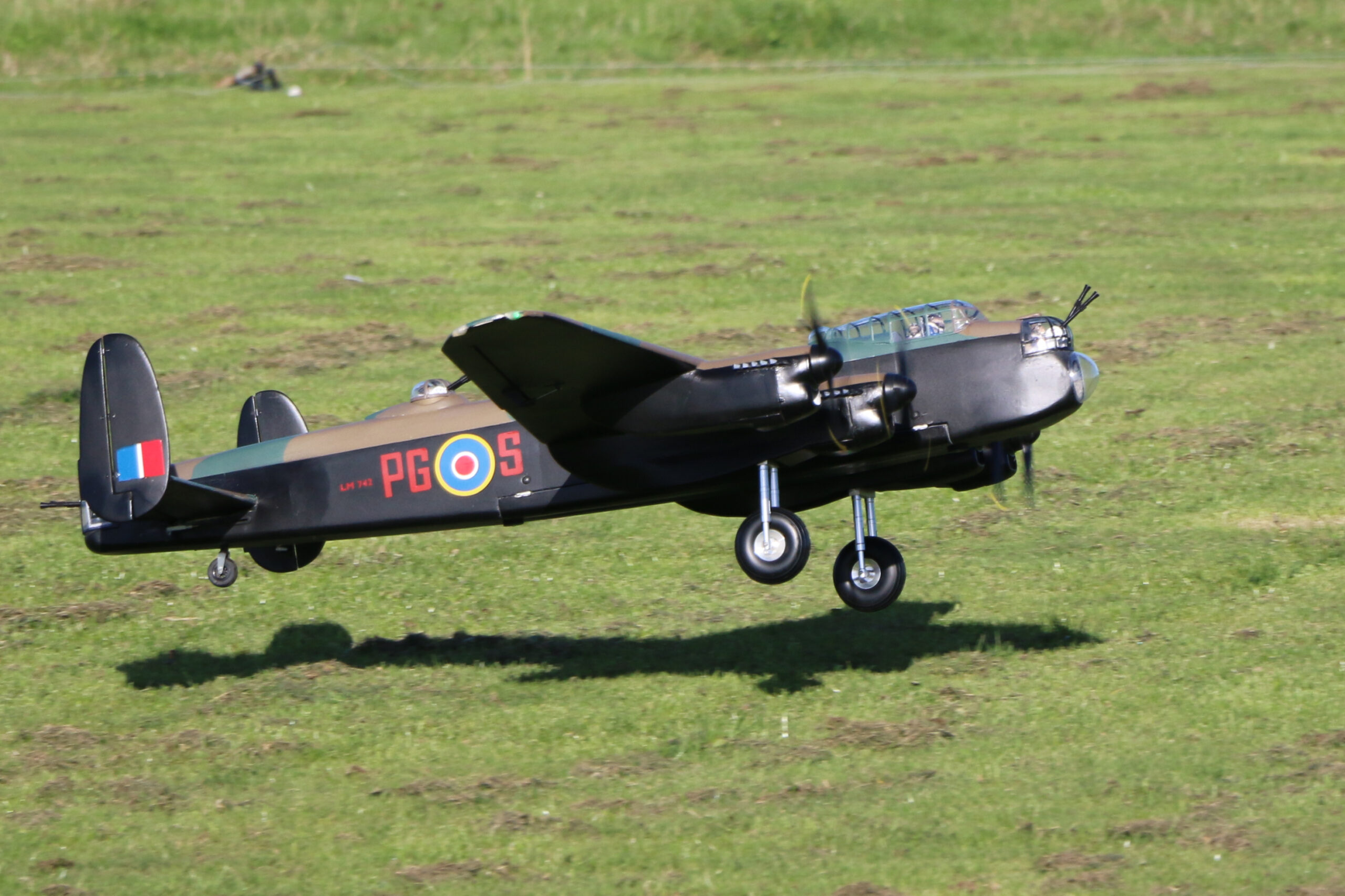 When Dougal watched the video he thought maybe the plane had a rearward C of G, that would explain why it was so twitchy I suppose. I really don't know what went wrong, I'm pretty sure it didn't tip stall into a spin so can only think it was a drop in receiver voltage that caused the spiral and lack of control. Take a look at the video and see what you think.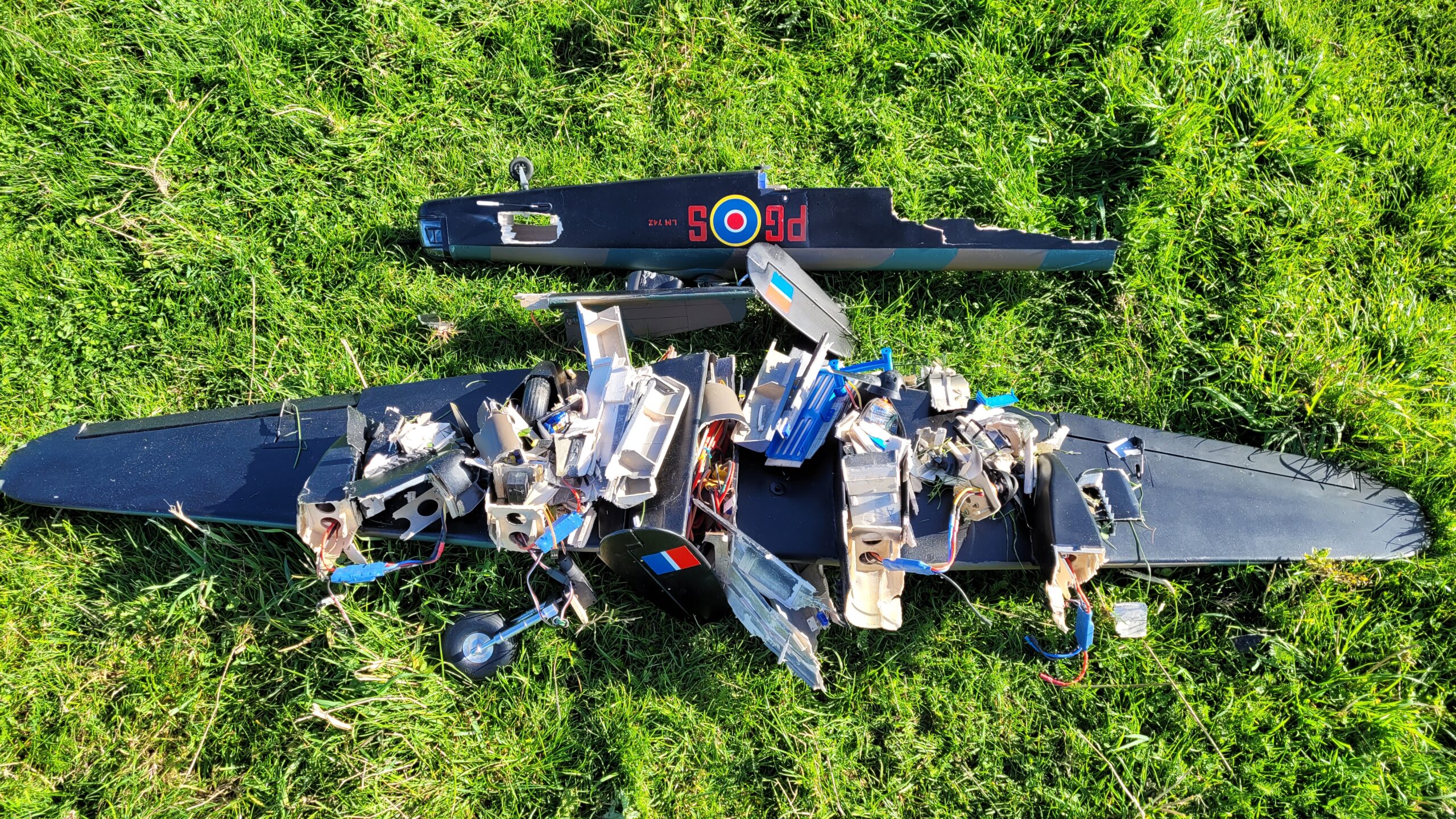 The result wasn't pretty and I'm not sure Percy will repair it this time.
Most of you will have seen some photos on the PAM WhatsApp group that Chas took at the LMA static show at Gaydon. He took a lot more than he sent to the group so here are a few more for you to see. As you can see there were some superb models on show, thanks Chas: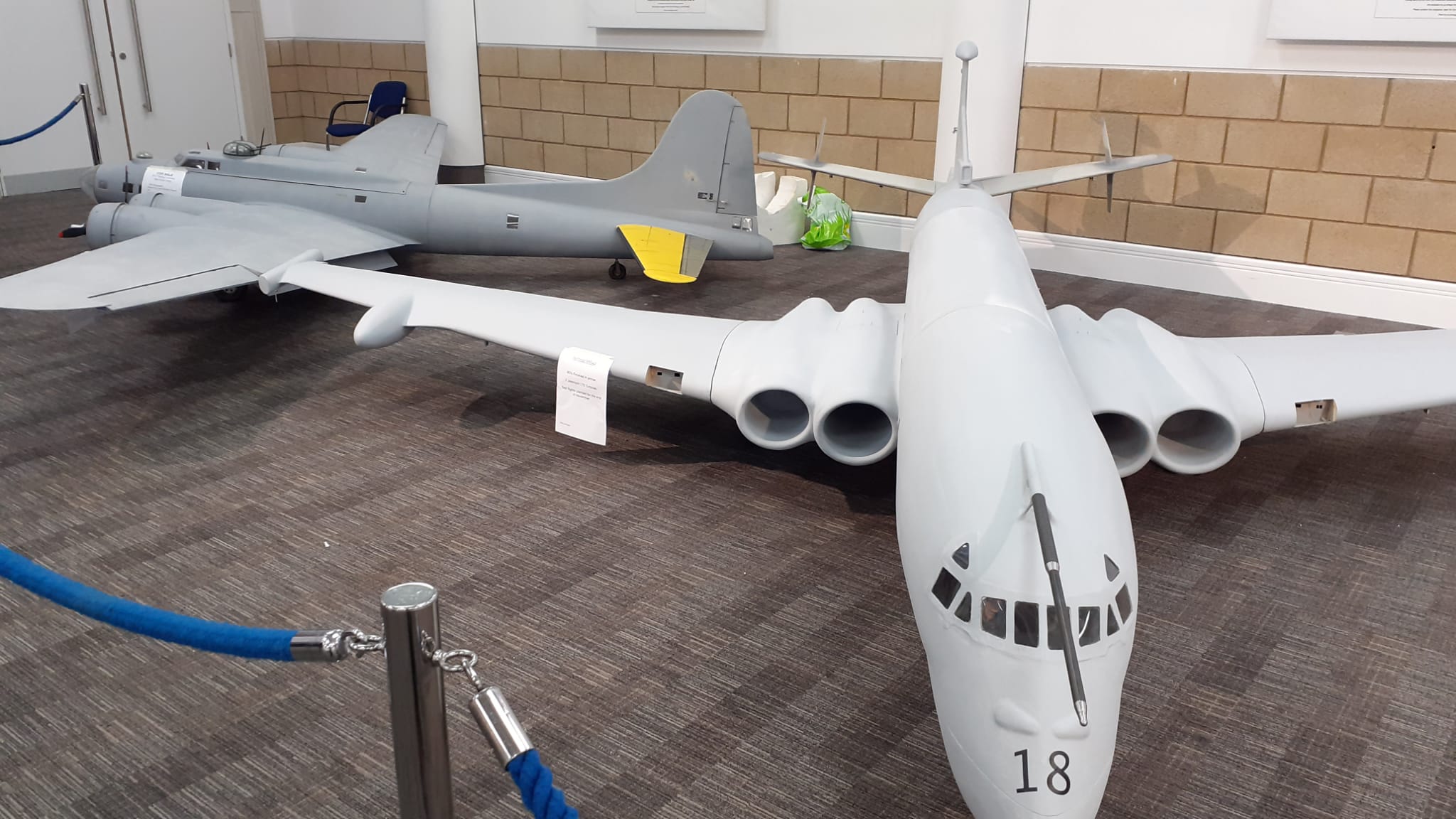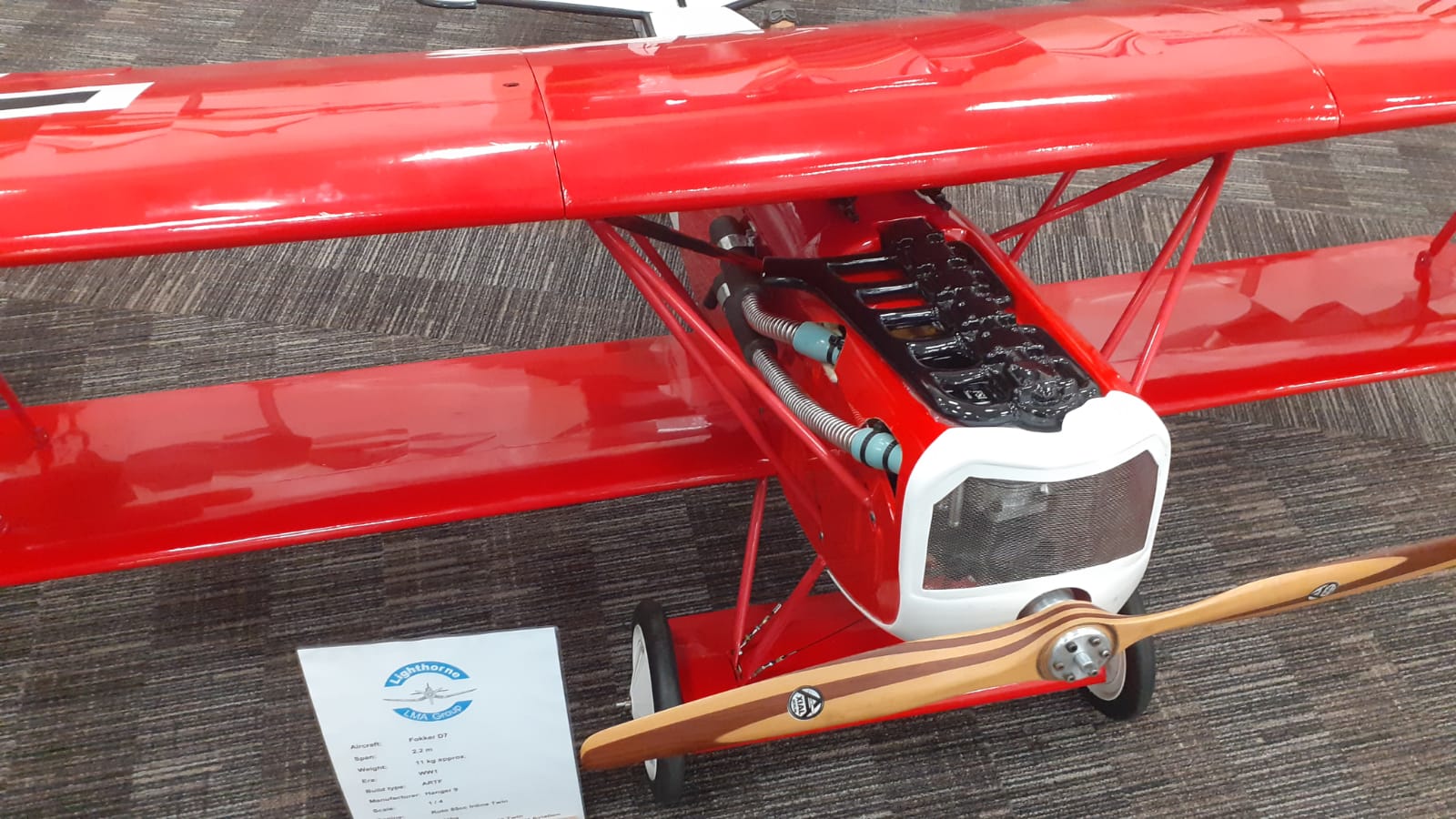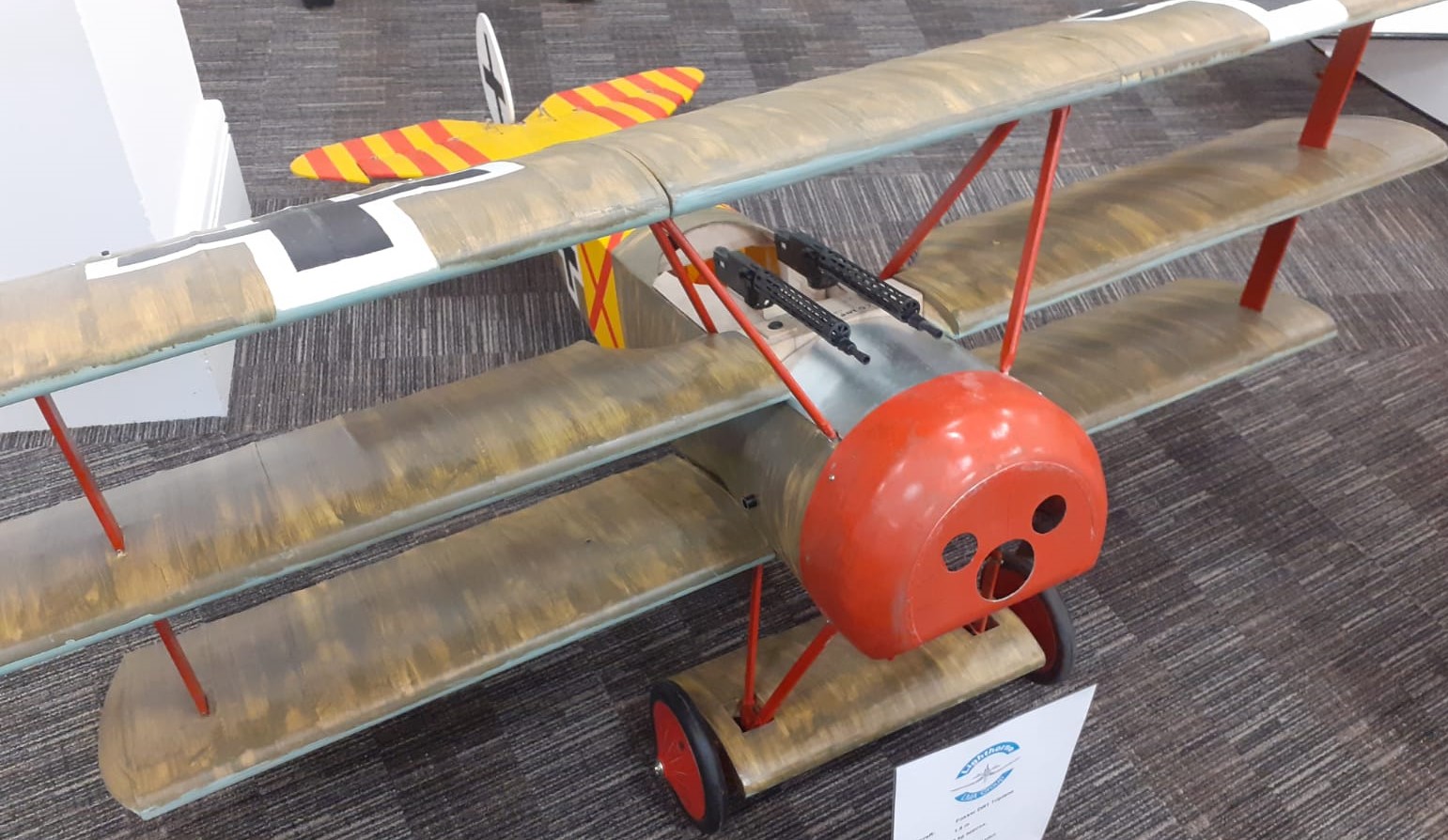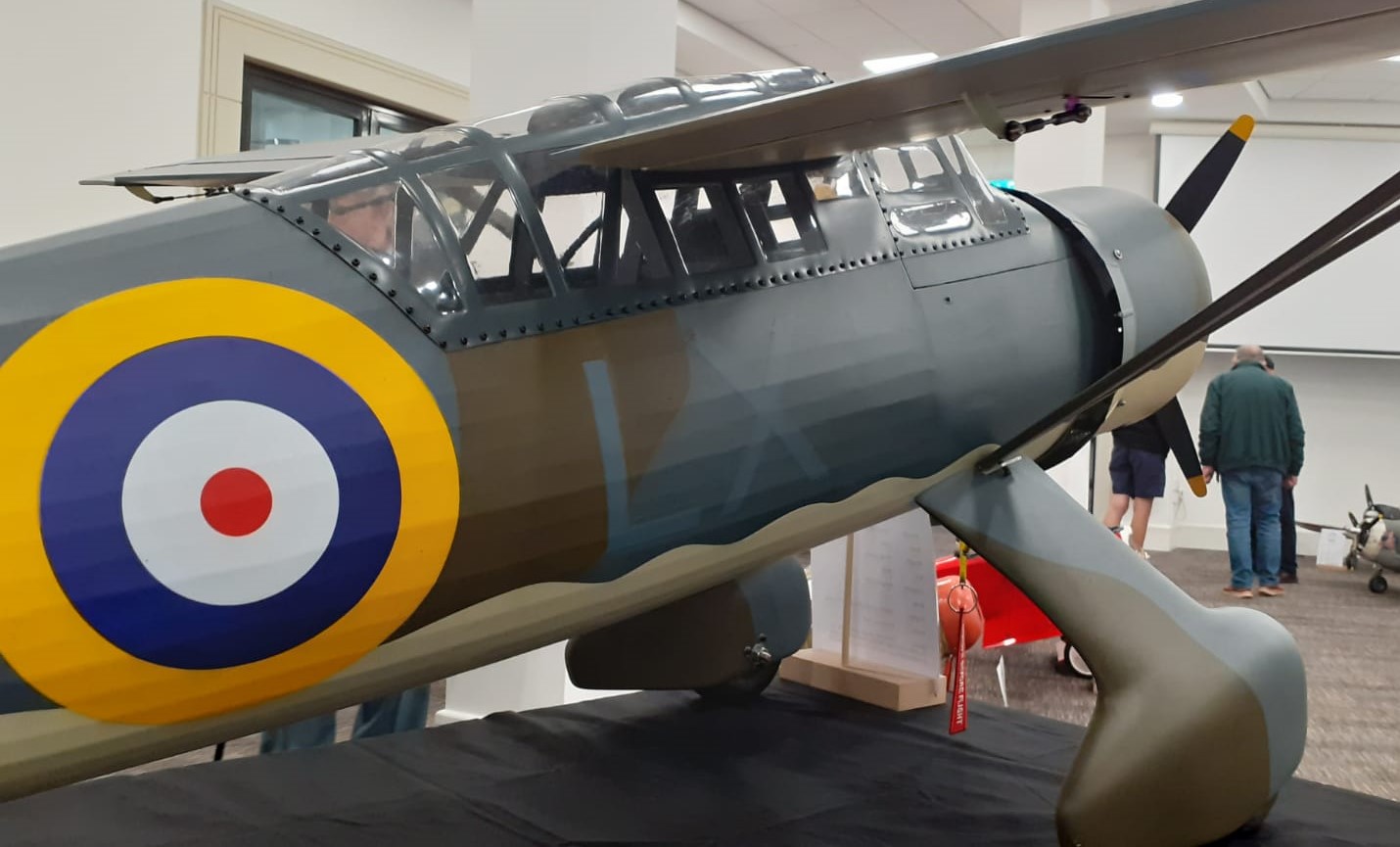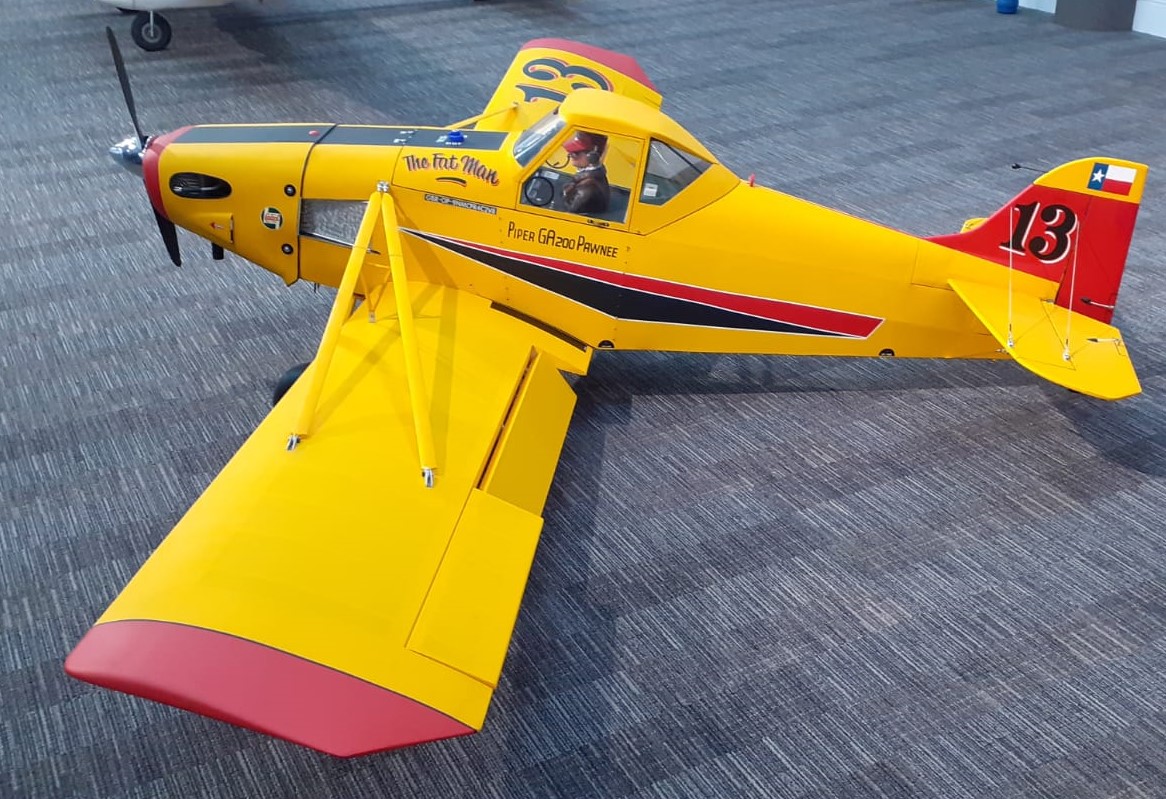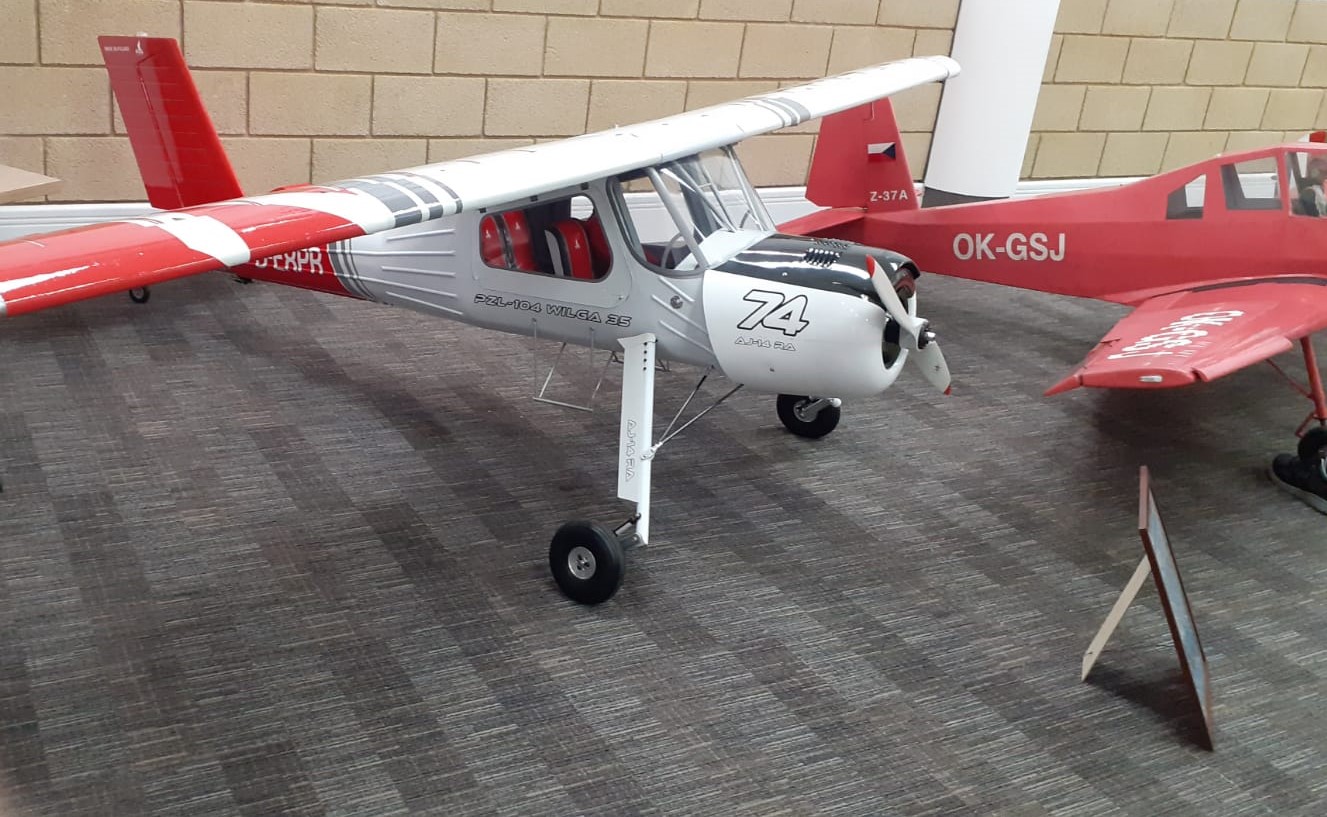 Long term club member Stanley Knife has been struggling with his eyesight recently and has sadly decided to sell off lots of his modelling gear. One of Stanley's models that I flew a few times and really liked was his Durafly Excalibur electric hotliner. When Stanley put it up for sale Dougal Entendre snatched it up and in October he flew it at the field a few times. It has a 1600mm wingspan, a V-tail design and a serious spar structure for high speed flying. It comes with a 3542 800Kv outrunner motor, a 60amp Aerostar speed controller, and a 13×7 carbon fibre prop but if I remember correctly Stanley had fitted the optional 13×8 'pro' prop for more performance. It is intended to be powered by a 4 cell 1800-2200mAH lipo and Dougal fitted a suitable 4 cell pack for the first couple of flights.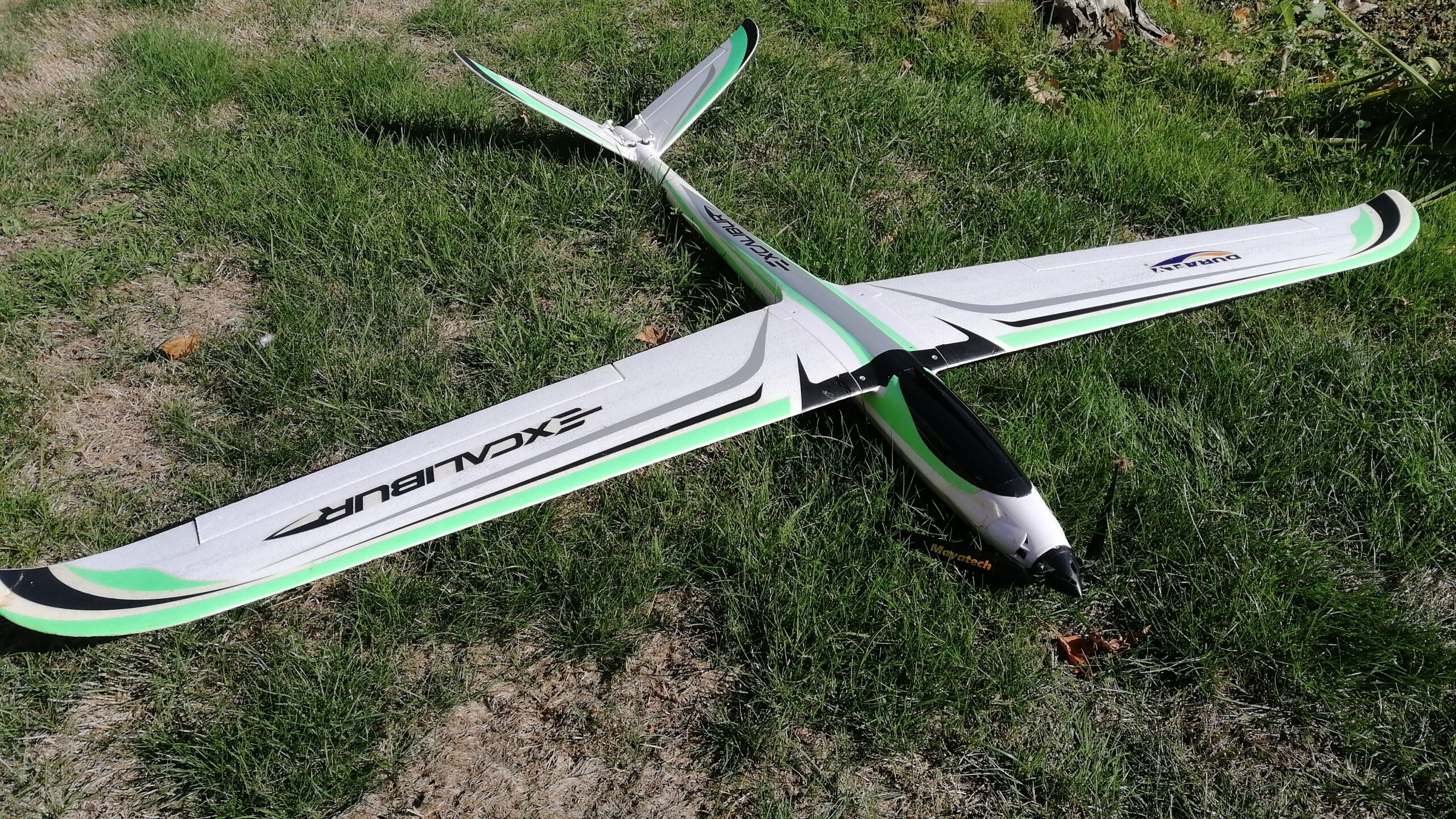 The Excalibur flew just as I remembered with loads of power for vertical climbs and it really shifts around the sky! The only problem Dougal found was that on the glide one blade of the folding prop got caught under the canopy which prevented the motor starting again. The problem was quickly sorted with a piece of tape along the canopy/fuselage join. I'm quite surprised it didn't simply rip the canopy off! Dougal wondered if the 13×8 prop was a little too much for it and then tried flying with a 3 cell pack fitted and found it still went extremely well, just slightly slower on the climb. HobbyKing are now selling a V2 version of the Excalibur which features a new colour scheme and a few other minor changes so if you're tempted and are willing to pay the mad postage from China go for it!
Woody has been building again and brought along his newly completed Splot to show us. At the time of writing he hasn't flown it but no doubt I'll report of how it flies next month.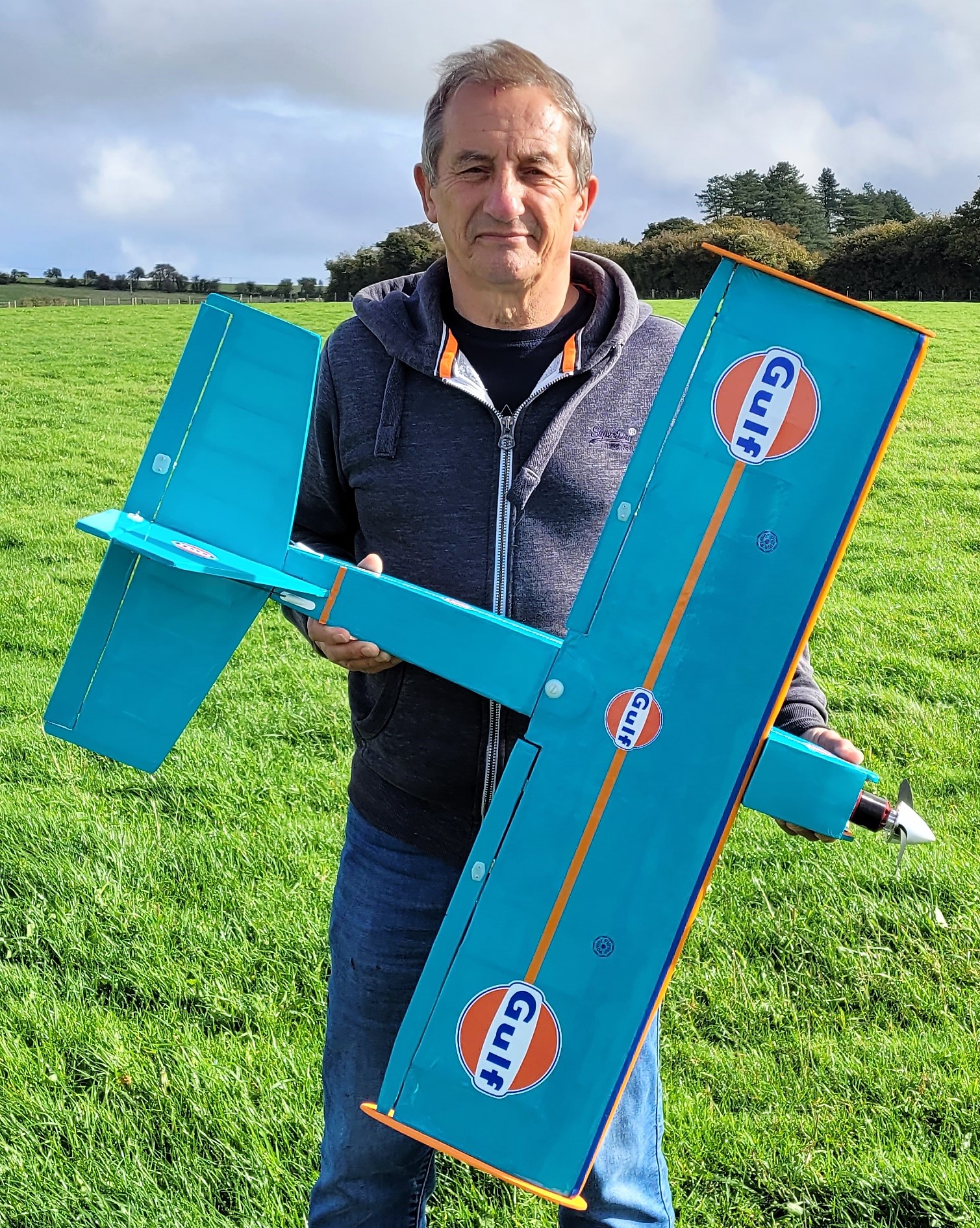 Woody has fitted the Splot out with a Ripmax 25 motor and a 4-Max 40A speed controller. He's used Hitec HS81 servos in the wing and standard ones in the fuselage for rudder and elevator. When he brought it along to the field we said it felt heavy and Woody explained that he'd had to add an awful lot of weight to the nose in order to get the correct C of G.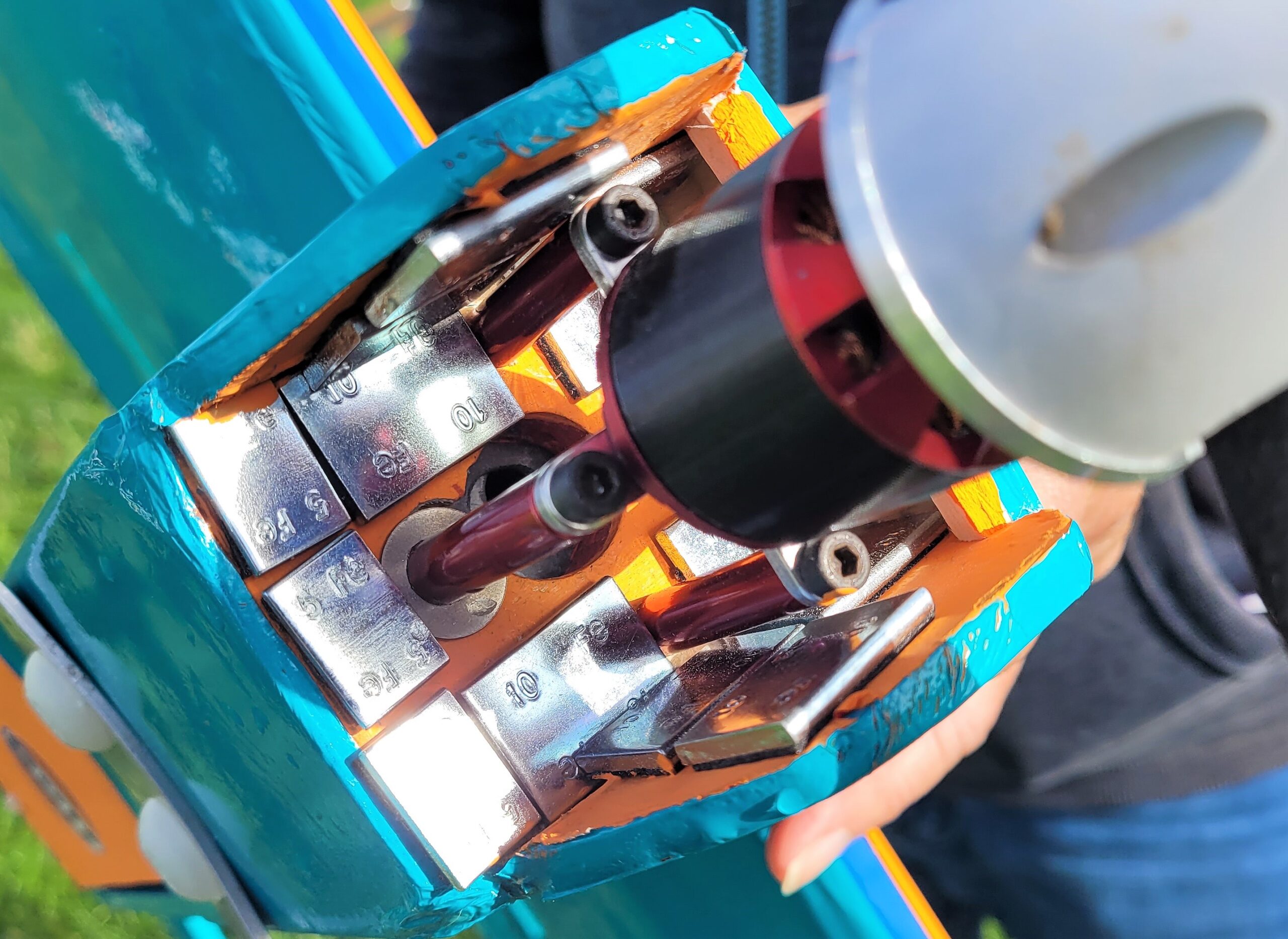 After we all very helpfully explained everything he'd done wrong Woody went away to try and move the battery further forward and hopefully be able to ditch some of the lead.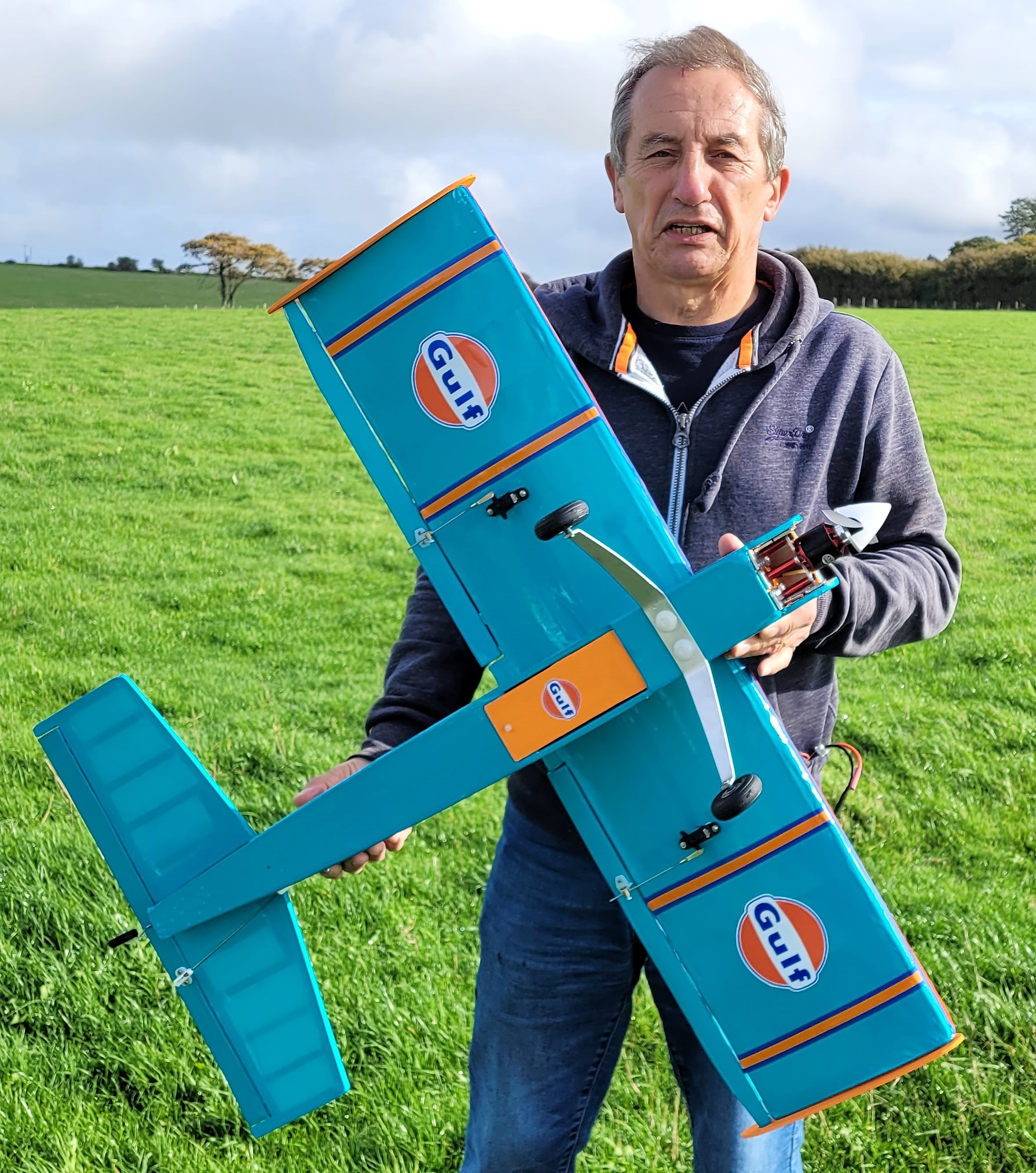 Apart from the rather excessive weight the model looked really good in its Gulf Porsche 917 colour scheme of the 1960's & 70's. I'm not sure if Woody intends to fly the Splot like Pedro Rodriguez or Jo Siffert. Personally I preferred the Gulf Ford GT40 but then I can't fly like Derek Bell or Jacky Ickx so maybe I should shut up for a change!
Back in the August Patch News I wrote about two models that young Charlie had bought, a Flite Test Alpha kit and an Eachine Spitfire. He's flown the tiny Spitfire a few times with no problems but that changed on the last Friday in October. We had mown the patch that afternoon and by the time we started flying the sun was low in the clear blue sky on the upwind side of the patch so we were mostly flying downwind, over the valley. With the combination of a tiny model and the poor light Charlie got disorientated, was blown too far downwind, and lost sight of the Spitfire somewhere out over the valley. Charlie and mum Nadine disappeared down in the valley and later returned looking shattered, saying they hadn't realised how steep and deep the valley was. Fortunately the model was undamaged.
Having passed the initiation they're now members of the Death Valley Appreciation Soc!
Meantime Charlie has been building the Flite Test Alpha, a foamboard jet style model.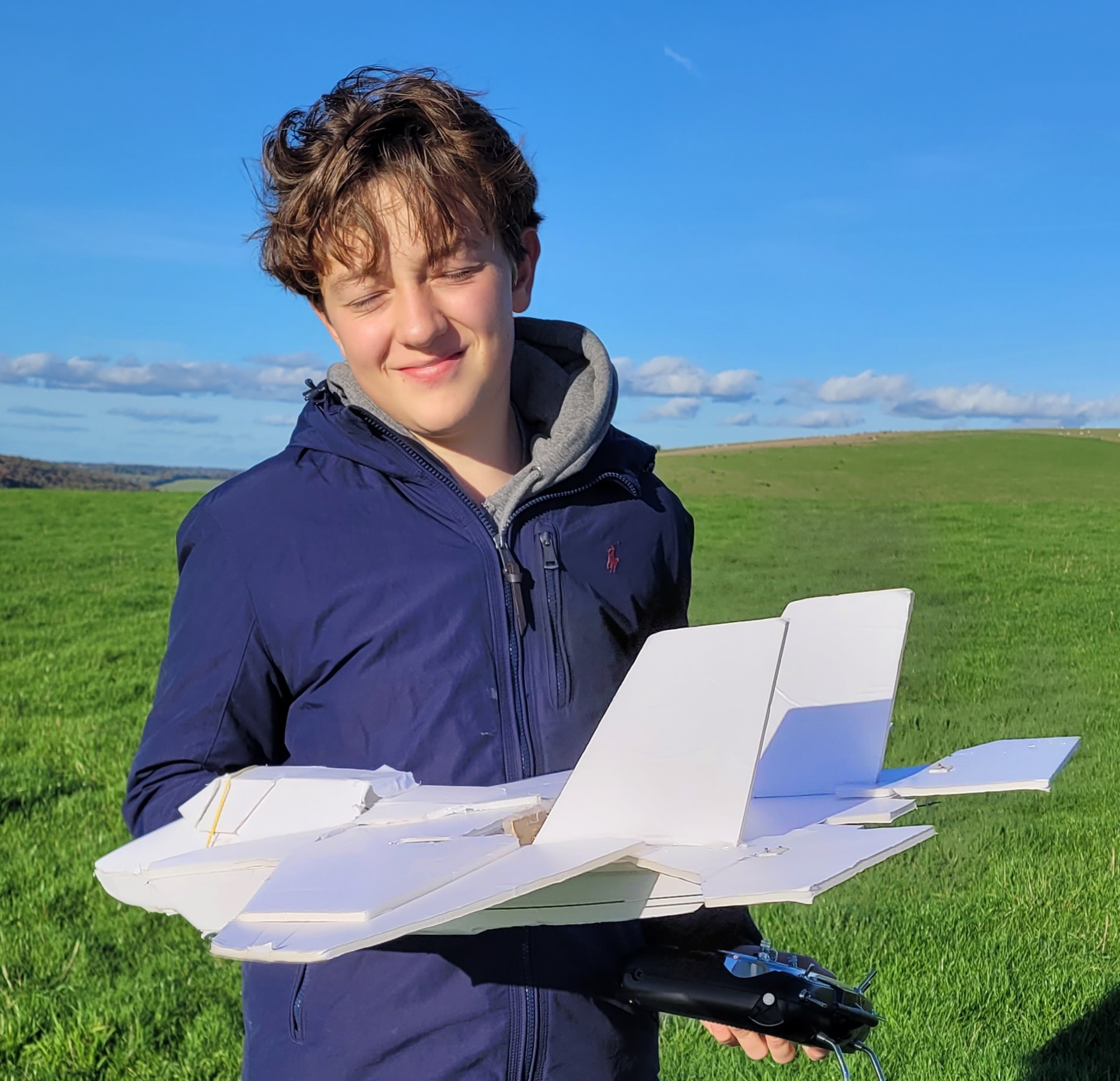 The kit contained foam pieces which were laser cut & scored and also control horns and linkages plus a few other bits. The foam is different to the foam Flite Test originally used, the most notable difference being that it's covered with white paper rather than brown. According to the website it's 3/16″ thick water resistant bifold Maker Foam.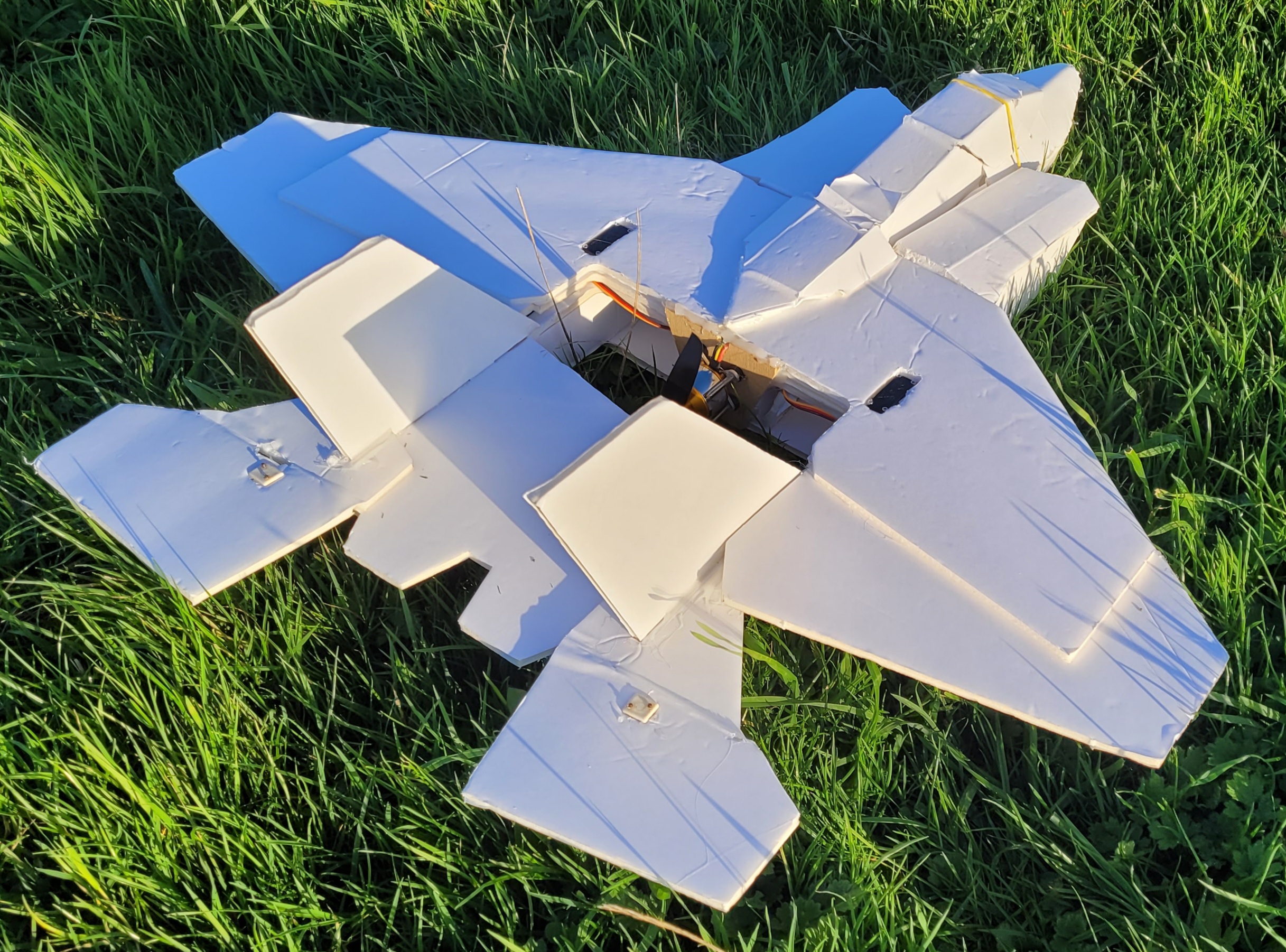 There is a very comprehensive build video on YouTube to guide beginners through every stage. Charlie has fitted a 2212 2200kv motor from 4-Max with a 6×4 propeller, a 30A speed controller and is running it on 3 cell 1000mAh lipos. The Alpha is controlled by elevons so only needs 2 servos which he bought from Sussex Model Centre with the kit.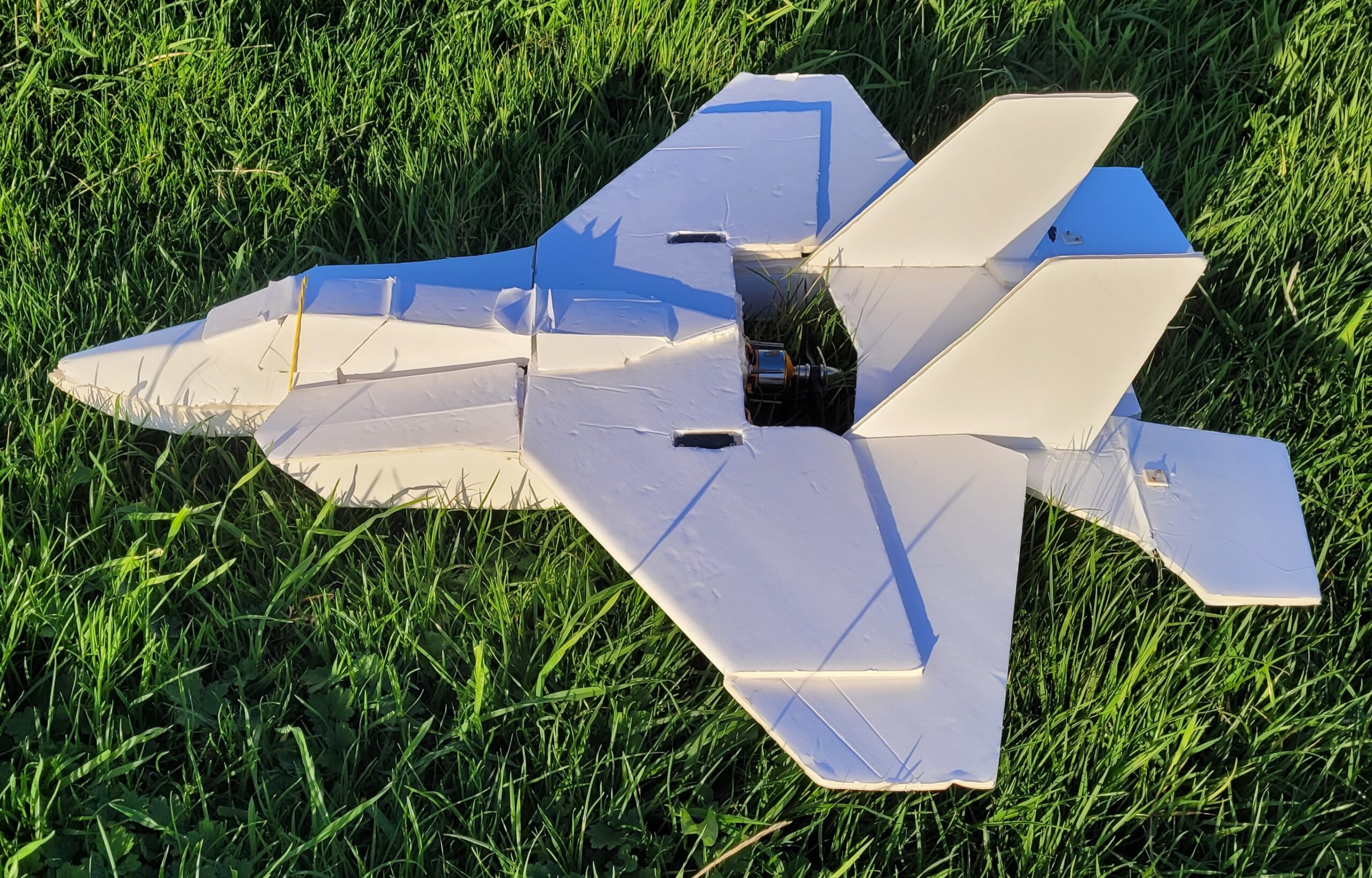 After a check that everything worked as it should Gordon launched the Alpha while I stirred the sticks. The plane climbed away with very little trim required and I flew it around for a few minutes doing all the usual checks. Like many of the foamboard models there was a tendency for lack of control when the speed dropped but otherwise it was fine. Charlie took the controls on the second flight and had no problems at all, he flew around for several minutes before ending the flight with a perfect landing on the patch.
Kryten captured some cracking flying shots for us in October, I love the tiny Pitts ones: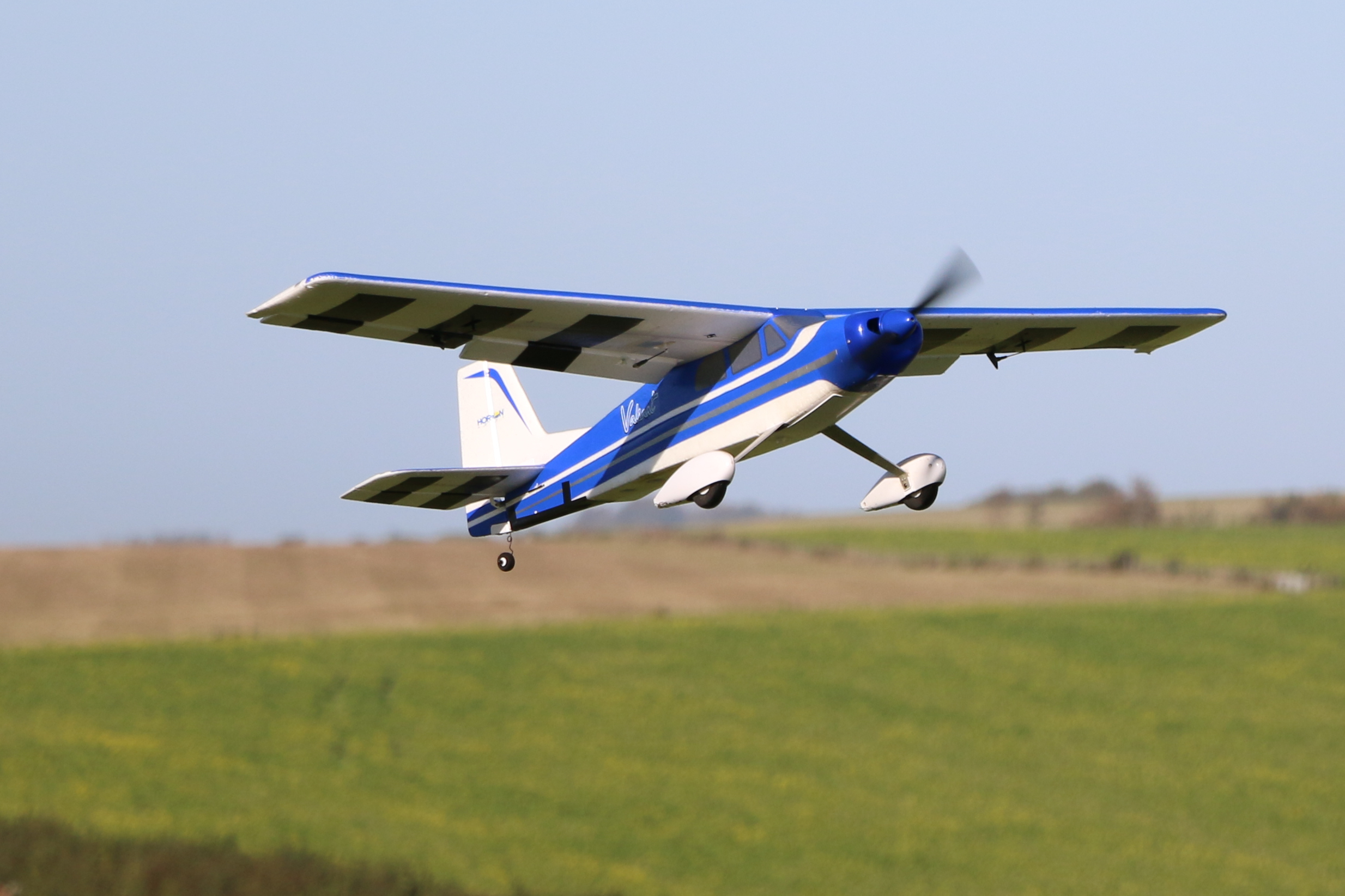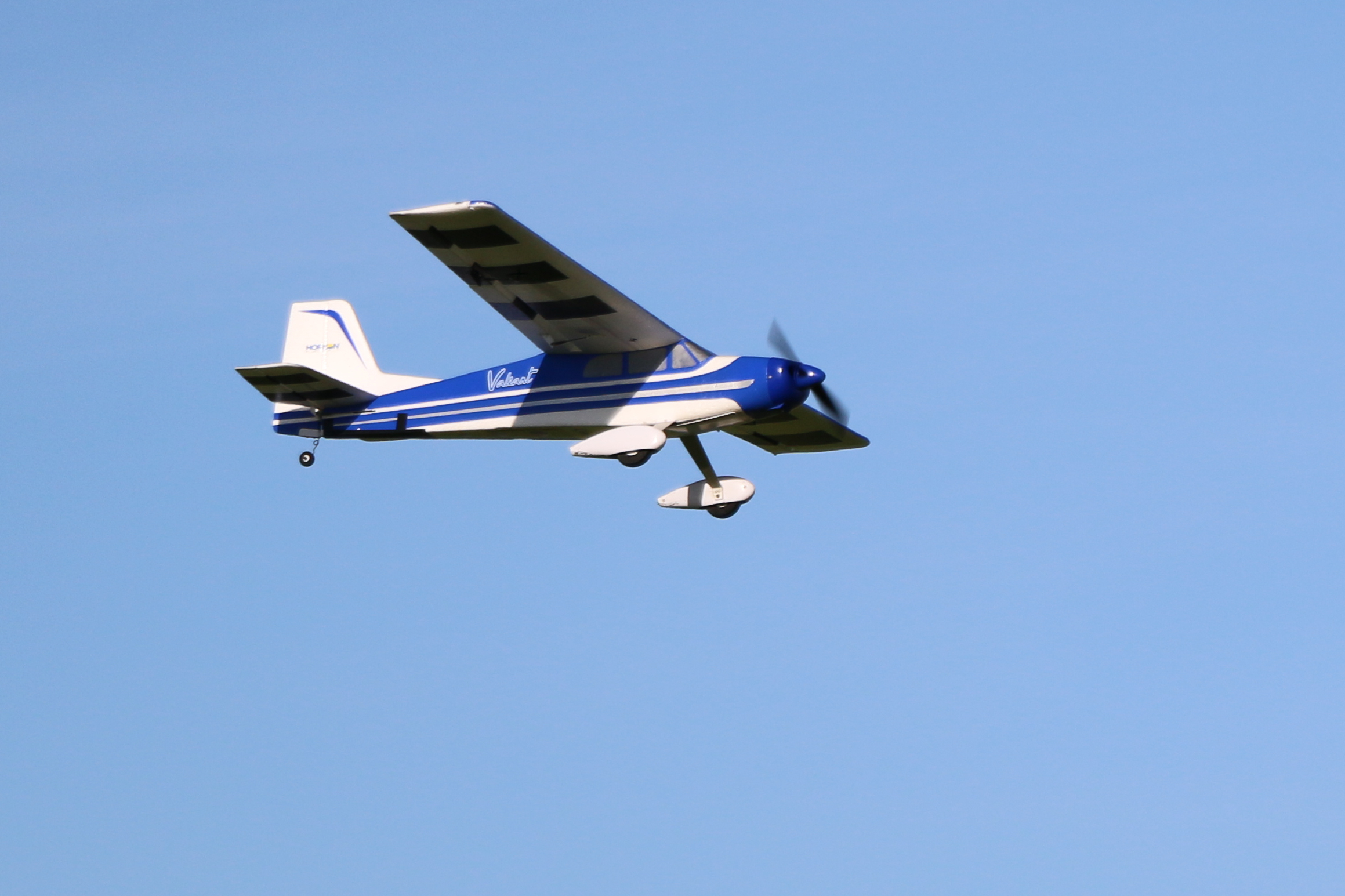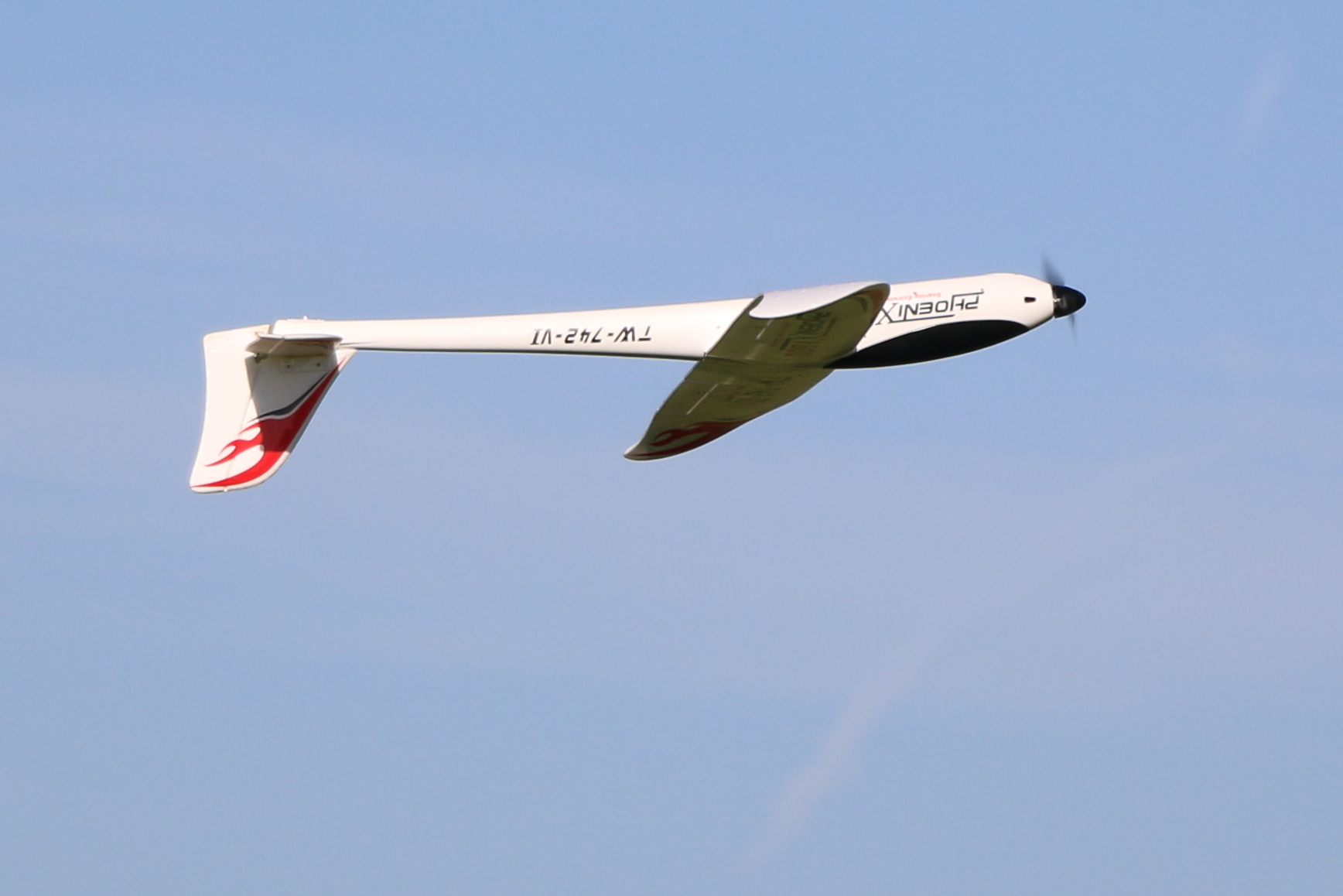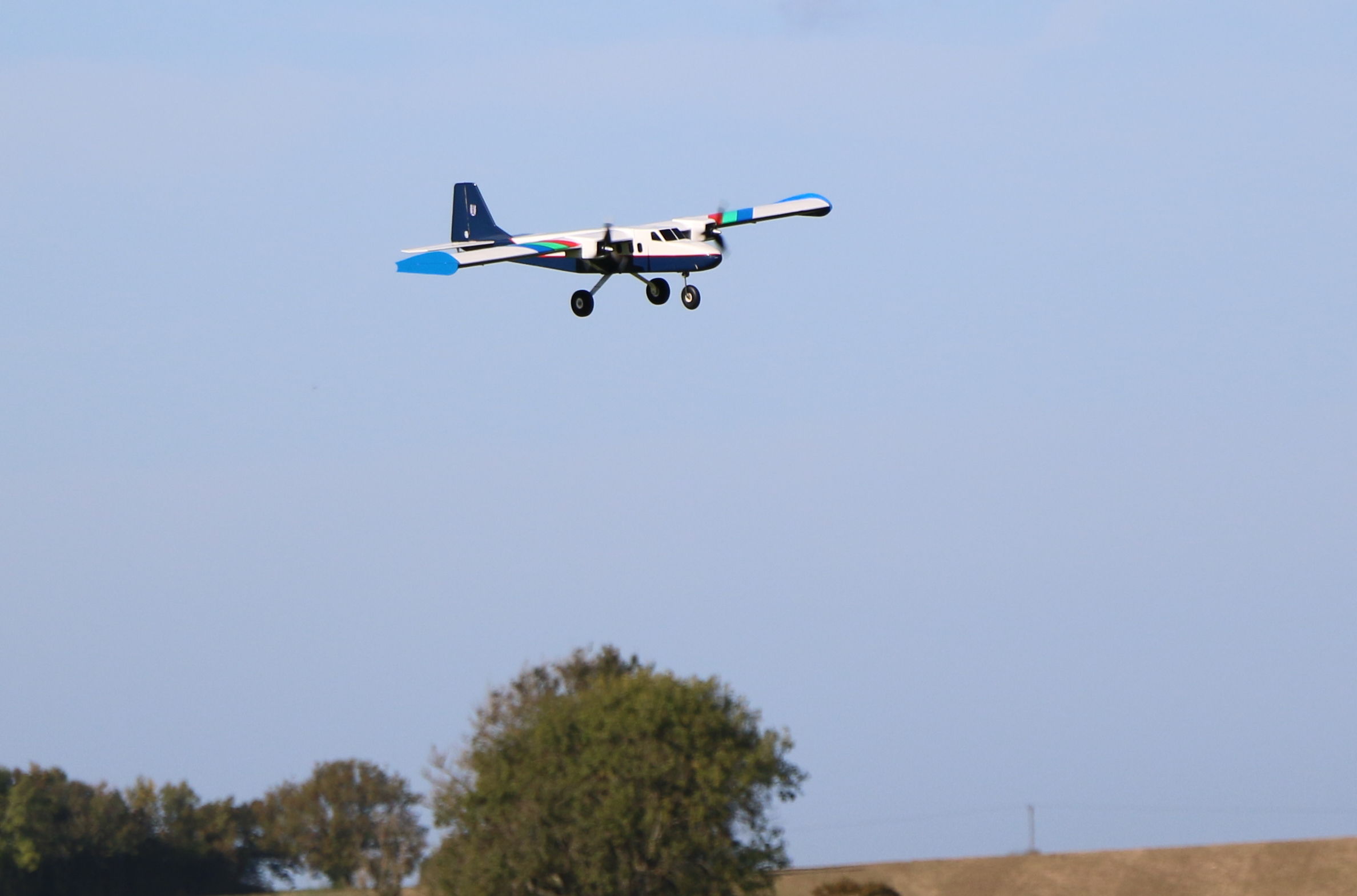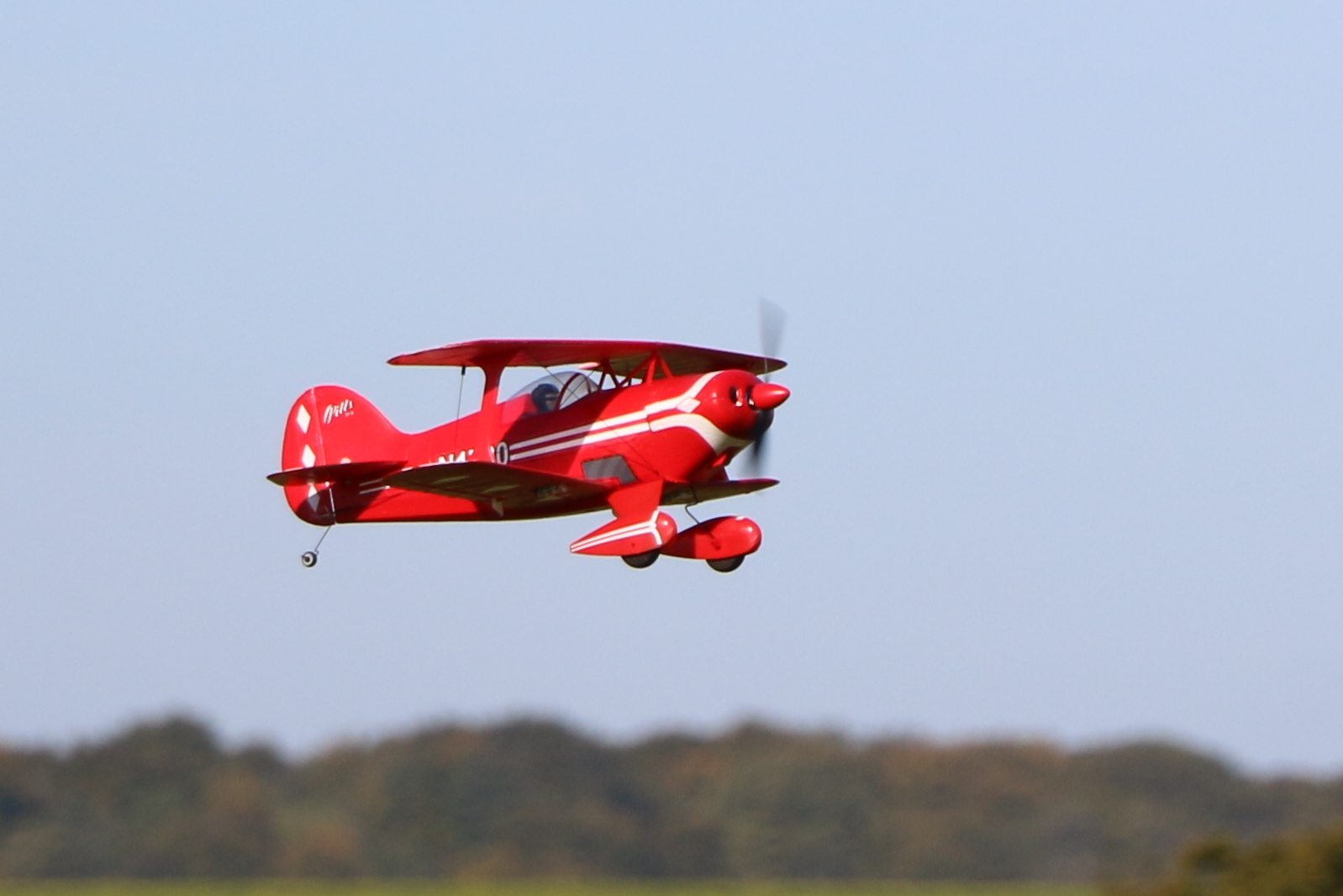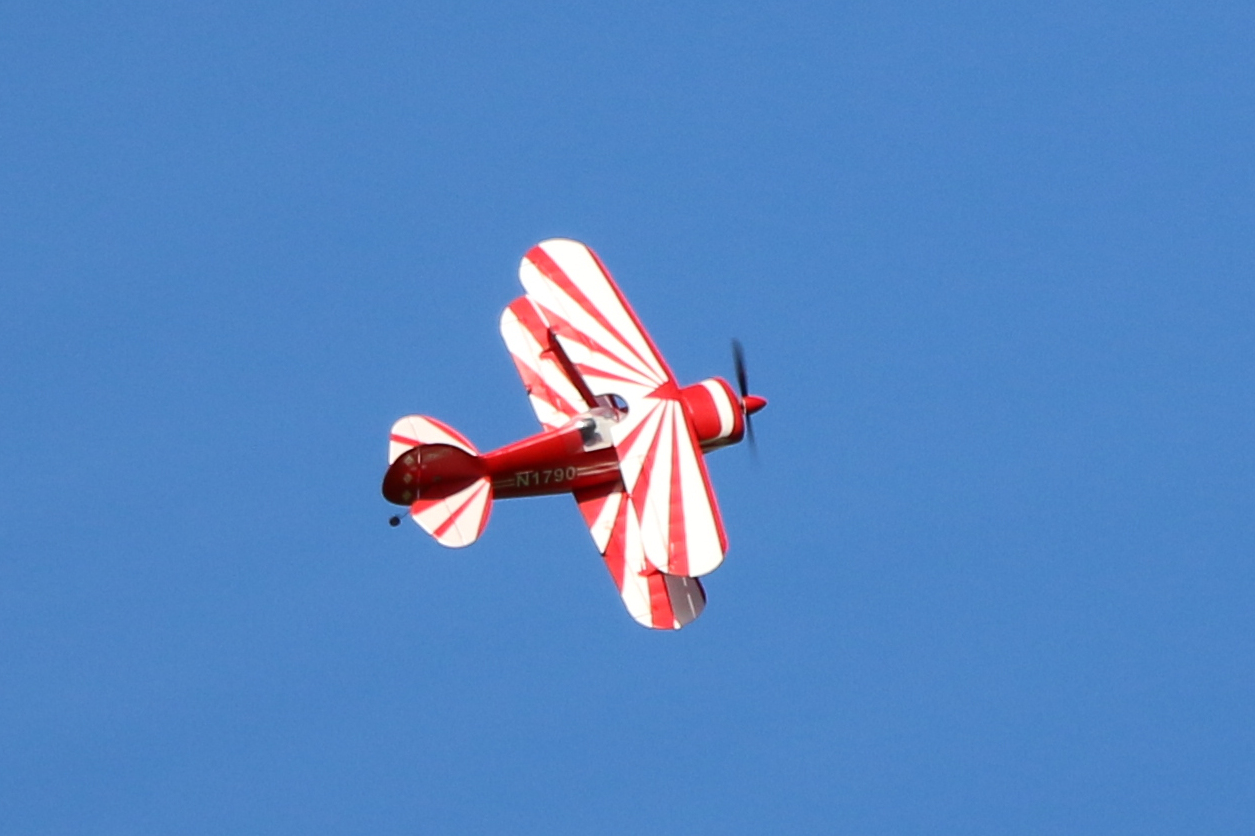 Video time now which this month includes footage shot by me, Dougal, and Nadine:
Please watch the video full-screen, it's so much better with small models flying around:
If the video won't play for you please click HERE
During the Covid-19 lockdown a pilot I know was doing some decorating at his house.
I went round to his house to check it out and saw he'd made a great job of the landing…
Colin Cowplain