Time flies and already it's nearly June so time to report on May. The May weather was a bit of a let-down after some of the lovely weather we had in April, rather wet and fairly windy, although there were some decent flying days as well. Fortunately it was good for our annual pilgrimage to the Blackbushe Model Show.
Incidentally, I will be away quite a lot in June so all reports/photos/videos will be extra welcome, thanks.
I was in Spain for a week in May but I did manage one flying shot.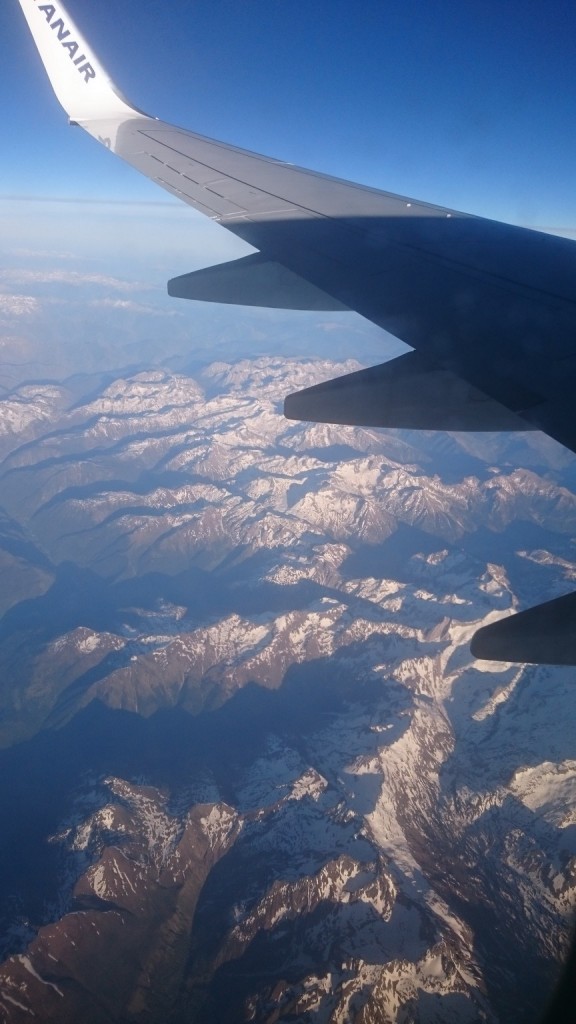 To start off, I must include a couple of things that I forgot in April. The first one wasn't actually at the patch; it was before the start of one of our club meetings at Buriton. Steve 1066 decided that a bit of limbo between the goal posts was a good idea…it wasn't, those steel goal posts are very hard!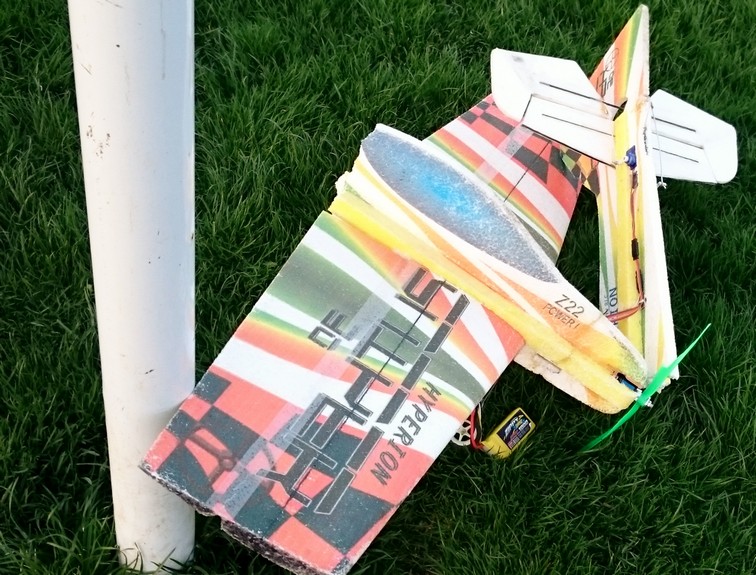 Secondly, I had forgotten to take a photo of Richard King after he had taken his 'A' test. Well here he is, looking suitably pleased with his achievement, well done Richard.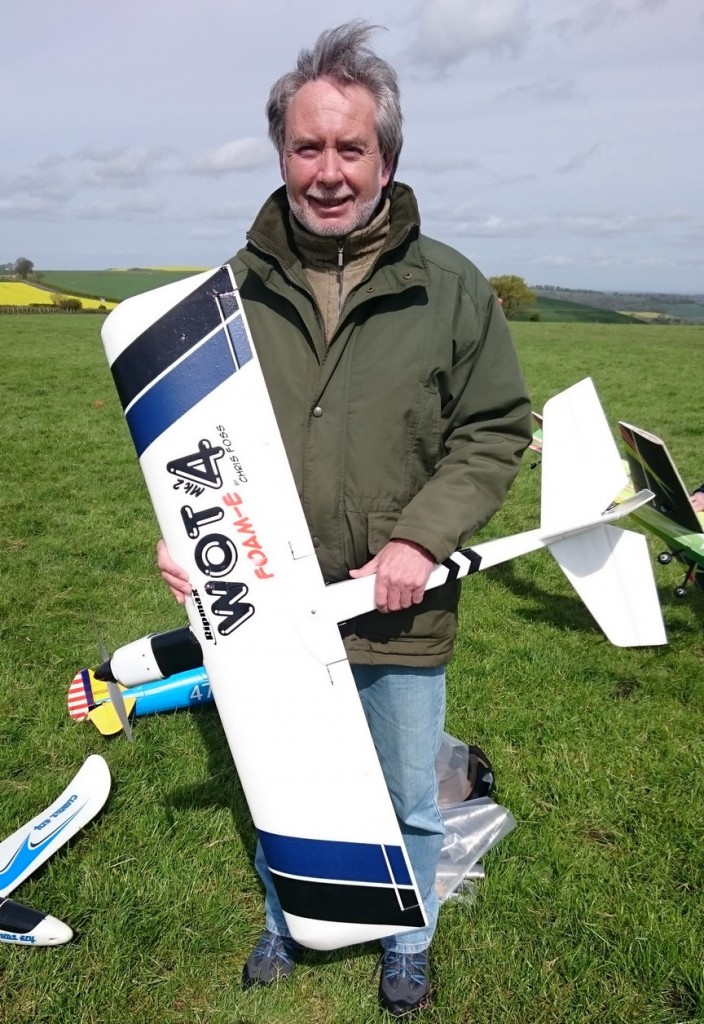 He doesn't have a nickname yet, somehow Dick King doesn't seem quite right…any ideas?
I must thank Richard for taking most of the video in this month's video, everything before 1066 with his DLG was filmed by Richard, to watch it click on MONTHLY VIDEO and you'll see Dougal's Spitfire & Laius, Mike Smith's Squall, Nigel Baker's Wots Wot, Steve H's Apollo DLG, and a couple of snippets from Blackbushe.
Last month I related the sorry tale of the first flight on newbie Tim Clay's ST Discovery. If you remember it crashed before he even got to touch the transmitter, some sort of record I think! But now both the Discovery and Tim are flying really well, Tim has completed many flights totally by himself, including the take-offs and landings, with just the odd word of advice and guidance from whichever 'expert' has been with him. He managed a bit of a cartwheel on one landing which caused minor damage but that was soon sorted.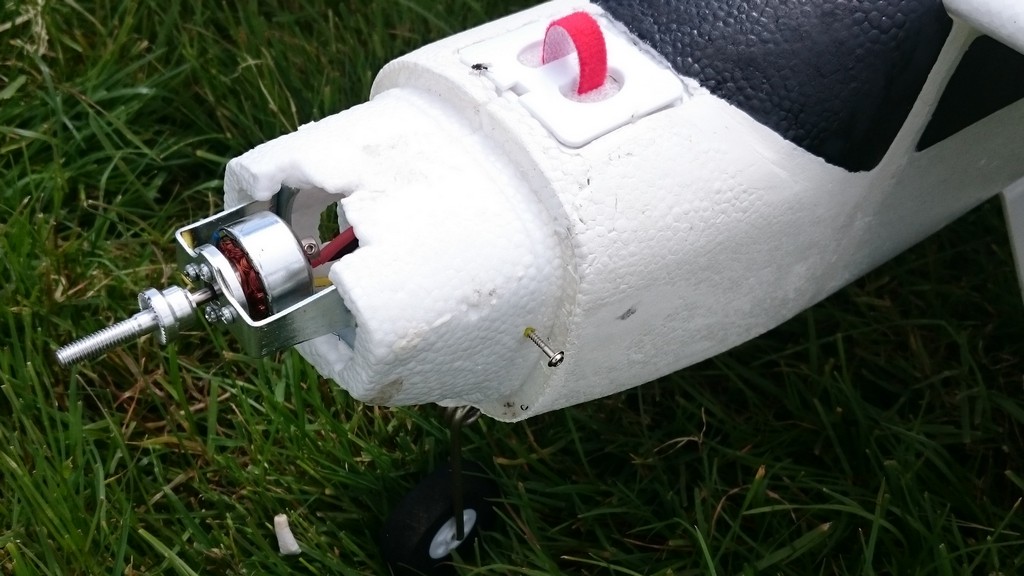 I'm sure Tim will be taking his 'A' test in the next couple of weeks.
Tim has also been flying his second model, a HobbyKing Bixler 2.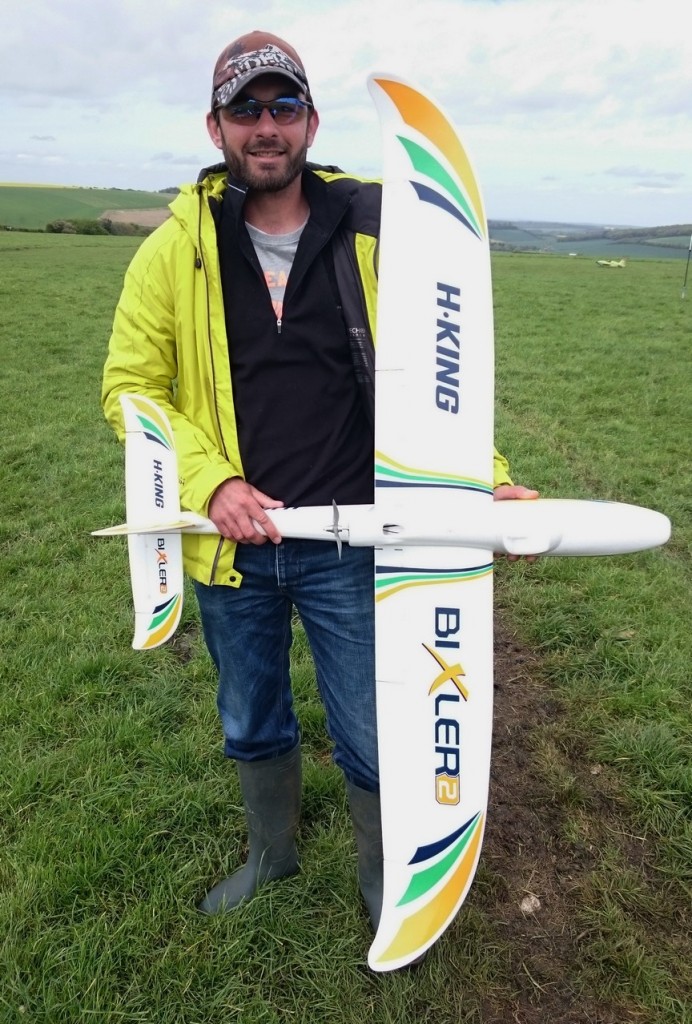 I have to say the Bixler seems an excellent model, flies really well, stable, but also aerobatic when required, I can see why they are so popular.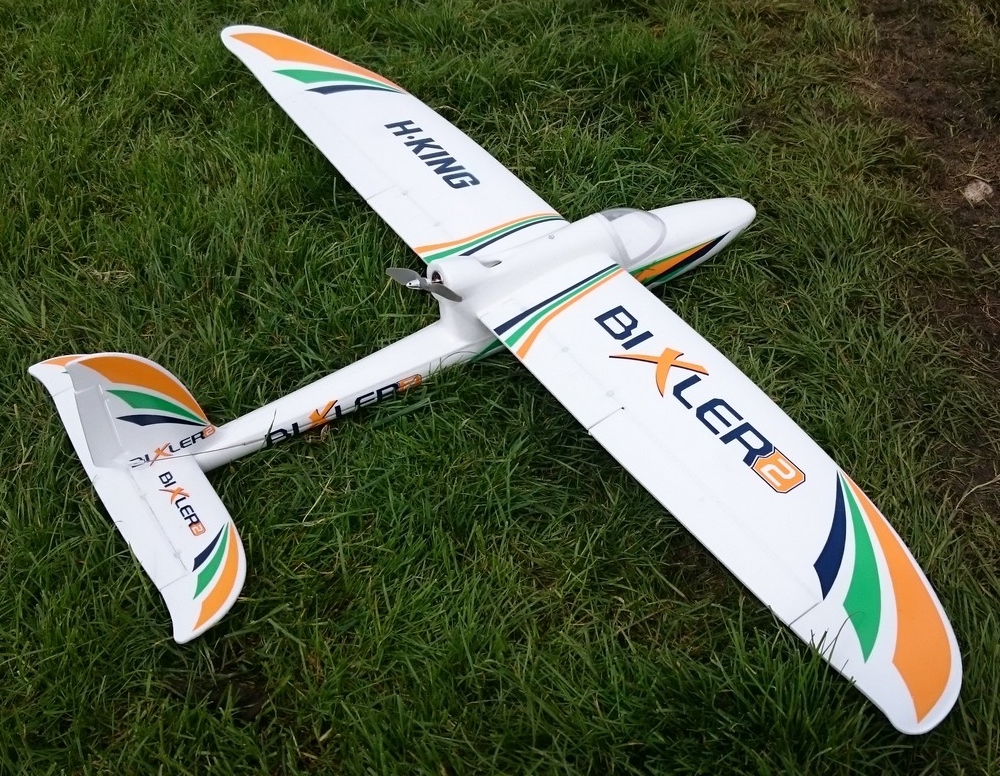 I mentioned Blackbushe earlier, this year it was on 16th May. I won't say too much about it as I think DoughBoy (treasurer Nick Squire) is going to write a proper report with lots of quality photos.
Unlike last year (which became known as Crashbushe) there was no carnage, in fact I didn't see a single crash all day. It seemed as if half the club was there to see some great flying, helped no doubt by the presence of Ali Machinchy, and some superb models.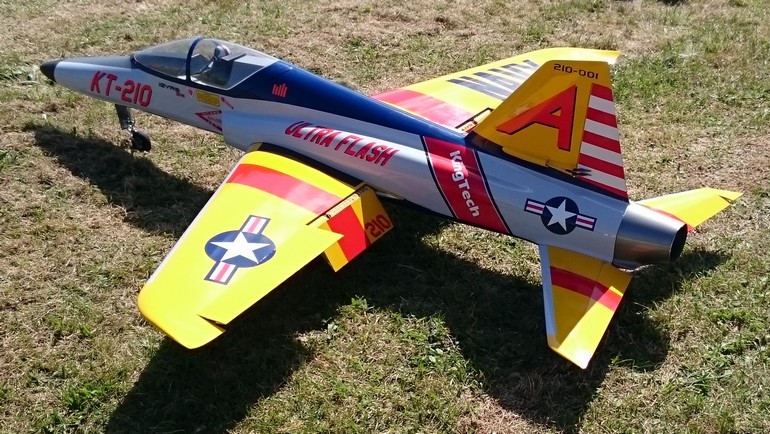 Viv (Stanley Knife) said he would like to have seen more 'club' style models such as Acro-Wots and such like and I think he has a point; virtually everything flying was a 'show' model rather than the sort of stuff we fly week in week out. And Chairman Ron pointed out that there weren't many warbirds this year, although there was a Battle of Britain Memorial Flight trio of a Lanc, Spit, and Hurricane. There were loads of jets, turbines are becoming increasingly common these days, lower costs and simplicity of operation are big factors I imagine.
This year the show was opened by Steve Holland flying a 66% scale, 4 metre span Aerokot, the full-size itself being a home-built modelled on a Bucker Jungmeister.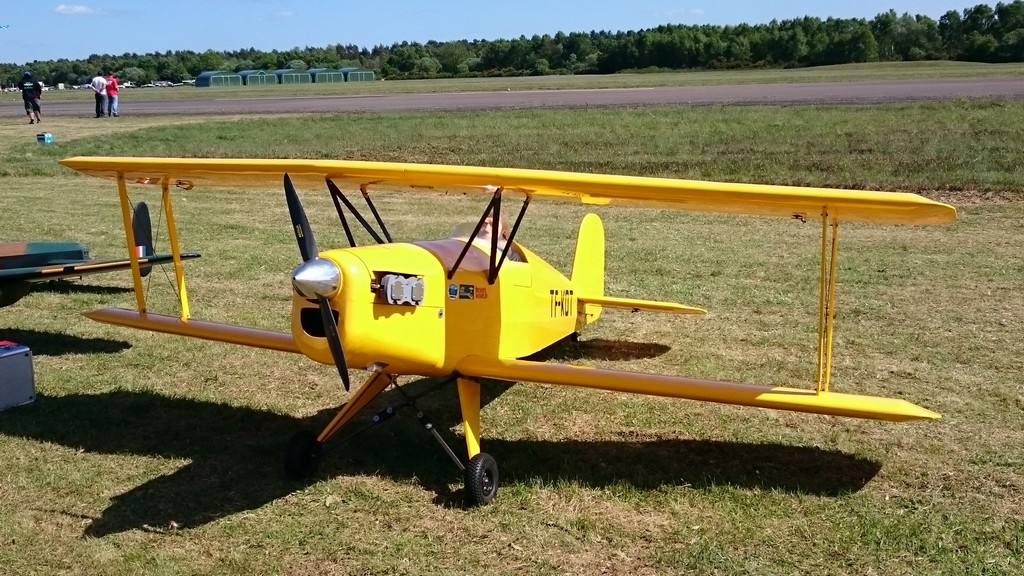 It is powered by a DA150 petrol engine and Steve used his expertise to show it off very well I thought.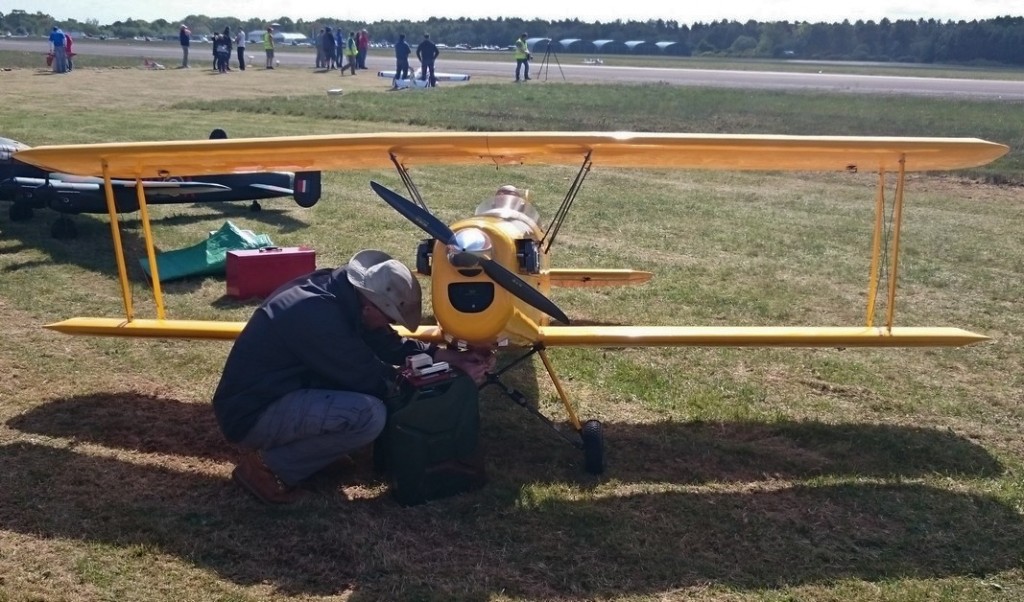 But I wouldn't want to pay the fuel bill!
The Bishops father and son team were flying new models this year, Krill Avanti S's with Jet Italia turbines.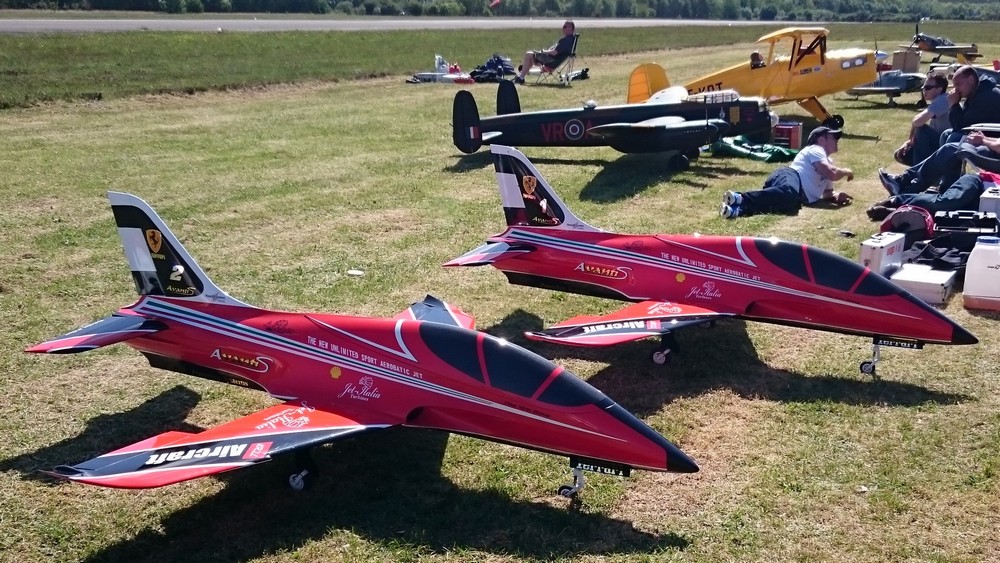 They hadn't flown the models together before Blackbushe and understandably they weren't as good in formation as we are used to seeing with their Red Arrows Hawks but by their third flight of the day there was a noticeable improvement.
But what made them stand out was the thrust vectoring fitted to the models which enabled them to prop hang (?), amazing to watch, especially when they turned the smoke on!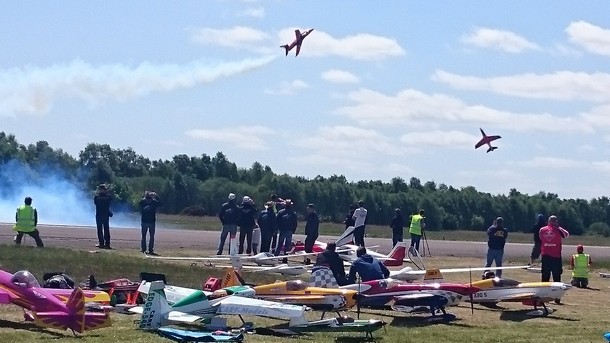 There was another jet duo; Simon Potter and Paul Camilleri, flying 2.5 metre span Tomahawk Futura jets.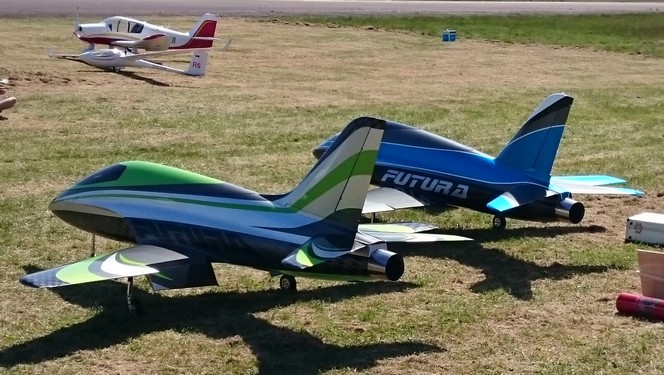 They were also very good, one of them doing a pass so low I don't think there would have been room to lower the wheels…seriously!
When the commentator said that Ali was flying with Spektrum radio in his jet DoughBoy and 1066 laughed but Tim fell to his knees in prayer!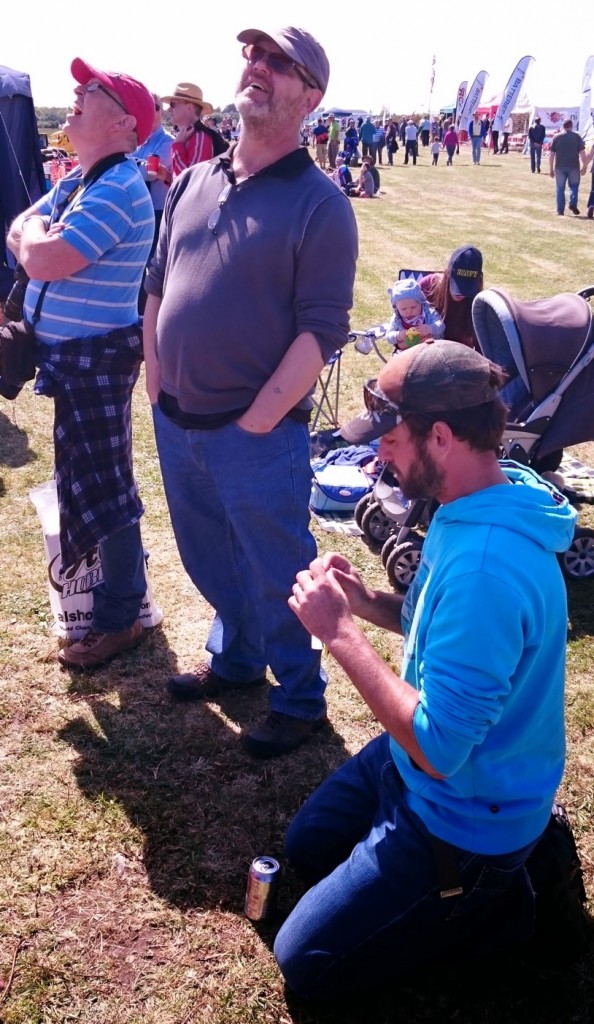 Fortunately there weren't many helicopter slots, something for which us fixed wing pilots were grateful, they are just boring to us I'm afraid, a real yawn.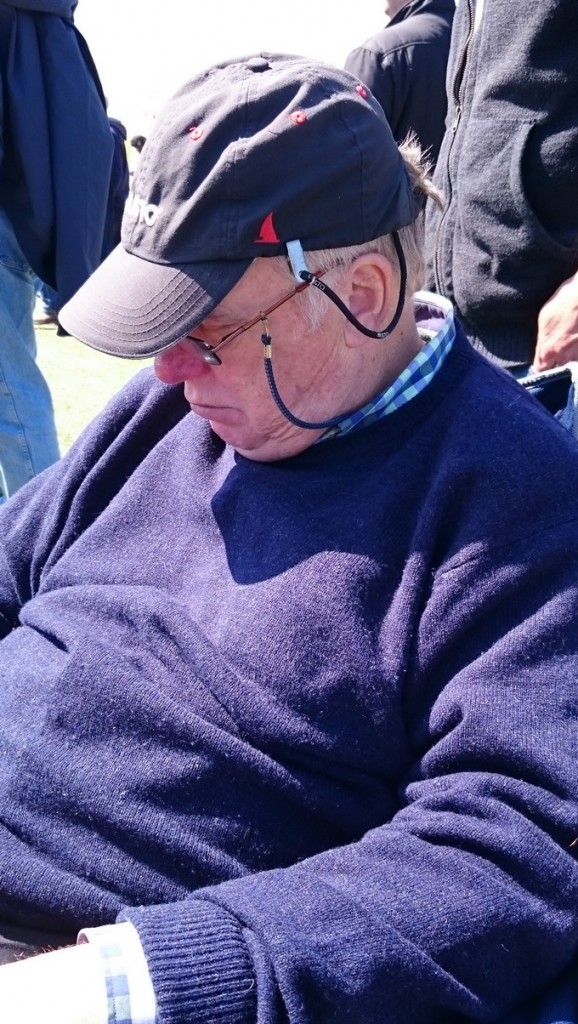 Gentleman Jim obviously thought so anyway!
Captain Altitude (Woody) splashed his cash on a new Spektrum DX6 to replace his DX6i that is playing up. He's pictured here testing it out at our field the next day.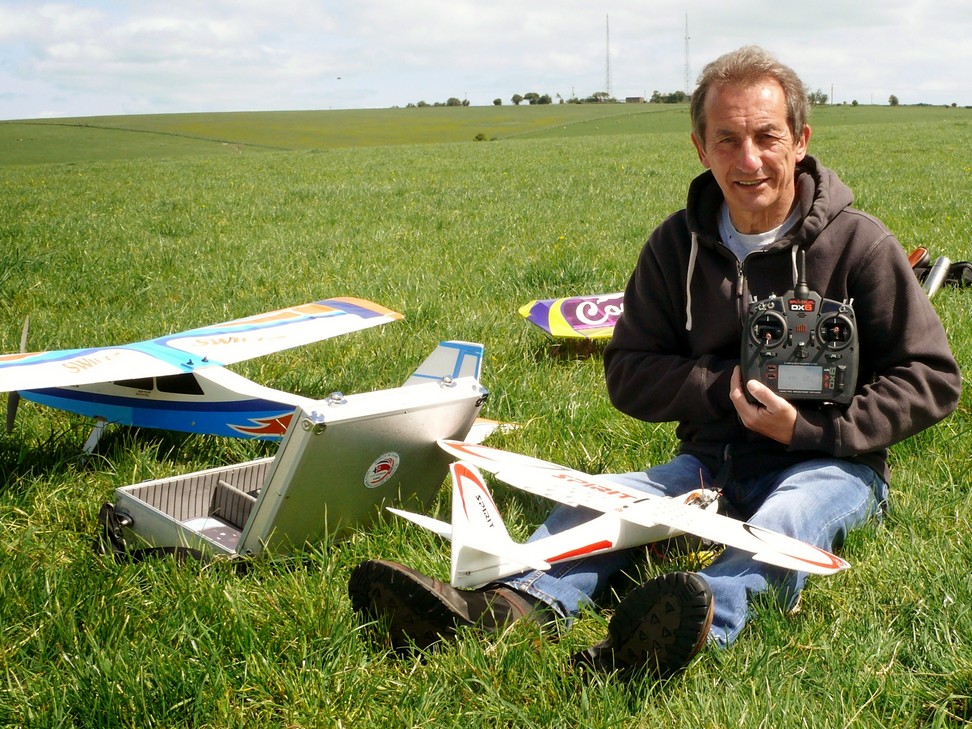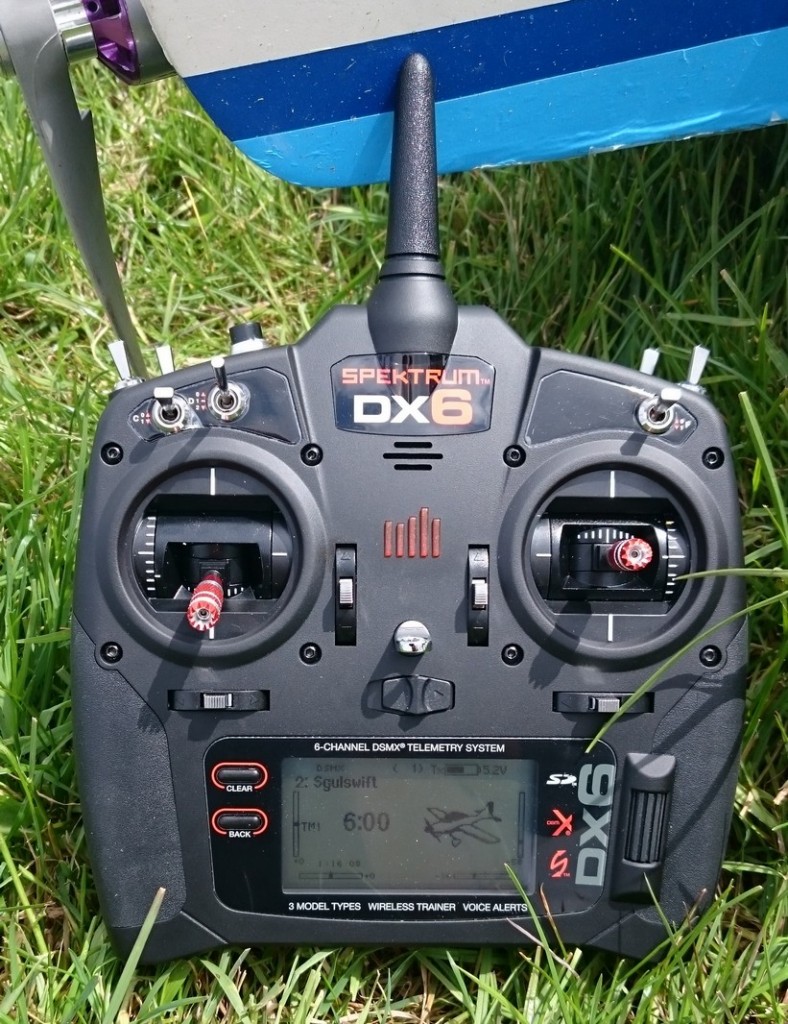 Smiffy bought a Blade helicopter to play with in his garden and then realised that it was Bind'n'Fly so his Hitec transmitter wouldn't bind to it. A normal person would have simply fitted the chopper with a Hitec receiver but not Smiffy; he bought a Spektrum DX6 transmitter instead.
There weren't too many new models seen at the patch this month but Stanley Knife turned up with this lovely new Spacewalker.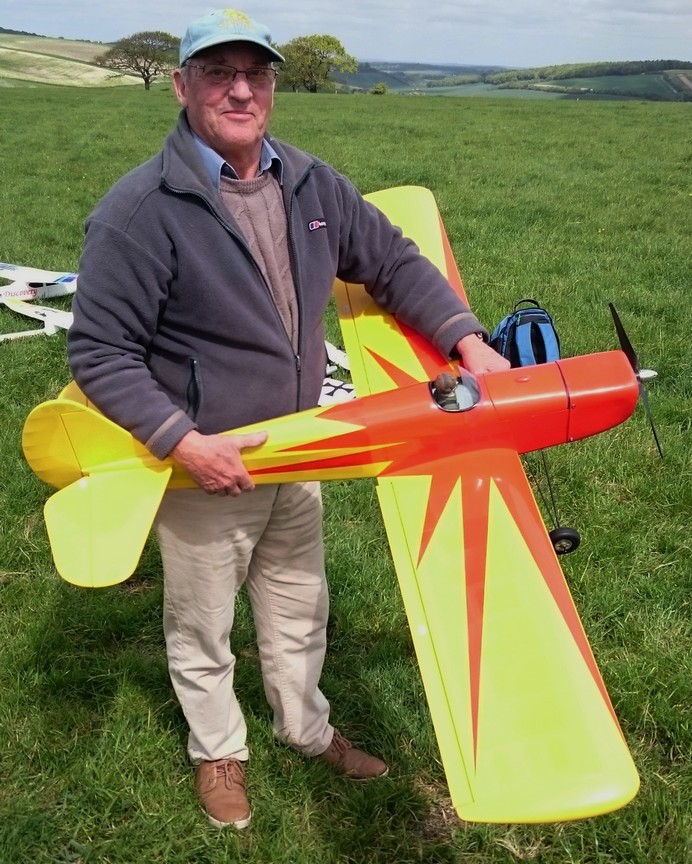 It's from HobbyKing and at 1580mm span it's designed to be either I/C or electric powered. Stanley chose the electric route of course and obviously got the motor/battery choice just right as the model flies beautifully.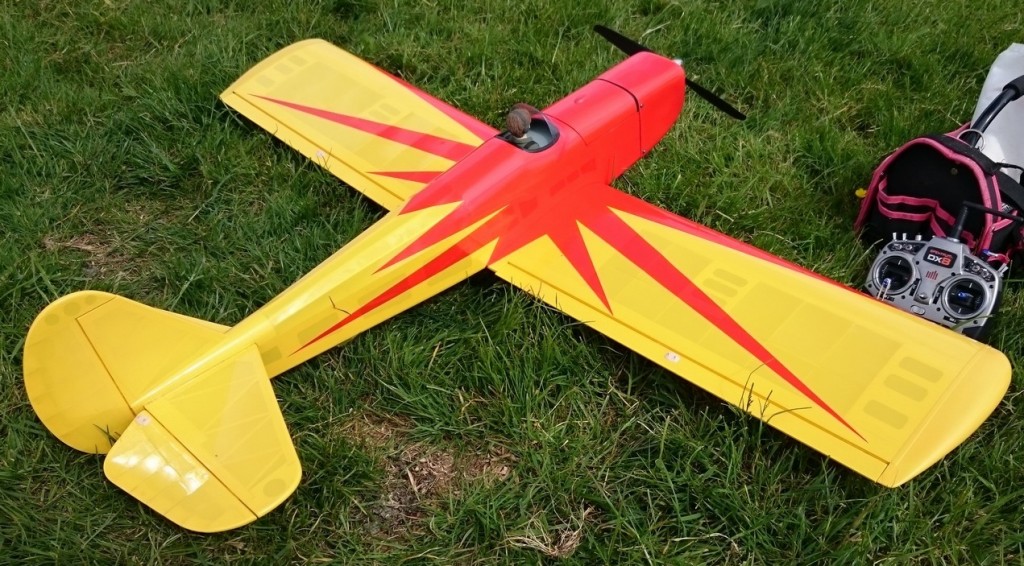 It's a 'proper' film covered balsa and ply model with a GRP cowl, not a foamie.
In traditional manner Nigel Baker managed to remove the Almost Ready To Fail undercarriage from the new fuselage of his Wot 4 Foam-E. It's nothing that a decent ply plate won't sort out.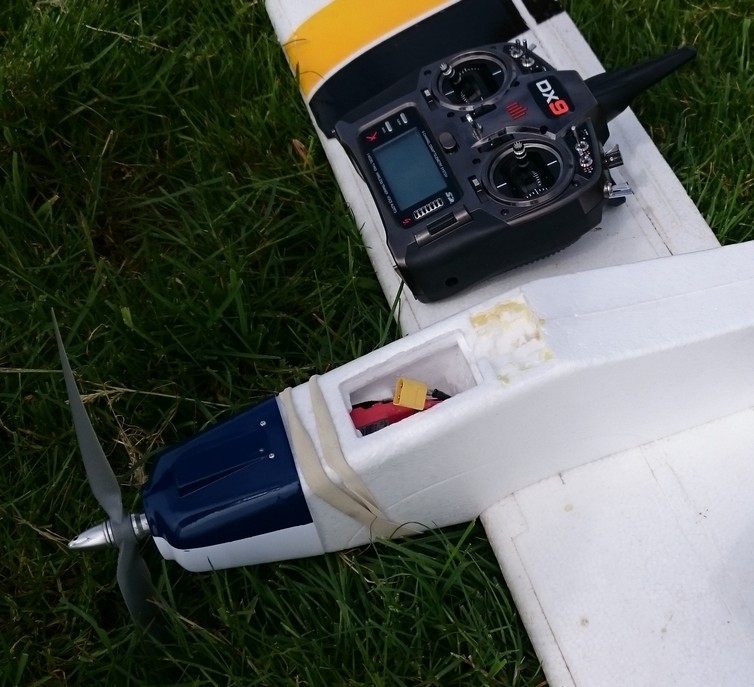 You can tell that summer is on its way, several models that we haven't seen over the winter made re-appearances. Mike Smith flew his Phase 3 Squall again in May, the first time for a few months.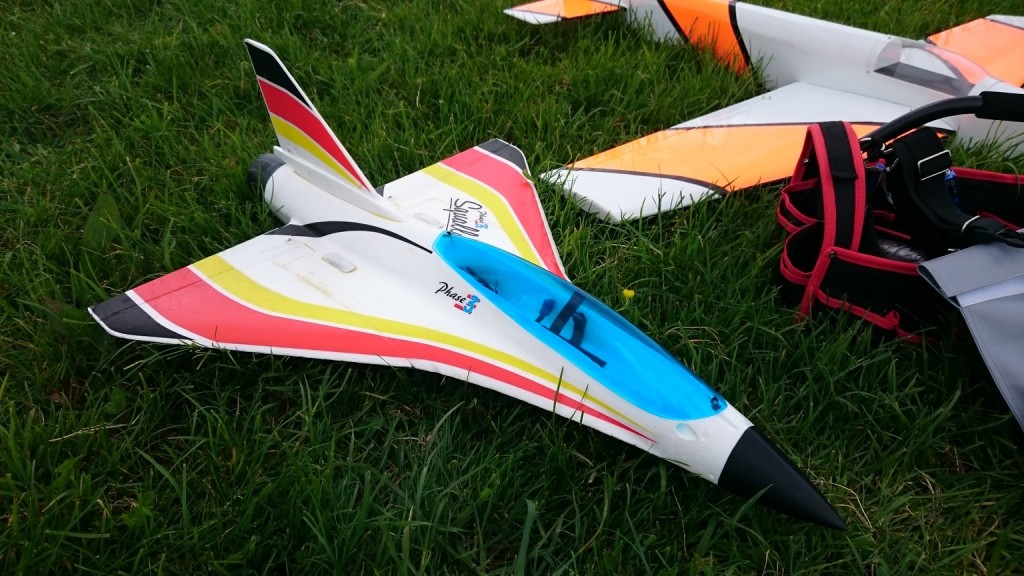 It's EDF and I'd forgotten how quick it goes, and it rolls like an electric drill. It features in this MONTHLY VIDEO
Dan Handley flew his Dynam Hurricane for the first time in a while.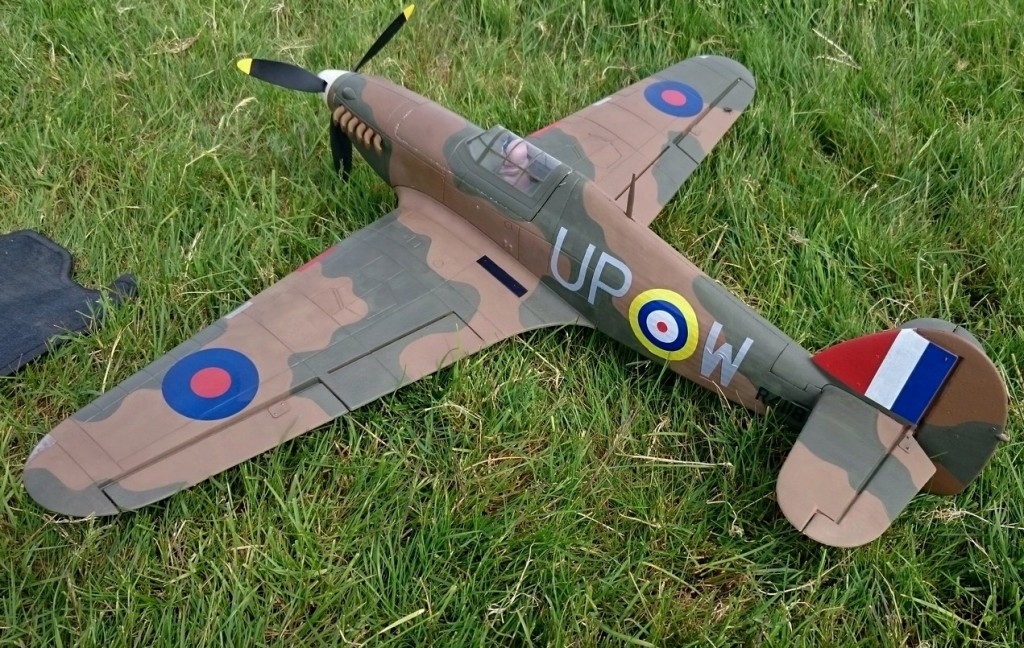 It's 1250mm span, uses a 4 cell lipo to drive a 600kv motor, and comes fitted with worm drive retracts.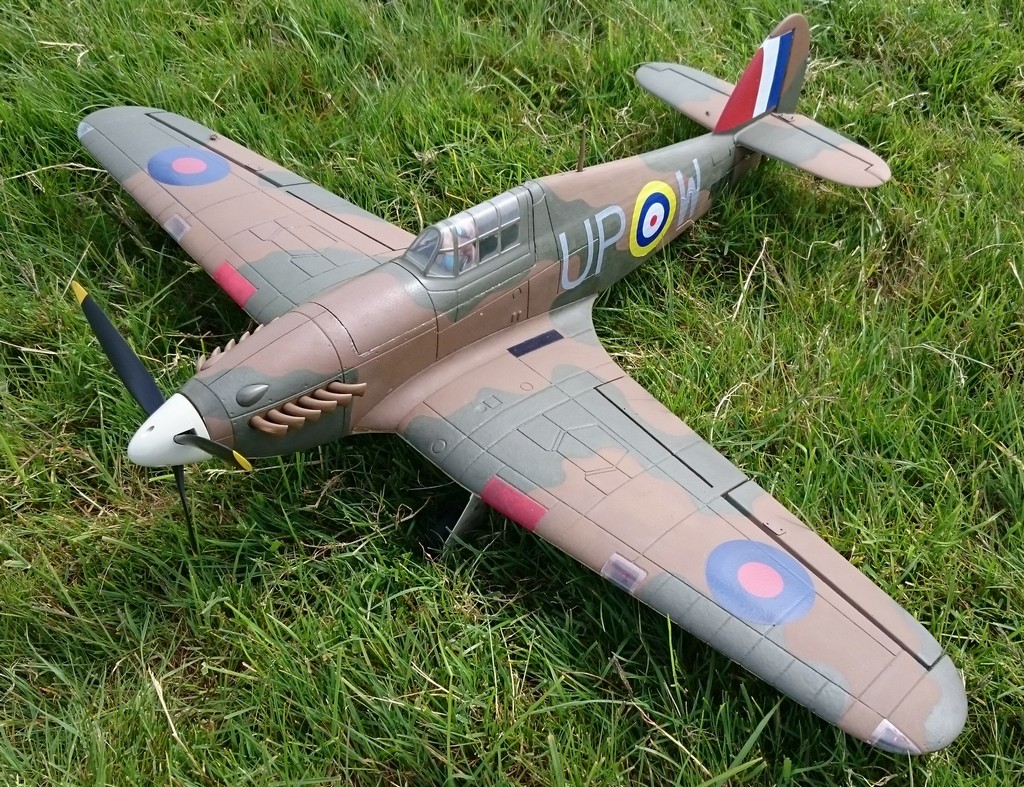 It's a foamie but it looks great and flies very well.
The rather battled scarred SE5a belonging to Bob Hill also flew again this month.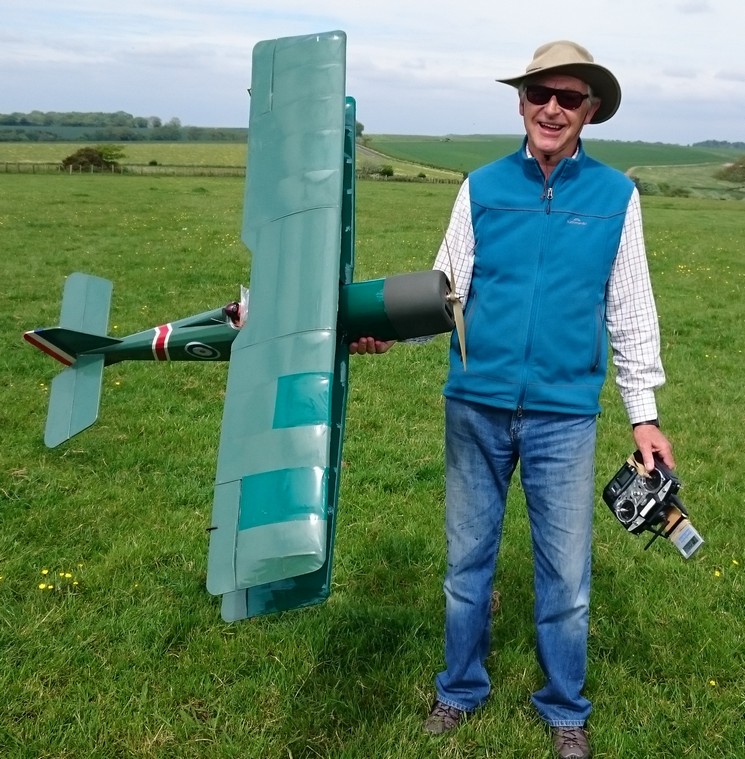 It flies well but isn't a model you'd want to fly in the winds of winter, especially the winds we get on top of Chidden Down.
The Spirit Mini Sport gliders continue to thrive and Tony Neal has now joined the throng, although he has gone for a Kinetic instead of a Spirit. The two models are virtually identical although they are fitted with different motors. A few Spirit motors have failed (including my own) and HobbyKing don't stock replacements so the easy choice is to fit a Kinetic motor instead. They aren't a direct swap but are pretty easy to fit, although it is necessary to use a Kinetic prop as well.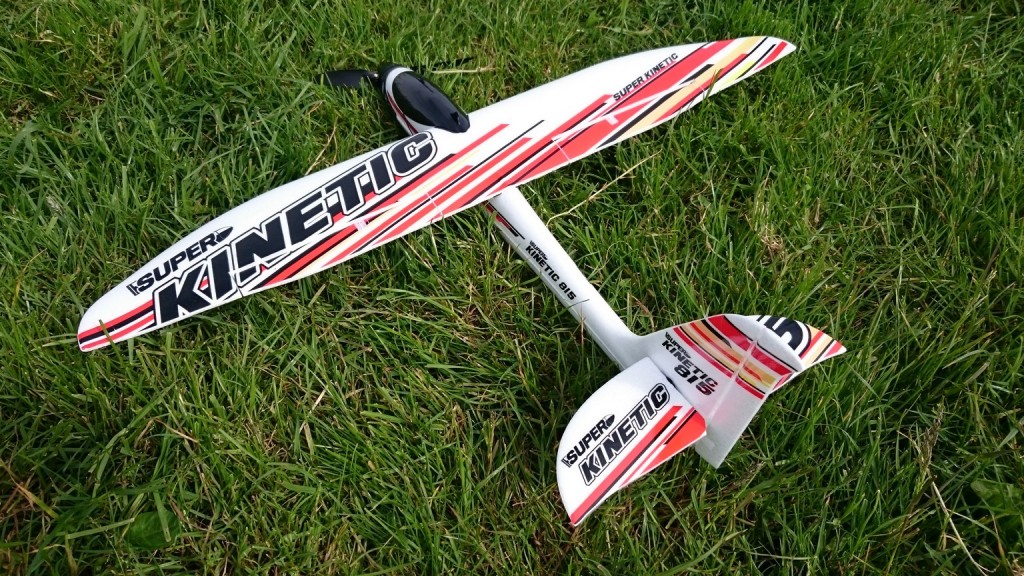 Bob Hill has also gone the Kinetic route; I think he managed to destroy his Spirit in a less than perfect 'arrival'. I have only just discovered that the Kinetic comes with the decals already applied. As applying the decals is the biggest job required to complete the Spirit I reckon the Kinetic is the way to go.
As I'm talking about the Spirits I'll include a photo that Dougal Entendre sent me a little while ago. His elevator servo needed replacing so he had to remove the servo cover that is factory fitted. He says it was easy to prise off and he managed to replace the servo and refit the cover without problems.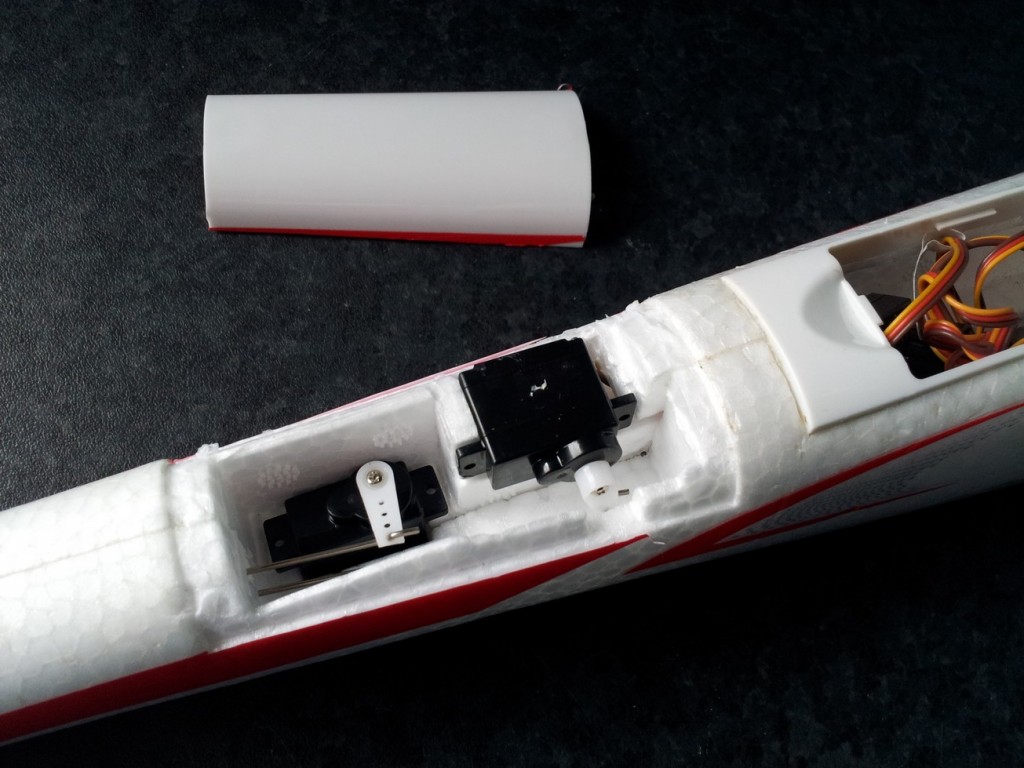 I was surprised by the servo layout; I had assumed both the servos would be fitted upright, not with one laying on its side.
I took the plunge in the HobbyKing May Day sale and ordered a Hummer. It's one of those horribly ugly 3D EPP profile fuselage things made from packing cases but it does what it's supposed to do. It was only £16 odd so I thought I should at least try 3D to find out what the appeal is. So far I haven't found out!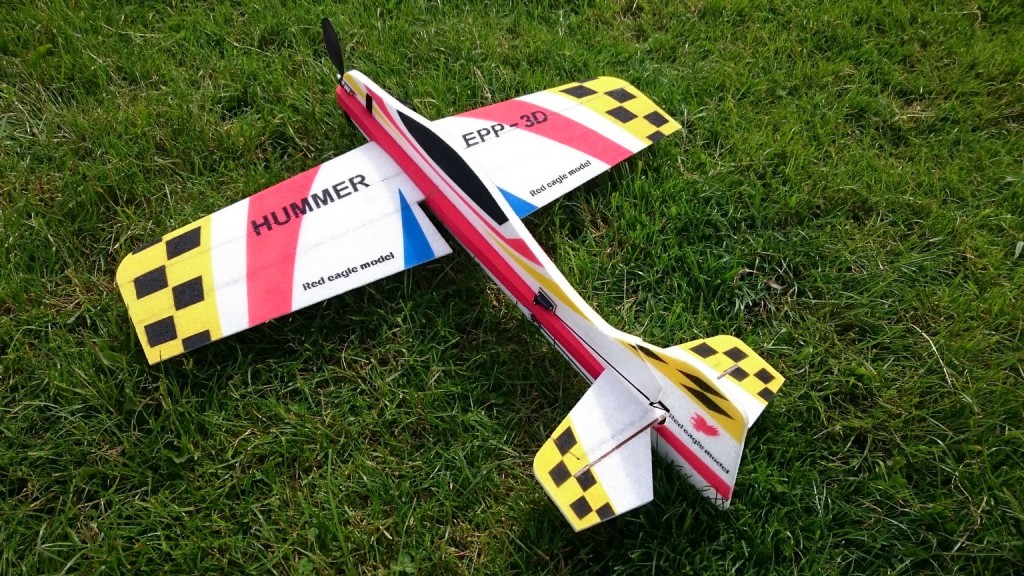 That's probably because mostly I've found out that I can't do it but I've only had a few flight so I'll keep at it and see what happens. The 'kit' was pretty good, everything fitted ok, and the carbon rods alone would have cost more than the whole kit at most models shops. I used cyano for virtually the whole of the construction, time will tell whether that was wise or just lazy.
Unbeknown to me Dougal was putting one together at the same time so now there are two of us trying to learn how to prop hang. We could be the next Bishops…or not.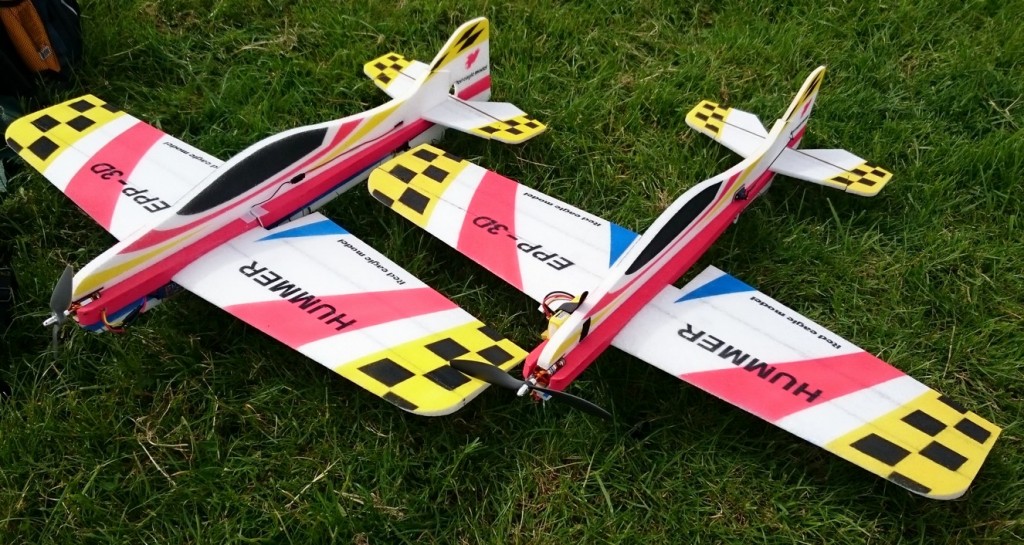 The last new model we saw in May was 1066's Apollo DLG. This is yet another from HobbyKing, and has a fibreglass fuselage pod and tail boom, with pre covered balsa and ply built up wings and tail.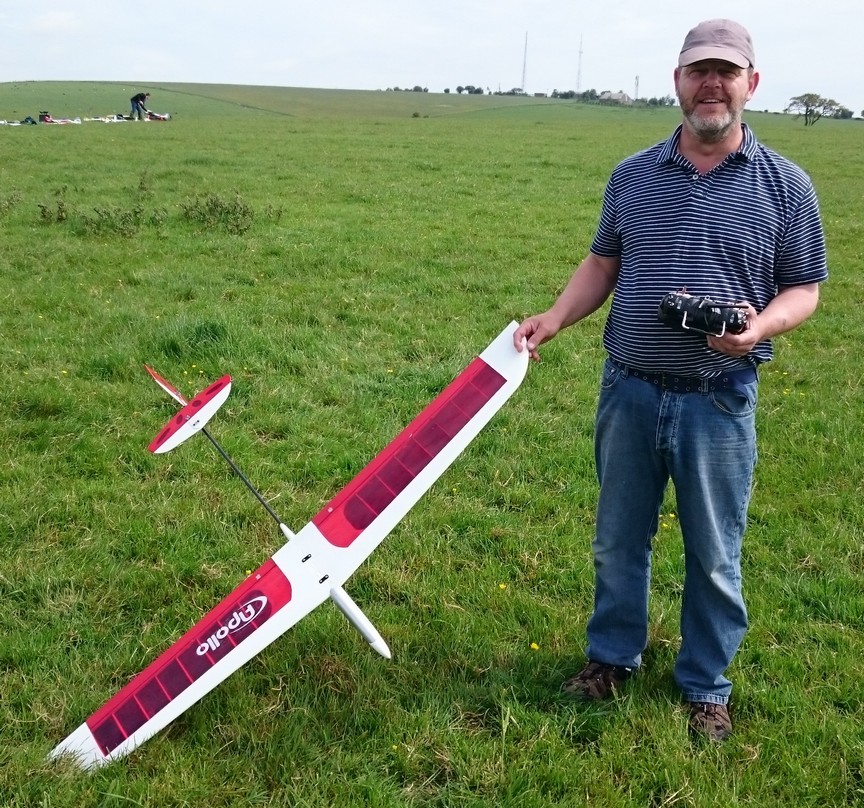 The HK listing mentions composite so I think it must have carbon in the spar. A full composite DLG model costs a lot of money, this one is under £50. For those who don't know, DLG stands for Discus Launch Glider, and that's just how they are launched. There is a peg mounted vertically through the wingtip that the pilot hooks his fingers round, he then spins round a complete turn and releases the model into wind. Once the technique is mastered the models can reach amazing height and, being very lightly built, they can stay aloft for a considerable time, searching out the weakest of thermals. It's a highly skilled class of modelling, and it will be interesting to see how Steve gets on with it once he's mastered the launch and trimmed the model correctly. See it in action in the MONTHLY VIDEO
Meanwhile 1066 has been showing off his knife-edging skills with his Extra 300. This one is an ex-Cyano Steve model, produced by 3D Hobby Shop.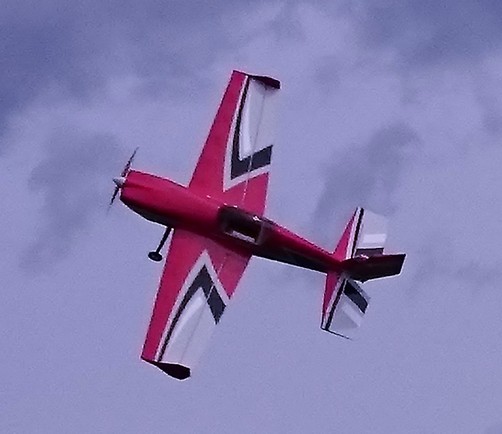 Captain Slow was good enough to send me a link to an airline Safety Announcement, it's very funny and well worth watching, you can see it by clicking: HERE
STOP PRESS: Tim Clay took and passed his BMFA 'A' certificate this morning. Well done Tim, you've reached this stage very quickly, some of the more experienced pilots are watching you with envy!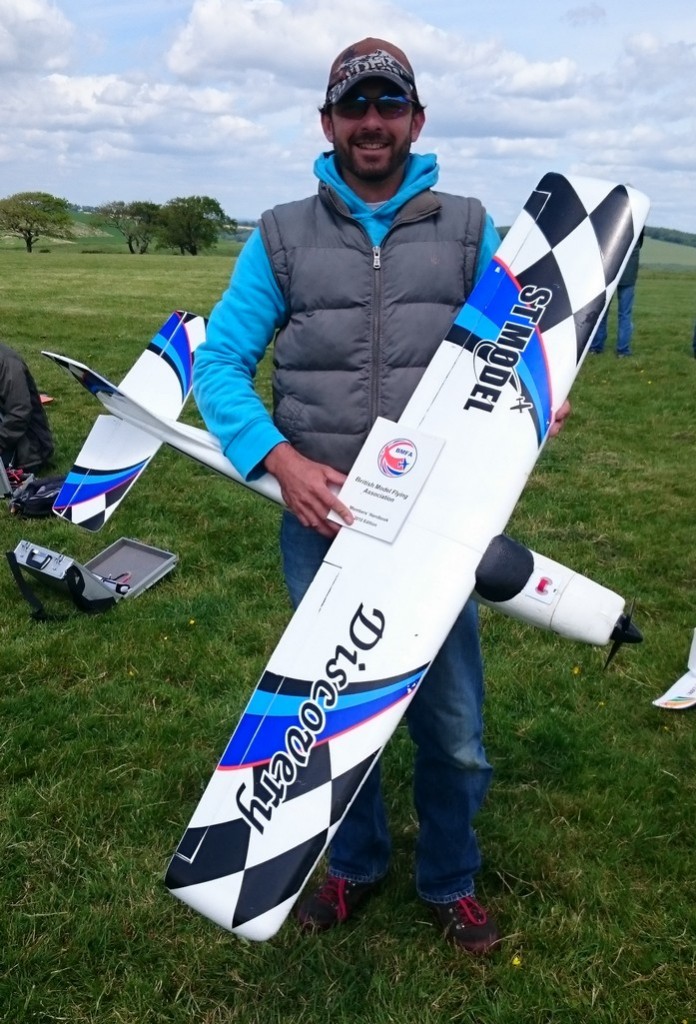 Remember: You do not need a parachute to skydive. You only need a parachute to skydive twice.
Colin Cowplain