May was quite a busy month although I didn't manage to get to the patch much midweek so I'm a bit short of pics etc.  The weather was variable but there were plenty of flyable days and members made the most of them.
17th May saw lots of us heading to the Blackbushe Model Air Show in perfect conditions. Personally I didn't feel it was as good as previous years, due in part to the absence of Ali & the Bishops with their Red Arrows Hawks, and also because there were an awful lot of crashes/incidents.  The most notable crash was the show opener Steve Carr with his new 60% scale Extra which suffered severe flutter about 45 seconds into the flight followed by structural failure, the whole flight lasting under a minute.  I know little about the LMA inspection system or pre display flight tests but I do know that crashes like that should never happen. Apart from that I think we all enjoyed the day and there were some lovely models present.
One of my favourites was Steve Holland's large OV-10 Bronco, I didn't get any details but it's big and flew beautifully.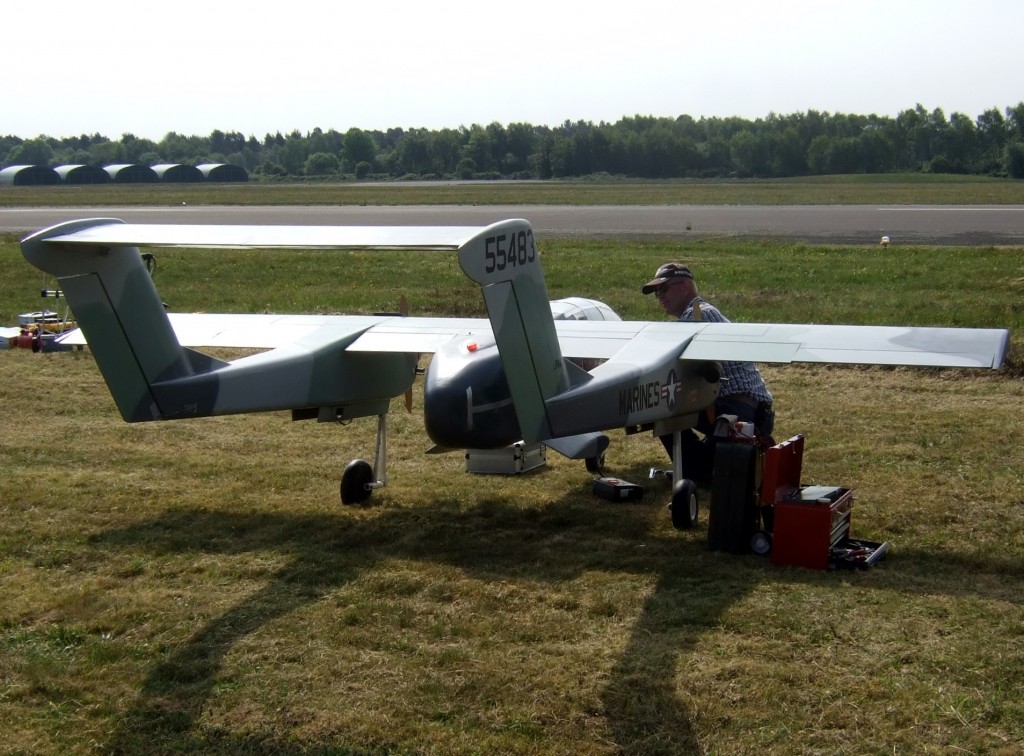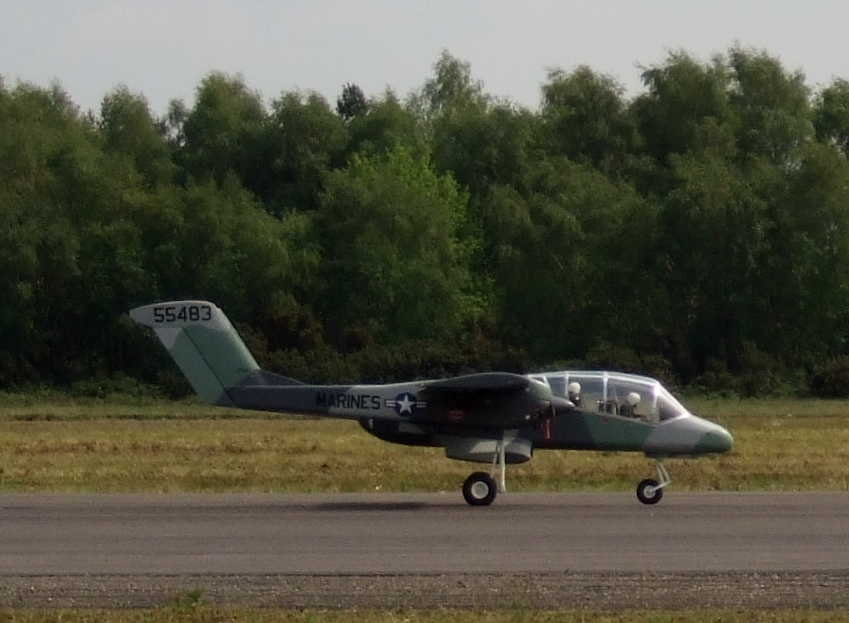 Another was this Viperjet, yes it's scale, you can buy a real one from the manufacturers Dan & Scott Hanchette,  although you'll need about half a million dollars and 3500 thousand hours as it's a kit build!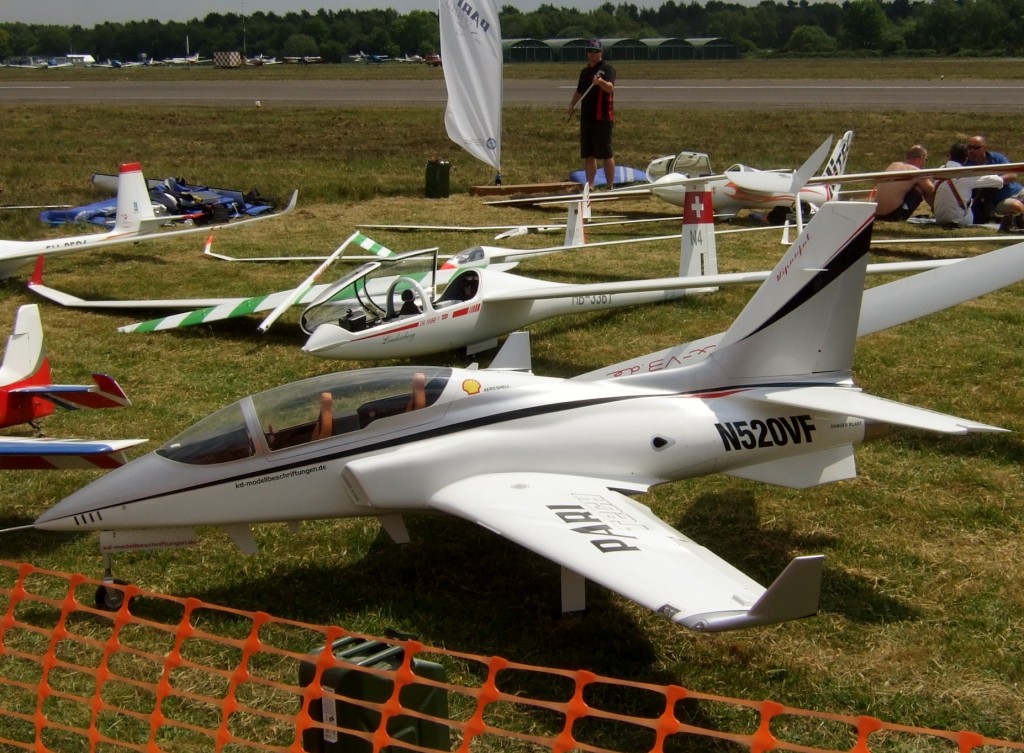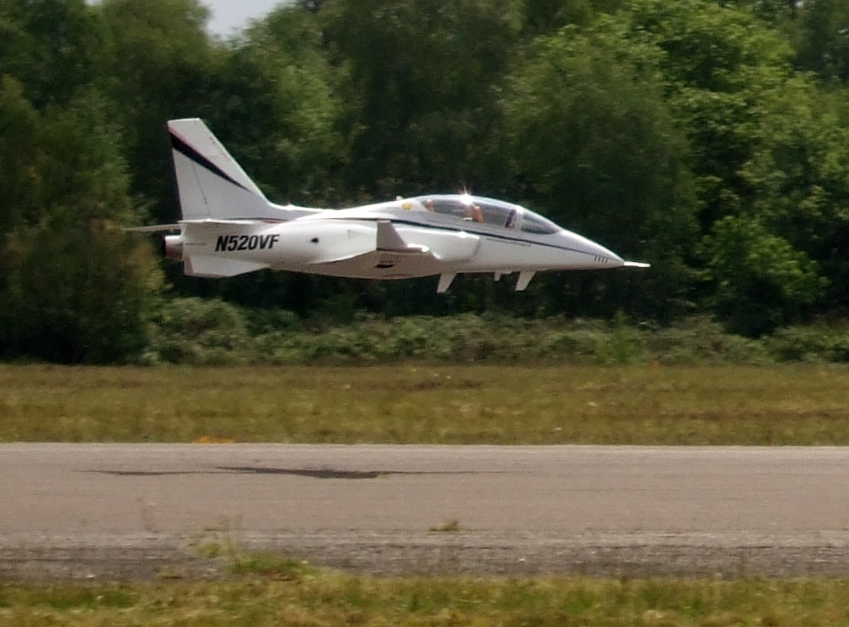 Nick Squire took loads of photos during the day so no doubt he'll be doing a full write-up shortly.
Not too many new models appeared this month but Dougal Entendre (Mark Agate) brought along a Radjet 800. It's not actually new, it was previously owned by one of Mark's work colleagues. Chris Hard also has a Radjet 800 and Mark's seems to fly just as well. It's very smooth, fast, quiet, and a good all round performer.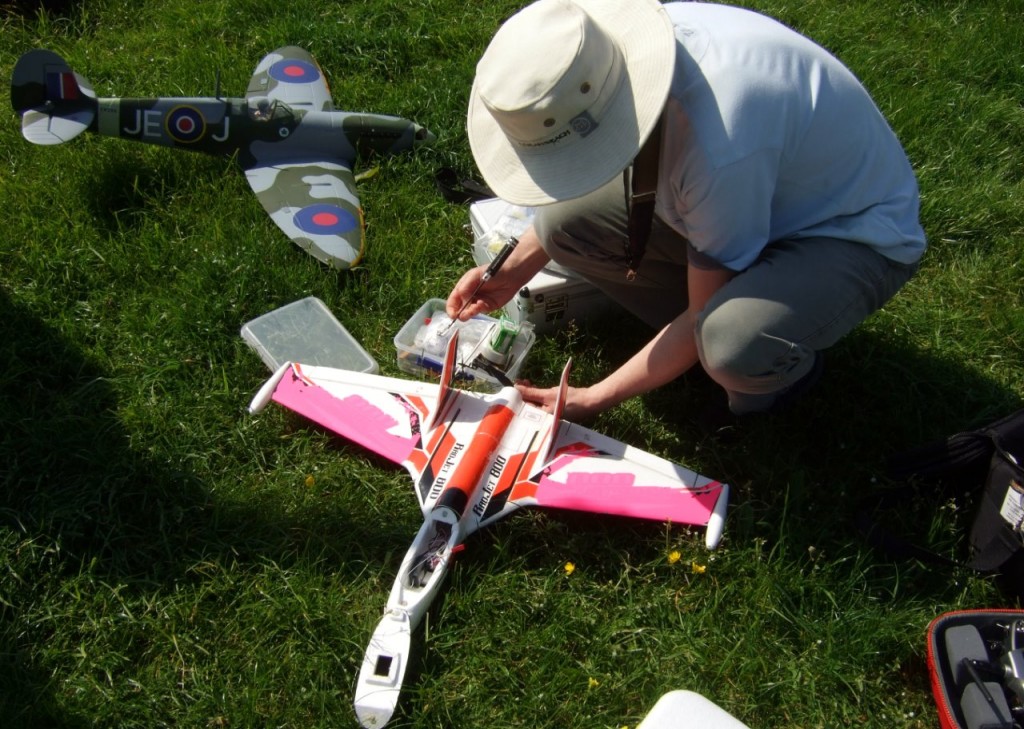 Desperate Dan has got another DLG (Discus Launch Glider). No details I'm afraid but I'm happy to report that it's an impressive performer, several flights I watched were around the one minute mark and that was on a day when there didn't seem to be any thermal activity. Not too sure what he's doing here!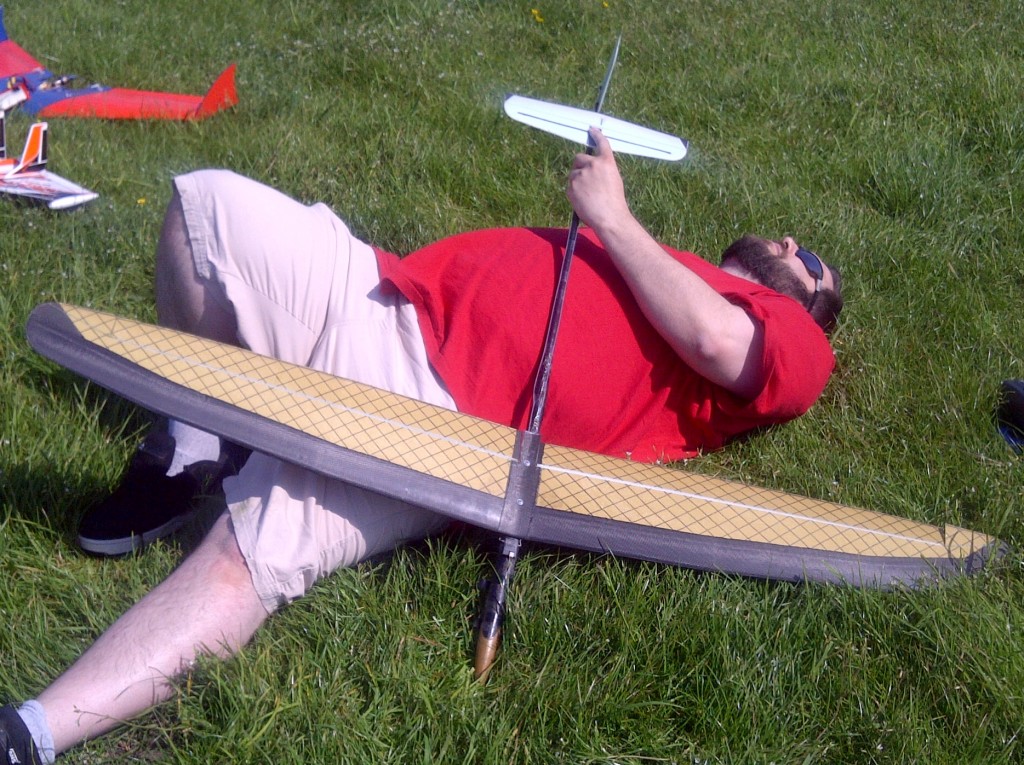 I managed to inadvertently provide lots of amusement a couple of Sundays ago:  Dougal, 1066, and I decided to fly our identical Sportjets together.  We managed to get nice and close on a downwind run and began a fairly tight turn back to do a low level run over the patch. As we turned I waggled my wings to make sure I was flying the correct model and carried on in the turn. Within a few seconds I saw one of the models dive straight into the deck and I shrieked with laughter shouting "Who was that?!"  Within a couple of seconds the remaining two Sportjets shot past us and I thought "Mine looks much cleaner than when I launched it…".  Then I heard Mark & Steve laughing and the realisation dawned… somehow I'd managed to switch models.  The resulting wreckage was not pretty but at first glance all the hardware seems to have survived without damage. I've had several hundred flights with it and it was certainly getting pretty tatty and grubby (white foam and a grass patch with sheep or cow poo don't really mix too well) so I wasn't really too upset at its loss, and at least it gave everybody present a good laugh! As always on such occasions plenty of 'kind friends' were eager to help out with photos of the wreckage, these were donated by Dougal Entendre…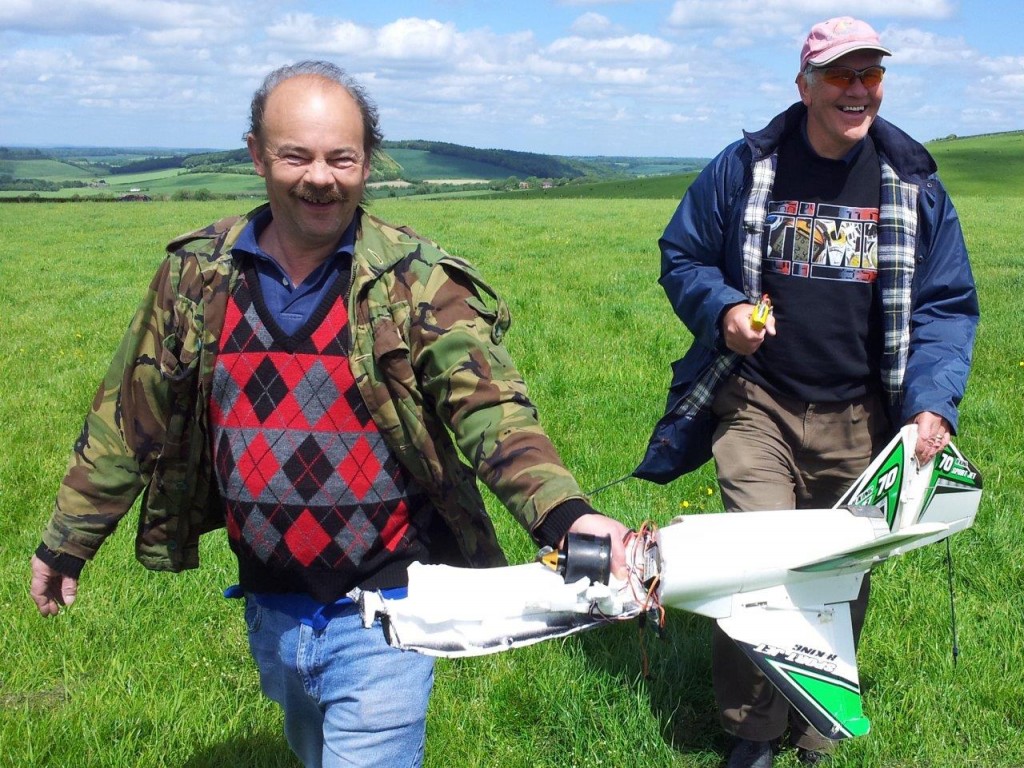 Viv burgess turned up last Sunday with a huge new model, a lovely Seagull Models Ercoupe.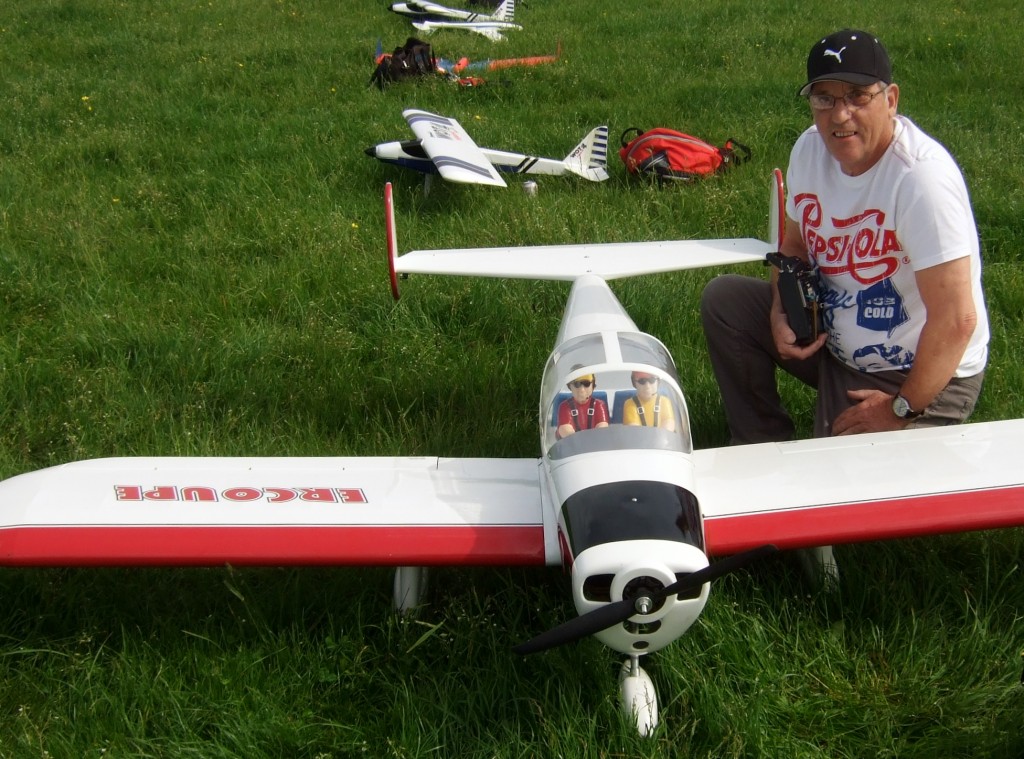 It has a wingspan of 2.5M (98.4") and is designed for a 33-40cc I/C engine but Viv has converted it to electric and is using a 10 cell pack feeding a monstrous motor via 120A speed controller.  I forget what motor he is using but it's producing over 2kW of power which should be more than enough for a model weighing in at around 15lbs.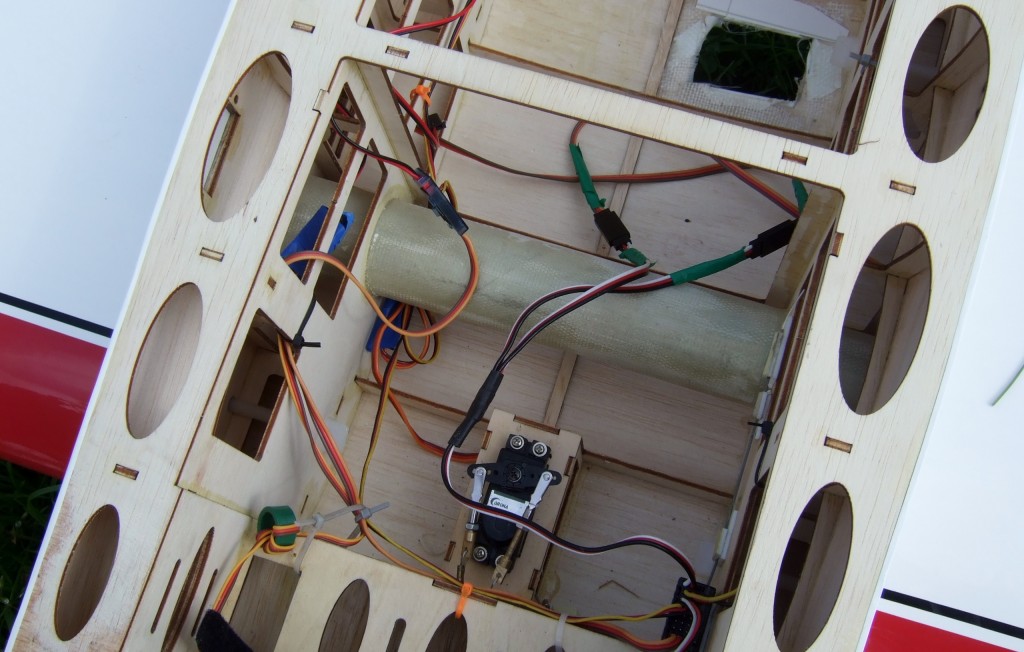 Sadly our small patch didn't seem to be big enough to enable the Ercoupe to take off and Viv is having to think again about CG, elevator movement etc.  To me there seemed to be an awful lot of weight on the nose wheel although the CG appeared to be correct. I thought it seemed to build up enough speed to take-off so I don't think the problem was lack of power.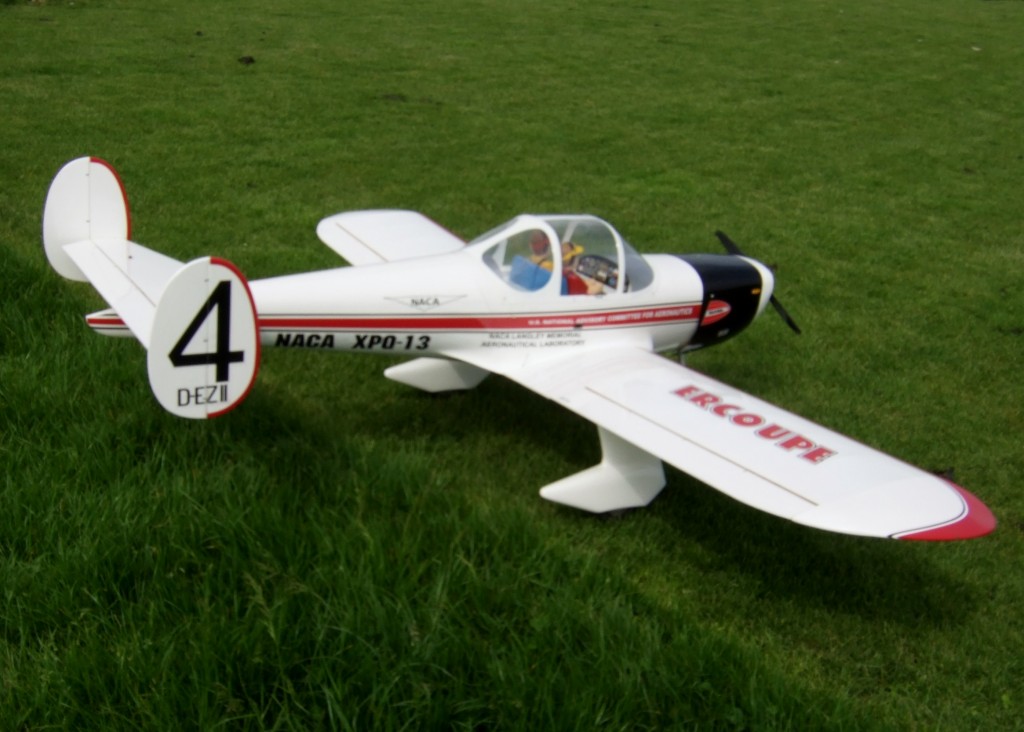 I'm sure Viv will sort it and all will be fine eventually, it's certainly a beautiful and impressive model, one of those that just looks like it should be a lovely flier.
The other new model to arrive was Woody's Yak-9, a VQ model designed for either electric or I/C power. It looks absolutely stunning in its two tone blue camouflage scheme and Woody has fitted the optional retracts to make it totally authentic.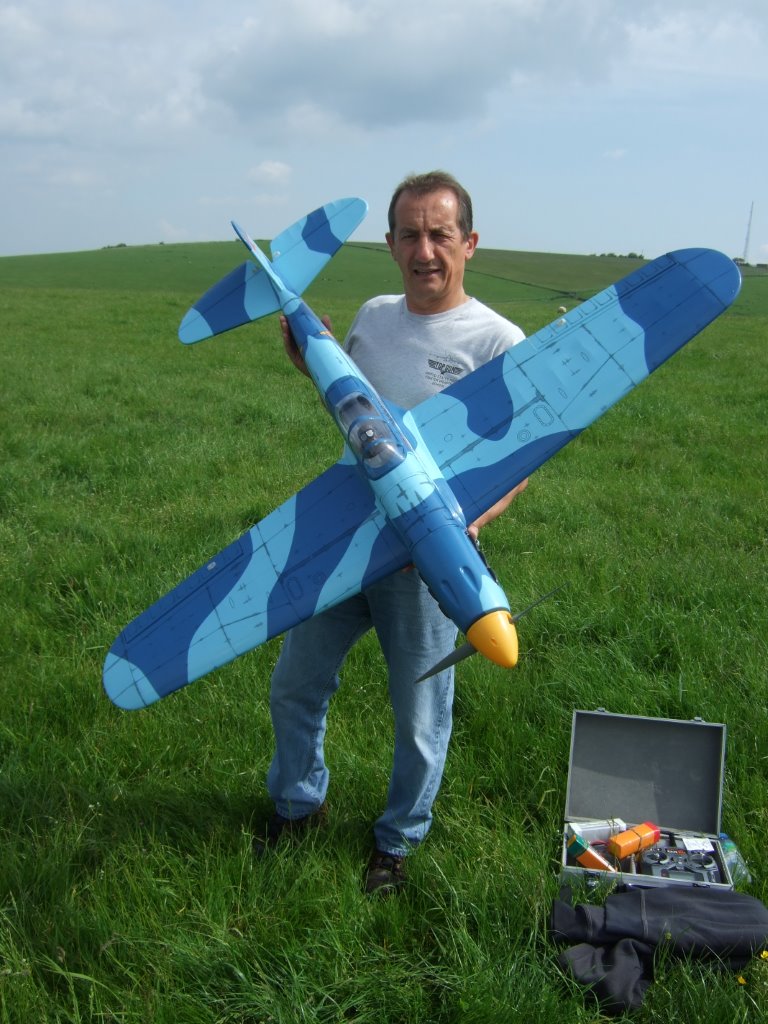 It's powered by the recommended 5 cells but the model came out nose heavy so Woody had to alter the battery mount to allow it to slide back further under the canopy to correct it.  He obviously got it right as it flew beautifully and certainly had more than enough power. There was a vibration when I went to full throttle which I initially thought was probably an out of balance spinner, but it gradually got worse as the flight continued so I decided an early landing was required. That meant I didn't get a chance to check out the slow speed handling or the stall so it came it a little bit rapidly and both the oleo legs snapped. When we examined them it was apparent that they were very weak at the pivot point and I think if Woody can fit solid legs into the retract units all will be fine. The vibration turned out to be a loose motor mount, in fact by the time I got the plane down it was very loose, almost hanging off, but nothing that isn't easily sorted. I was very impressed by the way it flew and I look forward to the next flight. Nice one Woody.
Thanks go to John Wheeley for this months' tale:
His request approved, the CNN News photographer quickly used a cell phone to call the local airport to charter a flight. He was told a twin-engine plane would be waiting for him at the airport.
Arriving at the airfield, he spotted a plane warming up outside a hanger. He jumped in with his bag, slammed the door shut, and shouted, 'Let's go'. 
The pilot taxied out, swung the plane into the wind and took off.
 Once in the air, the photographer instructed the pilot, 'Fly over the valley and make low passes so I can take pictures of the fires on the hillsides.'
'Why?' asked the pilot. 'Because I'm a photographer for CNN', he responded, 'and I need to get some close up shots.'
The pilot was strangely silent for a moment, finally he stammered, 'So, what you're telling me, is …. You're NOT my flight instructor?'
Colin Cowplain